This page will be a list of the most frequently asked questions regarding the Grasshopper portable vaporizer created by Hopper Labs, LLC. I will keep this page updated regarding changes and try to keep the most popular questions towards the top.
If you have a question about the Grasshopper feel free to leave a comment below and I will add it to the FAQ.
This Grasshopper FAQ is a bit out of date. The Grasshopper is now shipping on-demand and you can check out my Grasshopper vaporizer review for the latest info on shipping, pricing, and to see how it's holding up.
Check out my best portable list for more portable vaporizer options.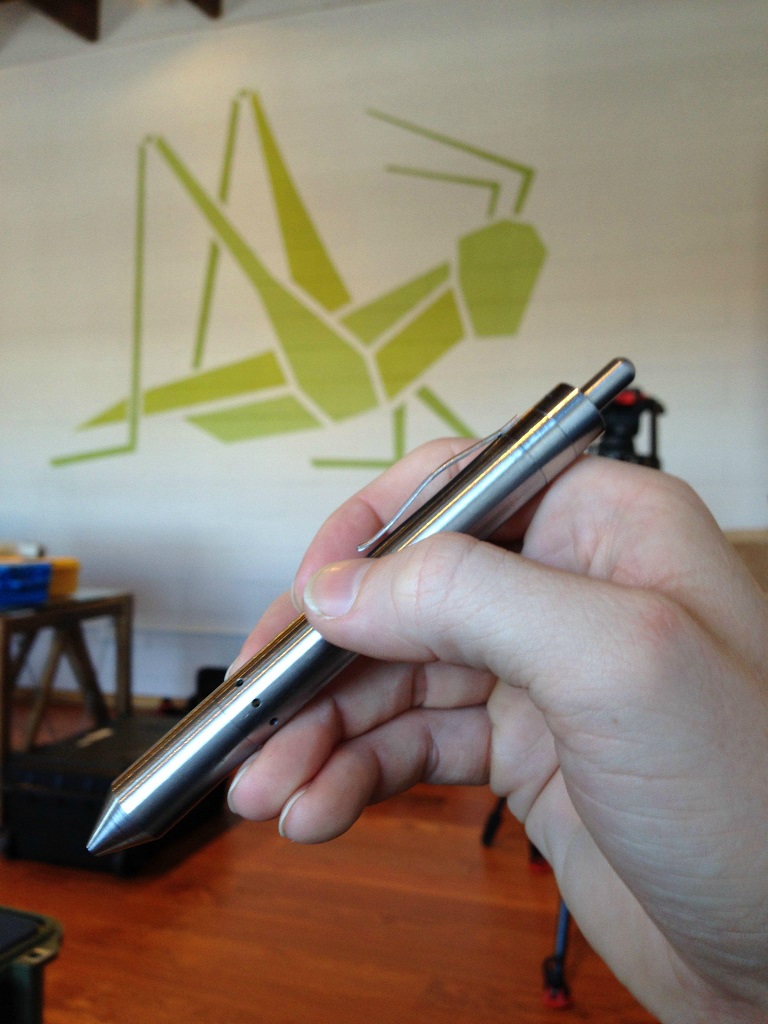 The Grasshopper is a portable convection vaporizer that mimics the look of a pen. It's one of the smallest and most powerful vaporizers I have tested. The GH (Grasshopper) is turned on the same way you would use a pen. Simply click the button, the chamber is heated in 2-5 seconds and you're ready for your draw.
Now the GH is a bit different from most portable vaporizers in the fact that it's not a session vaporizer. It's more on an on-demand portable that provides instant heat. There's no need to leave the bowl on in between hits. Simply click the button, wait for the blue light, hit it, then hit the button again to turn it off. I use this method because the mouthpiece does tend to get a bit warmer when taking multiple draws on higher temps. The unit does come standard with a silicone mouthpiece guard to help deal with the temps if you decide to try and use it as a session vape.
So let's go ahead and jump into the most frequently asked questions for the Grasshopper vaporizer.
Grasshopper Vape FAQ
Q. How many temp selections and what is the temperature range?
A. Temp control is pretty precise and its a much bigger spectrum than just 5 temps. Because its on a rotary dial, you don't only get 1-5 but 1.2, 1.5, 2, 2.6, 3.3, etc… so you can fine tune the temp that works best for your herbs. The temp ranges from 130 °C – 210 °C (266 °F – 410 °F) and each tick represents 20 °C in change.
Q. Is there battery level indication with the LEDs? Like before it dies fully letting you know, or even telling you levels?
A. There is no indicator until the battery gets low. It warns you about 1 draw before it shuts off, and then it won't heat once it drops further. Trevor was open to the idea of adding an indicator if someone could think of a way of doing it without making use confusing. (There is only 1 led, and it can only do 2 colors, and they cannot both be on at the same time, so most of the ideas we discussed made regular use confusing) But he said he can modify software up until he gets back from China, so if anyone has any clever ideas for the next 2-3 weeks, its definitely possible to add.
Q. Is it better to click on and off or let it autoshut off at 18sec?
A. I definitely prefer to shut it off, because it conserves battery, keeps the unit cooler, and I assume it saves herb as well. Its crazy how powerful this thing is for its size, it can kick out 45watts, whereas the Crafty is only 27w and the Mighty 30w.
Q. How much herb can fit in the Grasshoper chamber?
A. As far as load size goes, I filled it with the herb I have right now, which is a bit more moist than I would prefer, and it fit .30 grams into the chamber.
Q. Have you tried sessioning with another user or two? How did that go?
A. Yes there was 4 people passing one around and we went through two bowls without stopping other than to repack. We did use the mouthpiece though. I also used it a lot of times with 1 other person and we would pass it back and forth until the bowl was finished without the silicone.
Q. Can you do more comparisons with the Firefly?
A. I will definitely do more comparisons to the Firefly, unfortunately I haven't hit it in about a week due to the trip, and I am also testing the Pax2 and the Series7 at the moment so I probably won't touch on side by side comparisons for a little bit longer.
Q. Is it better to finish a whole bowl at one temp than to temp step?
A. So far I have been enjoying both. A few bowls I started low and worked my way up, I have also done a few bowls at various temps in the 3.75-4.25 range from start to finish and enjoyed them. I have also even enjoyed the monster rips I can get on 5 when I am out. For example when I was snowboarding, I would pull it out, and just take 1 good rip, and then put it away. I got 4 or 5 hits that day and it kept me exactly where I wanted to be, without having to waste for than 30 seconds each time I stopped to vape.
Q. What is the Mouthpiece guard material?
A. The Mouthpieces are made of Silicone. They 3d printed a mold, and poured silicone, however they did say that the ones that come with production units will be nicer/better in some way.
Q. How long does it take to charge the Grasshopper and how do you charge it?
A. The recharge time I have experiencing is around 90 minutes. With the final production charger, they estimate it will be 50% faster. As of now the battery can only be charged in the unit with the supplied charger cable (It is pass through so you can use the unit while charging) They do have an external charging dock in the works, but its not finalized. They also have spare batteries that can be purchased for $7 (they told us this was essentially cost)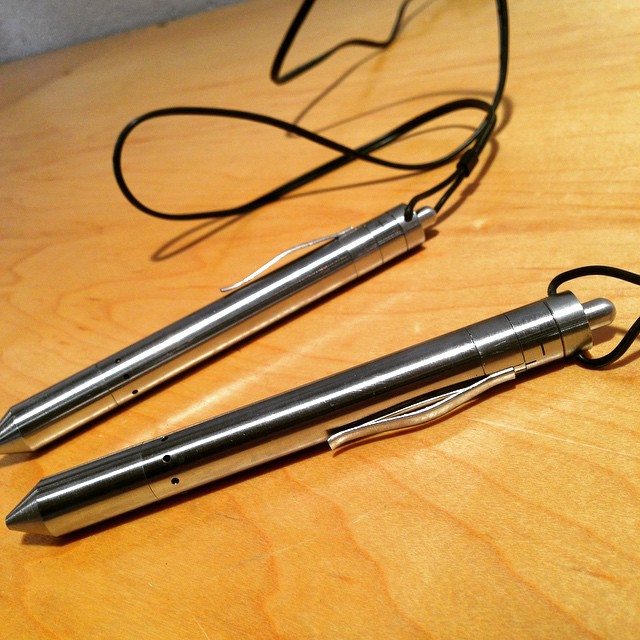 Q. Will there be any differences between the BETA unit and the PRODUCTION unit?
A. There was a bit of talk about what exactly they are modifying in the final units compared to the ones I used. First they have a better screen, it is designed, but it wasn't in stock while I was there. Second they are changing the threading slightly on the mouthpiece so it goes on and off with a bit less turning. Third they are changing the charger, they are both making the chord thicker, and they are increasing charging speed by roughly 50%.
Q. How warm does the mouthpiece get and does it come with a guard?
A. There were some questions about the unit getting hot. Yes it does get hot if you keep hitting it. It does have a few things going for it that makes it not a big deal for me. First is that it loses heat VERY fast, so if you take a draw, turn it off, and just hold the unit for a few seconds before your next draw, it doesn't get hot. If you want to turn it on high and kill a bowl in a few hits you can put the unit in your pocket for 1-2 minutes and it will be fully cooled down for bowl #2, or if you want to kill bowls fast at high temp and chain them one after another, the silicone mouthpiece makes this possible.
Q. A couple people were asking about the differences between the Ti and the SS units. Here is how Trevor explained it to me:
A. "Ti is more emissive, meaning that it can transfer heat to the environment more quickly. This might seem like a bad thing, but it is actually a good thing. We don't want heat on the outside of the vape, we only want it on the inside. So if the outside starts to become warm we want the heat escaping to the environment as fast as possible and not sitting in the housing building up. This is the property that allows for a bit better performance. If you were drawing on two units, one Ti, one stainless, at the same rate the housing (mouthpiece) of the Ti would heat a bit slower."
Q. How do you clean the Grasshopper and how hard is it?
A. The production units you can remove the mouthpiece which has the screen attached and fully submerse in ISO, the body can only be submersed up to a certain point. Here is a crappy picture of the instructions: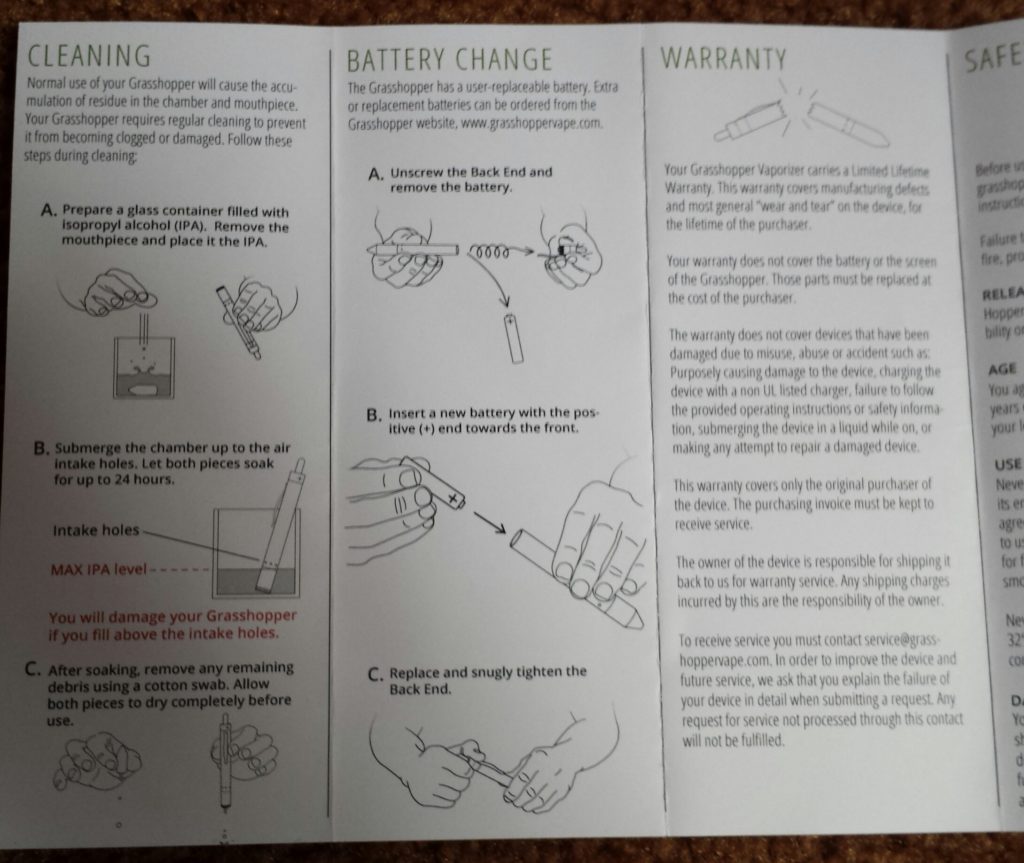 (Grasshopper Cleaning Instructions)
Q. How exactly does it indicate the "battery's low?" Like does it flash a certain color? Also, I'm guessing the 2 colors are red and blue?
A. While the unit is heating up its Red, then when its ready it goes Blue. If the blue light starts blinking fast while you are drawing you are near the end. I actually just had it happen on a bowl a moment ago and I got 3 draws before it died. (including the draw it started blinking on) When it dies it starts blinking the red light fast during your draw.