Trying to find the best desktop vaporizer can be a daunting task and the end result will more than likely be different for every person. Not only do they vary quite a bit more than your average portable vaporizer, but they tend to cost a bit more as well.
Desktop vaporizers offer quite a few advantages over portable vaporizers. While many portable dry herb vaporizers utilize conduction or hybrid heating methods, almost all desktops are full convection. For the most part, tabletop vaporizers are going to be larger, more powerful, and more reliable.
Since they are not constrained by size, shape, weight, or battery life, you can generally expect better flavor, denser vapor, and better efficiency from a desktop vape when compared to a portable.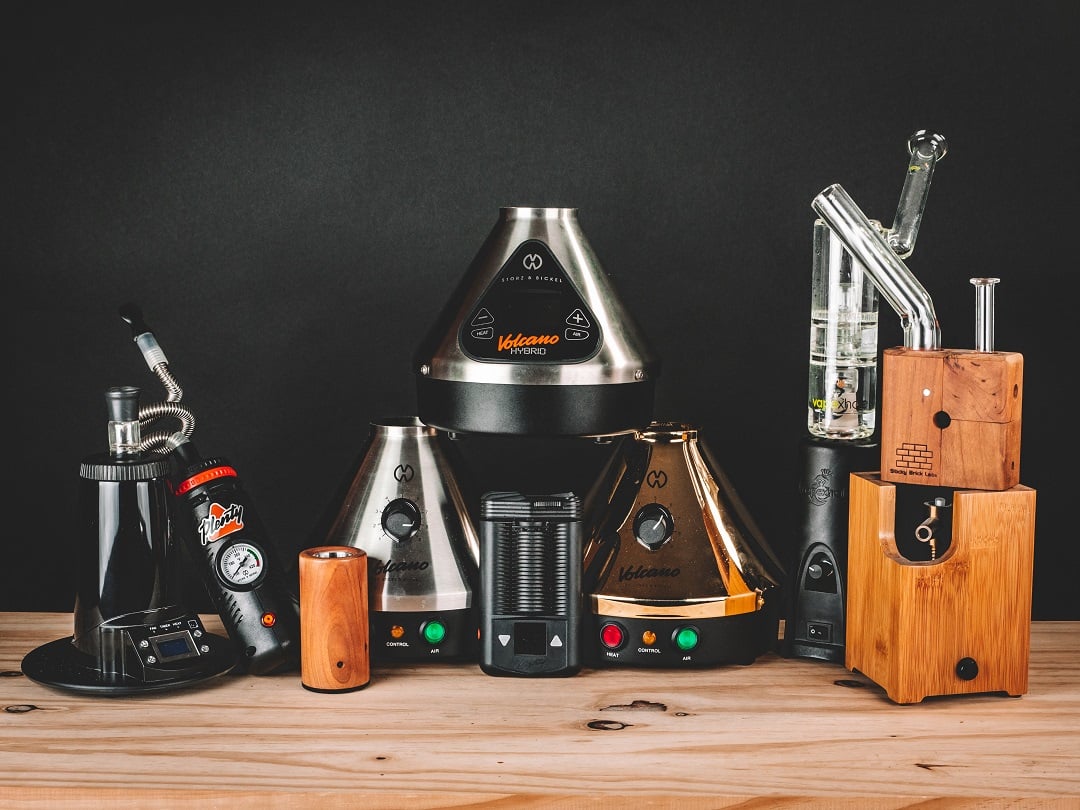 This best desktop vaporizer article will break down my top picks for the best dry herb and concentrate desktop vaporizers in 2021. The categories below reflect three different delivery methods; Bags, Whip, and Direct Draw. You can also find budget alternative options and honorable mentions for at-home use.
If you wanted a vaporizer to use on the go, I recommend checking out my list for the best portable vaporizers in 2021.
What are the Best Desktop Vaporizers in 2021? Directions: You can find links to my full reviews and recommended authorized retailers in each section below. Some of the pricing requires a coupon code marked with ( * ) which you can find below. I do make a small commission from purchases if you click a link and buy something. Learn more about me here and check out my affiliate disclosure here. Feel free to leave a comment below with any questions.
Best Overall Desktop Vaporizers
The best overall desktop vaporizer is the unit I use the most. It's usually on all day, every day, readily available to get me medicated quickly. It's also the desktop vaporizer that requires the least amount of cleaning and maintenance. Last but not least, it is the most reliable because it has to be. This is my go-to vaporizer when I'm at home.
Volcano Hybrid Vaporizer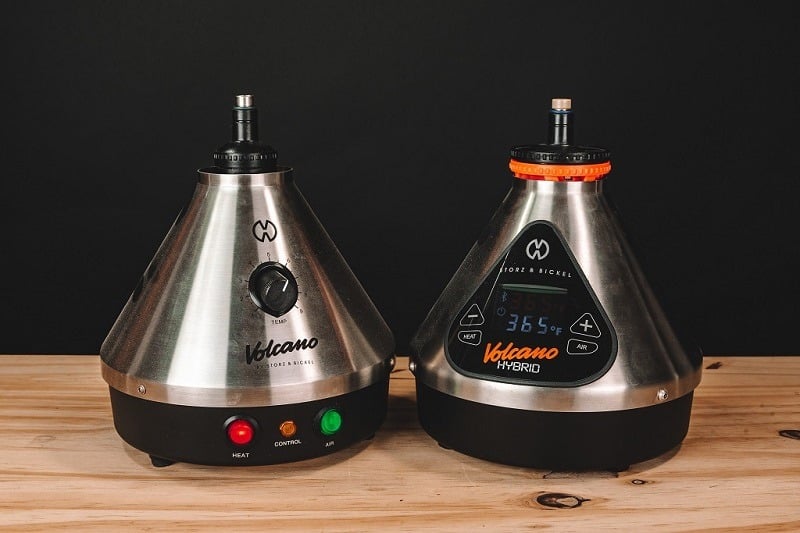 Name: Volcano Hybrid Vaporizer
Manufacturer: Storz and Bickel
Price: $699
Coupon Code: S&B15
Materials: Dry Herbs and Concentrates
Temp Range: 226F – 446F
Heating: Hybrid
Warranty: 3 Years
Extras: Smartphone and Desktop APP
The Volcano Hybrid vaporizer features a new easy valve system, faster heat-up times, shorter fill times, and added a whip option. If money is no option, you want the Volcano Hybrid Vaporizer. If you want the Volcano but can't justify the price tag, check out the Volcano Classic below. The Classic doesn't heat up as fast or offers a digital temperature display but it's still the reigning king of desktop vaporizers.
The Volcano now comes in three different versions:
The new Hybrid Volcano is the latest and greatest digital version, offering on vape temp display, easy-to-press temp buttons, Bluetooth control, and an added whip option.
The Volcano Classic is the tried and true desktop vaporizer that we've all come to know and love.
Lastly, Storz and Bickel released the 20th Anniversary "24k Gold Plated Volcano Classic Vaporizer" late in 2019, which is the same as the classic but all pretty outside.
The Classic Volcano and the Gold Edition Volcano Classic are the same vaporizers minus the outer shell. The Classic temperature is controlled via a rotary dial ranging from temp one to nine, nine being the highest.
The Volcano system itself is pretty simple. It uses a heater with a fan that sits below the chamber. Place the chamber on the top of the unit, and it blows hot air over your herbs into a bag. You then detach the bag from the valve system and press your lips against the mouthpiece to take a draw.
One under-rated aspect of the Volcano is the lack of cleaning. I've vaped ounces through my Volcano without having to do a full cleaning.
All you have to do is empty the chamber and brush the screen off with the little brush that it comes with, and you practically never have to clean your Volcano. Even when you do, full cleaning will take about 10 minutes. We're talking months of use, and it just continues to work with minimal performance degradation.
I can always count on it to work and work well. It's also one of the best options for groups because the Volcano bag can easily be tossed around the room. Click here to buy the Volcano Hybrid Vaporizer
Volcano Classic Vaporizer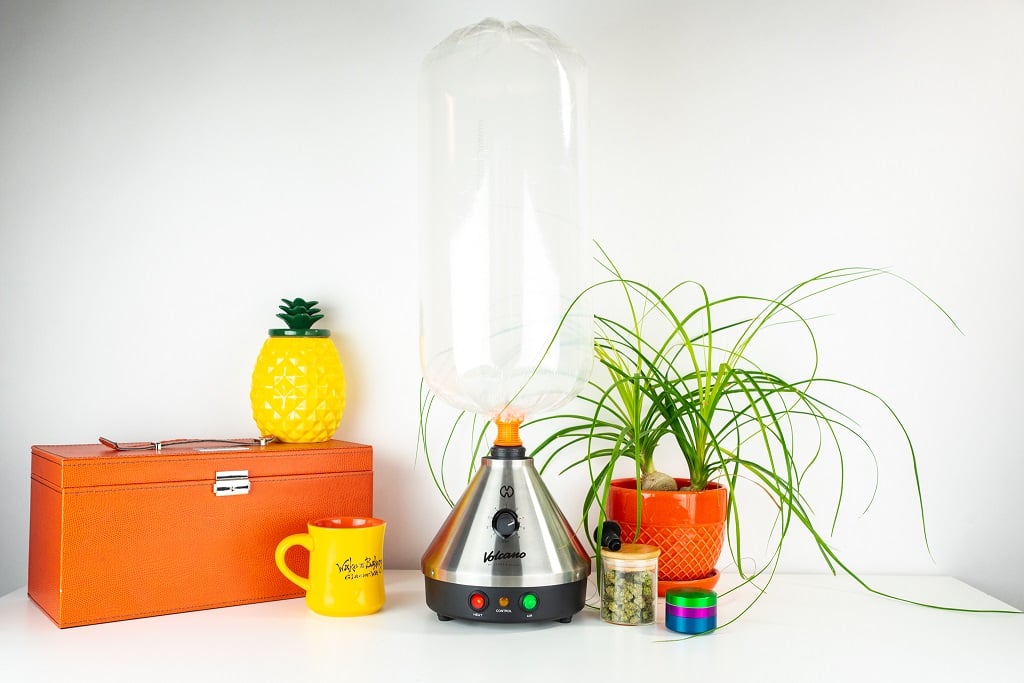 Name: Volcano Classic Vaporizer
Manufacturer: Storz and Bickel
Price: $479
Coupon Code: S&B15
Materials: Dry Herbs and Concentrates
Temp Range: 226F – 446F
Heating: Hybrid
Warranty: 3 Years
Best Overall Desktop ALT
As I mentioned above, the Classic Volcano and the 24K Gold Volcano are exactly the same except the outer shell. I've used the Volcano Classic Vaporizer almost daily for years on end and it still continues to perform. While it doesn't heat up as fast as the Hybrid or feature an on vape digital display, it does still pump out tasty vapor.
I have the Cloud Evo, the extreme q, da budda, e-nano, plenty, and I've tried countless others. I ALWAYS come back to the Volcano. It's stupid easy to use, always ready to go, and reliable. Click here to buy the Volcano Classic.
Volcano Classic Gold Edition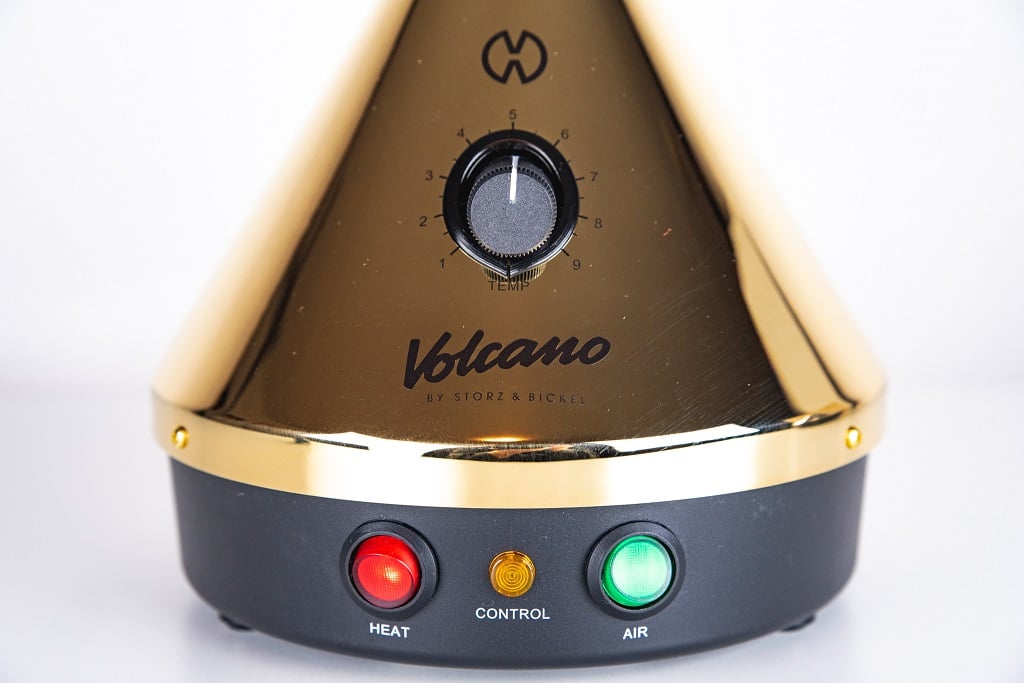 Name: Volcano Classic Gold Edition
Manufacturer: Storz and Bickel
Price: $599
Coupon Code: S&B15
Materials: Dry Herbs and Concentrates
Temp Range: 226F – 446F
Heating: Hybrid
Warranty: 3 Years
Best Overall Desktop ALT
The Volcano Classic Gold Edition is a 24k Gold Plated Volcano classic vaporizer. It uses the exact same internals as the classic, the only difference between the two models is the shell.
Best Dual-Use Desktop
The best dual-use desktop vaporizer can successfully and effectively vaporize both concentrates and dry herbs (flower). It's also another desktop vaporizer that needs to be reliable and fairly easy to maintain because I'll be using it on the daily.
Ditanium Vaporizer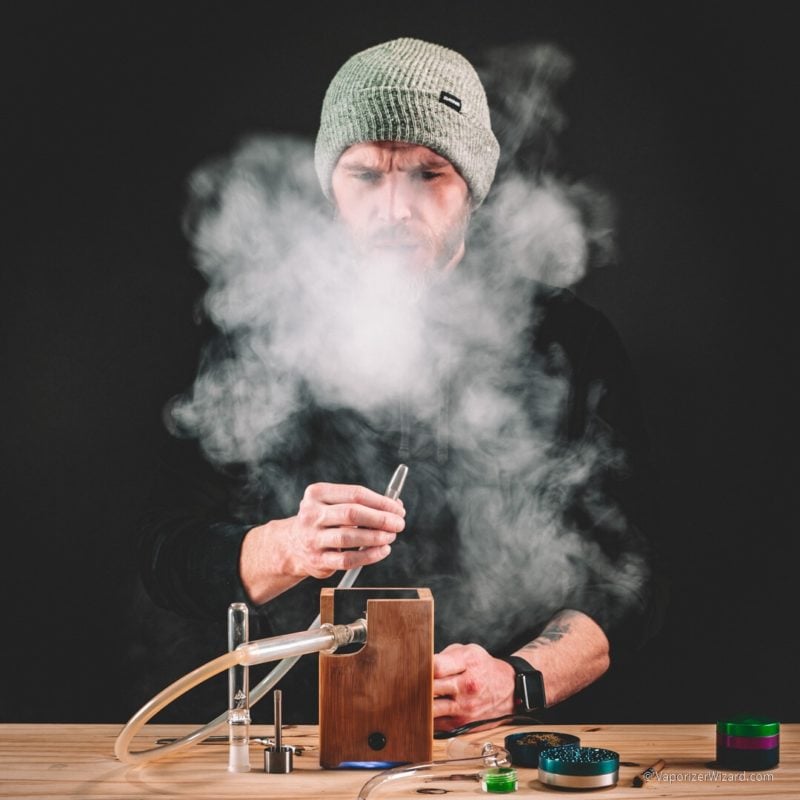 Name: Ditanium Dual Use Vaporizer
Manufacturer: Ditanium Vapor
Price: $279
Materials: Dry Herbs and Concentrates
Best Dual-Use Desktop
The Ditanium Vaporizer is the best of both worlds if you are using both dry herbs and concentrates. You can use it with just dry herb, only concentrates, or combine them for a "double-decker" and hit both flower and concentrates. Trust me when I say you will be napping shortly after that.
This is a "whip unit" but can be used in many variations. The whip fits 14mm female connectors, and the whip portion can be removed for hands-free draws via the glass portion.
I am extremely impressed by the overall build quality and consistency of the Ditanium. I get super smooth, cool rips with dry herb, and the quartz nail delivers some super tasty dabs. This vaporizer truly does it all while being easy to clean and maintain.
I was a Volcano all day everyday type of person, and this Ditanium has put the Volcano on backup for the time being. Like the Volcano, I leave it on from when I wake up until I go to sleep. It's always heated, always ready to go, and you always have the option of doing a dab if you're feeling super spicy.
I don't recommend venturing outside the 12-1 PM range on the temp dial for both flower and concentrates. You don't have to adjust the dial for concentrate use. I recommend a fairly coarse grind with about .15 grams of dry herb, and the term "a little dab will do you" works appropriately for the Ditanium.
The two of us who run vaporizerwizard.com have been fighting over who's turn it is to test the Ditanium, so we ended up ordering a second one. The black one in the second photo is the new unit. It comes with a new dial, different style glass attachments, and a longer style whip.
Did I mention they come with a lifetime warranty? You seriously can't go wrong with the Ditanium, and it's the best tabletop vaporizer for dry herbs and concentrates. ALSO, don't forget to pick up the carb cap for dabbing (far left in above photo). It doesn't come with one. Click here to buy the Ditanium Vaporizer from my recommended authorized retailer and get more info in my Ditanium Vaporizer Review.
Best Budget Desktop Vaporizer
The best budget desktop vaporizer is affordable without sacrificing quality or features. The picks below are the best cheap desktop vaporizer that still delivers great vapor production and taste and won't break the bank.
Arizer Extreme-Q Vaporizer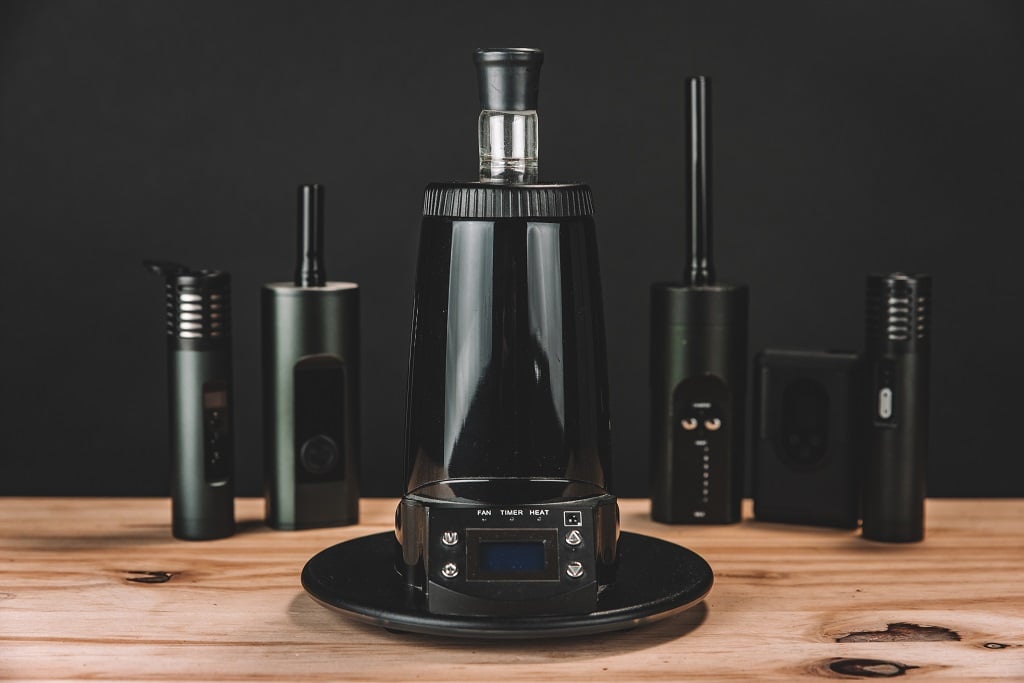 Name: Extreme Q Desktop Vaporizer
Manufacturer: Arizer Tech
Price: $165
Materials: Dry Herbs
Heating: Convection
Warranty: 3 Years
Best Budget Desktop Vaporizer
The Extreme-Q vaporizer is a multi-use desktop vaporizer that features the option to fill a bag or use a whip. I like to call the Extreme-Q the jack of all trades but master of none. Yes, it offers both the bag and whip, but it's not the best in either category.
Compared to the Volcano, the bags fill much slower, they will not taste quite as good, and the volcano bag-valve systems are great. They seal the vapor and have essentially zero draw resistance. With the Extreme-Q bag, you will have to keep your finger over the tube to prevent leakage, and the tube has a thin diameter so you can take the huge free-flowing draws like you can with the Volcano.
Generally, I prefer a bag delivery method. It's easy to pass around, and I'm not tied down to a whip in one location. But when I use the Extreme Q, I actually find myself using it with the whip most often.
So if you like the whip option and are also interested in a few bags here and there, I really think you would like the Extreme-Q.
Overall the Extreme-Q is actually the desktop vaporizer I use the least from this page, but it is also the cheapest vaporizer. Since the Extreme-Q is very reliable and very versatile, it definitely deserves its spot here. Click here to buy the Arizer Extreme Q Vaporizer. Check out my full Extreme Q Vaporizer Review for more info.
Best Direct Draw Vaporizers
Direct draw vaporizers give the closest experience to a steamroller or a bong. These units are best for flavor, efficiency, and vapor density. These units are on-demand, so you will generally take a few draws to finish each bowl. If you are looking for the maximum effect from a set volume of herb, you should consider a direct draw unit.
VapeXhale Cloud EVO Vaporizer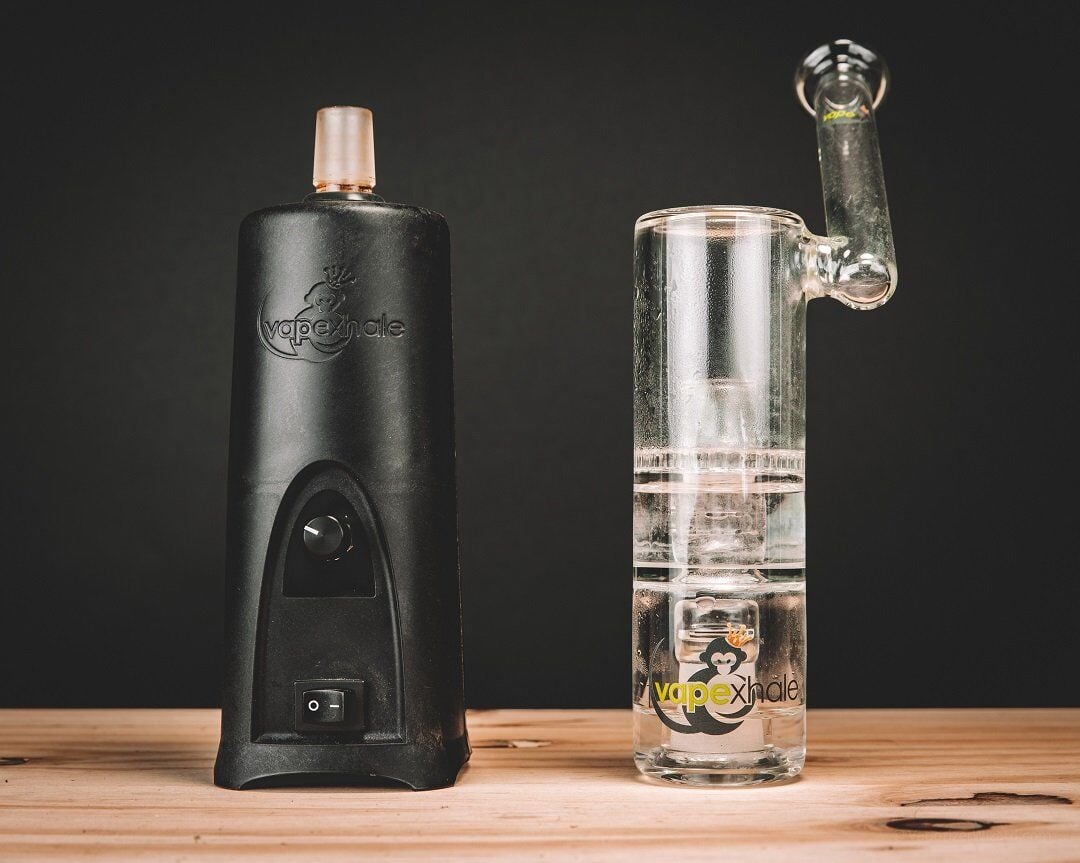 Name: VapeXhale CloudEVO Vaporizer
Manufacturer: VapeXhale
Price: $405
Coupon Code: vaporizerwizard
Materials: Dry Herbs and Concentrates
Heating: Convection
Warranty: 3 Years
Best Direct Draw Desktop
The VapeXhale Cloud EVO is the ultimate desktop vaporizer for purest/taste enthusiasts and is my secondary daily driver. This unit works both dry herbs and concentrates.
The one thing that the VapeXhale Cloud EVO can do that the Volcano can't is absolutely 100% crush me. I'm talking, can't breathe, gasping for air, tears rolling down my face type of hits. You don't HAVE to hit it that way, but it most definitely has the potential to flatten you. Not everyone likes/needs this. I do :)
The CloudEVO vaporizer has an all-glass vapor path and uses herb baskets for dry herb or glass/quartz "vapexnails" for your dabs/concentrates. Turn the unit on and select the temp via a rotary dial. There are no numbers on the dial, but it's set up like a clock. 9:00 would be your lowest temps while 3:00 higher temps.
Place the nail or basket into the top, place your glass hydratube or regular mouthpiece over the basket and rip it.
The glass bubblers/bongs are called hydratubes, and they definitely make the entire session more enjoyable. You can use the bent glass mouthpiece that comes with the unit, but I've noticed that the vapor tends to get pretty warm with longer rips.
I recommend getting a Hydratube with a small amount of diffusion. You really only need the diffusion for combustion. I like the taste of vaporization and especially enjoy it from the Cloud EVO. There's really not much else out there that will get you this type of pure taste/quality.
The downsides are that the baskets don't hold up too well under heavy use, so you'll have to replace those. I also recommend that you pick up the Quartz version of the vapexnails. They will be much easier to clean. Click here to buy the VapeXhale Cloud EVO Desktop vaporizer. Check out my VapeXhale CloudEVO review for more info.
E-Nano Vaporizer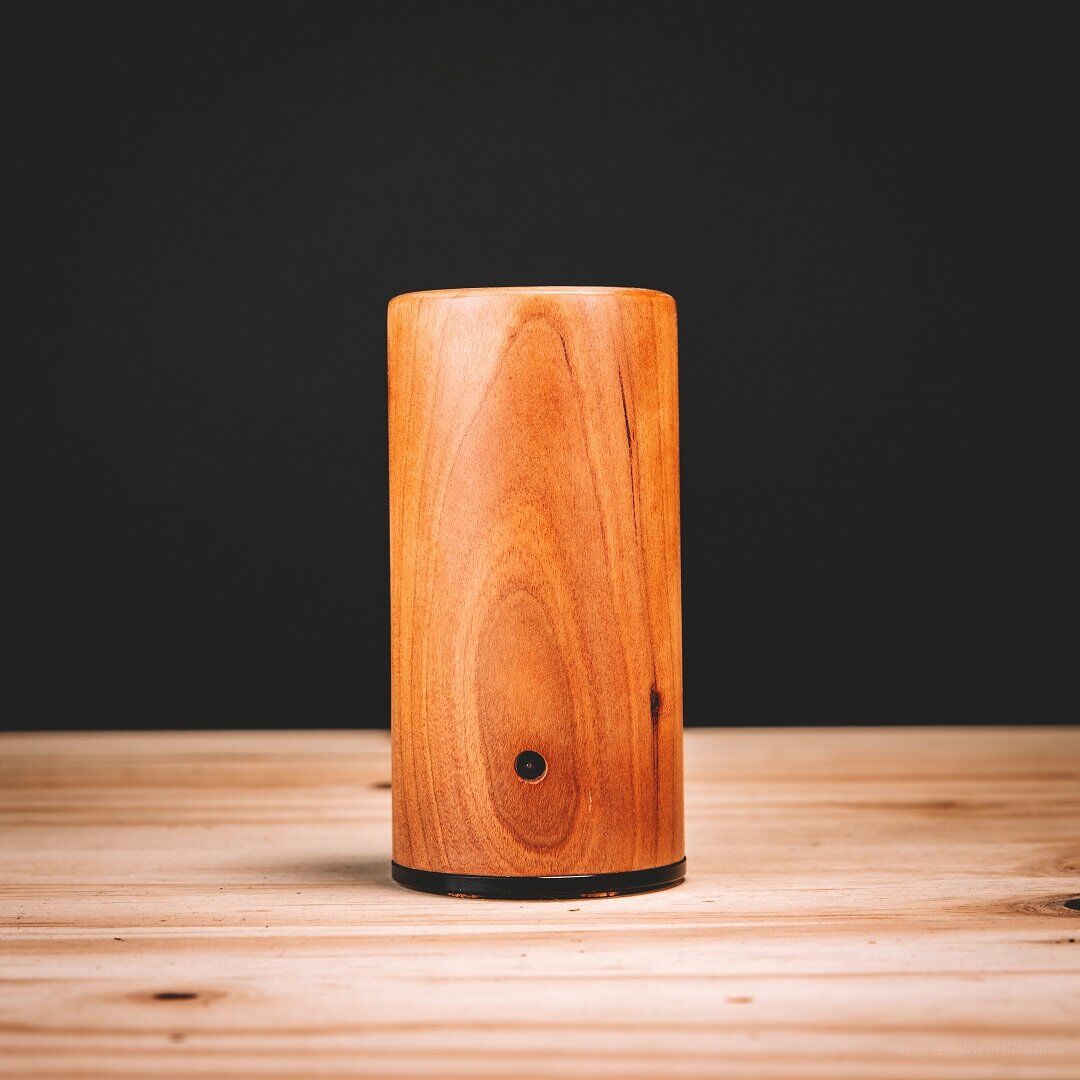 Name: E-Nano Desktop Vaporizer
Manufacturer: Epic Vape
Price: $199
Materials: Dry Herbs
Heating: Convection
Warranty: 3 Years
Best Direct Draw Budget
The E-Nano is like a smaller wooden version of the Cloud EVO. Each Nano vape is handcrafted in the USA out of sustainable hardwood. Efficiency, along with pure taste, is the name of the game with this unit.
This is currently the smallest desktop vaporizer I have, and when the glass stem is not in place, it's also one of the most discreet units.
You will be loading tiny bowls with this vape, generally in the size of .025-.1g area, so this one is amazing if you want to conserve. Despite the lower price and small bowl size, the E-nano still rips hard. You can easily blow out big, dense clouds since it can finish a bowl in 1-2 draws.
The E-nano heats up in a few minutes and has fully adjustable temperature control with a dial going from 1-11 corresponding to 0-560F. I personally like to vape in the 5.5-7.5 range with dry herbs.
In the stock configuration, you will draw from a glass stem. However, you can also add an optional glass water pipe adapter if you like to vape through some glass. Click here to pick up the E-Nano from my recommended authorized retailer.
Home-Use Vaporizers & Honorable Mentions
Mighty Vaporizer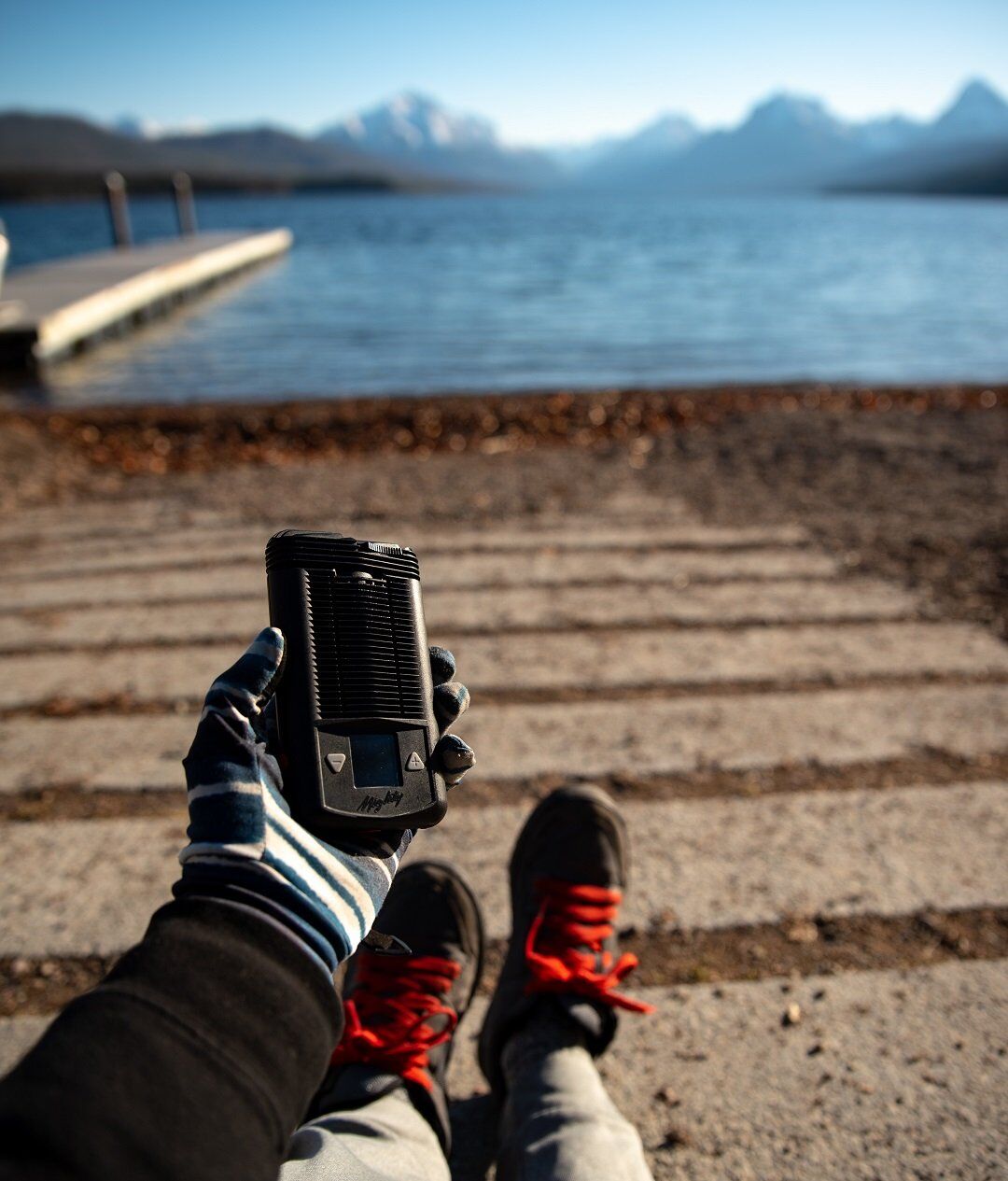 Manufacturer: Storz and Bickel
Price: $296
Coupon Code: S&B15
Materials: Dry Herbs
Temp Range: 104F – 410F
Heating: Hybrid
Battery Life: 6-8 Bowls AVG
Warranty: 2 Years
*My Most Used Vaporizer
The Mighty vaporizer is definitely a portable vaporizer, but I find myself using it at home more than on the go. The Mighty has exceptional battery life and can be used while charging, so it works perfectly for both on the go and carrying from room to room or out onto the deck or yard.
I also like the fact that it's one of the easiest vaporizers to use and own. The cleaning is infrequent, but it does take a while when needed. I've gone months before cleaning my Crafty/Mighty vaporizers.
The other thing that I like about the Mighty is that it's just the right size to pass around in a group setting, and it's durable enough to survive big drops. So the Mighty isn't a desktop vaporizer, but hopefully, you can see where it might serve that purpose.
It also hooks up to glass pieces via a water pipe adapter and is powerful enough to draw huge clouds. Click here to buy the Mighty vaporizer or check out my Mighty vaporizer review for more info and pictures.
Plenty Vaporizer (Storz and Bickel)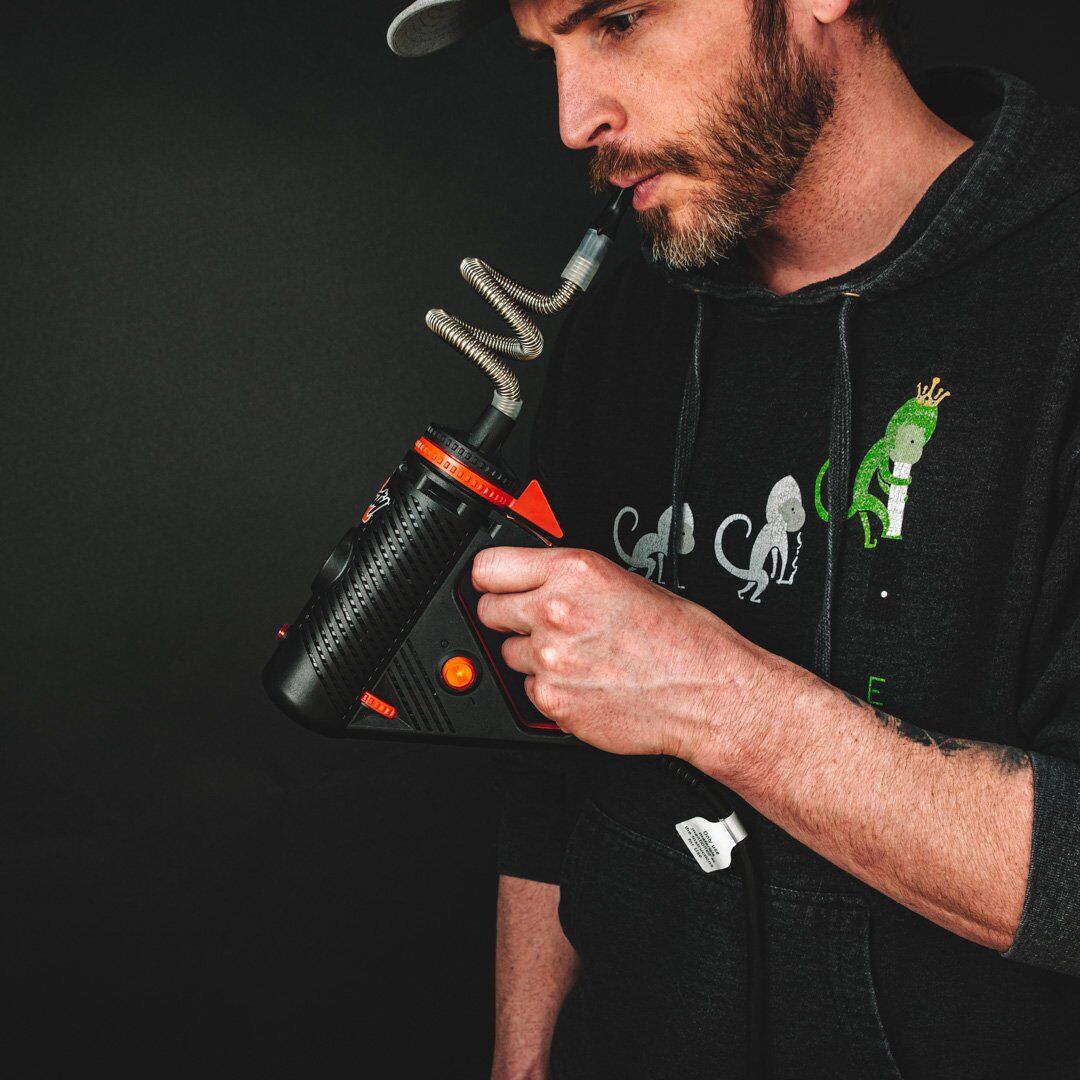 Name: Plenty Vaporizer
Manufacturer: Storz and Bickel
Price: $212
Coupon Code: S&B15
Materials: Dry Herbs
Temp Range: 104F – 410F
Heating: Hybrid
Warranty: 2 Years
Plug-in Portable Vaporizer
The Plenty vaporizer is a hand-held home-use vaporizer made by Storz and Bickel. They are the same manufactures as the Volcano, Crafty, and Mighty.
The Plenty vaporizer is one of the most enjoyable session vaporizers you can buy, BUT it is a bit of an herb-hog. It definitely works best with a full chamber or at least a smaller layer along the bottom, and it will go through it fast.
With that said, you get a full temp spectrum with auto-shutoff, and the long stem does a good job of cooling the vapor before it reaches your lips. It does seem to get a bit dry during long sessions, but it will kick out huge clouds and tasty rips.
The Plenty plugs into the wall and is meant to be held in your hand for the duration of the session. There's really no way to set it down, which is a good thing because then you'd just be wasting more herb.
The Plenty is NOT for someone wanting to be efficient with their herbs. But if you have access to a lot of dry herbs, then you'll really love the smooth, taste, cool vapor quality of the Plenty. Click here to buy the Plenty Vaporizer from my recommended authorized retailer and get all the details in my full Plenty Vaporizer Review.
OG Sticky Brick Vaporizer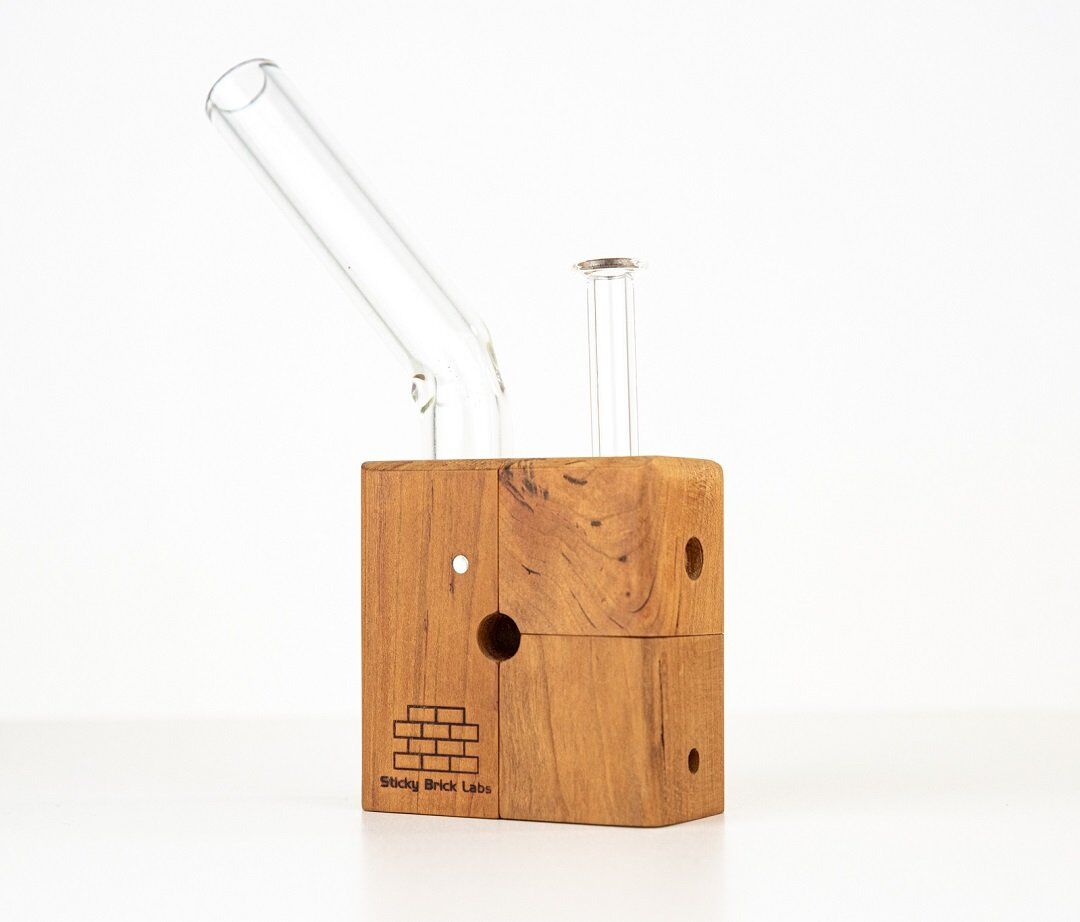 Name: Sticky Brick OG Vaporizer
Manufacturer: Sticky Brick Labs
Price: $175
Materials: Dry Herbs
Heating: Convection
Portable Butane Style Vaporizer
The OG Sticky Brick is a butane home-use vaporizer. It's too big to fit in your pocket, but it's the perfect size to fit in your hand and carry from room to room.
The Original Sticky Brick is made out of natural hardwood in the USA by Sticky Brick Labs. The name basically explains what they are. They are bricks that stick together via magnets to create a wonderfully smooth, cool, and tasty session.
The OG Sticky Brick is the one I recommend for first-time butane users because it's the easiest to use straight out of the gate. They also offer the Junior, which is a smaller, more pocketable version. The Hydrobrick is for someone that already has some glass at home, and lastly, the HydroBrick MAXX. The MAXX includes the glass mouthpiece, glass WPA, whip, and connector. Click here to buy the Sticky Brick OG or check out my full Sticky Brick Vaporizer Review for more info.
Best Desktop Vaporizers Wrap-Up
While I personally think the Ditanium is the best desktop vaporizer, it might not be for everyone. It's not the one-button type of setup like the Volcano. It takes some time to master the best technique but the Ditanium does offer better vapor quality and more versatility when it comes to using different types of cannabis.
If I were only going to be using the vaporizer for dry herb (flower), I would go with the Volcano Hybrid (Buy Hybrid), hands down. If I knew I would be using both dry herbs and concentrates, the Ditanim (Buy Ditanium) would be my choice.
The desktop vaporizer that I've used the most is the Volcano Classic because I've had it for over 10 years. It still works just as good as the day I got it.
The vaporizer I use the most right now out of all of my vaporizers is the Volcano Hybrid. The reason is that it's the easiest to operate, and the majority of the time, I'm vaping dry herb cannabis. However, lately, I've been testing out dab rigs and using more concentrates.
While the Volcano can vape concentrates, it's via a mesh pad, and it's nowhere near the experience the Ditanium offers. So I've been using the Ditanium a lot more, and it's become second nature to reach for it now. It does take longer to heat up, and there's more to the operation, but the vapor quality is so smooth and tasty. It's unmatched.
Please hit me up in the comments below if you have questions about any of the vaporizers on this page or would like to see another desktop reviewed. I've used a lot more desktops than I've reviewed, so I can help narrow down some options if you're on the fence.
Thank you for taking the time to check out my list for the best desktop vaporizers in 2021 and happy vaping.