The Ditanium is a dual-use desktop vaporizer handmade from hardwood by a small shop in Flagstaff, AZ. It's "dual-use" meaning that it can vaporize both dry herbs (flower) and concentrates (dabs). You can even combine or "stack" both the flower and extracts for a "double-decker" which is a wonderful way to send you on a taco bell rampage 30 minutes later.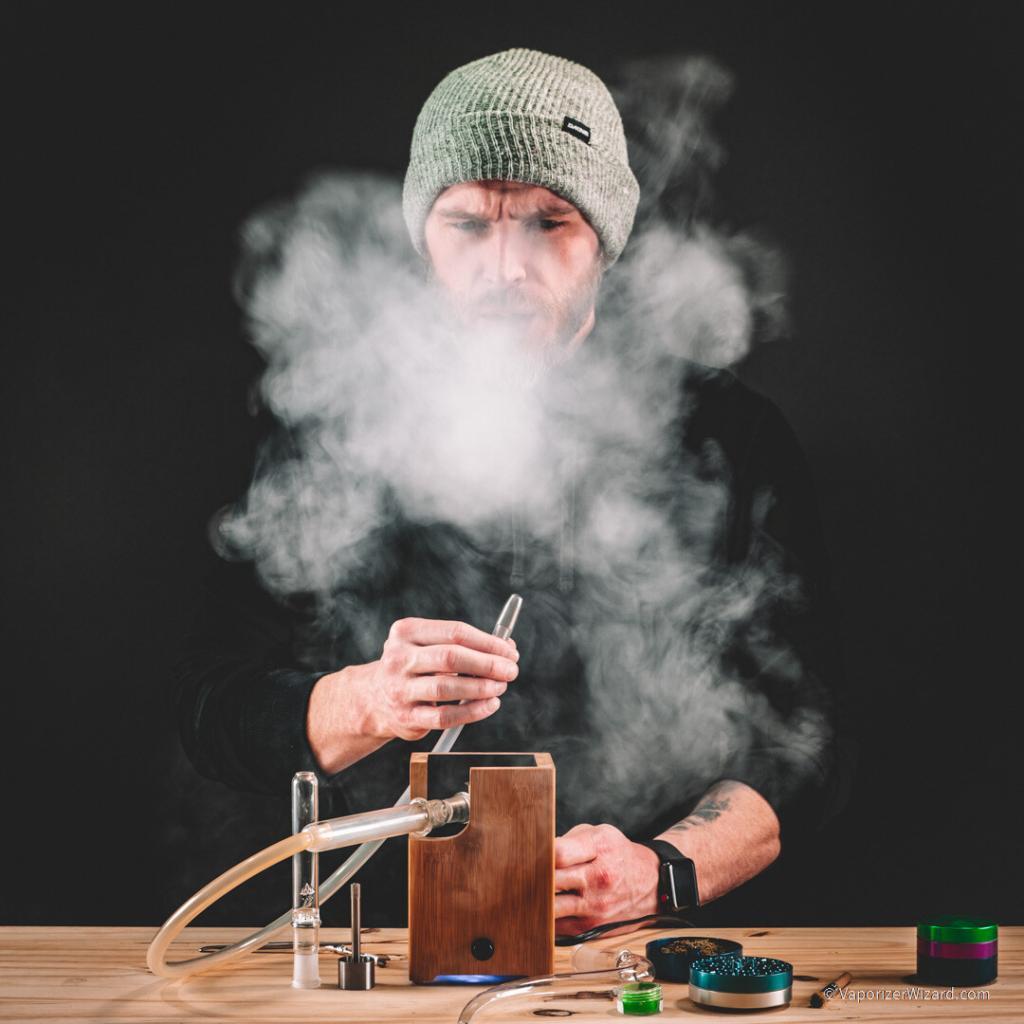 | | |
| --- | --- |
| Name: | Ditanium Vaporizer |
| Manufacturer: | Ditanium Vapor |
| Price: | $279 |
| Materials: | Dry Herbs and Concentrates |
| Temp Range: | Up to 900F (482C) |
| Heating: | Convection |
| Warranty: | 2 Years |
SHOP DITANIUM VAPORIZER
USE CODE WIZARD22 AT VAPOR FOR 22% OFF
What I like – I like the Ditanium because it's always on and ready to go. It's easy to clean and maintain and offers great tasting vapor via the titanium, quartz heater cover, and glass wand. It offers a simple and effective way to get medicated via concentrates or flower and I have full control over customizing my sessions.
What I don't like – There are a couple of downsides to the Ditanium and the first is the small learning curve associated with it. It will take you a handful of sessions to figure out what works best for you. There are different loading techniques, different draw styles, different attachments, and a wide temperature spectrum to experiment with. So while this can be fun and exciting for some people, it can also be a little overwhelming if you're looking for the press button and go type of experience that something like the Volcano vaporizer (Volcano Hybrid Review) offers.
The standard Bamboo Quartz Ditanium Vaporizer retails for $279 and you can click here to pick one up from my recommended authorized retailer. Read on below for my full Ditanium Vaporizer Review.
Ditanium Specs
Let's get the details out of the way before we break into the overview and how to use the Ditanium. The Ditanium weighs roughly 2.5lbs and the dimensions are 6x4x4in.
The Ditanium comes in all kinds of different unique and exotic woods. You can stick with the basic albeit beautiful Bamboo or Black versions which retail for $279 and $296. Or spring for the Central American Rosewood or Cocobolo versions which both retail right at $599. They have lots of options in between as well.
In the Ditanium box you get:
Built-in quartz nail
Clearcoat finish
Titanium 14mm mouthpiece/ water-pipe adapter
Hands-free glass hand-piece. Optional titanium hand-pieces/sets are available in 7 different colors.
Blue LED light
Silicone Tubing
Detailed Instructions
It DOES NOT come with a carb cap ($28) or a stirring tool ($12). Two things you will definitely need for both dry herb and concentrates if you decide to pick up the Ditanium.
Heating and Temp Options
The Ditanium features a full analog temp spectrum via the dial on the front of the unit. It takes roughly five minutes to heat up properly and will stay on until you turn the dial off. There is NO auto-shutoff. It is built so that even if it tips over the hot parts will not touch any surfaces.
I feel like now is a good time to note that the Ditanium is not idiot-proof. I have burnt myself a couple of times while figuring everything out. The titanium stem and the glass wand will get extremely hot especially with prolonged use or group sessions. Be aware of what you're setting it down on and what you're grabbing. With that said, once you begin to use it more and get the hang of everything, it becomes super easy to navigate without fear of scorching your fingertips. I digress.
I like to think of the dial like a regular clock with 12 noon at the top. I prefer to stick between the 11 to 1 range and you can use about the same temp for dry herb as you do for concentrates.
Dual Use – Dry Herb and Concentrates
Dry Herbs – Loading the glass wand is pretty easy but there are a couple of tips to help get the most of your session. First, I recommend grinding up your herbs. A good grind will maximize the surface area of the herbs and allow for a more even heating. Second, I recommend tamping down the herbs just barely to help secure the herbs down a bit. Lastly, a good stir is needed after a draw or two to help mix everything up.
Extra Tip* Make sure to rotate the glass wand while in use to help disperse the heat around a little more evenly. It's not required but I've found it helps out quite a bit
Concentrates – Dabbing with the Ditanium is a super easy process. Just drop the concentrates directly into the sides of the quartz dish. As with most e-nails, it's important to use a small amount. You can always load more. You can also load the glass wand with dry herb prior to dropping the dab which is a "double-decker." I really enjoy doing this on a lazy Sunday playing video games, especially with the new MSFS2020.
Ditanium Cleaning and Maintenance
Dry Herb – The first thing I recommend to do when finished with a session is to clean out the chamber with a brush of sorts. Ditanium doesn't sell one but this brush ($3 for 3) that came with my Storz and Bickel Mighty is the one I use for pretty much all of my vaporizers. Don't leave the herb in the chamber after a session if you're trying to keep down on the cleaning.
Concentrates – Like I mentioned above, using a small amount will help cut down on how often and how long you spend cleaning the Ditanium.
To clean off any extra extracts, you just turn the Ditanium up to Max temp and let it burn everything off for a couple of minutes and you're good to go.
How To Use Ditanium Vaporizer
At-home use only. Can be placed back into the box it came in for travel to another place. Not for use on the go.
I use it mostly for dry herbs and dab with it occasionally. I prefer something like the RiO if you were only going to be using concentrates. The Ditanium isn't necessarily the very best dabbing experience but it works better than almost all other dry herb first vaporizers.
Check out my youtube video of the Ditanium vaporizer here.
Ditanium vs Volcano Vaporizer
Ditanium vs Volcano – I will say the vapor quality is better with the Ditanium vs the Volcano because it's a pure 100% convection setup. The Volcano vaporizer uses a hybrid heating style that utilizes both convection and conduction. I also feel like the new Hybrid Filling Chamber adds a bit more conduction which lowers the overall vapor quality slightly. The Ditanium also uses a direct draw system so the vapor is fresh and tasty compared to the Volcano where the vapor sits in the bag for a little while during the filling process causing it to lose some flavor
The Ditanium also offers a MUCH better experience for dabbing. However, I do still use my Volcano quite a bit for flower because it heats up fast and it's the easier of the two to use. I can turn the Volcano on and be vaping a bag by the time the Ditanium has properly heat soaked. There are pros and cons to both but if you think you'll be using any concentrates at all, go with the Ditanium. Feel free to hit me up in the comments below with any questions between the two.
Bottom line, the Volcano is the easiest desktop vaporizer to use on a daily, but the Ditanium offers a better overall session and flavor experience if you are willing to take the time to master it. The Ditanium is rated as my best "dual-use" vaporizer for 2021and I think you will really like the performance it offers.
Ditanium Vaporizer Review Summary
Overall the Ditanium is one of the best desktop vaporizers to hit the market. It offers the ability to vape both dry herbs and concentrates while being semi-easy to clean and maintain. It's also one of the cheapest desktop vaporizers other than the budget-friendly extreme-q which doesn't hold a candle to the Ditanium.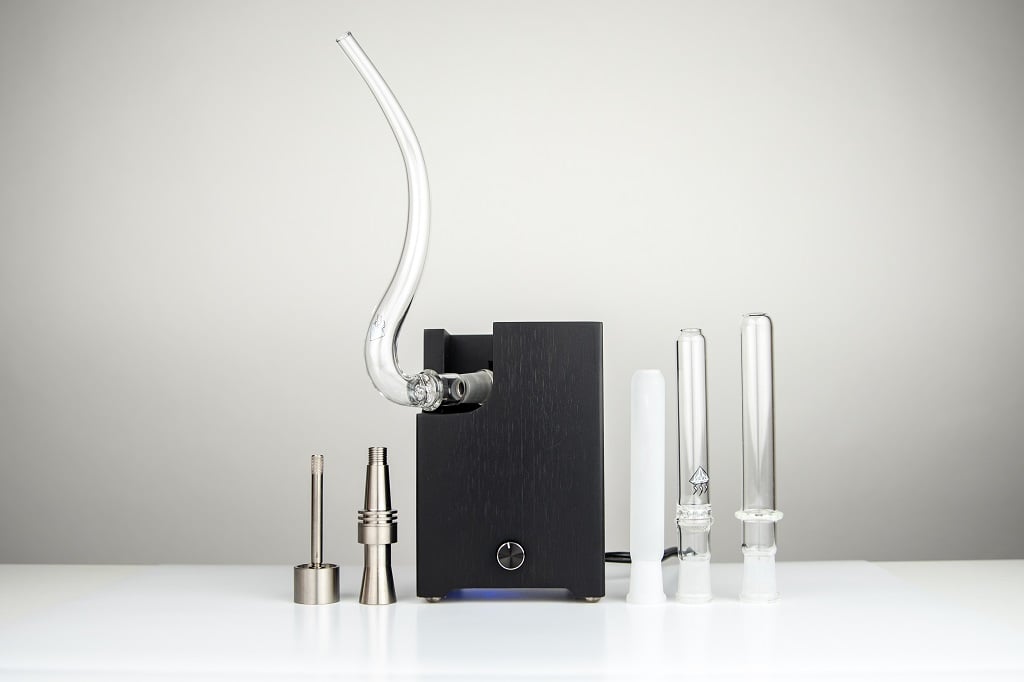 Who is the Ditanium Vaporizer for? The Ditanium is the best desktop vaporizer if you're looking to use both dry herbs and concentrates at home. The Ditanium is also best for someone who is looking to get the most flavor out of their dry herb. While the Volcano is the easier unit of the two to use, I still think the session experience is much better with the Ditanium. I get better flavor and the dabbing is much better than the Volcano.
Who's the Ditanium Desktop Vaporized not for? I would steer clear of the Ditanium if you don't have the time nor the patience to master the session. It does take some time to learn how to load it properly and it will also take a little bit of time to fine-tune the temps that you like. Now don't get me wrong, it's not hard and you will easily pick up on it after a session or two, but the Ditanium desktop vaporizer is not the push button and be done type of vaporizer. I would also skip the Ditanium if you have dexterity issues with your fingers, as you can burn yourself by touching the wrong areas.
If you're looking for a dual-use, consistent, and reliable desktop vaporizer for home-use, look no further than the Ditanium Vaporizer. I highly recommend buying the Ditanium from my recommended authorized retailer to ensure you get the two-year warranty.
Thanks for taking the time to check out my Ditanium Desktop vaporizer review and feel free to hit me up in the comments with any questions, comments, or concerns. Have a great day!
Ditanium Desktop Vaporizer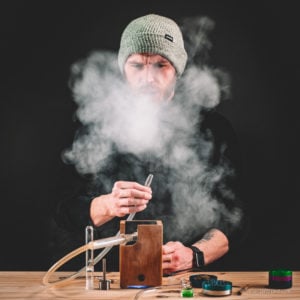 The Ditanium is a dual-use dry herb and concentrates desktop vaporizer made by DitaniumVapor. The Ditanium vaporizer is meant for home use and features a whip system.