Like peanut butter and jelly, Cheech and Chong, or grilled cheese and tomato soup, dry herb vaporizers and weed grinders go hand in hand. The number one accessory I can recommend with the purchase of a dry herb vaporizer is a grinder.
Below you will find a list of my three most used weed grinders in 2023. They have all been rigorously tested by yours truly for years at this point. We're talking pounds of dry herb going through these grinders. The weed grinders listed below will also work for all the different smoking pieces or rolling papers (bong, bubbler, joints, etc.) you have at home.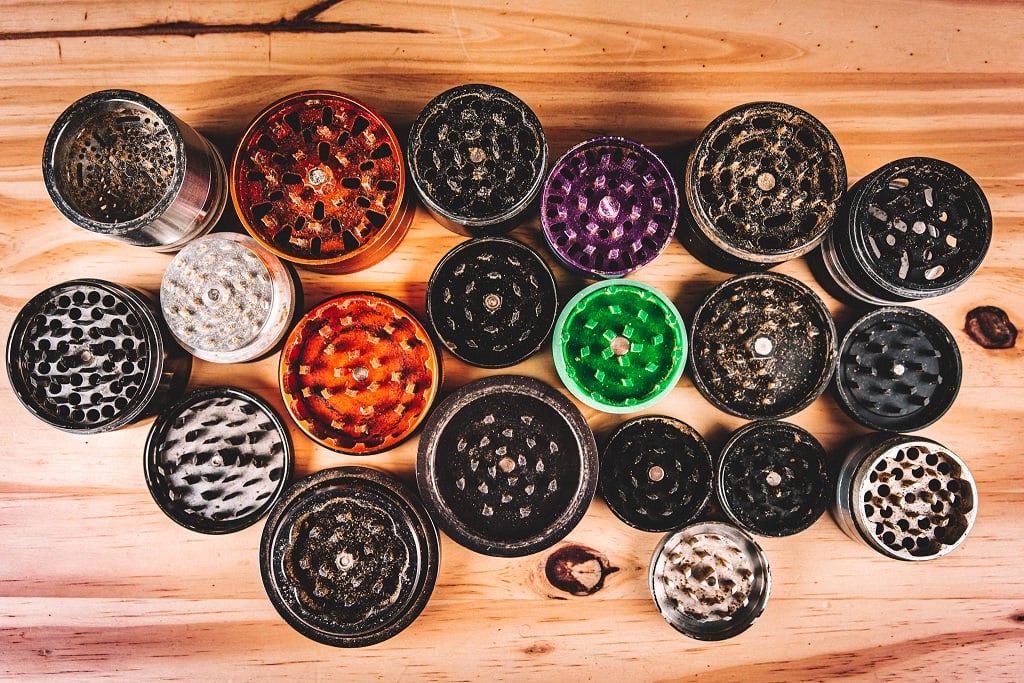 Best Weed Grinders 2023
Directions: Click a grinder below to jump to a brief overview, and click the price on the right for the best pricing and availability.
Brilliant Cut Grinder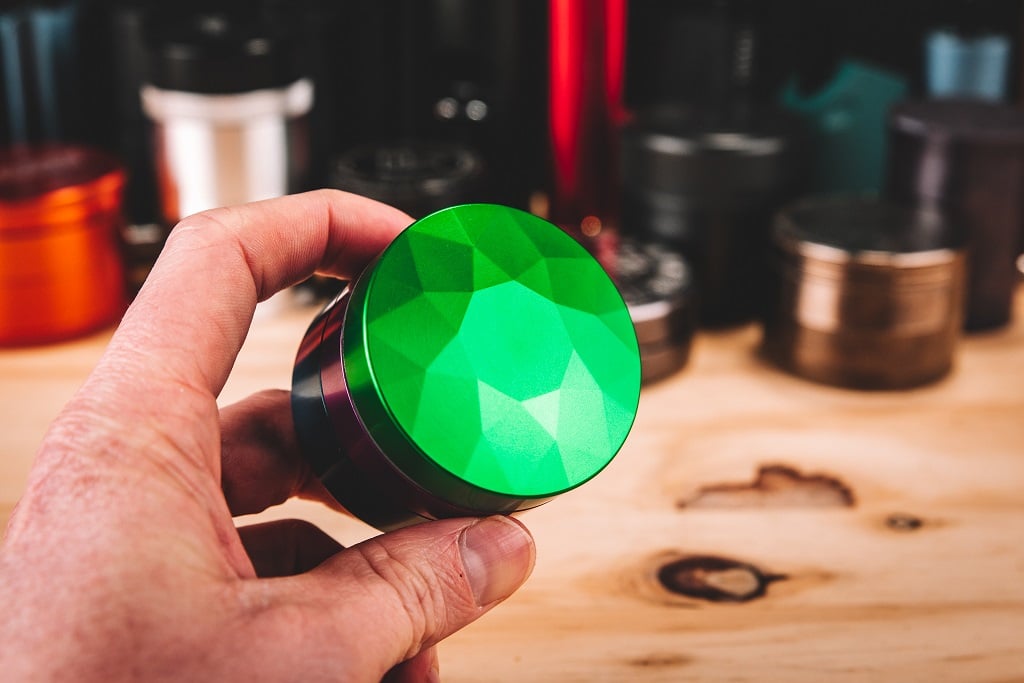 | | |
| --- | --- |
| Name: | Brilliant Cut Grinder |
| Manufacturer: | Grinders For Life |
| Price: | $75 – $160 |
| Materials: | Aerospace 7075 Aluminum |
| Grind Type: | Multiple Grind Plate Options |
| Pieces: | 3-Piece (No kief catch) |
| Manufactured: | Made in Canada |
SHOP BRILLIANT CUT GRINDER
What is the best weed grinder on the market? The Brilliant Cut Grinder is the best weed grinder in 2023, and it's made by Grinders For Life. I understand that, for the most part, a grinder is a grinder, but this grinder is the Beez neez. These grinders feature "Aerospace 7075 Aluminum," which is resistant to bending and denting, and they are some of the most robust, most durable grinders I've tested.
The best feature of the BCG is the lack of threads! The Brilliant Cut is held together via a powerful magnet and allows you to get to your herb much faster—no screwing on and off the top piece.
The BCG also offers different style grinding plates depending on what type of grind you are looking for. The options are Fine, Medium, and Coarse. I use the medium grind plate 24/7. Not too fine, not too coarse, and if I need it a little finer, I flip the grinder upside down and grind for a bit longer.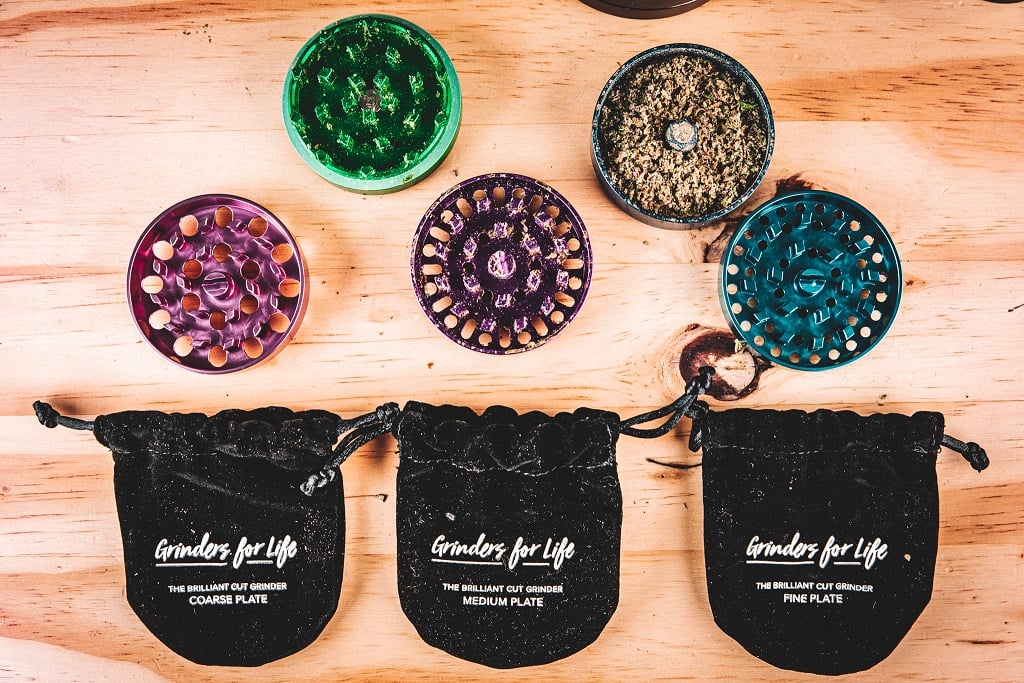 The Brilliant Cut Herb Grinder retails for $75, and you get to pick one plate. You can also get the package deal, which is $125, and it comes with all three grind plates.
The other cool thing about the BCG is that you can mix and match colors via the "BCG Color Preview Tool" on their website. So you can go swap them around and see what colors you like the best. I went with a blue, purple, and green color scheme.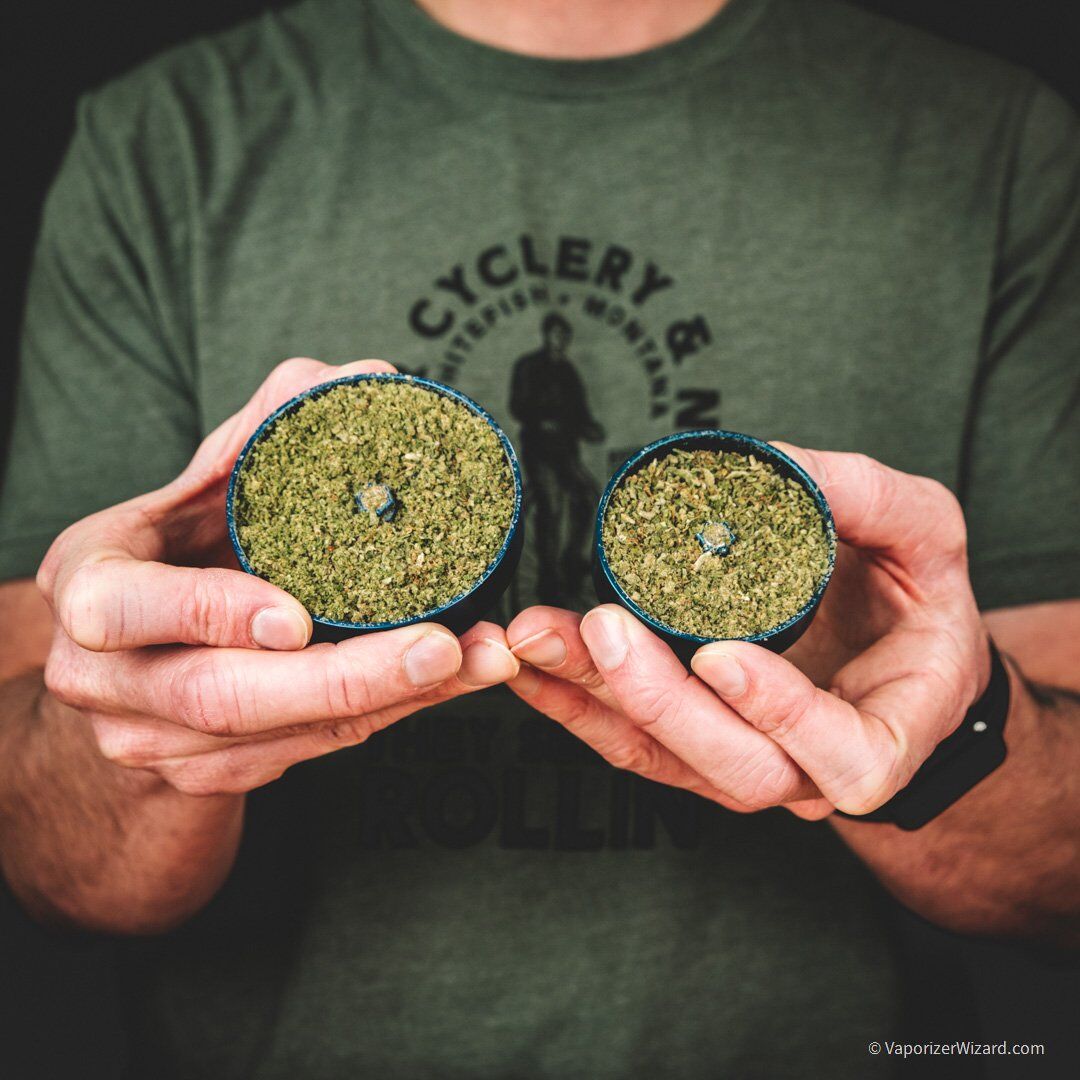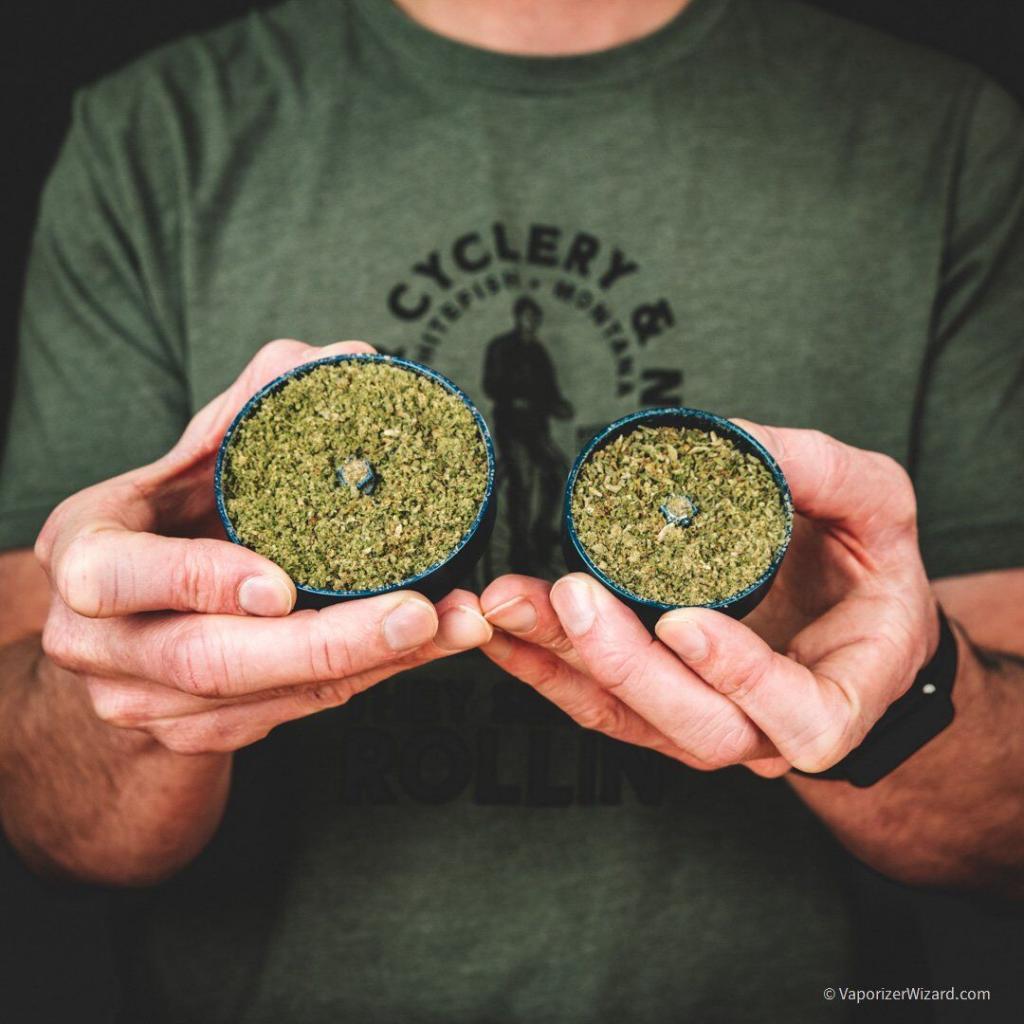 PS! They just released the new "Large" Brilliant Cut Grinder, which retails for $100, and you can buy the kit for $160. The large BCG is just a bigger version of the OG BCG. Check out my full Brilliant Cut Grinder Review for more pics and details.
Santa Cruz Shredder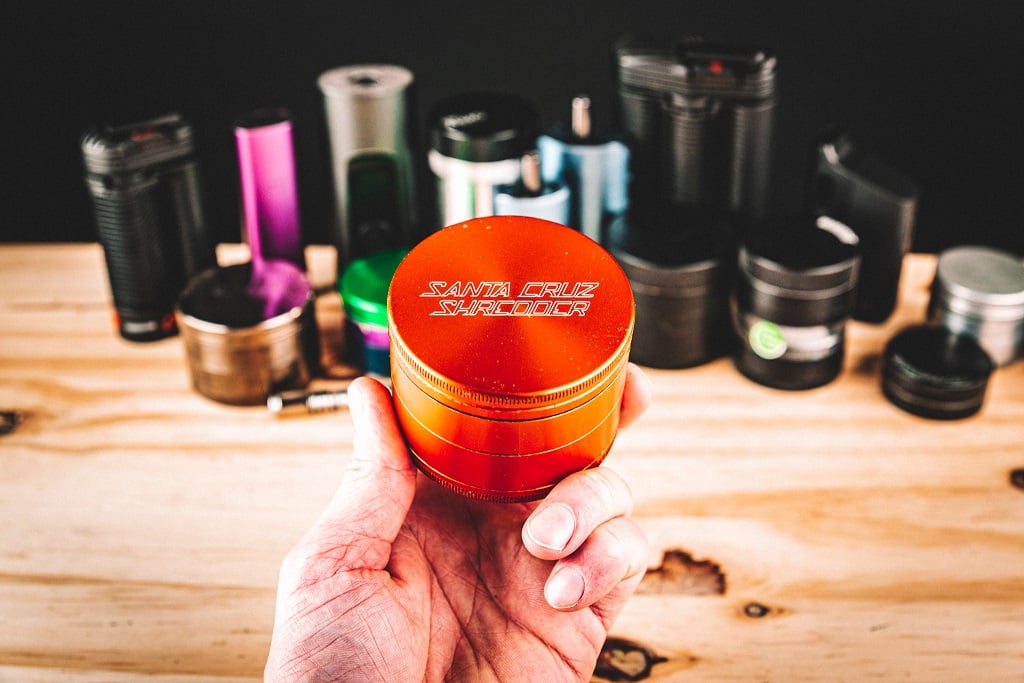 | | |
| --- | --- |
| Name: | Santa Cruz Shredder |
| Manufacturer: | Santa Cruz Shredder |
| Price: | $29 – $90 |
| Materials: | Anodized Aluminum |
| Grind Type: | Average – Coarse |
| Pieces: | 2, 3 & 4 Piece Options |
| Manufactured: | Made in the USA |
The second best weed grinder that I recommend is the Santa Cruz Shredder. The SCS is, in my opinion, one of the best-engineered grinders that you can buy. It's made in the USA, uses an innovative technique to "shred" herb, and never sticks or catches on anything. It shreds everything without a problem.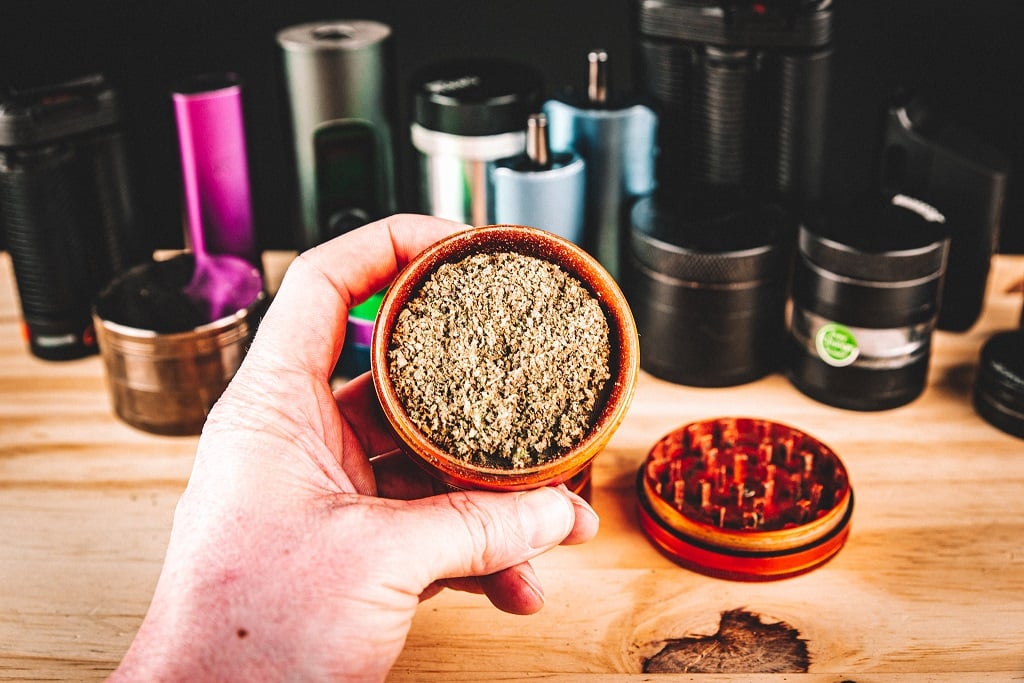 The Santa Cruz Shredder grinder offers a nice "knurled" grip making it easier to rotate the grinder, and strong "high tech" magnets to keep your herbs safe during storage. If you want the technical term, the SCS grinder uses "Neodymium Diametrically Magnetized Cylindrical Rare Earth Magnets." The magnets are "Nickel-Copper-Nickel triple layer coated for maximum durability and protection against abuse & corrosion."
The precise engineering combined with the strong magnets helps to prevent your herbs from drying out and can even help cut down on odors. It's still going to smell, but it does help slightly. My personal favorite (of the Santa Cruz shredders) is the Large 4-Piece Santa Cruz Shredder because I like to throw a little kief on the top of a bowl every now and then.
I recommend the SCS for convection-type vaporizers because it produces a coarser type of grind. This type of grind performs better with convection-type vaporizers because the herbs are not as condensed and allow for more airflow.
SCS Tip: You could get away with using this type of grinder for other portables if you flip it upside down and re-grind the material.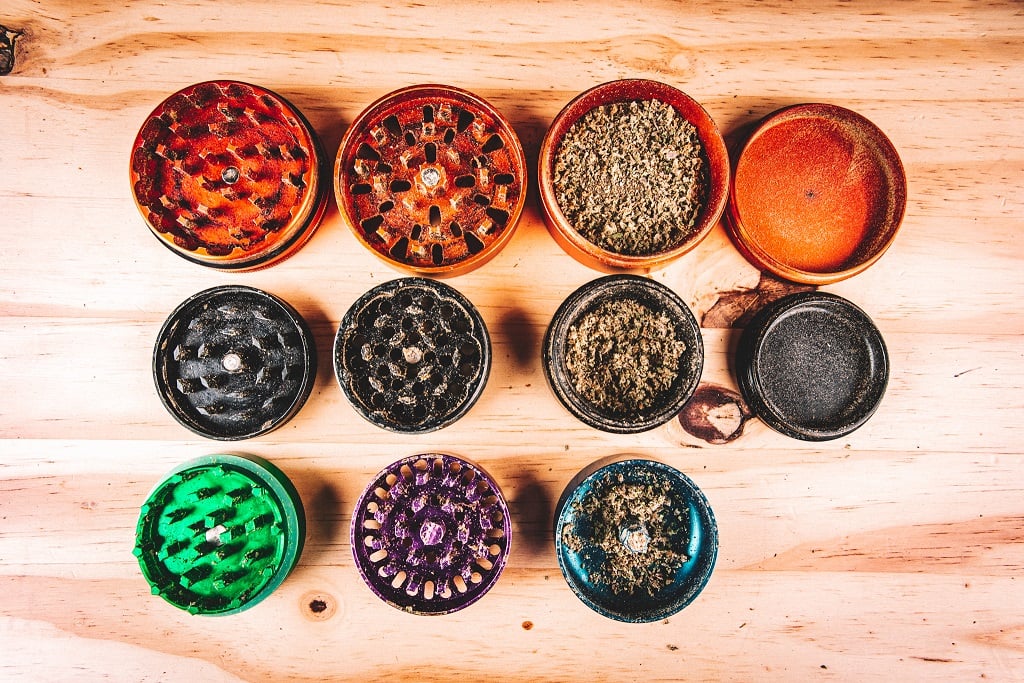 Santa Cruz Shredder Grinder Sizes
Large 4-piece = 2.75 inches (70mm) in diameter X 2 inches (50mm) high
Medium 4-piece = 2.1 inches (53mm) in diameter X 2.1 inches (53mm) high
Small 4-piece = 1.6 inches (40mm) in diameter X 1.6 inches (40mm) high
I like the Brilliant Cut Grinder over the Santa Cruz Shredder because of the BCG threadless design. The threadless design makes it easier to turn, and easier to maintain because the threads don't gunk up. The downside is the Brilliant Cut Grinder doesn't offer a keif catch. The BCG is only offered in a 3-piece design.
The Santa Cruz Shredder will work best with the vapes like the Firefly 2+, Crafty+, Air, OG Mighty and Mighty+, the CloudEvo, Solo, and the Volcano. Pick up the Santa Cruz shredder from Planet of the vapes here. They offer three different sizes and multiple different color versions. Hit me up in the comments with any questions.
POTV Grinder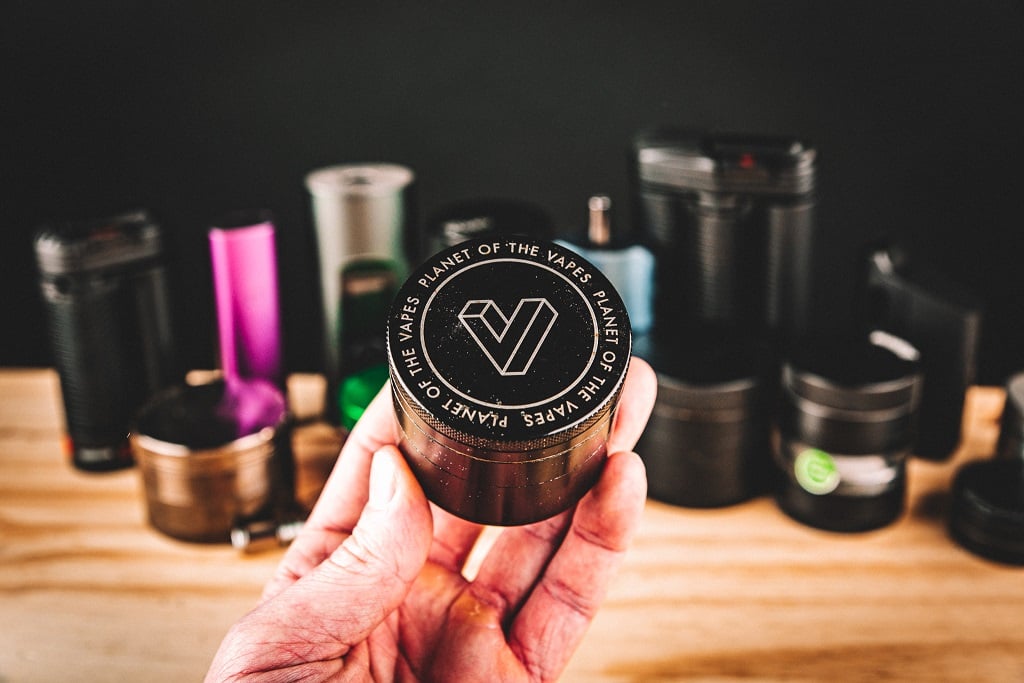 | | |
| --- | --- |
| Name: | POTV 4-Piece Grinder |
| Manufacturer: | Planet of the Vapes |
| Price: | $25 |
| Materials: | Aircraft Grade Anodized Aluminum |
| Grind Type: | Average |
| Pieces: | 4-Piece |
The best budget grinder I recommend is the Planet of the Vapes 4 Piece Grinder. It's nothing special, but the best thing about it is it's cheaper than most other grinders, and it works well. I've been using mine for over a year now without any problems. It doesn't grind as smoothly as the BCG or the SCS, but for $25, you can't really complain.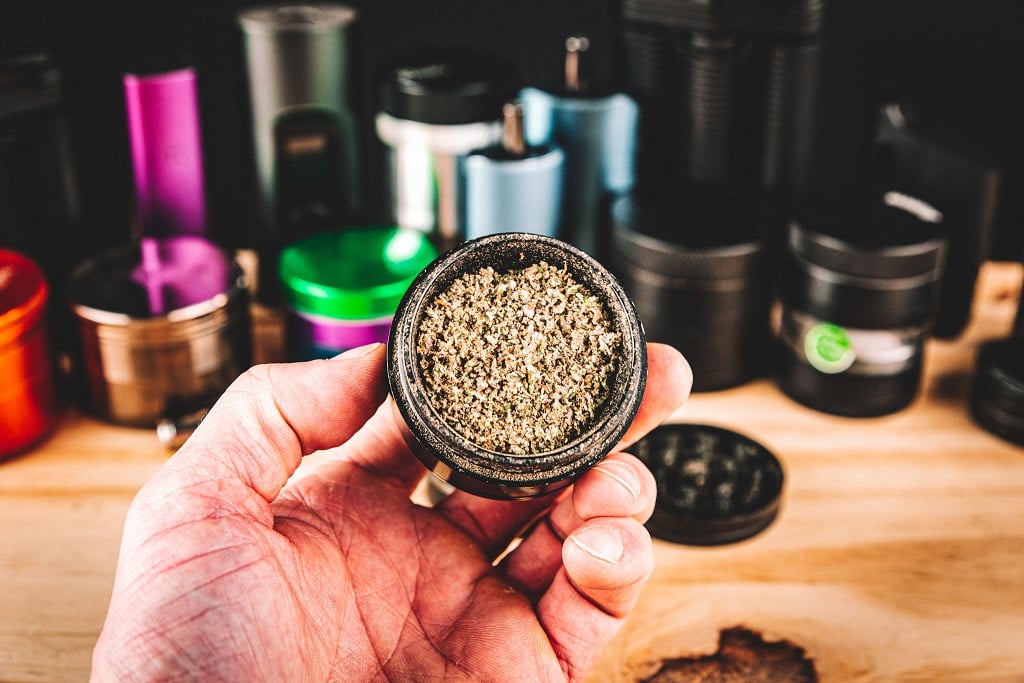 If you're looking for the best cheapest weed grinder, look no further than the POTV 4 Piece Grinder (Shop here).
Here's Why You Need a Weed Grinder
More consistent material
Improves the efficiency of your vape
Faster to break down herbs
Storage for herbs
A grinder can easily break down your dry herbs into a more consistent texture, allowing for an even extraction of your herbs without stirring or mixing your bowls. This maximizes the herbs' surface area that is heated, which helps your vaporizer perform more efficiently. Even the best dry herb vaporizer needs a grinder to maximize its potential fully.
All in all, if you have a vaporizer (or any smoking apparatus), you should buy a grinder because it will make your life easier.
When looking for the right type of grinder, you should first know that different grinders produce different consistencies that work best for particular vaporizers and other pieces. You should first find out if you have a conduction or convection vaporizer.
For the most part, if you have a conduction-type vaporizer like the Pax 3, Davinci IQ 2, Pax 2, Miqro, etc…you should be using a fine type of grind. If you mostly use convection-type vaporizers like the Volcano, Firefly 2+, or Crafty+ and Mighty, you should use a more coarse-type grinder.
Let me know in the comments what kind of setup you have and what grinder produces the best results for you so other people can see what works and what doesn't.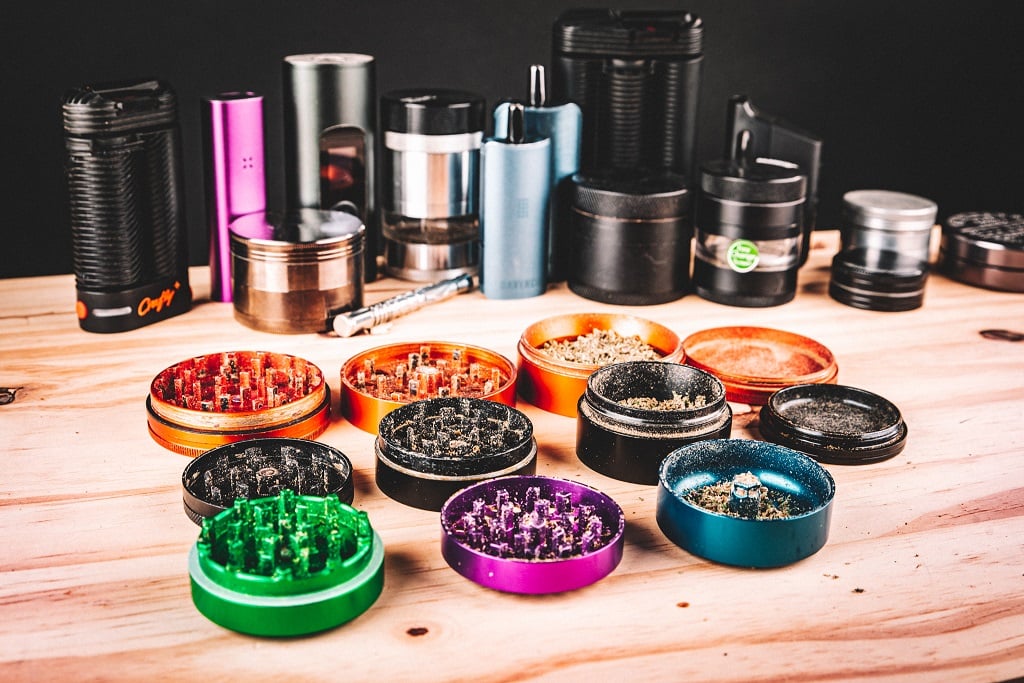 While I've had dozens of different good grinders, some of them very unique, these are the three that I always come back to because they work. Thank you for taking the time to check out my site, and hit me up in the comments below with any questions or suggestions for the best cannabis grinder in 2023.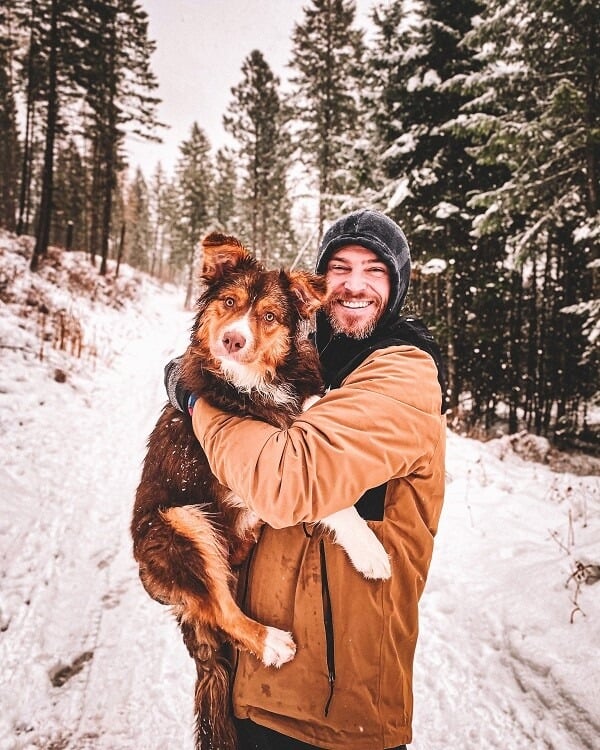 Buzz Danklin
The Wizard at VaporizerWizard.com
I've reviewed dry herb vaporizers for over a decade and have nearly 200 portable and desktop vaporizers. I live in the beautiful state of Montana with my dog Zoey, and I have my Medical Marijuana Card.