New portable dry herb vaporizers seem to hit the market almost daily and while this can be exciting, it can also be overwhelming having so many options and price points to choose from.
Welcome to VaporizerWizard.com, my name is Buzz Danklin and I put together this list to help you find the best portable vaporizers in 2020. Each of the categories below will be continually updated to reflect the top-rated portable and handheld vaporizers currently on the market in 2020 as well as portable vapes released prior to 2020.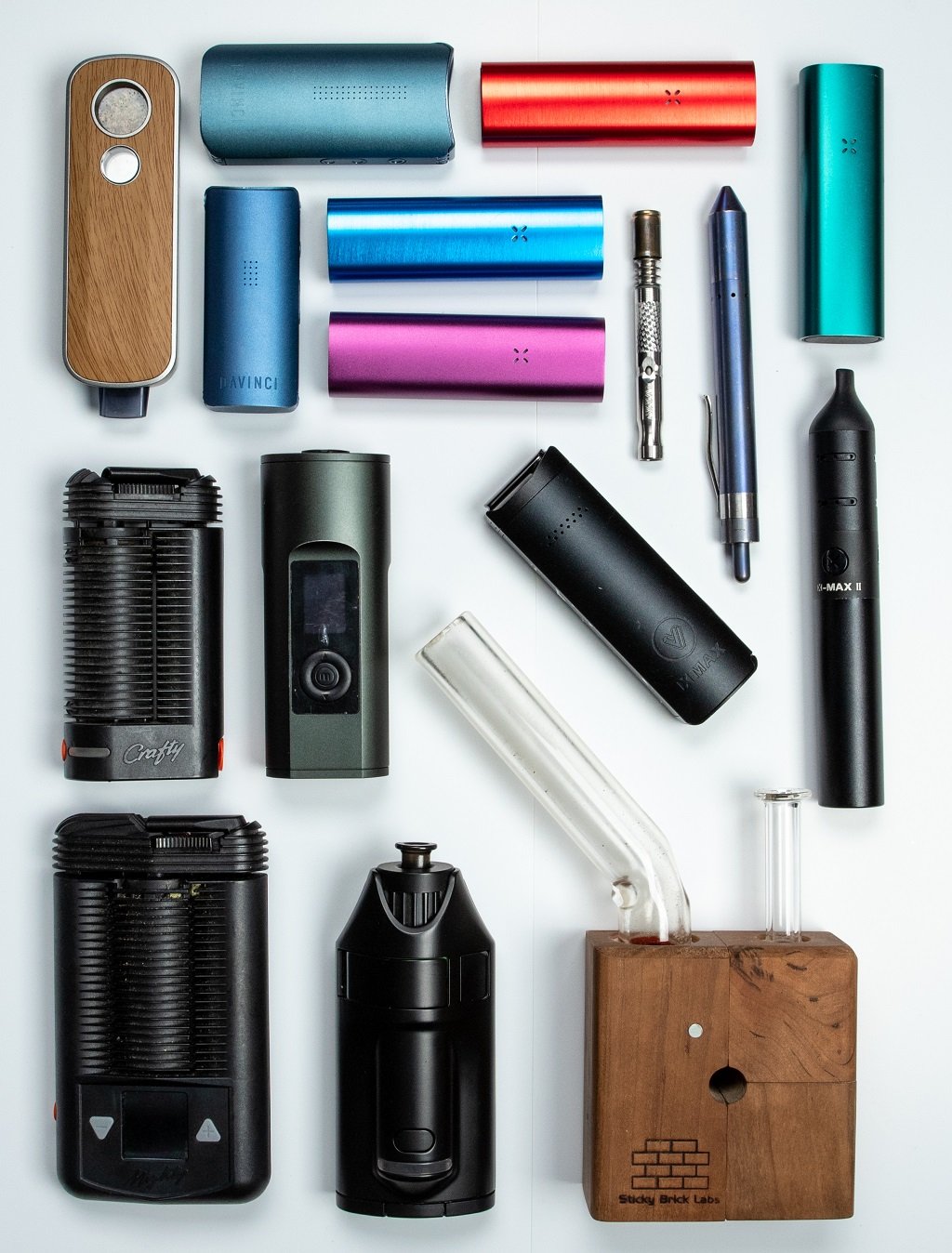 At this point, I have currently tested/reviewed over 150 different portable vaporizers since I started back in 2013. My vaporizer reviews are graded by multiple different categories but the most important for me are ease of use, reliability, durability, portability, concealment, and overall vapor quality (taste, temp, smoothness). I've listed the top-rated portable vapes in each of the categories below.
I also have a complete list for the best desktop vaporizers of 2020 if you wanted something more stationary for home-use.
Best Portable Vaporizers
Directions:
Click on a category below to learn more about the vaporizer and click the shop link for my recommended authorized retailer.
---
---
Best Vapor Quality
Based on: Taste, Density, and Temperature.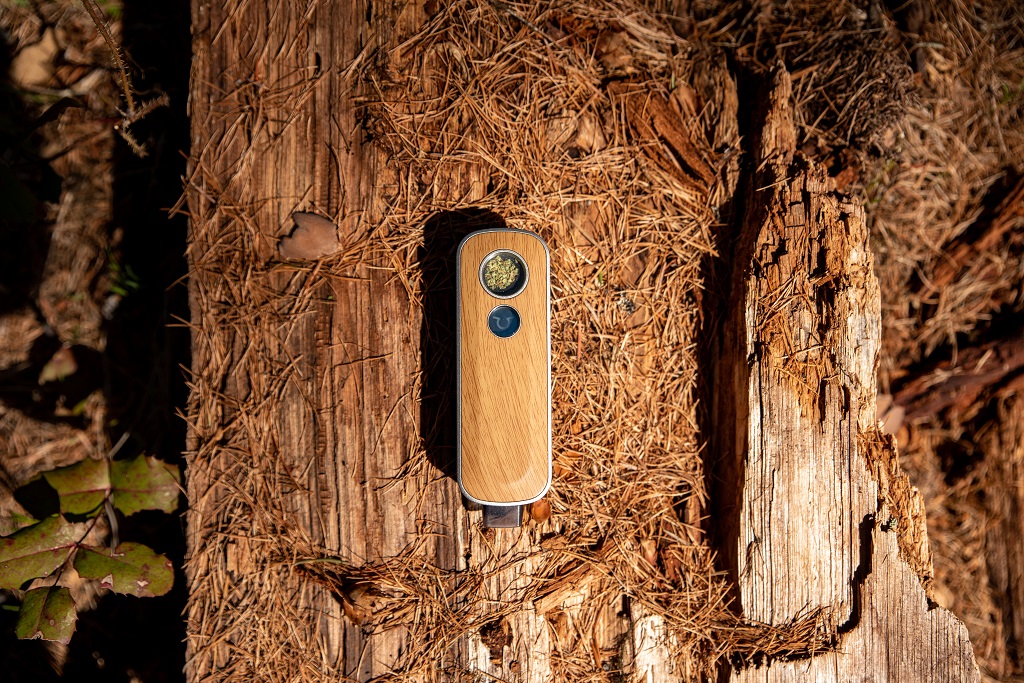 The Firefly 2+ (Plus) is premium "pure convection" portable vaporizer made by Firefly Vapor. The Firefly 2+ comes with a full temp spectrum ranging from 200F to 500F for both dry herbs and concentrates.

The Firefly 2 Plus vaporizer comes with one replaceable rechargeable battery and charging cradle. It preheats in less than 10 seconds and requires below average cleaning/maintenance.
I've really enjoyed testing the new Firefly 2 Plus out and it's basically fixed everything that was an issue with the FF2. Improved airflow, consistency and battery life are just a few up the upgraded features.
I highly recommend checking out my full review and if you are looking for the best taste offered in a portable vaporizer, look no further than the Firefly 2 Plus.
The powerful heater and quick heat up times paired with amazing taste and density create a one of a kind unique experience that I think most people will really enjoy.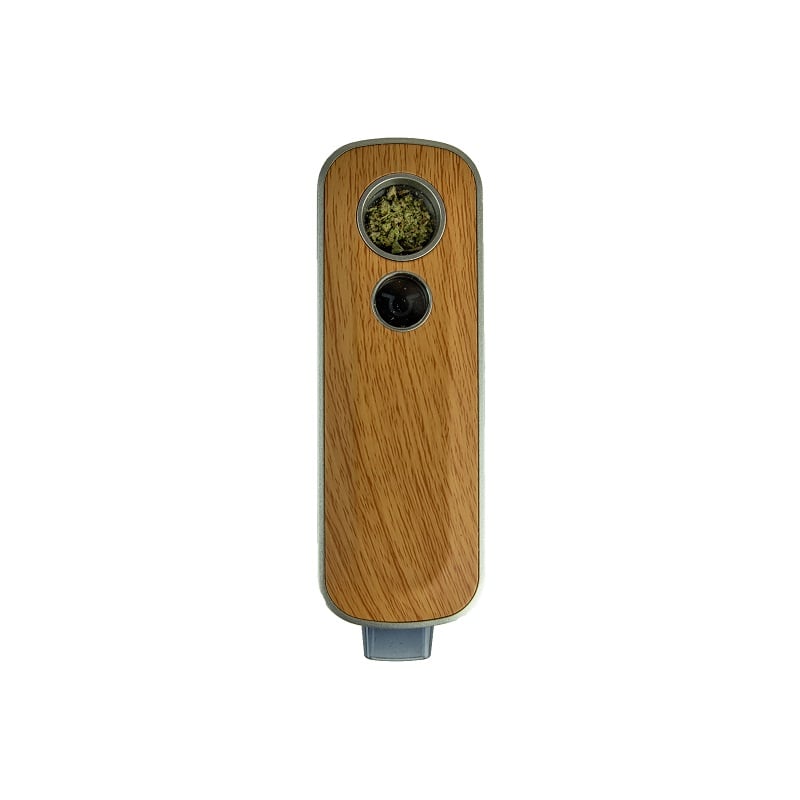 Shop Firefly 2+
The Firefly 2 was kind of hit or miss as far as consistency goes but the new Firefly 2 PLUS is much more consistent and easier to use. It also features less draw resistance and improved battery life via a firmware update.
The Firefly 2+ is currently my favorite dry herb and oil vaporizer to use with concentrates and I consider the Firefly 2 plus the best portable vaporizer when you looking solely at vapor taste, production, and temp/smoothness.
The new power tuning feature in the app has improved consistency and allows users to fully customize sessions. Clean up is simple, the chamber is a good size for 1-2 people, and the battery fully recharges in 45 minutes.
Firefly 2 Pros and Cons:
The Firefly 1 was big, heavy and had below-average battery life. The Firefly 2 had some issues with consistency and overall battery life but the new Firefly 2 PLUS has fixed all of that. It's much more consistent and I'm getting 5-7 bowls on a fully charged battery. The batteries ARE replaceable but they will have to be charged within the unit unless you pick up the external charging dock and an extra battery which I highly recommend.
The only downside to the Firefly 2 would be the unit does require some technique for best use and we will see how well the batteries hold up over time.
Tips: Adding an extra battery isn't a bad idea if you plan to take any long multi-day trips, concerts, hikes, etc…. It's extremely easy to just swap one in and out.
---
Most Compact Vaporizer
Based on: Easiest vape to pocket and conceal.
---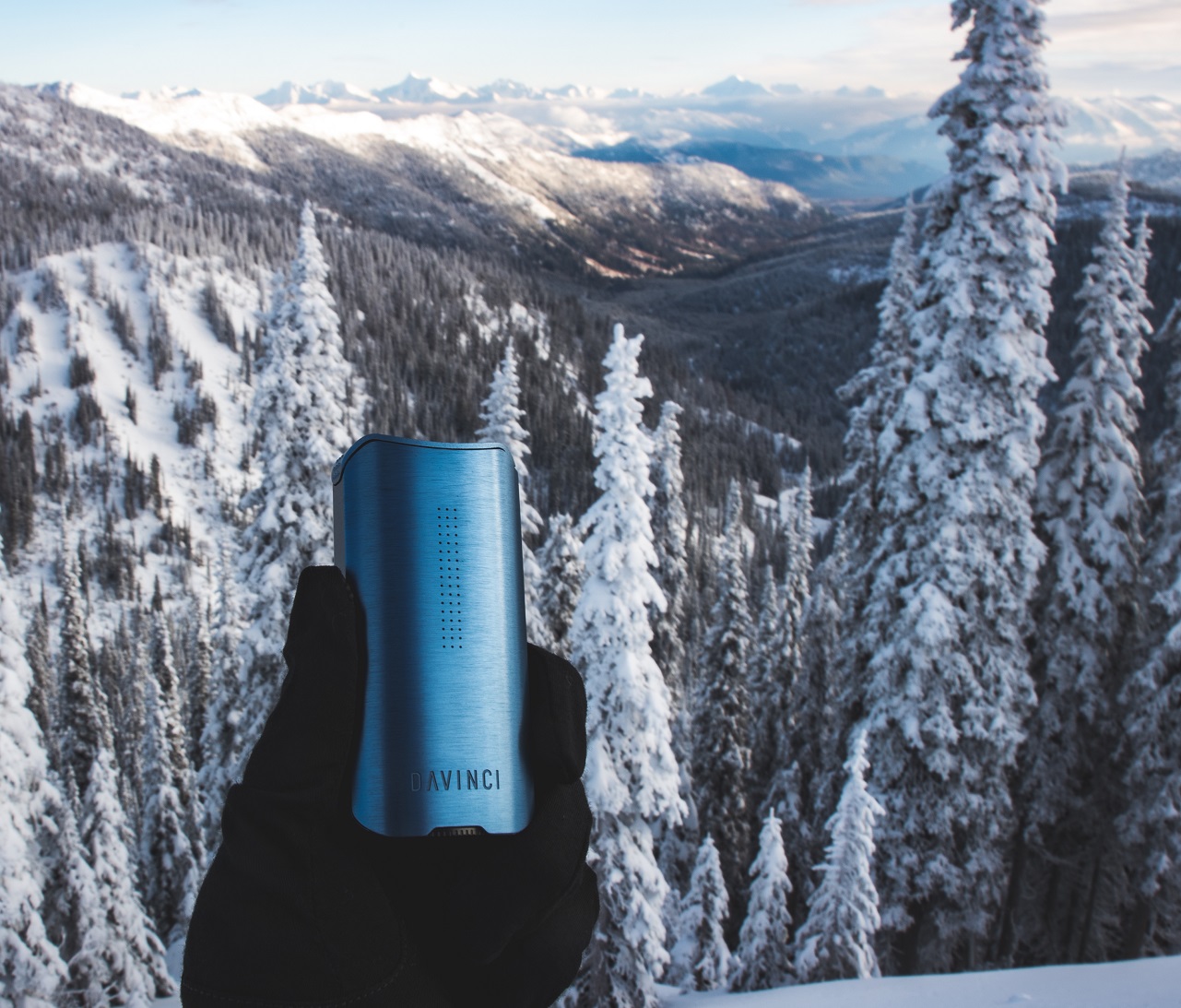 Davinci IQ 2 Vaporizer ($295)
The Davinci IQ 2 is a portable dry herb vaporizer made by the company Davinci. The IQ 2 is an upgraded version of the original IQ which made its debut a few years back. I've found the IQ 2 is a great vaporizer for a wide range of users. It's easy to use, easy to maintain and produces consistent results.

Shop IQ 2
The new IQ 2 accessories make it a great vaporizer for micro-dosing but can crank out massive clouds for heavier users. The replaceable 18650 battery system averages over 60 minutes of continuous use which makes it a great vaporizer for long days. Lastly, the newer flavor chamber design makes it much easier to clean and it still comes with a 10-year warranty.
The IQ 2 retails for $295. Click here to pick one up directly from Davinci. Read on below to get my quick review of the Davinci IQ 2. I'll post a full Davinci IQ 2 review shortly.
IQ 2 Upgrades > IQ: The upgrades on the new IQ 2 include better airflow via the adjustable airflow dial. The flavor chamber is no longer removable which makes the device easier to clean and the new version of the IQ comes with accessories for dosage control and concentrate use.
There are a few other upgrades but overall, the newer IQ 2 vaporizer offers better vapor quality, better airflow and more control over your sessions. This is the perfect vaporizer for someone who enjoys micro-dosing but also can satisfy heavier users.
Finally, IQ 2 vaporizer offers a replaceable battery system with great battery life. It works great for multiple bowls and group scenarios.
The downsides for me include the overall size and weight and how long it takes to charge.
Size:
The newer IQ 2 vaporizer is slightly bigger and weighs a bit more than the OG IQ. It's still the perfect size for your pocket and feels good in the hand but I recommend picking up the IQ 2 sleeve for added grip. The outer shell is slick and easy to drop when passing in a group scenario. It can also get hot to the touch, especially if you're using it in back to back sessions.
Charging: If you plan on charging batteries within the unit it will take upwards of 6 hours to fully charge from dead. You can cut this time in half but picking up a spare battery or two and an external charger. Nitecore makes a good one and they sell on Amazon for around $20. Extra batteries run $12.95. Don't forget to use coupon code "WIZARD" for 10% OFF all accessories.
The main reasons I would buy the Davinci IQ 2 is for battery life and consistency. It's easy to use, I can always swap in a new battery if it's dead and I truly enjoy the vapor quality especially with the newly added airflow dial.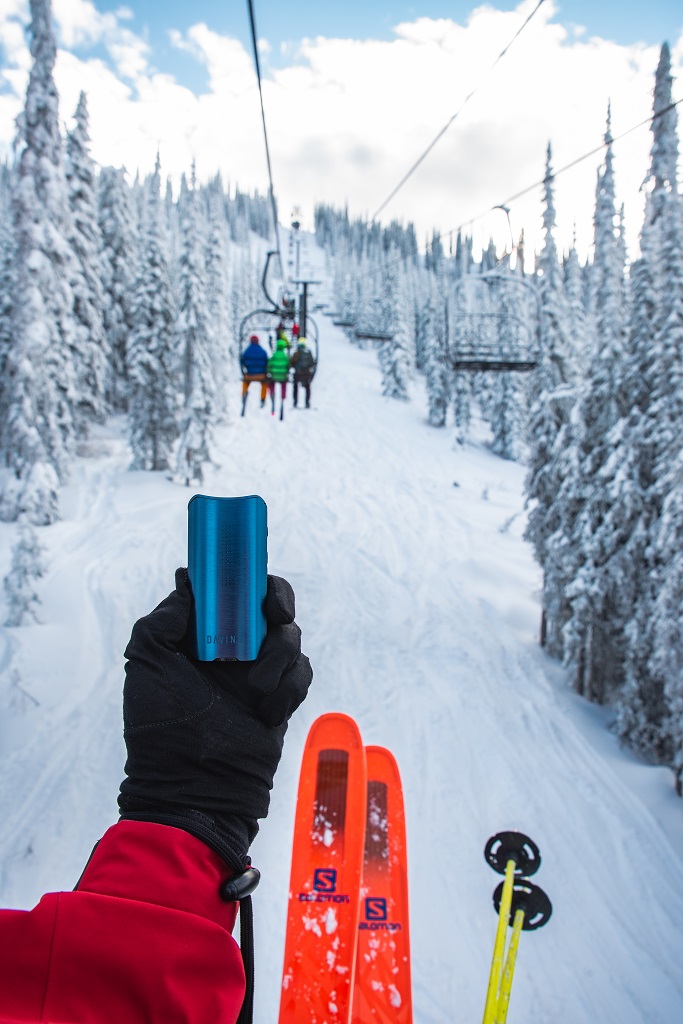 I would also check out the
Miqro
if you wanted something smaller. It's currently on sale for $99!
Click here
to pick one up.
P.S. The original IQ vaporizer is still available for sale and retails for $225. Check out my OG IQ review here and you can click here to pick one up directly from Davinci.
---
Best Overall Portable
Based on: Best Vapor Quality, Easiest To Use, & Most Reliable.
---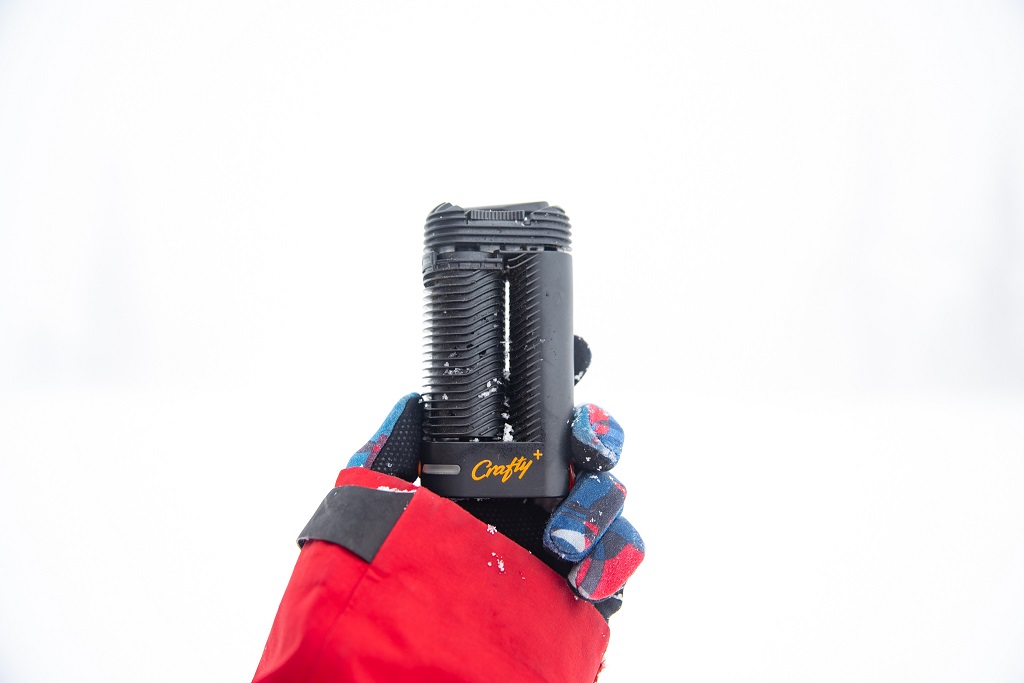 The Crafty Plus vaporizer is the newest addition to the Storz and Bickel dry herb vaporizer product line and an upgraded version of the original Crafty. If I had to choose one vaporizer to use for the rest of my life, it would more than likely be the Crafty or Mighty. These vaporizers are reliable, consistent and always produce great tasting vapor.
The OG Crafty was best known for providing great vapor quality while being easy to use and maintain. The new Crafty+ Plus took everything I love about the OG and made a few key upgrades and while it's not a new redesign, the new additions make it that much better.
The biggest complaint with the OG Crafty was battery life. The newer model Crafty Plus upgraded the capacity and tweaked some software to give us a couple of extra bowls and quicker heat up times. The new Plus Crafty also features better insulation for more consistent temperatures and a new boost mode at the very high end of the temperature spectrum.
Last but not least, the new Crafty Plus vape upgraded the warranty length. You still get a two-year manufacturer warranty but you can get an extra year of service, three in total, if you register your device when you get it. Storz and Bickel have always been known to have great customer service and will take care of you if anything were to happen to your vaporizer.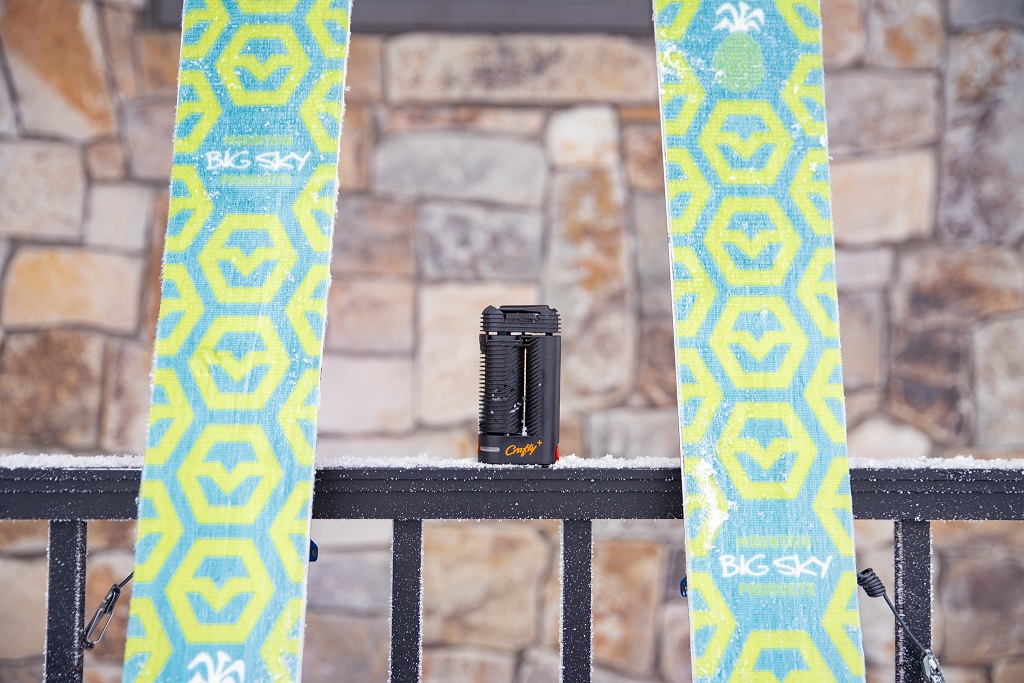 Overall, the Crafty and/or Mighty are the two vaporizers that I always find myself reaching for when I'm heading out for the day. As long as the Crafty is fully charged, it's always in my pocket or in a backpack ready for another adventure.
If you're looking for the one quiver do it all type of portable vaporizer, look no further than the Crafty Plus vaporizer. You will not be disappointed.
Click here to buy the Crafty Plus. Be sure to use coupon code "WIZARDNOW15" for 15% OFF! Check out my full Crafty Plus Review to get all the details and be sure to leave a comment with any questions.
---
Most Portable Vaporizers
Based on: Size, Weight, Concealment, Discreetness.
---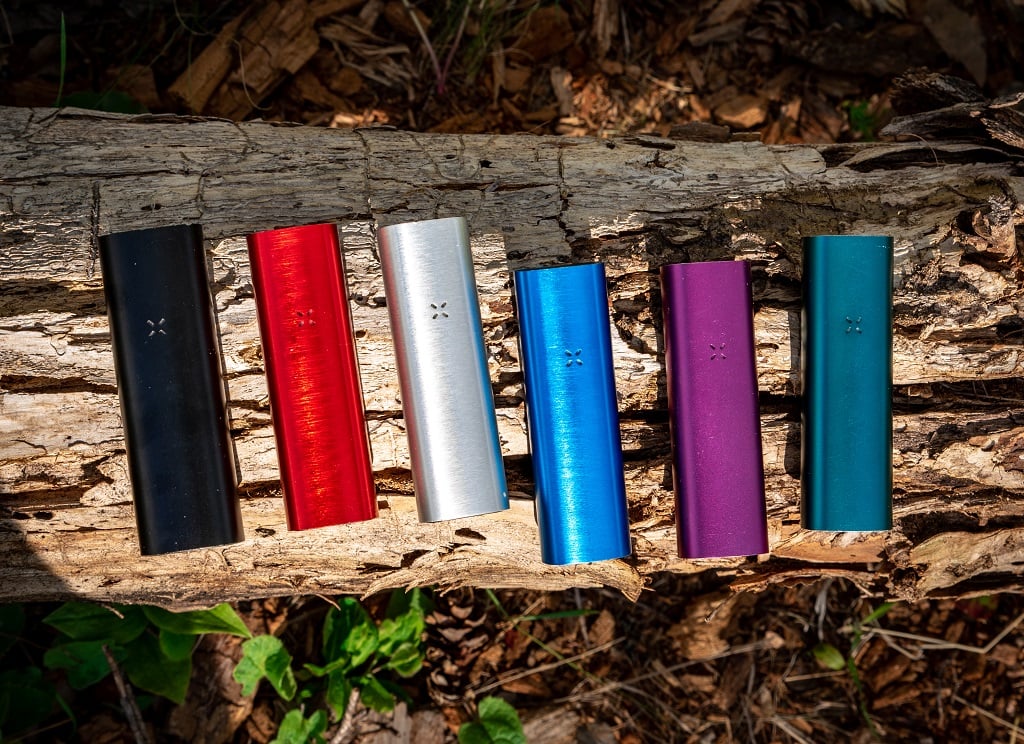 The Pax 3 features a lot of internal changes while keeping the same size and only adding 3 grams to the overall weight. Upgrades include the option to vape both dry herbs and concentrates with the new concentrate insert.

The Pax 3 also uses an upgraded 3500mAh battery vs a 3000mAh on the Pax 2. Pre-heat times for the Pax 3 now average between 15-20 seconds whereas the Pax 2 is about 45 seconds.
You also get haptic feedback and lastly, the Pax Vapor APP is live. The Pax 3 Vapor APP will give you full control over the temp spectrum (360F-420F) with options to select different heating profiles.
Within the app, you can also change color themes, lock the device, dim the LED or completely lock the device.
Appearances wise, Pax Labs changed the outer shell from a brushed aluminum (Pax 2) to a polished finish (Pax 3). So far the shiny surface is holding up pretty well but will be more susceptible to fingerprints and scratches.
I'm really enjoying the concentrate insert but I don't really see it replacing anyone's dab rig or e-nail. It does extract the materials very well and without creating a big mess but it doesn't get anywhere near as hot as traditional methods.
I've been averaging about 100 minutes of use on a single charge and it takes roughly 100 minutes to fully charge a dead Pax 3.
Bottom Line: The Pax 3 is about as good as it gets for a portable vaporizer when considering battery life, portability, durability and overall ease of use. The new Half-Pack lid is a great feature for single person sessions. You no longer have to buy third party accessories to maximize efficiency and the concentrate insert provides a very good option to use materials other than dry herb.
Update: Pax Vapor is now offering the Pax 3 in a "Device Only" kit for $199 which includes everything you need to vape dry herbs, except the half-pack lid which you can pick up for $12.99. The Pax 3 "Complete Kit" comes with the half-pack lid, the concentrate insert and a new carrying case for $249. So they dropped the price overall by $25 and included a new carrying case.
---
Best Battery Life
Based on: Best average battery life per full charge.
---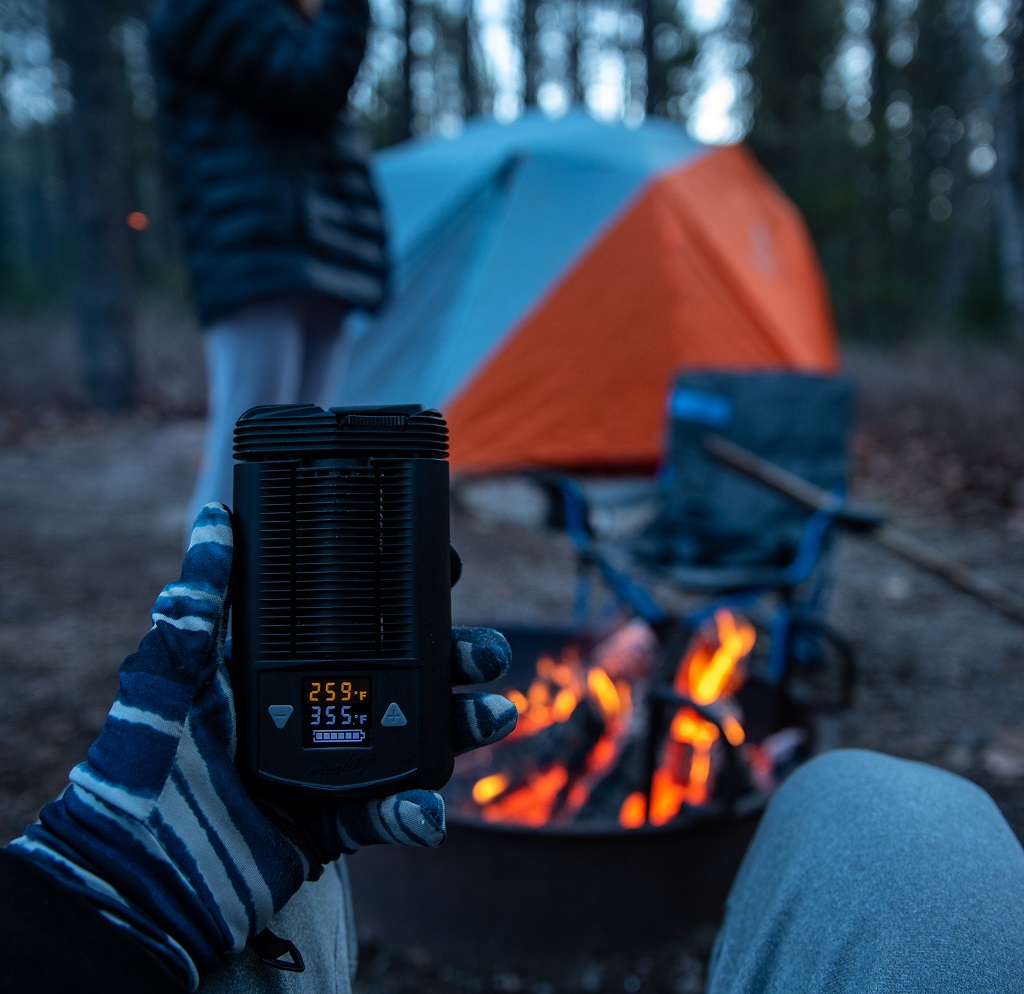 The Mighty is the bigger brother of the smaller Crafty portable vaporizer and although it's definitely not the best small vaporizer, it comes with some pretty great features.

For one, the Mighty currently has the best battery life on the market per full charge. The unit can only be charged via DC but the battery will easily last a full day of hiking/biking or to enjoy an outdoor concert. I average between 6-8 sessions on a full charge and the unit will fully charge in about 90 minutes.
Next, the Mighty comes with an on vape, easy to read, LED display and easy to use temp buttons located on both sides. The full temp spectrum ranges from 105F-410F.
Although the Mighty is a bit big for the pockets, the extra size and weight make it extremely easy to pass around and use in group scenarios. This is perfect because the Mighty really is the best vaporizer for long sessions. It works best when you have time to sit down and enjoy a 10-15 minute session.
The Mighty could be easily be considered as the best vaporizer for dry herb. Especially if you don't mind the size.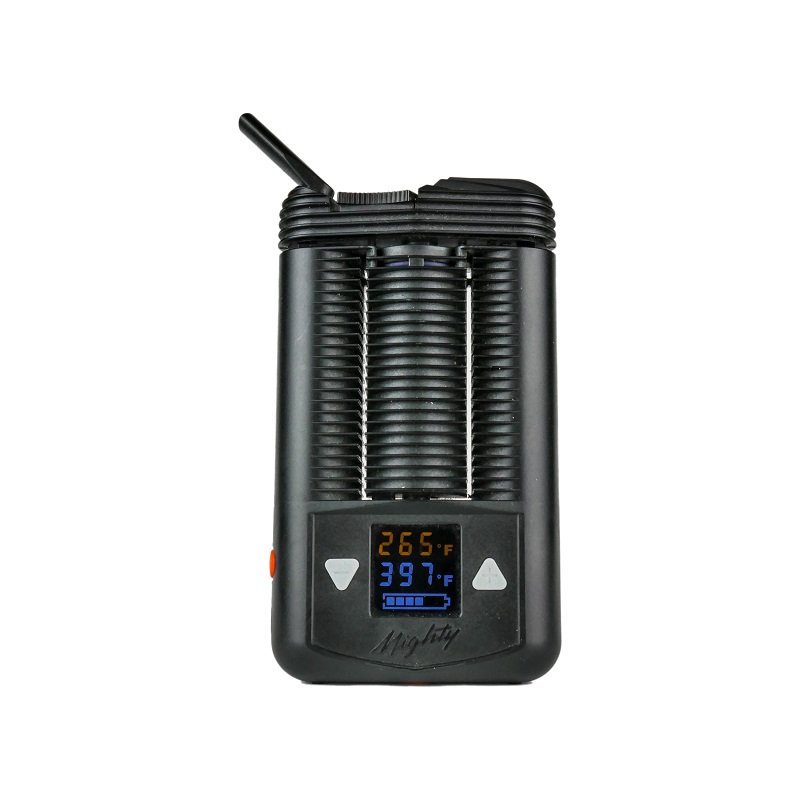 Shop Mighty
Use My Coupon Code:
"WIZARDNOW15" for 15% OFF
Mighty Pros and Cons:
Overall the Mighty is one of the easiest vaporizers to use. It's reliable, durable and produces great vapor production. The only downsides to the unit are the overall size and weight and the battery charging options. It CAN be pocketed if needed but it's pretty bulky in the jeans. The Mighty will fit much better in a purse, hoodie, or backpack.
Lastly, the battery can only be charged via an AC wall outlet. Check out the Crafty if you want something a little more portable with more charging options. Or check out the Pax 3 as an alternative for the best battery life.
---
Best Portable Vaporizers Under $200
---
Pax 3 ($199 – Basic Kit)
I know I've already listed the "Pax 3 Complete Kit" ($249) above as the most portable vaporizer but the "Pax 3 Basic Kit" for $199 is the way to go if you're trying to stay under $200.
You get everything that comes with the complete kit except for the concentrate insert, the half-pack lid, and some extra screens. So if you're not going to be using concentrates and just planning on sticking with dry herb, this kit is perfect for you.
You still get the 10-year warranty, the 25-second average heat up time, Bluetooth, haptic feedback, and full control with the paxvapor app. It's literally the same device minus the insert for concentrates and the half-pack lid.
The only thing you can't get with the basic kit is the glossy finish. I personally like the matte finish anyway so that's not a big deal to me. The matte finish doesn't show fingerprints or scratches as easily.

I recommend picking up the Pax 2 directly from PaxVapor or from VapeWorld. PaxVapor doesn't ship to all states so be sure to check both sites for the best deals and shipping options.
---
Next option in the best vape under $200 category is the Arizer Solo 2. The Solo 2 features almost three hours of average battery life, a full temp spectrum, and one of the most reliable portable vaporizers on the market.
The 20-second heat-up time on the Solo 2 is definitely one of my favorite features. I also really like the display and the temp buttons are easy to use. I both love and hate the glass stem because I'm usually out and about with my vaporizers. So a glass stem is both dangerous to be in a pocket and not really easy to hide, especially while mountain biking or skiing, but the flavor you get from the all-glass vapor path is phenomenal.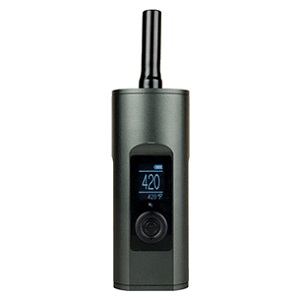 Shop Solo 2
With that said, I prefer to use the Solo 2 at home the most and especially with a water pipe adapter and some glass. The Solo 2 kicks out massive clouds and is honestly the perfect vaporizer to bring over to a buddies house or just sit and chill while watching Netflix. You can use it while it's plugged in and basically never run out of battery life.
Lastly, the Solo 2 comes with a lifetime warranty on the heating element, a 2-Year warranty against defects, and a 1-Year warranty on the battery. Other than the glass stem, this is one of the most durable portable vaporizers you can own and it will last a lifetime.
---
Best Dry Herb Portable Under $150
---
The first option in the best portable vaporizer under $150 category is the Davinci Miqro. The Miqro is the newest dry herb conduction vaporizer from Davinci Vaporizer. It features a replaceable battery system, a full temp spectrum, two mouthpieces (one recessed and one that doubles as a 10mm water pipe adapter), a 5-year warranty, and it's the smallest battery-powered vaporizer that I have ever tested.
The Miqro features pretty much everything that comes with the IQ but in a much smaller unit. You still get the 4 smart path options which gradually increase temp over the session, you get a precise temp option, boost mode and the pearl actually works in the Miqro.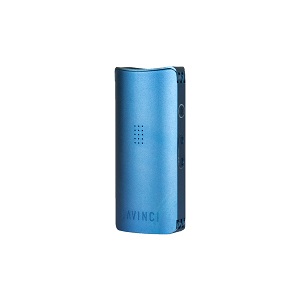 Shop Miqro
It's also one the freest flowing vaporizer in this price range. Meaning that it doesn't require too much effort to get a good draw as long as you keep it clean.
I've been using the Miqro most while mountain biking, hiking and nights out on the town because it's easily pocketable, easy to use and easy to load. It's definitely not going to be the best vaporizer for big groups or heavier users because of the battery life but each battery will get you about 30 minutes of average battery life. With the 5-minute session timer, that has averaged out to be about three ten minute sessions per battery.
If you think you will be using it in groups or on a heavy daily basis, you might want to consider upgrading to the Davinci IQ which is listed above. The Miqro is available in two kits, the "Basic Kit" and the "Explorers Kit". The basic kit retails for $149 and it includes one battery, the unit, both mouthpieces, and some cleaning accessories. The Explorers kit includes TWO batteries, a glove to help with the heat, a carry can, a nice case, and a grinder card. I feel like the extra battery definitely helps out and the glove/case are nice additions. Both options come with a 5-year warranty.
---
The next option in the best portable vaporizer under $150 category is the Boundless CF. The CF vaporizer is the smaller version of the CFX with the same fast heat up time but only 5 preset temps and no display.
The CF is very easy to use, works well with varying load sizes and varying grind types.
It looks and feels sort of similar to the Crafty vaporizer. It's easy to pocket, very light and almost small enough to completely palm. It uses a non-replaceable battery and can be charged via USB.
Lastly, the CF vape comes with a two-year manufacturer warranty.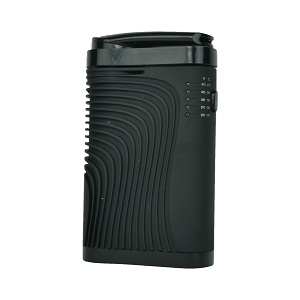 Shop CF
---
The Pax 2 received a price drop from $199 to $149 with the release of the Pax 3 Kits. The Pax 2 is now my top recommended portable vaporizer under $150 along with the Boundless CF which you can read about below.
If you don't already have the Pax 2 and looking for an upgrade, I would go straight for the Pax 3. The quicker pre-heat time, better battery life, concentrate insert and access to the app via Bluetooth make the $100 price difference worth it.
Check out my Pax 3 review for more info on that device.
If you already have a Pax 2 and you're looking to upgrade to the 3, I would maybe consider just picking up the concentrate insert ($50) and the half-pack lid ($13).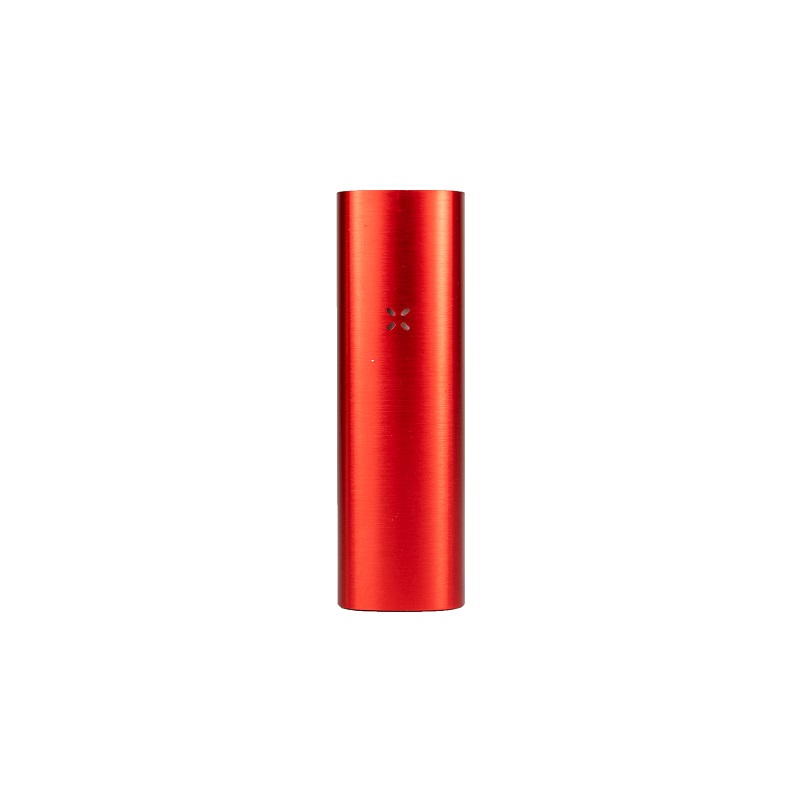 Shop Pax 2
The Concentrate Insert IS interchangeable with the Pax 2. Granted you're missing out on the app and the quick heat-up times but they do function quite similar and you can spend a bit less money.
I recommend picking up the Pax 2 directly from PaxVapor or Vapeworld.
---
Best Dry Herb Vaporizer Under $100
---
The first and best option that I recommend in the under $100 vape category is the Xmax Starry Vaporizer.
The XMAX Starry is the perfect vaporizer for someone just entering the vape market. You get a full temp spectrum, replaceable battery system, it's lightweight and very to easy to pocket for use on the go.
There's honestly nothing cheaper that is better. It's easy to use, easy to maintain and features an easy to read digital display.
Last but not least, the Xmax Starry comes with a one-year manufacturer warranty.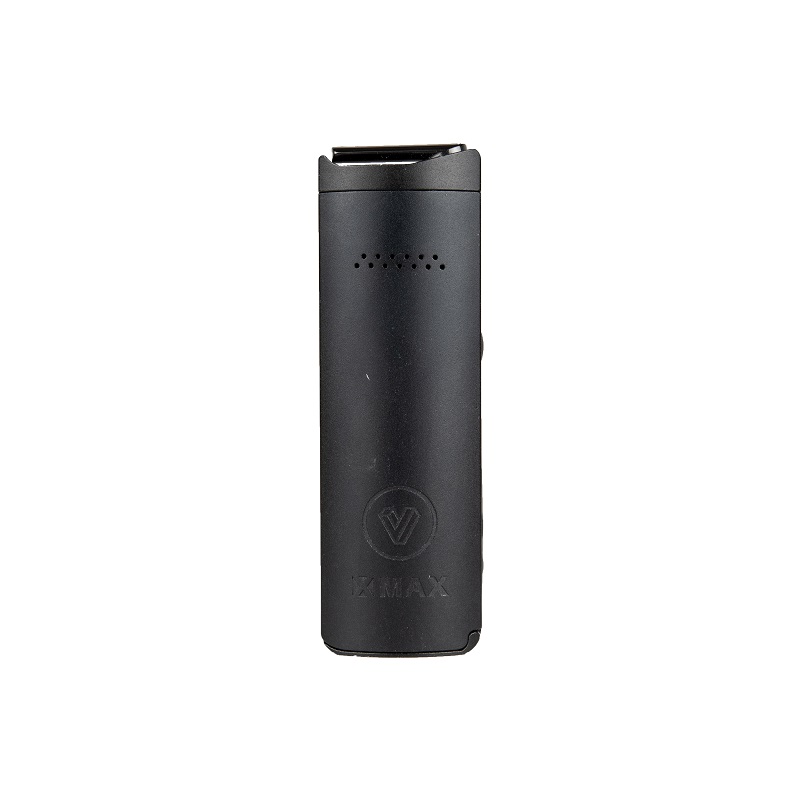 Shop Xmax Starry
---
Best Cheap Dry Herb Vaporizer
---
The X-Max V2 Pro is extremely impressive for the size and price. You can pick up the X-Max V2 Pro for $59 (retail: $79) with code "XM". You get 5 temp settings ranging from 356F-428F, an easily replaceable 18650 battery, and a ceramic heating chamber. If you want to spend $10 extra, you can get an upgraded mouthpiece with improved airflow, and requires less cleaning, or a water pipe adapter.
The best cheap butane powered is the Dynavap VapCap M 2018 For $65 This vape does require a torch/lighter so its not to everyone or every situation but its incredibly reliable and consistent.
---
Best Dry Herb Vape Pen
Based on: A pen sized vaporizer for dry herbs.
---
The Grasshopper is one of the lightest and smallest portable vaporizers currently available on the market. It's a pen vaporizer that offers pure convection heating powerful enough to have you vaping in under 10 seconds.
The Grasshopper vaporizer directly mimics the look of an actual pen and it's similar in size to bigger fancy pens or something like a graphic design stylus.
The Grasshopper vape is great to use on the go and powerful enough to use with your biggest glass bubblers and bongs. It's not the best for group sessions because of the external temps but perfect for 1-2 people.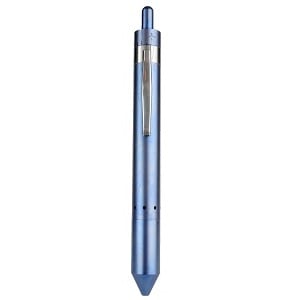 Shop Grasshopper
Update: Hopper Labs just released the new Grasshopper Performance Front-End or "PFE" which offers easier compatibility with your glass bubblers and decreases overall draw resistance by a good amount. The Grasshopper PFE works with your 14mm glass pieces and they offer a 14-18mm adapter. Click the shop link below for updated Grasshopper vaporizer prices.
You can choose between classic stainless steel, a titanium version, and a colored titanium version. The main differences between the SS and TI versions are that the TI is about 10 grams lighter, it's less prone to scratches, and the unit remains a little cooler overall. All units come with a lifetime warranty. Read the full review below.
Grasshopper Pros and Cons:
The Grasshopper is currently rated as my best dry herb vape pen. It offers replaceable batteries, quick heat-up time, pure convection, great vapor quality and works well with varying load sizes.
The downside to the Grasshopper is that the unit gets pretty hot with prolonged use. So they included a silicone mouthpiece guard to use with longer sessions. The mouthpiece guard also creates a perfect fit for 14mm glass pieces.
---
Best Butane Vaporizer
Based on:Highest quality butane vaporizers.
---
The Sticky Brick vaporizers are exactly what the name implies. They are wood bricks that connect together via magnets (sticky) and use a butane torch to produce on-demand convection heating. The Sticky Brick butane vaporizers are some of the most efficient vaporizers currently on the market plus they are hand-made in the USA from natural hardwood.
Sticky Brick Original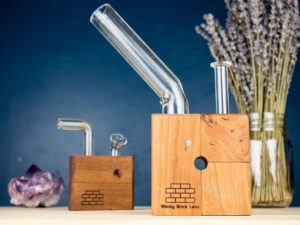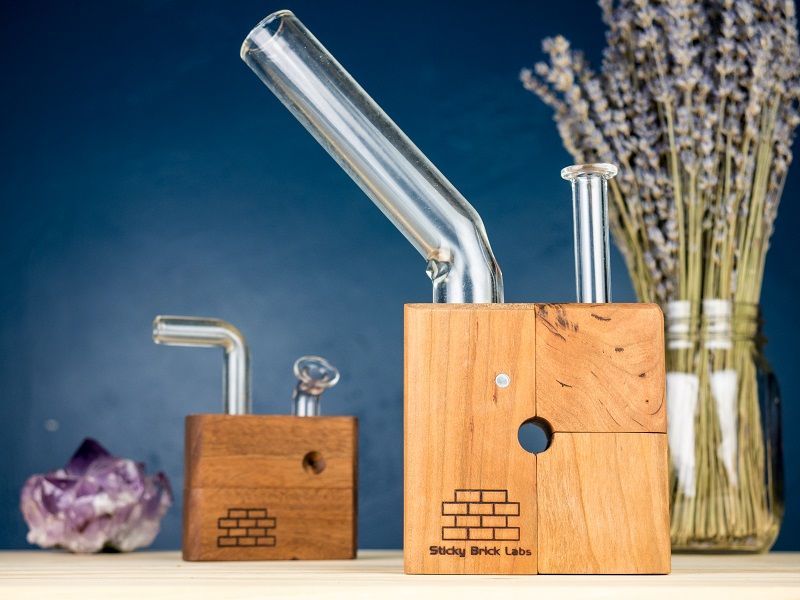 The first butane vaporizer made by Sticky Brick is the Original or OG. I consider the Sticky Brick OG a home-use portable vaporizer because it's definitely not going to fit in your pocket. It works great around the house and can easily be carried room to room.
I also find the Sticky Brick OG the easiest to use of all the Sticky Brick vaporizers because you get immediate clear feedback as vapor forms in the glass mouthpiece. The vapor quality is fantastic and it works very well with varying load sizes.
The wood finish is very smooth, unique and all the pieces fit together beautifully. Sticky Brick Vaporizers also come with a lifetime warranty on the wood body and 15 days on the glass pieces.
The Sticky Brick Original retails for $179 and I recommend picking it up from here.
Sticky Brick Junior
The next Sticky Brick I would recommend would be the Junior. The Sticky Brick Junior ("JR") is very similar to the OG but smaller, more compact, and a little harder to master because it uses a smaller mouthpiece. I was able to master the technique after a couple tries and I've never combusted with any of the Sticky Brick vaporizers but it's still not going to be as easy as something like the Mighty.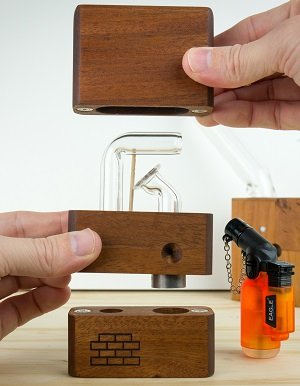 The cool thing about the Junior is that the glass pieces can be rotated and covered for easy concealment. Not only does this make it a good portable option but it conceals the contents of the box while it's sitting out. Set it next to some books on a bookshelf and no one would think twice.
The other thing that I like about the Sticky Brick JR is that I feel like I can get bigger clouds and richer hits. The OG produces smoother/cooler hits but the Junior packs a punch. I'm a bit of a heavier user so I like the fact that it can get me to that next level.
There are no loading techniques with either of these vaporizers but they do require stirring after every couple draws. I also recommend an average grind and be sure to pick up a quality butane torch. I'm using a brand called "Eagle" which comes with your purchase if you buy it from the link below.
The Sticky Brick Junior retails for $149 and I recommend picking it up from here.
Sticky Brick HydroBrick/MAXX
Sticky Brick also makes two other butane vaporizers called the HydroBrick and the HydroBrick MAXX. I will be picking up the Sticky Brick MAXX here soon and add more info on it when I do. Basically, the Hydrobrick MAXX is the complete package for someone that already has some glass at home or will plan to use glass with your vaporizer. You get the 18mm connector, glass mouthpiece, whip and connector for $199.
The HydroBrick MAXX also conceals into a wooden box just like the Junior but much bigger overall. So you can still store it in plain sight but I don't think you'll be getting it into your pocket. Both of these vaporizers are more home-use portables just like the OG.
You can pick up the Hydrobrick MAXX here ($199) and you can check out my Sticky Brick Review (OG, JR, Hydrobrick, MAXX) for more pictures and details about each of these vaporizers.
The last butane vaporizer that I would recommend is made by Dynavap and it's called the VapCap. I've already mentioned it a few times in this article but if you wanted the absolute best cheapest butane vaporizer, I recommend the VapCap at $59. It definitely looks a lot shadier because it's just a glass tub and a torch but it does the job well.
---
Categories Explained:
Best Overall Portable – This is the category highlighting the best portable in terms of ease of use, consistency, vapor quality, cleaning/maintenance and dependability. This is the best of the best when it comes to portables and would be the one that I recommend most whether you are a beginner or experienced vaporist. Basically, this is my daily driver. #oneandonly
Best Vapor Quality – The word "vapor quality" gets thrown around quite a bit and it's never really defined. So for me, the best vapor quality means the best taste, the best temperature, and the best density or production. The highest rated vaporizer in this category will produce some of the best-tasting vapor that you can experience in a portable. It will more than satisfy the daily user and leave the novice wondering why he didn't switch to this vape earlier.
Most Portable/Discreet – This category is for those who needs absolute discretion and portability without sacrificing the main features like battery life or vapor quality. The most portable vaporizer is possibly the smallest vaporizer, definitely easily pocketable and ready to use quickly. The vape in this category can usually be taken on all-day activities like hiking, snowboarding/skiing, festivals, concerts, boating, etc…
Best Dry Herb Vape Pen – Originally this was a pretty small market with really only one option but now I have two options! yay! The vaporizers in this category will mimic the look, feel, and design of a pen. They will be easily concealable and preferably heat up very quickly in order to obtain maximum discreetness. They will also fully vaporize your herbs without combustion.
Best Battery Life – The best battery life category will have the portable vaporizer with the best average battery life per full charge.
Best Cheap Vaporizer – If you are trying to pick up a portable vaporizer on a budget, check out my recommendation for best cheapest vaporizer. When I say cheap, I don't mean physically made cheap, I mean best priced vaped without sacrificing quality or reliability.
Best Portable Vaporizers Under $200 – This category of vaporizers will be the best options for under $200.
---
Still lost in the sauce?
If you still can't quite figure out what portable vaporizer is best for you, ask yourself these questions and shoot me an email with your replies:
1. Where will you be using your portable vaporizer?
2. Will you be using it alone or with others? If groups, how many people?
3. Will you be using it for long periods in between charging?
4. How important is discreetness, size, pocketability, smell?
5. Are you wanting a session vape (10-15 minutes, similar to a joint)? OR do you want a quick somewhat on demand vape (Similar to a bowl, easy to break into multiple sessions)?
6. What is your budget? For example, "No Budget" or $300+, $200-300, $100-200, under $100.
---
Video review coming soon. Subscribe to my Youtube for new releases.
I do believe that any one of these vaporizers could be someone's favorite. It's important to know that not everyone will have the same opinion on what might be the best vaporizer. It completely depends on your specific situation.
With that said, I believe the Crafty and the Mighty are currently the best overall portable vaporizers on the market for most people due to their ease of use and consistency. The best vaporizer for the person who wants replaceable batteries would be the Davinci IQ and the best vaporizer for the stealth user always on the go is the Pax 3.
Do you have a portable vaporizer that you recommend or want to see reviewed before you buy? Leave a comment below or hit me up on my contact page and I will get back to you as soon as possible. Thank you for checking out my vaporizer review site!