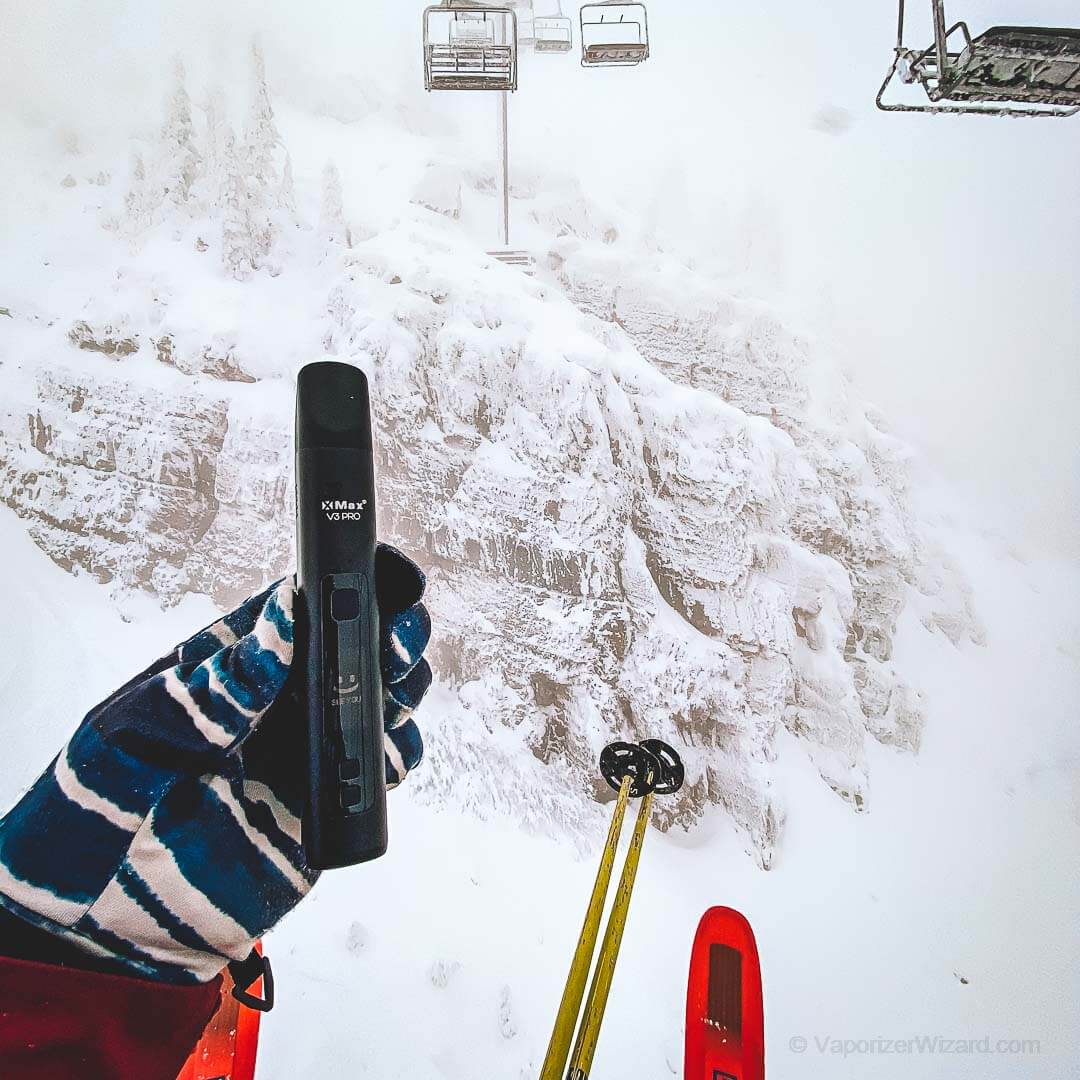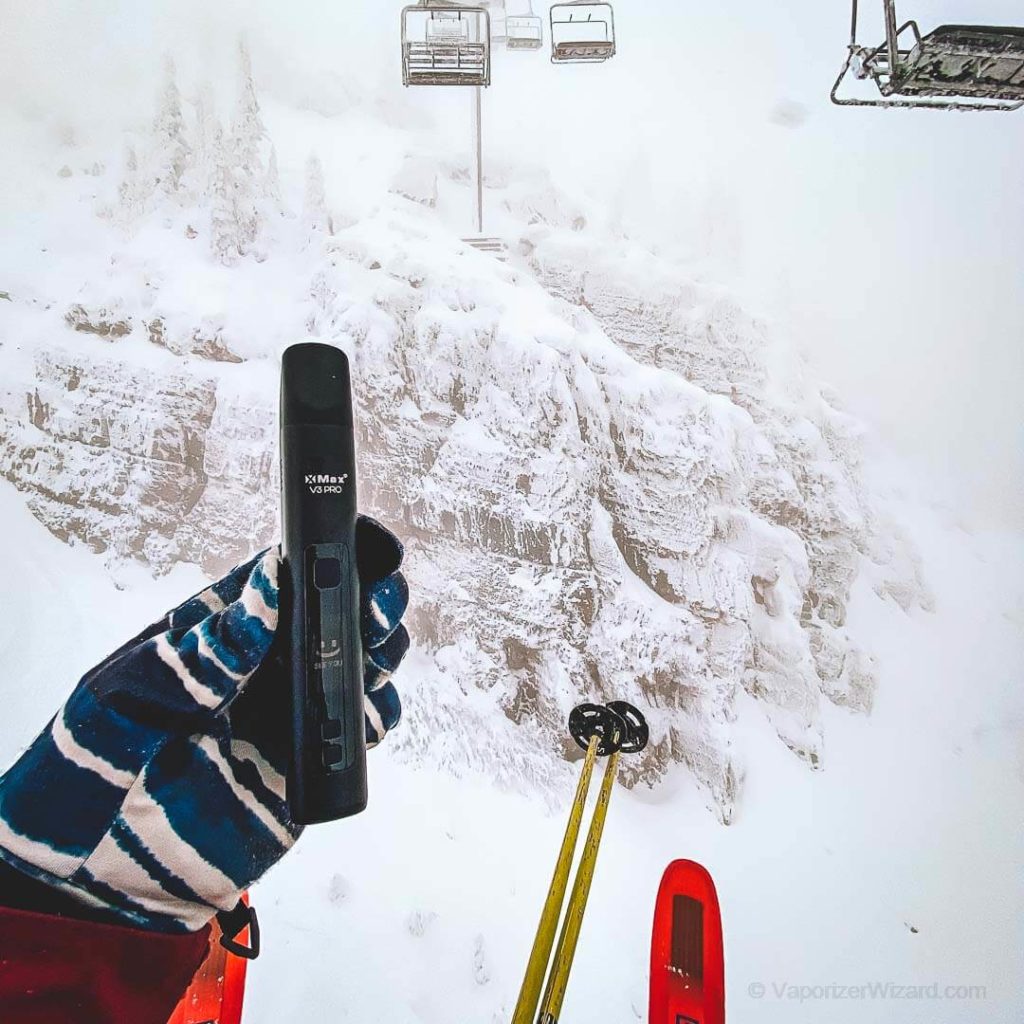 The XMAX V3 Pro Vaporizer is an upgraded version of the popular and successful XMAX V2 Pro. The V2 Pro sat at the top of our "best cheap vaporizer" section in our best dry herb vaporizer guide for the better part of 5 years, and we now have an upgraded version featuring hybrid on-demand heating, a replaceable battery system, and USB-C charging.
The biggest takeaways are the improved flavor via the hybrid heating system and the insanely quick heat-up times. The new XMAX V3 Pro is a bit more expensive, retailing for $109 (compared to $99 retail with the v2 pro), but it's better than most anything in this price range with these features.
In this XMAX V3 Pro vaporizer review, I will go over the basics like size, build quality, and what's included, plus jump into the details of the new on-demand and session modes, battery info, proper maintenance, and some tips for the best use.
I've rated the XMAX V3 Pro Vaporizer a 9.0 out of 10, which ties it with the POTV One vaporizer. You can click here to pick it up directly from POTV and read below for my full XMAX V3 Pro review.
What's Included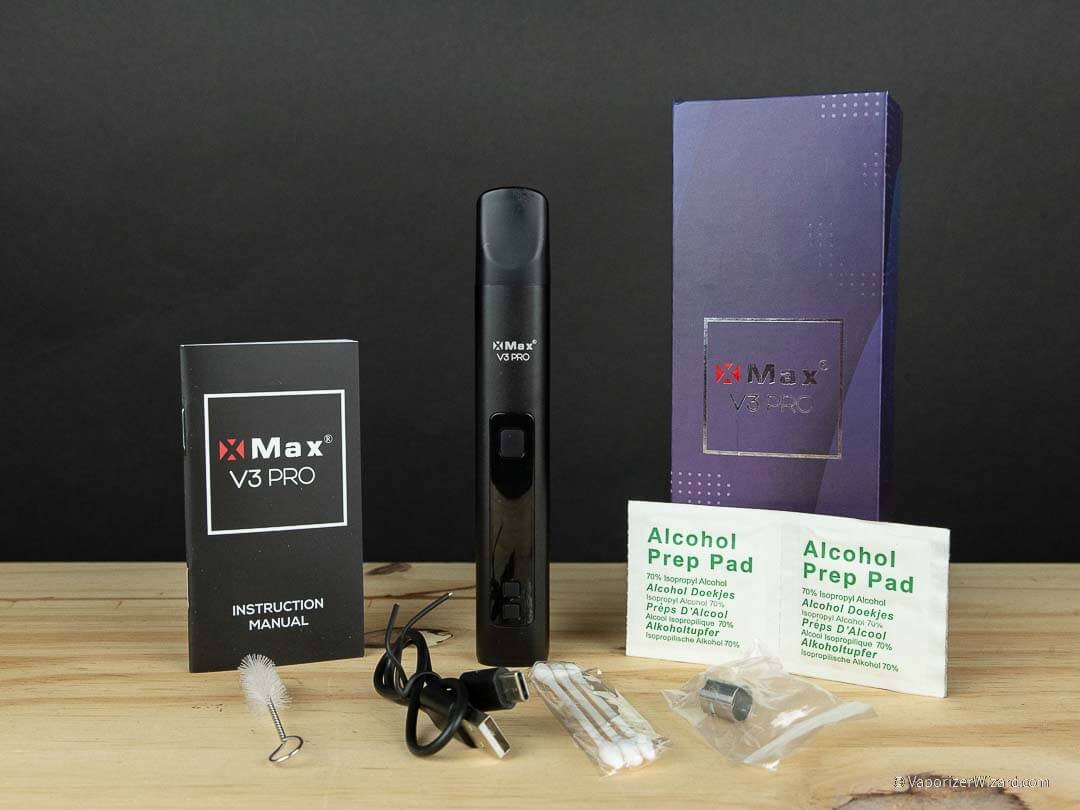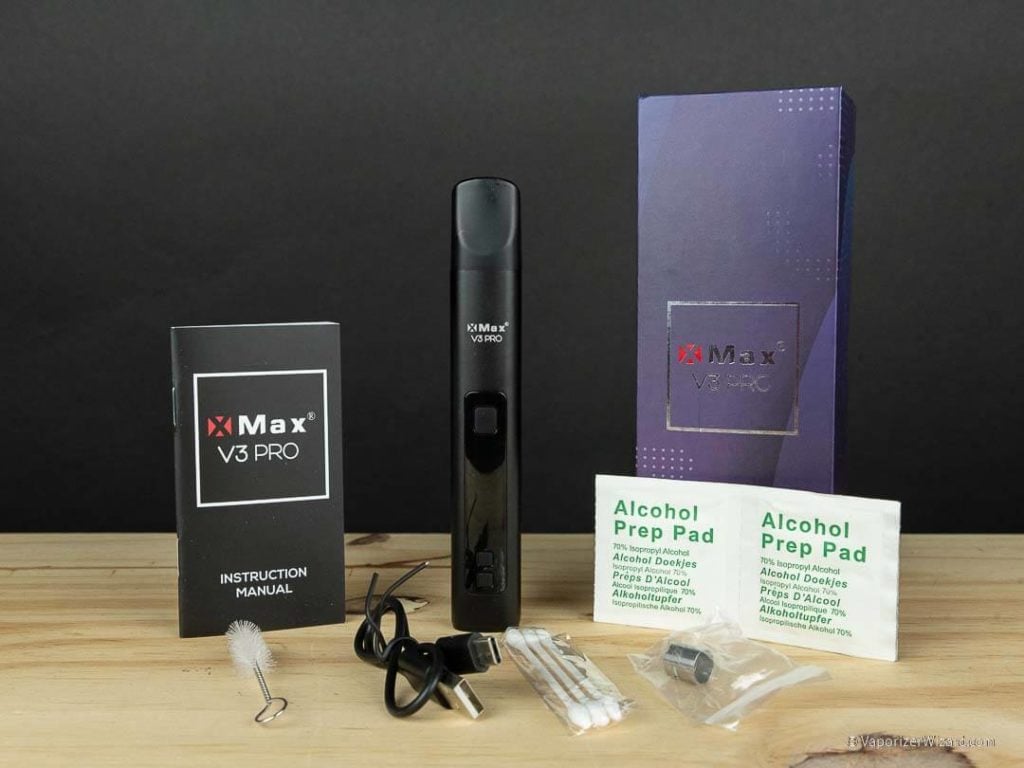 XMAX V3 PRO – In the BOX
XMAX V3 Pro Vaporizer
18650 Battery
Wax Cup for Dry Concentrates
Cleaning Brush
USB-C Charging cable
User Manual
Cotton Swabs
Alcohol Prep Pads
XMAX V3 Pro Quick Facts
$100 Price point
Great starter vape for first-time buyers.
Best for 1-2 People
The slim form factor makes it easy to pocket and take on the go
Replaceable battery system
USB-C Charging
Chamber Holds about .15 grams
Best Cheap Vape 2023
Buy XMAX V3 Pro
Size and Portability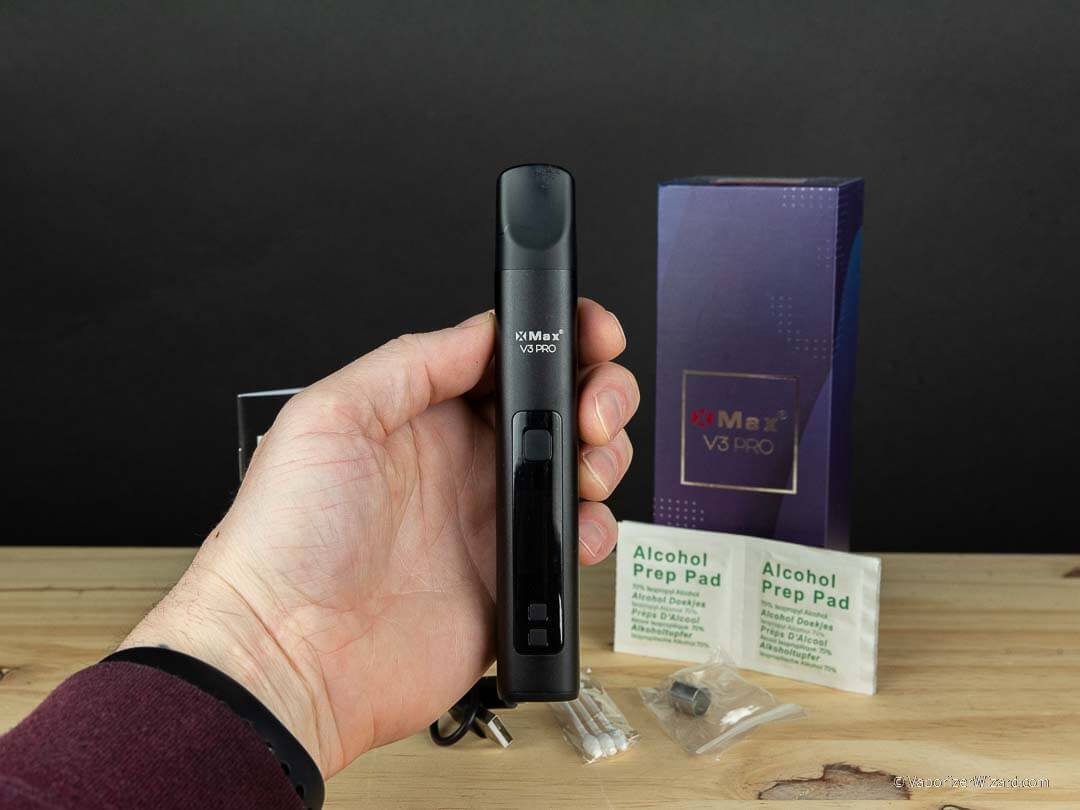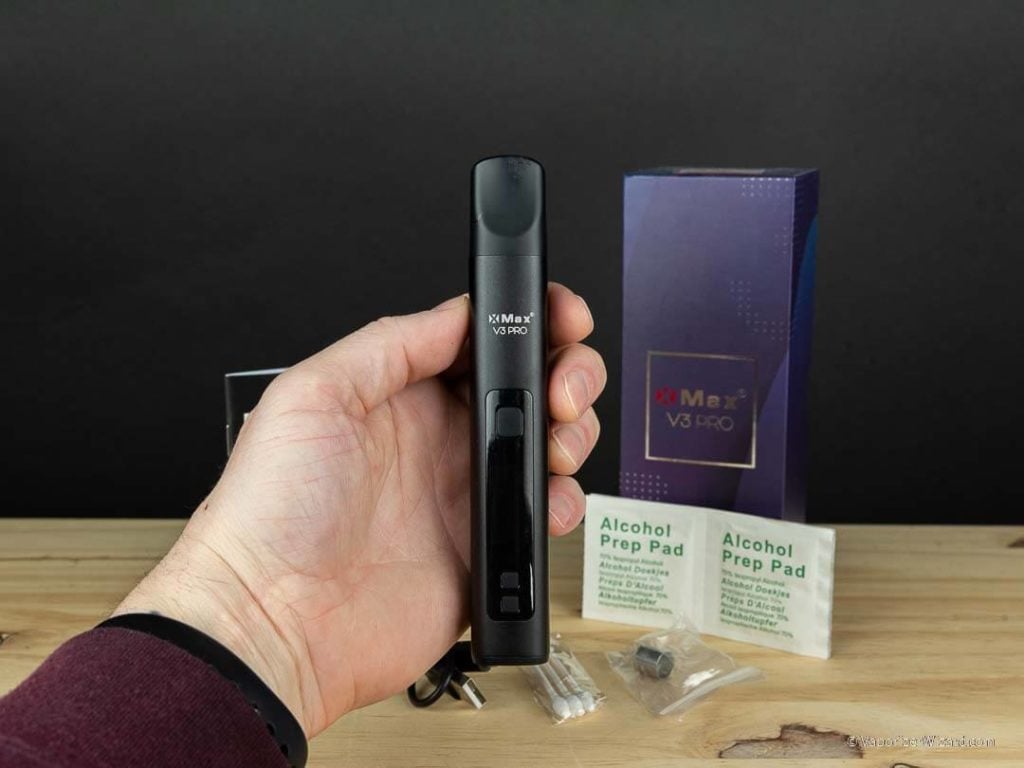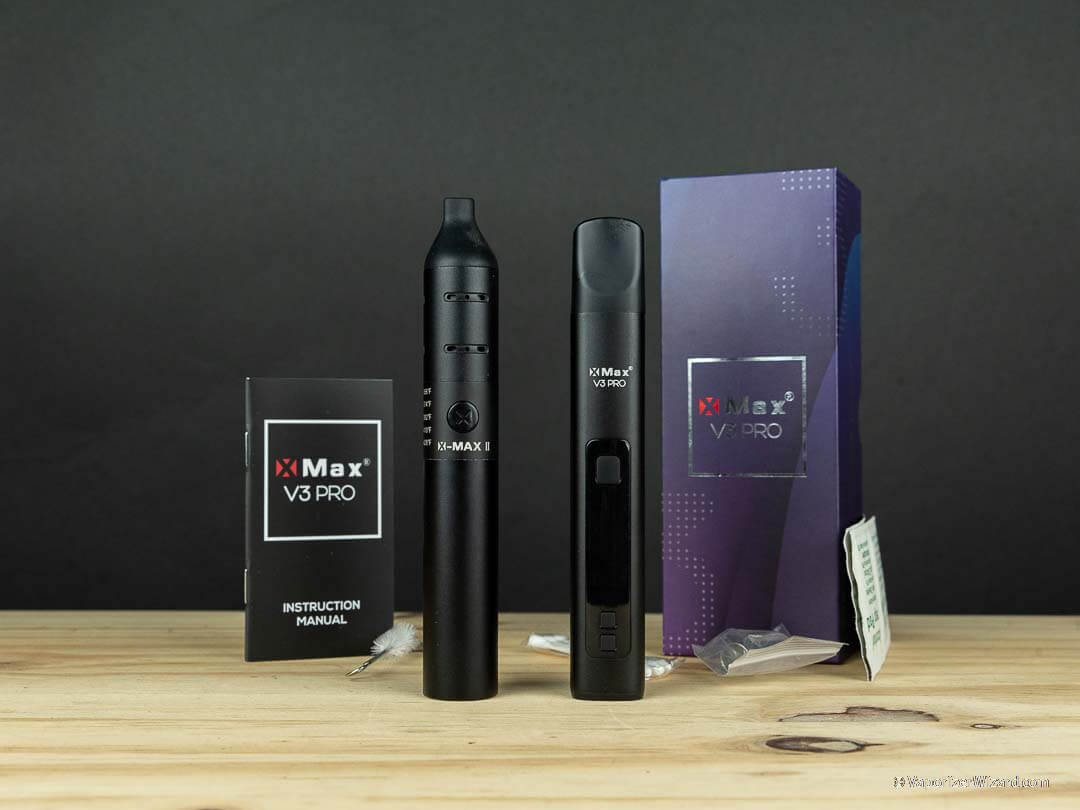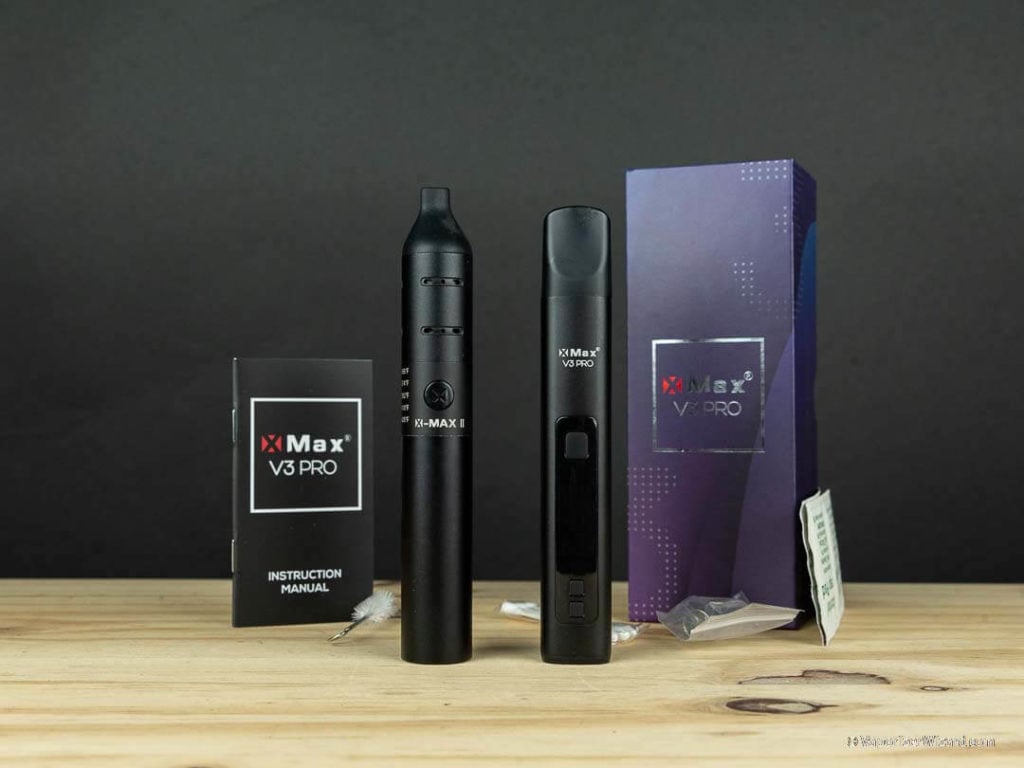 The XMAX V3 Pro is slightly shorter than the XMAX V2 and about the same in diameter. The V3 Pro's exact dimensions and weight:
Height: 5.91 in / 15 cm
Width: 1.05 in / 2.5 cm
Depth: 0.94 in / 2.3 cm
Weight: 3.7 oz / 105 g
The V3 Pro is easy to pocket and use out on the go. One nice perk of the bowl design is that it's a funnel into the chamber, making it a lot easier to load on the go, especially if you're not using the dosing capsules.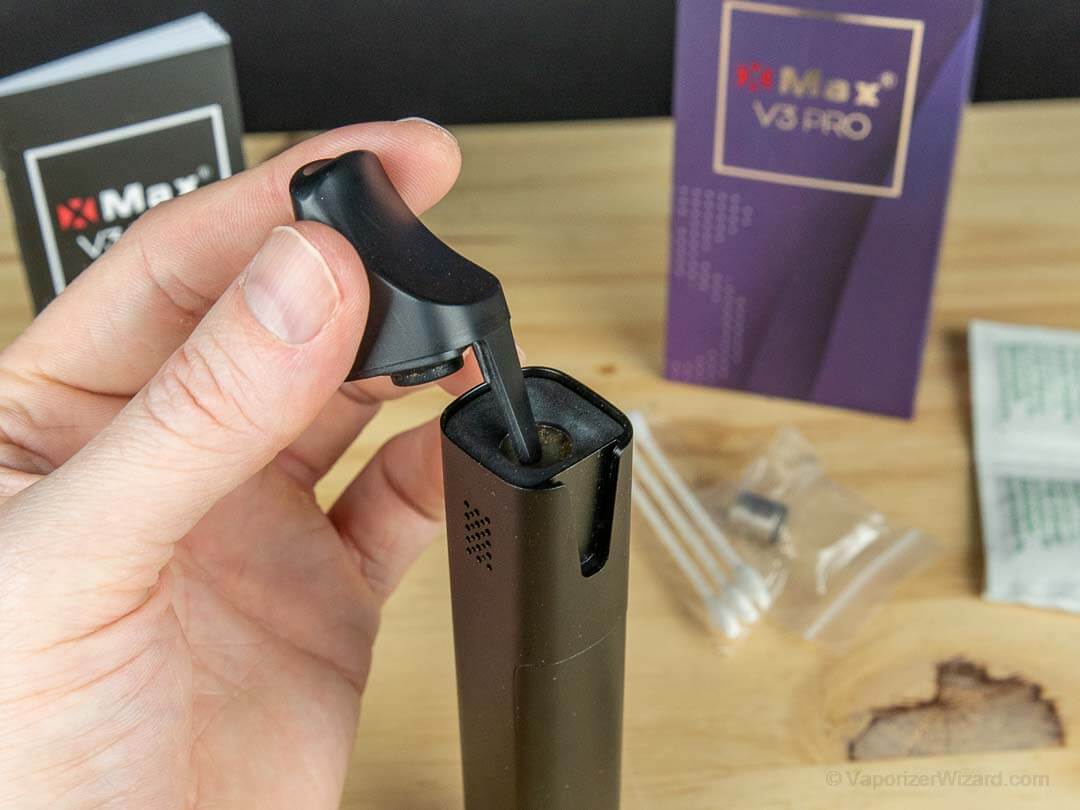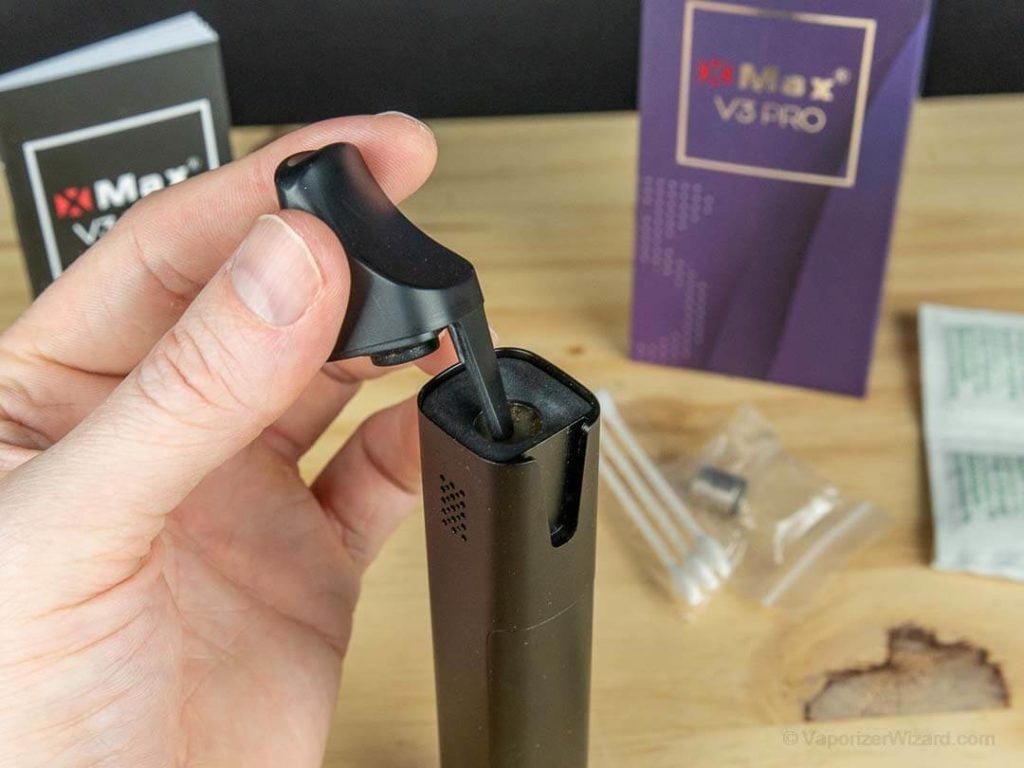 Another feature that helps in portability is the replaceable 18650 battery system. You can pick up a couple of extra batteries for those longer festivals, group sessions, or just plain heavy use. You can charge them via USB-C inside the unit or pick up an external battery charger to top them off while still using the vaporizer.
One downside to the unit's design is that the mouthpiece has come off in my pocket. It uses decently strong magnets to semi-secure the mouthpiece in place, but if you're doing any strenuous activities like biking, skiing, or anything where the pocket is moving around, it's possible to knock off the mouthpiece. This won't be an issue if you're using the dosing capsules, but just something to be aware of.
Build Quality & Warranty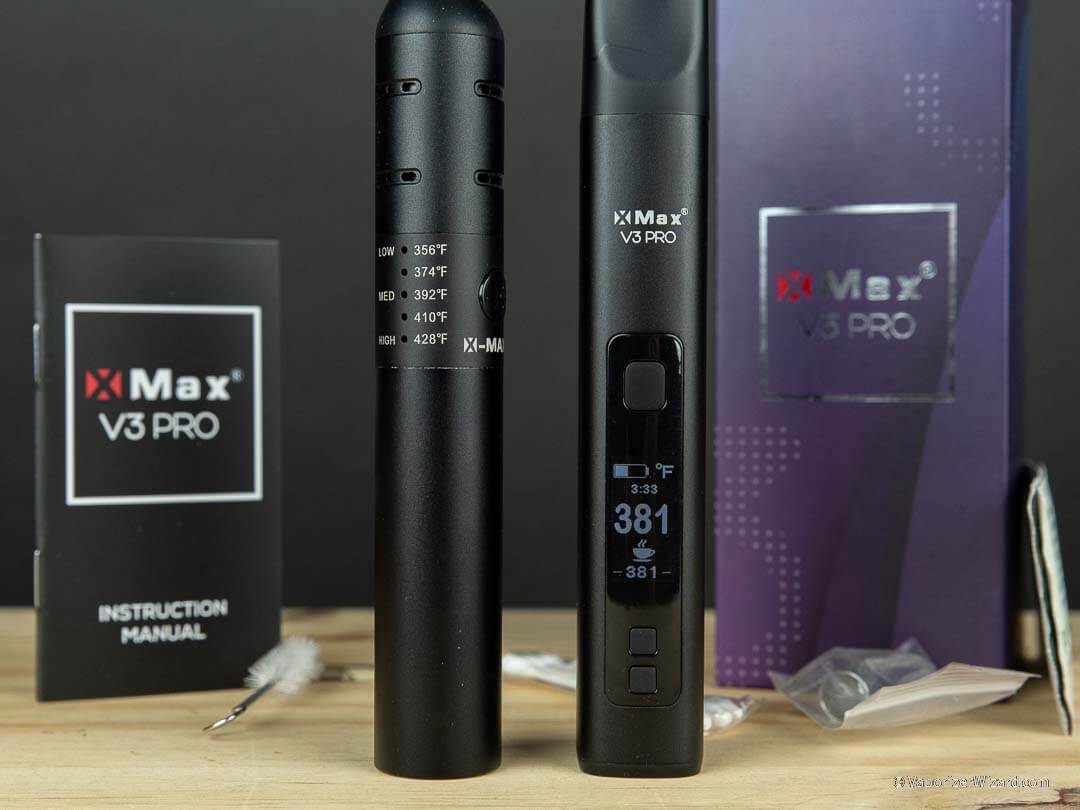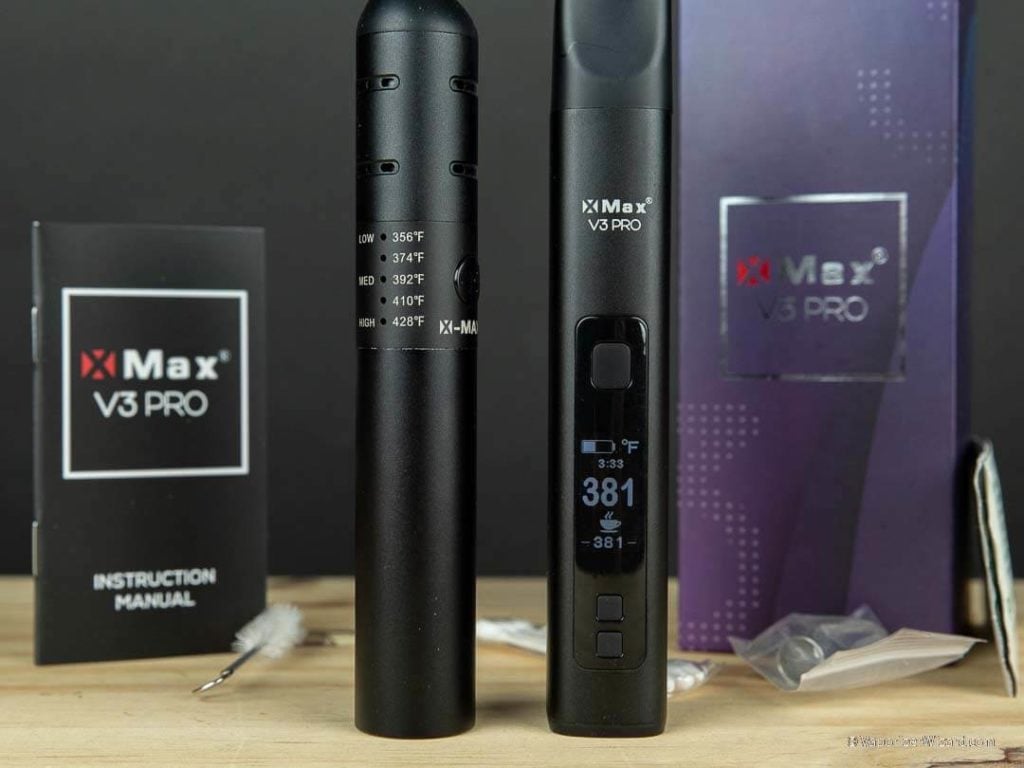 There is some play in the buttons, and you can hear them wiggle around if you shake the vape a bit. The battery compartment door secures via a magnet and has a bit of play from top to bottom. I've had the compartment door come off in my pocket, but the battery remains in place.
I don't know the answer to whether this quality is intended to keep the vaporizer at this price point or if they are manufacturing errors. The good news is that they work. I've had no issues with sticking, and they seem very responsive to inputs.
The outer shell is made of aluminum, and so far, it has proven to be very durable. I've used it skiing, mountain biking, hiking, pretty much everything outdoors, and it's survived the abuse.
The OLED display is bright, and it's easy to read all of the information. The V3 pro also features haptic feedback, a nice upgrade from the previous v2 pro model.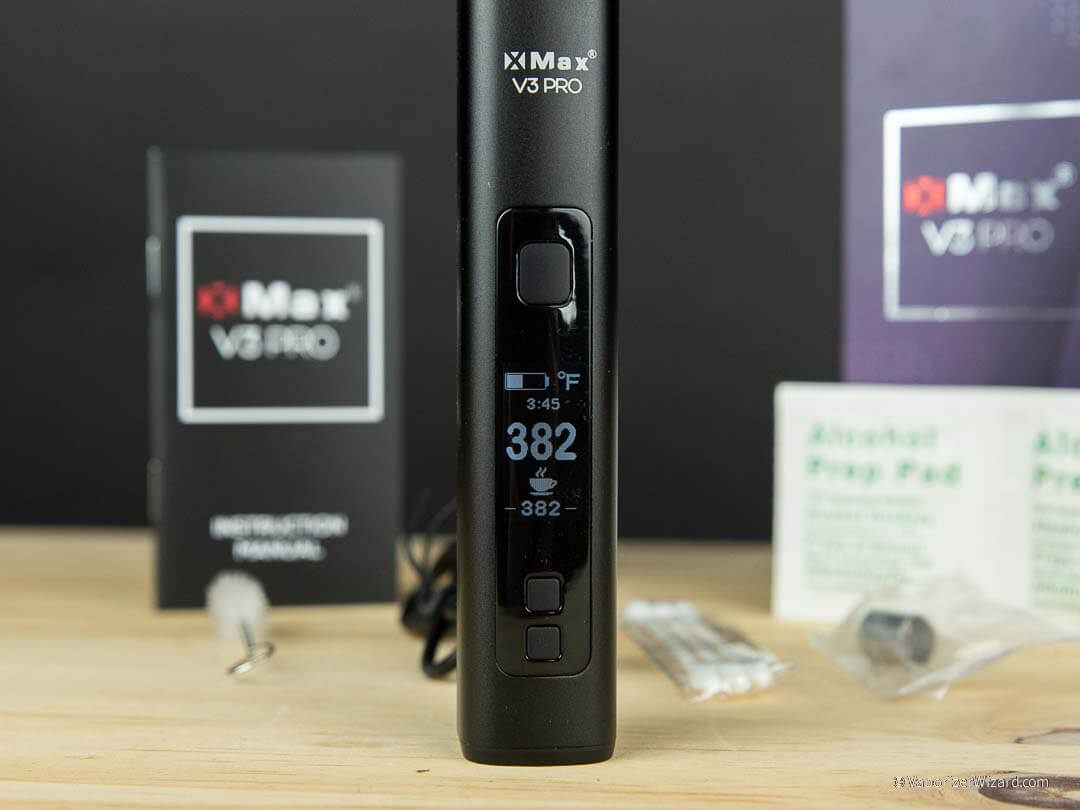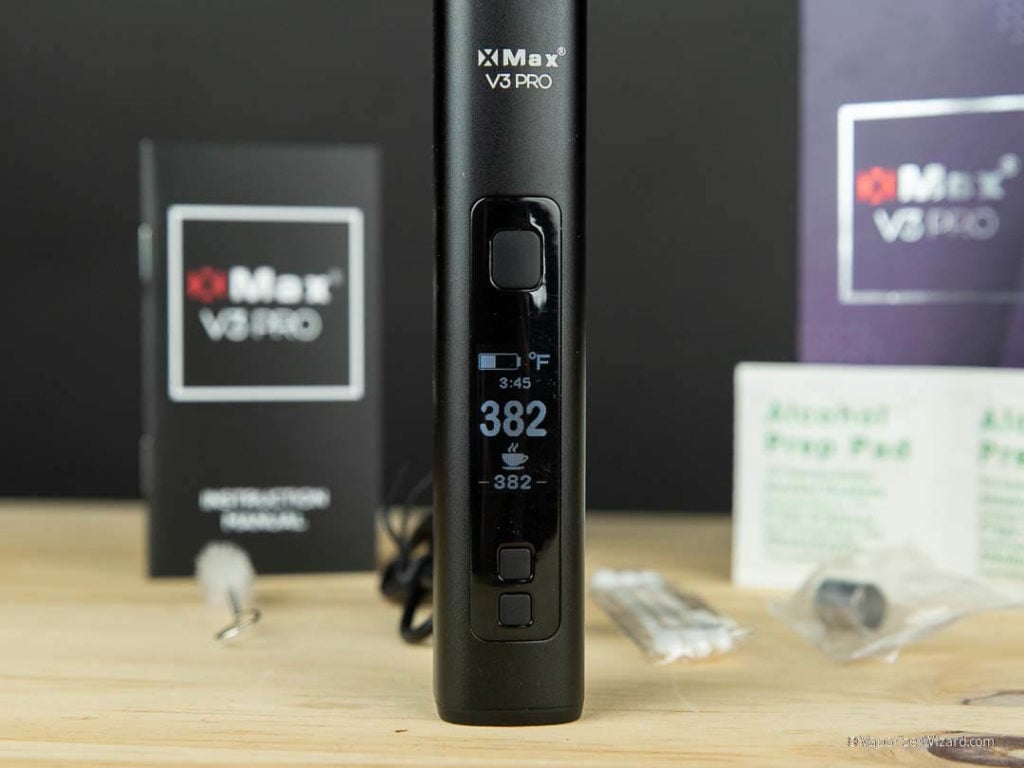 Like I mentioned above, the mouthpiece is secured via a magnet and has come off in my pocket while skiing, so be aware that it's not a fully secured system and can come off. There is also a small amount of silicone in the mouthpiece to secure the screen chamber in place.
Overall I'm not blown away by the XMAX V3 Pro build quality, but everything works as it's supposed to, and if you pick up some of the XMAX v3 pro vaporizer dosing capsules, you don't have to worry about the mouthpiece. The POTV One vaporizer dosing capsules do work with the XMAX v3 Pro vaporizer.
Lastly, the XMAX v3 PRO vaporizer comes with a one-year (12-month) manufacturer warranty, the same as the XMAX Starry but slightly worse than the Healthy Rips. For the price, I think a one-year warranty is ok.
Battery System and Charging Info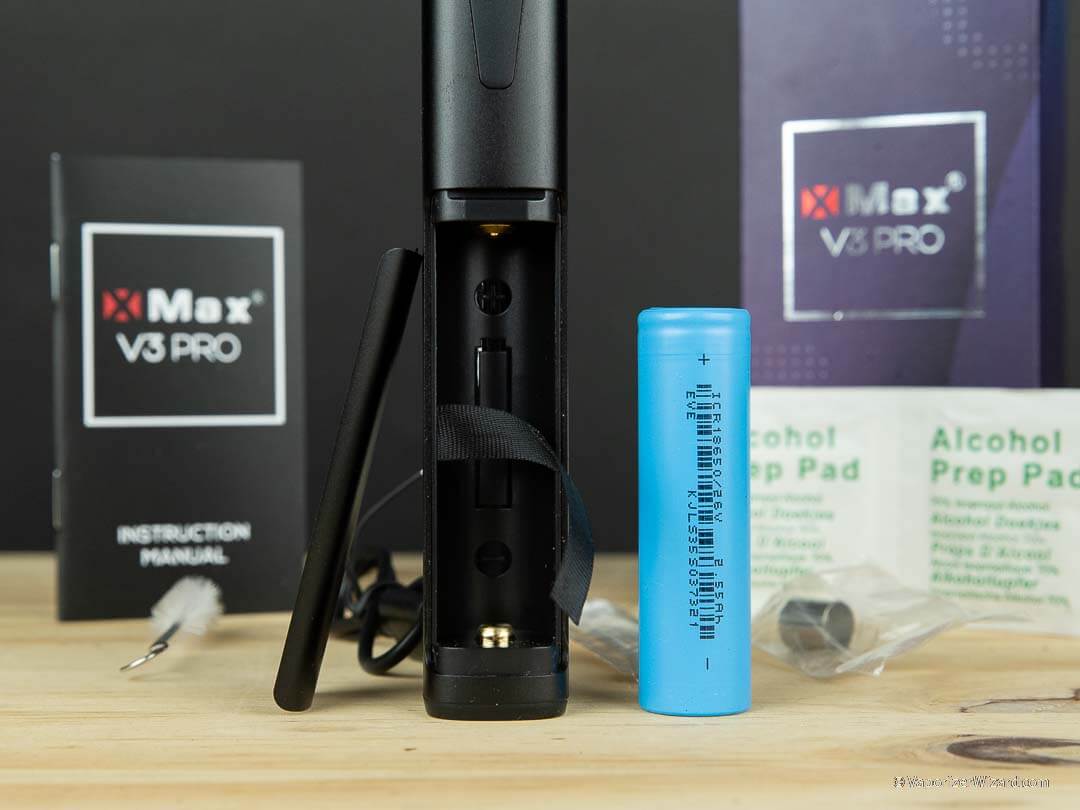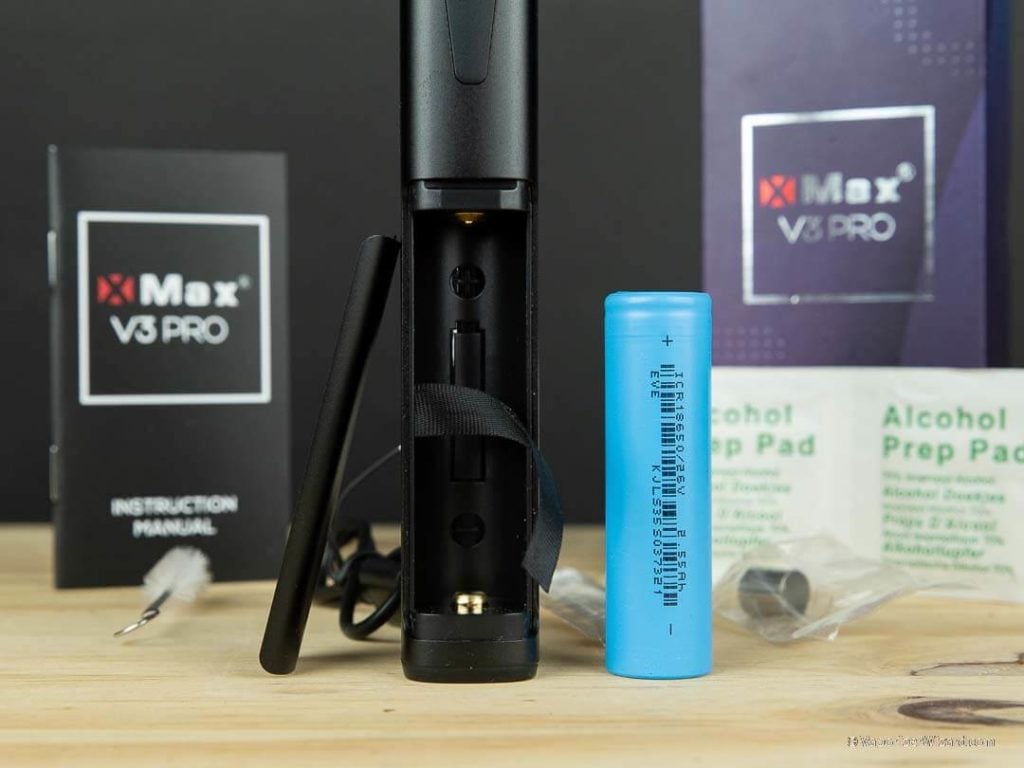 The XMAX V3 Pro features a replaceable 18650 battery system and USB-C charging. These are industry-leading features offered at a great price point and in a very pocket-friendly device.
My V3 Pro vaporizer came with an 18650 3.7V 2550mAh battery but the manual states that it should be a 2600mAh. So I'm not for sure what will be the included battery going forward. As I mentioned above, battery life will vary depending on quite a few variables. The first is whether you are using Session Mode or On-Demand Mode, and the second would be what kind of temps you are vaping at. Others include how many cold starts and how aggressive you draw during your sessions.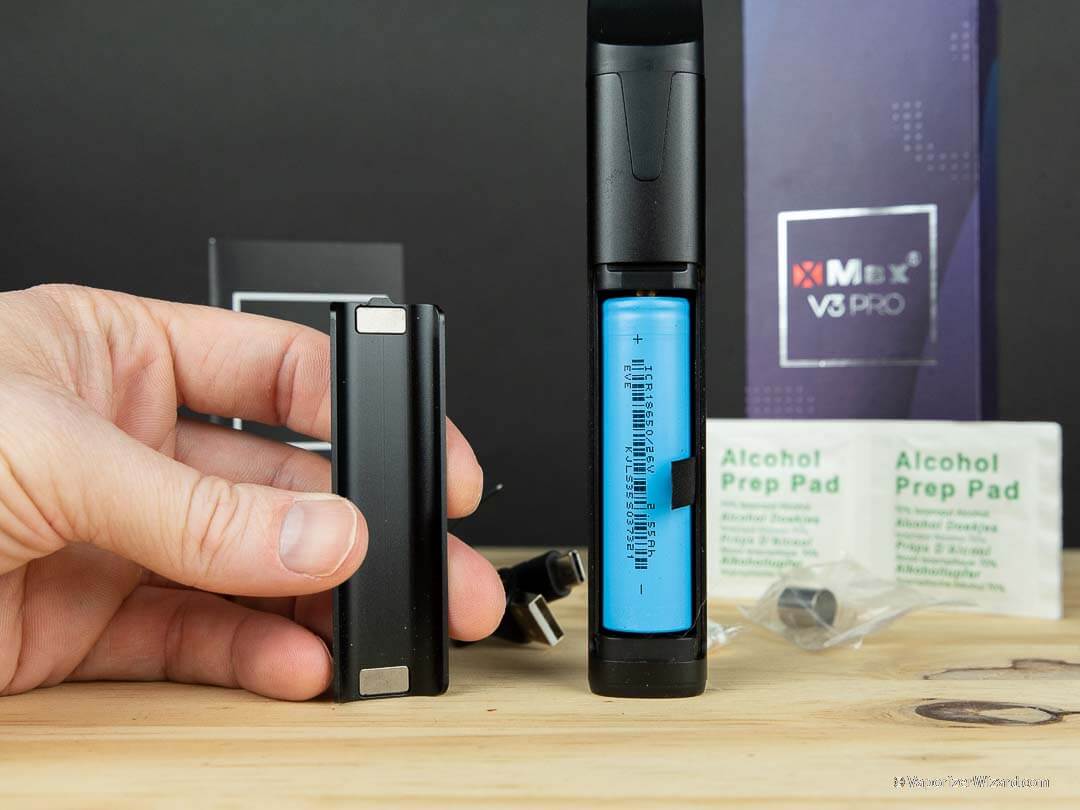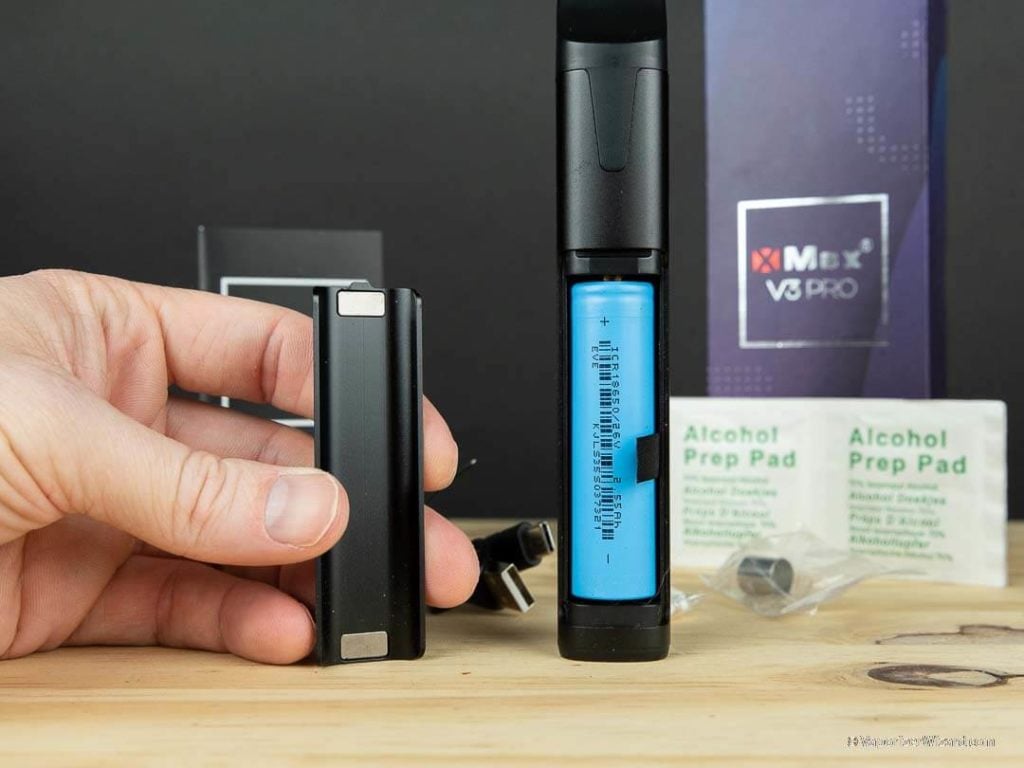 I'm averaging about 45 minutes of use via the session mode, which averages about 5-6 bowls with the 4-minute session timer. I'm usually able to kill the bowl in two, four-minute sessions, which equal about 8-10 draws. I'm usually inhaling for about 10-15 seconds and then take a 30-45 second break in between draws.
I'm averaging about 30 minutes via the on-demand mode, averaging about 4 bowls. I'm finishing a bowl in around 8-10 draws depending on temps, pack type, and draw speeds.
These averages will vary quite a bit depending on how you specifically use the vaporizer and what temps you are vaping at. Basically, the more you have to heat the vaporizer (cold starts), the less battery life you will get.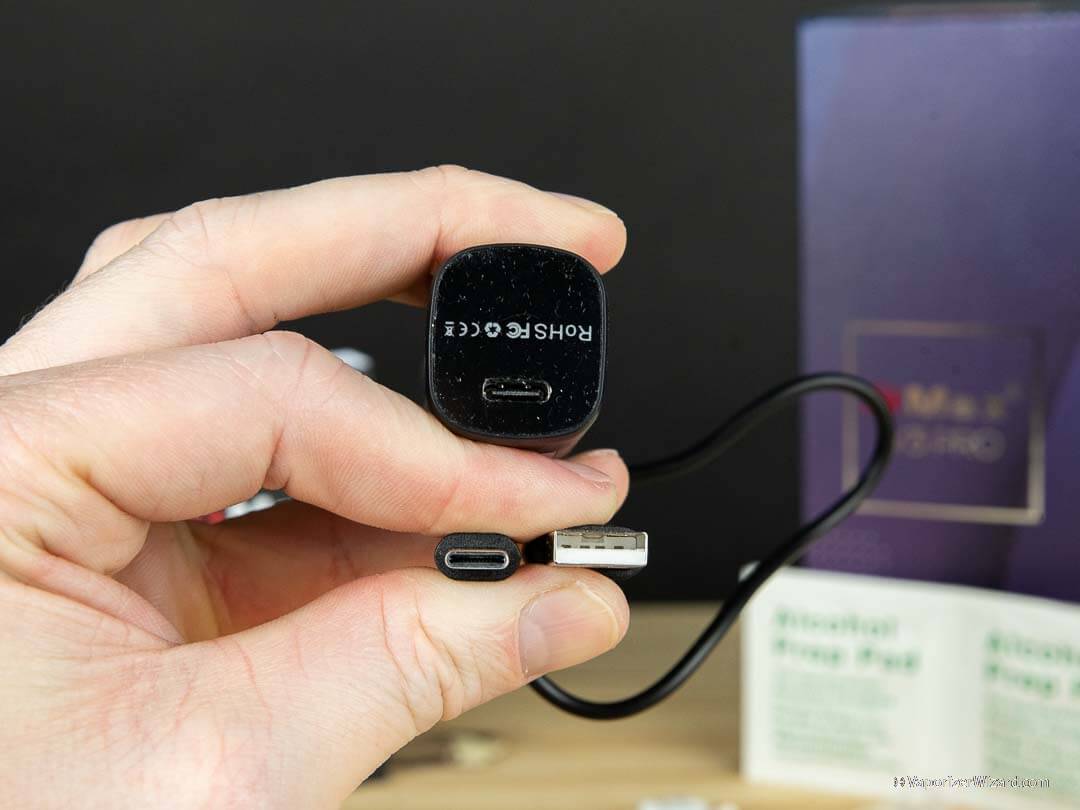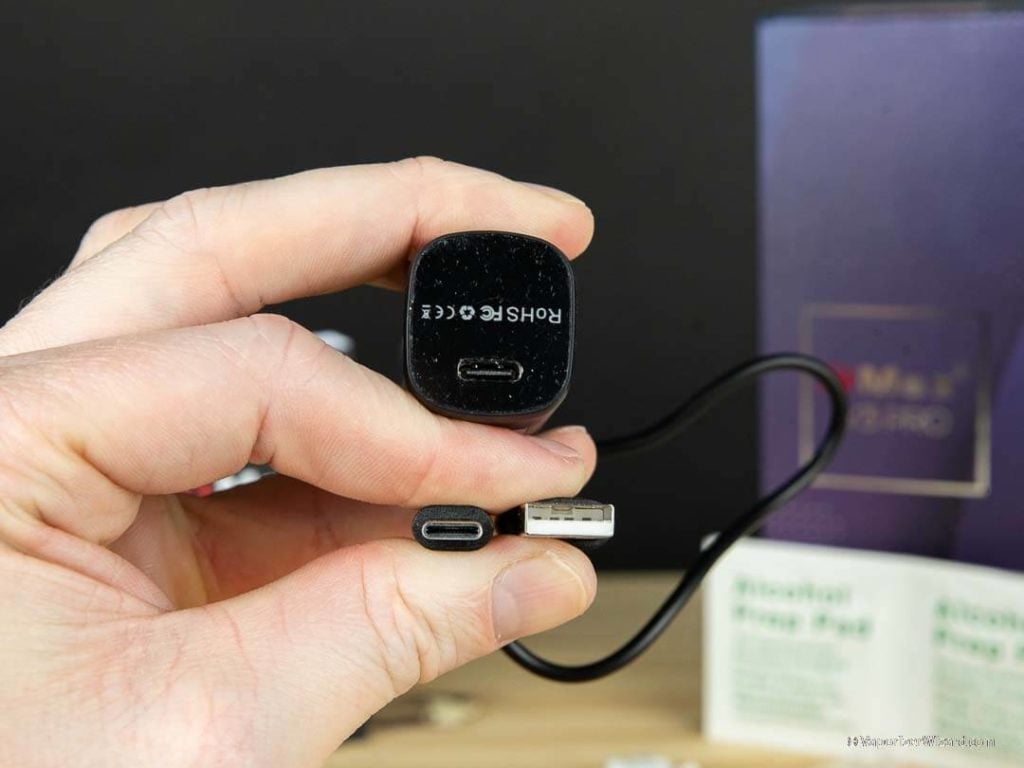 Overall, the XMAX V3 Pro vaporizer features pretty good battery life for the size, all while being replaceable and charging via 5V/1A USB-C charging.
During testing the average time to charge a dead battery fully is around 5 hours. Yes, you read that right. It takes 5 hours to fully charge a dead battery in the XMAX V3 Pro vaporizer. It's not uncommon for replaceable battery systems to take this long to charge, but I was hoping for something a little faster with the included USB-C charging. With that said, if you are a heavier user or you think you'll be using it for more than a handful of bowls in a day's time, I highly recommend picking up an external battery charger so you can charge multiple batteries outside of the vaporizer and quicker.
Heating, Vapor Quality, and Temp Options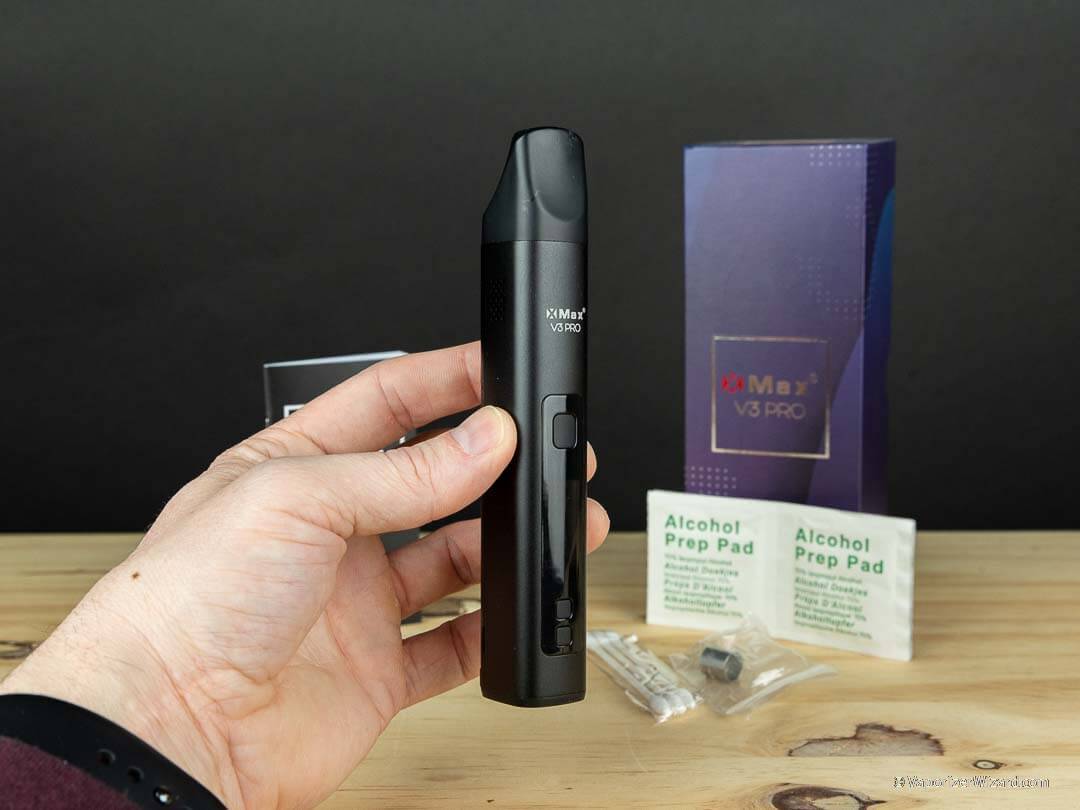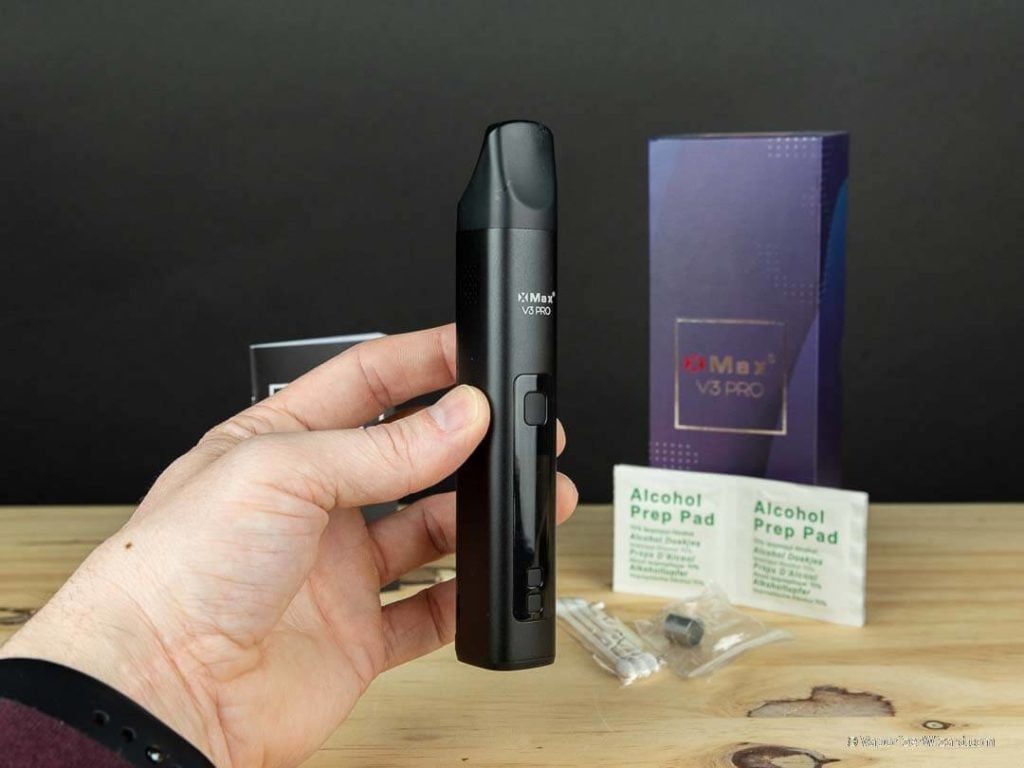 Most reviews of the XMAX V3 Pro vaporizer will say that it has full convection heating, and while it does use quite a bit of convection, I prefer to call it a hybrid. Like the Crafty+ and Mighty+ vaporizers, if you leave herb in the chamber while it's in session mode, it will vape your herbs, regardless of whether you are drawing or not. There is a bit of conduction, especially later in the sessions. That is not full convection heating.
I get that it's near impossible to make a session-style convection vaporizer in a portable, and they did get close, but I would say it's about ¾ convection and ¼ conduction heating. I will say that it's one of the best tasting units in this price range, and I was surprised by the amount of convection heating in this size of a vaporizer.
The XMAX V3 Pro features a full temperature spectrum ranging from 222F – 428F (100C – 220C) and heats up in about 15 seconds, depending on your temp and battery life. So the V3 Pro is not a full "on-demand" convection vaporizer like it claims to be, but it's darn close.
One downside is that the V3 Pro vaporizer uses a pretty short vapor path, so higher temps and aggressive draws will produce hotter vapor. If you think you'll be using it with higher temps or if you're an above-average user like yours truly, I highly suggest picking up the XMAX v3 Pro water pipe adapter and a bubbler of sorts. I prefer to use the Sneaky Pete Globe below. The XMAX V3 Pro Glass Adapter will allow you to plug your V3 Pro vaporizer into pretty much any glass bubbler or bong.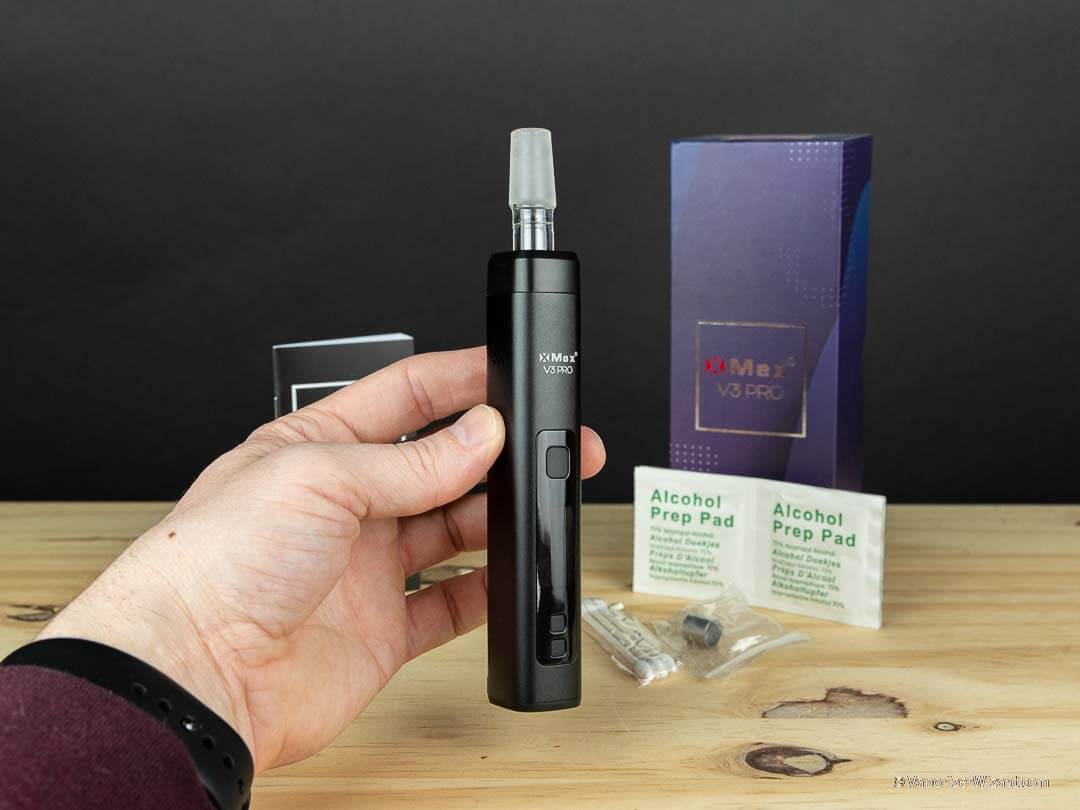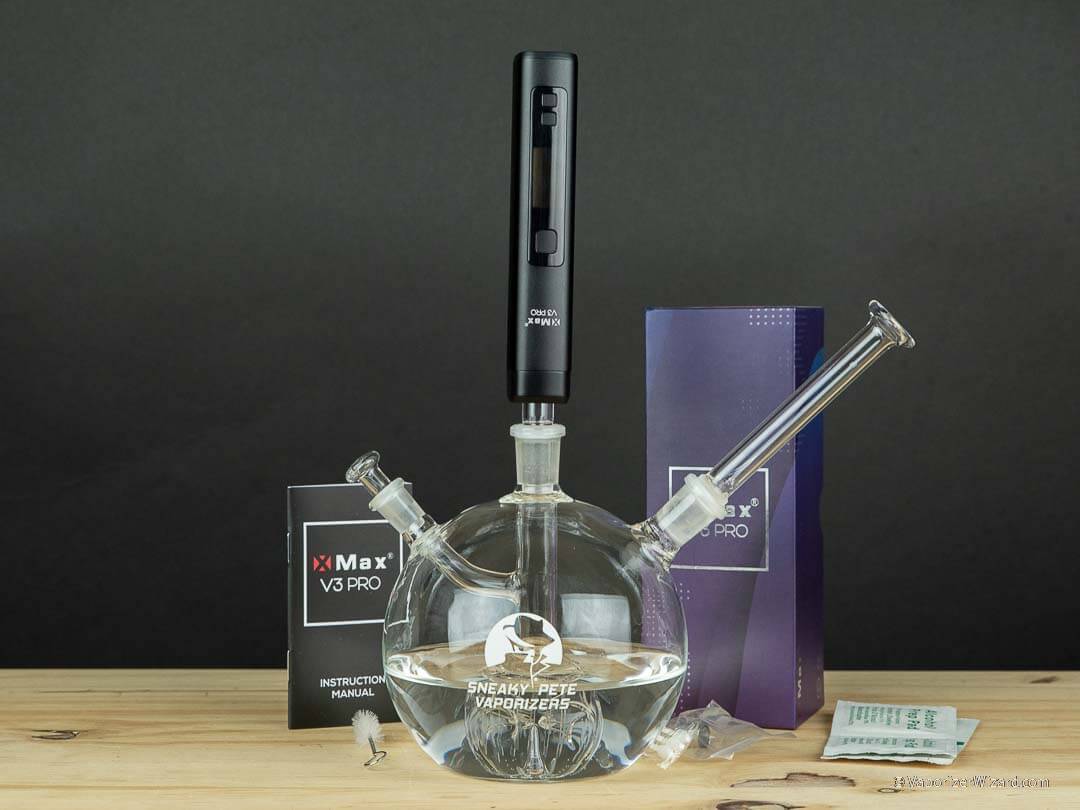 Lastly, the V3 pro vaporizer has average draw resistance, meaning it's not the most free-flowing vaporizer, but it's not hard to draw from either. The airflow depends on how tightly you pack the chamber, your draw speed, and how often you stir the chamber.
If you're looking for something with less draw resistance in the same price range, check out the POTV One vaporizer. I would also recommend the Mighty+ vaporizer because it offers the least amount of draw resistance of all the vapes I've tested, meaning that it's the most free-flowing and requires minimal effort to draw. I have links to all mentioned reviews in the suggested reviews section.
Chamber Info + How to Load Bowl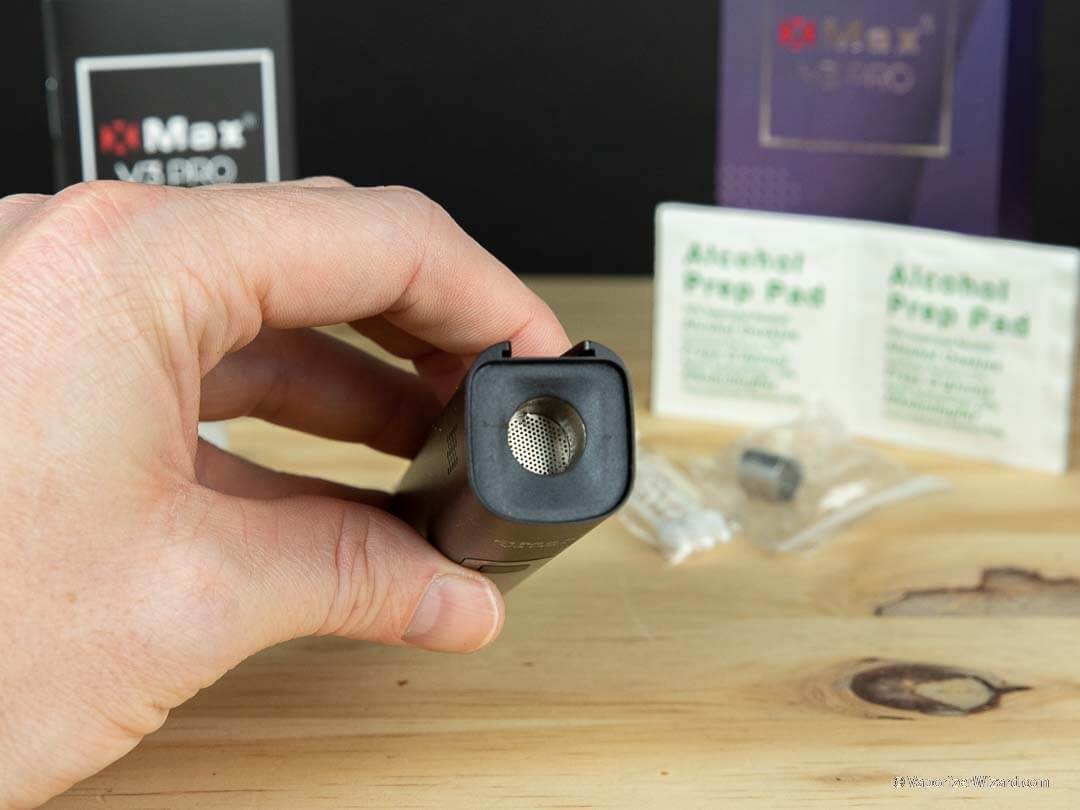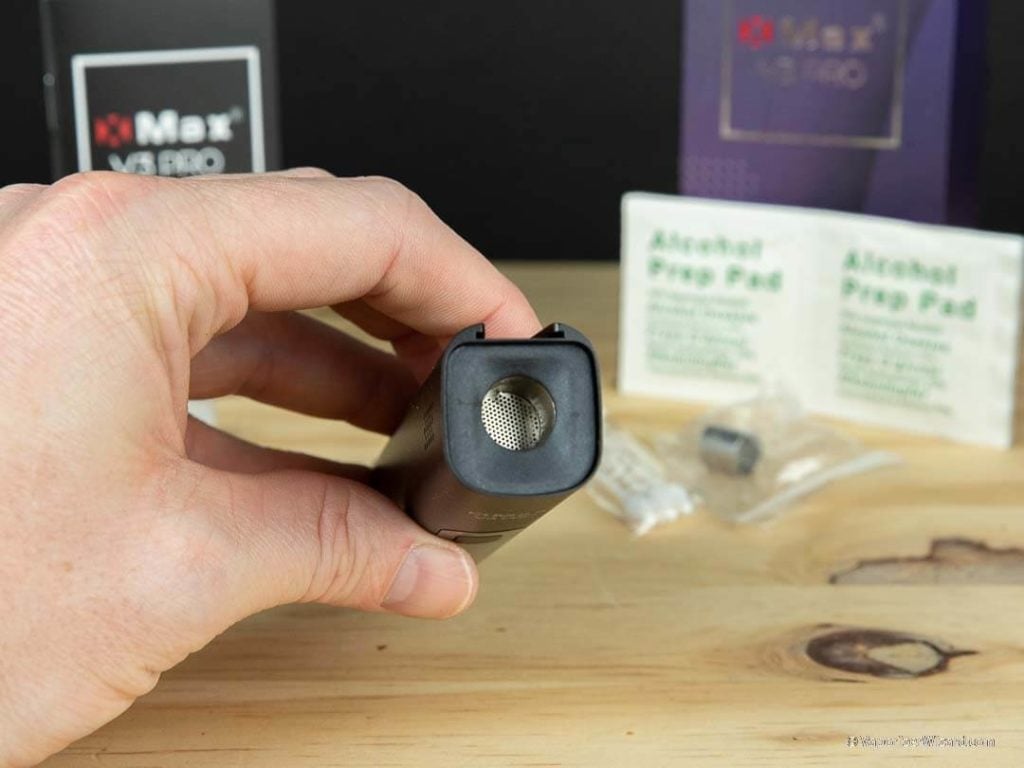 The XMAX V3 Pro vaporizer will hold about .15 grams of dry herb. You can get more into the chamber with a slight pack down but try not to overload the chamber because you will need to stir the bowl after a draw or two.
One feature that I like is the funneled bowl design. It makes it easy to load bowls while on the go or just in general. Make sure to clean off any extra materials to create a good seal for the mouthpiece.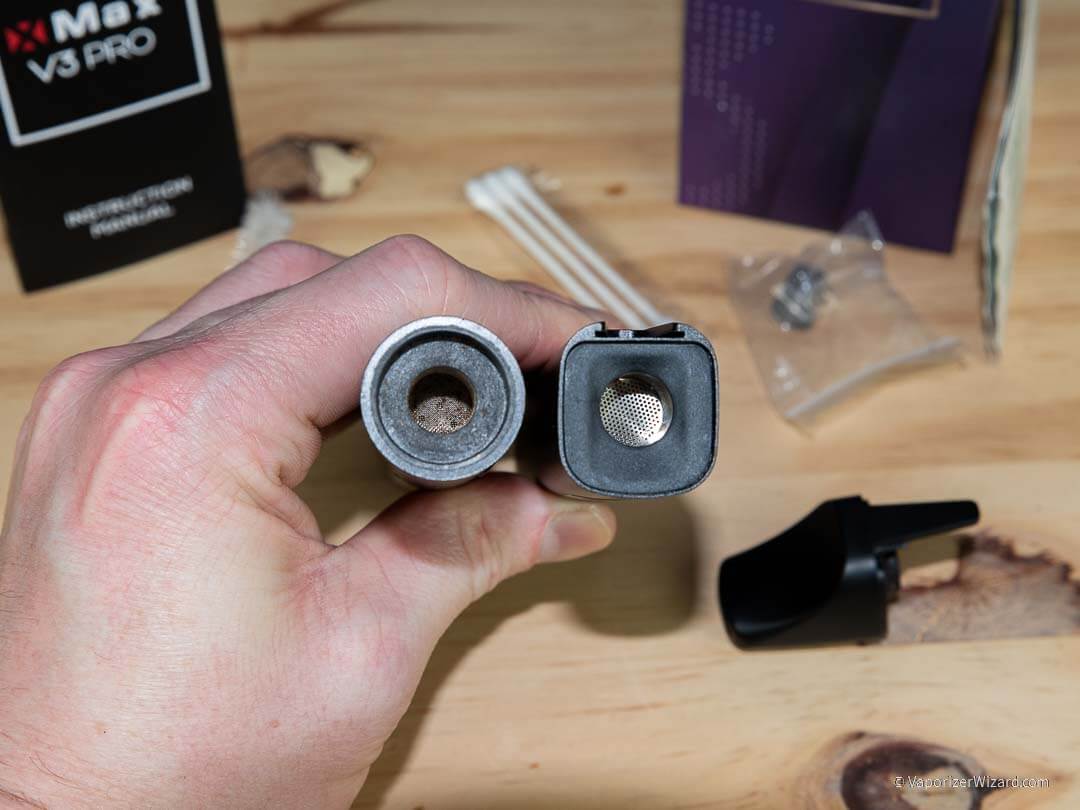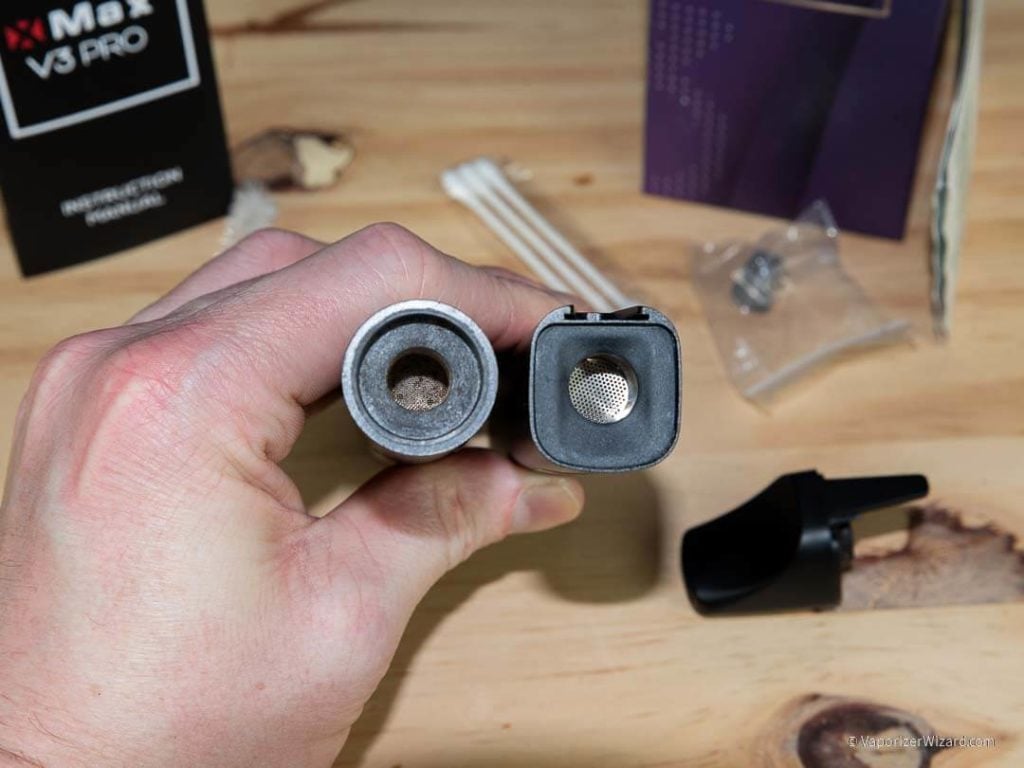 I prefer a medium to a fine grind with the XMAX V3 pro, and be sure to stir after a couple of draws to get the most of your herb.
I haven't tried the XMAX v3 pro wax cup yet. I'm not a huge fan of using wax with dry herb vaporizers because I feel like it's not very efficient. I prefer to use my Rig-in-One portable dab rig (RiO Review) for concentrates. Let me know in the comments if you are using the XMAX v3 Pro wax cup accessory and how you like it.
Operation: How to Use the XMAX V3 Pro
The XMAX V3 Pro dry herb vaporizer comes with some great new features, including the option to choose between session mode and on-demand mode. Before we get into the basics of operation, I wanted to explain the differences between these two modes and how to use them.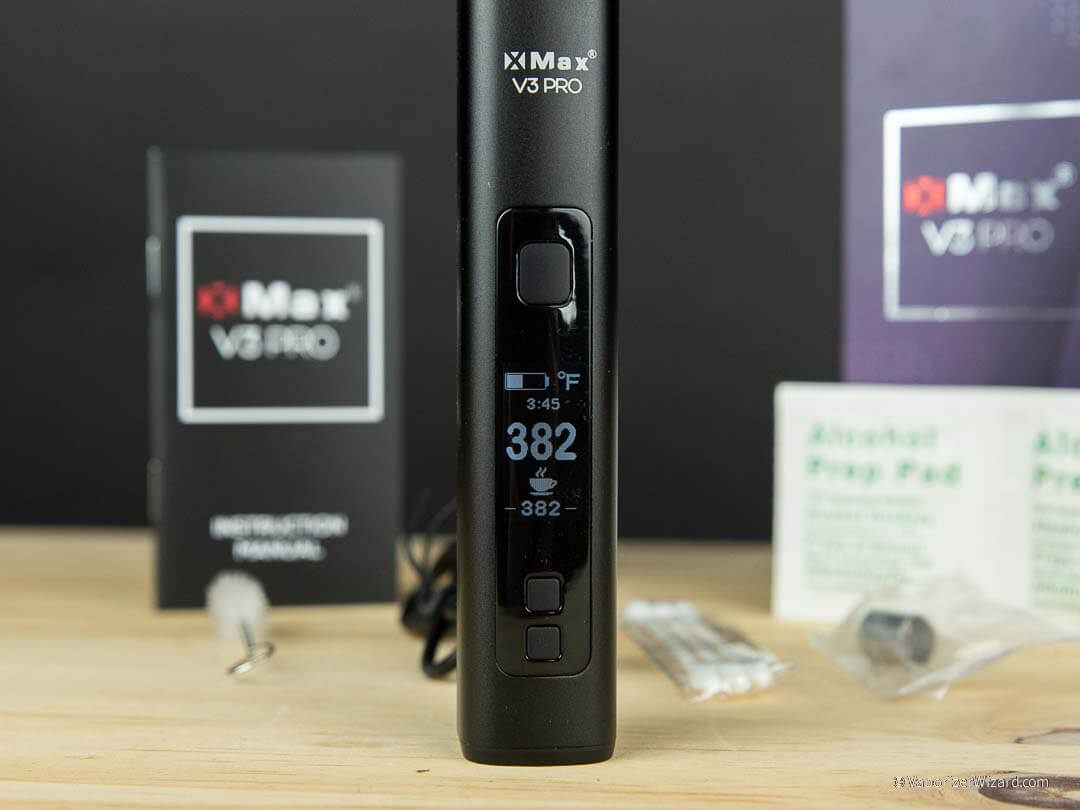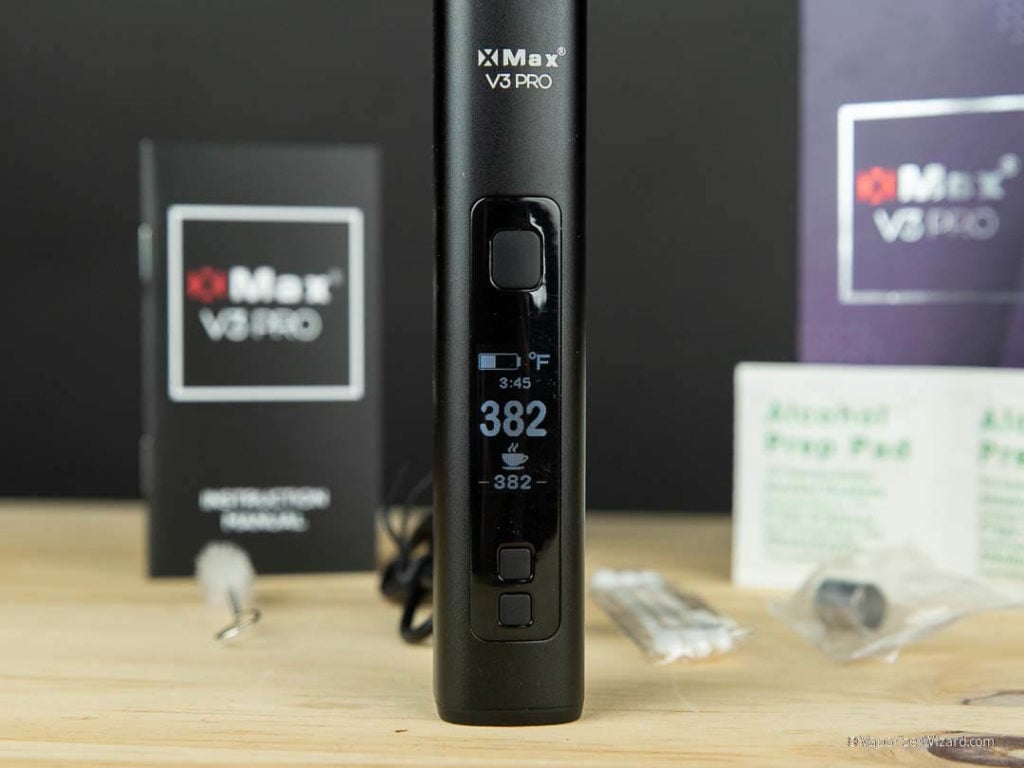 To change between Session Mode and On-Deman mode, press and hold the top temp button and the bottom temp button at the same time for two seconds.
The XMAX V3 Pro Session Mode allows for a 4-minute or 6-minute timer and will continuously run for that duration at whatever temp you select. The device will automatically begin heating to your preset temp when in this mode. You can and should start at a lower temp and bump up the session temp as you get closer to the end of the bowl.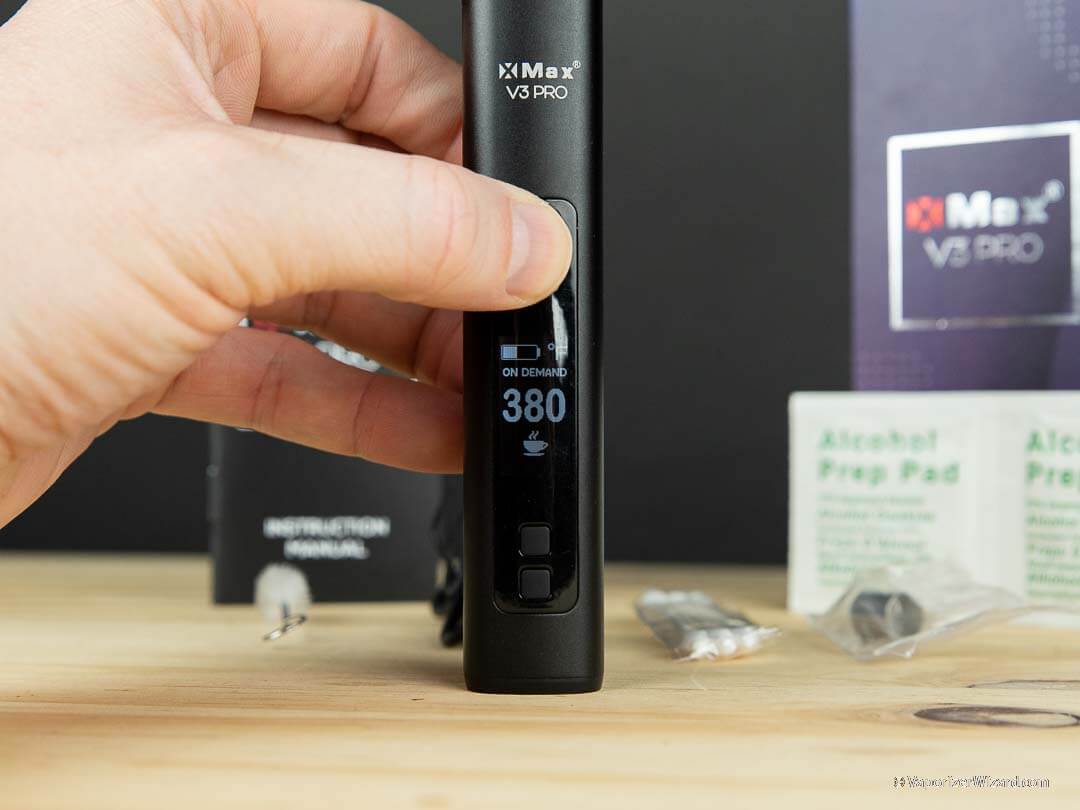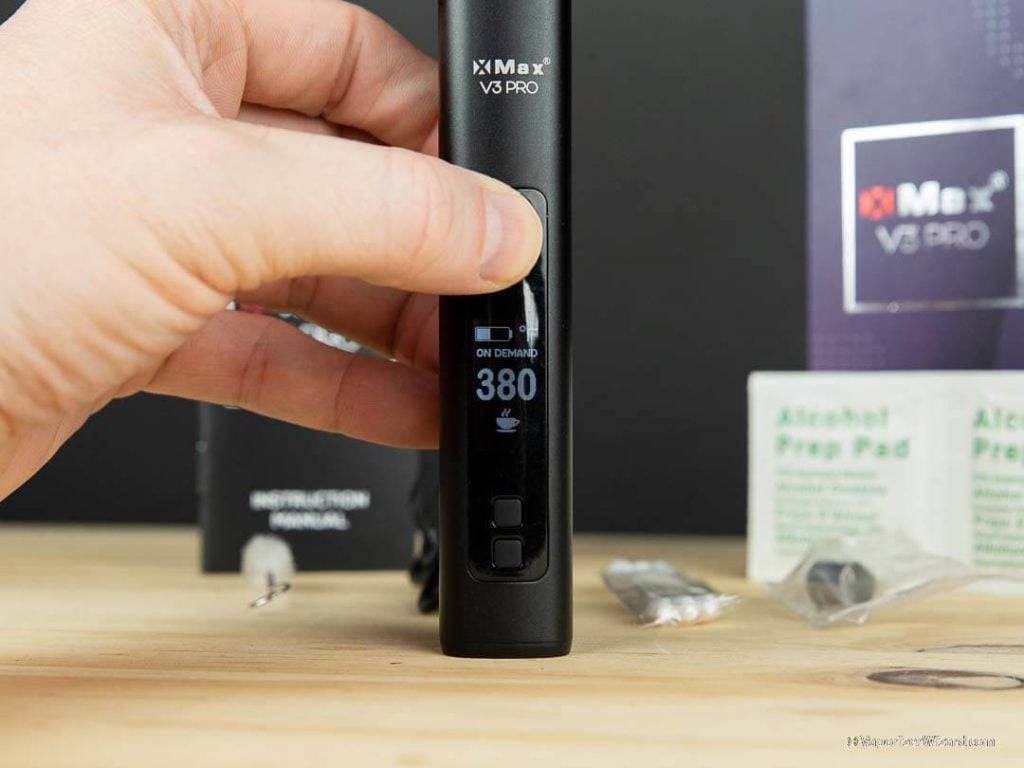 When the V3 Pro is in on-demand mode, you can power it on, and it will remain on standby until you press and hold down the power button. On-Demand Mode requires you to press the power button for the entirety of the draw. You can hold down the power button for 30 seconds in on-demand mode, and the device will vibrate three times when you initially reach temp. After 30 seconds, the device will stop heating, but you can release the power button and press it again to start the cycle over.
Each of these modes will vary the amount of battery life pretty significantly as it takes more time to heat the chamber repeatedly than it does to maintain a constant steady temperature. I'll get more into the details of the battery life below.
Now that we've gone over the details of on-demand and session mode, we can jump into the basics of operation.
To turn on the XMAX v3 Pro vaporizer, you're going to press the power button three times. The vaporizer will use your default or last temp settings when powering up.
Select your session mode, wait for it to get to temp, or press the power button and wait for the three vibrations. You can see which mode you're in via the top of the display.
You can change temperatures via the two smaller buttons below the power button. There's no temp indicator as to which is + or -, but I think you can figure out which one increases temp and decreases it. The full temp range runs from 212-428F (100-220C), and I recommend starting around 370ish, temp stepping with each draw.
The Session Timer can be set to 4 or 6 minutes. By default, it's set to 4 minutes. Hold the power button and top temp button simultaneously for two seconds to change it. You can also restart the session when the timer ends.
To change from Celsius to Fahrenheit, hold the power button and the bottom temp button at the same time for two seconds.
Best tips for use: Use a grinder and aim for a medium to fine grind. You can pack down the chamber a bit but try not to overpack. Too much herb will cause increased draw resistance and uneven heating. The XMAX V3 Pro does use quite a bit of convection heating, so with that said, it's always good to stir the bowl after a few draws if you want to completely maximize efficiency. The XMAX V3 Pro best temperature to start out at has been around 370F – 380F (187C – 193C).
Maintenance and Cleaning
When you get your XMAX v3 pro vaporizer, the first thing I recommend is a quick wipe down and a full burn-off. Take a q-tip with a small amount of ISO and give the chamber/mouthpiece a quick cleaning. After everything is completely dry, do a burn-off. A burn-off consists of setting the vape to max temp in session mode and slightly puffing on the mouthpiece without inhaling. Don't inhale. Similar to smoking a cigar but much faster.
Once you've completed a full session burn-off (4 minutes), wait for the vaporizer to cool back down and then wipe everything down again with a q-tip and ISO. This process removes any debris from the manufacturing process that might still be lingering.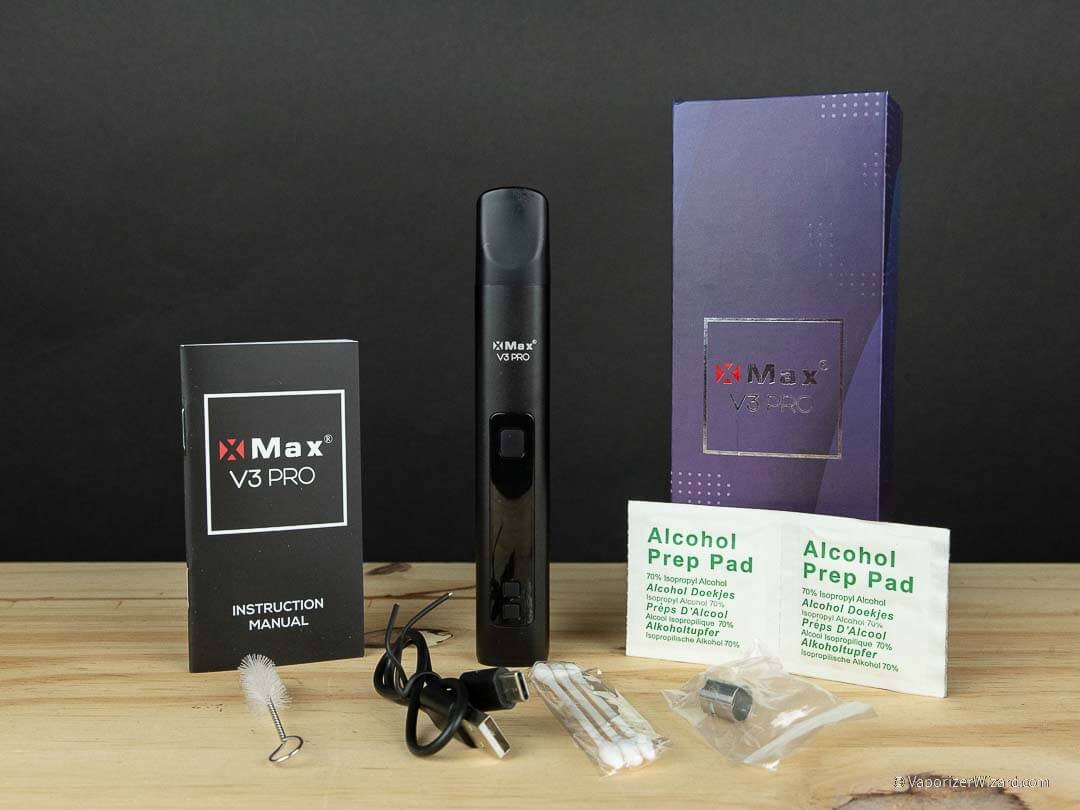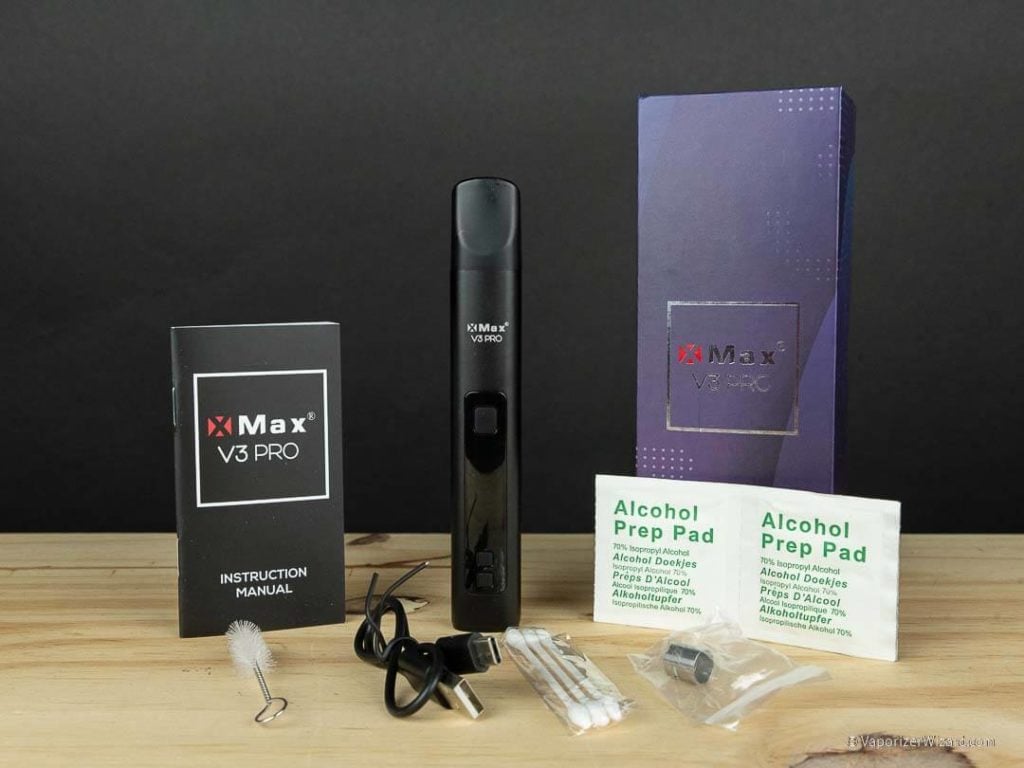 Most dry herb vaporizers don't come with all the cleaning supplies included. The XMAX V3 Pro includes alcohol wipes and cotton swabs which is a nice perk. You'll still need to pick up some ISO and some Q-Tips for a proper cleaning later down the road, but at least they got you covered for the first couple of cleanings.
Routine maintenance consists of emptying the chamber immediately after each session and brushing out any materials still in the chamber. Try to keep as much of the materials off the screen as this will help keep the draw resistance down and lessen the number of full cleanings. If you stay on top of the daily cleaning, the vaporizer will perform much better.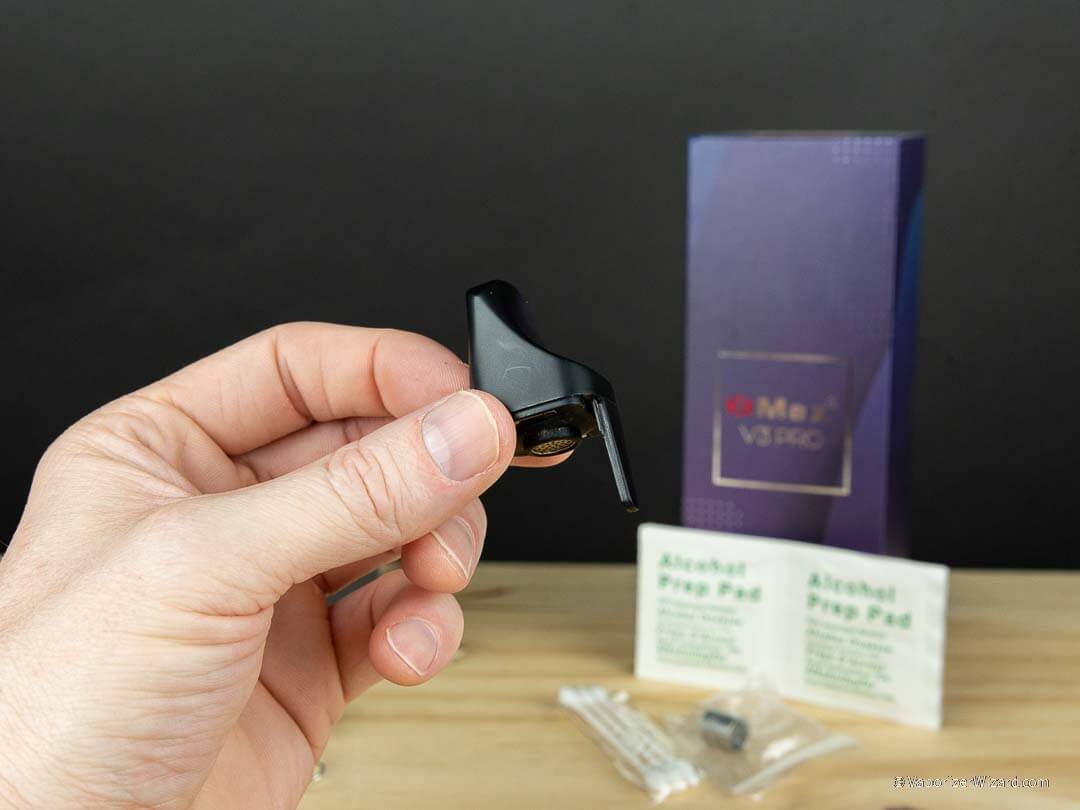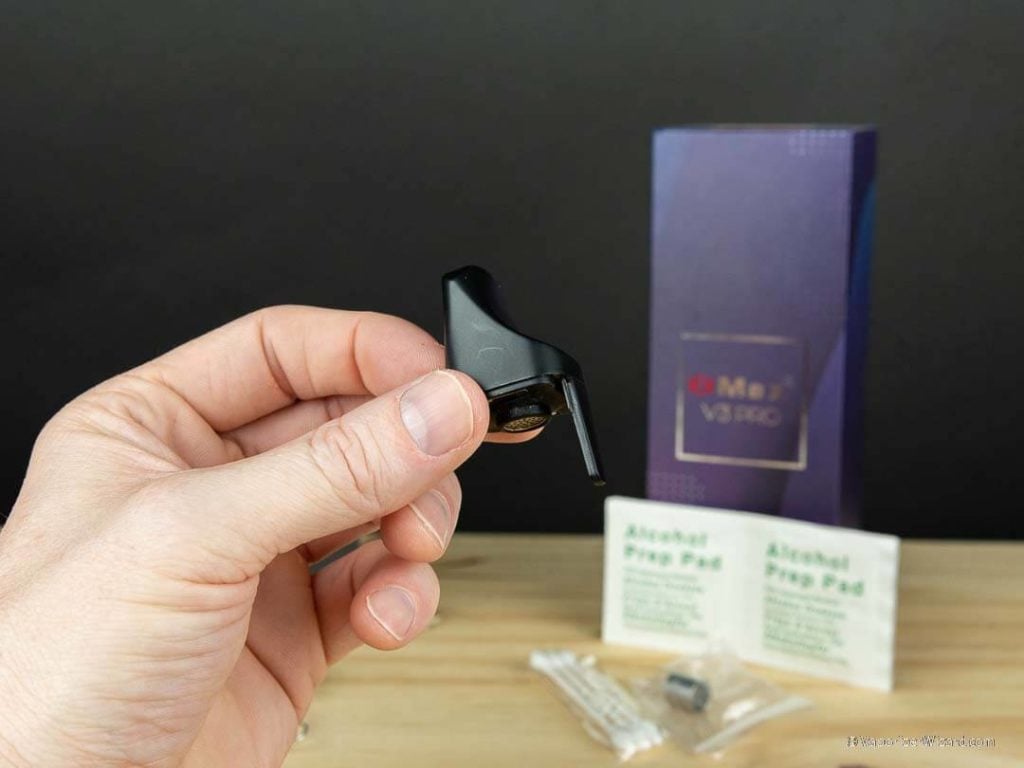 When you do a deep clean, you will want to remove the xmax v3 pro mouthpiece and disassemble it. You will want to clean the ceramic air path and the screen with isopropyl alcohol. You will likely be able to wipe off the plastic mouthpiece and the silicone piece. However, if it's slightly dirty, you can clean them with soapy water and completely dry them. If they somehow get incredibly dirty, I would very cautiously and quickly clean them with isopropyl alcohol followed by a rinse with water and a full dry.
When you clean the oven, you will first empty and wipe it out. You'll then get the q-tip damp but not dripping with iso and wipe out the unit while holding it upside down, so any accidental drips do not go into the oven.
If you are using the XMAX V3 Pro WPA (Water Pipe Adapter) or the XMAX V3 Pro Glass Mouthpiece (above), you can remove the glass for the silicone housing and place it into Isopropyl Alcohol. Rinse the silicone housing with soap and water. Rinse everything off and let dry completely before use.
Overall if you stay on top of the routine maintenance and clean out the chamber after each session, you can get away with thoroughly cleaning the unit less often. I know that doesn't usually work out, but it's also pretty quick to clean fully. I would say it took me about 10 minutes to clean everything completely.
XMAX V3 Pro Review Summary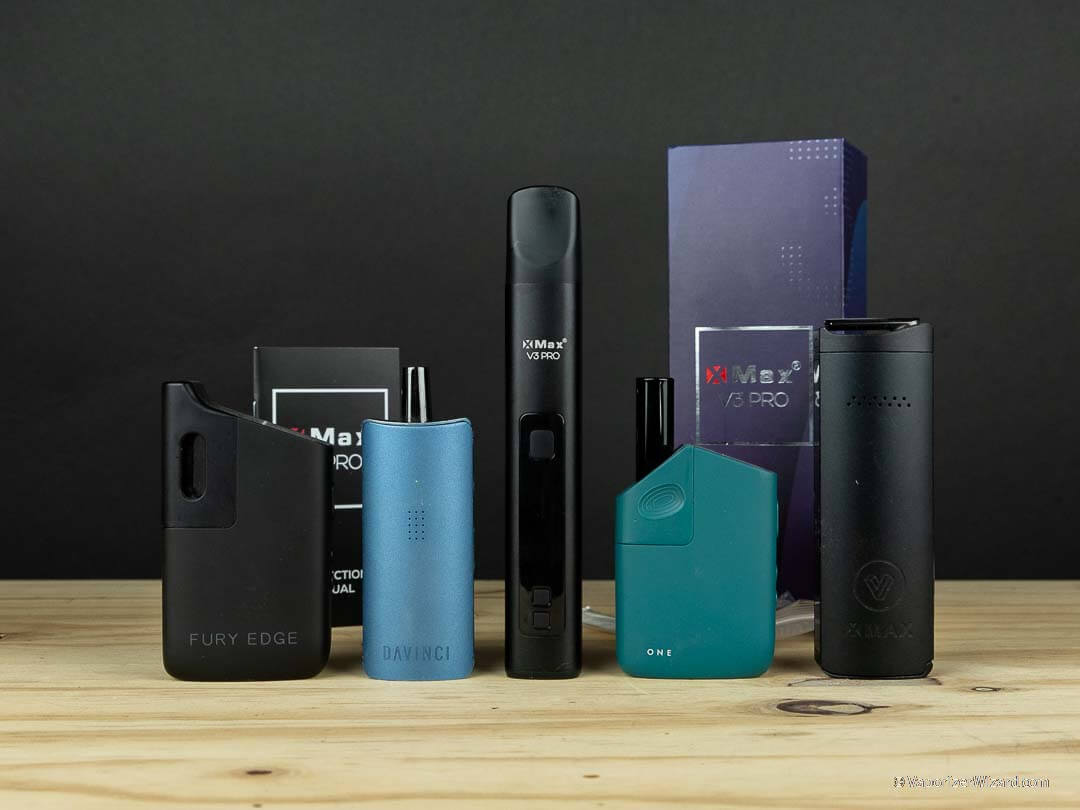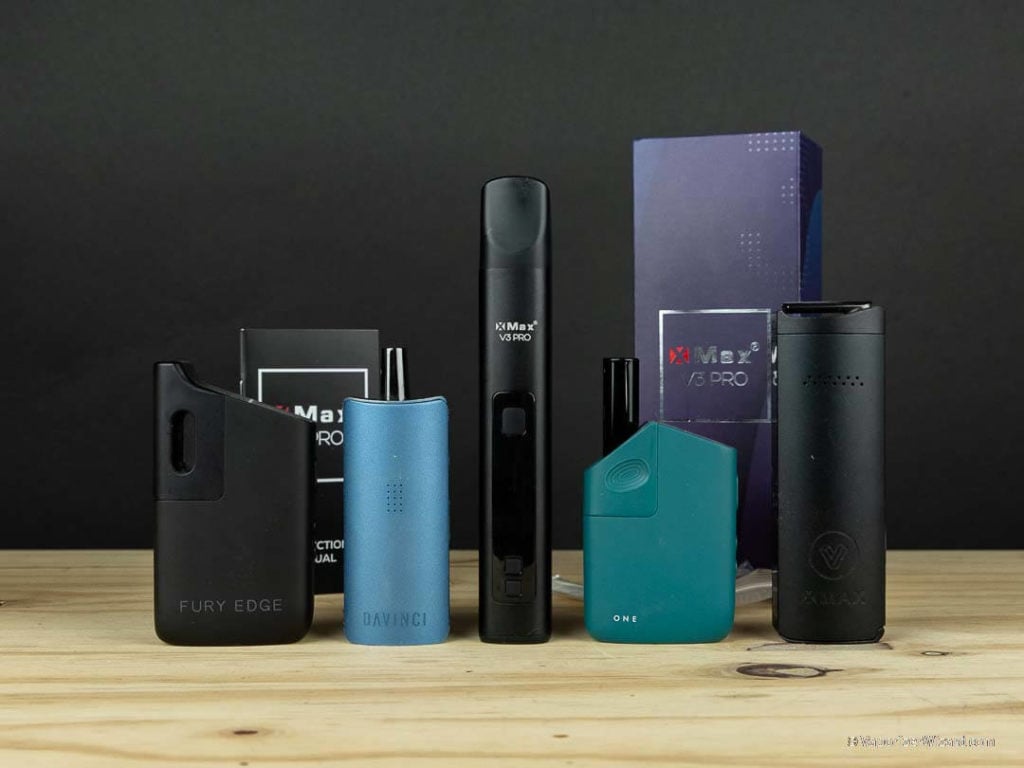 The market for dry herb vaporizers around $100 has continually gained in popularity over the last few years. Not only are more manufacturers producing quality vaporizers at this price point, but they are also setting industry standards like USB-C Charging, 18650 replaceable battery systems, and quick nearly on-demand heating.
The XMAX V3 Pro vaporizer is now probably my favorite portable vaporizer for around $100, but it's super close to the POTV One vaporizer. Both of these vaporizers offer fantastic features for the price and are pocket-friendly, but the POTV One has better airflow, better build quality, and overall more power. The downside to the POTV one vaporizer is that it doesn't offer a replaceable battery system or USB-C charging. I also think the XMAX V3 Pro has better vapor quality, especially in the on-demand mode. Check out my POTV One review for more info.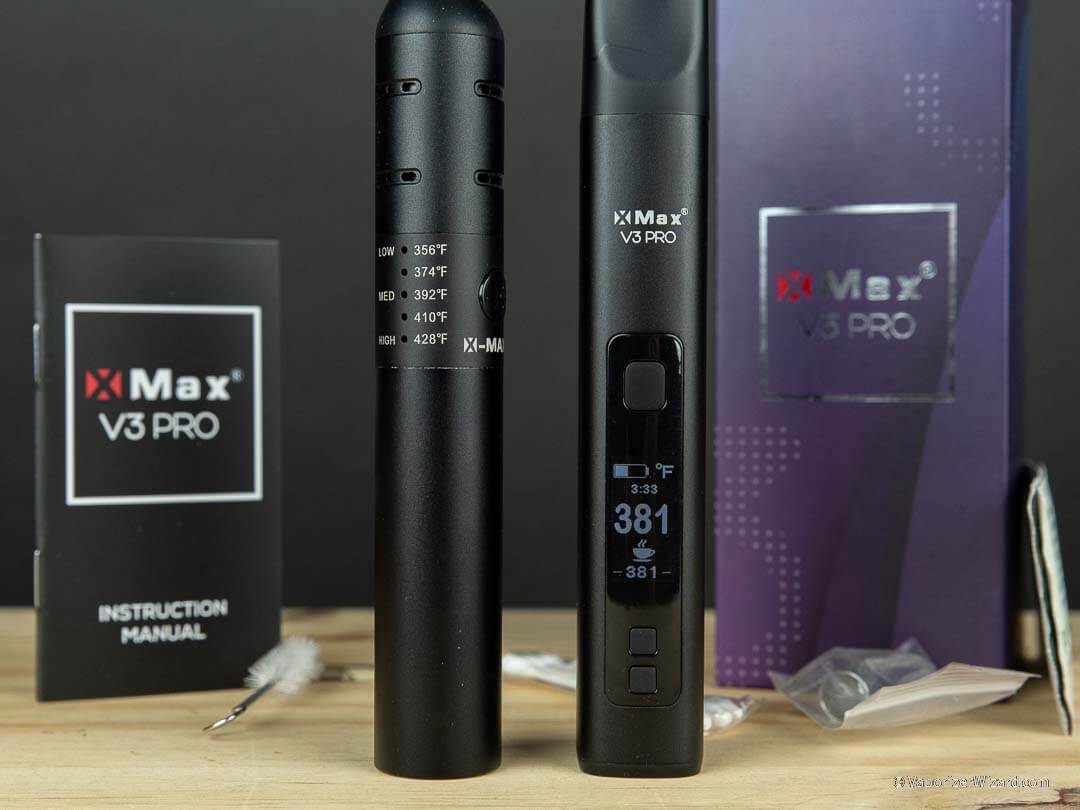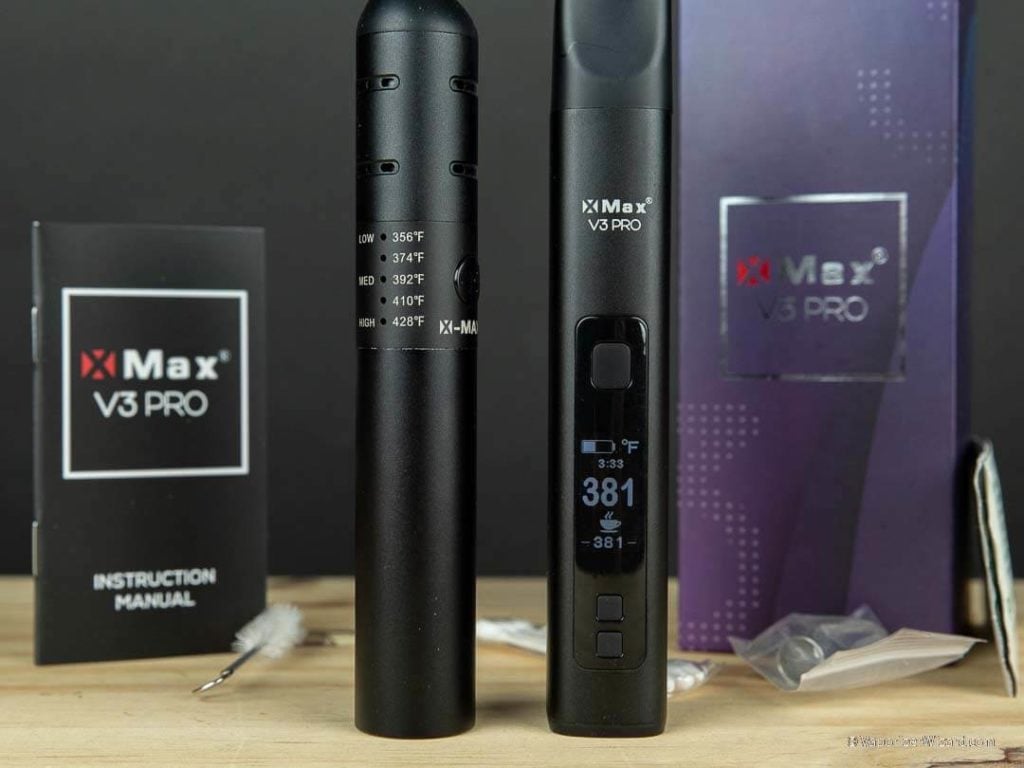 Overall I'm very pleased with the upgrades to the XMAX V3 Pro vaporizer, and I think it could easily be a great starter vape and a great vaporizer for slightly above average users. The bowl size is small for heavier users, but the battery life is pretty impressive, and you can always pick up another battery or two.
I wouldn't get the XMAX v3 pro vaporizer if you will be using it with multiple people or for super heavy users because you'll constantly be replacing herbs in the chamber. If you're a heavier user and looking for other options, I recommend checking out the Solo 2 Vaporizer (Solo 2 review) and my personal favorite, the Mighty+ vaporizer (Mighty+ review).
I would get the XMAX V3 Pro if you're looking for a relatively inexpensive portable vaporizer with industry-leading features, above-average vapor quality, and don't mind the little quirks like buttons that make noise when you shake the unit.
The XMAX v3 Pro vaporizer retails for $109, and you can click here to buy the XMAX V3 Pro vaporizer directly from my recommended authorized retailer. You can sometimes find the XMAX v3 Pro for sale cheaper but there are knockoffs out there so make sure that you are buying from an authorized retailer. I'm working on getting an XMAX v3 pro promo code for vaporizer wizard readers and will include it here when/if we get it. Right now the V3 Pro vaporizer seems to be only available at retail.
Thank you for taking the time to read my XMAX V3 Pro Vaporizer review, and please hit me up in the comments with any questions or suggestions. I'm looking forward to more portable vaporizers in this price range and I'm excited about the possibilities as they continue to shrink in size.
Buying Options
Technical Specs
| | |
| --- | --- |
| Name: | V3 Pro Vaporizer |
| Manufacturer: | XMAX |
| Price: | $109 |
| Rating: | 9.0/10 |
| Materials: | Dry Herbs |
| Temp Range: | 212 – 428F (100 – 220C) |
| Heating: | Hybrid |
| Battery Life: | ~6 Bowls Avg |
| Battery Type: | 18650 3.7V 2550mAh / Replaceable |
| Charging Type: | USB-C 5V/1A |
| Warranty: | (1) One-Year |
Pros and Cons
XMAX V3 Pro Vaporizer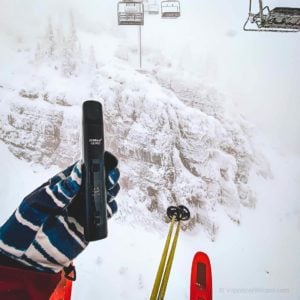 The XMAX V3 Pro dry herb vaporizer features a hybrid heating system, a replaceable 18650 battery system and USB-C charging. You can easily change temps, check battery life or switch between modes via the bright OLED display. The pocket-friendly V3 Pro vaporizer retails for $109.
Product Brand: XMAX
Pros
$100 Price Point
Pocket-Friendly
Good Flavor
Replaceable Battery
USB-C Charging
Quick Heat-Up
Full Temp-Spectrum
Cons
Small Chamber
Not for Heavier Users
Warm Vapor
Suggested Reviews