The RiO (Rig-in-One) is a portable dab rig made by the company Stache Products. The Rig-in-One is the only dab rig that is truly portable, featuring a safe and effective solution to keeping water in the bubbler while on the go.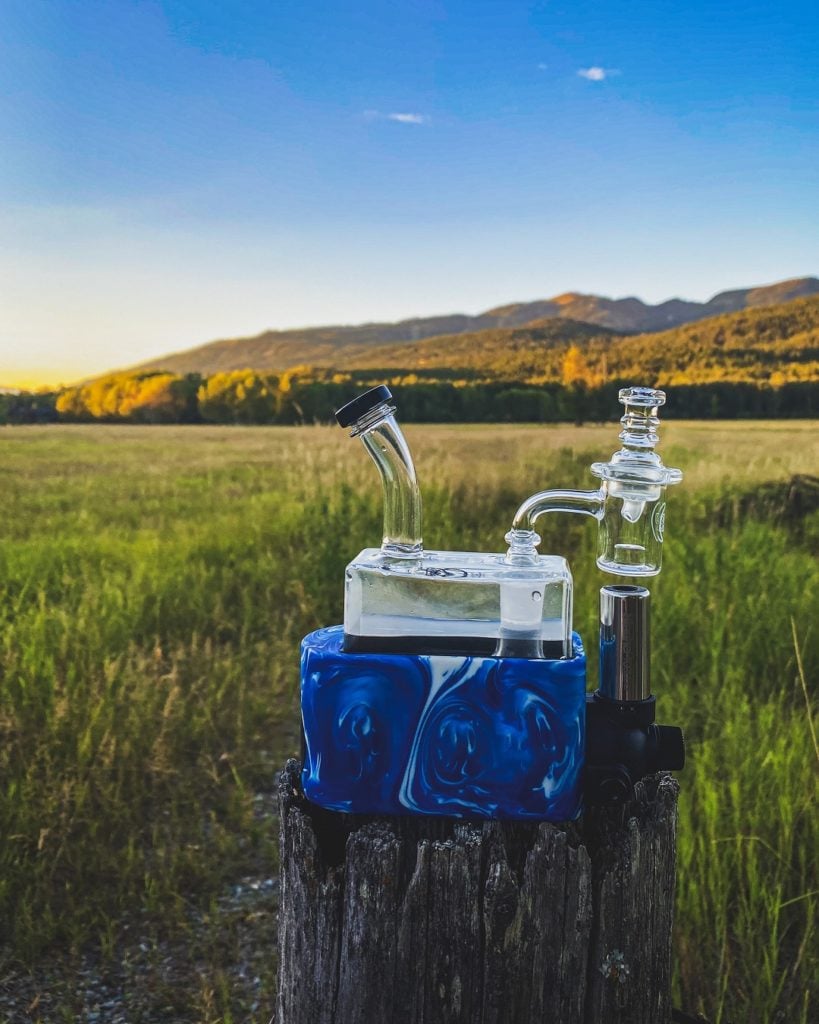 RiO Dab Rig Technical Specs

| | |
| --- | --- |
| Name: | Rig-in-One (RIO) Dab Rig |
| Manufacturer: | Stache Products |
| Price: | $149 |
| Materials: | Concentrates |
| Heating: | Torch |
| Warranty: | 1 Year |
RiO Dab Rig Pros and Cons

Pros

All-in-One Kit
Super Portable
No Electronics
Clean Flavor
Easy to Clean
Convenient
Build Quality
Good for Beginners

Cons

Hefty
I can't think of anything else…

The RiO Dab Rig, in my opinion, offers the best of both worlds if you're looking to dab at home and on the go. The RiO is perfect for road trips, camping, or bringing over to a friend's house for a party or chill sesh. It's also great to use around the house doing chores or for a Netflix and chill type of night.
The RIO retails for $149, and you can click here to pick it up directly from Stache Products. They usually throw in some free gifts like a dab mat and offer free shipping. Read on below to get my full Rio Dab Rig review.
Design and Build Quality
The RiO or "Rig-in-One" is a portable dab rig made by the company Stache Products. This is a one-of-one uniquely designed setup featuring a borosilicate glass micro rig bubbler with a 14mm inline showerhead perc, a built-in torch with a large butane storage tank in the base, a 14mm male quartz banger, a glass carb cab and it all fits back into a zip-up carrying case with EVA foam.
The RIO is what is called a "Cold-Start" portable dab rig meaning that it's designed to have your material (concentrates, extracts, shatter, etc…) loaded into the banger before heating. Once your material is loaded into the banger, you can ignite the torch and heat the extracts until they start to bubble and release vapor. At this point, you can either turn the torch down to its lowest setting or turn it off completely.
Portability and Discreetness
The RiO is the only dab rig that I take with me on the go. The main reason for this is that I know I have butane or extra butane with me. I don't always know when I'll be able to charge an e-rig or have the time to wait for it to charge. RiO uses a simple design without any electronics or coils. Everything fits together nicely and the only thing you have to learn is how much heat to apply to the banger.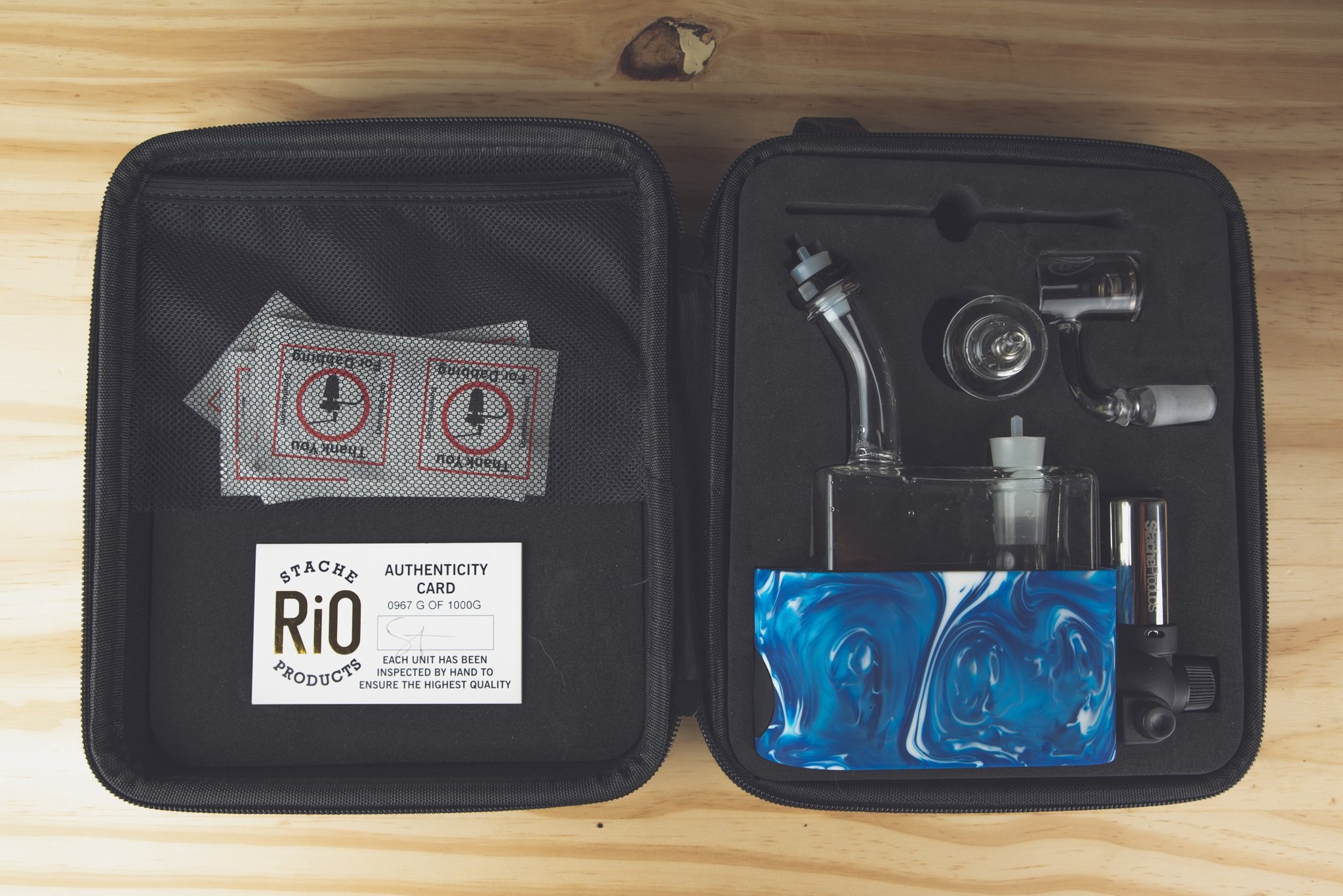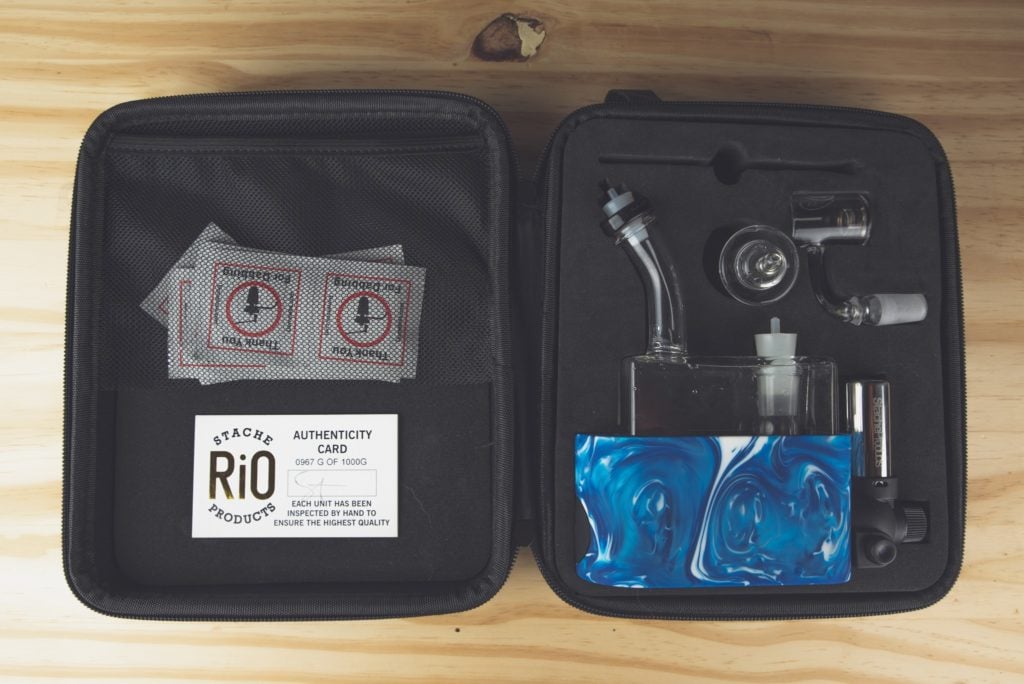 The bubbler, banger, and carb cap are all glass so you still have to be careful with them. Once it is secured back into the carrying case, then you're good to go. I've dropped the case a couple of times with no damage to anything in the case. The EVA foam secures everything tightly.
Last but not least, the included plugs fit tightly into the ports, so you can keep water in the bubbler while on the go without any leaking. I was definitely skeptical at first, but I've never had a leak in the case. I definitely don't recommend dropping it at any time, but it is a pretty safe setup overall.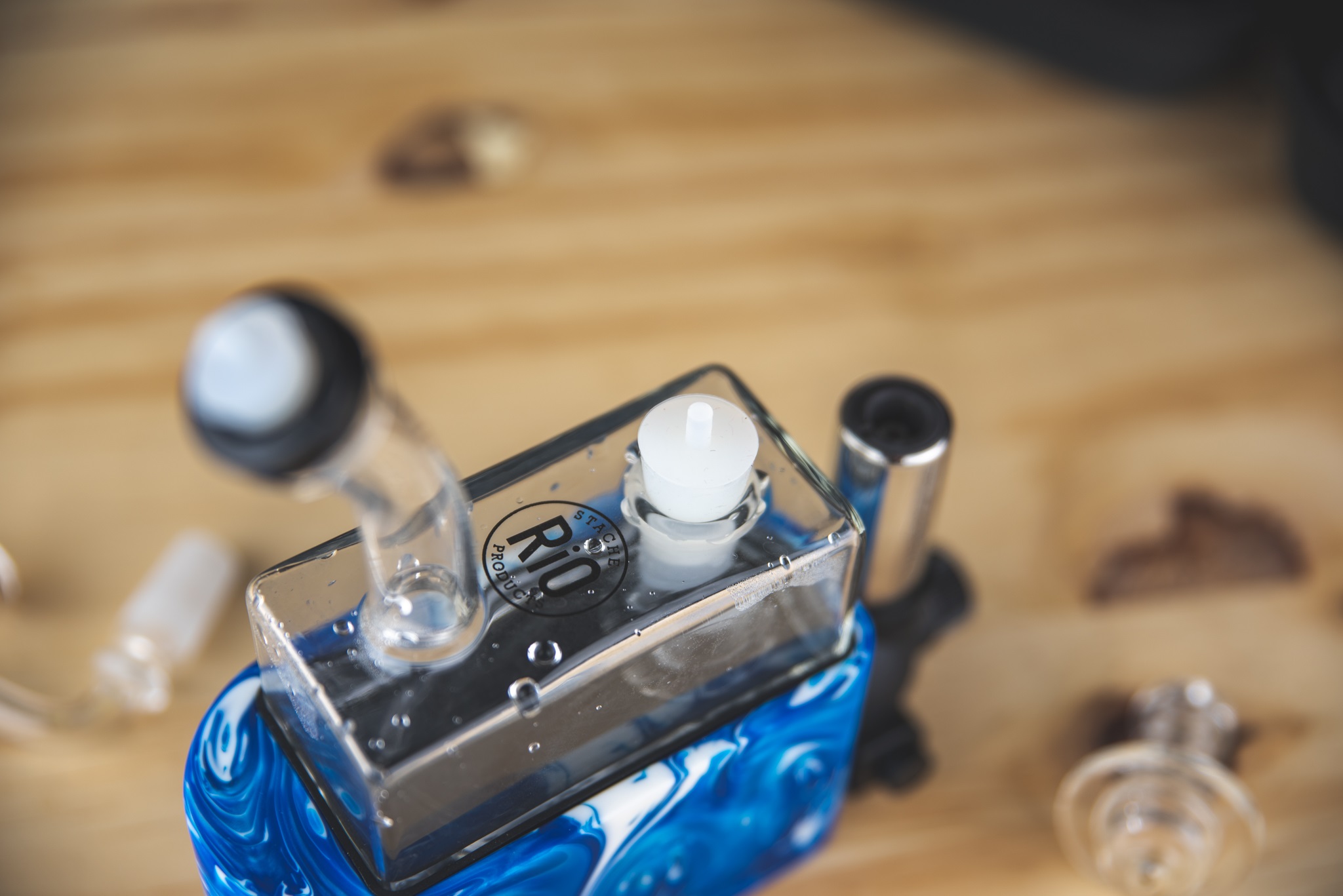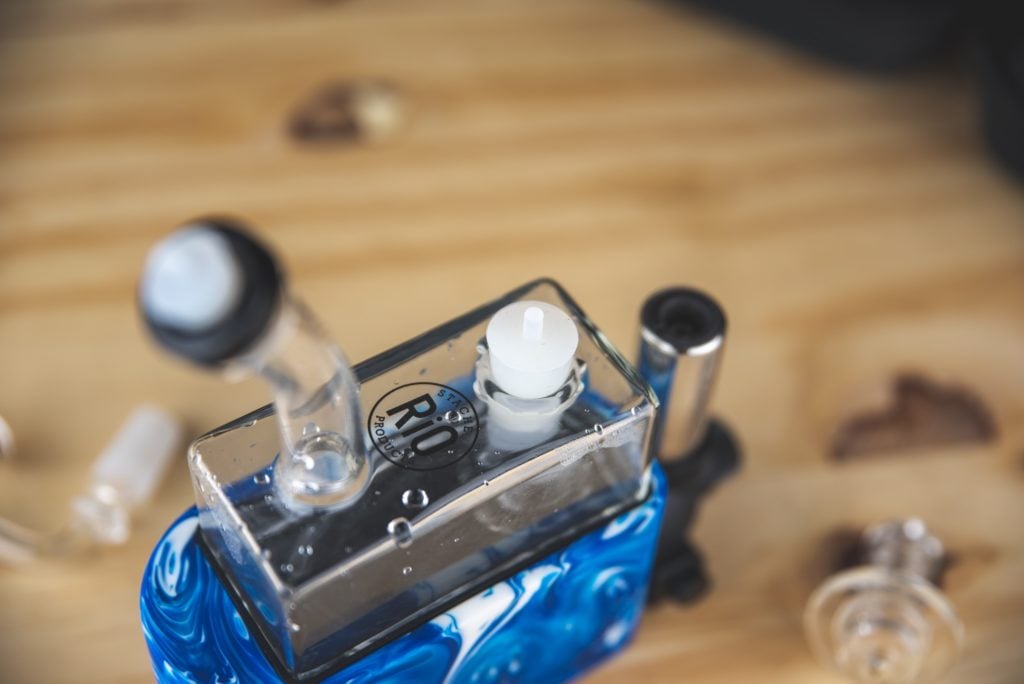 The RiO is great for single-person sessions or big group scenarios. It's large enough to easily pass around without worrying about dropping it, and there's really nothing to explain to people other than showing them how to twirl/rotate the carb cap. You can set the torch and pass it around for them. Since the RiO uses butane and the tank is quite large, it lasts MUCH longer before it needs to be refilled than the e-rigs need to be recharged.
Personally, I really love the RiO for any longer excursion and all of my camping trips because I just don't have to worry about recharging.
The RIO can really solve all your dabbing needs. I would say that I use it mostly at home, but it's the most reliable one to take on the go as well. There are no loading capsules or small cups to drop your materials into. The RIO uses a large, clear quartz banger that is easy to see, use, and clean.
The entire rig provides great taste, and cool vapor via the bubbler, which makes it easier on the throat and easier to take bigger rips if that's your thing.
How to Use
I like to place the concentrates into the banger cold, turn on the torch and wait for the material to start bubbling, and then turn off or turn down the torch while drawing from it. Make sure to place the carb cap on for the entire duration and spin it around to move the materials around while drawing.
The biggest tip I can give you is not to use too much material. Single-person sessions only need to use about the size of a rice grain. Too much material can cause quite a mess in the banger.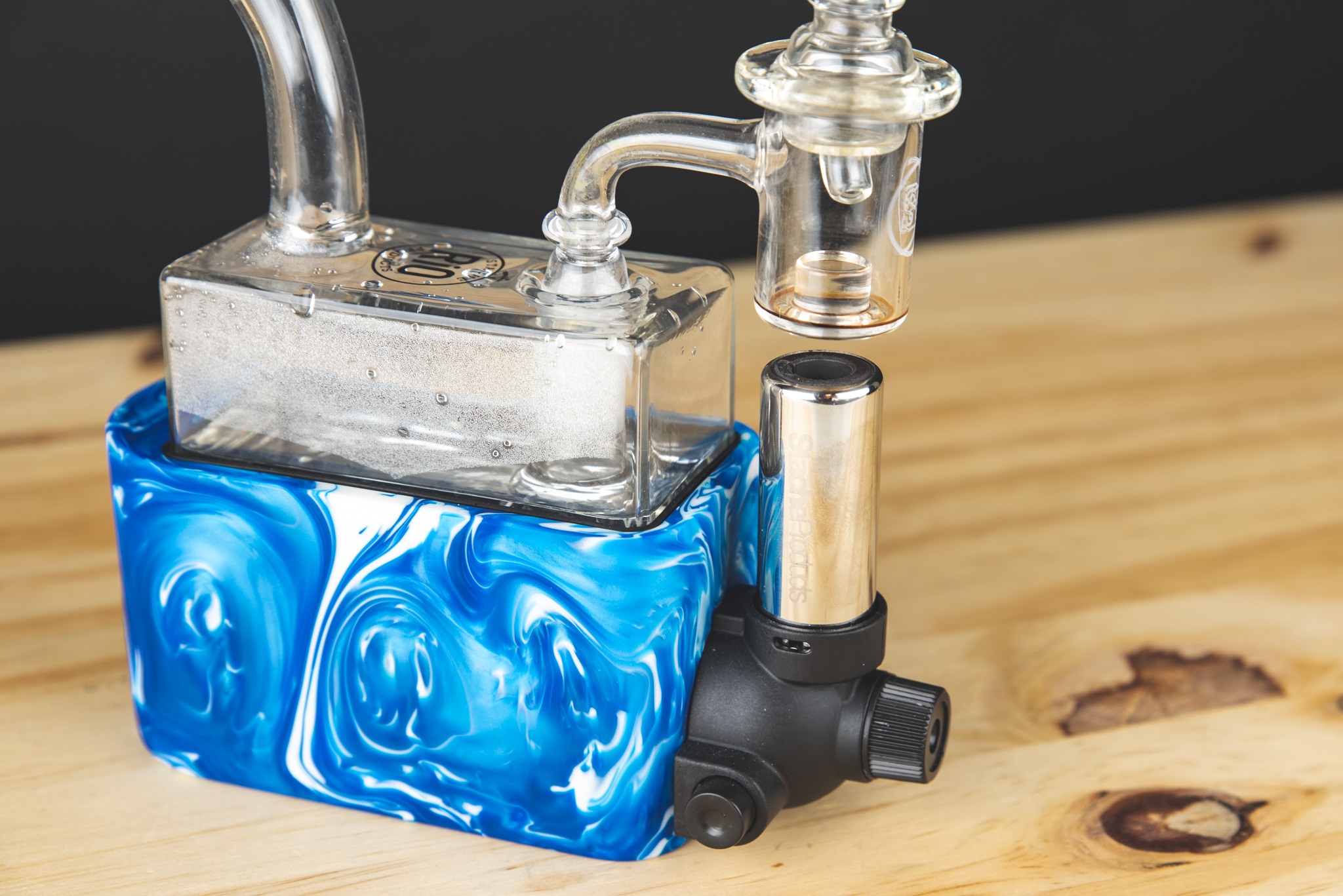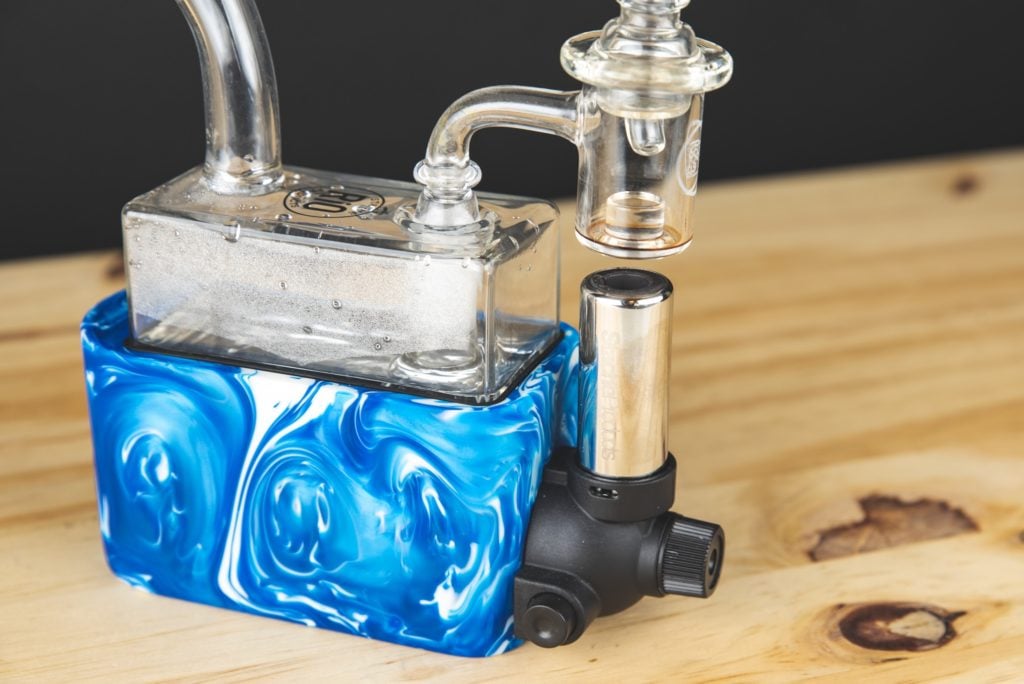 The only other thing you need to do prior to using the RIO is to fill the storage with Butane. The Butane is easy to fill, and the torch is easy to operate.
Cleaning and Maintenance
Because of the simple design of the RIO, everything is easy to clean. I would highly recommend carrying around some q-tips and alcohol wipes in the carrying case so you can clean out the banger immediately after a session.
Now, this isn't necessarily required but definitely needed if you want to keep it clean. Basically the more frequently you clean it, the better tasting and more efficient it will be.
Downsides to the RIO
No Temp Settings – It's on you to learn how much heat to apply for what you are looking for. Best taste, full extraction, low temp, etc… this is not necessarily a downside to the RiO, in fact, I like the RIO because of the control that it gives me over my sessions. But there is a bit of a learning curve associated with the use of a torch and banger.
Rig-in-One Review Summary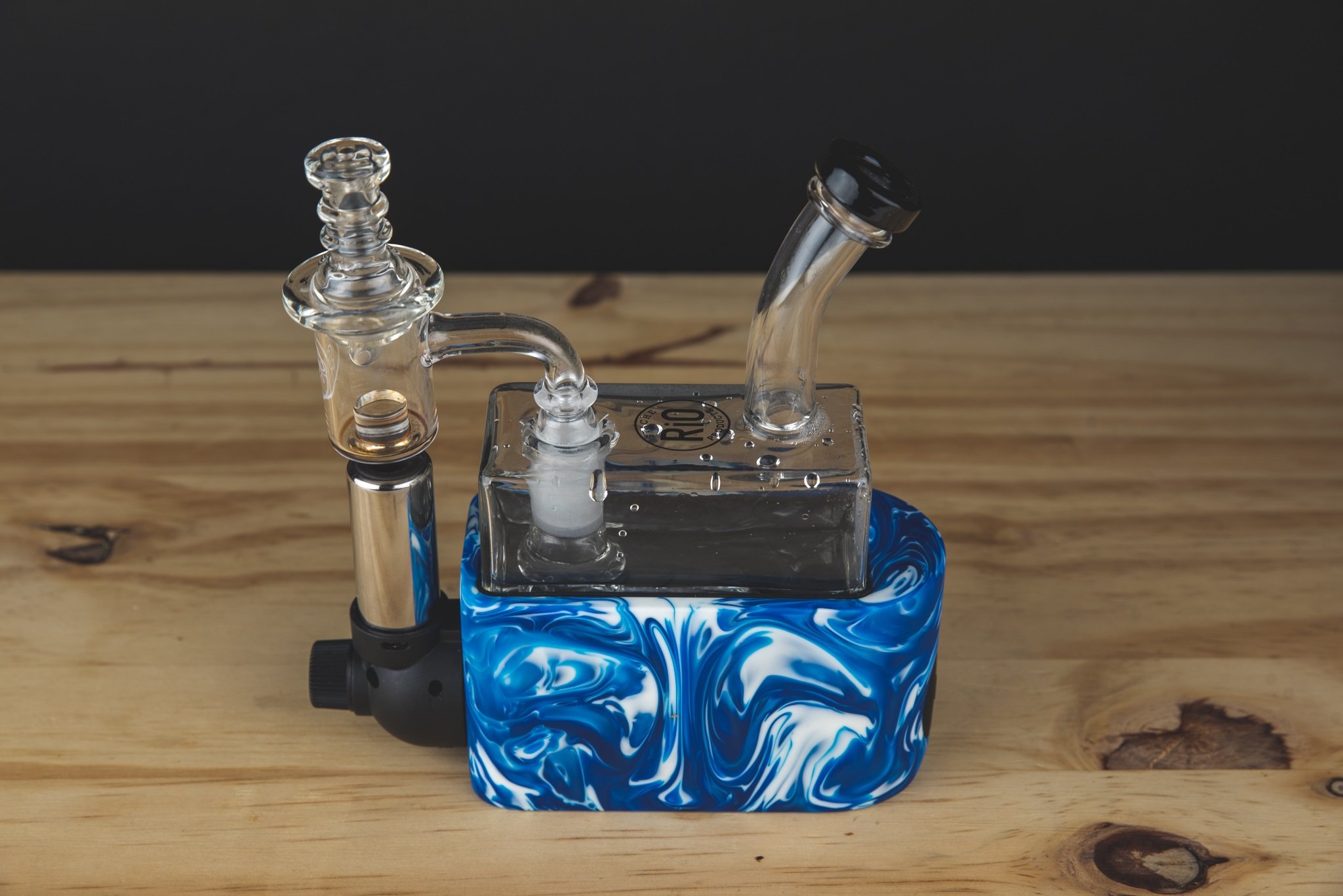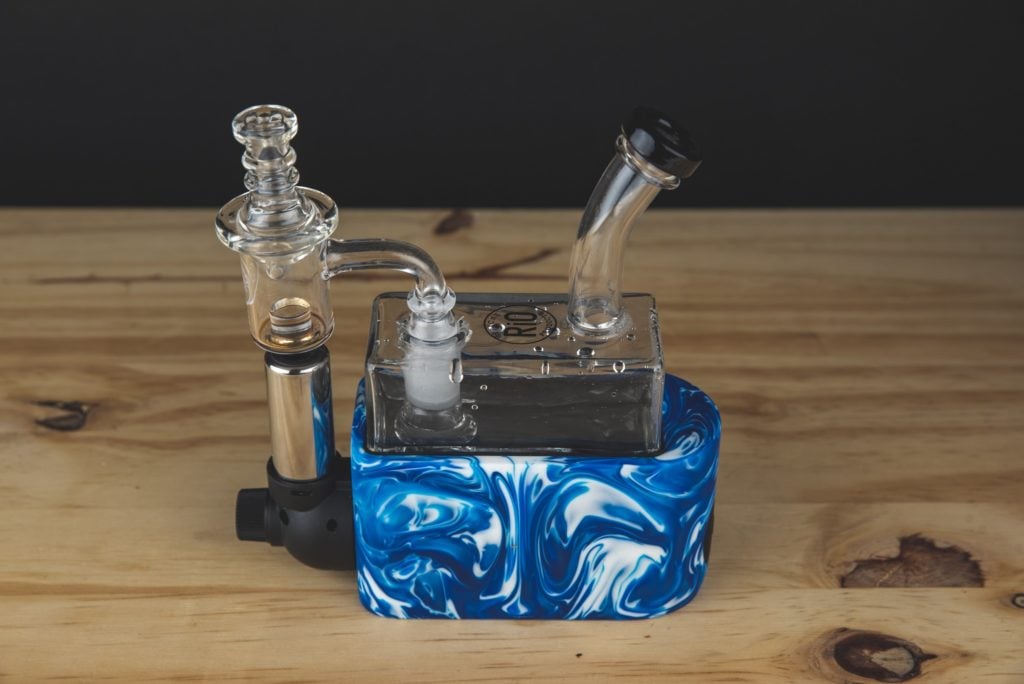 Honestly, the RiO has completely changed the way I consume cannabis. Dabbing has always been a bit more of a chore and something would only do at home because the pens never fully compared to the at-home desktop rig.
Being able to take the RiO on the go with me is a game-changer and low temp dabs are definitely my favorite way to consume cannabis these days. Pens are great but they gunk up easily, run off a battery, and frequently break because of how cheap they are, to begin with.
There are other portable dab rigs and e-rigs out there but I really enjoy not having to rely on a battery/charger situation.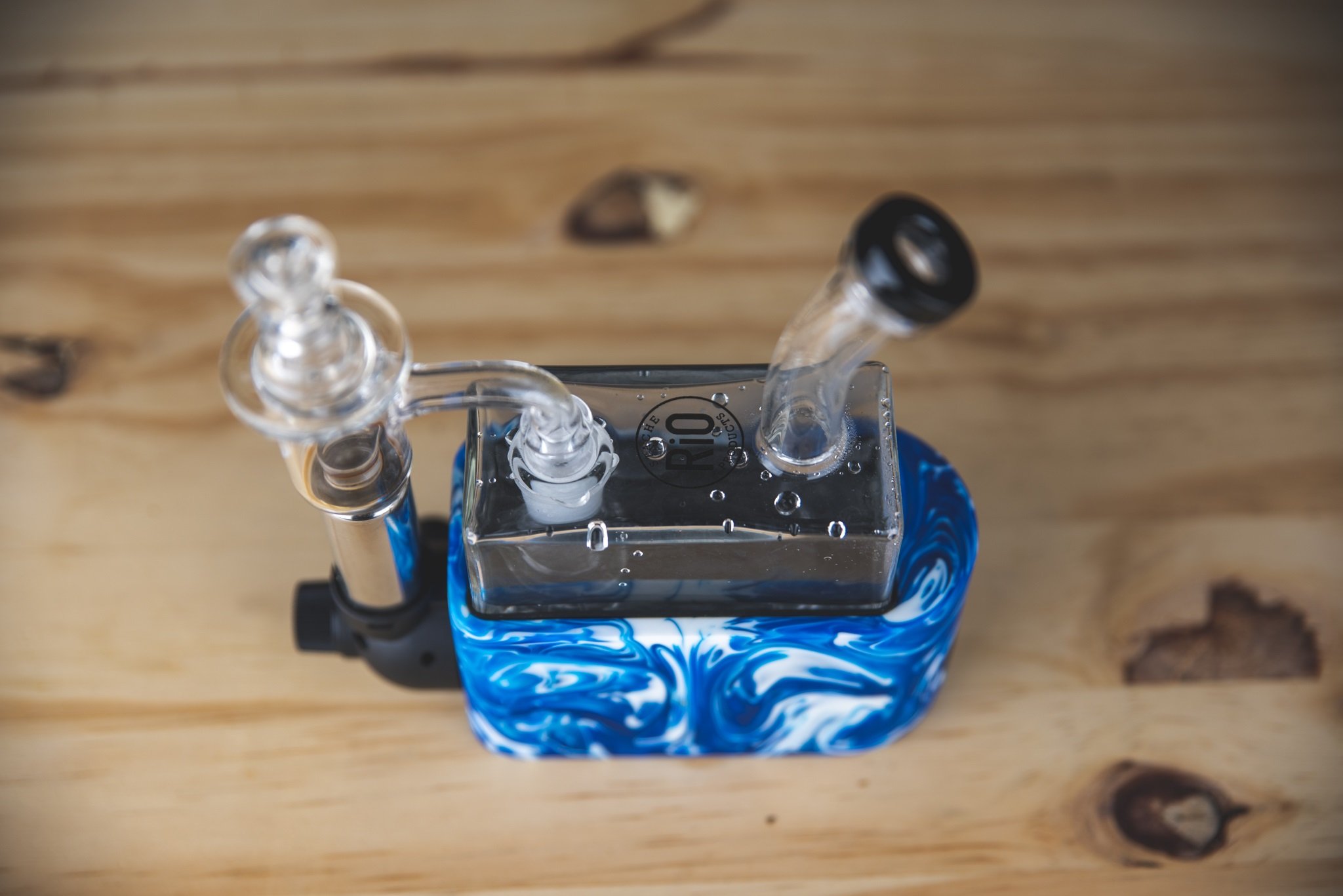 You can click here to pick up the RiO directly from Stache Products. Thanks for taking the time to read my RiO portable dab rig review and let me know if you have any questions down below in the comments or hit me up via the contact page. Have a great day!
Rig in One (RiO)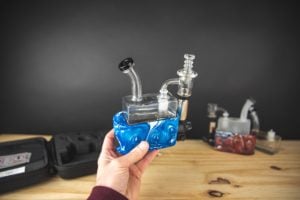 The RiO (Rig-in-One) Dab Rig is one of the only TRUE portable dab rigs with ZERO electronics. You can easily pack it up and take it with you on the go, even with water in it. The RiO dab rig is the only rig I use for concentrates, and it's been my daily driver for over two years. It's great for beginners, it can satisfy advanced dabbers, and will stand the test of time. Buy once and be done.
Product Brand: Stache Products
Pros
All-in-One Kit
Super Portable
No Electronics
Clean Flavor
Easy to Clean
Convenient
Build Quality
Good for Beginners