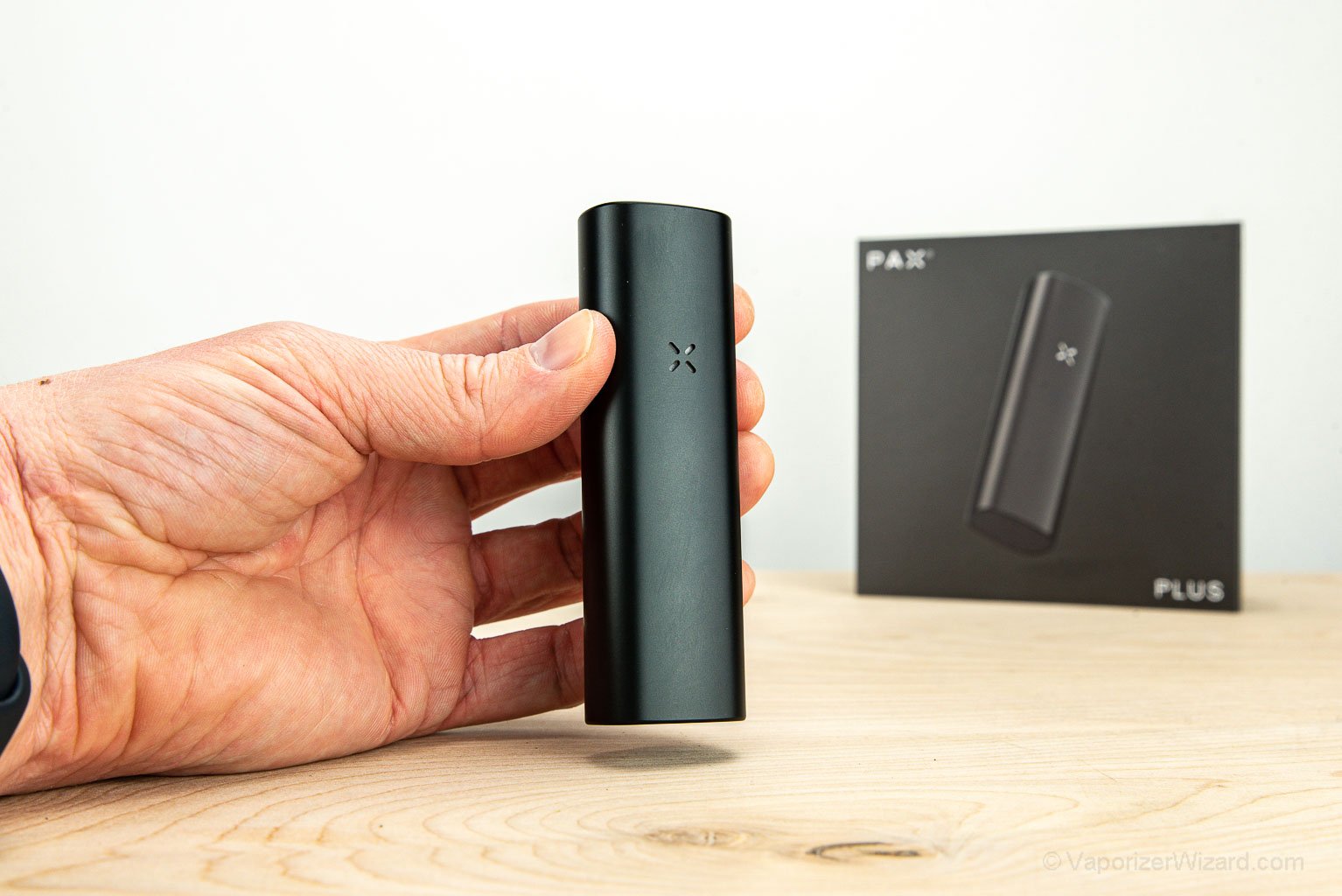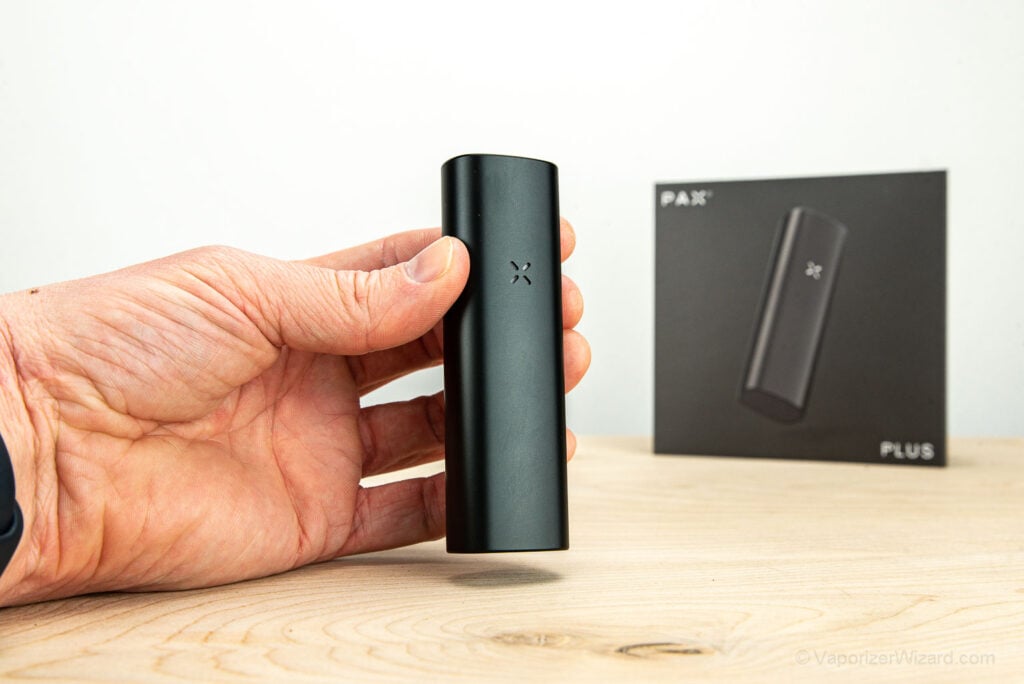 The Pax Plus is a dry herb and concentrates portable vaporizer made by Pax Labs. Pax vaporizers are known for their durability, ease of use, and pocket-friendly form. If you were to mention dry herb vaporizers to any one of your friends, odds are, they have heard of and probably even used a Pax vaporizer.
Where do I use my Pax vaporizers most? I use my Pax vaporizers most for outdoor activities like skiing, biking, hiking, skateboarding, and other on-the-go types of activities. The Pax vaporizers are the perfect vaporizers for adventures because they are reliable, durable, and good for group sessions. Are there better options? Sure. But not in terms of portability and overall dependability.
What is the Pax Plus? The Pax Plus is an "upgraded" or "simplified" version of the Pax 3 vaporizer and features a new heating profile that uses Experience Modes rather than precise set temperatures – similar to the Pax 3 settings when we (iOS users) had access to the smartphone app.
So while the session experience has changed a bit, the overall dimensions, chamber size, heating times, warranty, etc., have all remained unchanged.
What will I find in this review? In this Pax Plus review, I'll go over the differences between the Pax 3, Pax Plus and touch a bit on the Pax Mini. I'll talk about the session experience, battery information, maintenance, and whether or not I think I think the Pax Plus is worth $200.
The Pax Plus is currently rated 9.23 out of 10 and dubbed the "Most Portable Vaporizer" for 2023 on my Best Portable Vaporizer list.
You can click here to pick up the Pax Plus directly from Pax Labs and read below for my Pax Plus breakdown. Scroll to the "buying options" section for more purchase options + coupon codes.
From Buzz Danklin – I've reviewed over 200 portable and desktop dry herb vaporizers over the last decade. Check out why you can trust me and my vaporizer reviews here.
History of Pax Vaporizers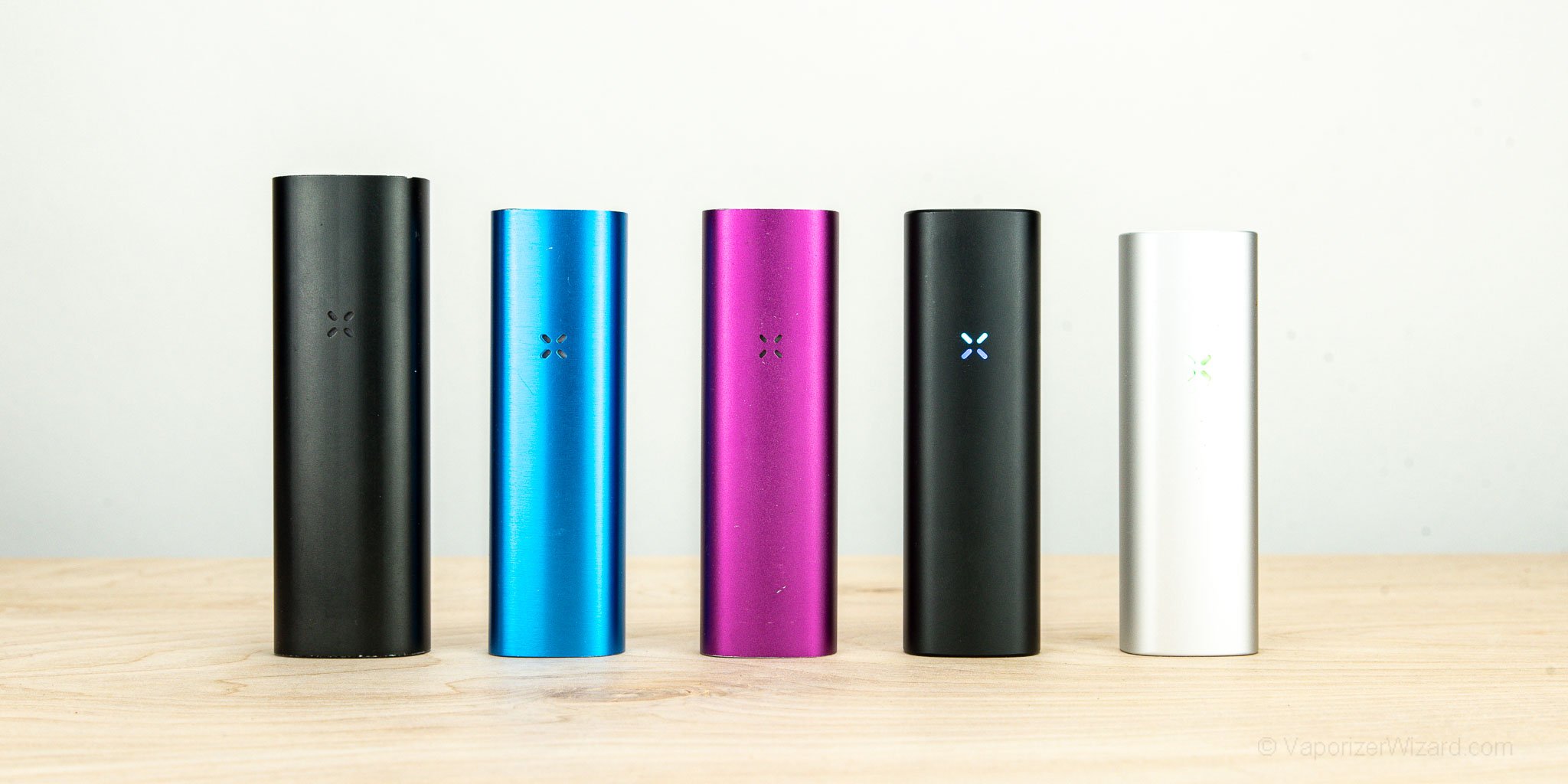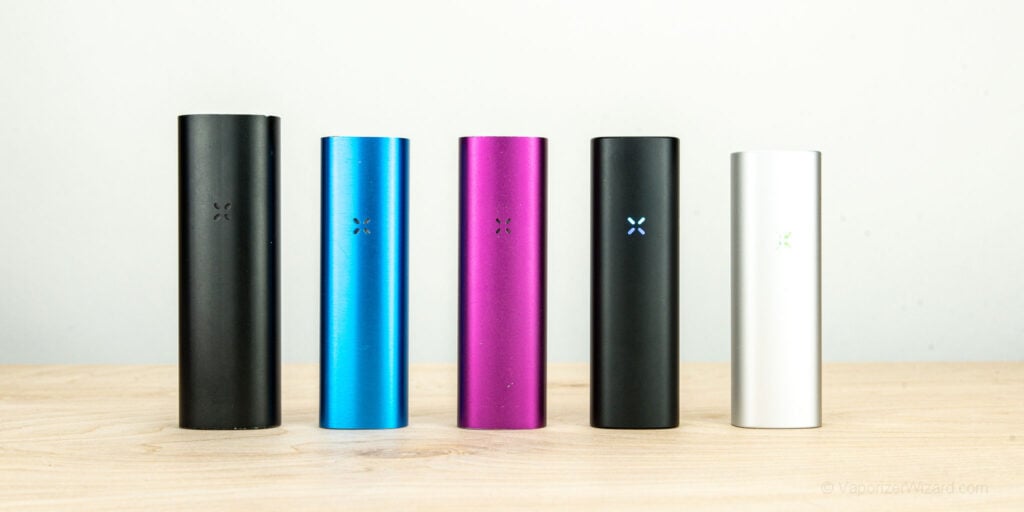 Pax Labs was started by two dudes back in 2007 under the name Ploom. Since then, the company has released a handful of products, and as of 2019, Pax was valued at $1.7 billion.

https://en.wikipedia.org/wiki/Pax_Labs
My first review on vaporizerwizard.com, both written and video, was for the OG Pax vaporizer. I published my Pax Vaporizer Review and Tutorial video on Youtube on Feb 19th, 2014, and while I don't use it anymore, my OG Pax is still going strong to this day.
The Original Pax Vaporizer was released in 2012. It was an exceptional device for its time but plagued by a sticky mouthpiece issue. Besides the mouthpiece issue, the OG Pax was indestructible and one of the first TRUE portable vaporizers. I still have my OG Pax vaporizer, and it still works to this day.
The Pax 2 vaporizer was released on March 10, 2015—a streamlined version of the OG Pax vaporizer featuring a recessed mouthpiece which fixed the sticky mouthpiece issue. The Pax 2 was also smaller and lighter overall. Upgrades included an added temp option, increased battery life, and changed to the magnetic charger to what is used with the current Pax vaporizers. They basically improved upon and/or fixed everything wrong with the OG Pax vaporizer.
The Pax 3 vaporizer was released in November of 2016 and introduced a wide range of new features, including the ability to use both dry herbs and concentrates and tons of customizable features via the new Smartphone APP.
The Pax 3 also received a massive battery upgrade (3500mAh vs. 2600mAh on Pax 2), increased heat-up times (20ish seconds vs 45 seconds on Pax 2), and a glossy outer shell, which was later revealed not to be the best for scratches, dings, drops, etc. and is now why we see the current models in a soft matte finish.
In the Box + Accessories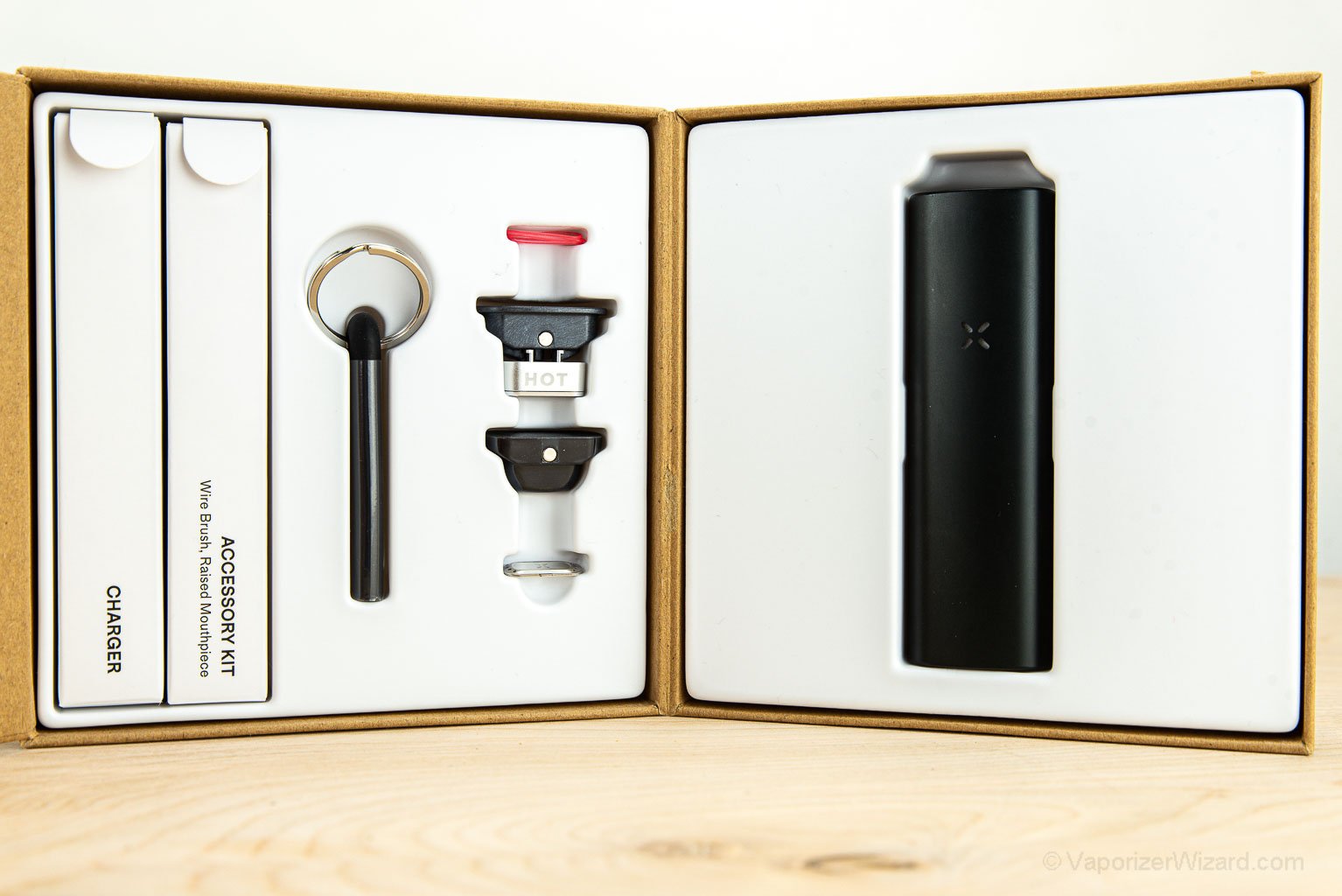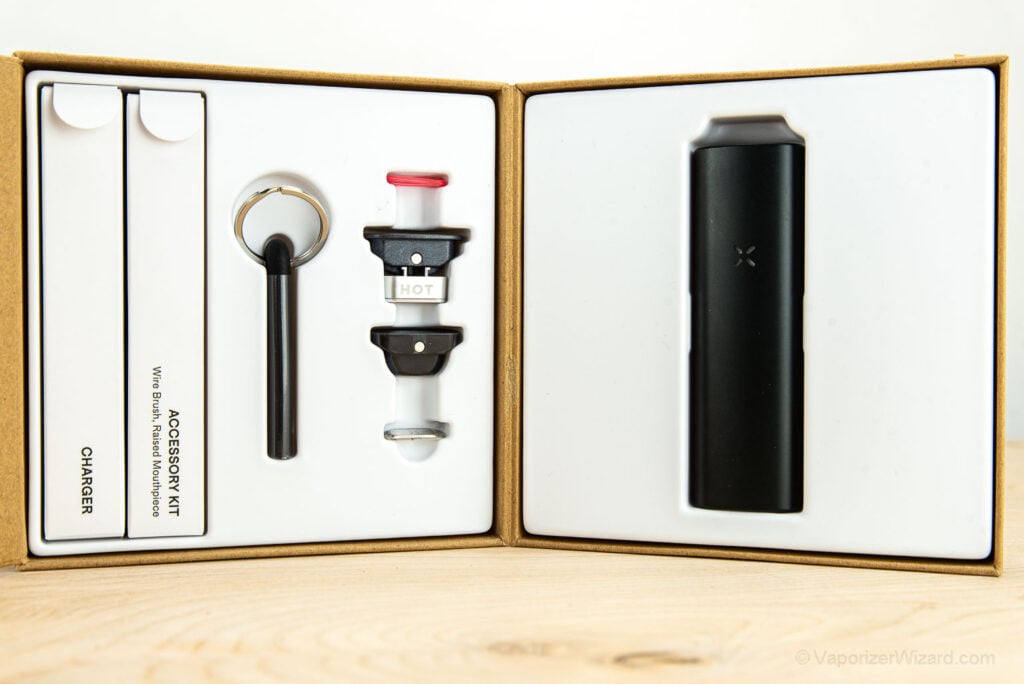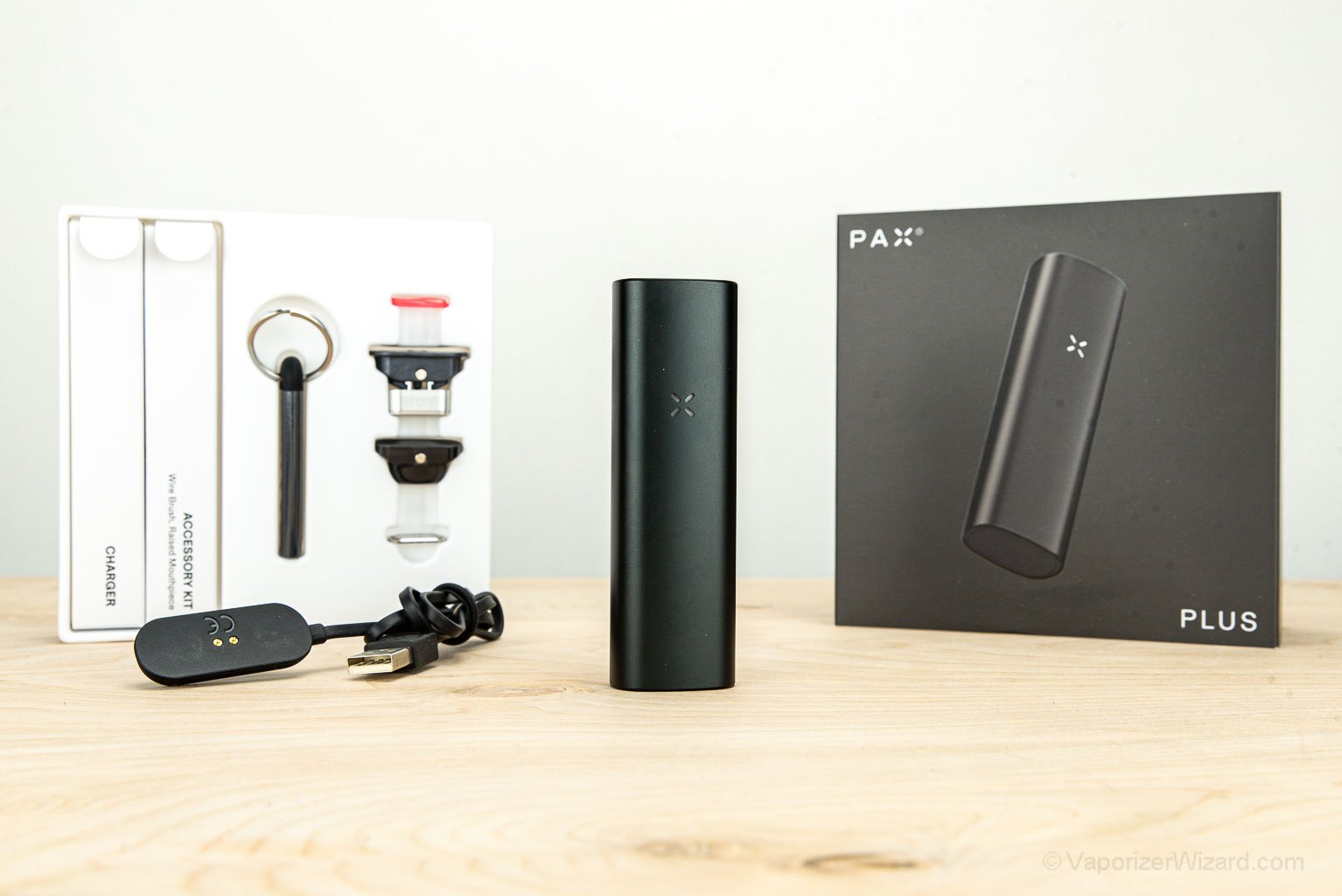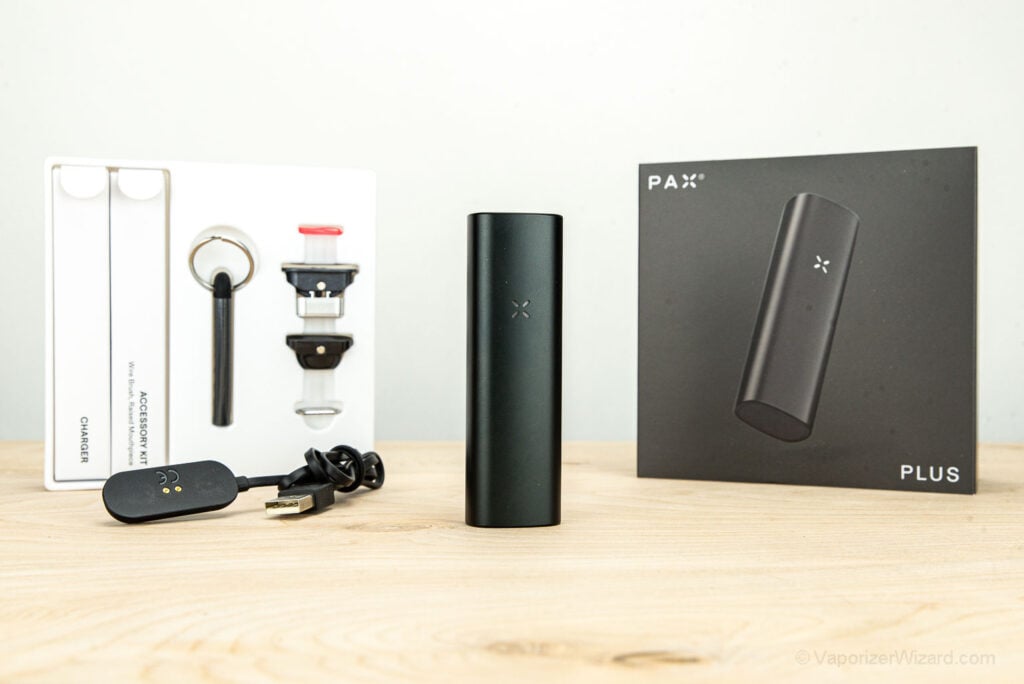 Pax Plus In the Box:
Pax Plus Vaporizer
Flat & Raised Mouthpiece
Half-Pack Oven Lid
3D Oven Screens
Oven Lid
Concentrate Insert
Multi-Tool
Wire Brush
USB Charger
*The Pax 2, Pax 3, Pax Plus, and Pax Mini oven lids, screens, chargers, and mouthpieces are cross-compatible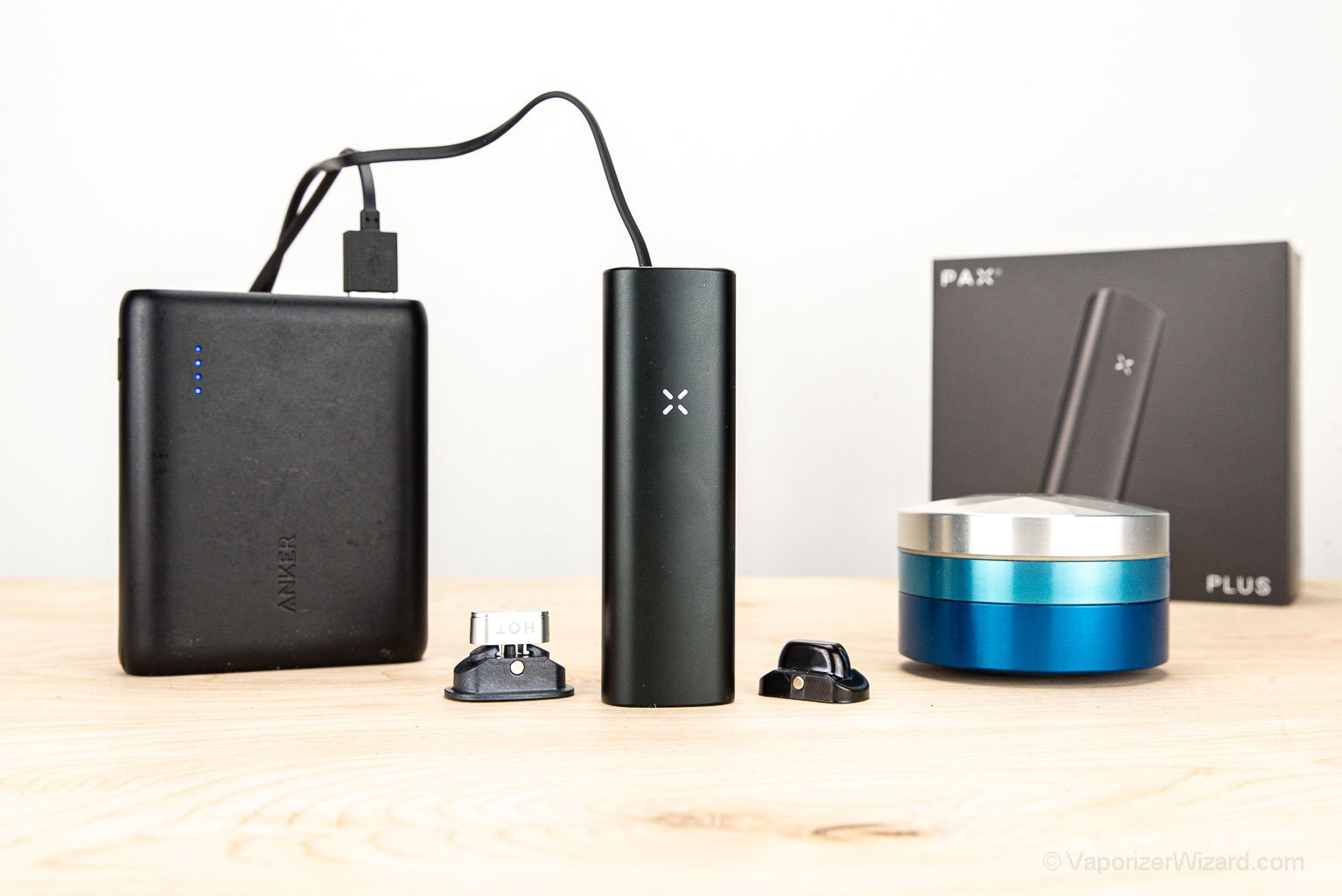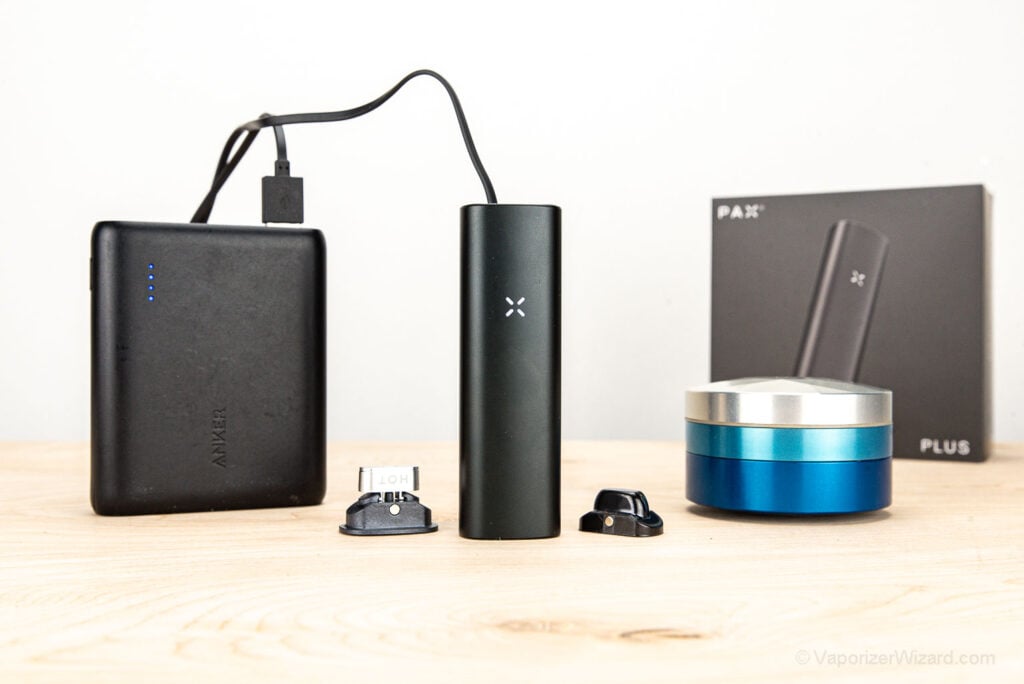 Pax Plus Accessory Options:
Grip Sleeve (Pax Plus & Pax Mini)
4-Piece Grinder (Prefer BCG but more expensive)
Pax Charging Tray
Smell Proof Stash Bag
Vacuum Stash Jar
Pax Premium Maintenance Kit
Anker Battery Packs
AC Adapter
Design and Build Quality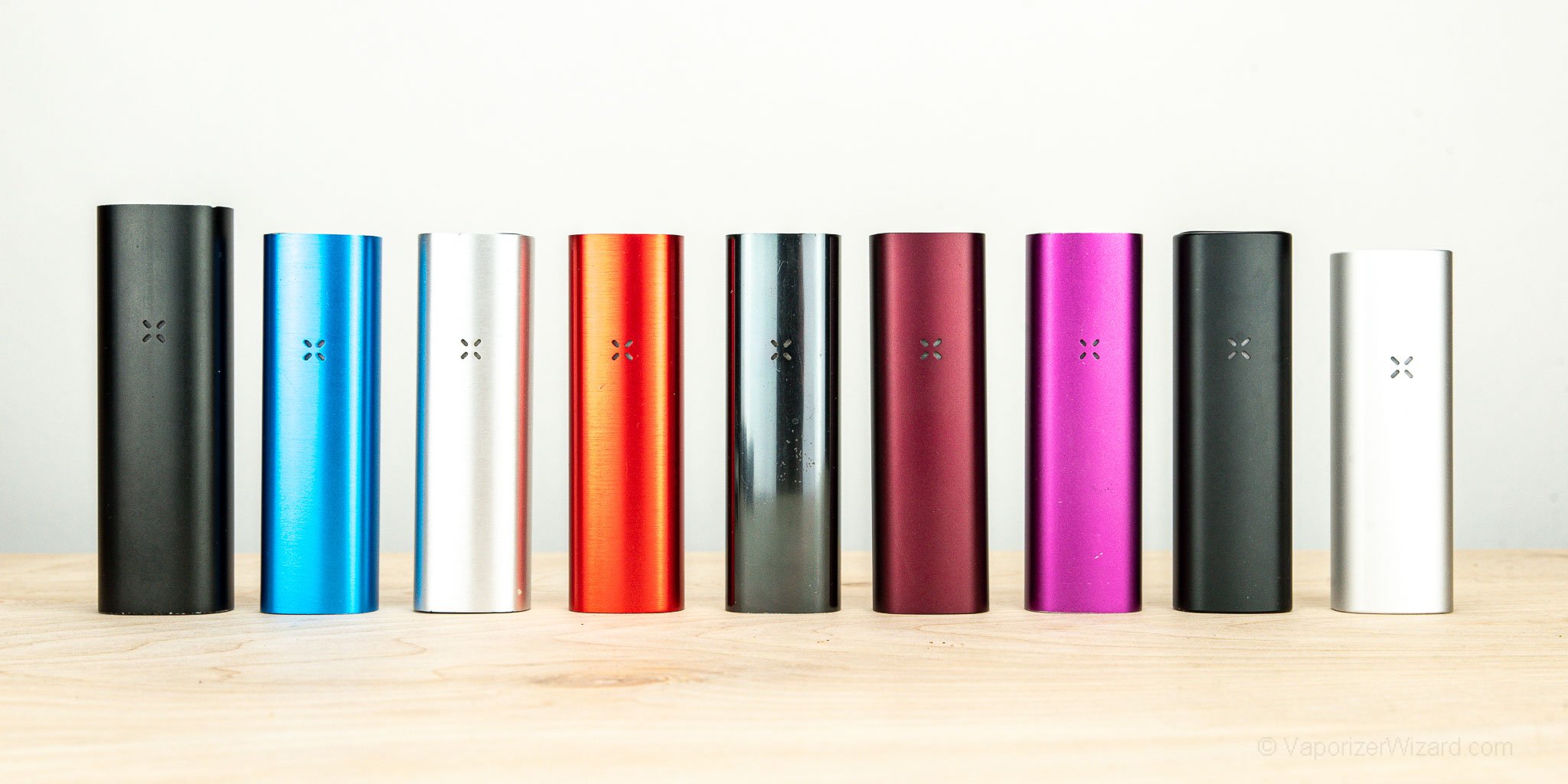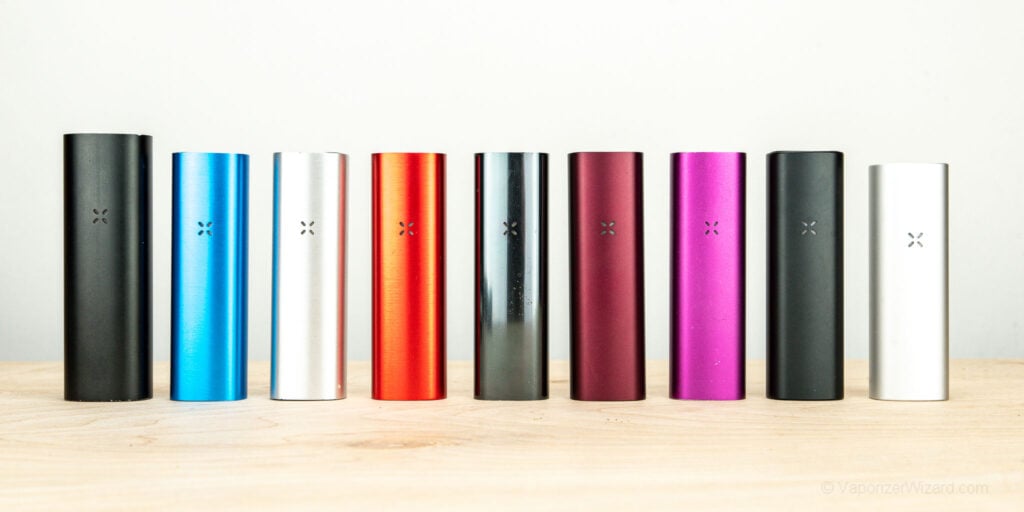 Whats Changed? Not much has changed design-wise from the Pax 2 and Pax 3 to the new Pax Plus and Pax Mini. The Pax Plus and Pax mini feature a Satin bead-blasted outer shell with a soft matte coating, whereas the Pax 2 and Pax 3 vaporizers featured a brushed anodized finish.
One thing they did fix/upgrade is the screen in the chamber. It's now a 3D-printed screen, making removing, cleaning, and maintaining the device much easier. It's also slightly improved airflow, but I don't think the average vaporist would notice it too much. Either way, an excellent improvement for the overall ease-of-use factor.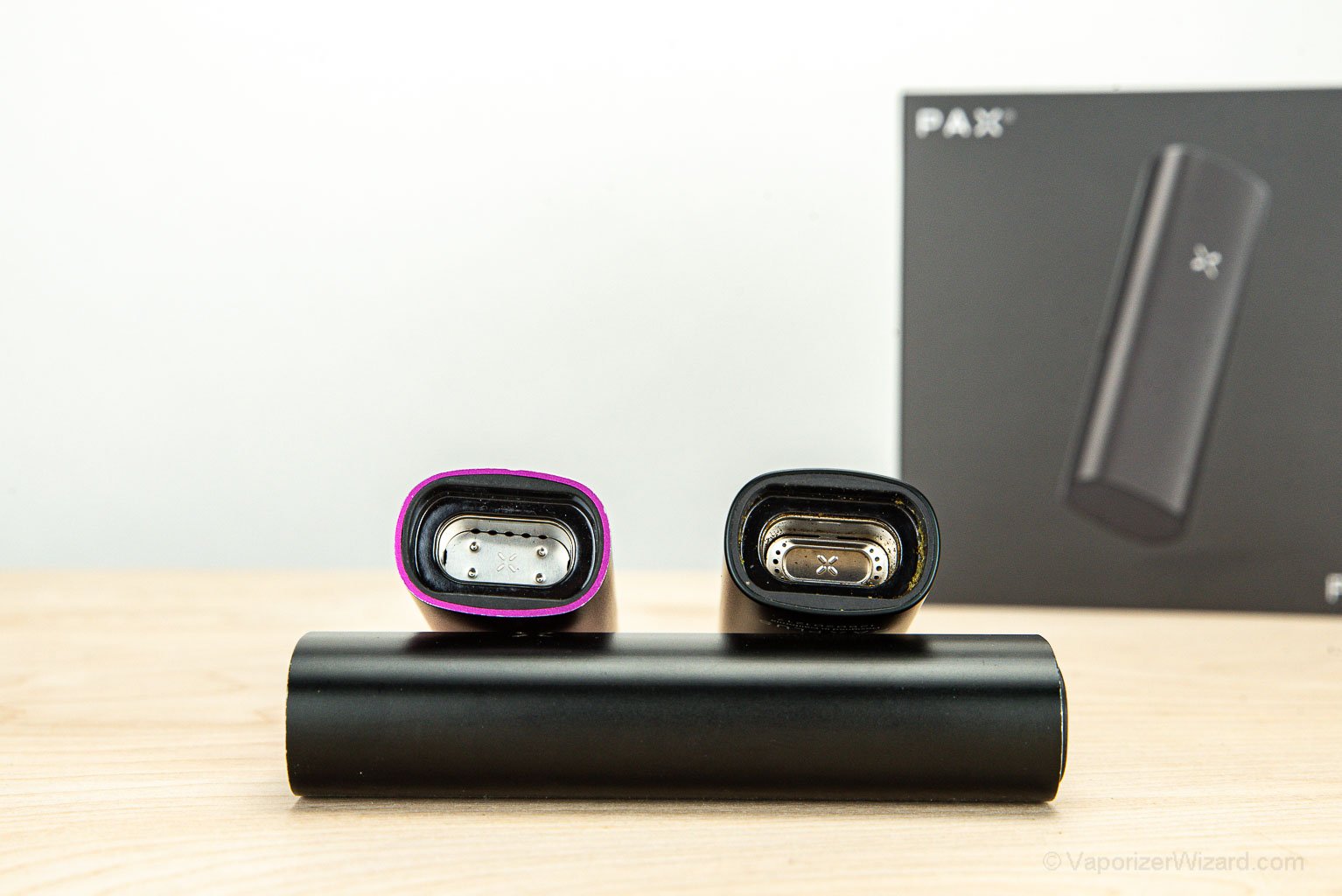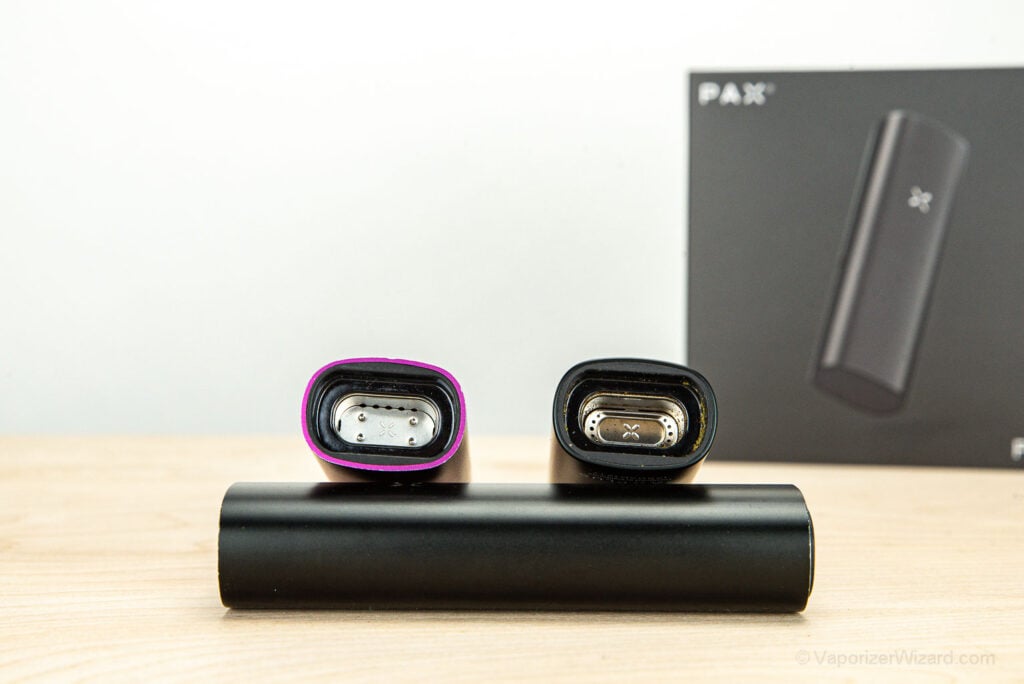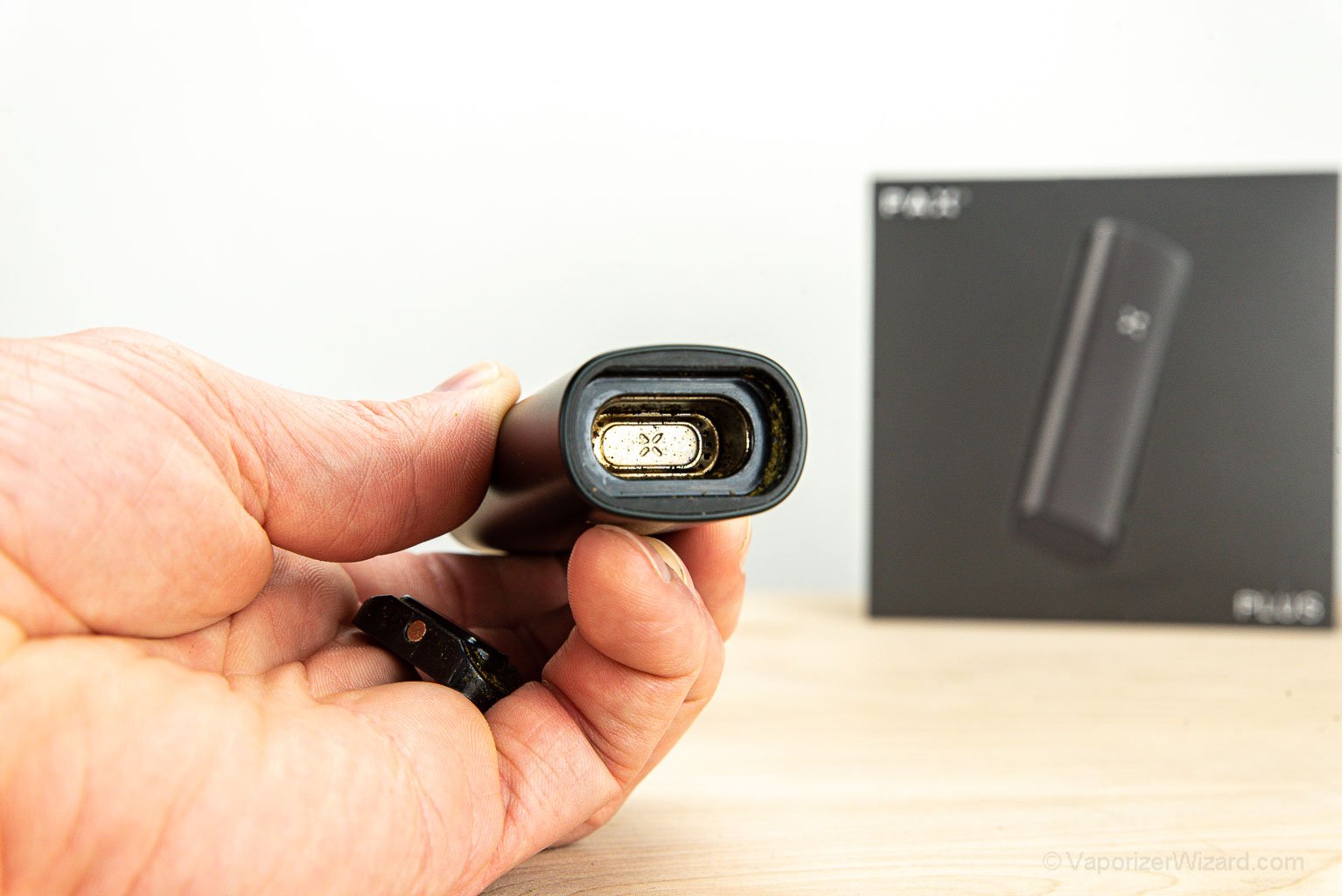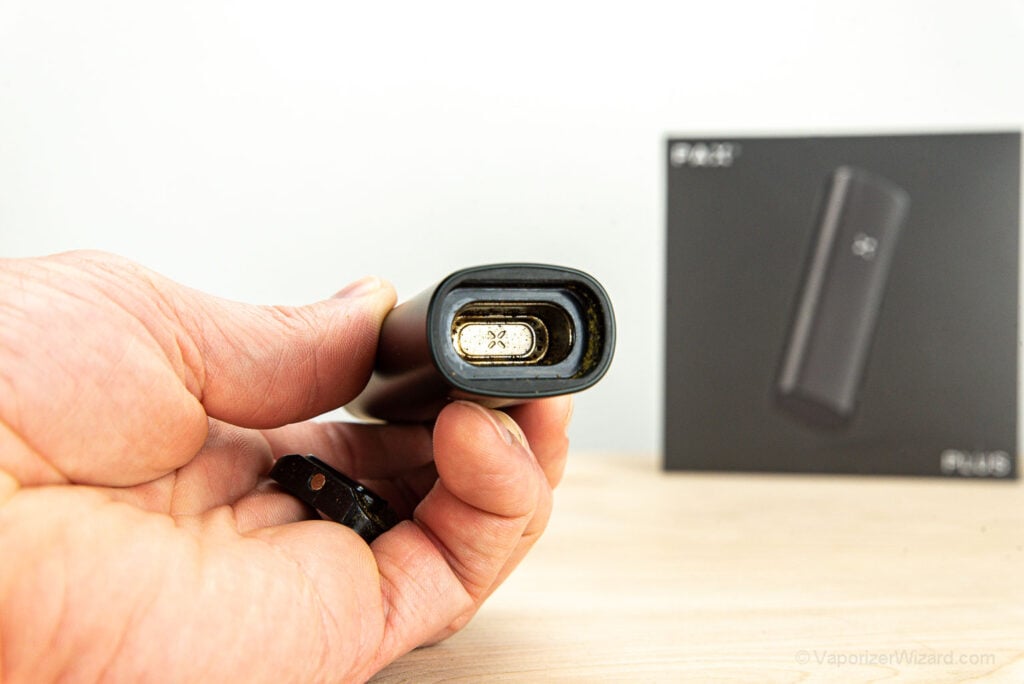 I personally like the NEW Pax Plus/Mini outer shell. The Matte finish isn't as glossy or shiny as the Pax 2 or Pax 3 models, and I feel like it will hold up better over time, especially if you are the type to drop things often, like yours truly. You can check out the Pax Plus anatomy below.
Pax Plus Anatomy:
The vapor path is made from medical-grade stainless steel and sealed off from the other components in the device.
The mouthpiece is made from heat-resistant, food-grade materials.
The concentrate insert is made from a precision CNC-machined aluminum oven.
The Pax "oven/bowl" is made from a proprietary, non-ceramic tuned, thin film heater bonded to the laser-welded stainless steel oven, separate from the air path.
NEW 3D Printed Screen – Better airflow, easier to remove for cleaning and maintenance. The 3D printed screen is cross-compatible with the Pax 2 and Pax 3 vaporizers.
The internal boxes seem to be made of recycled materials.
Lastly, the Pax Plus features haptic feedback, which will vibrate the device when it's ready for a session.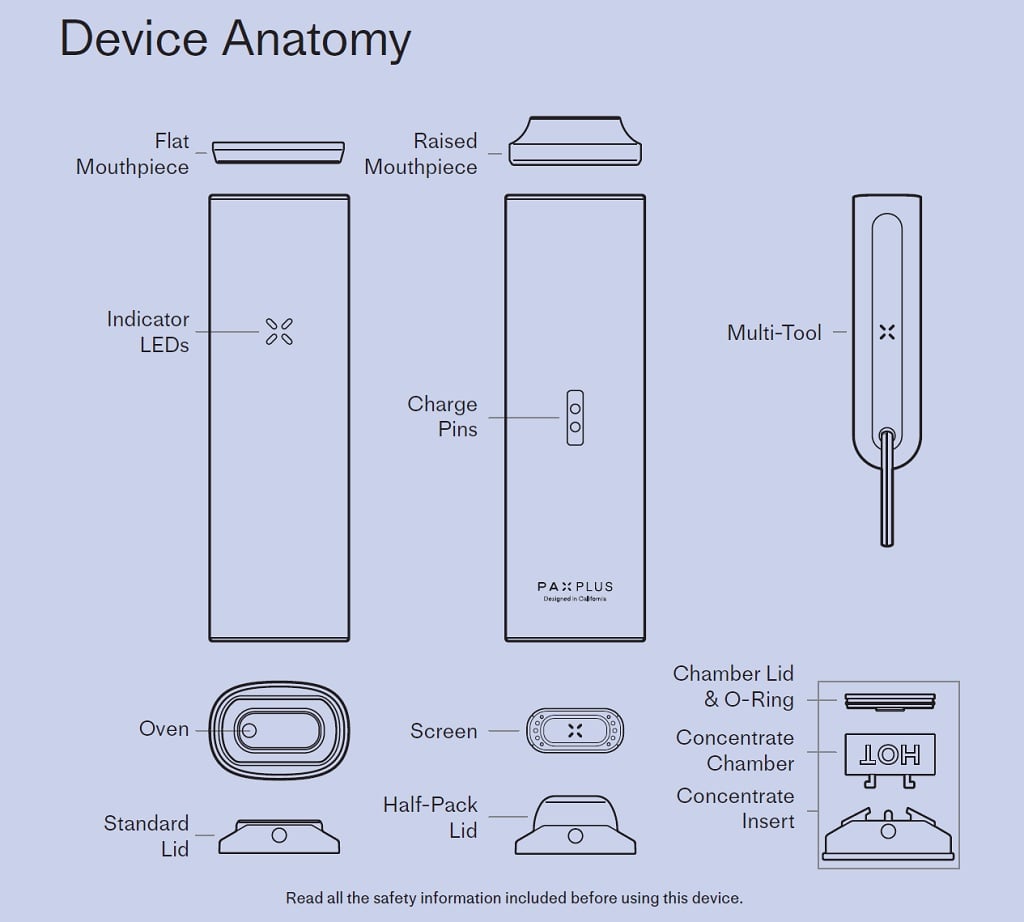 Portability and Discreetness
Pax vaporizers have always been my top picks for the most portable vaporizers because they are incredibly rugged, durable, and reliable. They also come with a 10-year warranty.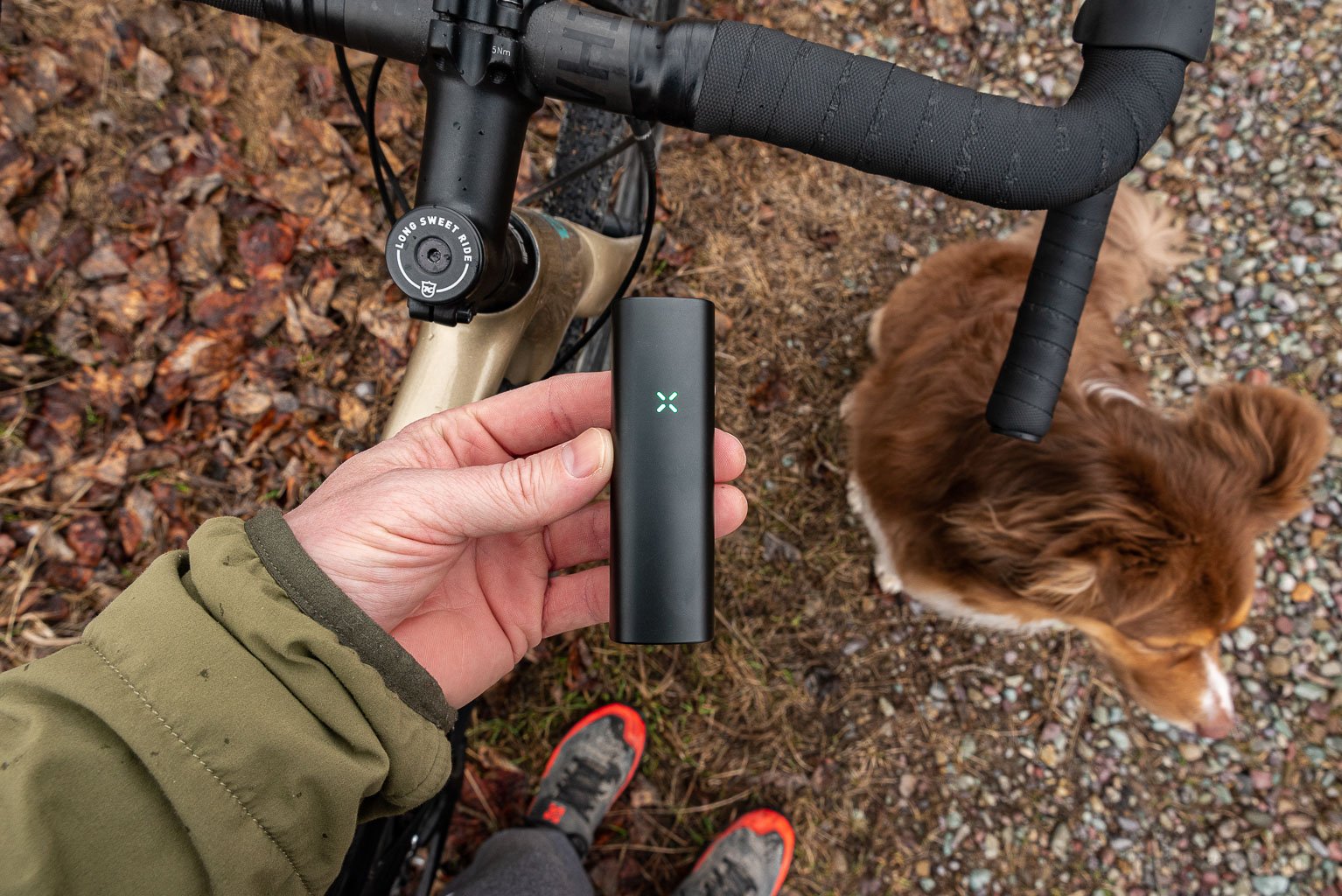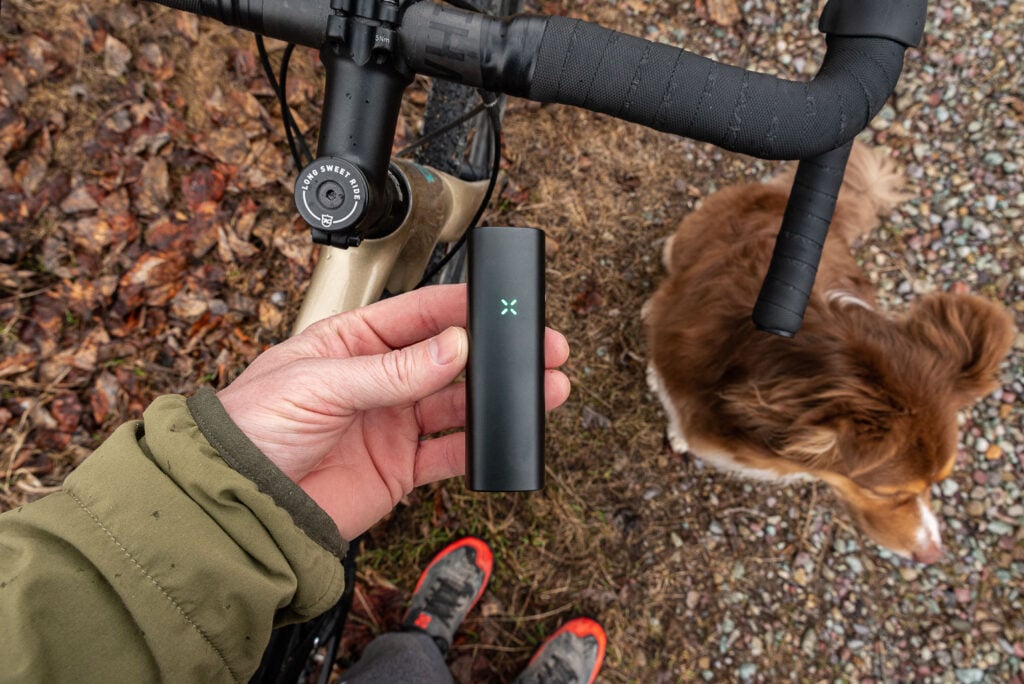 I use my Pax Plus most while skiing, mountain biking, hiking, or simply for outdoor activities. If I drop or bang any of my vaporizers against a rock while outdoors, the Pax units are the most likely to survive with nothing more than a scratch. They fit easily in my pocket, heat up quickly, and the battery life has always been enough for these sorts of activities.
Pax Plus Exact Dimensions – 98mm x 31mm x 22m (3.9in x 1.2in x .86in)
Pax Plus Weight: 95 Grams (Pax Mini – 90g)
The other thing I really like about the Pax vaporizers and the Pax Plus specifically is the ability to use them for single-person sessions with the half-pack lid or big group sessions with a full chamber. The Pax Plus (and Pax Mini) are great for group scenarios and easy to pass around.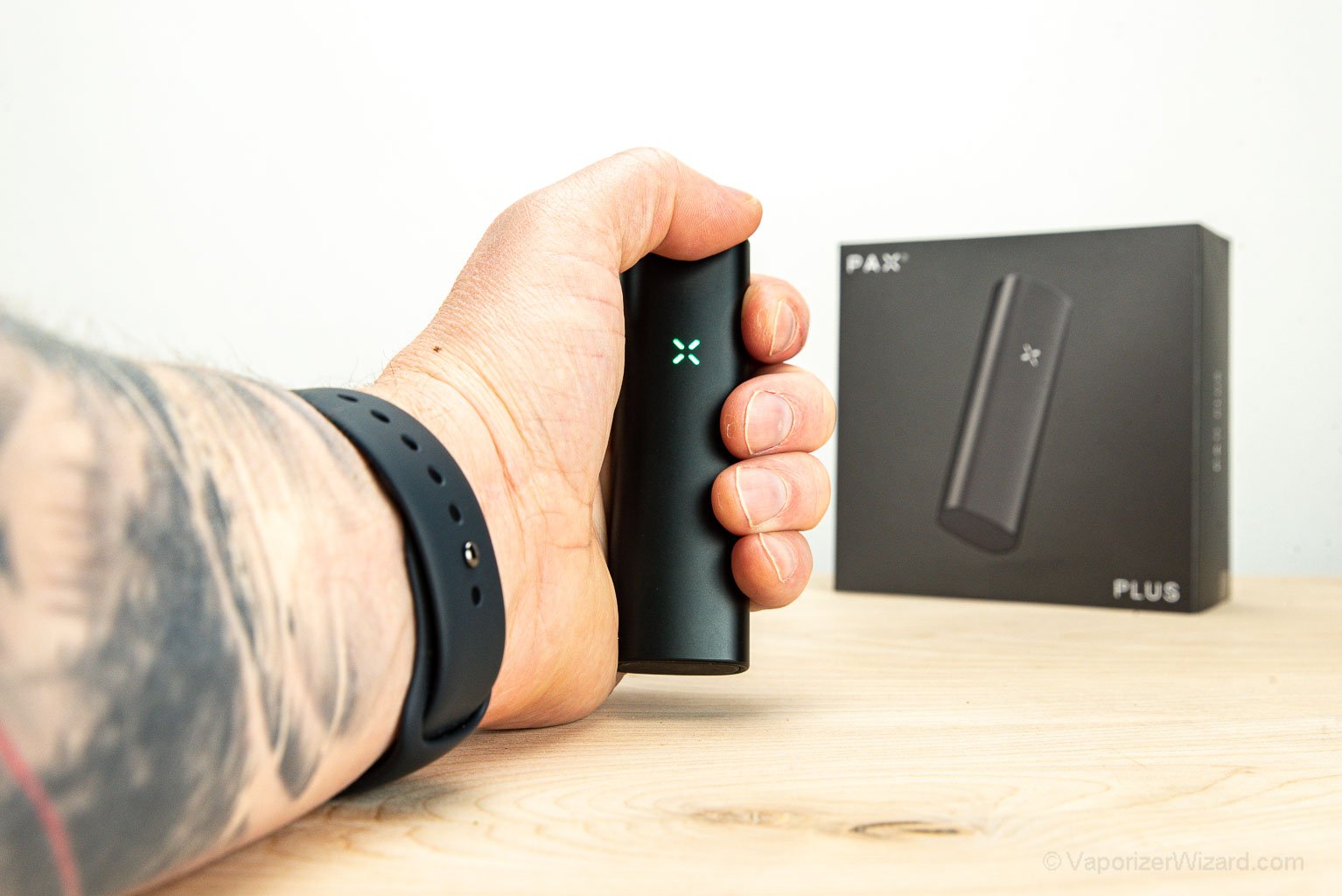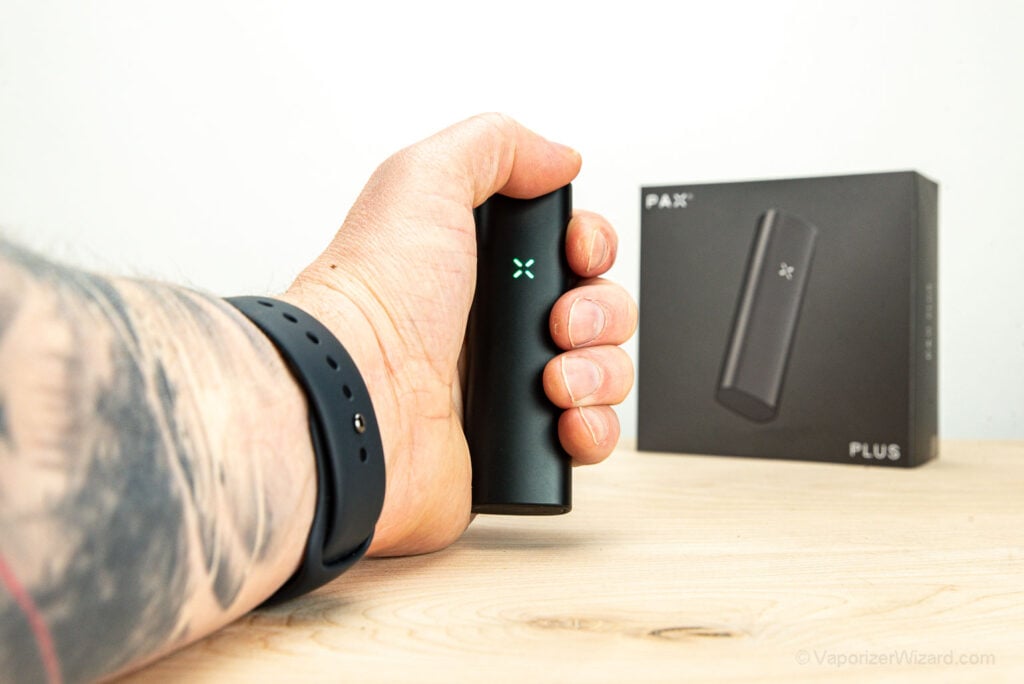 The one thing I'm not particularly fond of with the Pax vaporizers is the slick outer shell. It can be hard to grip in colder conditions or just in general. Luckily, Pax Labs released some new grip sleeves for the Pax Plus and the Pax Mini. I recommend picking one of these up, as it will also help keep your hands cooler with longer sessions.
Are there smaller, more pocket-friendly vaporizers than the Pax Plus? Absolutely, but none offer the durability, functionality, warranty length, and ease of use featured with the Pax vaporizers.
Overall, if you're looking for a rugged, capable portable vaporizer for outdoor adventures without worrying about breaking your vaporizer, consider the Pax Plus or the Pax mini vaporizer.
Heating and Temp Control
Temperature Control – The new Pax Plus uses "experience modes." Each experience mode represents a range of temperatures ranging from 360F – 420F (182C – 215C). I've listed the four heat settings below and what each one means: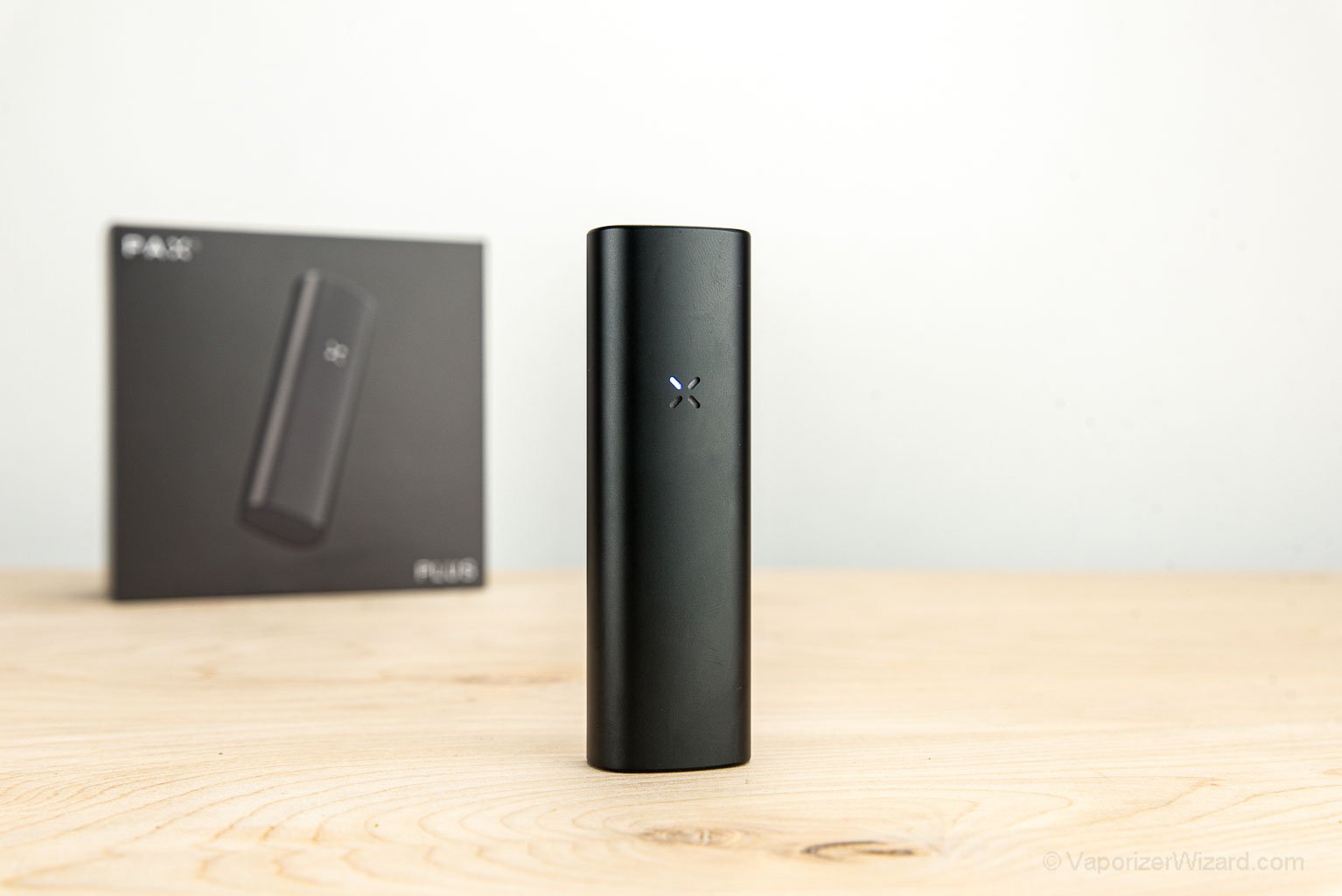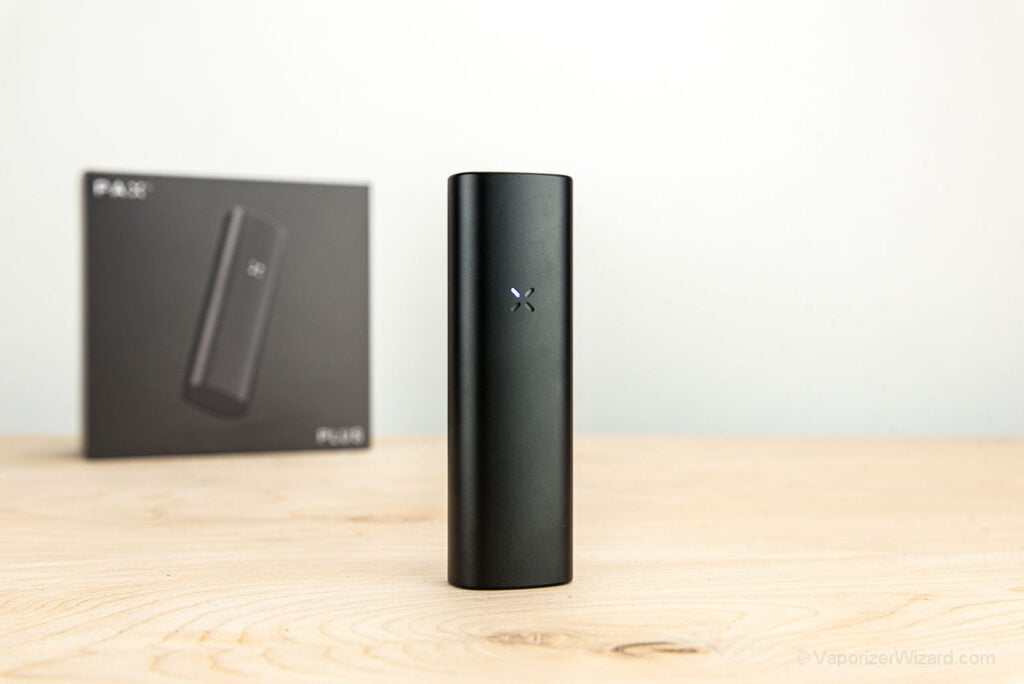 Pax Plus Experience Modes:
Top Left Petal / Purple – Stealth mode – (360F – 380F) – This is the lowest heat setting with little to no visible vapor, reduces the brightness of the LEDs and haptic feedback (vibration settings) for complete discretion.
Top 2 Petals / Teal – Efficiency Mode – (380F – 400F) – Get the best vapor production while conserving as much flower as possible.
3 Petals / Yellow – Flavor mode – (400F – 420F) – Claims to use on-demand heating for max flavor. If I had to guess, I bet this mode will ramp up temp pretty aggressively while you're drawing and then back off the temp quite a bit to lower the chamber temp as you exhale.
All 4 Petals / Red – Boost Mode – (420F – 464F) – This is the highest setting, ideal for concentrates.
The new experience modes are quite the change from the typical full temp spectrum approach. You have less control over your session when compared to other portable vaporizers with full temp spectrums, but this brings up a valid question. Do we really need all these specific temperature settings?
If an algorithm or "experience modes" can best predict a session experience for you based on what you're looking for at that moment, maybe it's better to let the device do it for us. What are your thoughts on full-temp spectrum devices vs. session modes? Hit me up in the comments below.
Lip-Sensing Tech – The Pax Plus still uses the Lip-Sensing Technology from the previous Pax 3 version. So the Pax Plus knows when you're drawing from the device. It knows how hard you're pulling, the temperature of the air entering the chamber, the temperature of the chamber itself, and possibly the ambient temperature of the oven. It uses all of this information to provide a ramping (temp stepping) session within the range of the mode you picked.
Heat-Up Times – I've found the Pax Plus to average a 20 to 30-second heat-up time depending on different variables like ambient temp, starting session temp, chamber size (half-pack/full-pack), and overall battery life when starting the session.
The Pax Plus heat-up times are about average for a portable conduction vaporizer. It does come with haptic feedback, so you can power it on, throw it back in your pocket, and wait for the vibration notification.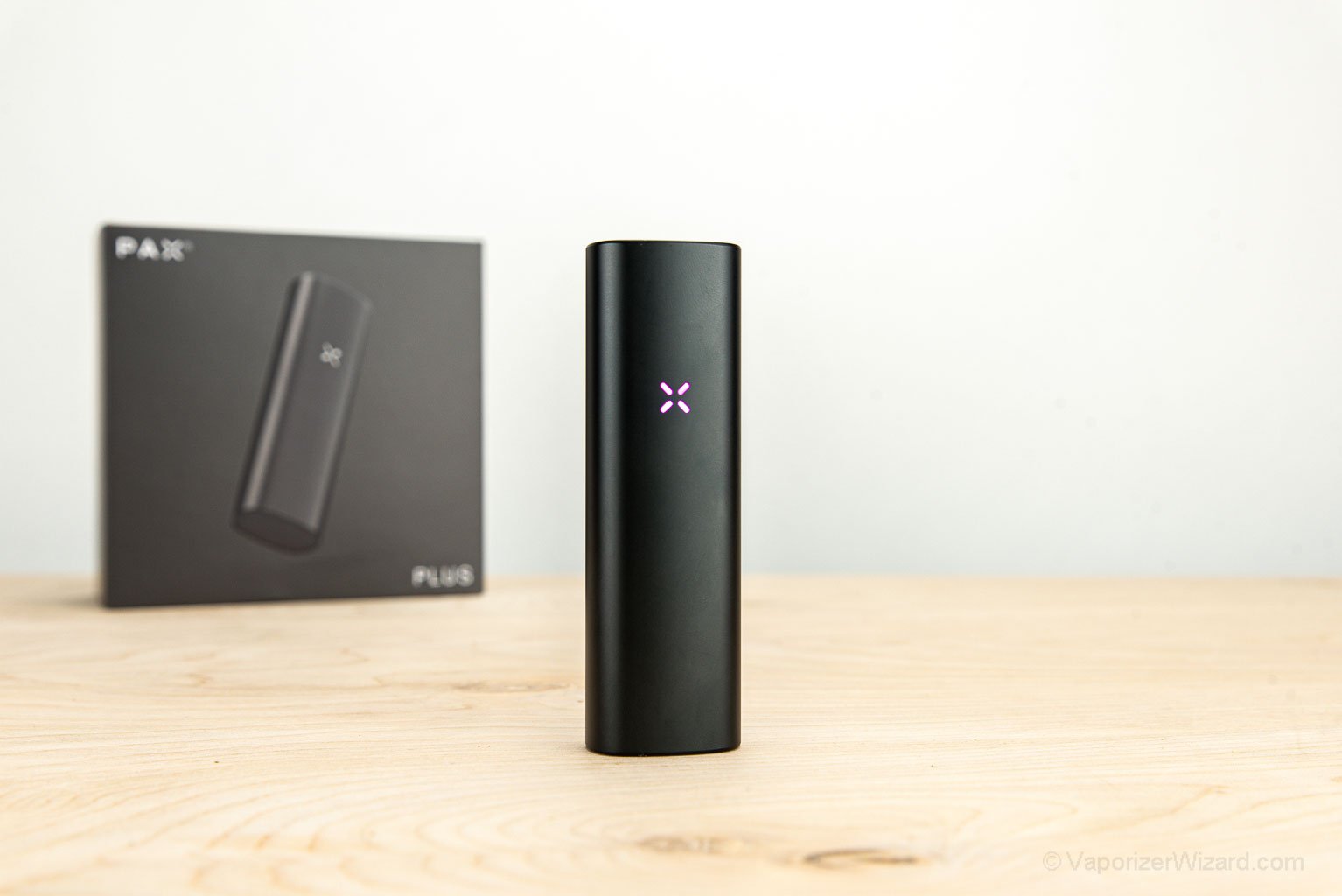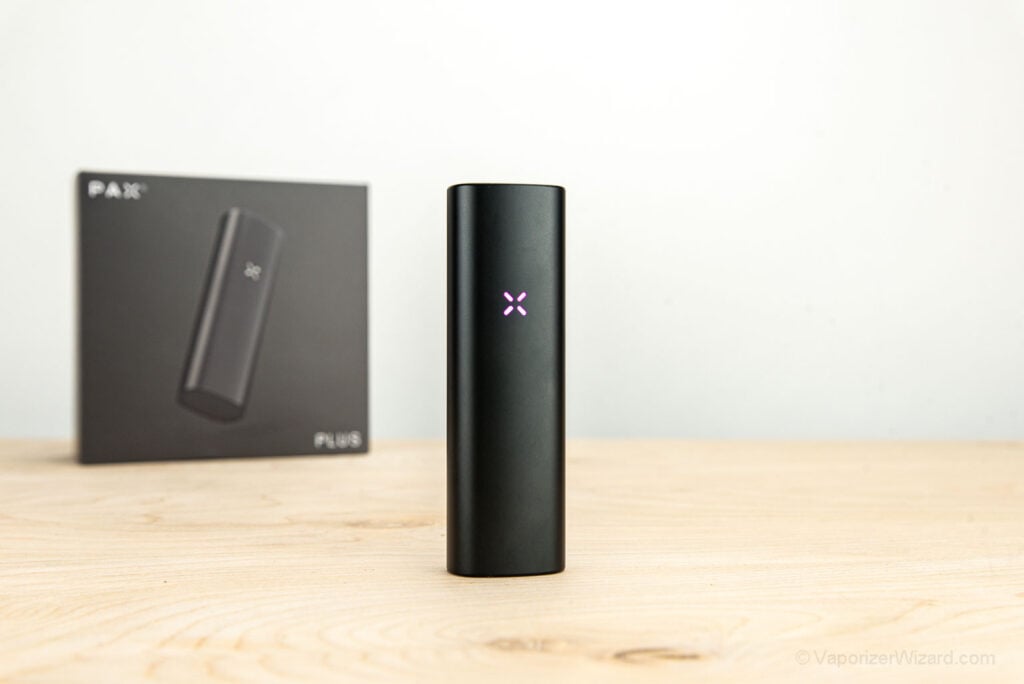 The Pax Plus will pulse purple while heating up and match the selected color mode or glow green when fully heated and ready to go. You can check out the Pax quick start guide below: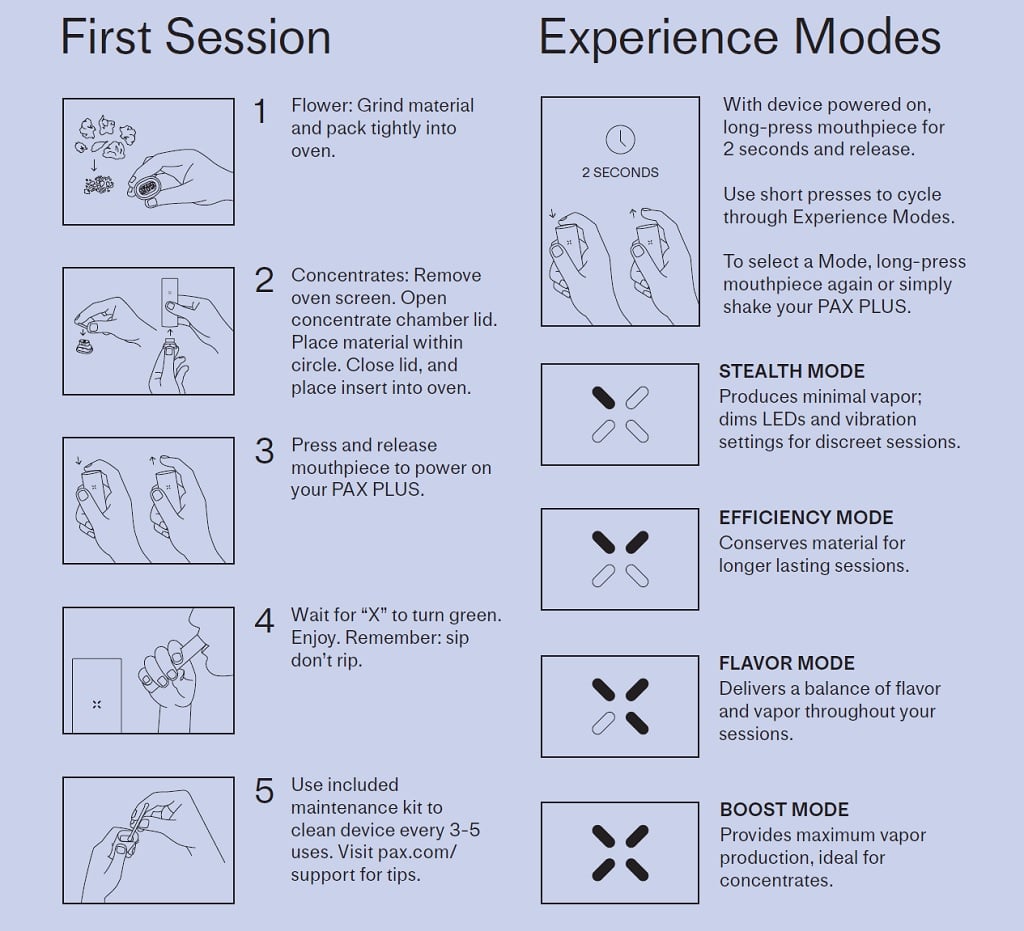 Standy Mode – The Pax Plus also knows when it's being held or moved around via the accelerometer and will place the device in standby mode if you set it down and forget about it. This will also stop the heater. So when you pick it back up, the petals will glow purple to show it's heating back up and change to the color mode selected when ready to go.
Chamber / Oven Info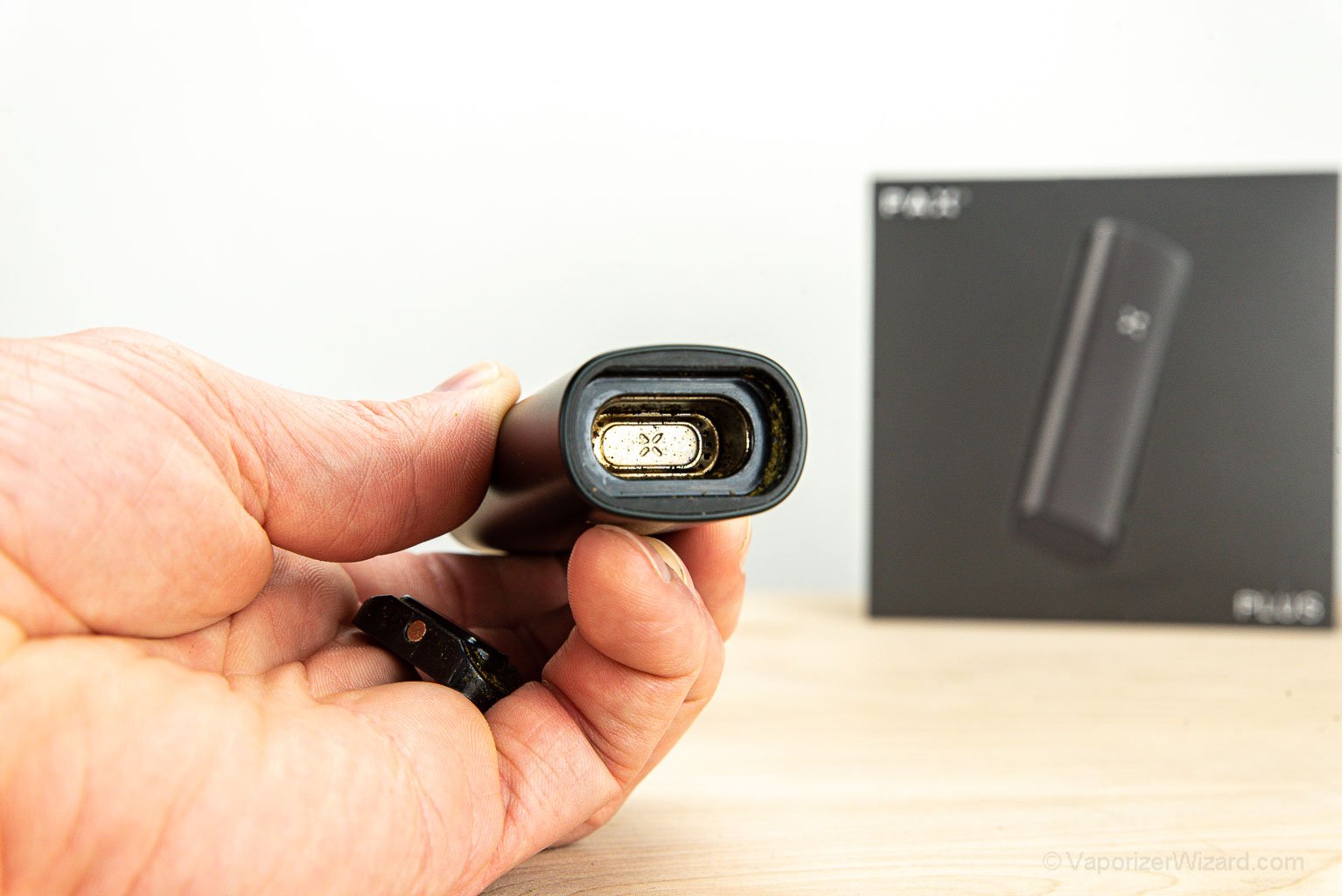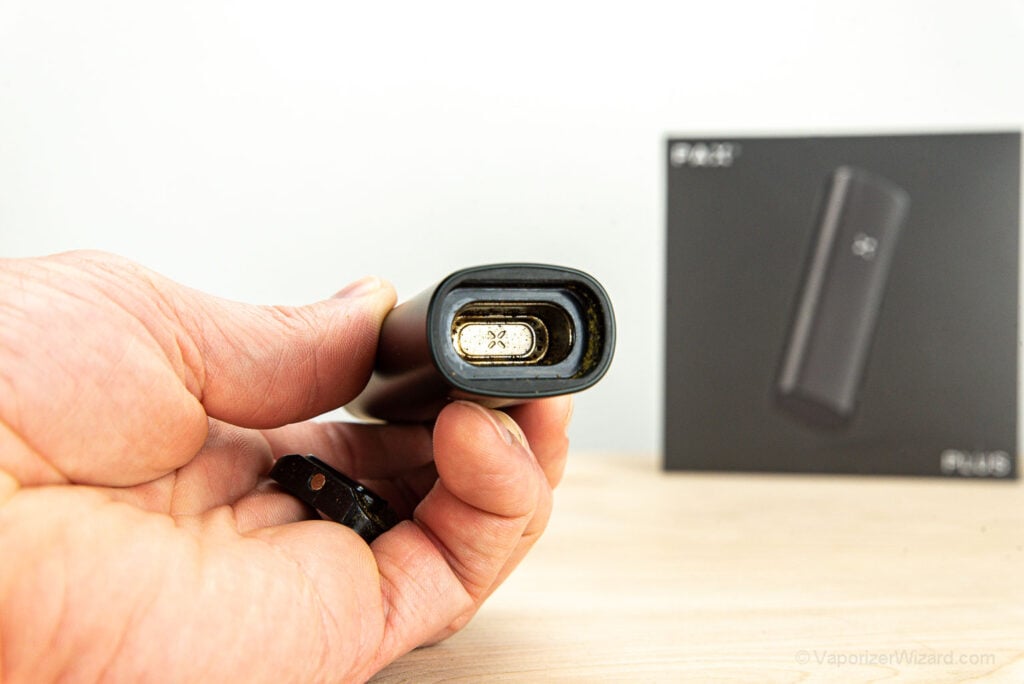 Chamber/Oven Size – All of the Pax vaporizers hold around .35 grams of ground flower, and you can reduce the chamber size of the Pax Plus (or any other current Pax vaporizer) with the Half-Pack Oven Lid.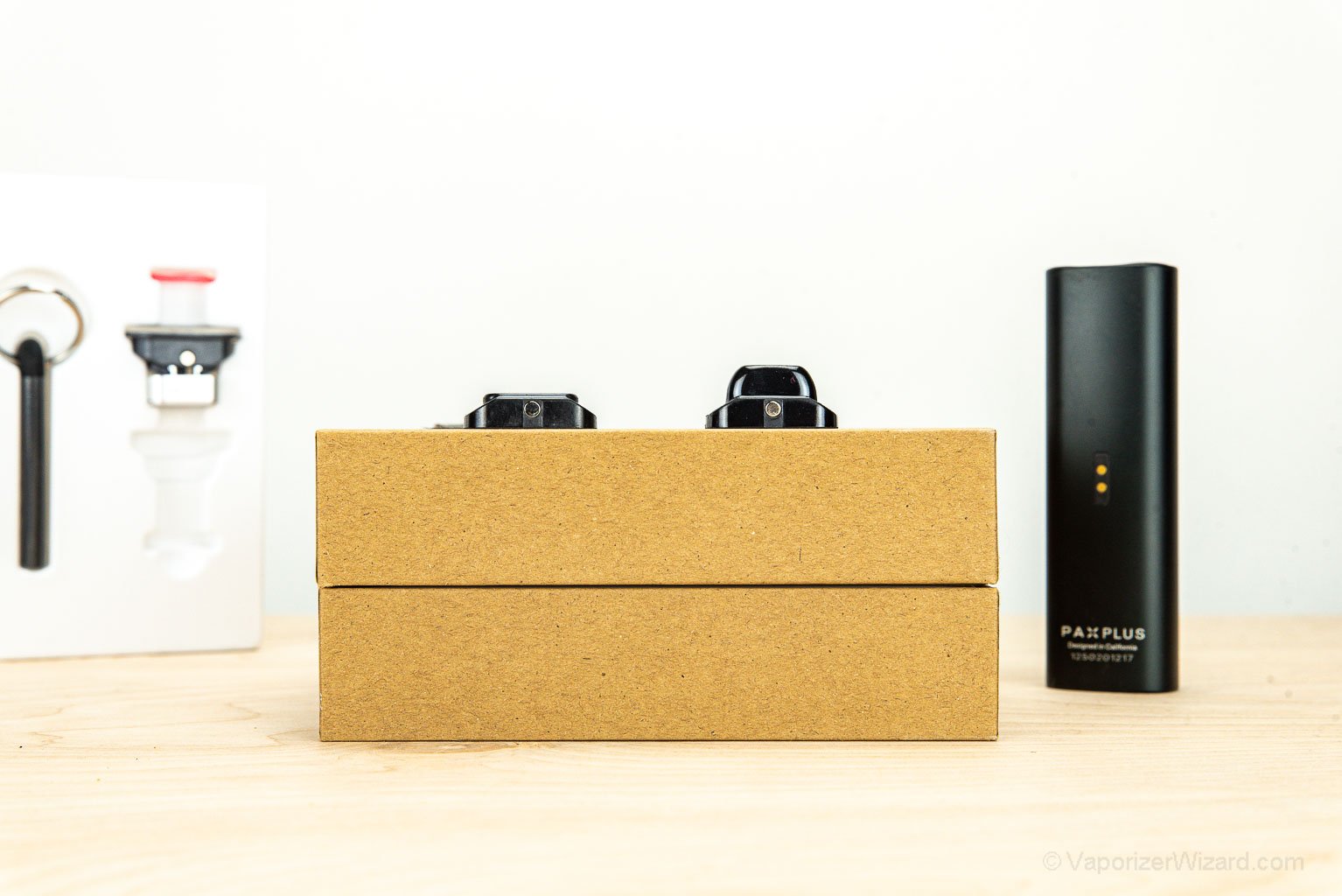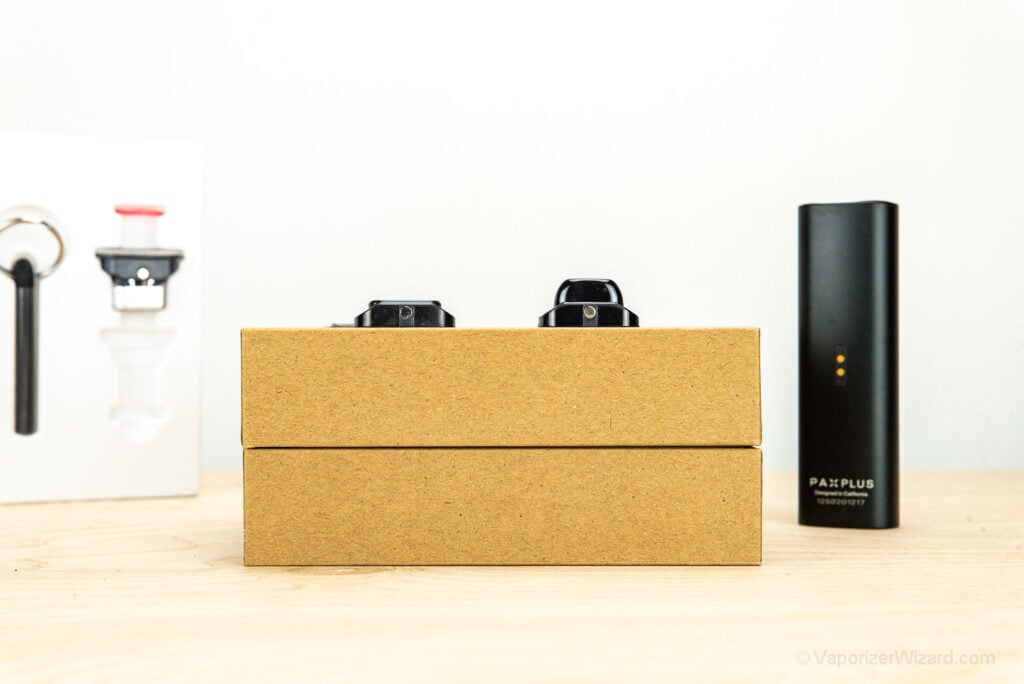 Half-Pack Lid – The Half-Pack lid will reduce the chamber size to around .15-.20 grams—a much more manageable amount for solo-person sessions. A fully loaded Pax Plus vaporizer is quite the session. I recommend experimenting a bit with the half-pack lid first. On the flip side, a full chamber is perfect for a group session with a couple of friends.
The bottom chamber on the Pax Plus creates a longer vapor path (stainless steel) which cools vapor quite a bit more than top chamber vaporizers like the XMAX v3 Pro or Healthy Rips Rogue. Another example of a bottom oven portable vaporizer is the Davinci IQC.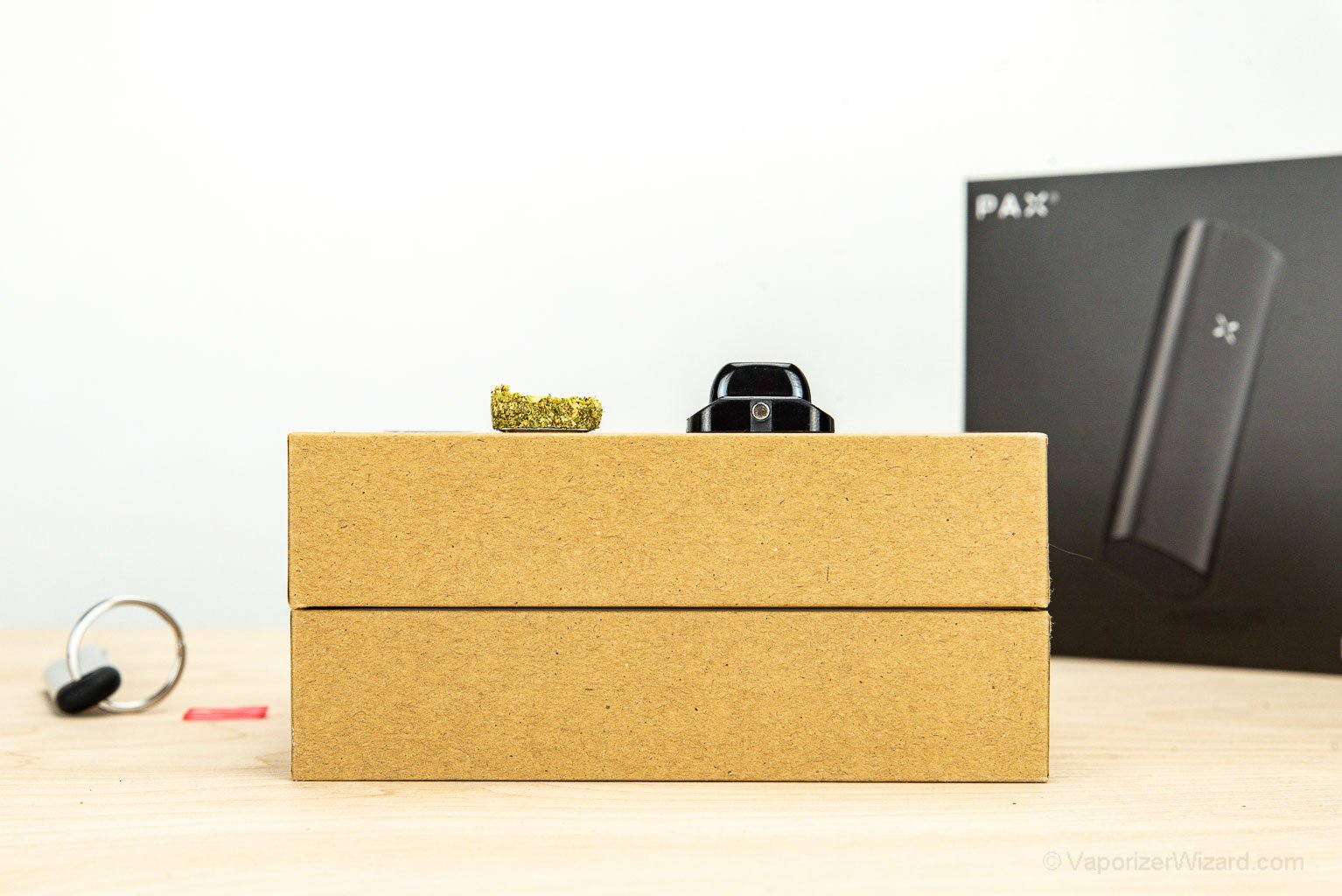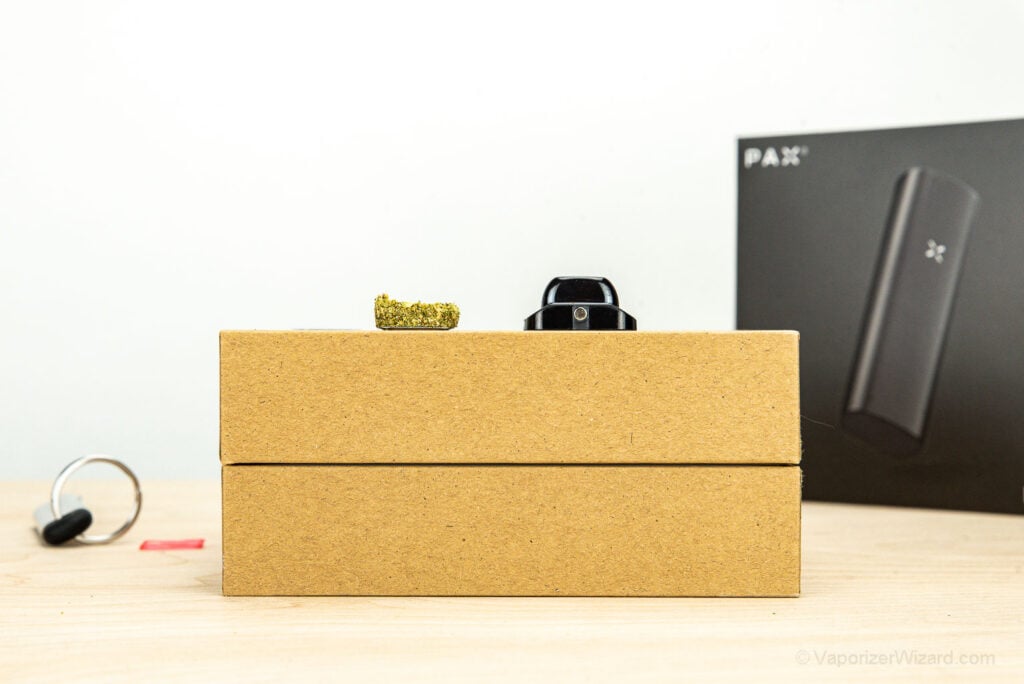 Vapor Quality & Performance
Vapor Quality – Overall, the Pax Plus produces good vapor quality for a portable conduction vaporizer. I think a few other conduction vaporizers offer better vapor quality, but this isn't necessarily a vaporizer for purists. It's a vaporizer for someone who needs a pocketable, portable, quick-heating device that's durable and reliable.
If you wanted a portable vaporizer with better vapor quality, you'd want to switch from a conduction-dominant device to a convection or hybrid-style vaporizer like the Crafty+, which I discuss below in the comparison section.
I will say that these new "experience modes" are much faster at extracting the compounds within the plant. The sessions are much quicker, and the flavor of the herbs tends to hang around a bit more compared to previous Pax vaporizer models like the Pax 3. I think the Pax Plus heater/algorithm is a bit more aggressive while drawing when compared to the Pax 3 vaporizer, and it cools down quicker to preserve herbs within the chamber.
Vapor Quality Key Takeaways:
Good vapor quality for a portable conduction vaporizer.
Powerful, quick extraction, with better efficiency.
Draw Resistance – The Pax Plus has better airflow than the Pax 2 and Pax 3, but it still takes some getting used to. Especially when compared to freer flowing units like the Storz and Bickel Crafty+ and even other conduction vaporizers like the Davinci IQC.
Pax Labs uses the phrase "sip it, don't rip it!" to describe the draw technique for pax vaporizers, and that's because they do have quite a bit of draw resistance.
The Pax Plus vaporizer experience is similar to a blunt or a joint with lots of casual "sips" over a session.
You can't rip these devices like you would a bong or a piece. It's like sipping the first drink of your morning coffee. Once the vapor starts forming on your tongue (you can feel the heat), you can draw a little more aggressively. It's important to note that drawing harder doesn't equal more vapor. The best approach is to take a big deep breath in – let it out – and start a long, slow inhale until you are ready to exhale the vapor.
Battery Life and Charging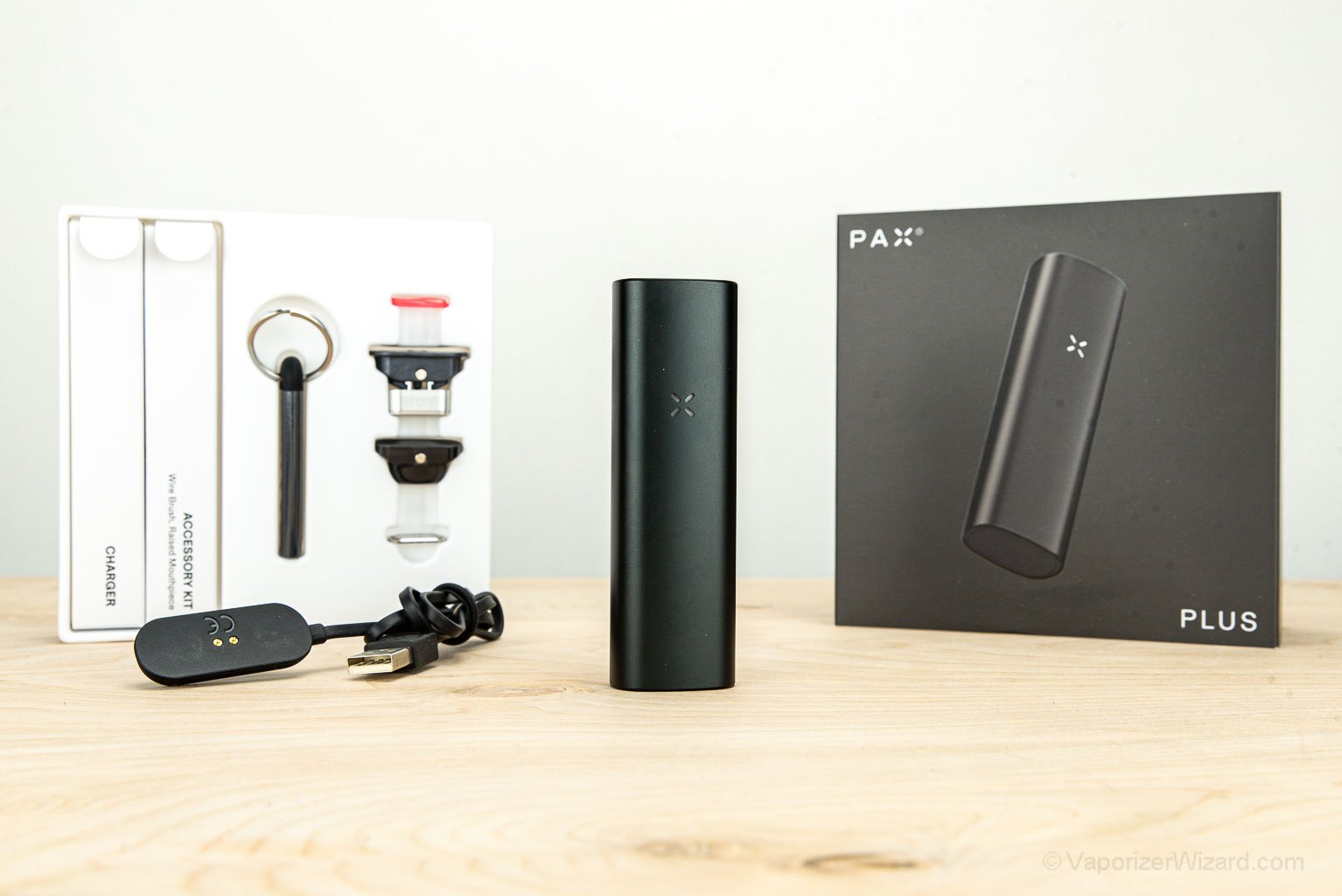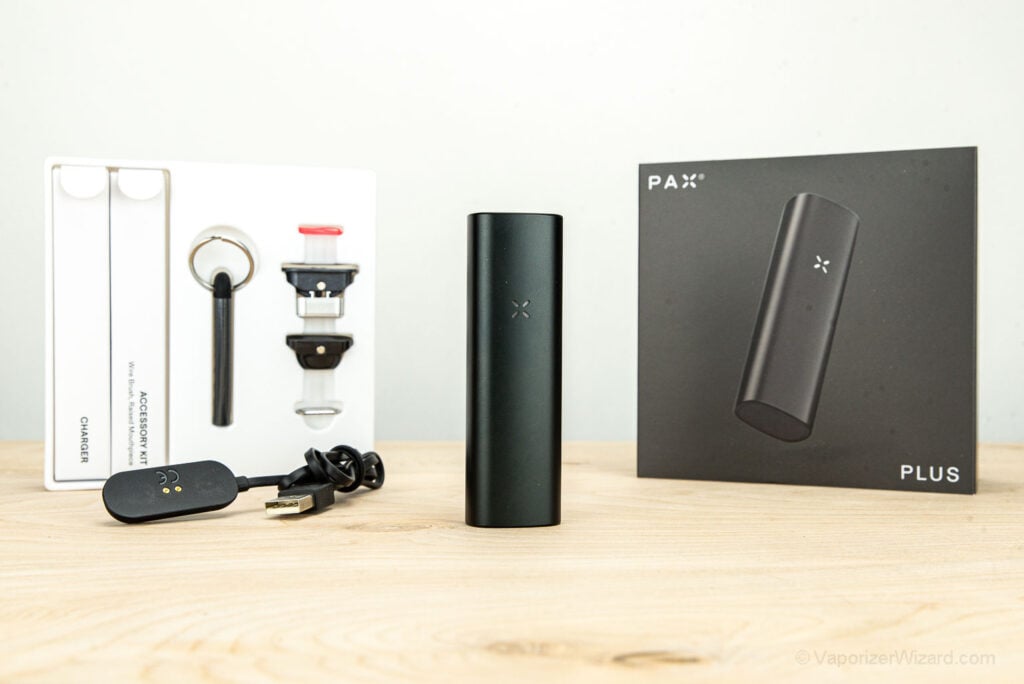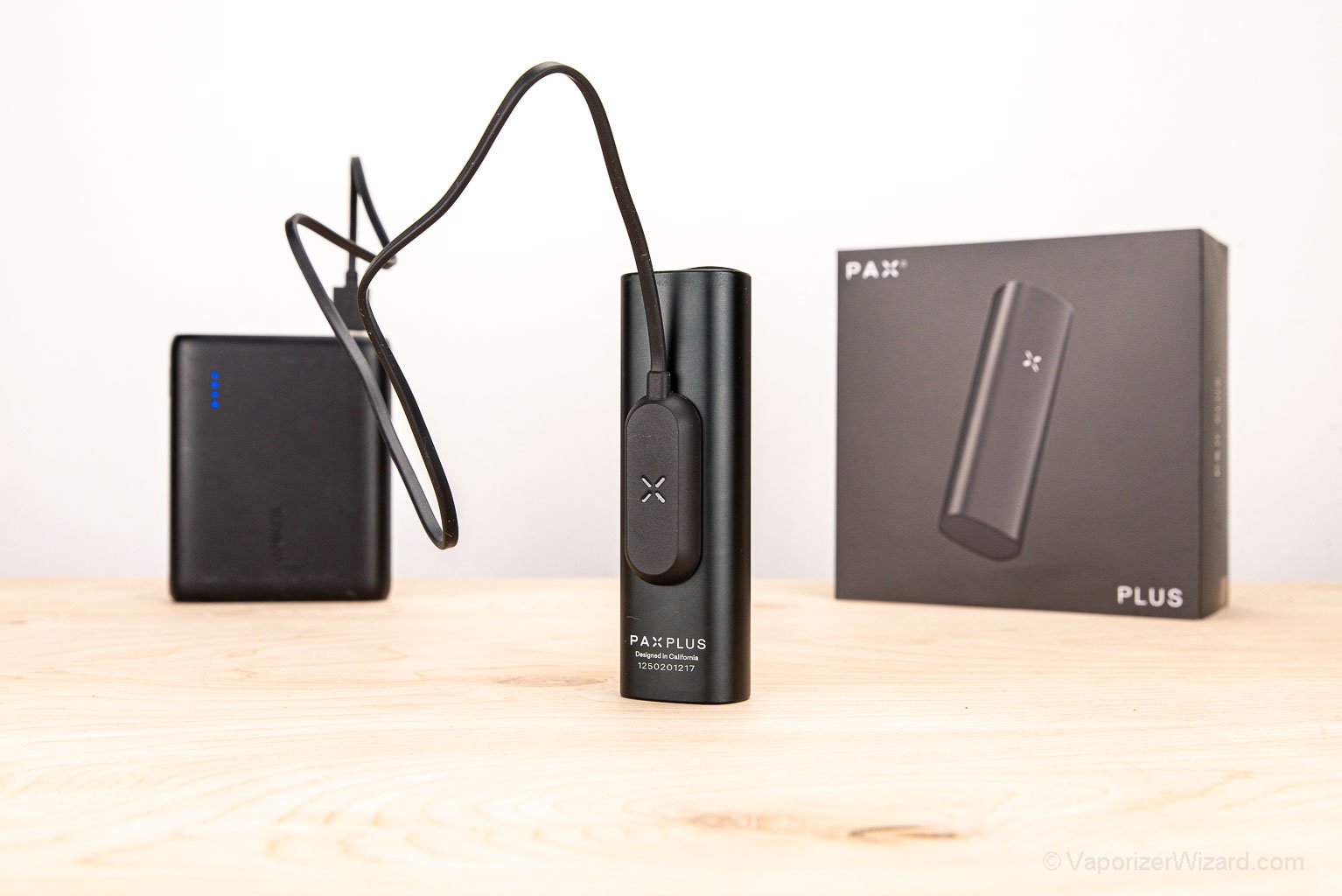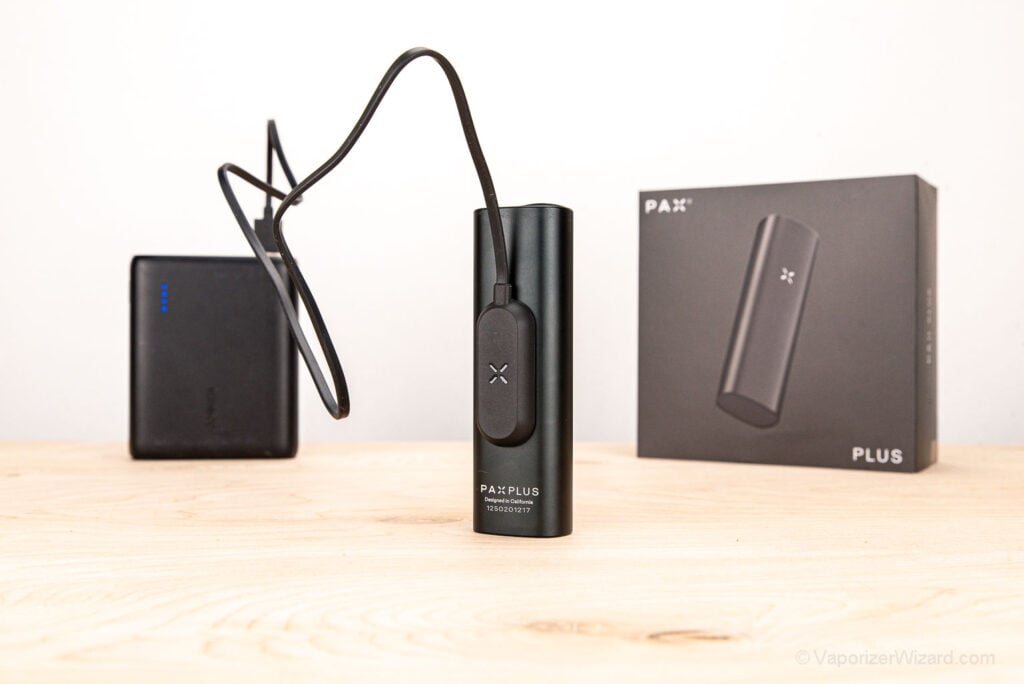 Battery Capacity – The Pax Plus uses a 3000mAh internal NON-replaceable lithium-ion battery and charges via a proprietary magnetic charging dock. The charging dock plugs in via USB and can be charged pretty much anywhere.
Honestly, I wish that Pax Labs would go away from this proprietary charger and use a typical USB-C charger like everyone else in the industry. It's a bit annoying to bring your PAX charger with you everywhere. There have been so many times that I've been able to swap charging cables between vaporizers without issue, and you're pretty much SOL if you don't have the PAX charger with you… moving on.
Battery Life – I've been averaging around 75 minutes of use on a fully charged Pax Plus battery. Unfortunately, this is about 20 minutes less than the Pax 3 battery life. The Pax 3 used a 3500mAh battery (3000mAh on Pax Plus), and while it took a bit longer to charge, the added battery life was a big plus (pun intended) for those longer adventures.
I really don't know why they used a smaller battery, but if I had to guess, the 3000mAh batteries might be easier to get and/or cheaper than the 3500mAh batteries. I know the battery market has been in shambles since the pandemic, so maybe there's more to the story here than we know.
Charge Times – On average, the Pax Plus will charge from dead in about 90 minutes which is about the same charge time of the Pax 3. Maybe slightly quicker. Again, this new Pax Plus isn't necessarily an upgrade from the Pax 3. I think it's more of a "let's get rid of the app and simplify things" update. It's unfortunate that they couldn't use the same 3500mAh battery that was in the Pax 3.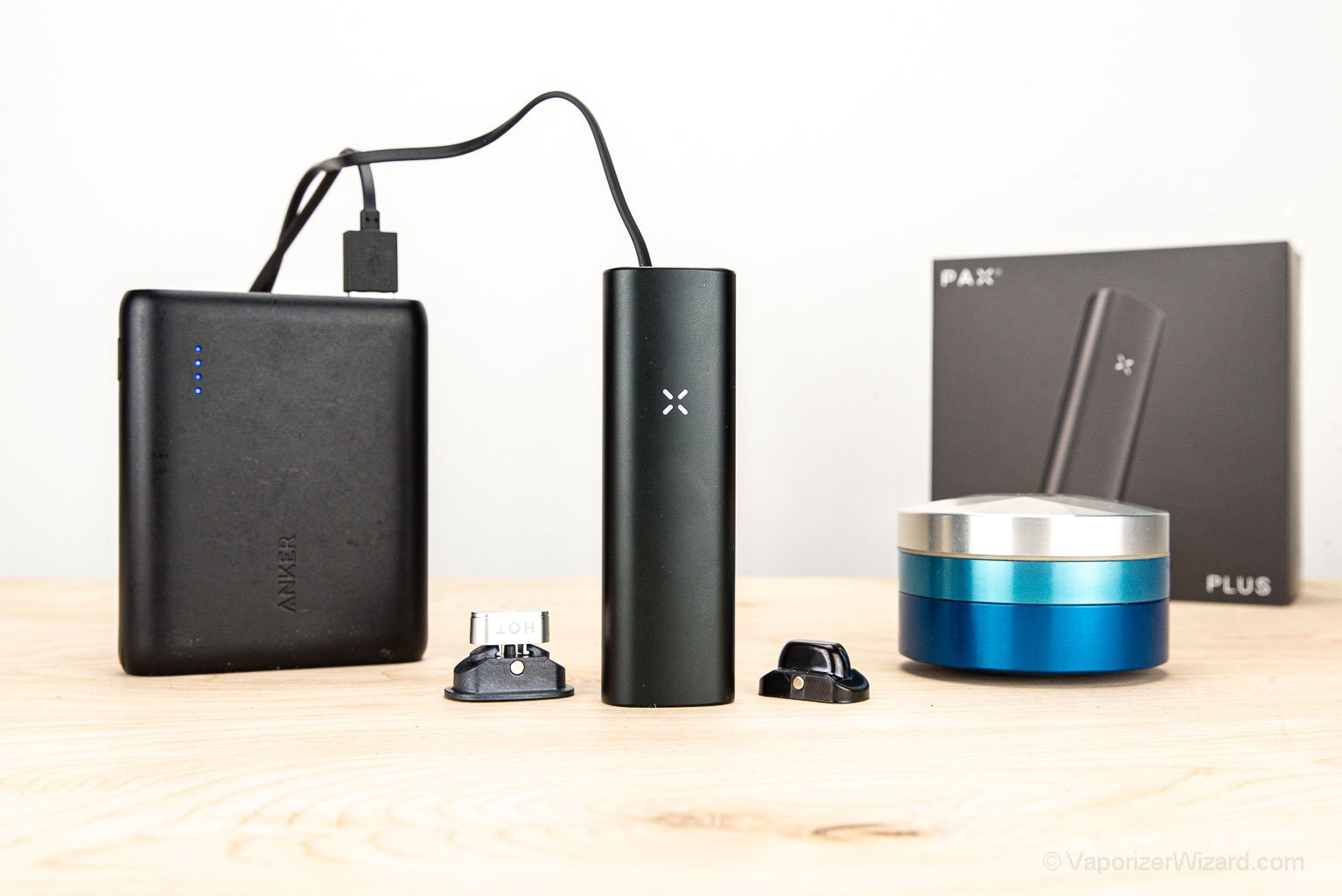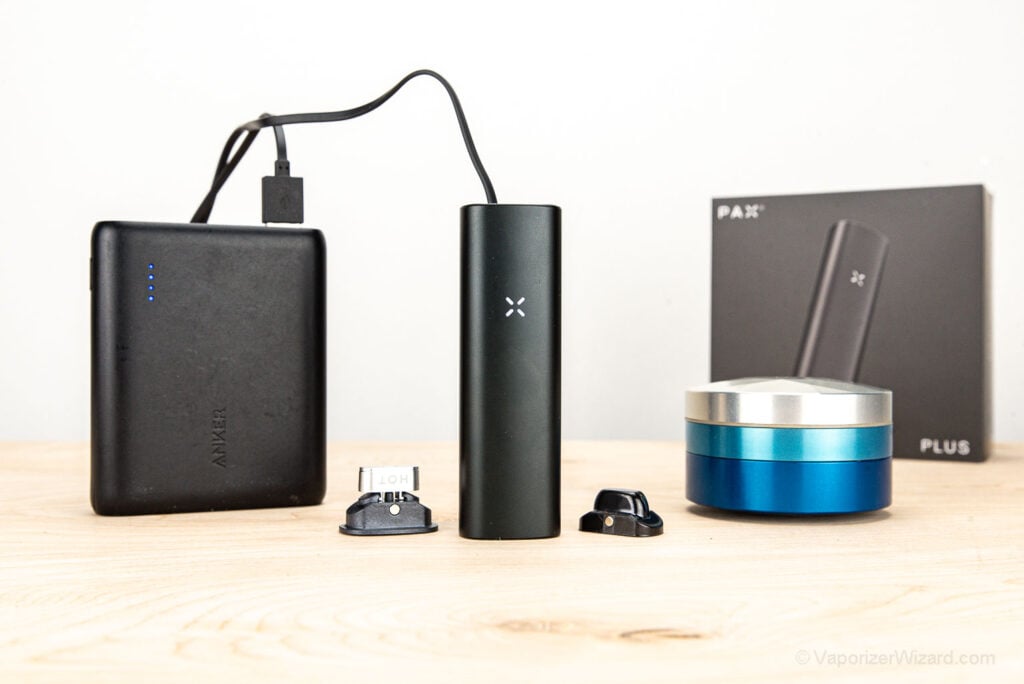 LED Indicators – You can shake the device to show the current battery life via the Pax petals on the front of the vaporizer. One light in the upper left corner is a 25% charge, two petals on top equal a 50% charge, three petals equal a 75% charge, and four LEDs lit up mean the Pax Plus is fully charged. A red blinking LED indicates a low battery, and you need to charge the device.
The same thing goes for charging. One LED petal lit in the top left corner equals 25%, two petals equal 50%, and so on. The four LED petals will stop blinking and remain lit when the Pax Plus is fully charged.
How to Use the Pax Plus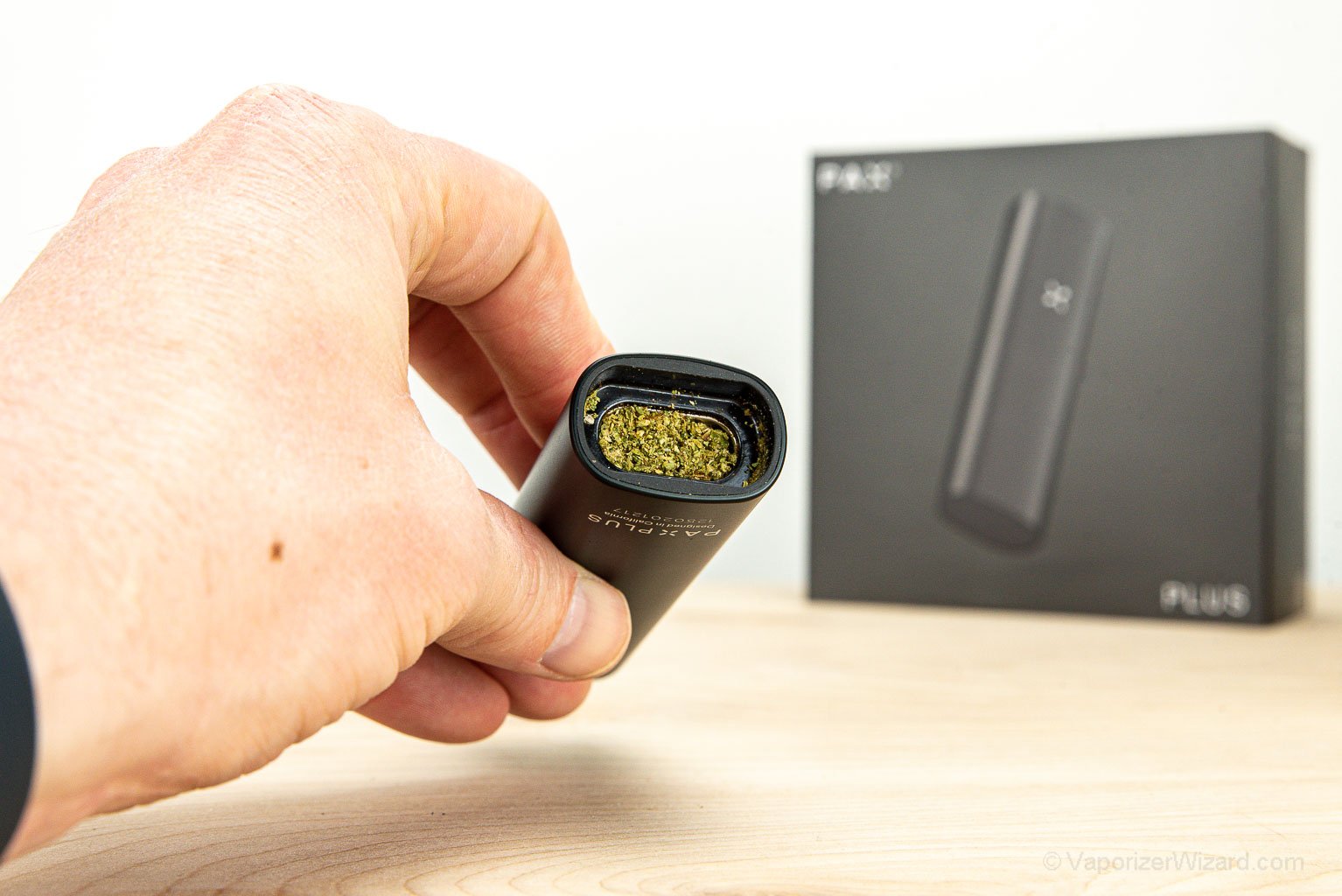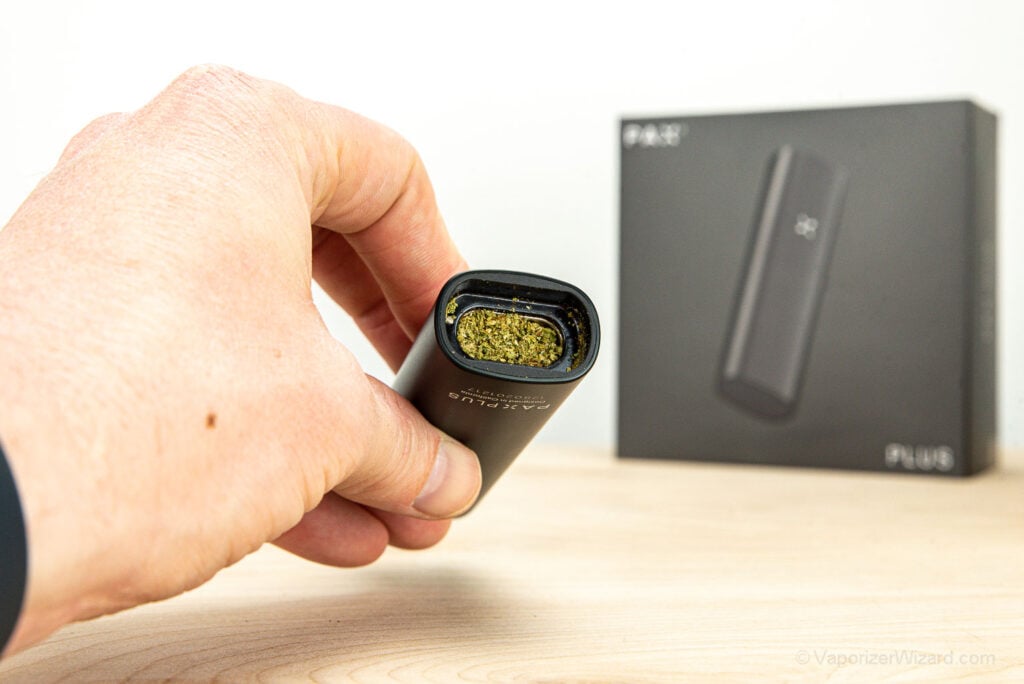 Grind Tips – Pax vaporizers and pretty much all conduction-style vaporizers work best with a medium to fine grind. I always recommend a grinder when using a vaporizer because it helps break down the surface area of the flower. I personally use the Brilliant Cut Grinder (read review).
Loading Tips – Tamp down the herbs in the chamber pretty tight, but don't go crazy with it. Conduction vaporizers heat the entire chamber and work best when all of the materials (flower) are in tight contact with the oven walls. This is why the half-pack lid is so nice for single-person sessions.
Power On – Press the power button to turn on the Pax Plus. The device will automatically begin heating to your last set experience mode. You can change temps by holding the power button down for two seconds and then a single press to change temps. Hold the power button again for two seconds to select your experience mode. You can also shake the device to select a mode.
Session Guide (Flower) – I recommend starting in Stealth Mode and working your way up to flavor mode throughout the session. For example, take a couple of draws at Stealth Mode (360F – 380F), change the temp to Efficiency Mode (380F – 400F), take a few more draws, and then change to Flavor Mode (400F – 420F) towards the end of the session. This method of gradually increasing temperatures is called "temp-stepping."
Temp-stepping helps to extract all of the different compounds within the plant. Starting on lower temps (stealth mode) won't produce the most visible vapor but you will notice the taste is much cleaner. As the taste starts to dissipate, you can then start to bump up temps to finish off the bowl. You'll know the bowl is finished when the device doesn't put out as much vapor and the herbs in the bottom chamber are a brown to dark brown color.
You can also save the herbs from the chamber when you are finished with a session as they still have some compounds that you can use to make AVB (Already vaped bud) butter. Check out my article on how to make chocolate chip cookies with AVB Cannabutter for more info about the process. You can also water-cure AVB to eliminate some of the taste/smell associated with the used herbs. You can check that out here.
Concentrates – I don't use the Pax vaporizers for concentrates, but it works. I think the best approach is to load a tiny amount and start out on the highest temp. Let the concentrate chamber soak with the materials for a bit, and then start to sip until you feel the vapor starting to form on the back of your tongue/throat.
The concentrate insert will be hot after a session. Let it completely cool before removing it.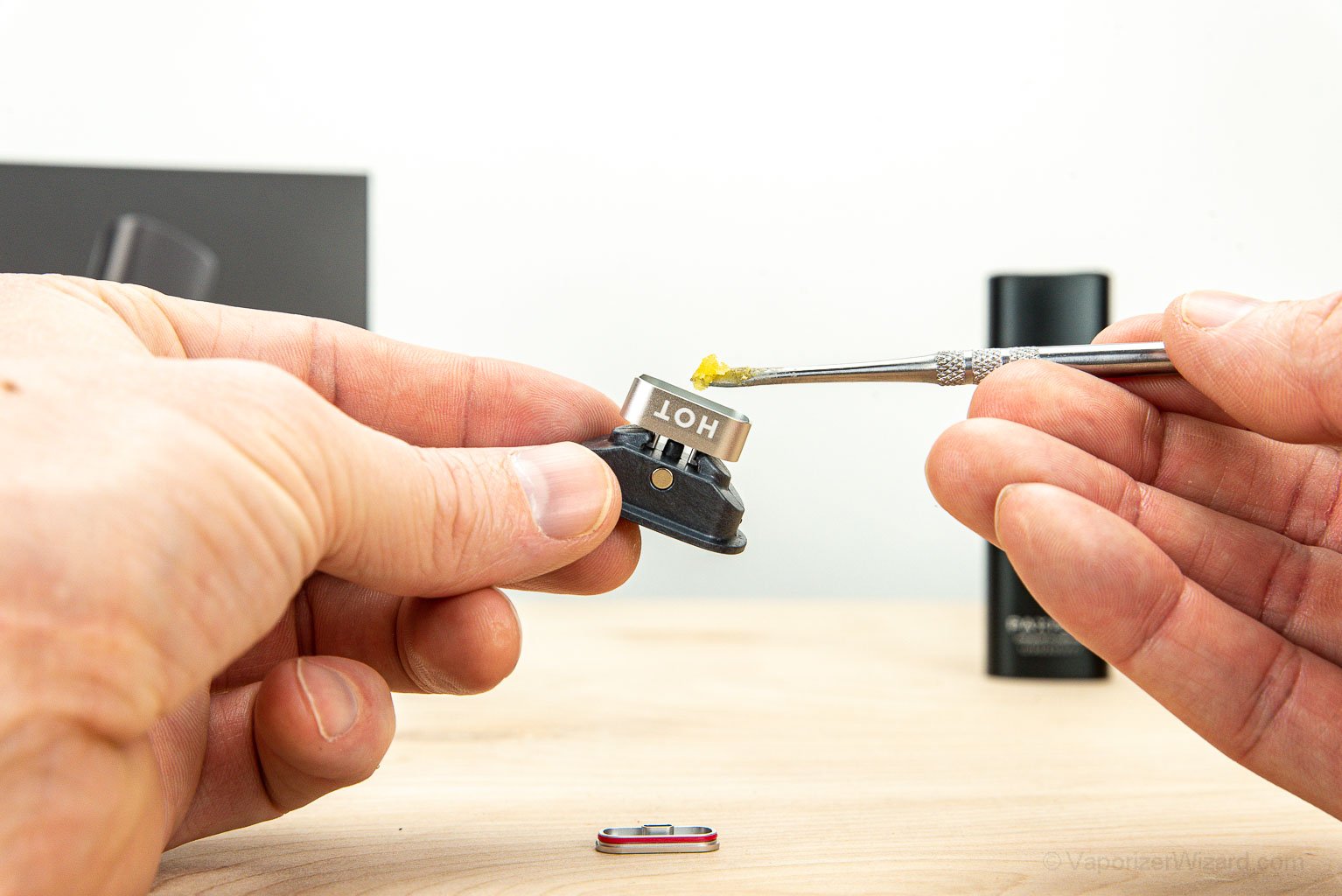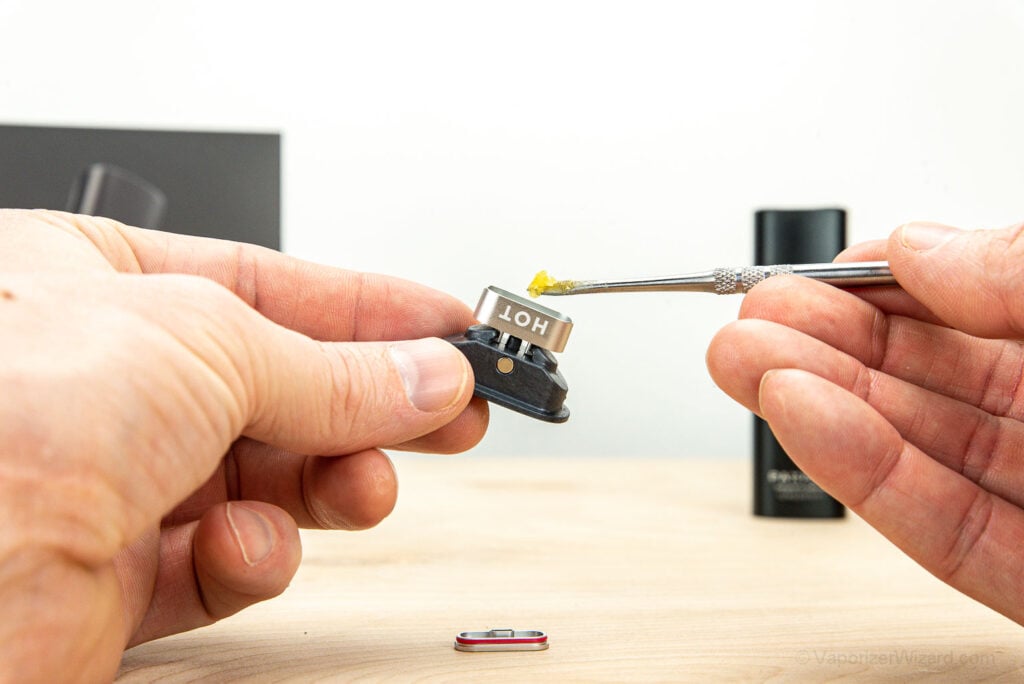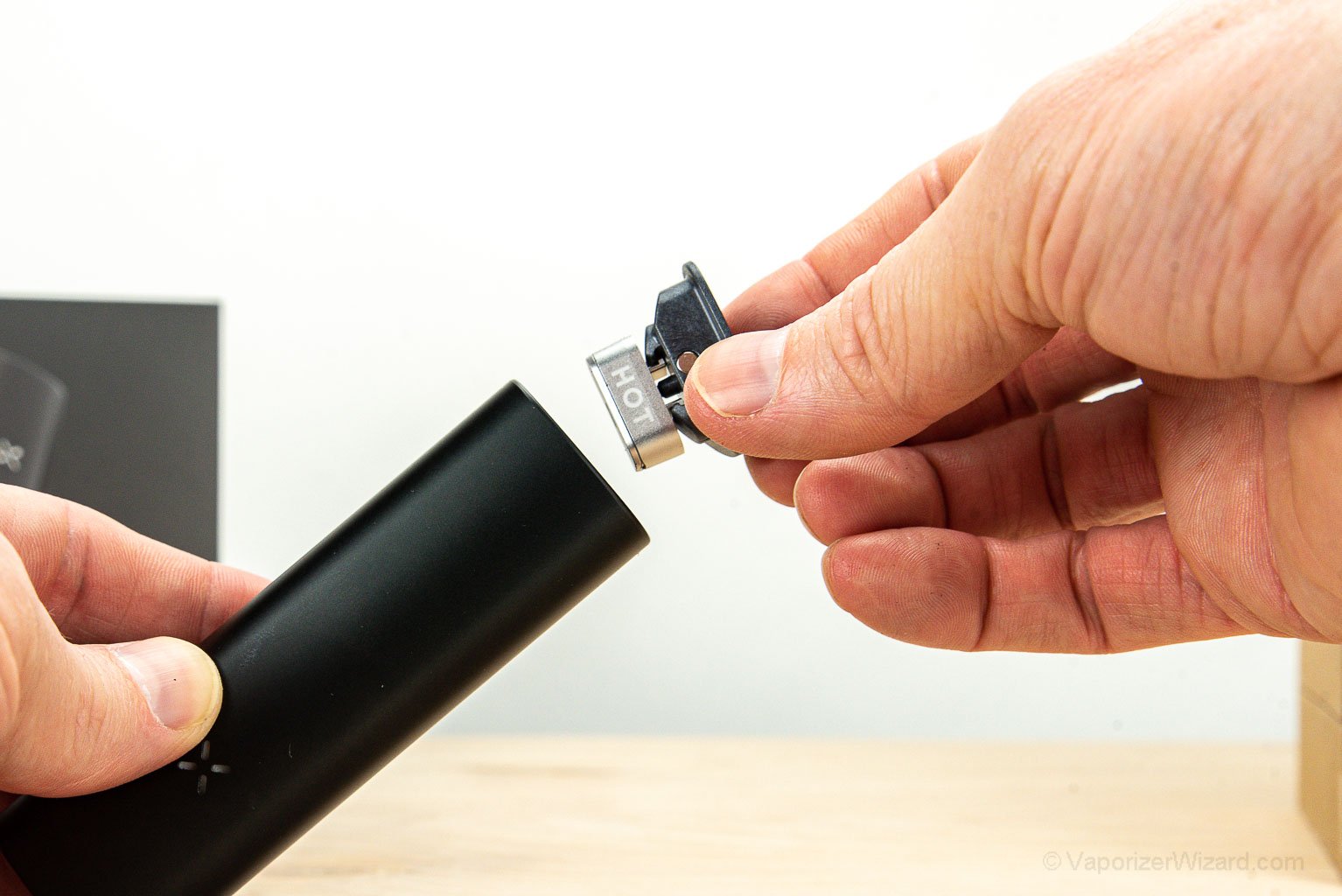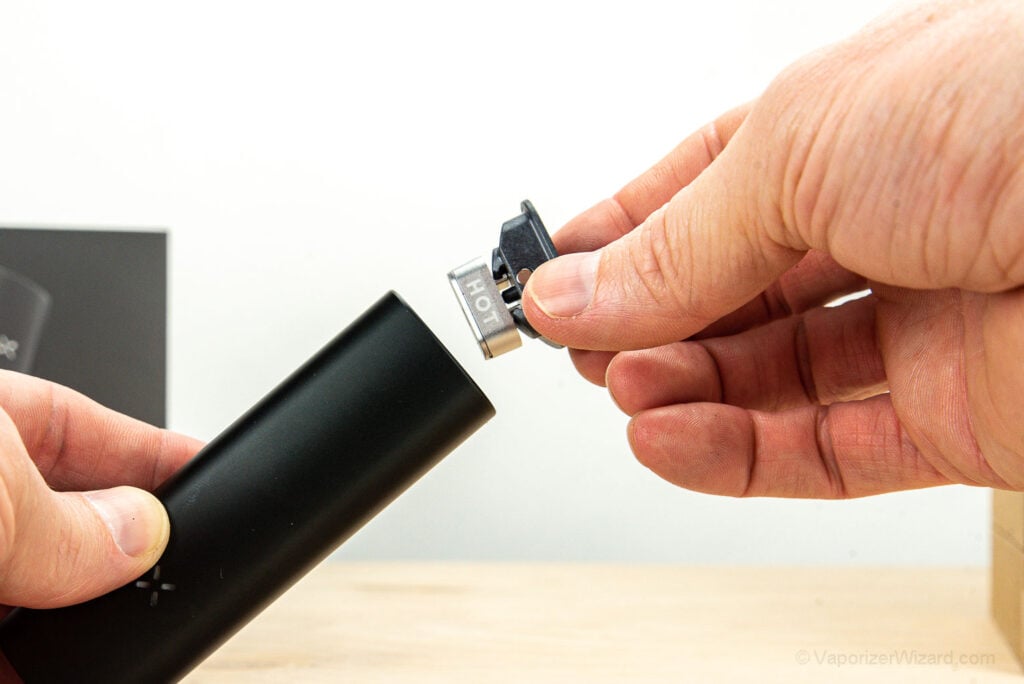 Pax Plus Comparisons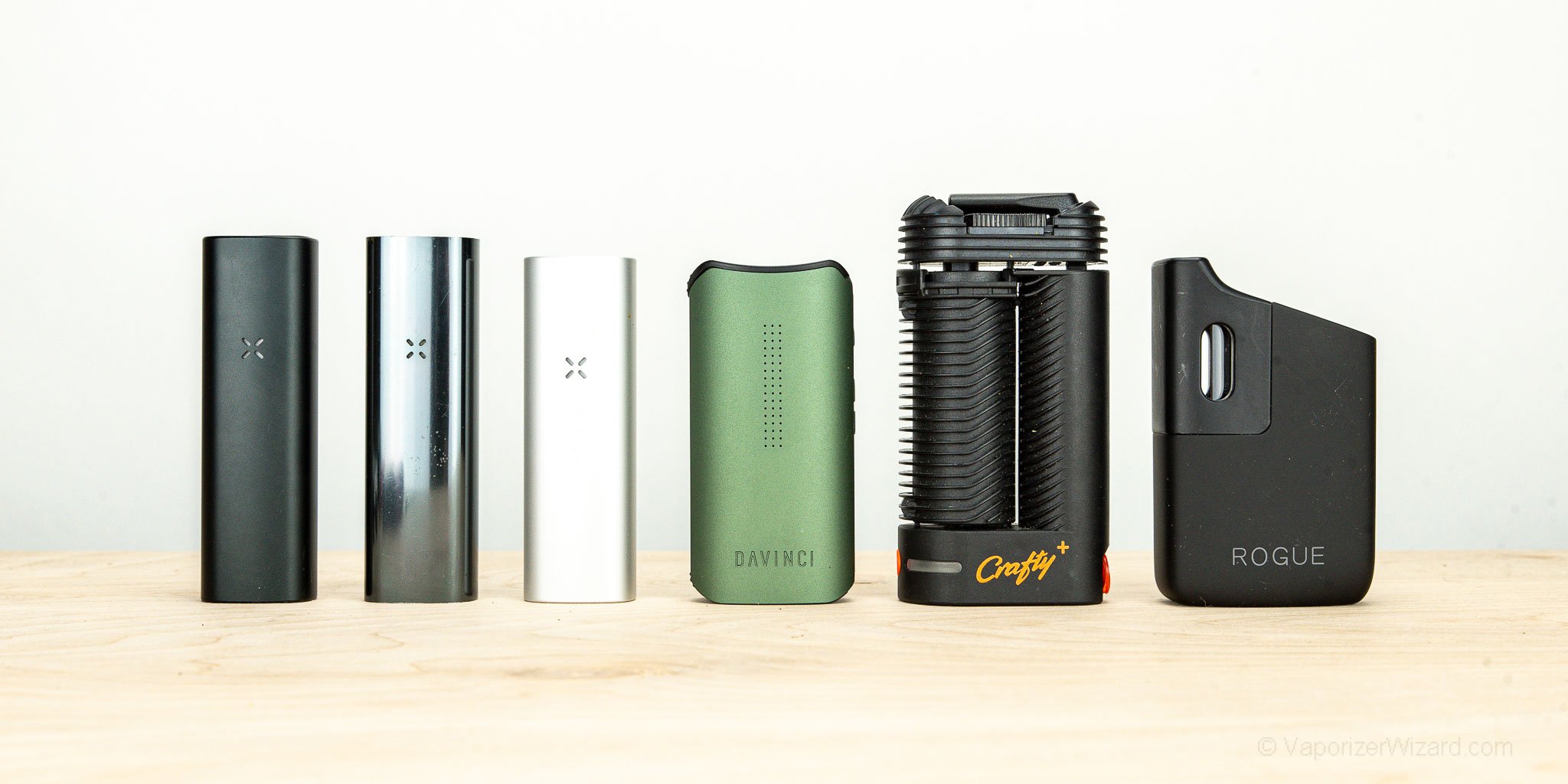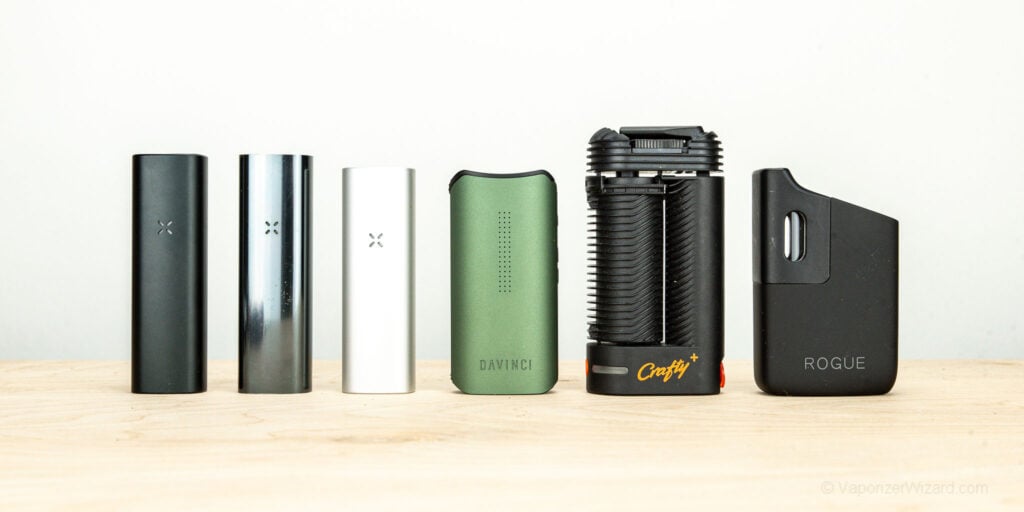 Pax Plus vs. Pax Mini – The Pax Mini is the smaller version with fewer features but is overall very similar to the Pax Plus. You get the same battery, a slightly smaller device (both weight and form factor), same heat-up times but only one experience mode.
With the Pax Plus, you get four experience modes (mentioned above), the concentrate insert, the half-pack lid, a 10-year warranty vs. 2-year on the Pax Mini, and roughly double the chamber capacity from .25g (Pax Mini) to .5g (Pax Plus). So you actually get a lot of value for that $100 price difference. The most significant being the 10-year warranty.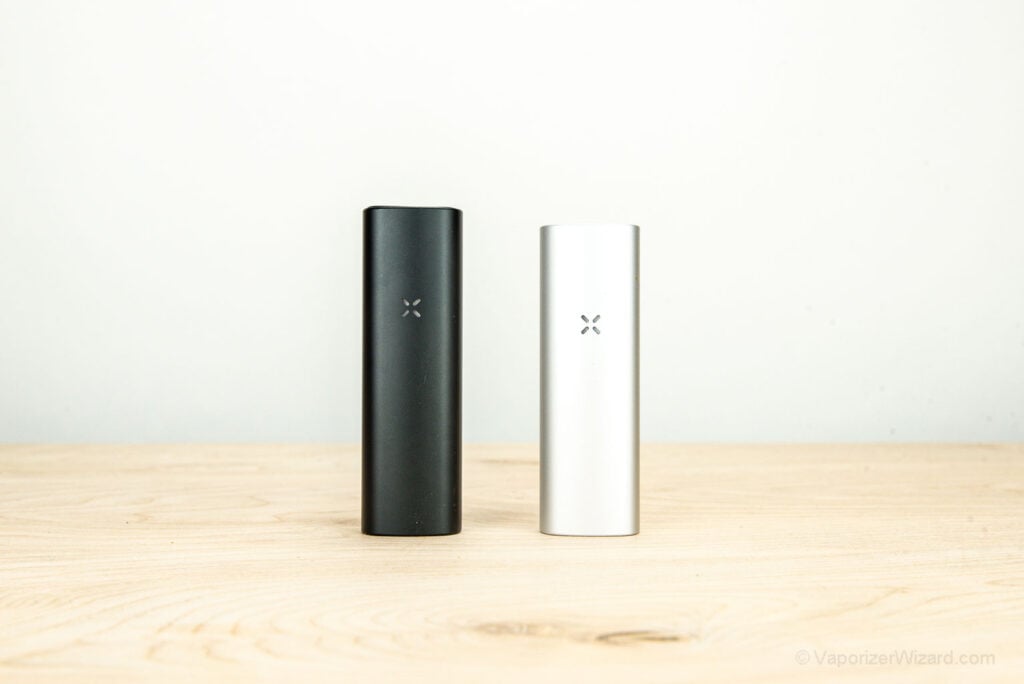 This comes down to whether or not you need the .5-gram capacity chamber or if you think you'll be using your Pax vaporizer with concentrates. If you will only use it in single-person scenarios and don't use concentrates, get the Pax Mini and save yourself $100.
If the Pax vaporizers just aren't your jam, I recommend checking out the Healthy Rips Rogue, the Davinci IQC, or the Crafty+ vaporizer mentioned below.
Healthy Rips Rogue – The HR Rogue (read review) is basically a Pax vaporizer with a full temp spectrum, better battery life, and a small form factor. The Pax Plus is the better vaporizer for being pocket-friendly, rugged, and reliable, but the HR Rogue is quite a bit cheaper and offers better vapor quality.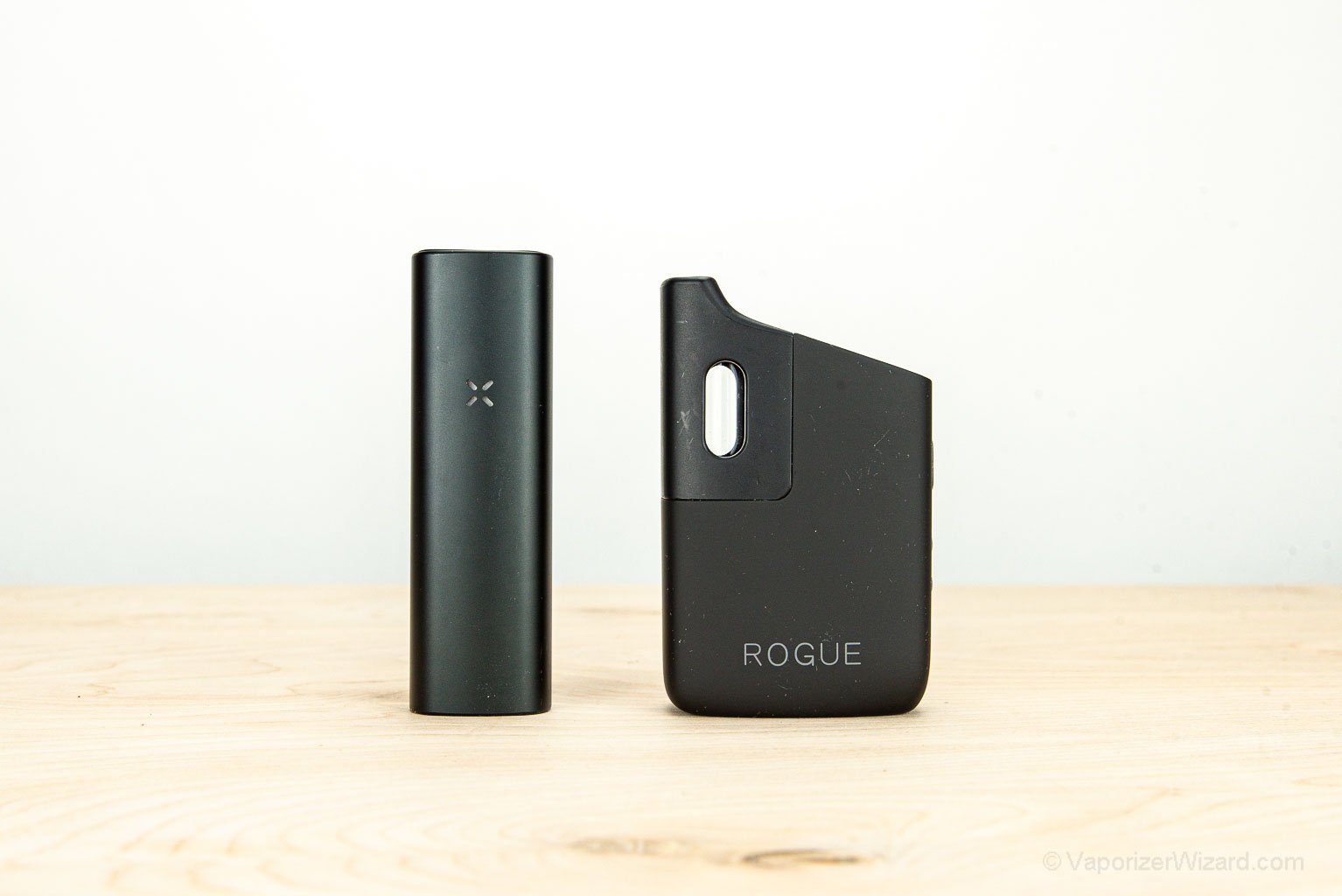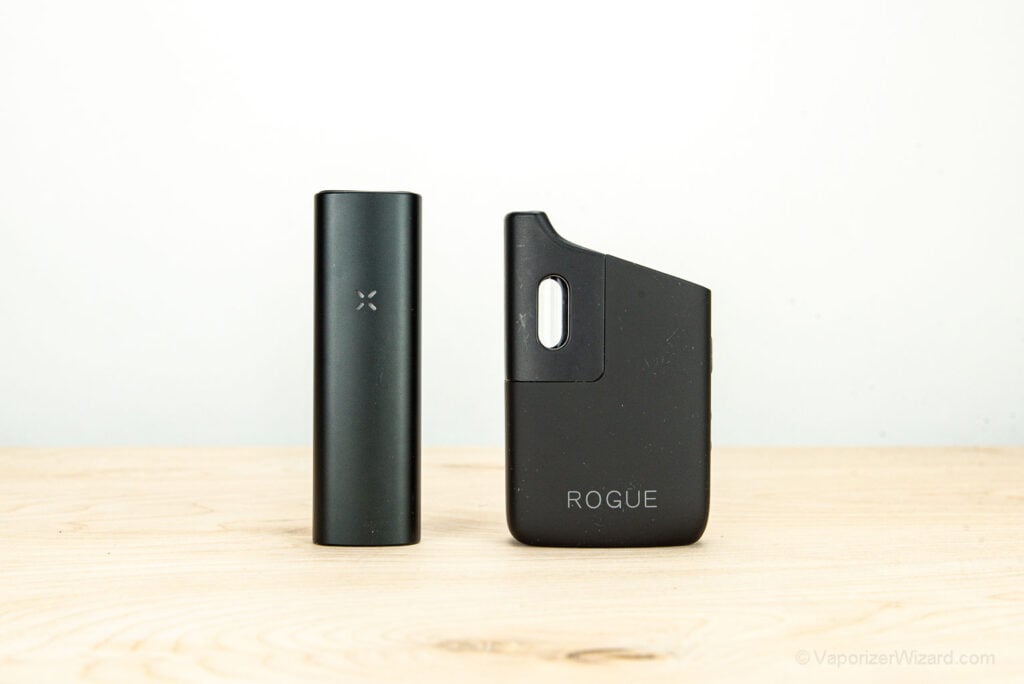 Davinci IQC – The Davinci IQC is unique compared to the others here because it offers a replaceable 18650 battery system. The IQC is similar to the Pax Plus regarding vapor quality, its durable, rugged outer shell, and large chamber capacity, and both of these devices are pocket-friendly for use on the go.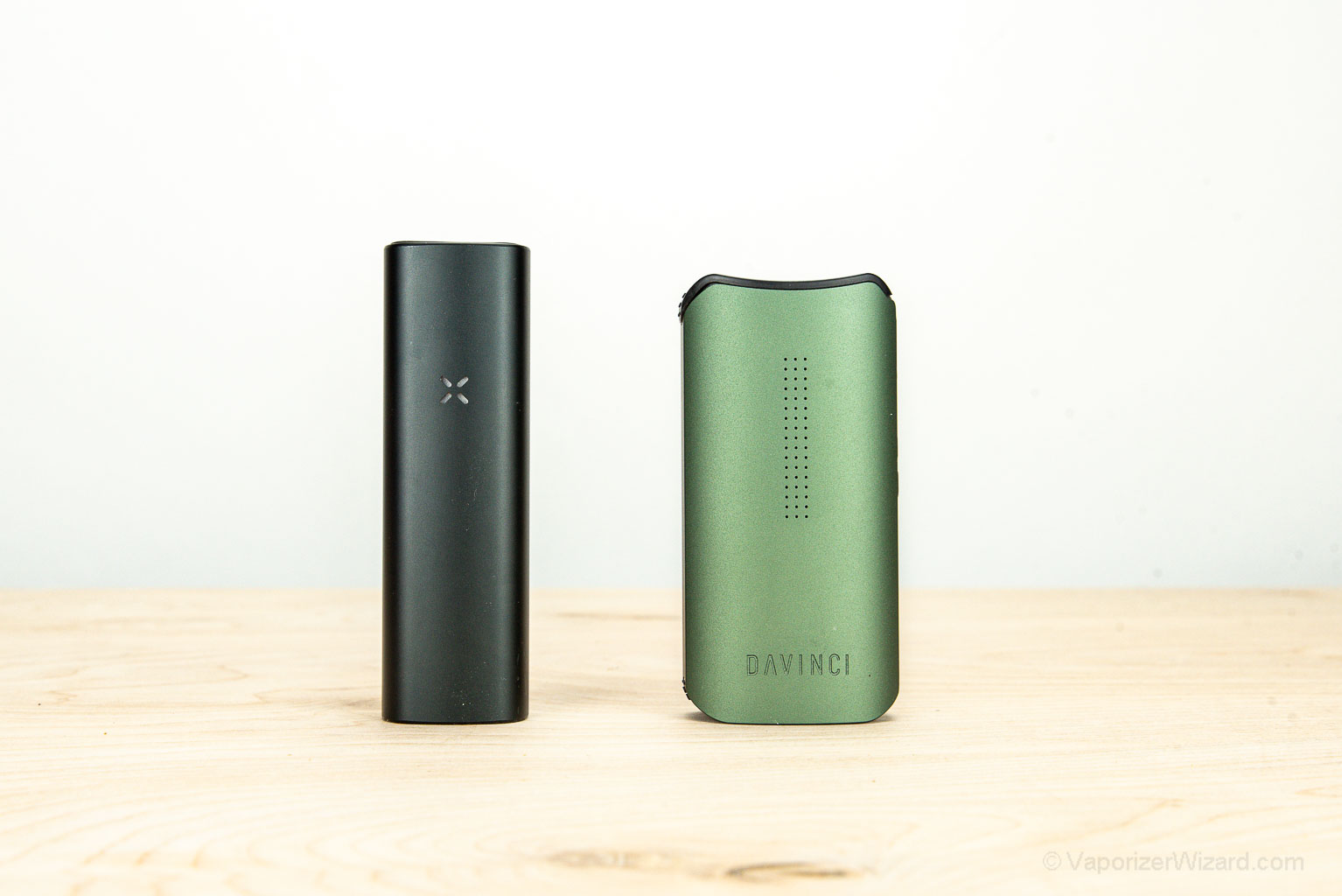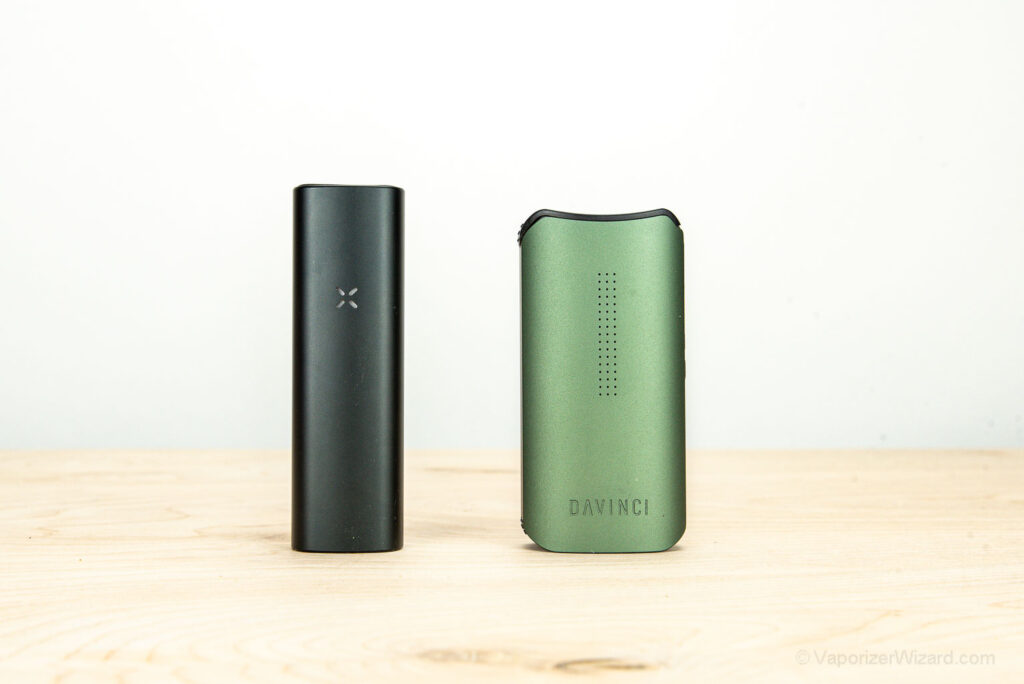 The Davinci IQC comes with a 5-year warranty and retails for $199. You can pick it up for around $140 directly from Davinci with coupon code WIZARD30. Check out my Davinci IQC review for more info.
Crafty+ Vaporizer – The Crafty+ (read review) is dubbed the "Best Overall Portable" and has sat at the top of my best portable vaporizer list since the OG Crafty debut in 2014. It's easy to use, offers excellent vapor quality via the hybrid heating system, and is one of the most free-flowing vaporizers you can use, so it doesn't take much effort to get great hits.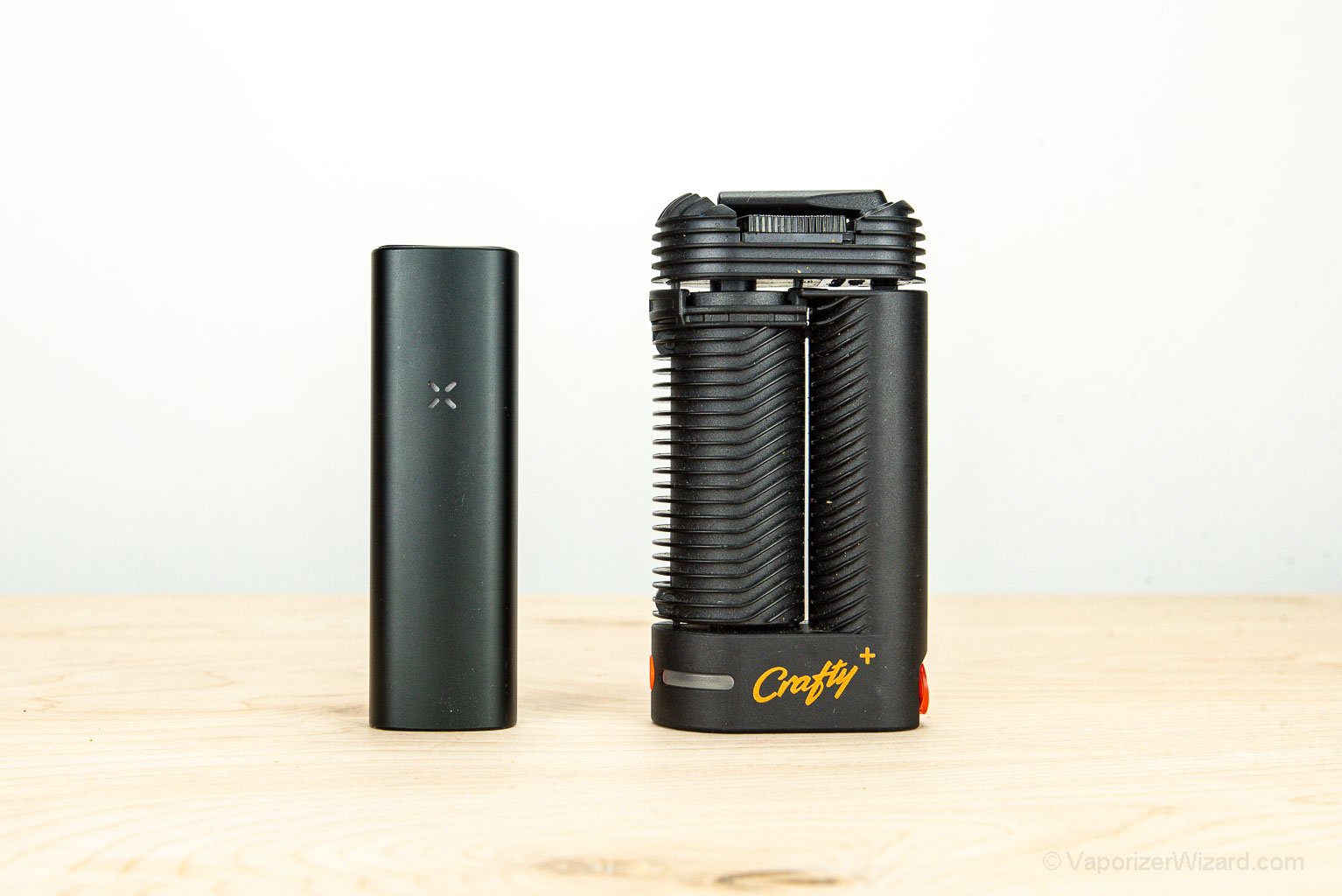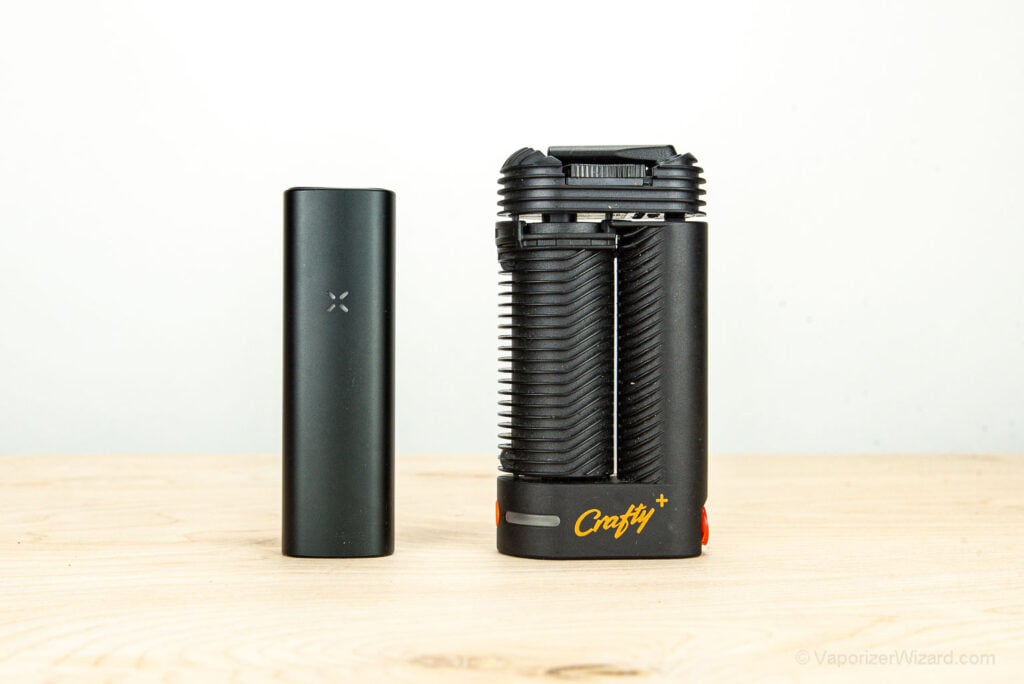 The Pax vaporizers are known for their draw resistance and having to "sip, not rip" for best results. You can absolutely rip the Crafty+ vaporizer. Again, I think the Pax Plus is still the better option for someone who needs a slim form pocket-friendly device, but overall the Crafty+ is a much better buy.
Pax Plus vs. Pax 3 – Currently, the Pax 3 is still for sale via a few different outlets, including directly from Pax Labs. I imagine it will run out of stock soon, but if you can find it for around the $200 price point, I think it's definitely worth it as long as it's the complete kit. Make sure you're getting the half-pack lid and the concentrate insert.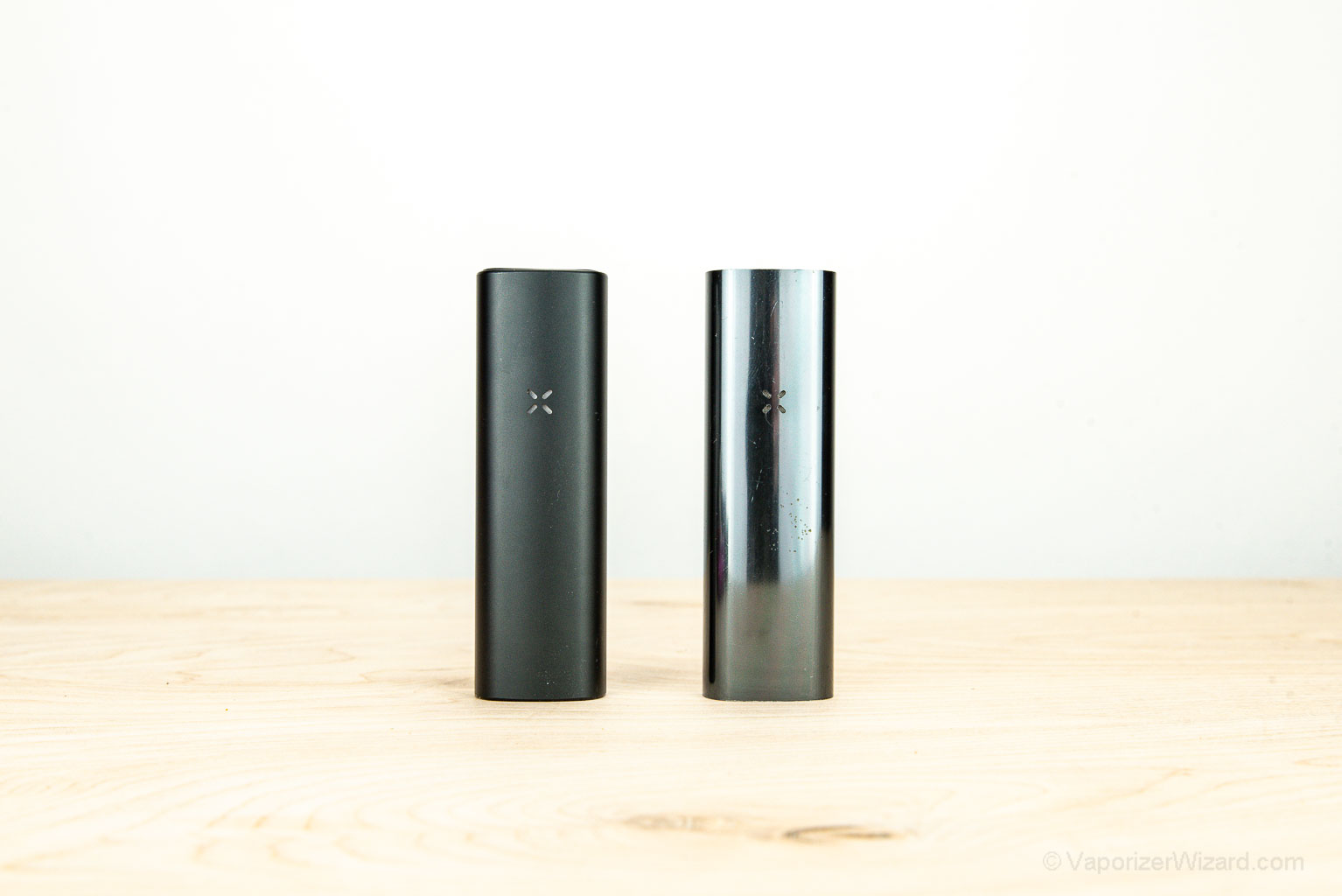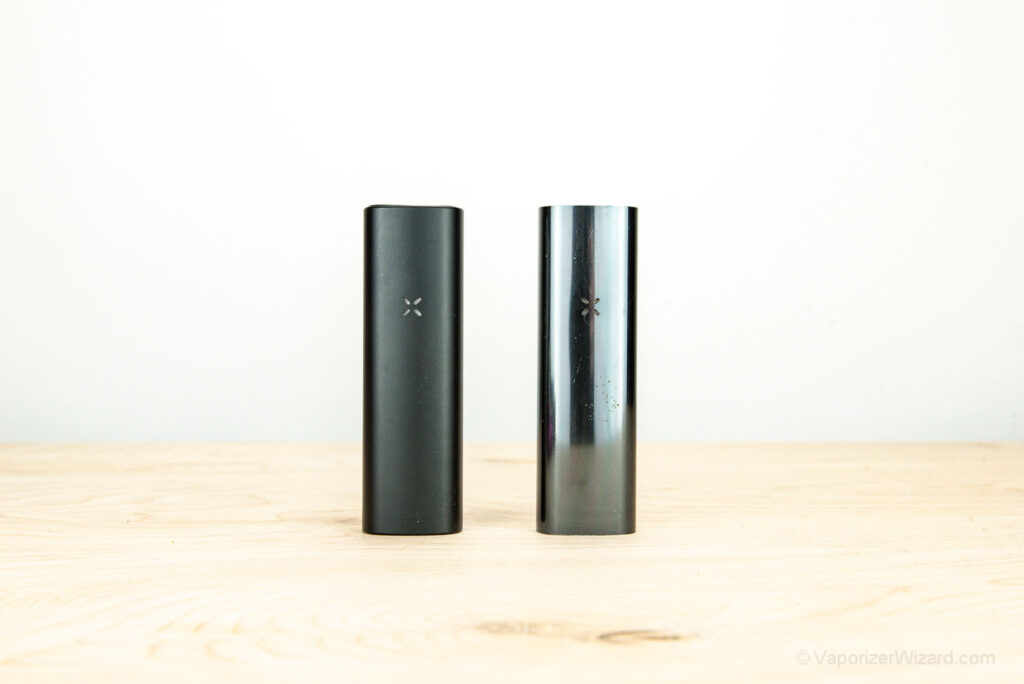 The Pax 3 is honestly the better of the two versions, and it will be cheaper until it runs out of stock. Check all the color options if the first one is out of stock.
Cleaning and Maintenance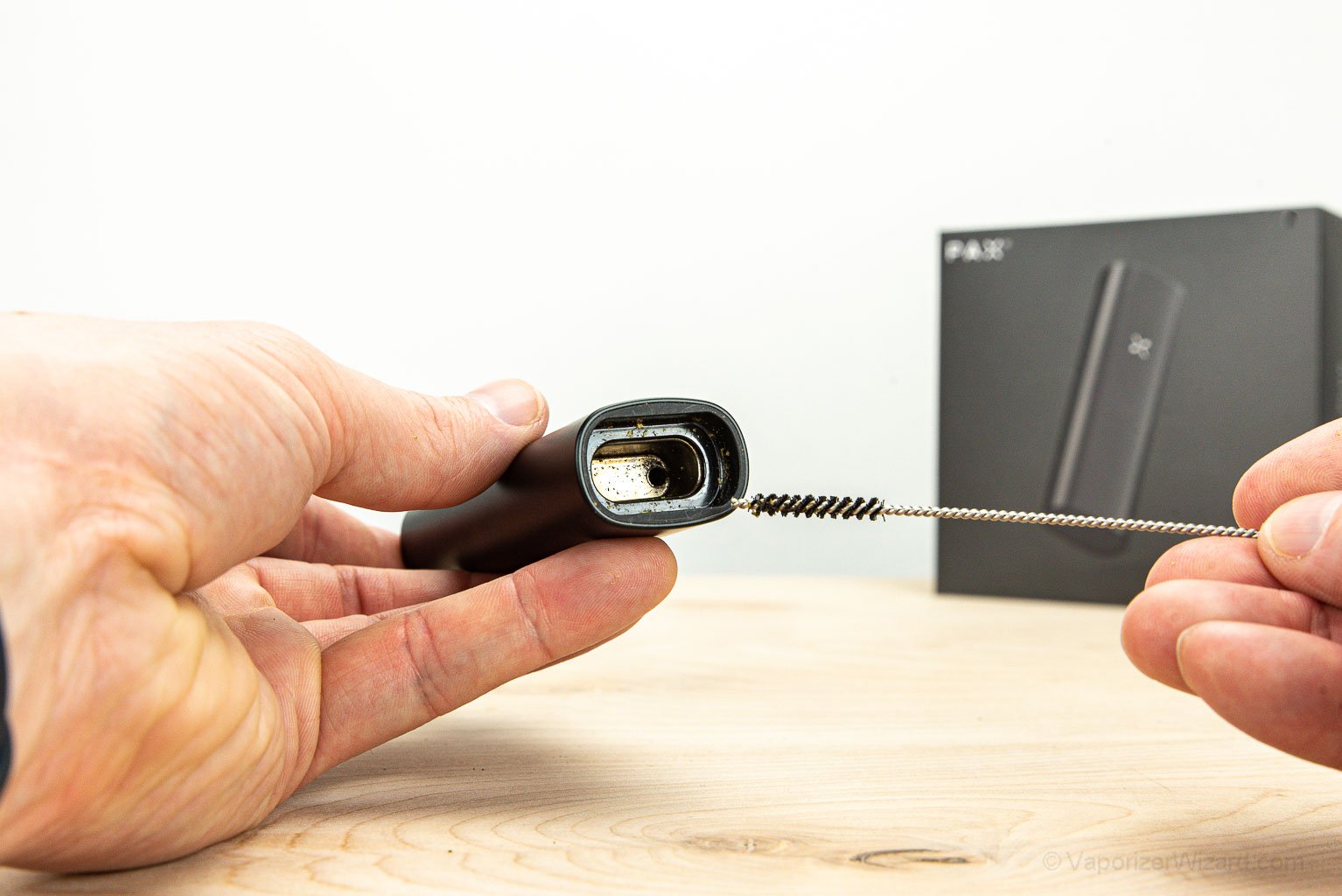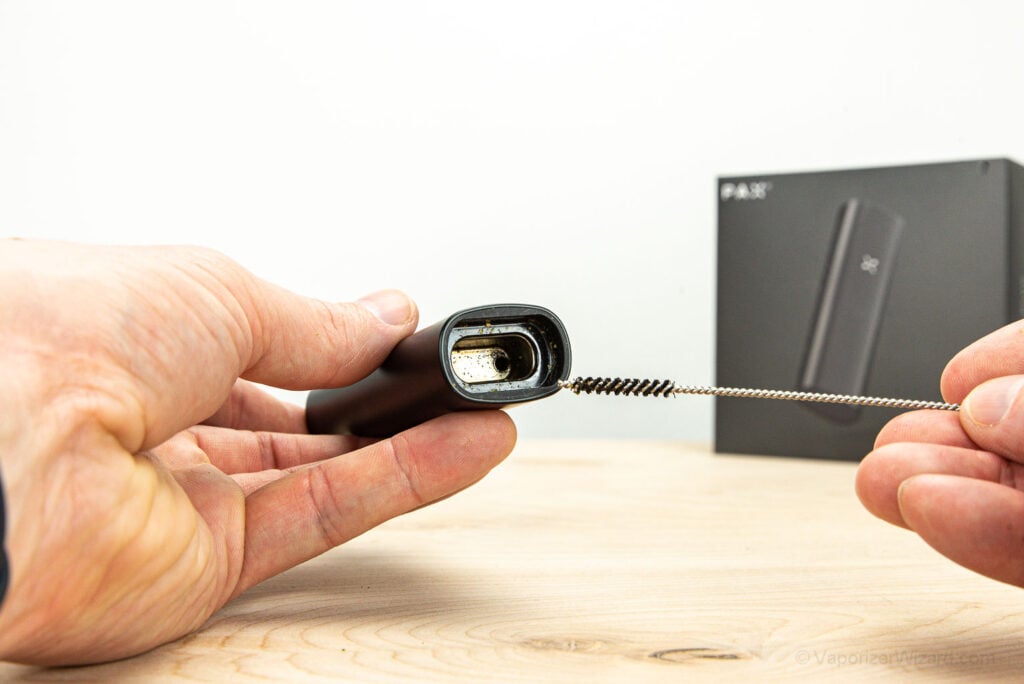 One thing they actually upgraded is the chamber screen. The bottom screen is now a 3D printed screen and overall much easier to remove for cleaning. The old Pax 3 screen was a pain to remove, especially when the unit was dirty.
I also think that the new 3D printed screen has slightly improved the overall air flow, but the average person probably wouldn't notice.
Here is a quick cleaning tutorial for the Pax Plus:
Remove materials from the device immediately after a session.
Brush out any remaining materials from the oven.
The biggest precursor to knowing when to clean is draw resistance.
Harder to pull = debris/resin stuck in the vapor path.
Remove the top mouthpiece, remove the screen, place a small amount of iso on the brush, and swap out the stainless steel vapor path.
Swab out the oven, screen, and mouthpiece area with a small amount of iso on a Q-tip.
Let everything dry, replace the screen in the oven, and you're ready to go.
I'll be putting out a full Pax Plus / Pax Mini cleaning article as soon I finish my Pax Mini review and Pax Plus vs. Pax Mini Comparison. You can follow me on Instagram (@vaporizerwizard) to see what I'm up to and working on.
Warranty & Customer Support
One thing Pax Labs has always done is backed up its products with industry-leading warranties and customer service. The Pax Plus comes with a 10-year manufacturer warranty. Most other vaporizers will come with a two or three-year warranty. Davinci Vaporizer is the only other vaporizer company to offer a 10-year warranty on a portable vaporizer.
It is a limited warranty and doesn't cover normal degradation of the battery, which is internal and non-replaceable. Any opening or tampering with the device will void the warranty, so I don't recommend changing anything yourself. You also need to regularly clean and maintain your pax vaporizer to keep your warranty valid.
Battery replacement info – I contacted Pax Labs to get a definitive process on battery degradation and how a warranty return would work due to the battery failing or losing performance. Both times I contacted them for information, they replied the same day. Here's what they had to say:
Thank you for reaching out to us about this, I would be happy to elaborate on our warranty process.
If we receive a request for warranty service due to a faulty battery, we will run the device through a bit of troubleshooting to try and resolve the issue. We do not take devices back to be repaired, but if our troubleshooting steps do not resolve the issue, a replacement device will be added to your PAX account for you to order, free of charge. On a case-by-case basis, we may request the device be sent back to our team for further inspection, but a replacement device will still be issued.
At this time, issues like battery degradation are not covered by the warranty. Similar to a smartphone, battery life is going to vary widely from user to user and even from session to session with the same user. There are a number of factors in play, such as the temperature used, the environment where you're PAXing, the length of your session, and the number of times your device has to reheat from standby mode. To prolong the battery life, we suggest limiting how often you're turning it on and off (heating up) unnecessarily or setting it down between draws. To read more in-depth about what is covered by each device's warranty, feel free to click the link HERE. (https://www.pax.com/pages/warranty)
Pax Plus Review Verdict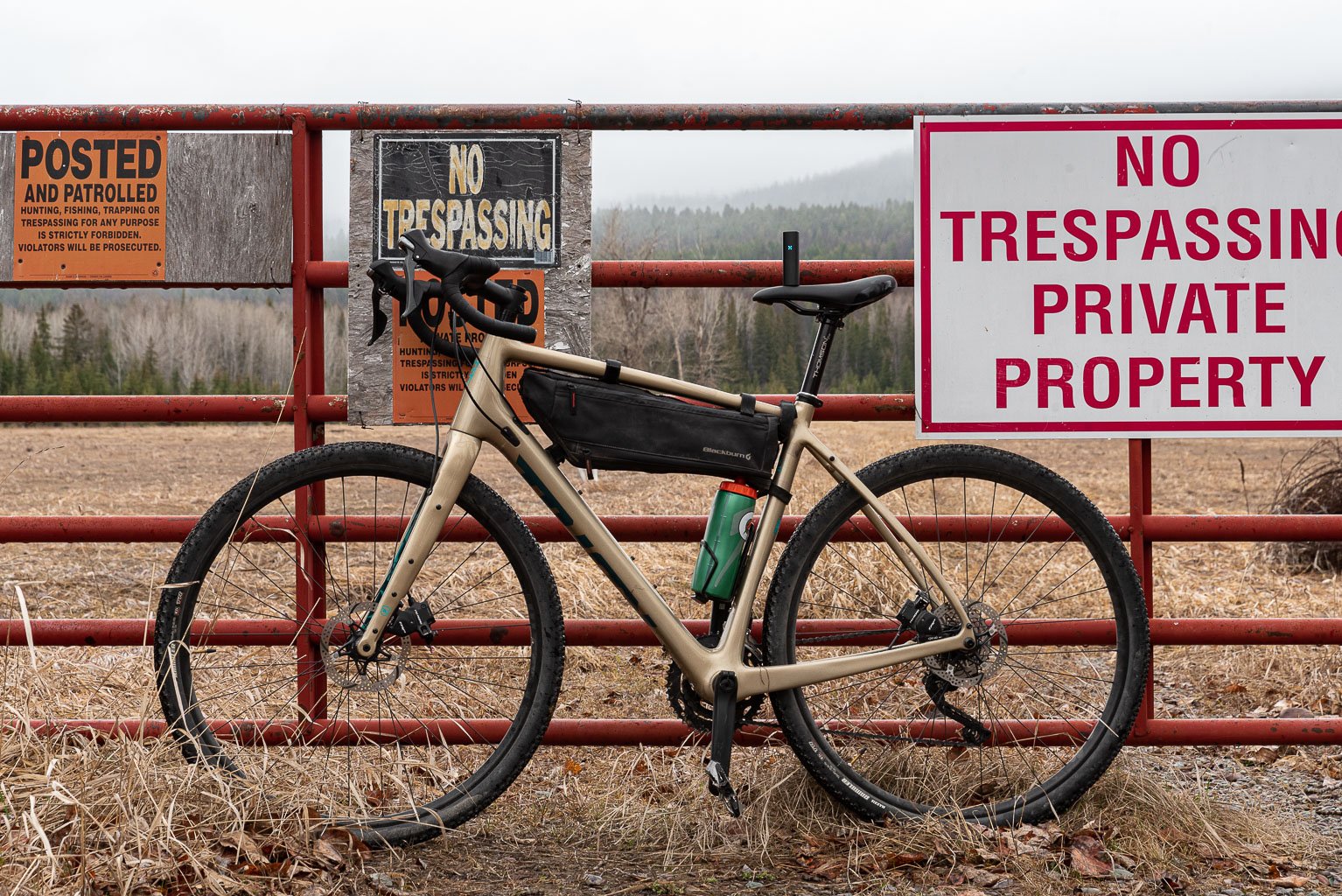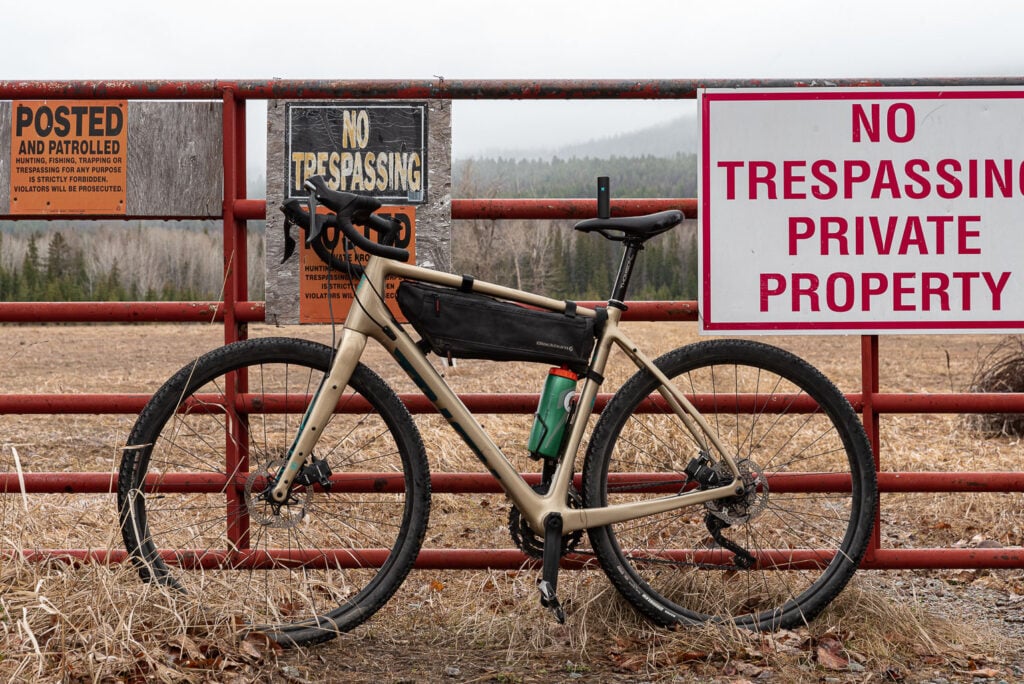 The Good – The Pax vaporizers have been the reigning kings of the "most portable vaporizer" category for almost ten years because they are easy to pocket, durable, and have a great warranty.
The Pax Plus is no different. It's the perfect portable vaporizer to take out biking, hiking, skiing, or any on-the-go activity. It heats up fast, the outer shell is extremely durable, and the four experience modes are more than enough options for the average vaporist.
The Bad – However, I feel like the Pax Plus is overpriced for the features offered and the current competition in the market. The Pax Plus uses a smaller battery and gets less average battery life than the previous Pax 3 model, and I feel like there are other models, priced significantly lower, that offer the same or possibly a better session experience.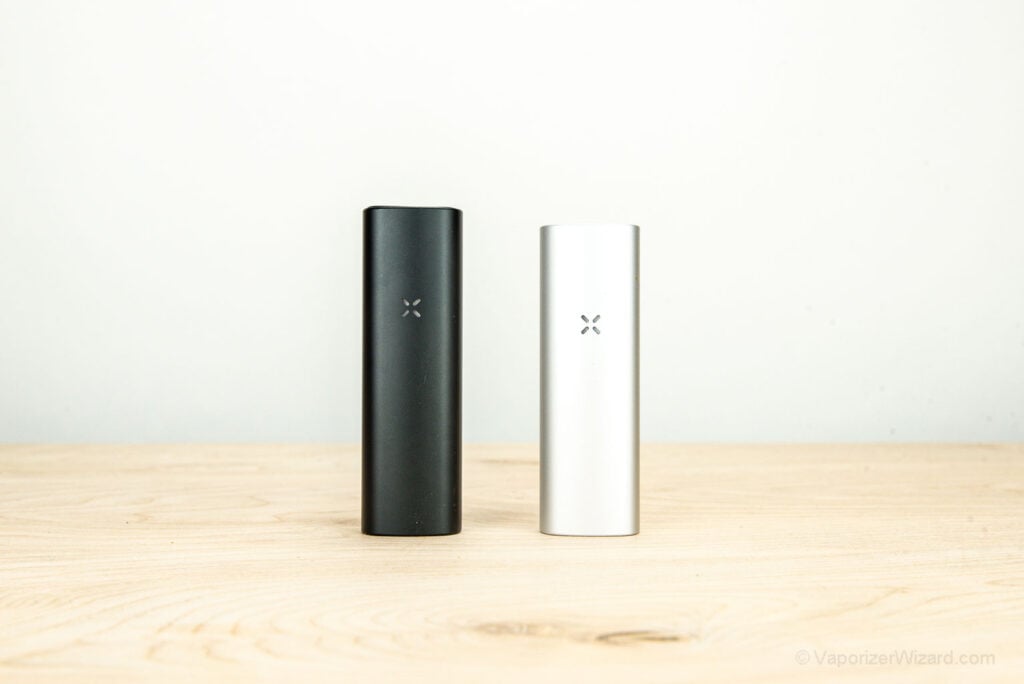 More Options – If you aren't entirely sold on the Pax Plus, I recommend first checking out the Pax Mini because it's basically the same device internally, and it's roughly $100 cheaper at $150 retail. You only get one experience mode and no concentrate insert, but I've honestly never used the Pax vaporizers for concentrates outside of testing to see if it actually works. It does work, but I'd much rather grab a nice dab rig like the RiO (read review) for the best session experience with concentrates. Check out the Pax Mini at Pax Labs here.
Overall – The Pax Plus is just a simplified version of the Pax 3 vaporizer. I think this was a play to change the name (From Pax 2/3 to Pax Plus/Mini) and get away from the smartphone app, which has been banned in the Apple store since November 2019. The app was "cool" and offered some great customizable options but was never really needed, or I never used it anyways.
So while the Pax Plus isn't a huge "upgrade," it's precisely what the company needed to move forward with a device they could properly market and make money off of for future products. I have no doubt that they have multiple products in the works. At least, I'm really hoping so.
The Pax Plus is rated 9.24/10 and dubbed the "Most Portable Vaporizer" for 2023. You can click here to check out the Pax Plus directly from Pax Labs or check out more options, plus coupon codes below.
I hope this Pax Plus vaporizer review helped you decide whether or not the Pax vaporizers are right for you. Feel free to hit me up with any questions in the comments below.
Buying Options + Coupon Code
Performance by Category
| Category | Rating |
| --- | --- |
| Vapor Quality | 8.8 |
| Ease of Use | 9.0 |
| Build Quality | 9.5 |
| Reliability | 9.8 |
| Portability | 9.7 |
| Efficiency | 8.8 |
| Battery Life | 9.0 |
| Cleaning | 8.9 |
| Value | 9.0 |
| Warranty: | 9.8 |
| Pax Plus Rating: | 9.23/10 |
Pax Plus Technical Specs
| | |
| --- | --- |
| Name: | Pax Plus Vaporizer |
| Category: | Most Portable Vaporizer |
| Manufacturer: | Pax Labs |
| Rating: | 9.23/10 |
| Price: | $250 |
| Materials: | Dry Herbs and Concentrates |
| Temp Range: | 360F – 420F |
| Heating: | Conduction |
| Battery Life: | 5 – 7 Bowls |
| Charging Type: | Charging Dock |
| Charging Time: | 90 Minutes |
| Warranty: | 10 Years |
| Extras: | Haptic Feedback |
Pax Plus Pros and Cons
Pax Plus Vaporizer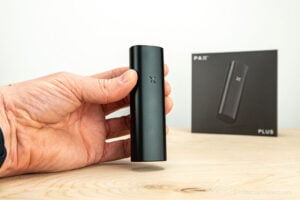 The Pax Plus is a multi-use portable vaporizer made by Pax Labs. It has the option to use both dry and concentrates but functions primarily as a dry herb vaporizer. The device is very pocket-friendly, lightweight, and features a durable rugged outer shell. I use my Pax vaporizers most for outdoor activities like biking, hiking, skating and skiing. The Pax Plus is a bit pricey for the current market and the features offered but Pax vaporizers are known for their reliability, great warranty and customer support. All things to consider when purchasing a portable vaporizer. Check out my Pax Plus vaporizer review for pricing, comparisons, performance specs, and coupon codes.
Product Brand: Pax Labs
Pros
Pocket-Friendly
Quick Heat-Up
Durable Build
Single/Multi-Person Use
Easy-to-Use
10-Year Warranty
Cons
Price
Draw Resistance
Cleaning
Proprietary Charger
No USB-C
More Pax Reviews
Resources / Links
https://en.wikipedia.org/wiki/Pax_Labs
https://www.pax.com/pages/faq
https://pax.kustomer.help/en_us/mini-plus-battery-charging-Bkl1jUCds
https://techcrunch.com/2012/06/17/an-interview-with-the-creator-of-the-ultracool-pax-vaporizer/