The Healthy Rips ROGUE is a dry herb extraction device (vaporizer) featuring a hybrid heating system, a large battery for heavier users or group scenarios, and USB-C for fast charging.
The ROGUE vaporizer is made by Healthy Rips, which not only manufactures but also distributes its products allowing them to keep prices lower than the average vaporizer manufacturer.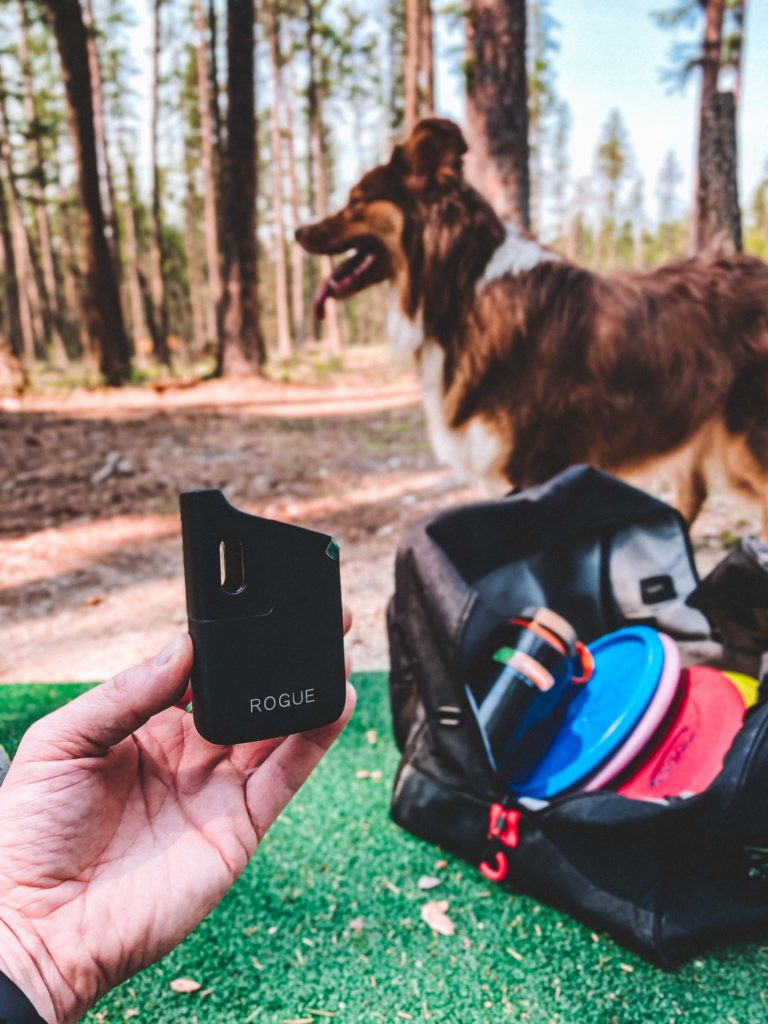 | | |
| --- | --- |
| Name: | Rogue Vaporizer |
| Manufacturer: | HealthyRips |
| Rating: | 9.1/10 |
| Price: | $159 |
| Materials: | Dry Herbs |
| Temp Range: | 280F – 430F |
| Heating: | Conduction |
| Battery Life: | 6-8 Bowls Avg |
| Battery Type: | Non-Replaceable / Rechargeable / 3000mAh |
| Charging Type: | USB-C / 90 Minutes |
| Warranty: | Read Below |
Healthy Rips also manufactures the Fury Edge vaporizer (read review), the smaller version of the new ROGUE. They did away with the Fury 2, which is similar to the POTV One vaporizer. Check out my POTV One review for more info.
I use my ROGUE vaporizer most for outdoor adventures, specifically biking, hiking, and skiing because it has a powerful, long-lasting battery, quick heat-up times, and the outer shell is basically indestructible. I also like to use it at home with a bubbler when I'm not using the Volcano Hybrid. (Volcano Hybrid Review)
The ROGUE is a great vaporizer for pretty much everyone unless you need a replaceable battery system or want a convection-style portable for micro-dosing throughout the day.
It also comes with a one-year free replacement warranty and ½ price replacement warranty for life. Read on below for my full Healthy Rips Rogue vaporizer review or click here to check out the ROGUE directly from Healthy Rips.
ROGUE Size and Portability
The ROGUE (181g) is a bit bigger and heavier than the smaller Fury Edge (161g) version but still easy to pocket and use out on the go. The increased weight and size came from a bigger chamber (13mm vs 11mm) and a larger battery (3000mAh vs 2300mAh).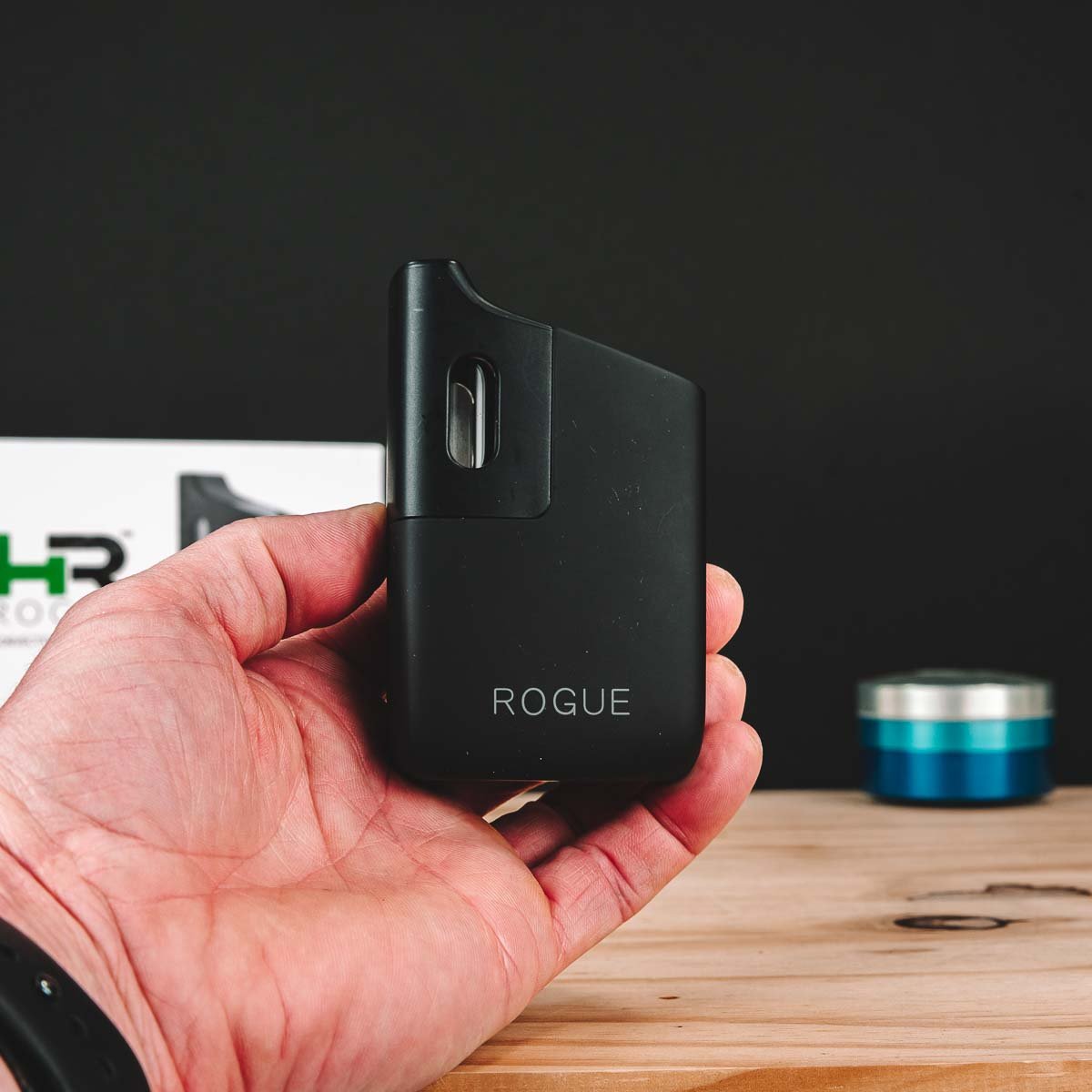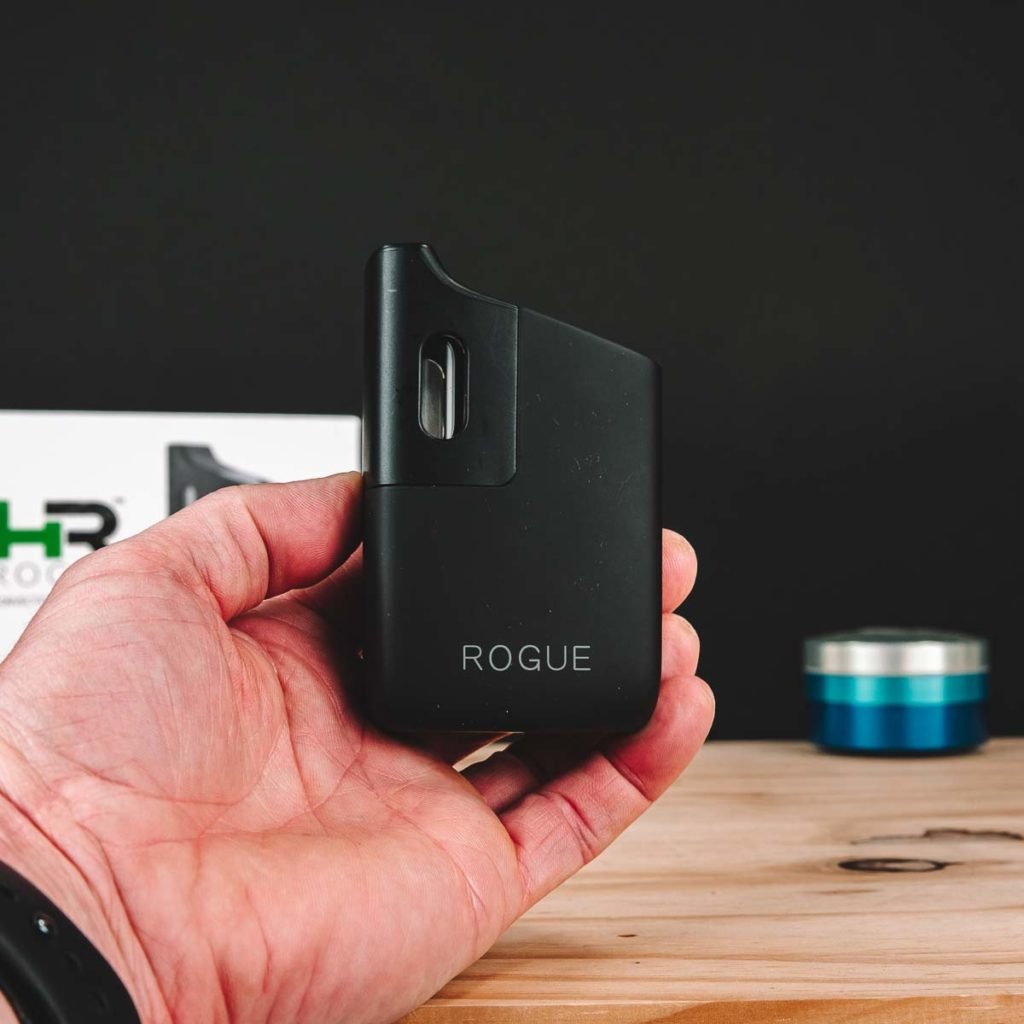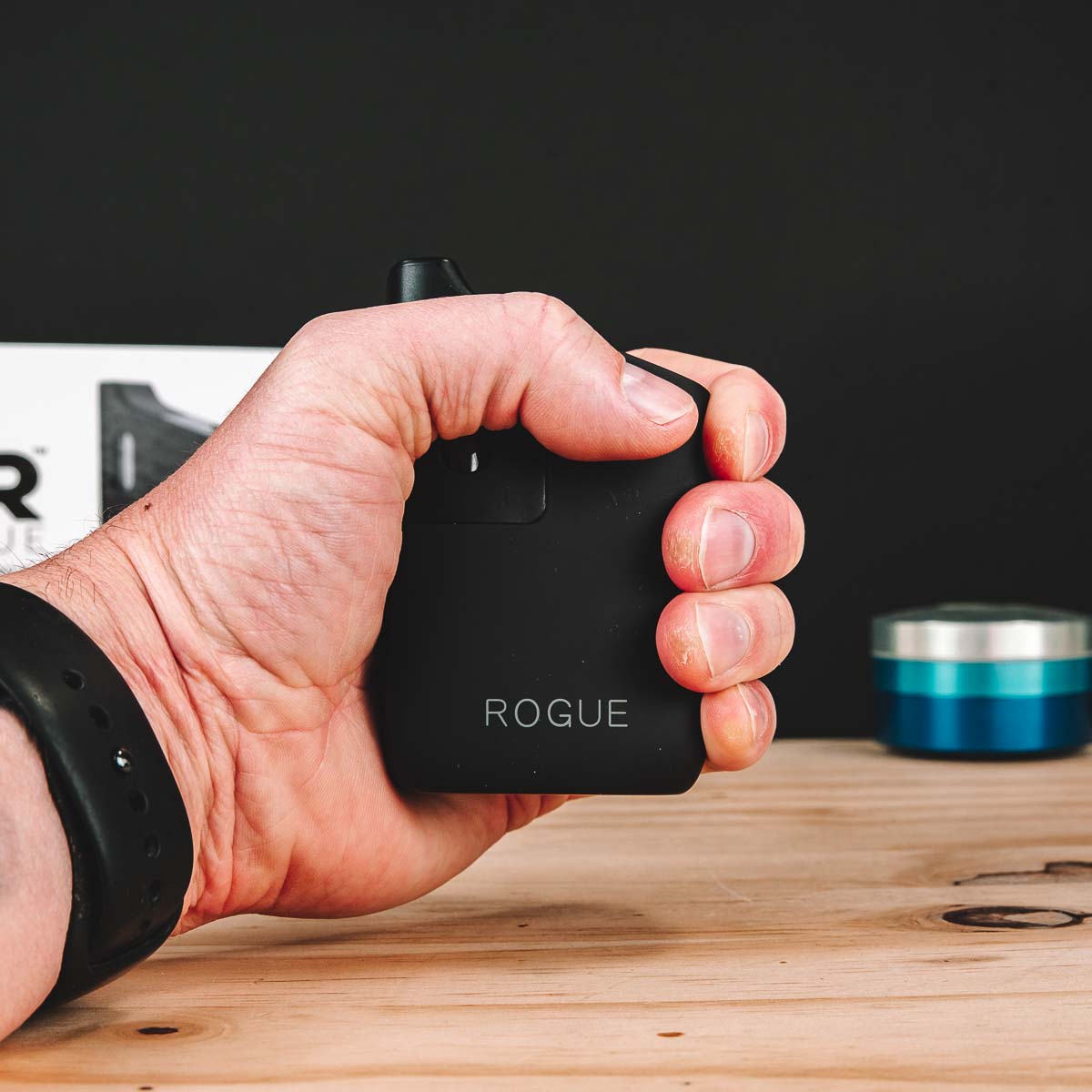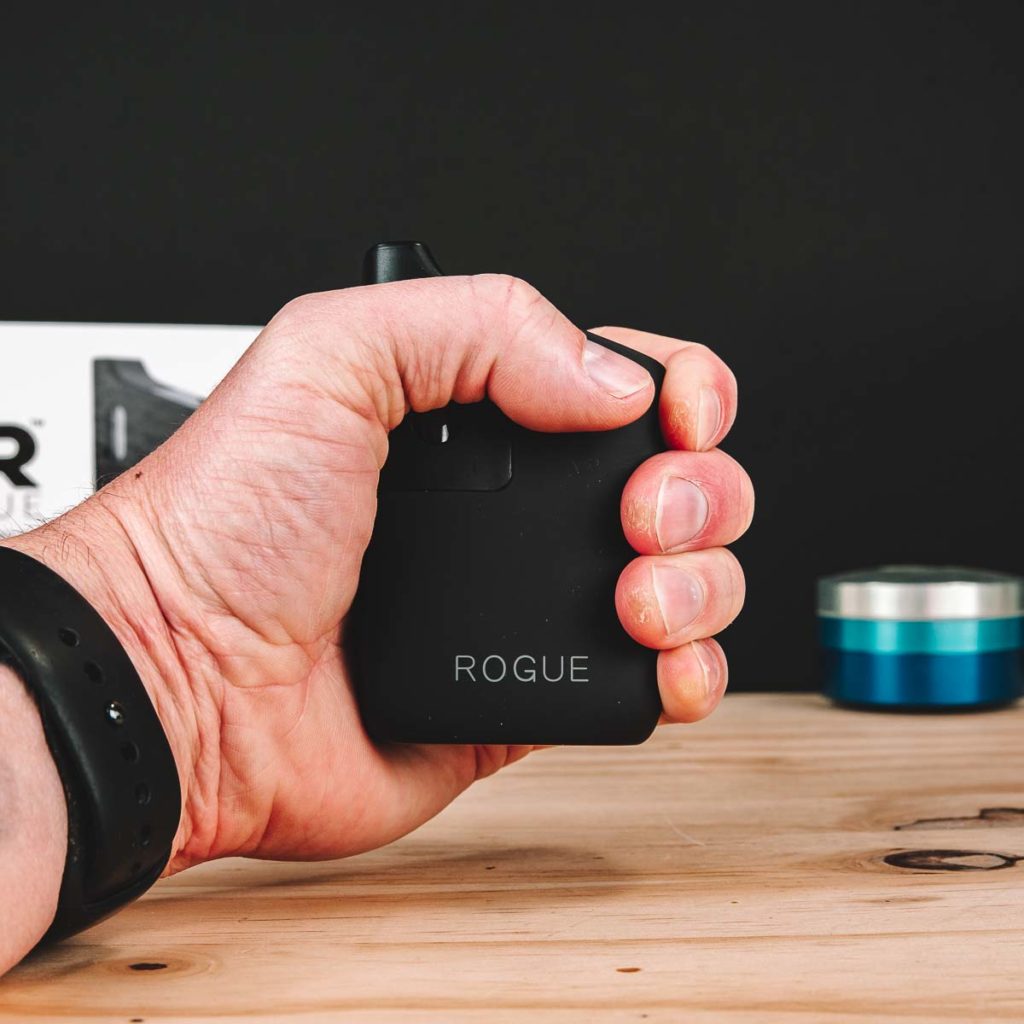 With those additions, the ROGUE is now a much better vaporizer, when compared to the Fury Edge, for heavier users and group scenarios. It's easy to pass around and still small enough to put back into your pocket.
I do personally think it's a little heavy, especially when compared to something like the POTV One or Davinci Miqro-C (read review), but overall the slim form factor and smooth outer shell make it easy to pocket on the go.
HR ROGUE Build Quality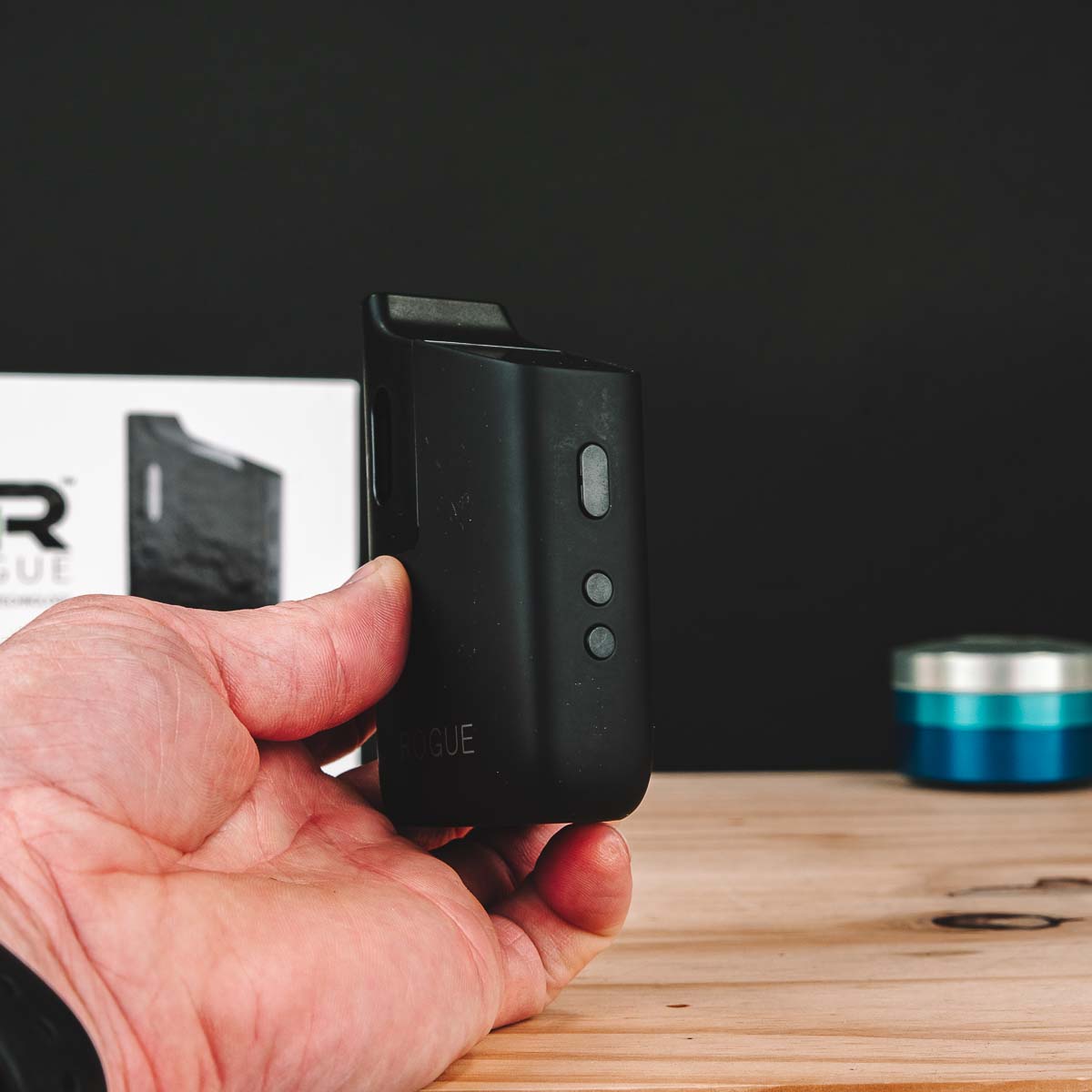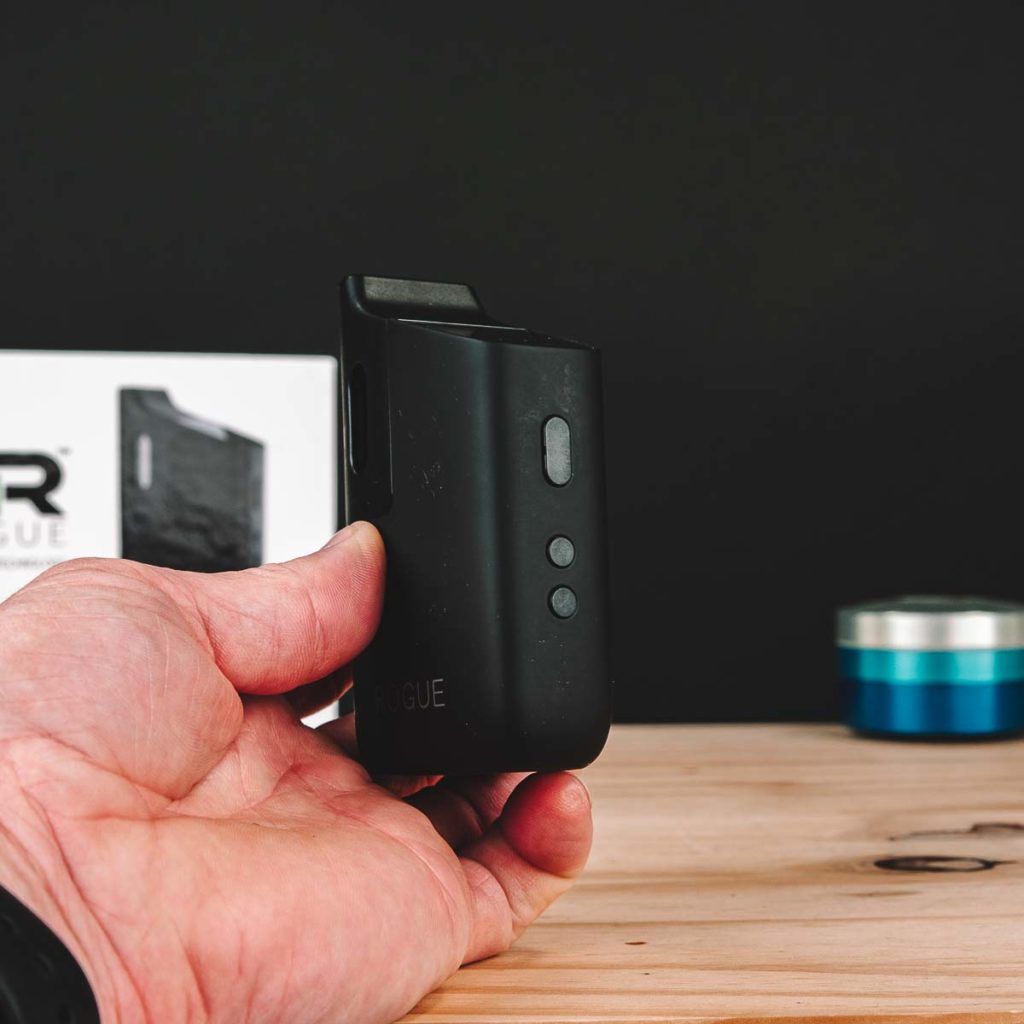 The ROGUE's outer shell is made from Kirksite Alloy, a mix of zinc, aluminum, and copper, making it one of the most durable portable vaporizers you can buy. The added beefiness does increase the overall weight, but it still feels good in the pocket and fits nicely in hand.
The mouthpiece fits together nicely.
The buttons are high quality without any weird imperfections.
The screen is easily readable, although I do wish it was brighter because it's pretty hard to see in direct sunlight.
The Haptic feedback is quick and subtle.
The charging cable and port fit together nicely.
I've had zero issues with ANY of my Healthy Rips vaporizers over the years.
Overall, the ROGUE and Healthy Rips vaporizers in general, are very durable and reliable.
Included in the ROGUE Box
The ROGUE vaporizer comes with everything you need to use it. You will need to fully charge the battery before use, and I recommend cleaning everything off with a Q-Tip and some isopropyl alcohol before use—especially the chamber, mouthpiece, and screens.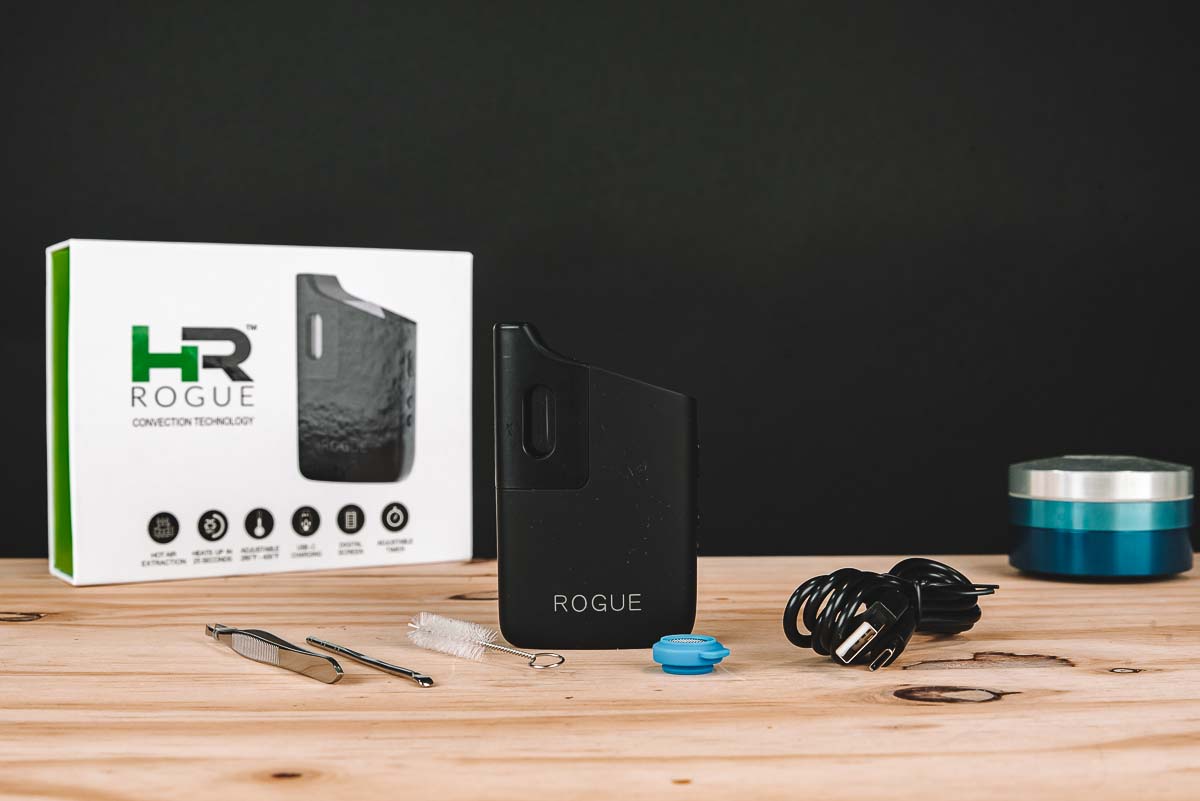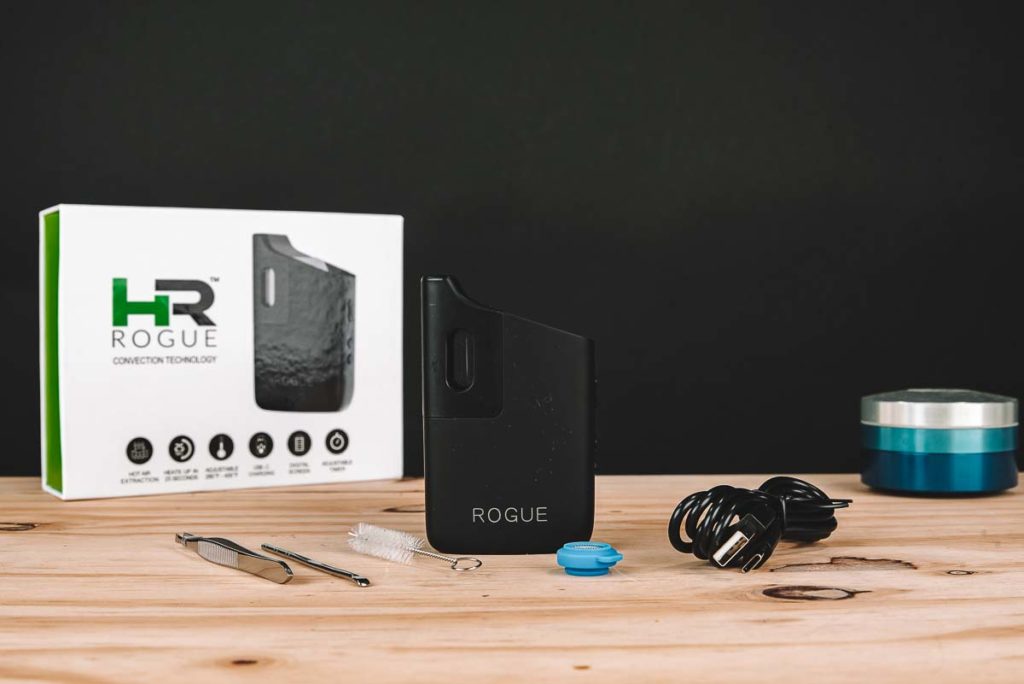 Rogue Dry Herb Extraction Vaporizer
Protective Cover / Smell reduction
Glass Air Path Mouthpiece
WPA
Extra O-Ring & Screen Set
Cleaning Tool
USB-C Charging Cord
Tweezers / Brush
Users Manual
Check out some more options for ROGUE accessories below.
ROGUE Accessories + Extras
The Rogue dry herb extraction device comes with everything you need to vape dry herbs. However, I recommend picking up a few accessories to make your session experience a little better. The first accessory that I think the majority of you will want is the ROGUE dosing capsules.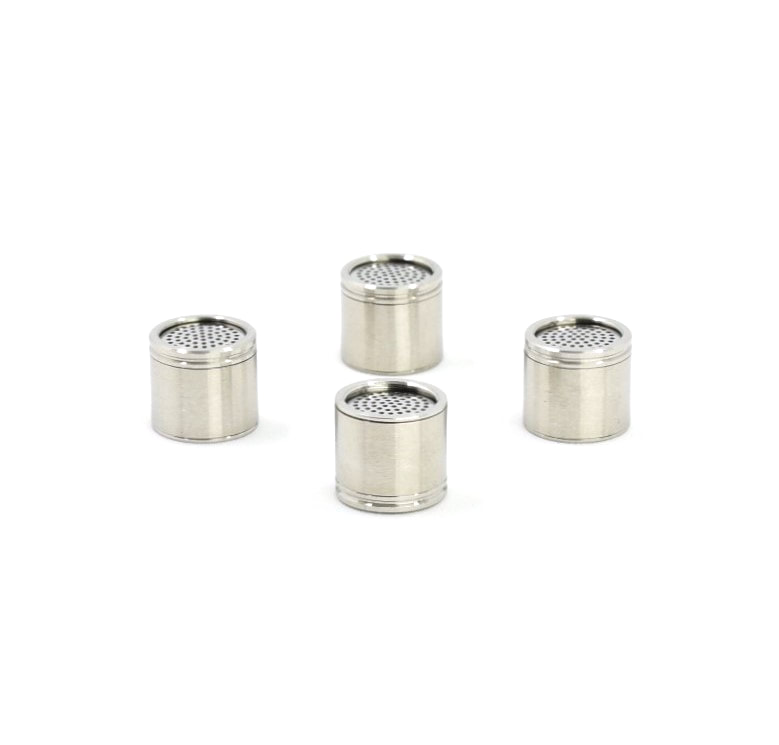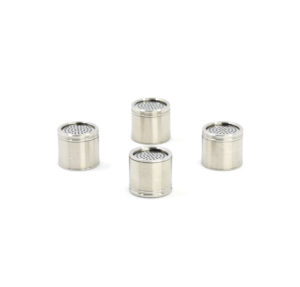 Rogue Dosing Capsules – The ROGUE Dosing Capsules allow you to pre-pack a set amount of dry herbs or concentrates in a canister (capsule) and then place the said capsule into the vaporizer chamber. This means no herbs are coming into contact with the chamber and keeps everything much cleaner.
Not everyone is a fan of the dosing capsules and I talk more about why here in my vaporizer dosing capsule guide, but I feel like they add more conduction heating and drop the overall vapor quality. They also add a bit of draw resistance because of the screens and smaller space in the chamber.
They are, however, great for keeping the device clean, micro-dosing, and swapping out bowls easily on the go. A lot of people use the dosing capsule system on a daily basis and it makes a lot of sense. The ROGUE dosing capsules are specific to the size of the ROGUE chamber and will only work with the ROGUE.
ROGUE Glass WPA – The next accessory that I recommend is the ROGUE Glass WPA and a bubbler—something like the Sneaky Pete Mega Globe.
The heat and dryness from vaporizers can take a toll on the lungs. Water filtration is an excellent way to provide moisture and allows for much bigger rips at higher temps.
This is my preferred way to use my ROGUE at home and I think you will really enjoy this setup as well.
External Battery Packs – Lastly, the ROGUE offers great battery life per full charge but just in case, I always keep an anker battery pack in the truck with me. Most of the smaller versions will fully charge the ROGUE multiple times over and make sure that you never run out of battery life.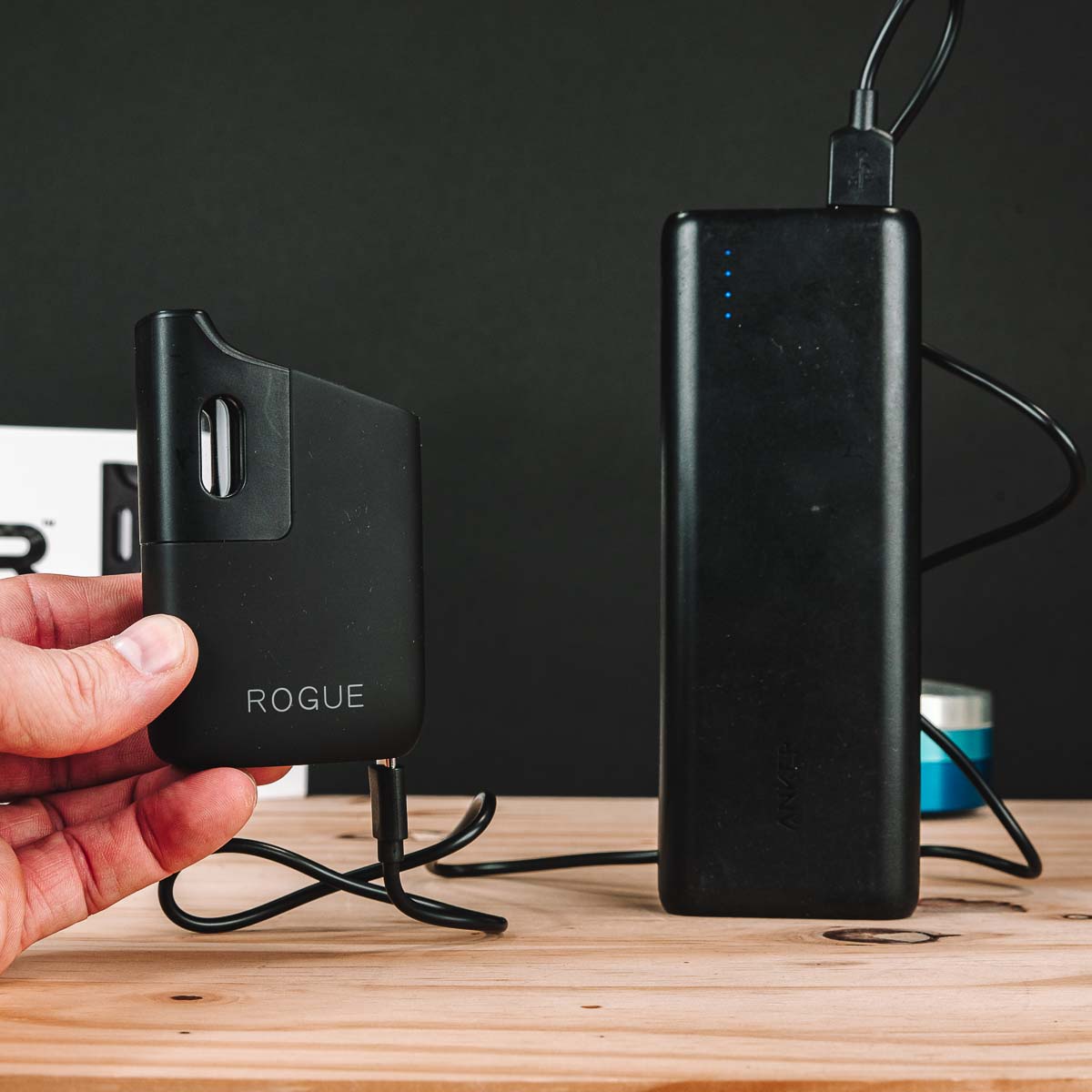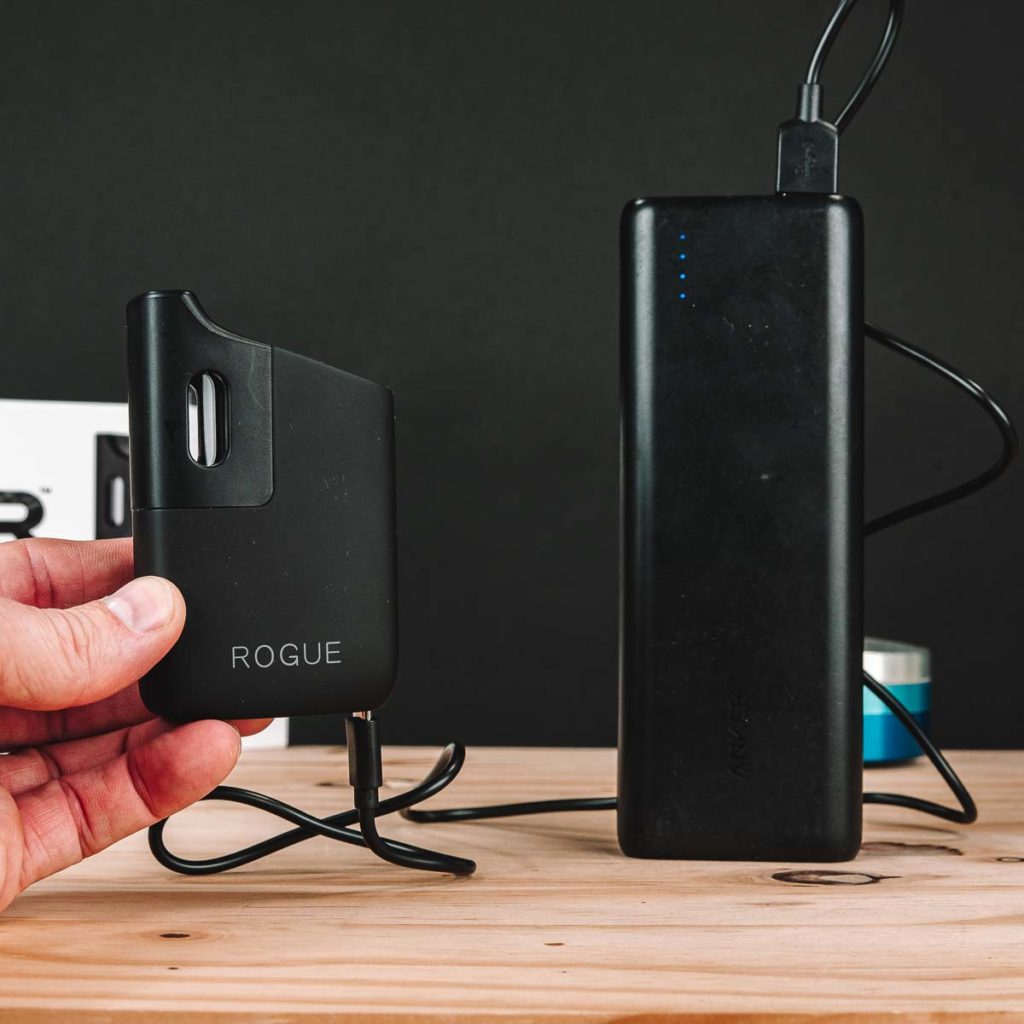 Again, none of these accessories are needed, the ROGUE comes with everything you need to vape dry herbs but these can help boost those sessions a bit.
Battery Specs and Charging Info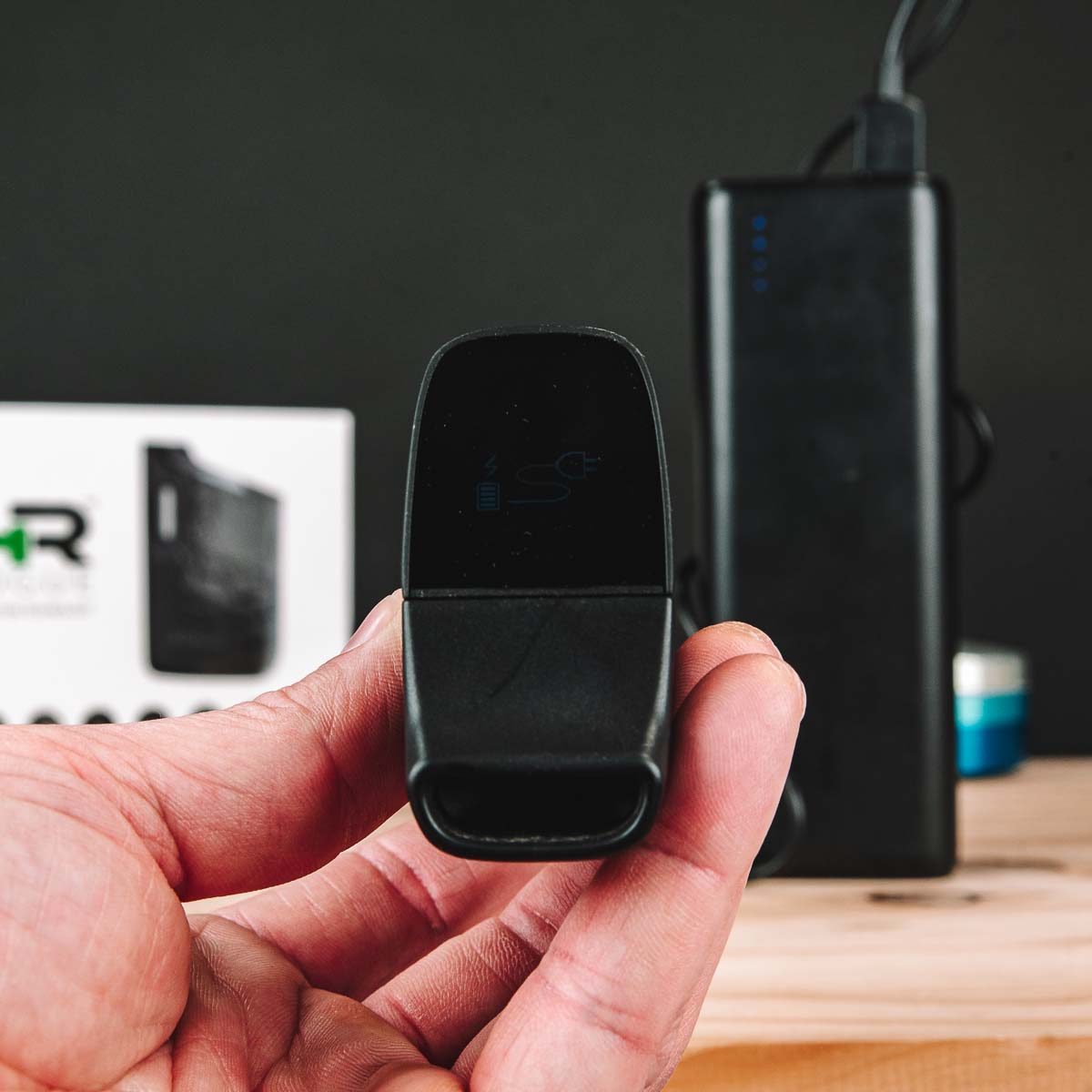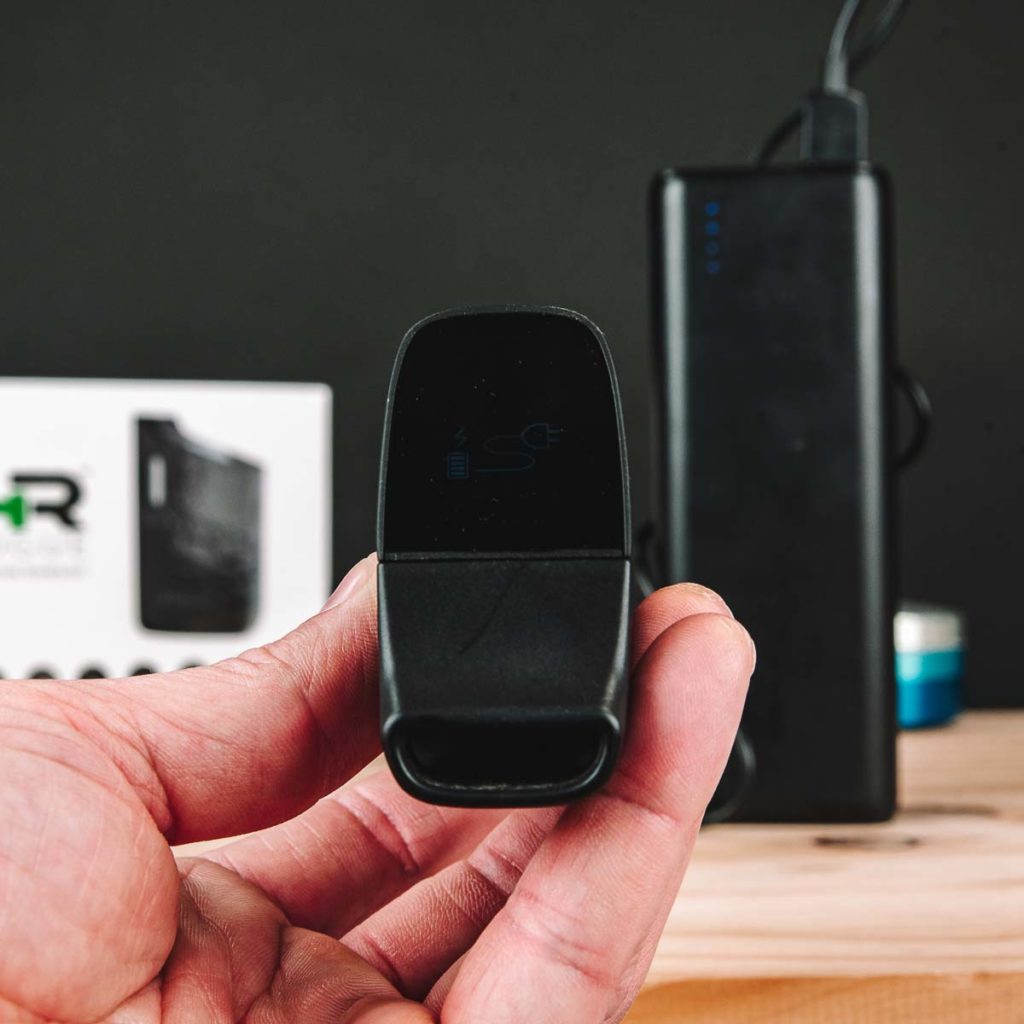 The new ROGUE vaporizer comes with an upgraded 3000mAh battery and features faster USB-C charging than the previous Fury Edge model.
I've been averaging about 90 minutes on a fully charged battery and it takes roughly 90 minutes to fully charge the ROGUE battery from dead via USB-C 5V/2A charging.
While vaporizers like the new Mighty+ (Mighty+ Review) or the Solo 2 (Solo 2 Review) still reign king for the best average battery life, the ROGUE is definitely above the market average and smaller than both of those vaporizers.
I have yet to kill a full battery while out on an adventure but if you feel like you might, the USB-C charging allows you to charge the ROGUE anywhere practically. I personally use the ANKER battery packs while out on the go or if I'm out camping for a few days. They make some super small battery packs nowadays that can charge the ROGUE multiple times over.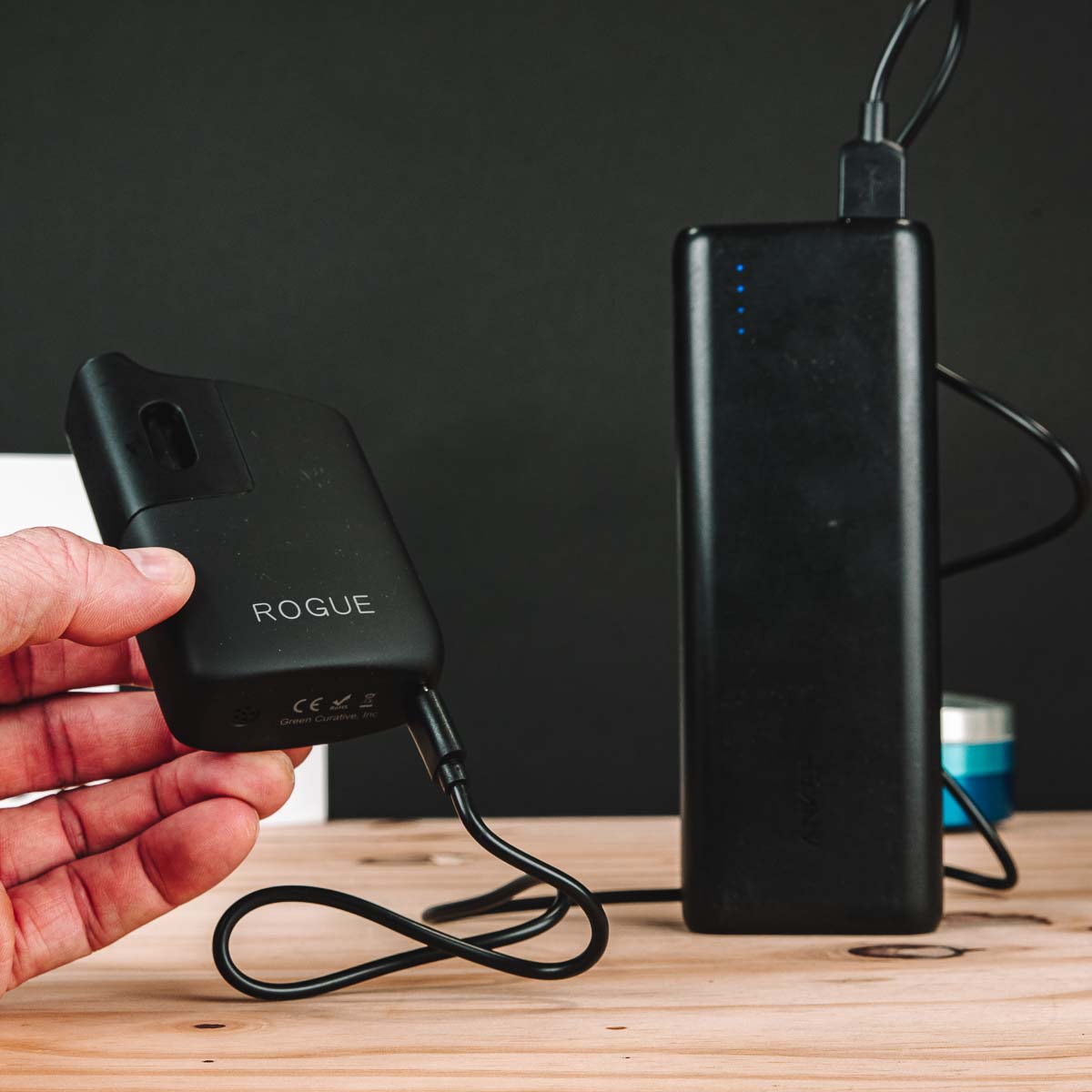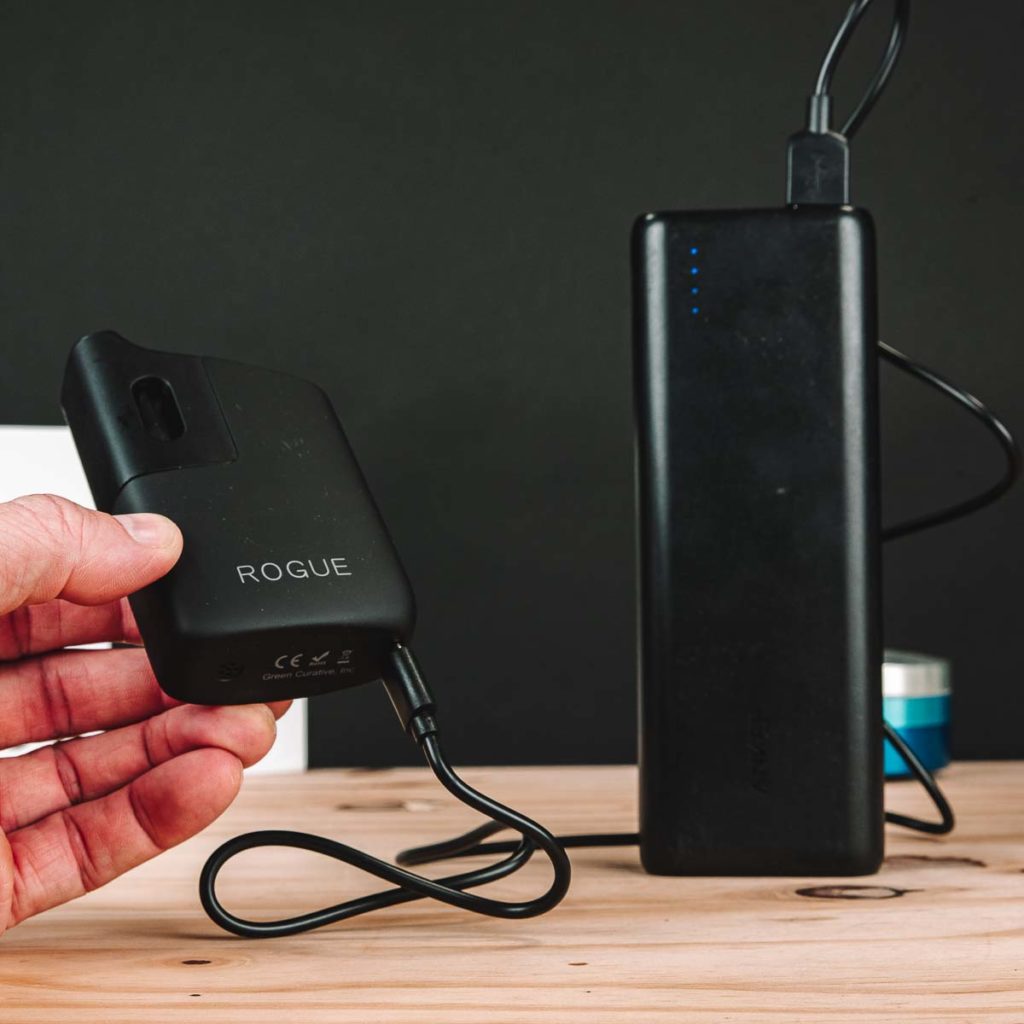 Bottom line, the ROGUE offers great battery life for its size and can charge faster than most other portables via the USB-C 5V/2A charging. No replaceable battery system though.
Heating and Temp Options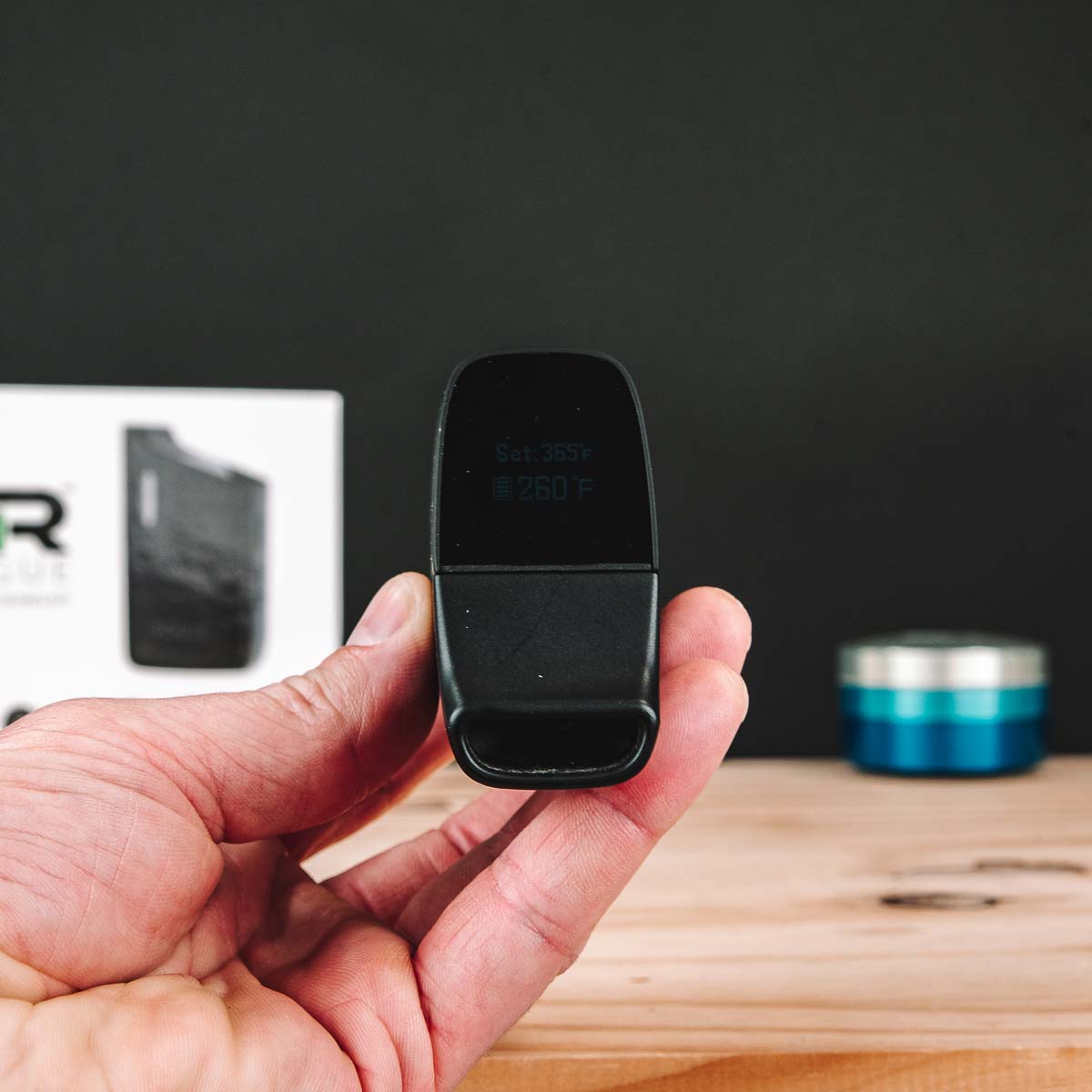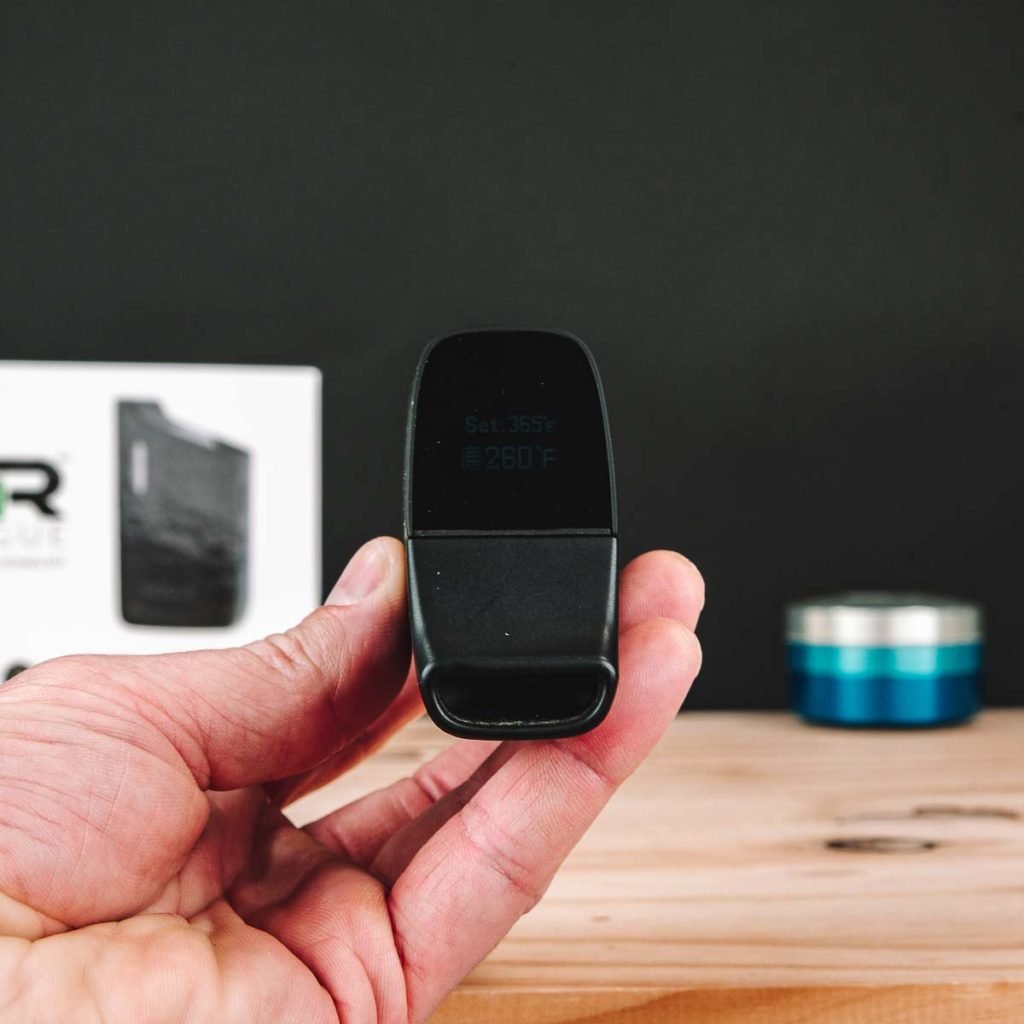 The ROGUE uses a stainless steel heating coil and is dubbed a hybrid heating style vaporizer because it utilizes both convection and conduction heating properties.
The Healthy Rips ROGUE features a full temperature spectrum ranging from 280F – 430F (138C – 221C) and heats up in as little as 30 seconds.
The ROGUE also upgraded the session timer and can be set from 3 to 8 minutes via the display. You can use the session timer and ROGUE dosing capsules to create a quick three-minute micro-dosing session or set it to eight minutes for a big group session.
The quick heat-up times is one of the main reasons I find myself reaching for the ROGUE when heading out. Lastly, there's NO pass-through charging on the ROGUE meaning you'll need to get a decent charge first before using it.
Chamber Info and Loading Tips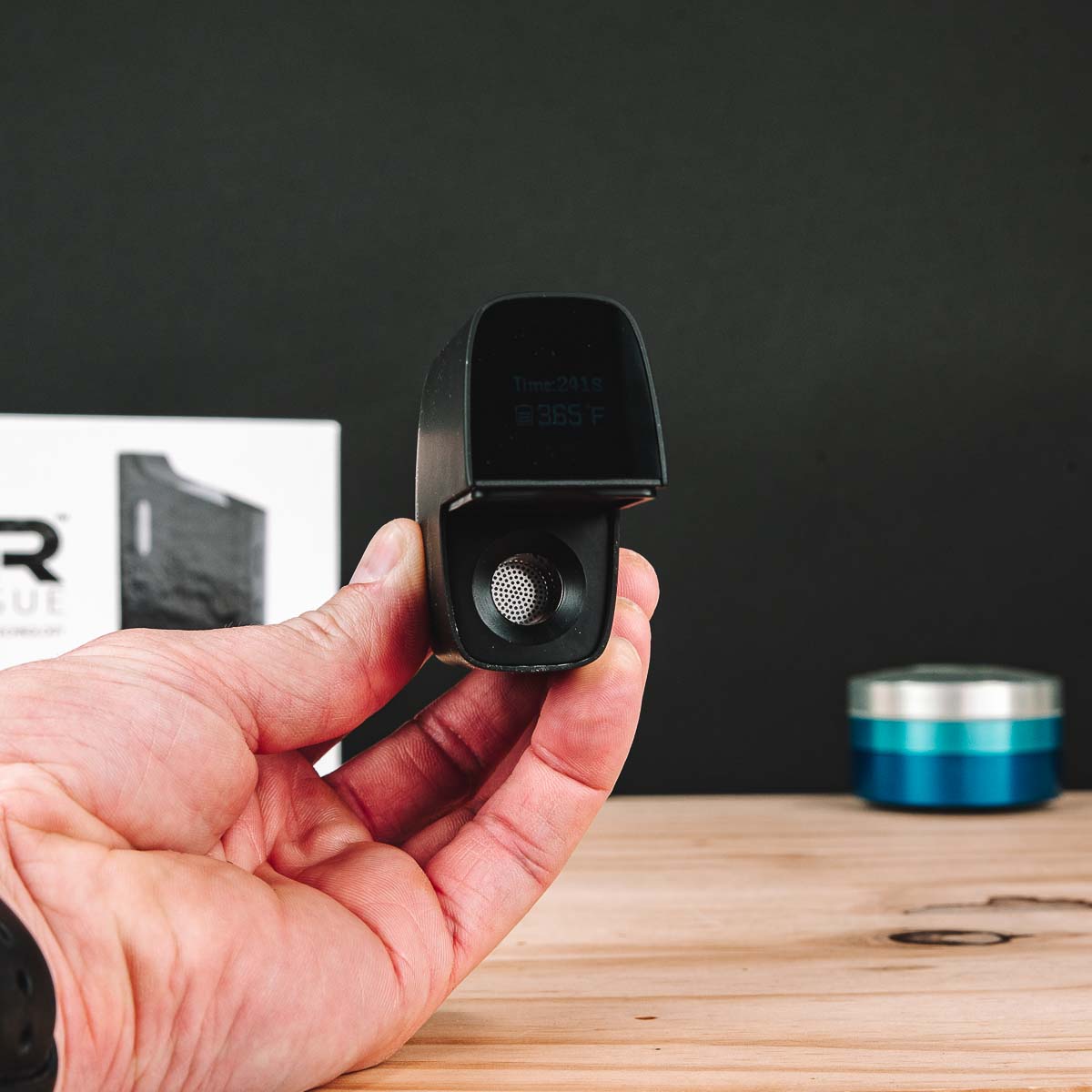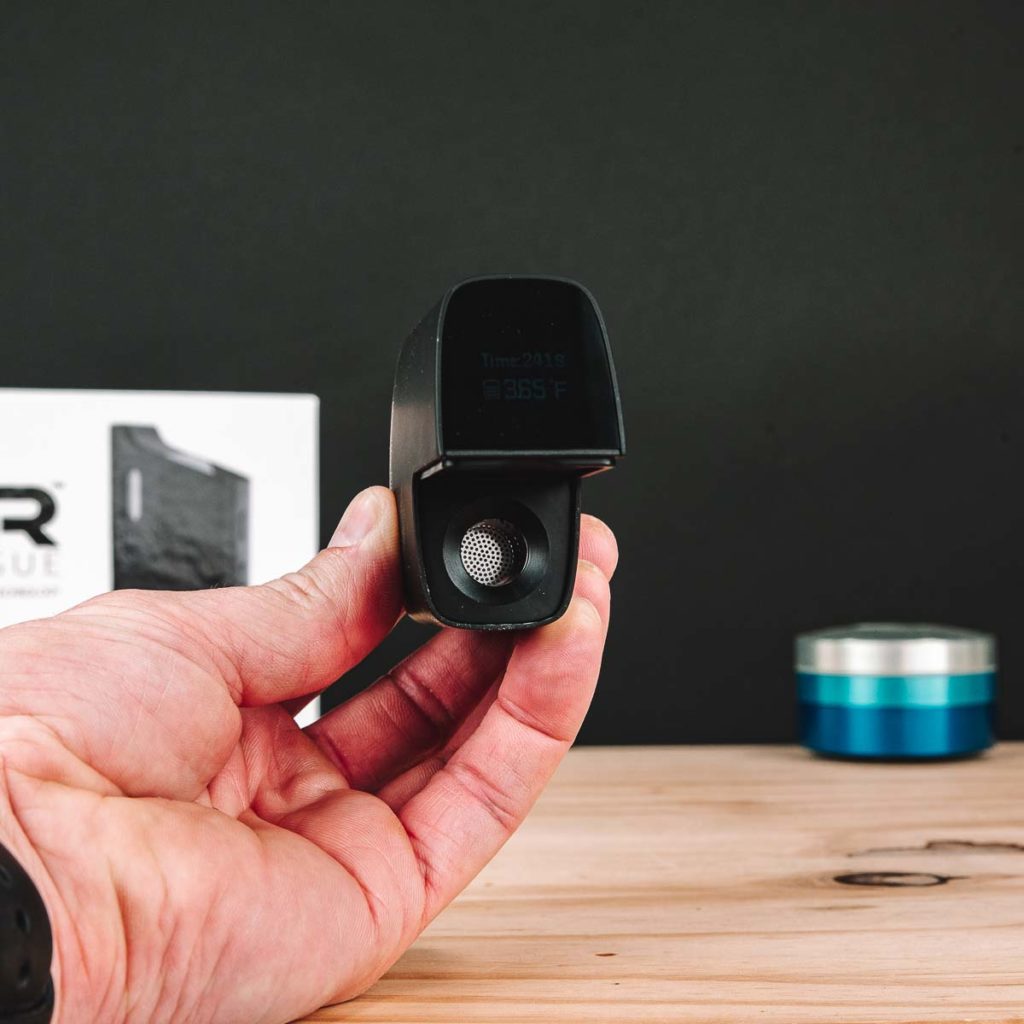 The HR Rogue features a 13mm chamber made from food-grade stainless steel and holds roughly .2 grams of dry herbs.
Loading depends on if you'll be using the dosing pods or not but either way it's best practice to grind your herbs first. A finer grind will work best with the dosing capsules while a medium to average grind will work best if you are loading herbs directly into the chamber.
You can load any amount that you want into the chamber and it will vape it evenly. A quick stir after a couple of draws helps speed up the session a bit but is not necessarily needed.
Be sure to remove the herbs from the chamber immediately after your session to help cut down on cleaning and keep your ROGUE going strong.
Vapor Quality and Draw Resistance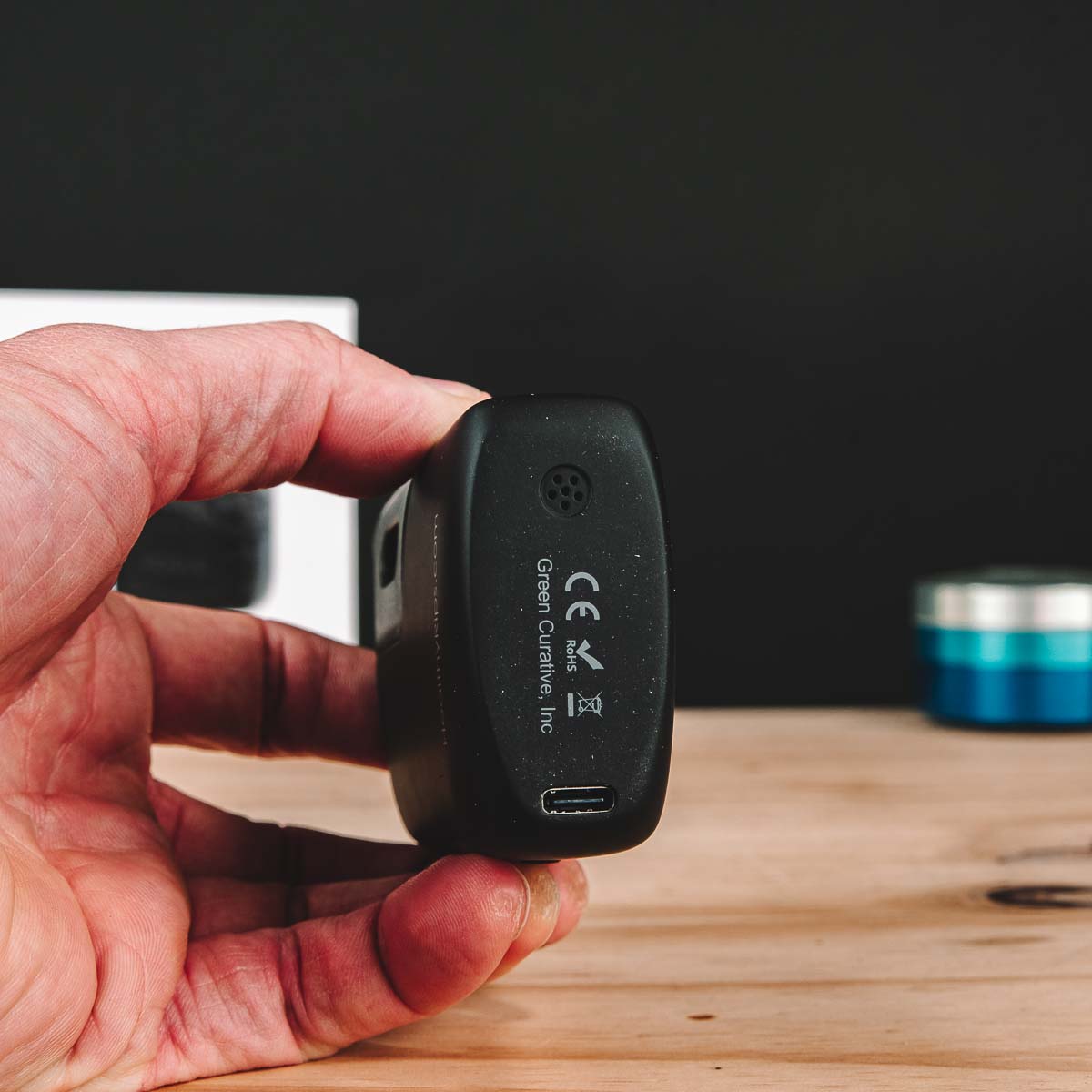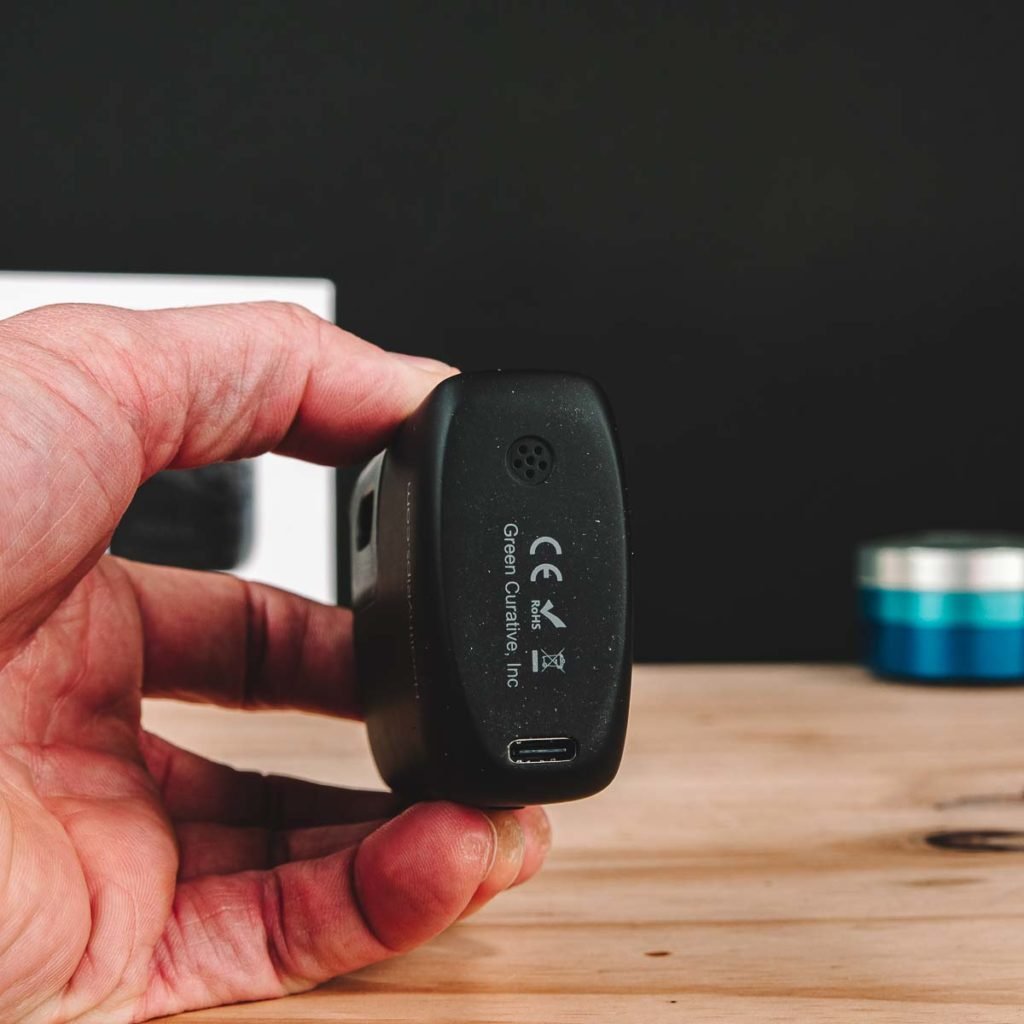 You get a fully isolated stainless steel vapor path with the ROGUE vaporizer and an all glass vapor path. They also make more glass stem mouthpiece options for better airflow and smoother draws.
While I don't think the taste is as good as what you can get with the Crafty+ or Mighty+ vaporizers, the ROGUE and Fury Edge offer better vapor quality than the Pax 3 and Pax 2.
The draw resistance is about average for a conduction-leaning vaporizer. However, it requires a bit of lung power to get this beast ripping. I would check out my Crafty+ review if you wanted the least amount of draw resistance in a portable vaporizer.
Rogue vs Fury Edge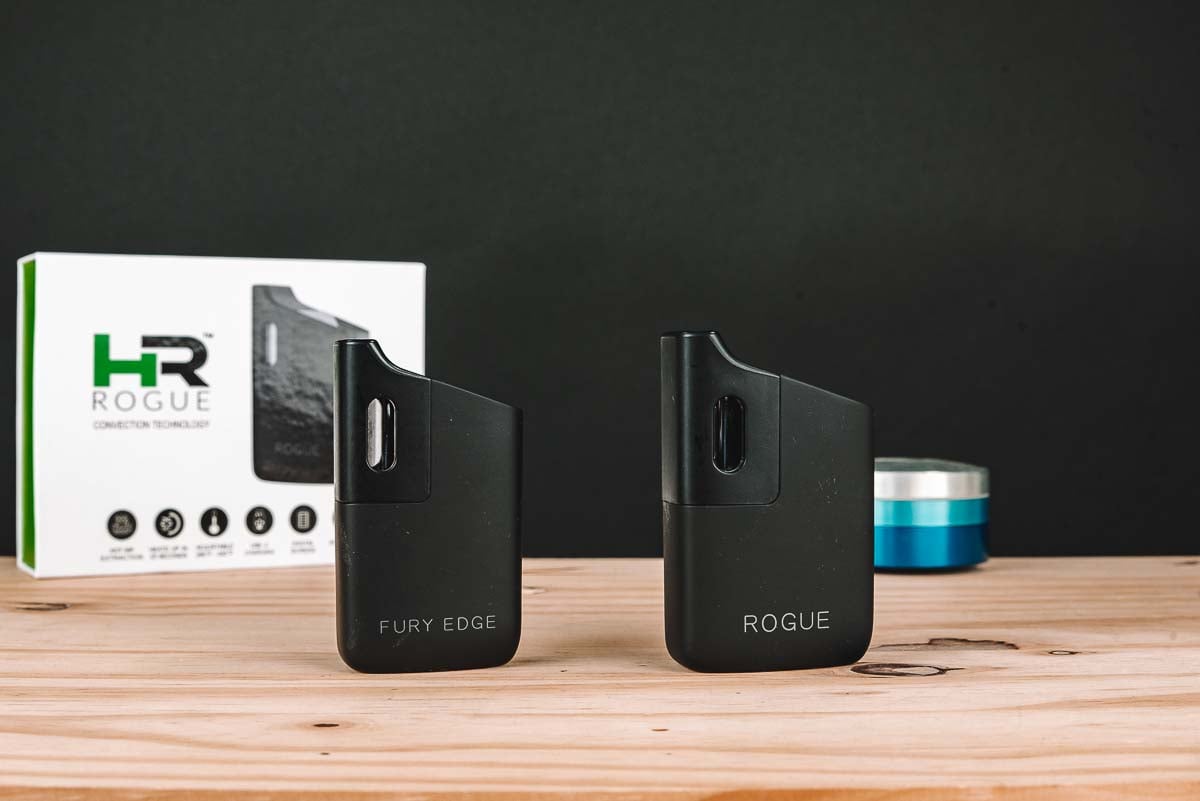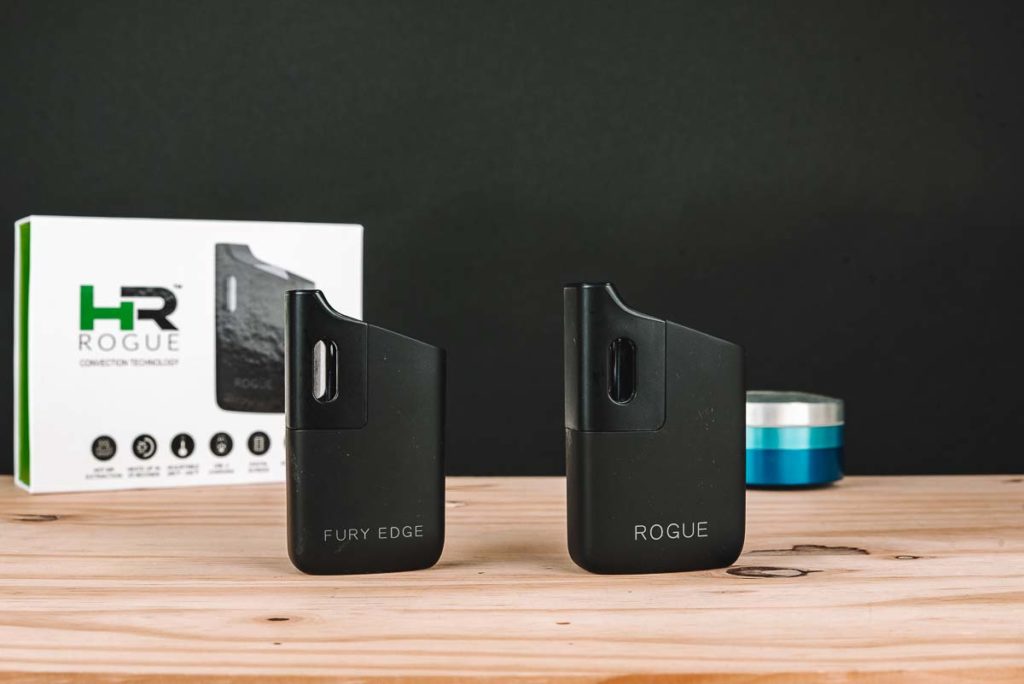 The Rogue is an upgraded version of the Fury Edge and slightly more expensive. Here are the differences between the Healthy Rips Rogue and the Fury Edge:
Bigger Chamber Size (13mm vs 11mm)
Larger Battery (3000mAh vs 2300mAh)
Up to 8 Minute session timer (7 on Fury Edge)
Faster USB-C Charging (5v/2A vs 5v/1.5A)
So with the upgrades, you'll have a larger chamber which is better for heavier users or group scenarios, an upgraded battery averaging 7-9 bowls per full battery and a faster charge from dead via the USB-C 5V/2A.
I average between 5-6 bowls on a full charge with the Fury Edge so the Rogue is a nice upgrade if you consider yourself an above-average consumer-like yours truly especially with the increased chamber size.
Maintenance and Cleaning
The cleaning and maintenance with the Rogue is pretty straightforward and simple especially if you pick up some of ROGUE dosing capsules.
When the dosing capsules get dirty, all you have to do is throw the dosing capsules into a ziplock bag with some isopropyl alcohol and let them sit for 5-10 minutes. Rinse them off, let them dry, and you're good to go.
When the Rogue chamber starts to get dirty, you can brush out the debris and then put a small amount of isopropyl alcohol on a q-tip and clean out the chamber. Be sure to hold the unit upside down so no liquids enter the vapor path. AGAIN, only a small amount is needed.
The screens remove easily from the o-rings. Place the screens in with the isopropyl alcohol (or replace them) and wash the o-rings with some warm soapy water.
Use a Q-Tip with a small amount of ISO to clean the mouthpiece and area around the top of the chamber.
That's pretty much it when it comes to cleaning the Rogue vaporizer and I would say I clean it about once every 10 bowls. You can clean it A LOT less if you pick up the ROGUE dosing capsules.
ROGUE Cleaning Tip: The best cleaning advice I can give is to empty out the chamber immediately after a session or pick up the ROGUE Dosing Capsules. This helps keep the bowl and airpath clean of herbs and will sustain the life of your vaporizer.
Warranty Info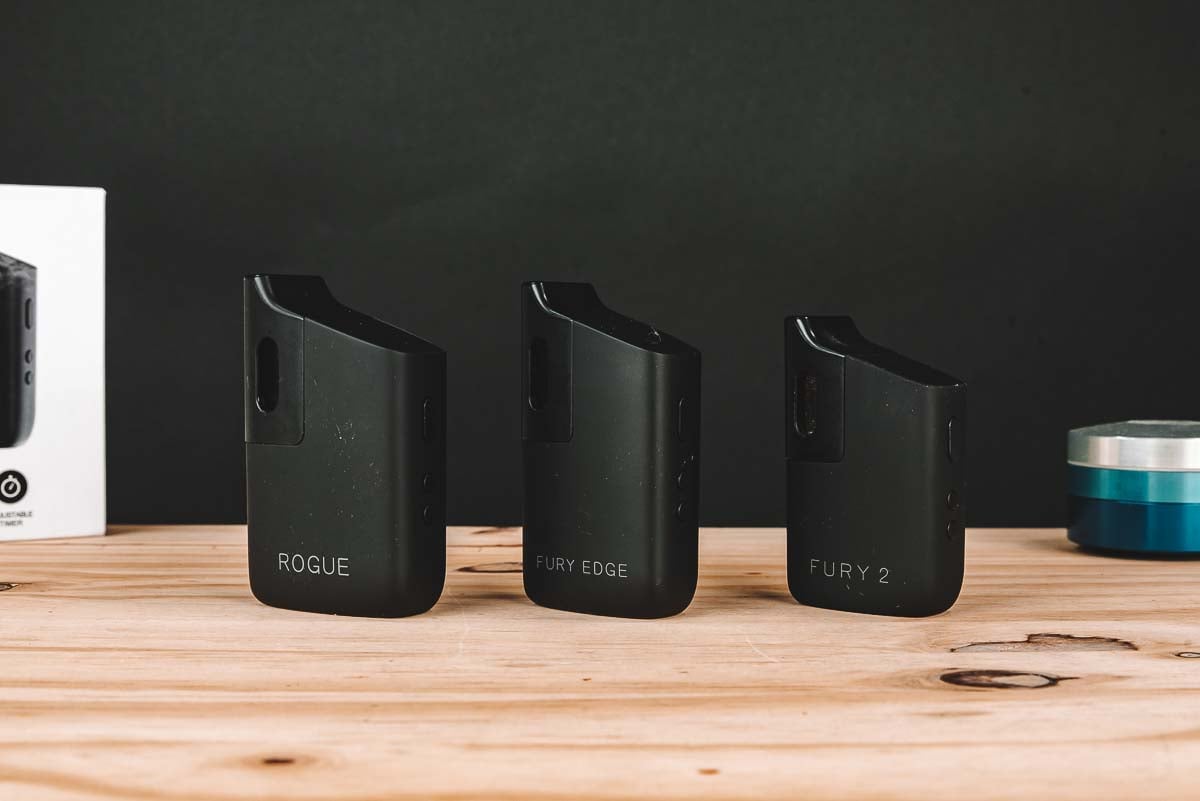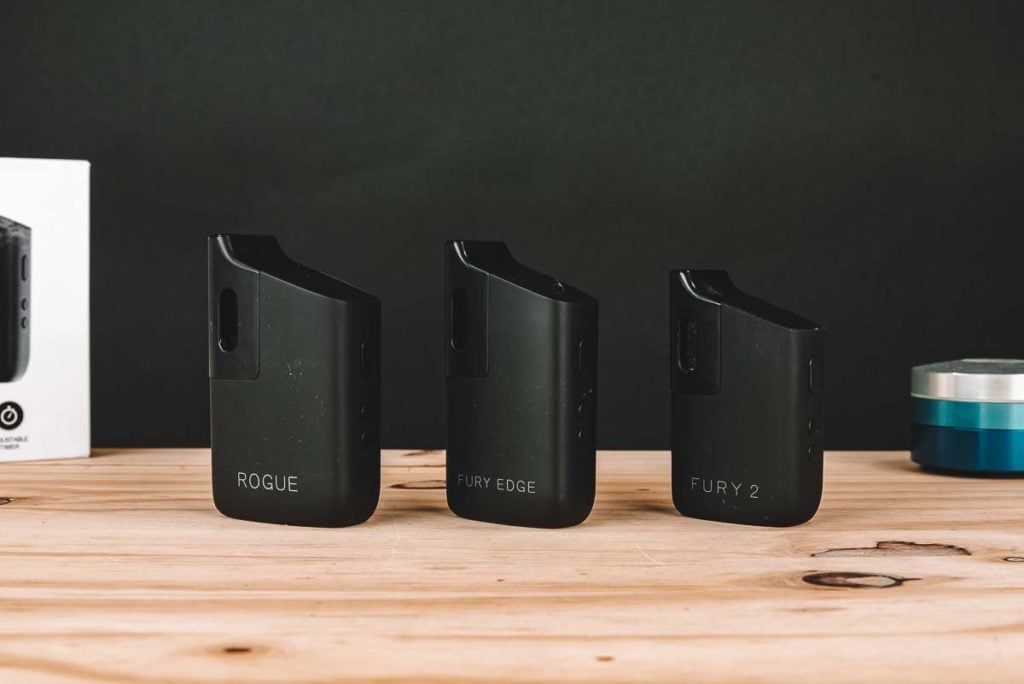 Healthy Rips offers a One-Year Free Replacement Warranty and a Lifetime ½ Price Replacement Warranty. I honestly really like this warranty system because it's no BS. Just a straight replacement if anything were to go wrong and I've heard nothing but good things from Healthy Rips customer service.
ROGUE Review Summary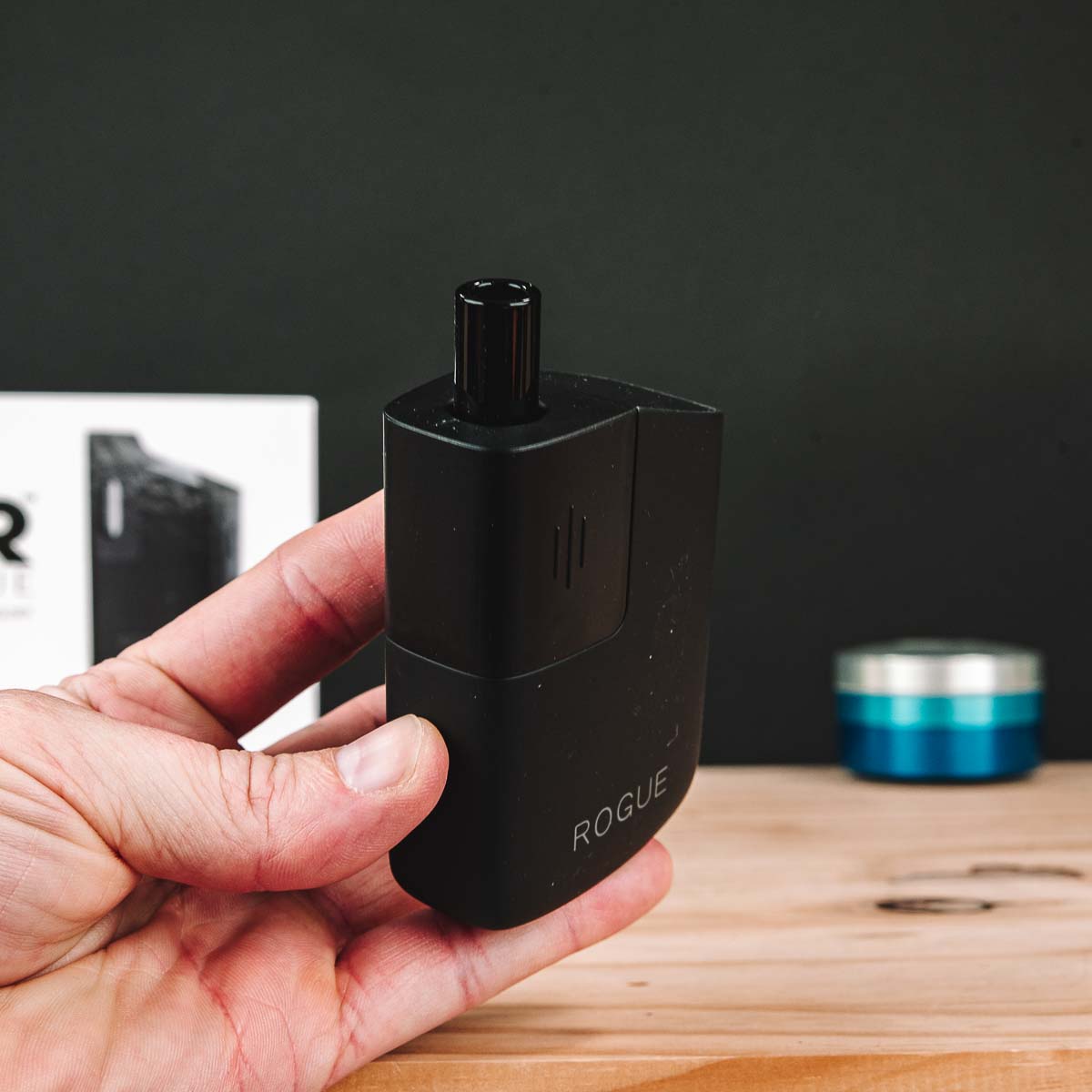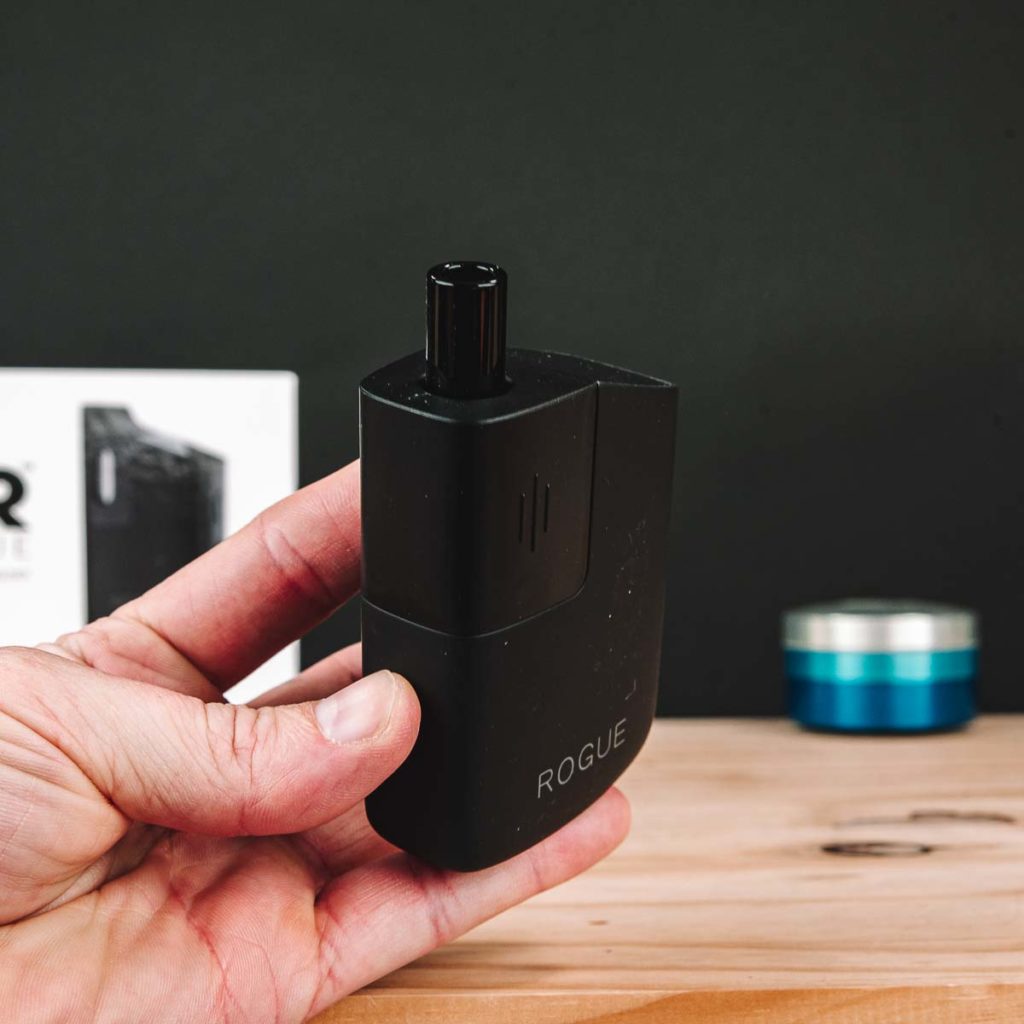 Overall Healthy Rips has released some fantastic products over the last few years and the Rogue is IMO the pinnacle of their devices. The only downside to these vaporizers is the lack of a replaceable battery system. The ROGUE, however, offers great battery life and quick charging, eliminating most needs for a replaceable battery setup.
I think the ROGUE is a great vaporizer not only for first-time buyers but also for heavier users. It's easy to pass, and the chamber is large enough for group sessions. You can also pick up the ROGUE dosing capsules to shrink the chamber size and micro-dose for those single-person sessions.
I would NOT get the ROGUE if you wanted a replaceable battery system or if you were looking for the best vapor quality. Although the ROGUE offers a hybrid heating system, it still leans more towards conduction heating. I would check out something like the Firefly 2+ (Firefly 2+ Vaporizer Review) or the Crafty+ (Crafty+ Vaporizer Review) if you wanted top-tier vapor quality.
If you can't quite justify the $160 price tag on the Healthy Rips Rogue or wanted a smaller vaporizer, I recommend checking out the cheaper but just as powerful, Healthy Rips Fury Edge vaporizer. The Fury Edge (Fury Edge Review) is the smaller version of the ROGUE with slightly slower charging speeds and lower battery life but retails at $129.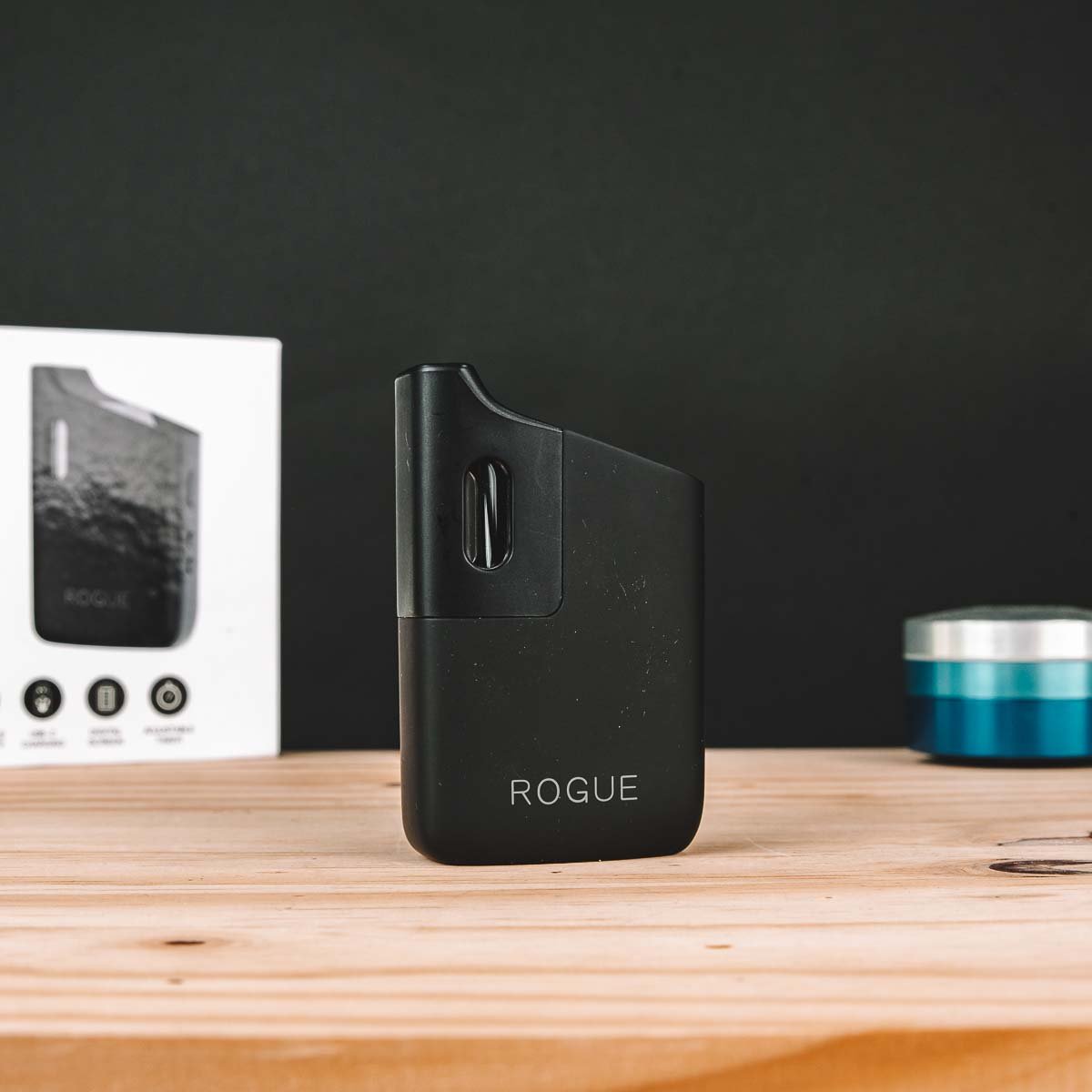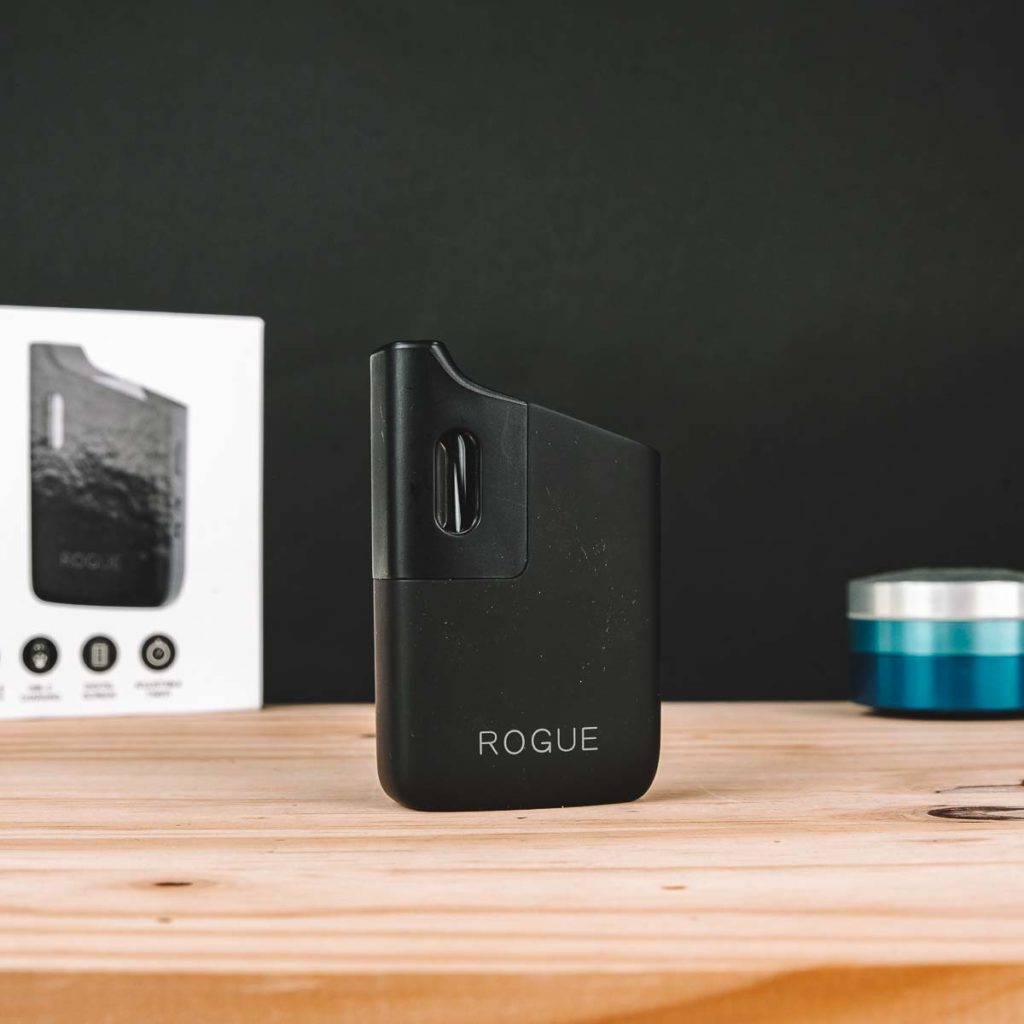 Thank you for taking the time to check out my Healthy Rips ROGUE vaporizer review and please hit me up in the comments with any questions.
The Rogue retails for $159 and you can click here to check out the ROGUE directly from Healthy Rips.
#healthyrips #roguevaporizer #dryherbvaporizer #vaporizerwizard #vaporizers
Rogue Vaporizer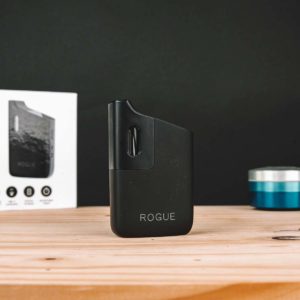 The Healthy Rips Rogue is a pocket-friendly dry herb vaporizer featuring a hybrid heating system, great battery life and USB-C charging.