The Fury Edge is a portable dry herb vaporizer made by the company Healthy Rips. The Fury Edge vaporizer is an upgraded version of the Fury 2 (review) and POTV One (review) vaporizers featuring a bigger battery, quicker heat-up times, and USB-C charging.
I've had the Fury Edge vaporizer for quite some time now, and I really enjoy this device. It easily fits in the palm of my hand, heats up fast, and offers above-average vapor quality with low draw resistance.
Combine that with the fact that the Edge vaporizer retails for $149, comes with a free one-year replacement warranty and a lifetime ½ price replacement warranty, makes this one of the safest portable vaporizer buys I can recommend.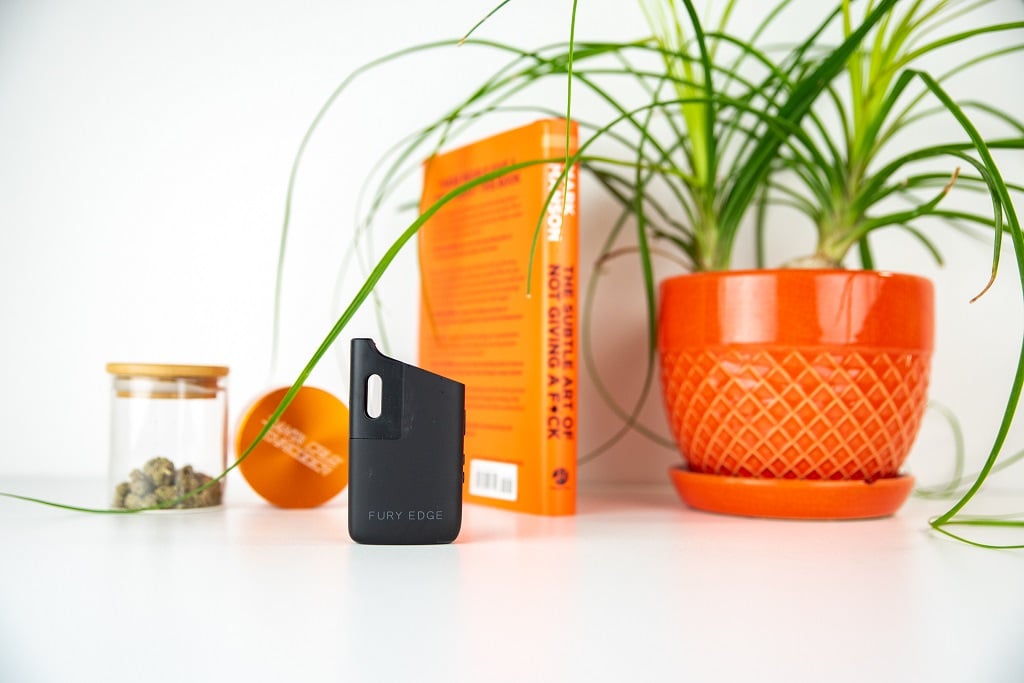 The only thing I can honestly complain about in my Fury Edge review is that the Edge vaporizer is not 100% pure convection, and it doesn't offer a replaceable battery system. HOWEVER, it does offer more convection than the Pax 2 or 3, and I feel like the vapor quality is better because of that.
I feel like the Fury Edge is the perfect vaporizer for the first time buyer and can also keep up with heavier users. The bowl size plus quick heat-up times make it a great vaporizer for single person sessions or smaller groups.
Fury Edge Vaporizer
Price: $149
Manufacturer: HealthyRips
Materials: Dry Herbs and Concentrates
Temp Range: 320F – 430F
Heating: Conduction
Battery Life: 4-6 Bowls AVG
Warranty: (Read Below)
Quick Heat Up and Pocket Friendly
The Fury Edge is currently rated as my top portable vaporizer under $150. You can click here (shop link) to pick it up directly from Healthy Rips and read on below to get my full Healthy Rips Fury Edge vaporizer review.
Size, Portability, and Build Quality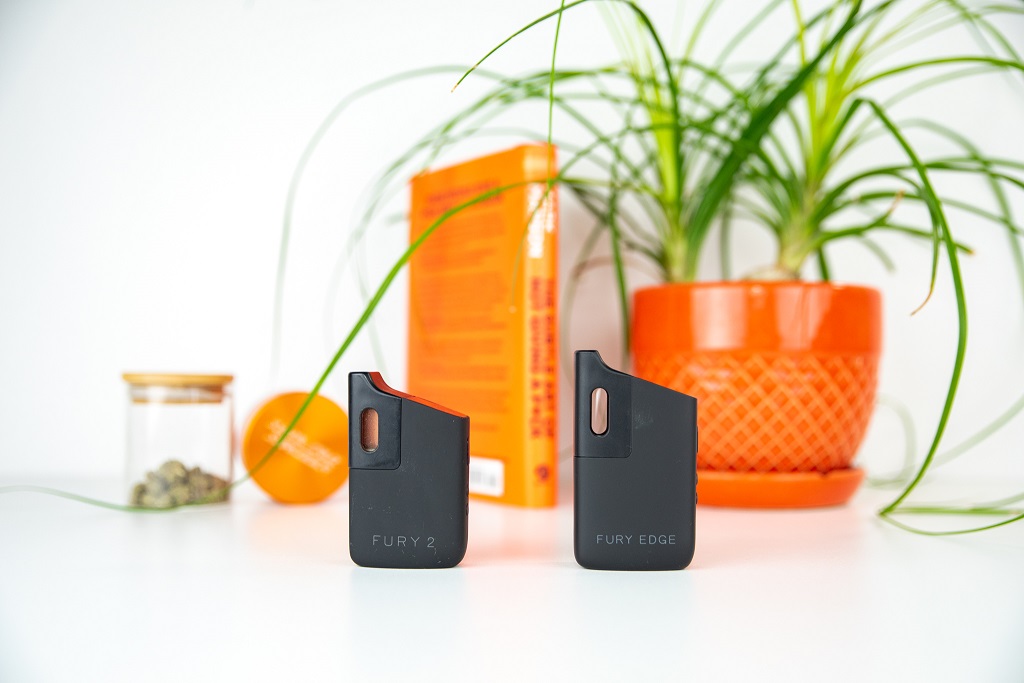 Size and Portability – The Edge vape is about the size of an old school pager. It can easily be pocketed for use on the go, and I can almost completely palm the vape for concealment, but the mouthpiece does stick out a bit. It's slightly larger than the Fury 2 and a bit heavier. The only thing you would notice in your hand is the weight difference, and it's not a big deal.
The Fury Edge weighs roughly 5.6 ounces, which is slightly less than something like the iPhone X. It basically the weight of a smartphone in your pocket.
Build Quality – The Edge body is made from Kirksite alloy and has proven to be extremely durable. I have taken it mountain biking, skiing, hiking, and plenty of other outdoor adventures. As you can imagine, the poor Edge has seen some pretty nasty falls, and she's still going strong to this day.
I think this is also a good time to mention that the Fury Edge does come with a one-year free replacement warranty! I use the EDGE and the Pax 3 (review) the most during the summer months because they are both easily pocketed.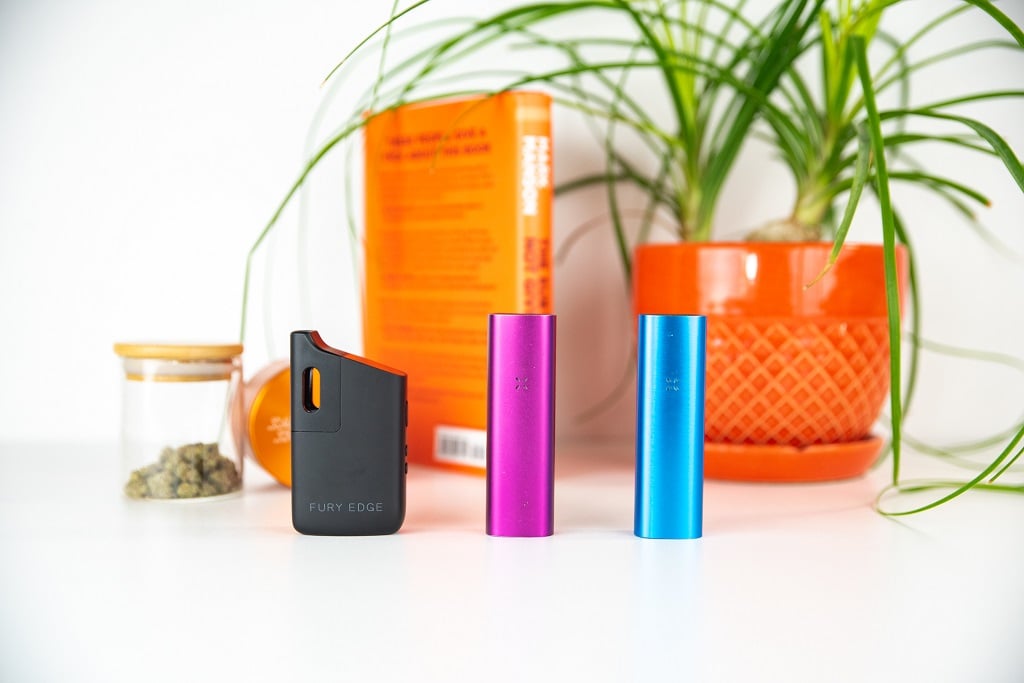 What's Included With The Fury Edge
In the Box
Fury Edge Vaporizer
Smell Proof Cover
Glass Mouthpiece
WPA
USB-C Charging Cord and Charging Brick
Cleaning Tools
Manual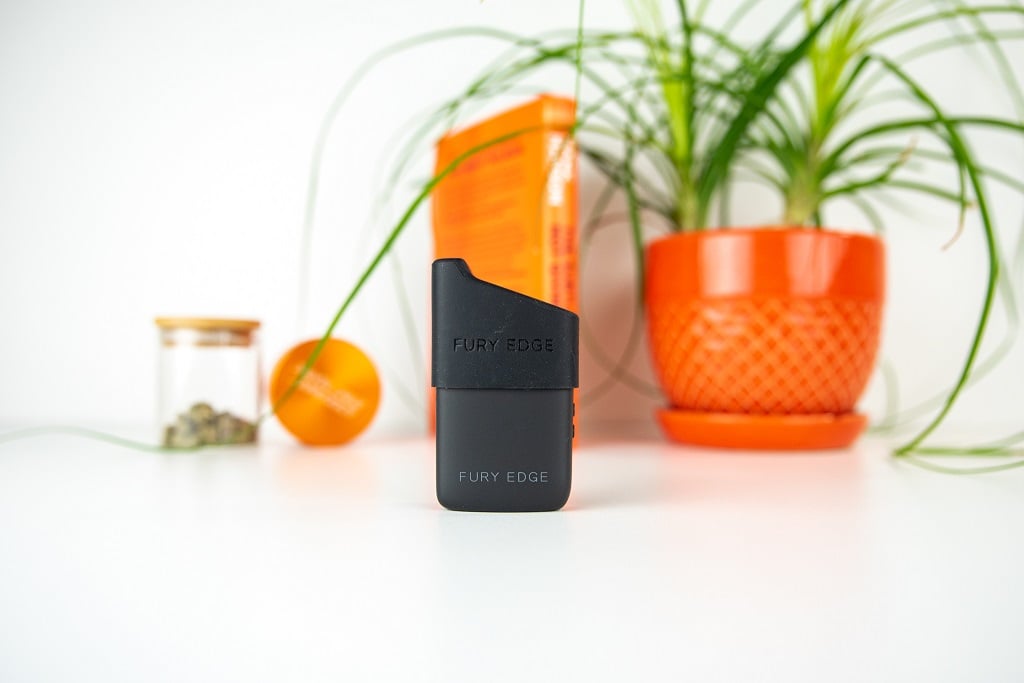 Extra Accessories – The accessories available for the Fury Edge are one reason I like this vaporizer so much. It's straightforward to use with all different types of glass and different mouthpieces.
When you buy the Fury Edge vaporizer, it comes with one free accessory. You can choose between the Glass WPA, the Bent Black Glass Mouthpiece, or the Shred Grinder 2.25 Edition. I also have an article listing the best herb grinders for vaporizers if you wanted to check out a few more grinder options.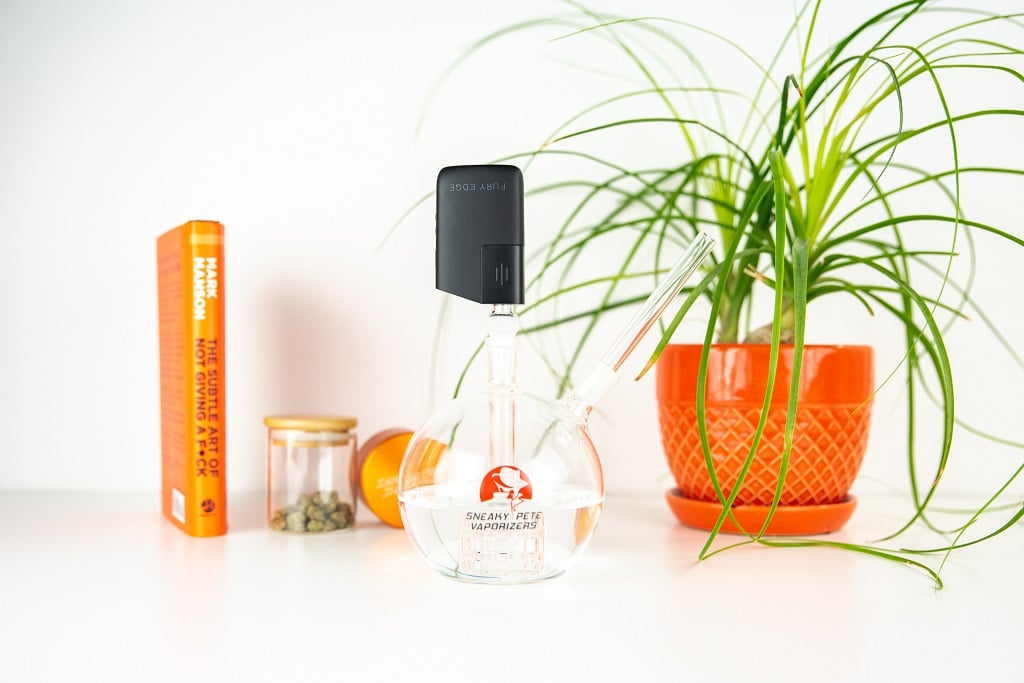 I would personally go for the Glass WPA and pick up a small bubbler for use at home, but if you already have those attachments, I'm sure you already have a grinder, and you should pick up the Bent Mouthpiece.
Healthy Rips also makes a small glass bubbler that attaches to the Edge. This is a quick, easy method, and it works well, but again, I would pick up the Water Pipe Adapter and a small bubbler because this vaporizer rips!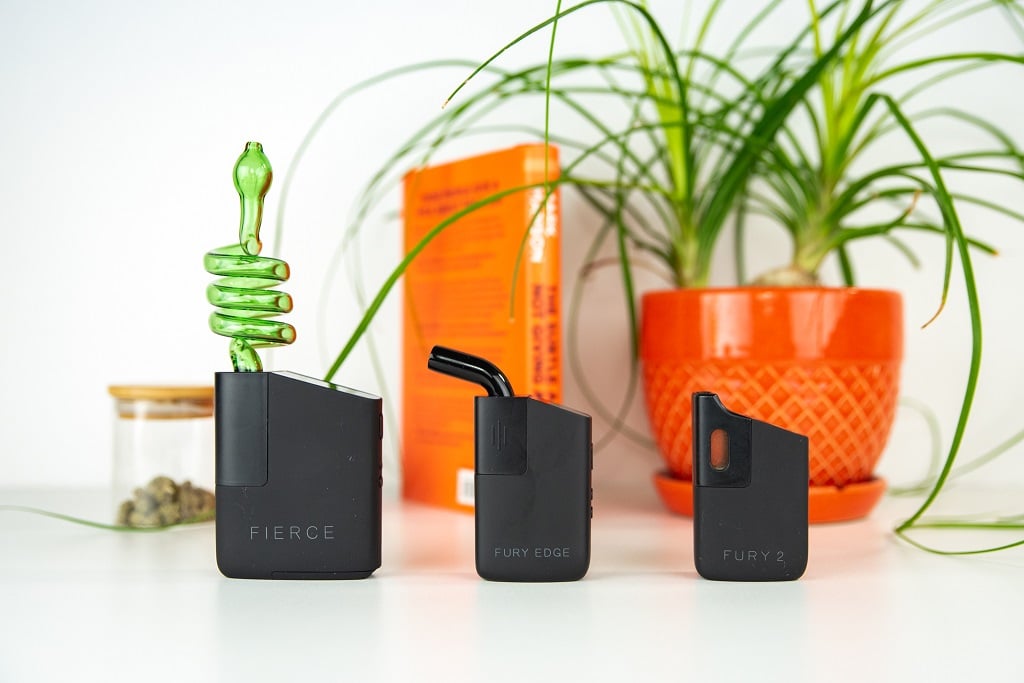 They also make some colorful stems that help cool vapor a bit as well. All in all, you don't need anything extra to use the Fury Edge, but I really enjoy using it with glass pieces at home.
Heating, Vapor Path, and Temp Options
Hybrid Heating – The Edge features a hybrid heating system utilizing both conduction and convection methods. The vapor quality is not as good as the Crafty Plus or Mighty, but I would say that it's slightly better than the Pax 2 and 3 vaporizers. It uses slightly more convection and tastes MUCH better than pure conduction units.
The Edge heats up in around 20 seconds, which is above average and one reason I love this vaporizer. It's easy to get in a quick session and go about my business.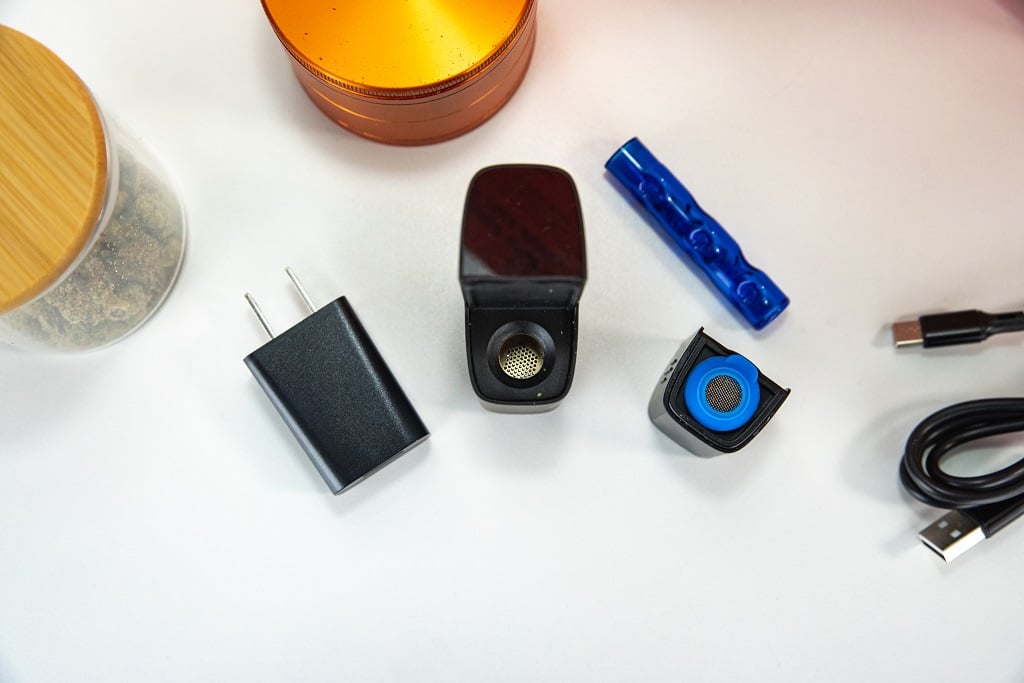 Vapor Path – The Healthy Rips Edge uses a stainless steel vapor path completely isolated from electronics or anything else in the vaporizer. You can literally put your finger over the intake and can't draw. I really like this design, and it ensures that you are actually getting "Healthy Rips." Lastly, the Fury Edge uses a food-grade stainless steel chamber and vapor path.
Temperature Info – You get a full temp spectrum with precise temp control, which runs from 320F to 430F. The up and down temp buttons are located on the side of the device. You can single press for single intervals or hold it down to increase or decrease the temp quickly.
Chamber Info and Draw Resistance
Chamber (Bowl Size) – I've found the medical grade stainless steel chamber to hold anywhere from .15 to .2 grams depending on your grind consistency. It's important to note that you will need a grinder for this vaporizer, and a medium to fine grind is best.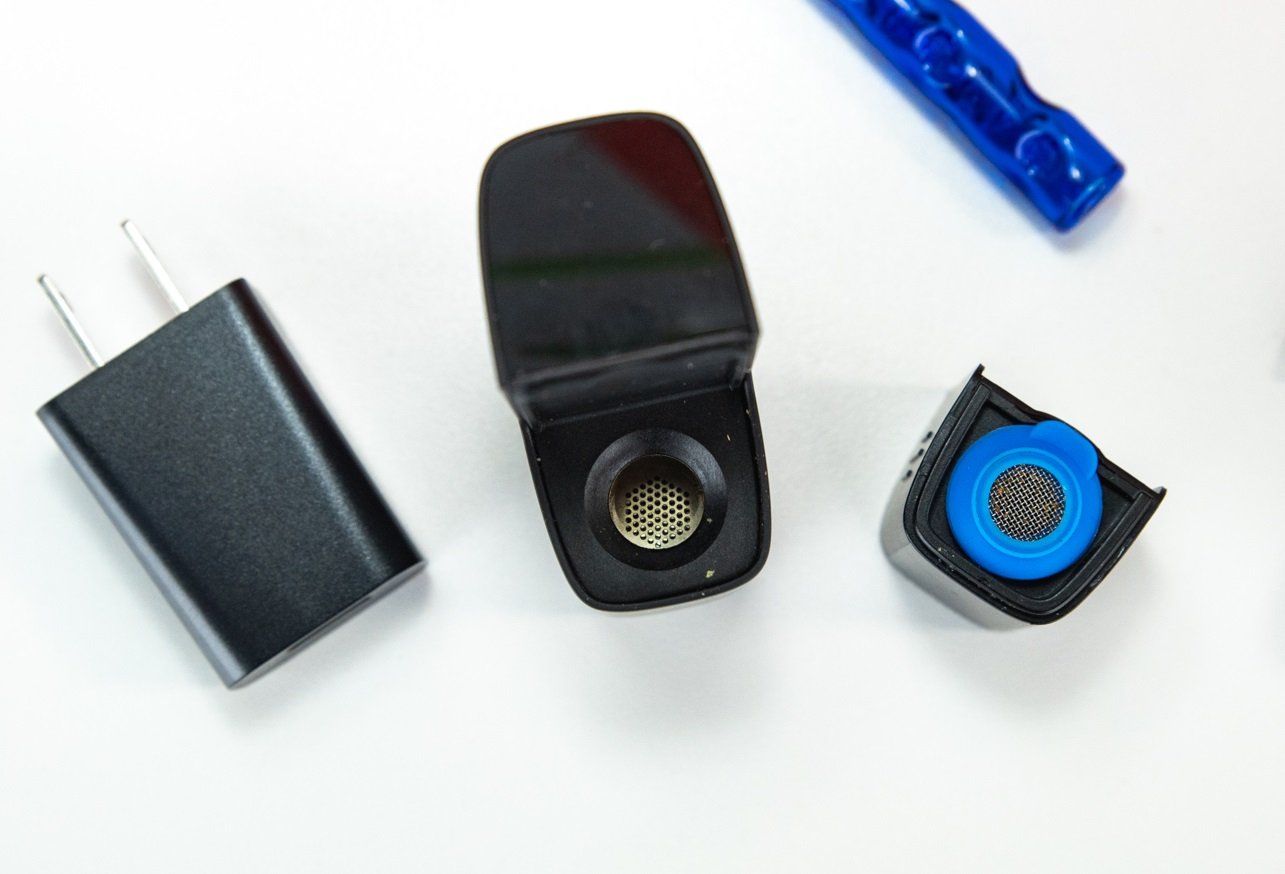 I've also found the session to work best with a quick stir after a couple of draws. The included tool makes it really easy to mix around. Also, be sure to clean out the chamber immediately after a session to help out with draw resistance and taste.
Draw Resistance – This is also another category that I really like about the Fury Edge vaporizer. The draw resistance is pretty low, and while it's not as free-flowing as the Crafty+ (review) or Mighty, it's definitely better than the Pax 2 and 3.
Fury Edge Battery Information
Battery Specs – The Edge uses an internal non-replaceable 2300mAh battery. This a HUGE upgrade from the 1600mAh on the Fury 2, and you can definitely tell the difference.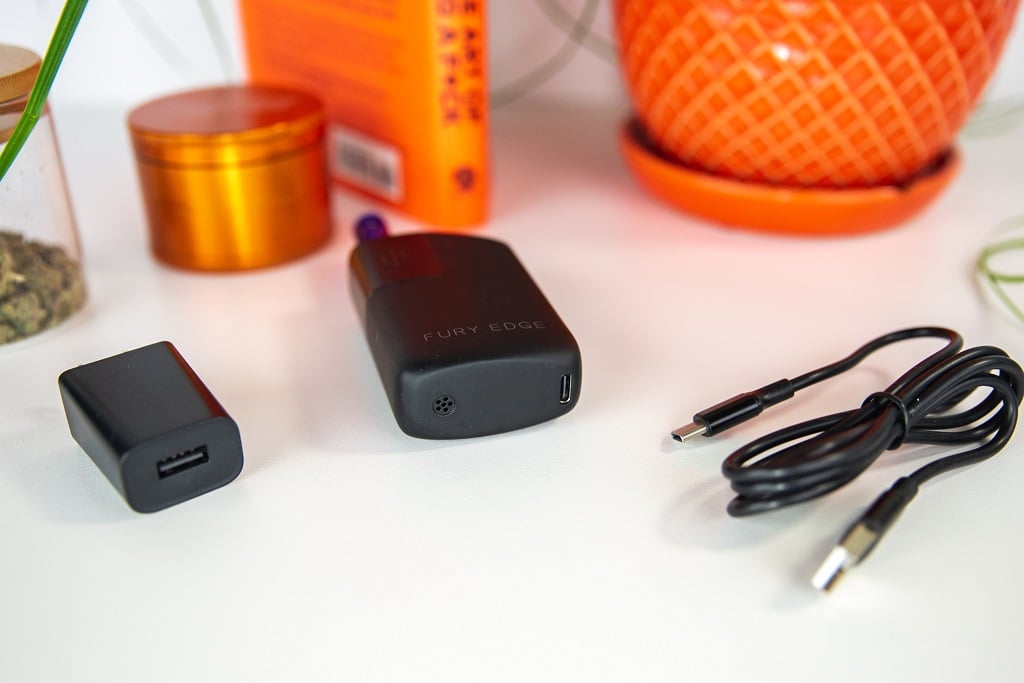 Battery Life – I'm averaging anywhere from 70-90 minutes of continuous use with the Fury Edge, which is above average, especially for its size.
Charging Times – The Fury Edge takes about 90 minutes to charge via the USB-C charger. This isn't the fastest charging vaporizer on the market, but it's about the middle of the road. The good news is that you can charge it practically anywhere, and I always carry an Anker charging pack that can charge the Fury Edge 2-3 times over.
Cleaning, Maintenance, and Warranty Info
Cleaning & Maintenance – The Edge is a pretty easy vaporizer to clean and maintain. The biggest thing to remember is to clean out the chamber immediately after a session. Brush out the chamber and clear off the screen on the mouthpiece as well. If you leave herbs in the chamber, debris will settle in the screen and chamber, which will increase draw resistance and reduce the vapor quality.
After a few sessions, I would take a q-tip with some ISO and swab out the chamber. Just use a little bit of ISO and make sure to flip the vaporizer upside down, so you don't get any liquids into the heating element.
Warranty Info – Lastly, Healthy Rips offers one free replacement of your device within the first year and 1/2 price replacements for life!
Fury Edge Vs. Fury 2 Comparison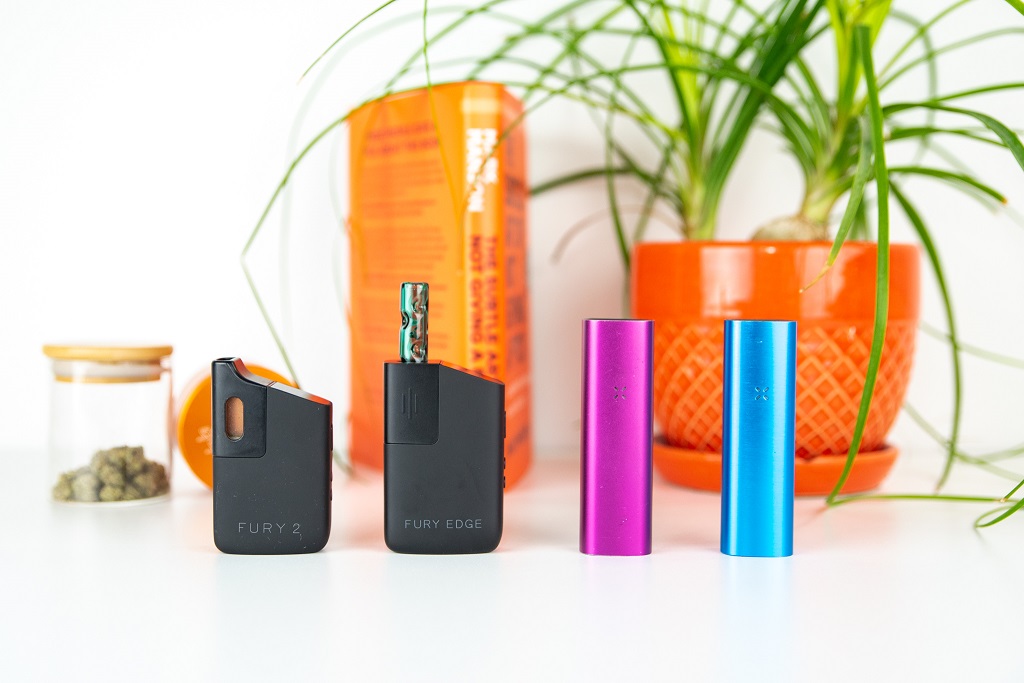 The Fury Edge features some excellent upgrades, and for the price, I don't think I can recommend the Fury 2 when compared to the Edge. With the Edge, you get almost double the battery life, quicker heat-up times, and USB-C charging.
I also feel like the Edge puts out more clouds, especially when using it with glass. The Fury 2 is slightly smaller and weighs a bit less, but honestly, you can barely notice the difference when the two are sitting side by side.
Fury Edge Vaporizer Review Summary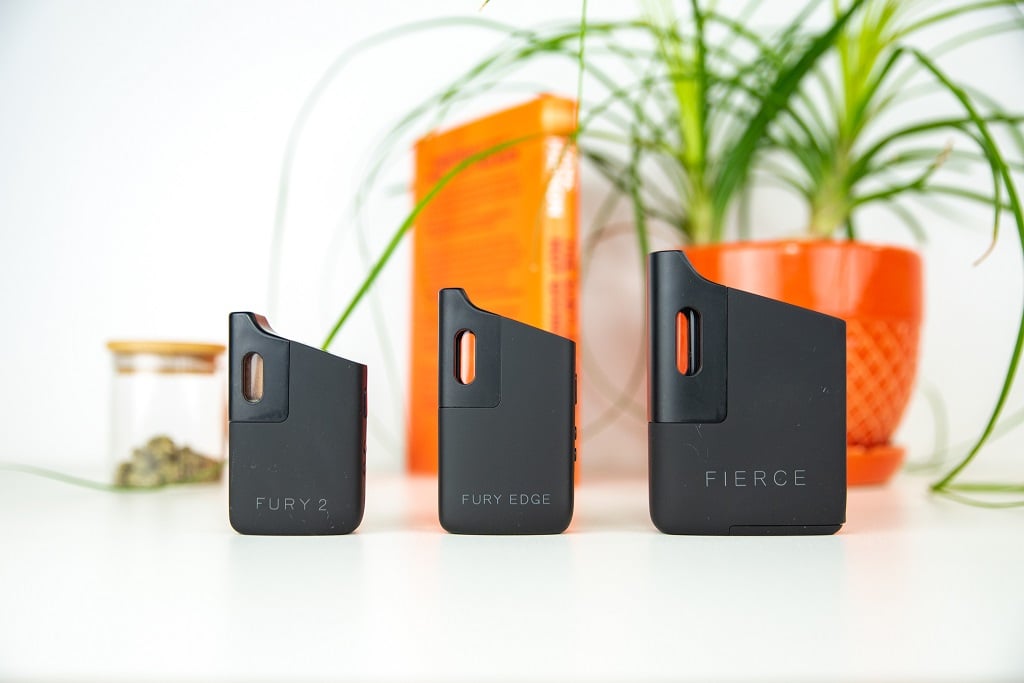 Overall the Fury Edge vaporizer is quite possibly one of the best portable vaporizers for most people. It heats up fast; it's easy to use and features a hybrid heating system that produces outstanding vapor quality.
The only reason I might want something else is if I wanted better vapor quality with less draw resistance. I still feel like the Crafty Plus (review) and Mighty (review) offer a better overall experience, but the Edge vaporizer is quite a bit cheaper than the Storz and Bickel vaporizers.
However, I would highly consider the Edge over both the Pax 2 and Pax 3 unless you wanted the option to use concentrates with the Pax 3. I feel like the vapor quality is better with the Edge, and there's less draw resistance. I think the Pax vaporizers are a little more streamlined, making it easy to pocket on the go, but overall I think the Fury Edge "edges" out the Pax 3.
Where to Buy – I recommend that you buy the Fury Edge directly from Healthy Rips.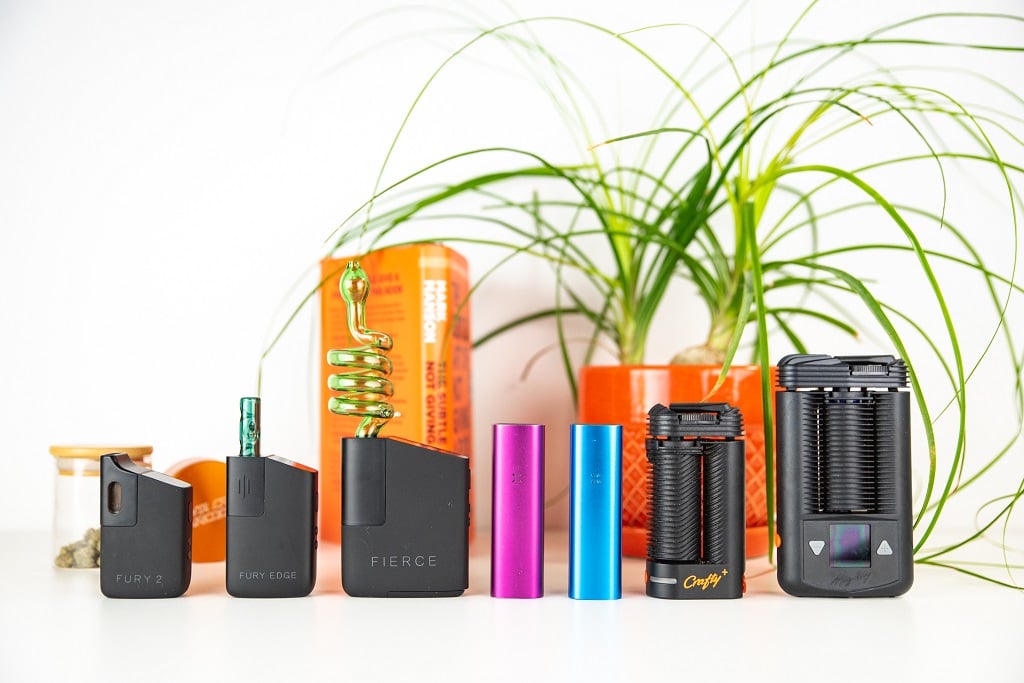 Thank you so much for taking the time to read my Fury Edge vaporizer review, and be sure to leave a comment below or hit me up on my contact page with any questions regarding this vaporizer or any others.
You can also check out my best portable vaporizer page if you weren't quite sold on the Fury Edge. Have a great day!
Fury Edge Vaporizer
The Fury Edge is a dry herb portable vaporizer made by the company Healthy Rips. The Fury Edge vaporizer features a full temp spectrum, USB-c charging, and better than average battery life, especially for its size.
Product Brand: Healthy Rips
Product Currency: USD
Product Price: 149
Product In-Stock: InStock