This article is a full comparison of the Mighty+ and Crafty+ portable dry herb vaporizers. These are the first portable vaporizers (upgraded Crafty) released by the company Storz and Bickel out of Germany back in 2014, and they are still going strong to this day.
Storz and Bickel also make the Plenty, a home-use plug-in type of vaporizer that came out in 2009. The Volcano Hybrid, the newest digital version of the Volcano Classic, and last but not least, the 20th Anniversary Gold Edition Volcano Classic. Check out a complete breakdown of all the Volcano desktop vaporizers here.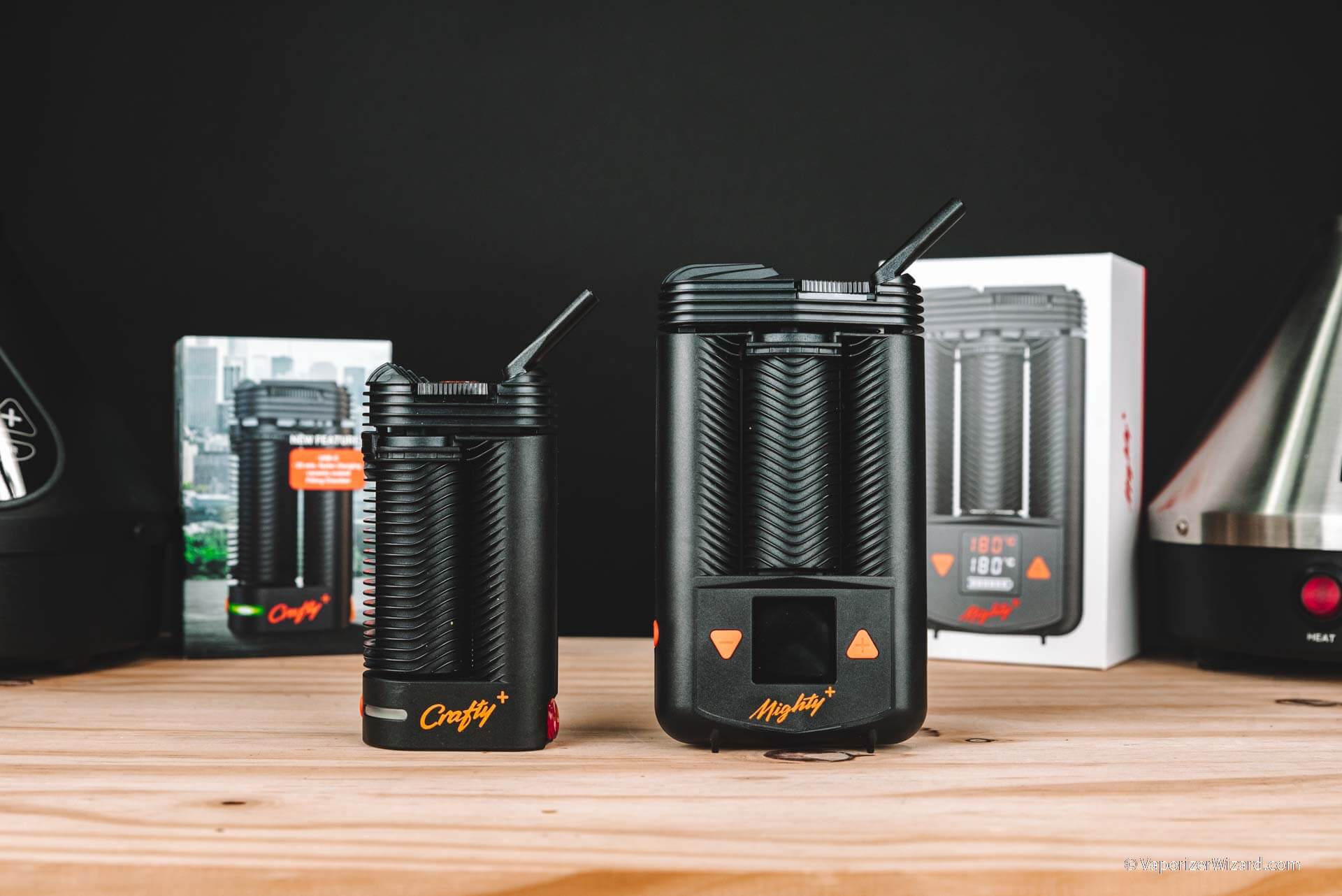 I'm assuming you are deciding which one to buy, the Crafty Plus or the Mighty Plus, and which one will be best for your needs. It's important to know that everyone will not want the same vaporizer coming out of this comparison.
Each of these vapes has advantages over the other, and it all comes down to how YOU specifically will be using your vaporizer. With that said, find out what I like about each of them below.
Check out my Crafty Plus review here and my Mighty+ vaporizer review here. Full Crafty+ vs Mighty comparison below.
What I Like About the Crafty+ and Mighty+
Crafty+ Vaporizer (USB-C 2021 Model)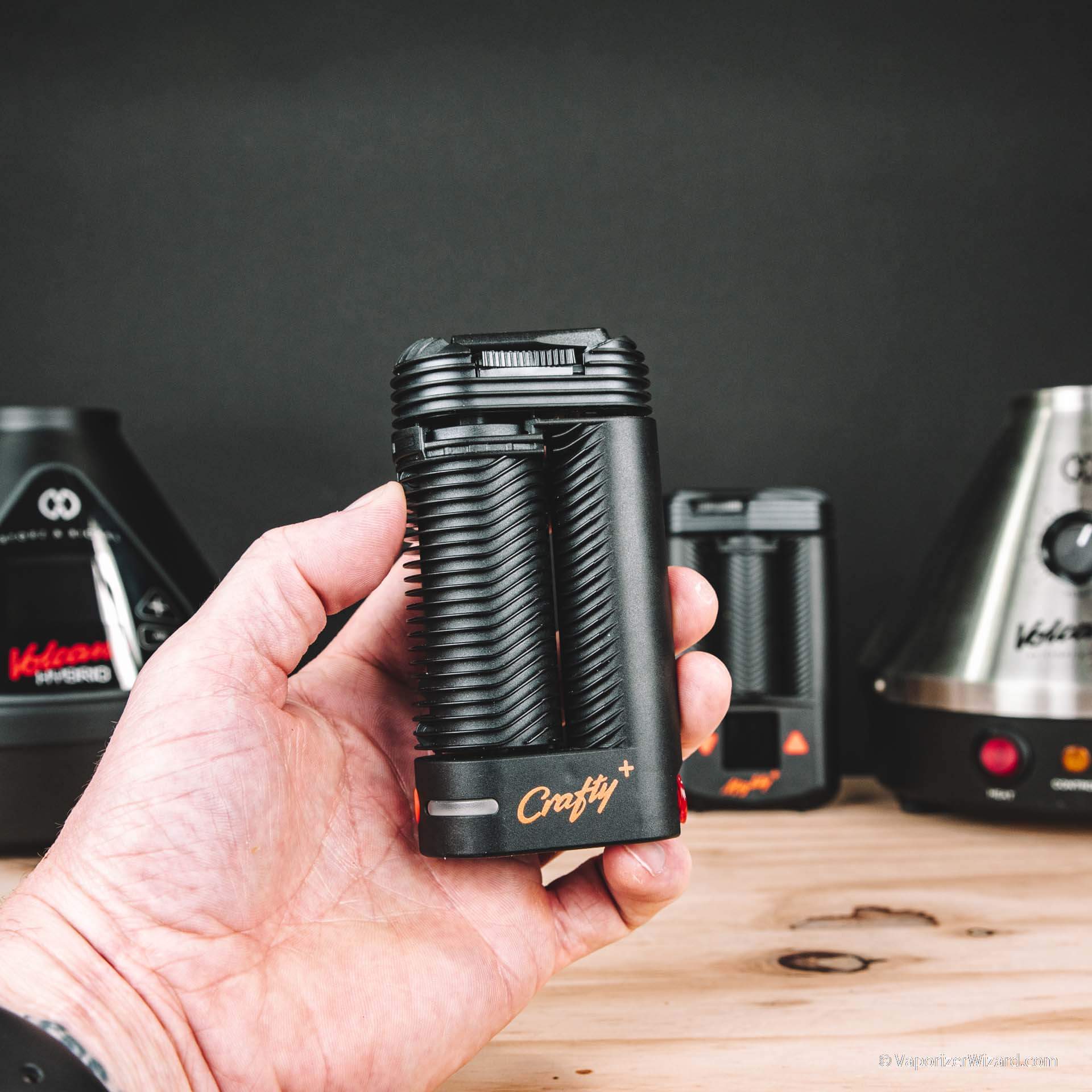 Vaporizer Info
| | |
| --- | --- |
| Name: | Crafty+ Vaporizer |
| Manufacturer: | Storz and Bickel |
| Price: | $279 |
| Materials: | Dry Herbs and Concentrates |
| Temp Range: | 104F – 410F |
| Heating: | Hybrid |
| Battery Life: | 4 Bowls Avg |
| Battery Type: | Non-Replaceable |
| Charging Type: | USB-C |
| Warranty: | 2 + 1 |
| Extras: | Smartphone APP |
SHOP CRAFTY+ VAPORIZER [2021 USB-C MODEL] AT:
USE CODE WIZARD22 AT VAPOR FOR 22% OFF AND CODE S&B20 AT POTV FOR 20% OFF
I like the Crafty+ because of its portability, concealment, ease of use, and I've been using it mostly when I'm on the go. The Crafty+ easily fits in my jean pockets, hoodies, and short pockets. It's also easy to charge on the go via USB-C charging, and everything is controlled via one button.
The Crafty+ vaporizer is the more personal portable of the two and best for single person sessions. You can use it in groups and it works for that purpose but the battery life will not keep up with multiple group sessions.
Mighty+ (Plus) Vaporizer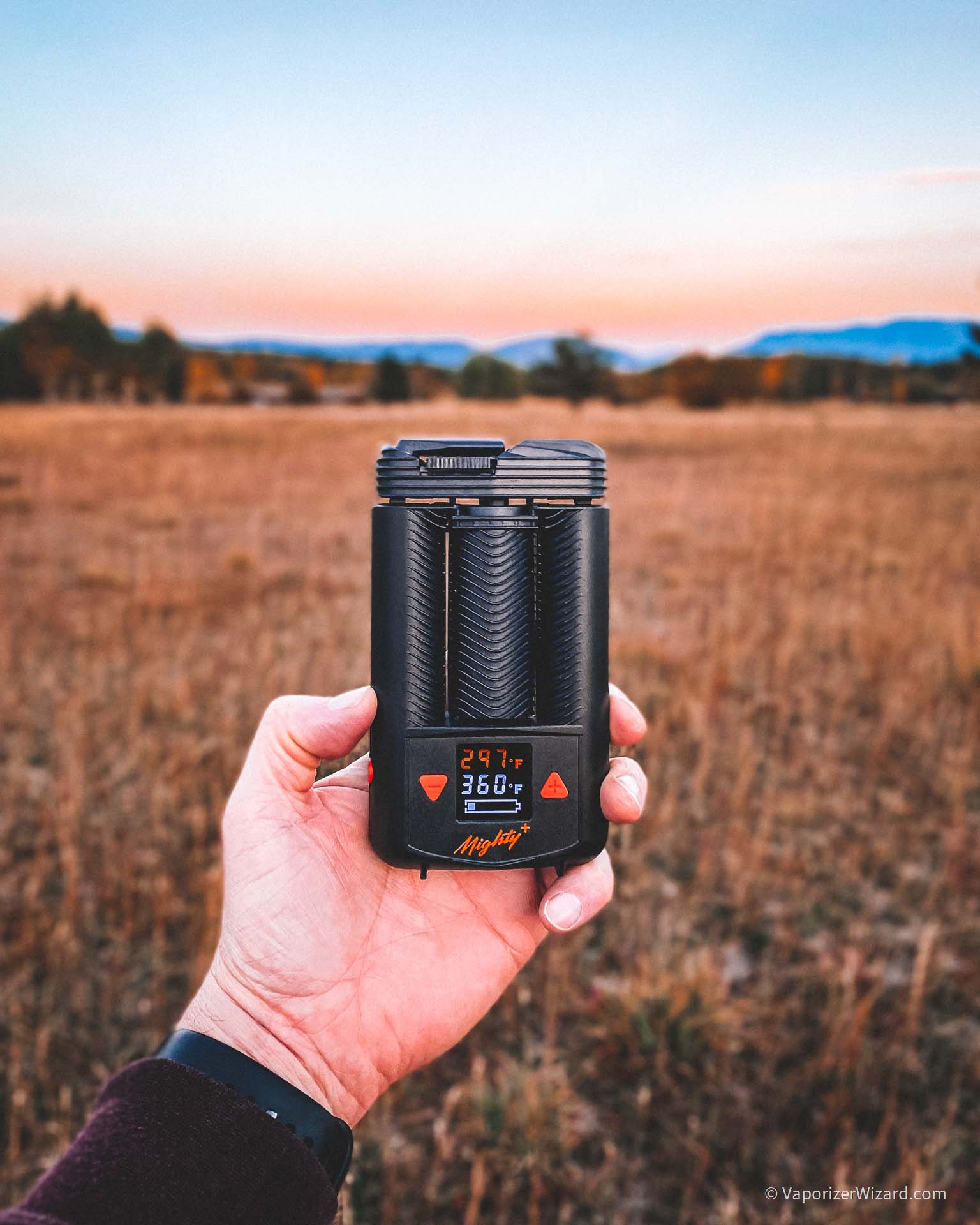 Vaporizer Info
| | |
| --- | --- |
| Name: | Mighty+ Vaporizer |
| Manufacturer: | Storz and Bickel |
| Price: | $399 |
| Materials: | Dry Herbs and Concentrates |
| Temp Range: | 104F – 410F |
| Heating: | Hybrid |
| Battery Life: | 6-8 Bowls Avg |
| Battery Type: | Non-Replaceable / Rechargeable |
| Charging Type: | USB-C / 3 Hours (1 Hour w/ Quick Charger) |
| Warranty: | 2 + 1 |
ORIGINAL MIGHTY AVAILABLE AT:
USE CODE WIZARD22 TO SAVE 22% AT VAPOR AND CODE S&B20 FOR 20% OFF AT POTV
The Mighty+ has been the one I've been using more at home. I keep it on the coffee table and use it while I'm watching Netflix shows or gaming on my PC. It's also perfect for long-day adventures if you don't mind the extra weight in your pockets.
I also put together a Mighty+ and Crafty+ water tool adapter tutorial using the whip from my starry v3 and a D020-D bubbler. It also lists a few more options for WPA's if you already have water pieces at home. Lastly, the Mighty+ vaporizer is the better of the two for multiple back-to-back sessions and/or group scenarios.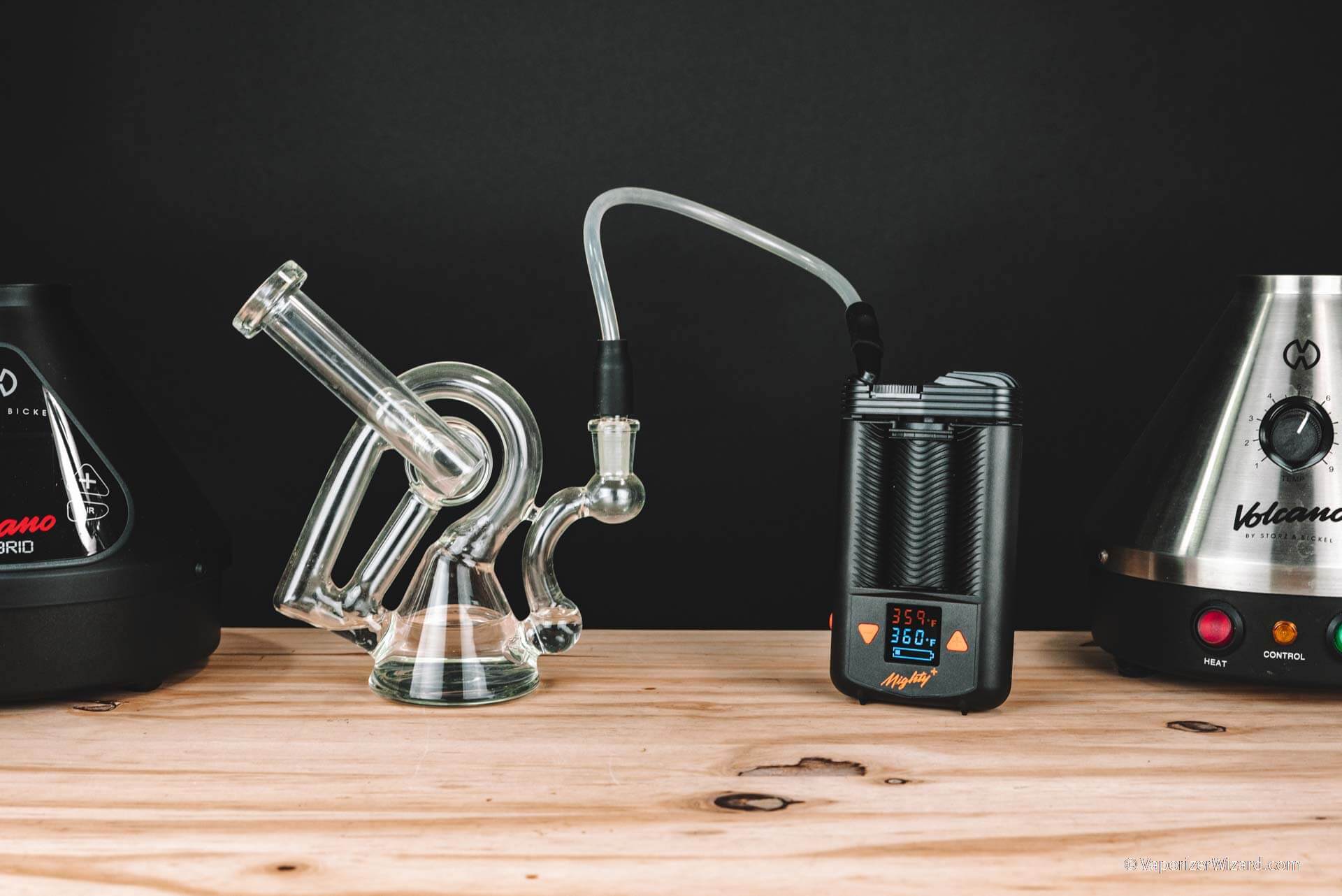 Now that you've seen my uses for each, let's break down the differences between the Crafty and the Mighty vapes.
Crafty+ vs. Mighty+ Size Difference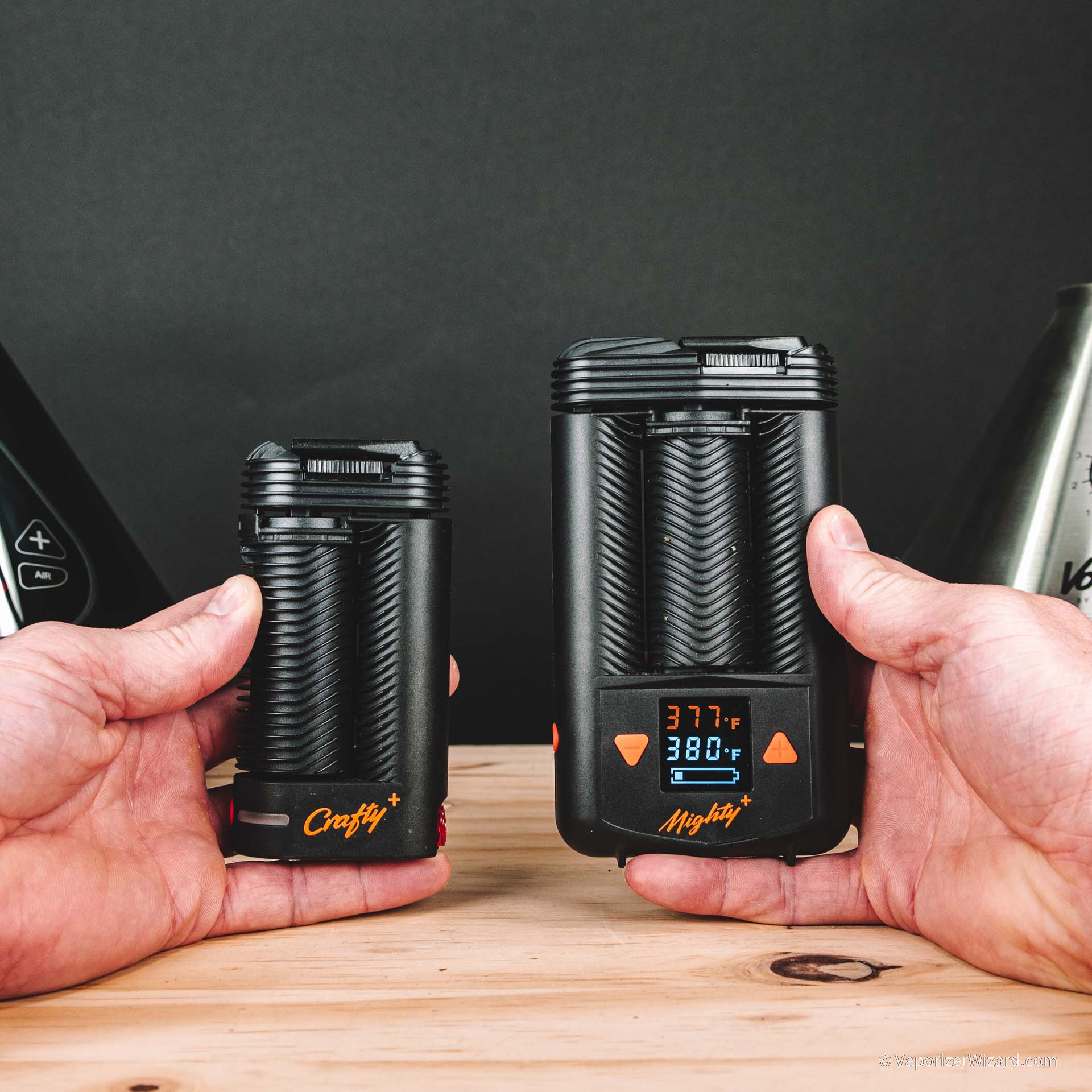 The Crafty+ is the smaller of the two portables and comes in at 4.3 inches tall, 2.2 inches deep, and 1.3 inches wide. The Crafty weighs roughly 135 grams and seems like a feather compared to the 230 gram Mighty+.
The Mighty's exact dimensions are 5.5 inches tall, 3.2 inches wide, and 1.2 inches deep. I can pretty much conceal the Crafty in any pocket or hoodie, whereas the Mighty needs to be stored in a backpack, purse, or fanny pack. Does anyone still use fanny packs? I do :/
Crafty+ and Mighty+ Battery Info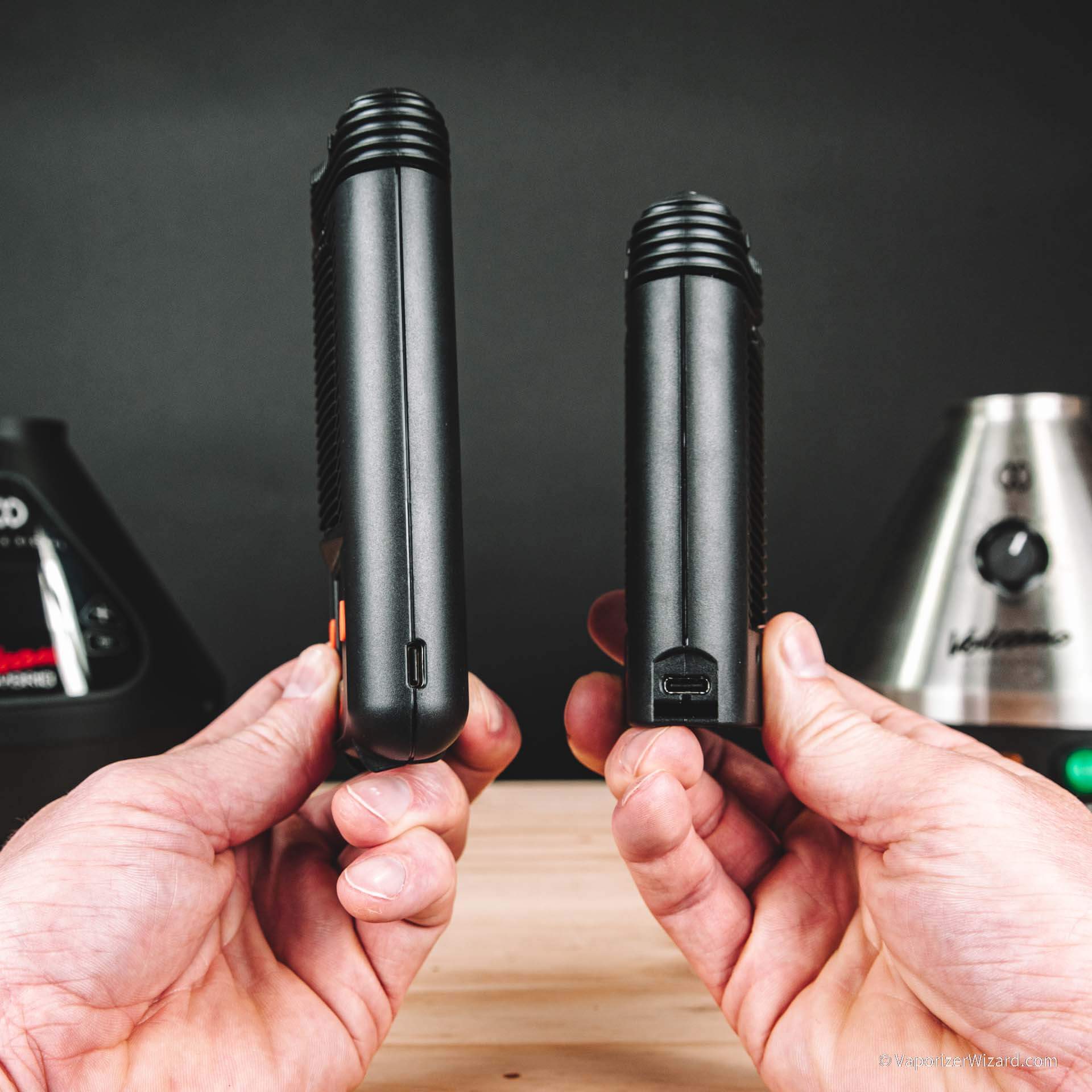 Now other than the size of the two units, this is the only category drastically different between the Crafty+ and the Mighty+. Let's start with the Crafty Plus.
Crafty+ Battery Info
The Crafty+ vaporizer uses one internal lithium-ion battery, which usually gives me an average of four to six, 10 to 12-minute sessions on a full charge. Six is definitely pushing it. So the Crafty Plus is middle of the road as far as average battery life is concerned.
The Crafty+ does offer pass-through charging, which means you can begin using the unit while it's plugged in, but the Crafty+ needs about 20% to start heating the chamber. So it's not a completely true pass-through.
Although the Crafty+ doesn't offer the best average battery life, it does offer a USB-C charging system that allows you to charge via battery packs, USB car adapters, laptops, etc… You can now pick up a battery pack for around $30-$40 that will fully charge the Crafty+ multiple times over.
So if you wanted to take the Crafty+ out hiking or snowboarding for the day but didn't want to risk running out of battery, I recommend picking up one of the Anker battery packs.
The Crafty+ will fully charge from dead in about two hours and the 2021 USB-C model charges about 25 minutes faster than the 2020 Crafty+ model.
Mighty+ Battery Info
The Mighty+ vaporizer, on the other hand, is currently my highest-rated portable vaporizer for battery life. I can get an average of eight full sessions before the battery dies, which is outstanding.
The Mighty+ also offers partial pass-through charging after a few minutes of initial charging. The other perk is that the Mighty+ heats up faster than the Crafty+ and will maintain heat better with aggressive draws. This is better for colder days or using it with a bubbler at home.
During testing, I found the Mighty to heat up to 356 degrees Fahrenheit in about 60 seconds, and the Crafty Plus averages around 75 seconds. An extra battery in the Mighty+ means quicker heat-up times, much longer battery life, but about 100 extra grams of weight.
One downside to the new Mighty+ USB-C charging is that it takes roughly 4 hours to fully charge the Mighty from dead. You need to pick up the S&B USB-C Supercharger accessory to utilize the full charging power. With the USB-C Supercharger, the Mighty+ can charge 80% of the battery in about 40 minutes. So it's pretty much a needed accessory if you don't want to be charging the Mighty+ all the time.
The Chambers, Heating Elements, & Vapor Paths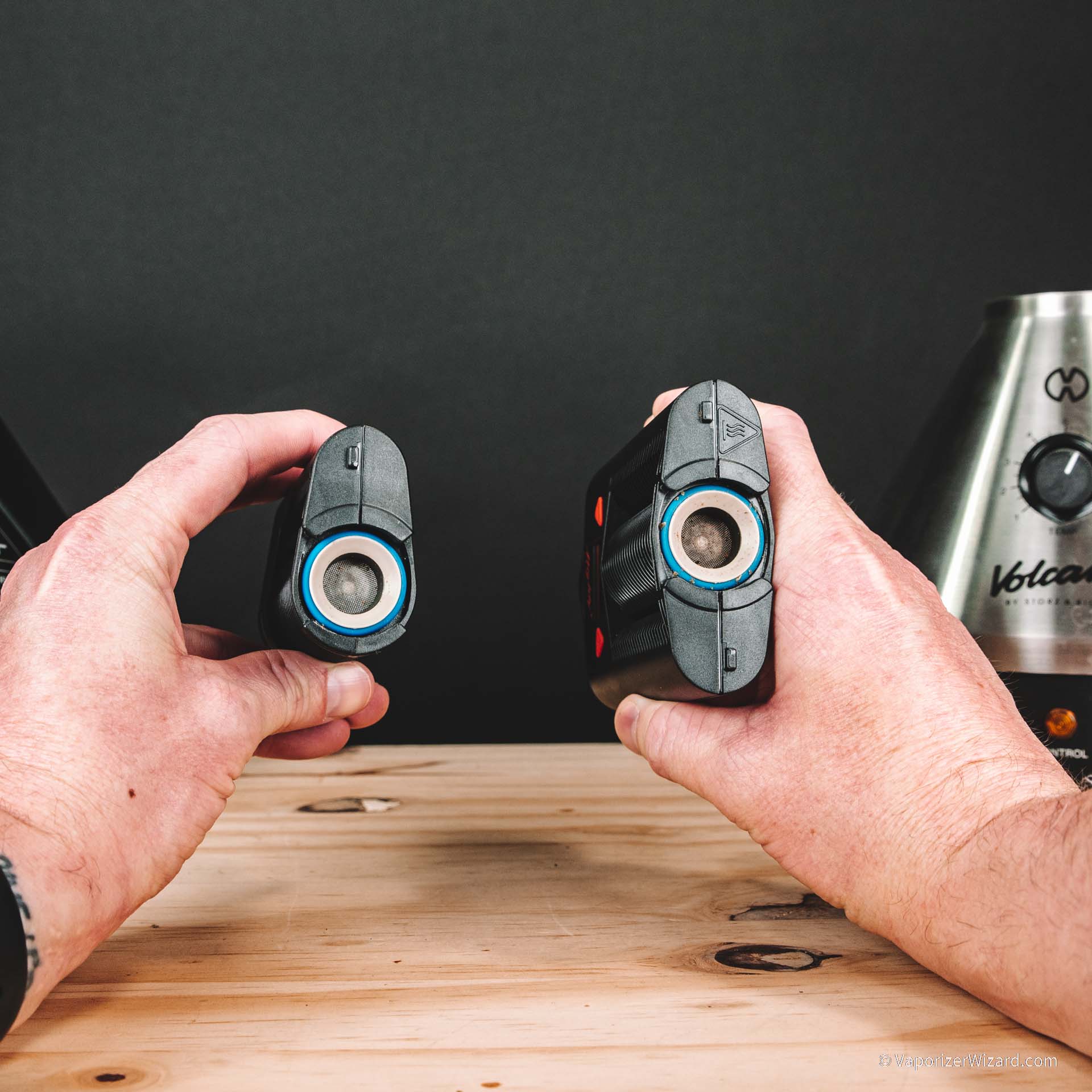 Chambers and Vapor Path
They are the same except for the cooling unit that attaches to the top of the Mighty is a bit bigger than the Crafty, so it claims to cool the vapor slightly more before it touches your lips.
So I tested out the different cooling units at the same temps, and I noticed a slightly lower temp while using the Mighty cooling unit, but nothing really to make a deciding purchase factor.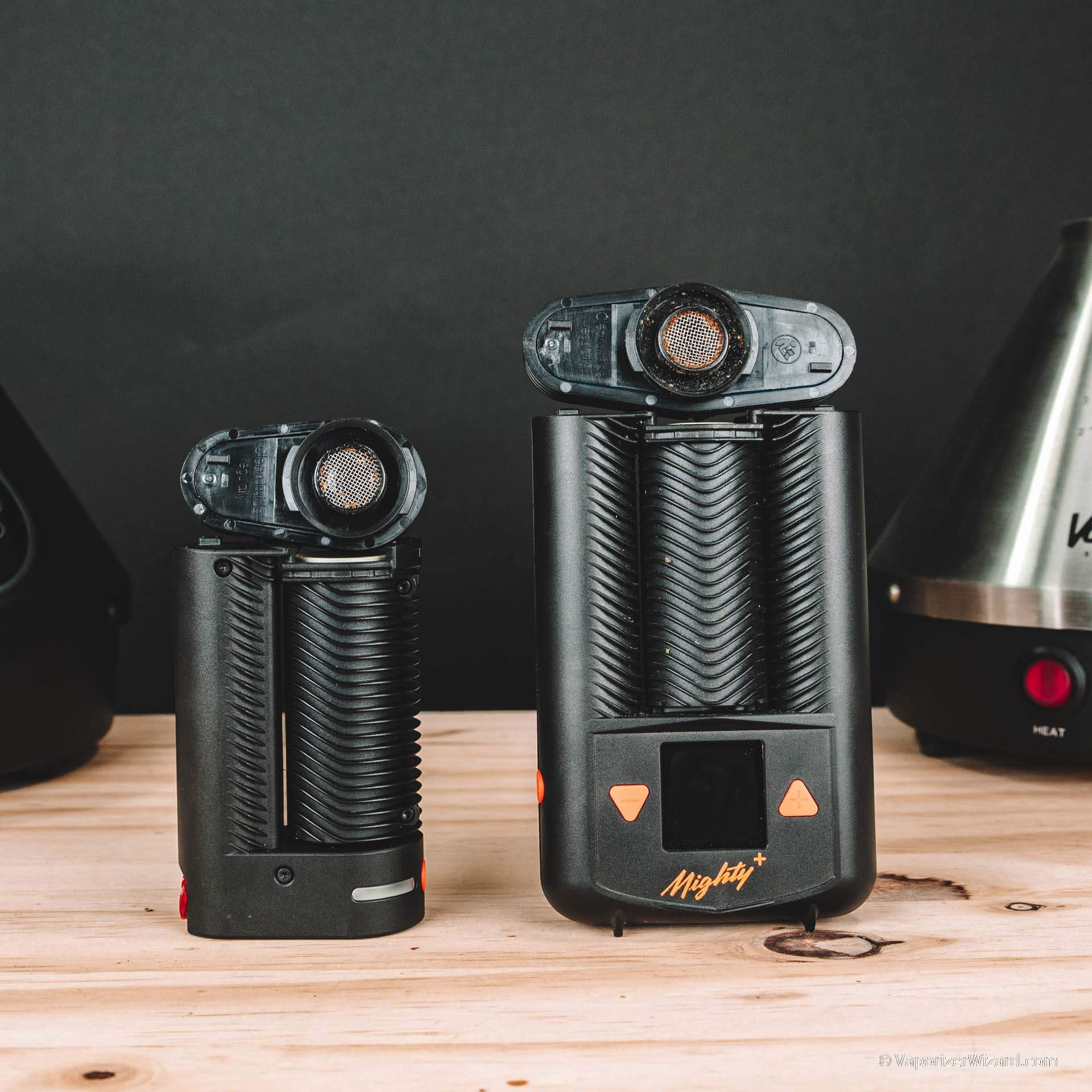 The Mighty+ and Crafty+ use both conduction and convection heating
Same chamber size and ceramic coating
Same vapor paths
Bigger Cooling Unit on the Mighty+
Mighty+ and Crafty+ Heating Info
Both vaporizers offer full temp spectrums via a hybrid heating system. The Mighty heats up in about 60 seconds, whereas the Crafty Plus now heats up in about 75 seconds.
Operation, Displays & Ease of Use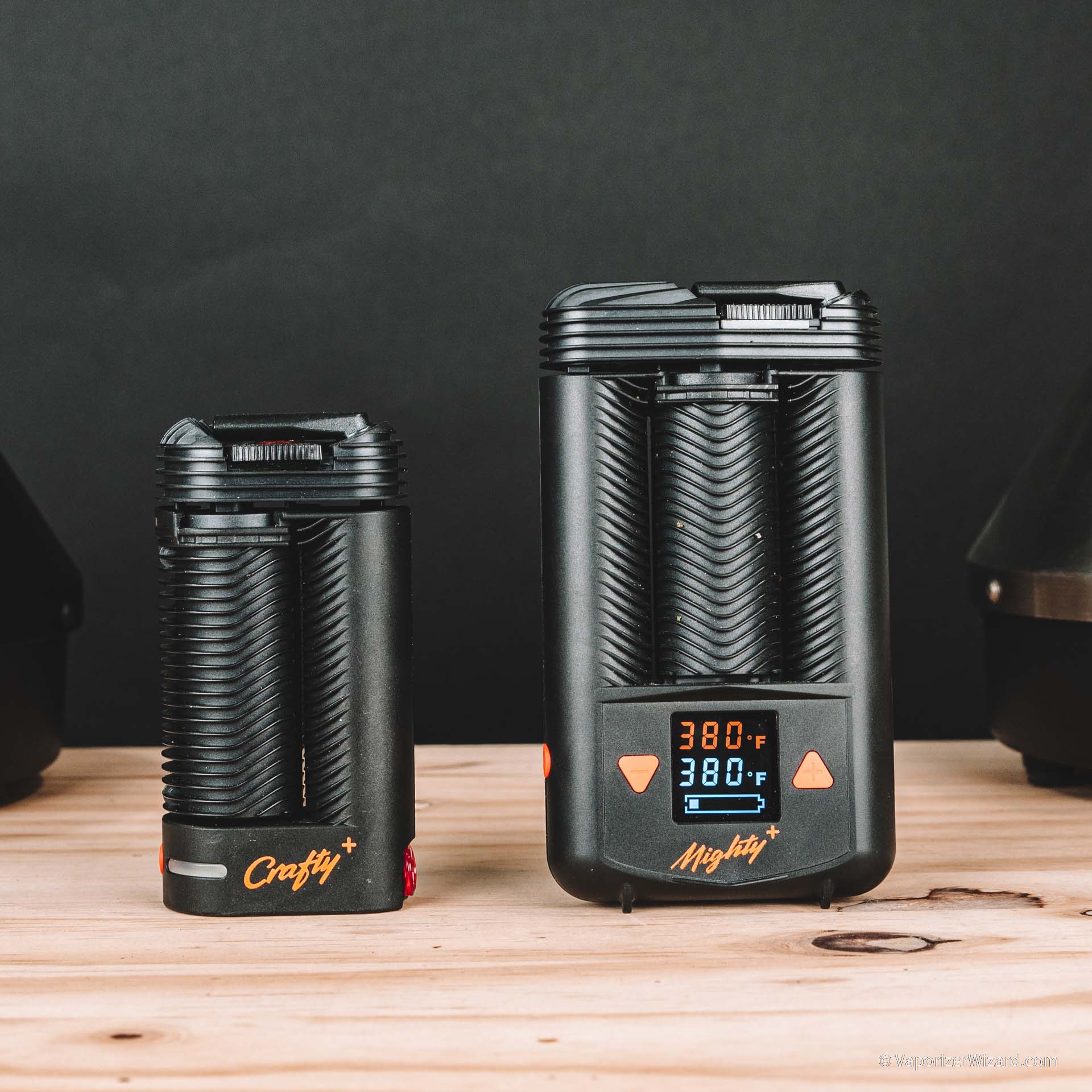 Mighty+ Vaporizer
The Mighty uses an LED (1" x 1") display that shows the default temp, actual temp, and battery life. It uses buttons similar to that of the Volcano Digit but smaller. I like the way they feel, and they don't get stuck or give me any problems when in use.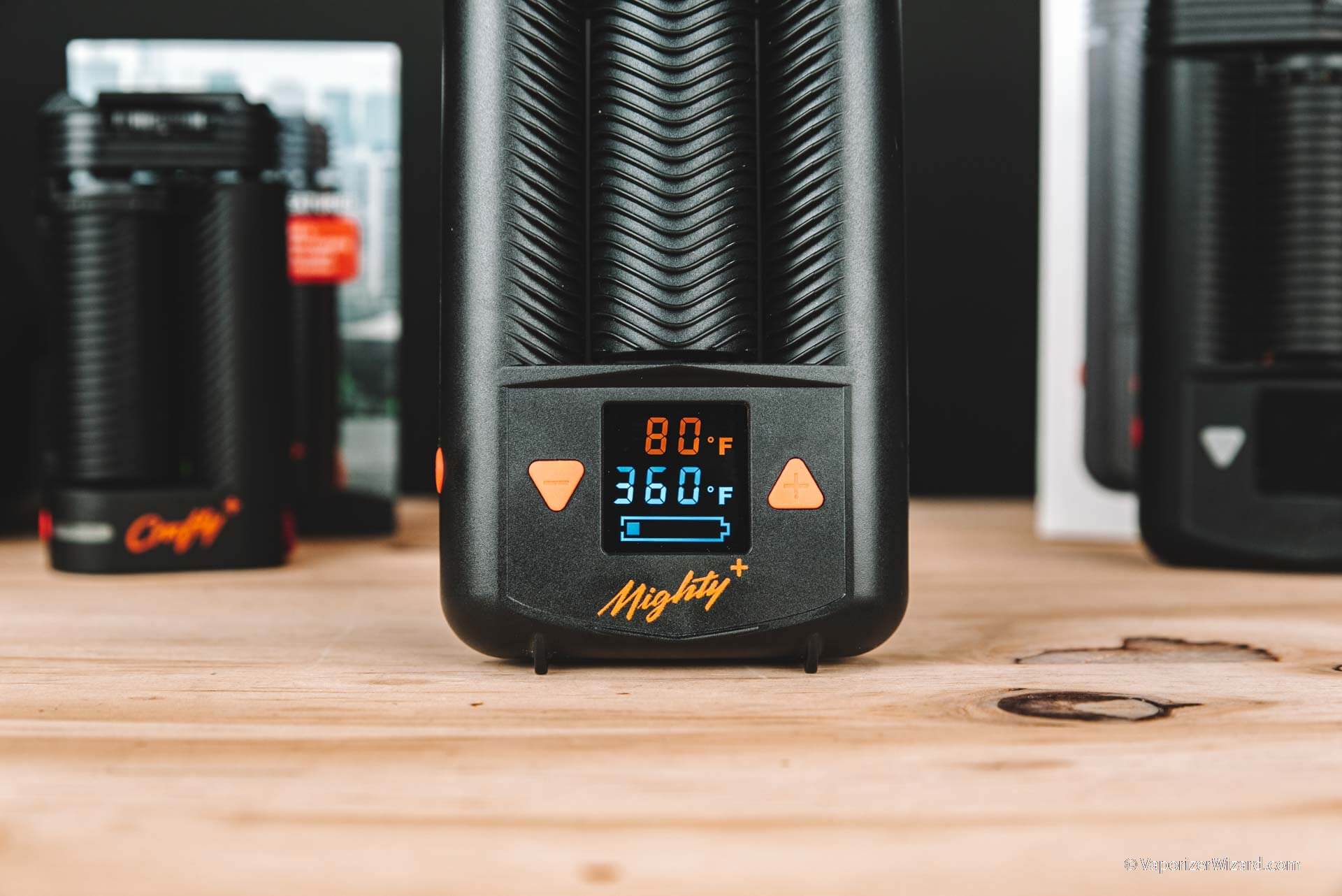 You can pick any temp ranging from 104F – 410F at any time during your session, which is nice to have that precise control throughout your session.
Crafty+ Vaporizer
The Crafty uses a different approach by connecting via Bluetooth to your smartphone. The free CRAFTY Remote Control App lets you control the default and booster temps, check battery level status, set vibration notifications, adjust the brightness of the LEDs located at the bottom of the unit and check the total hours of operation, which is pretty cool.
S&B Crafty+ APP (Web APP)
The Crafty+ APP is no longer available for iPhone users; HOWEVER, Storz and Bickel just released a web app version for APPLE customers. Check it out here.
The Crafty Plus web app allows you to go in and change everything that you could with the mobile version of the app. You pull it up in the browser, and it will bring up your vaporizer to connect to. Once connected, you can change temps, adjust lights, vibrations, and much more.
I honestly never use it anyway. The three default temps are perfect temps for pretty much all sessions.
Ease of Use
The Crafty and Mighty are consistent and easy to use. You can pack them tight, loose, half-pack, full-pack, and you get the same good quality taste, temp, and production pretty much every time.
Most portable vaporizers require some technique for best use, but the Crafty/Mighty works all the time and for any user, novice through advanced.
Mighty vs Crafty+ Vaporizer? My Two Cents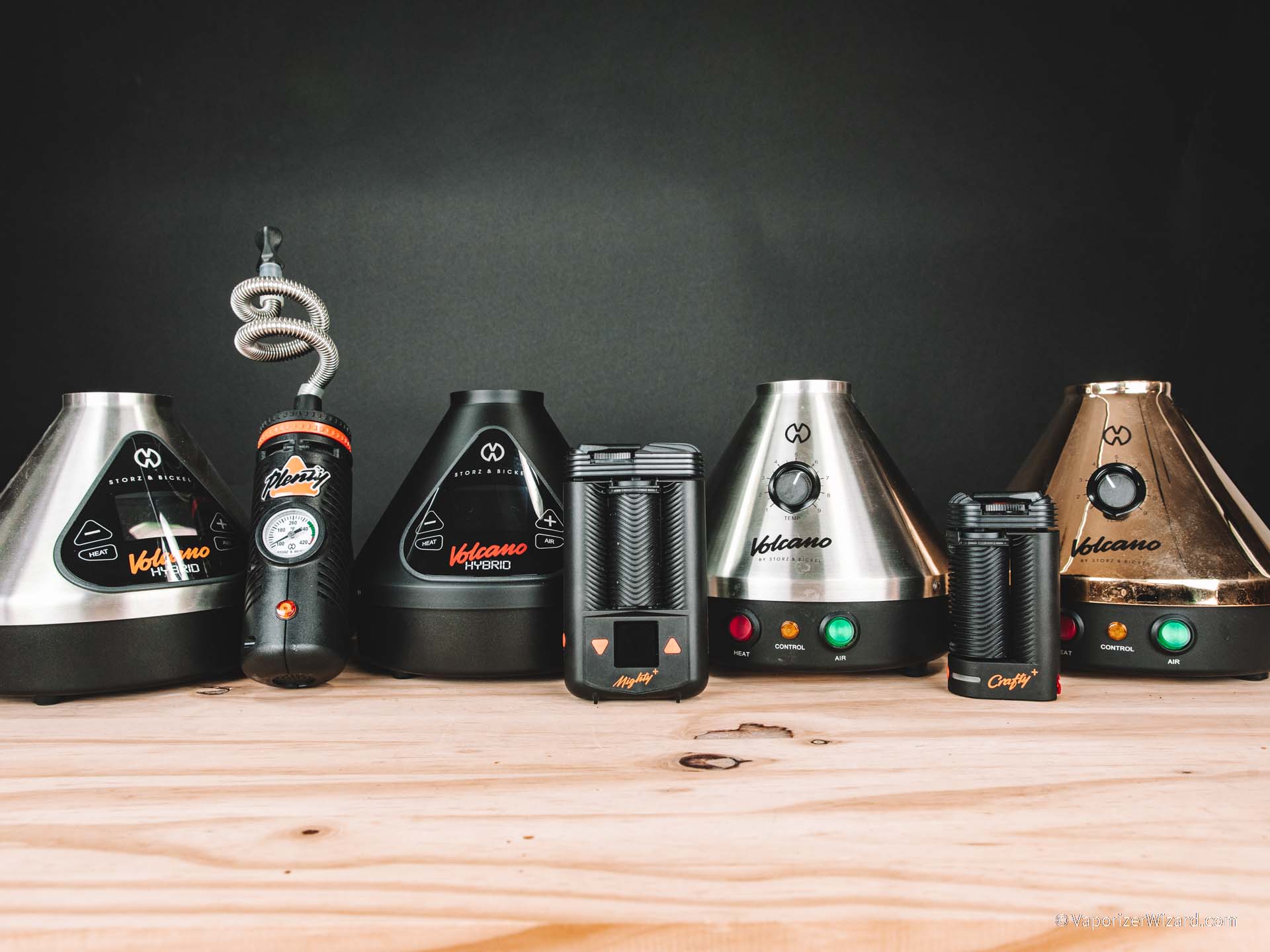 Overall, both the Crafty and Mighty are two of the best portable vaporizers to hit the market. They do cost quite a bit more than their competitors, but you can't beat the quality and engineering from Storz and Bickel. My Volcano is still going strong after 5 years of pretty much continuous daily use.
If you're here reading this, then I assume the $120 difference between the two units really doesn't matter, and you want to get whatever one will best suit your needs.
Mighty+ Vaporizer Final Thoughts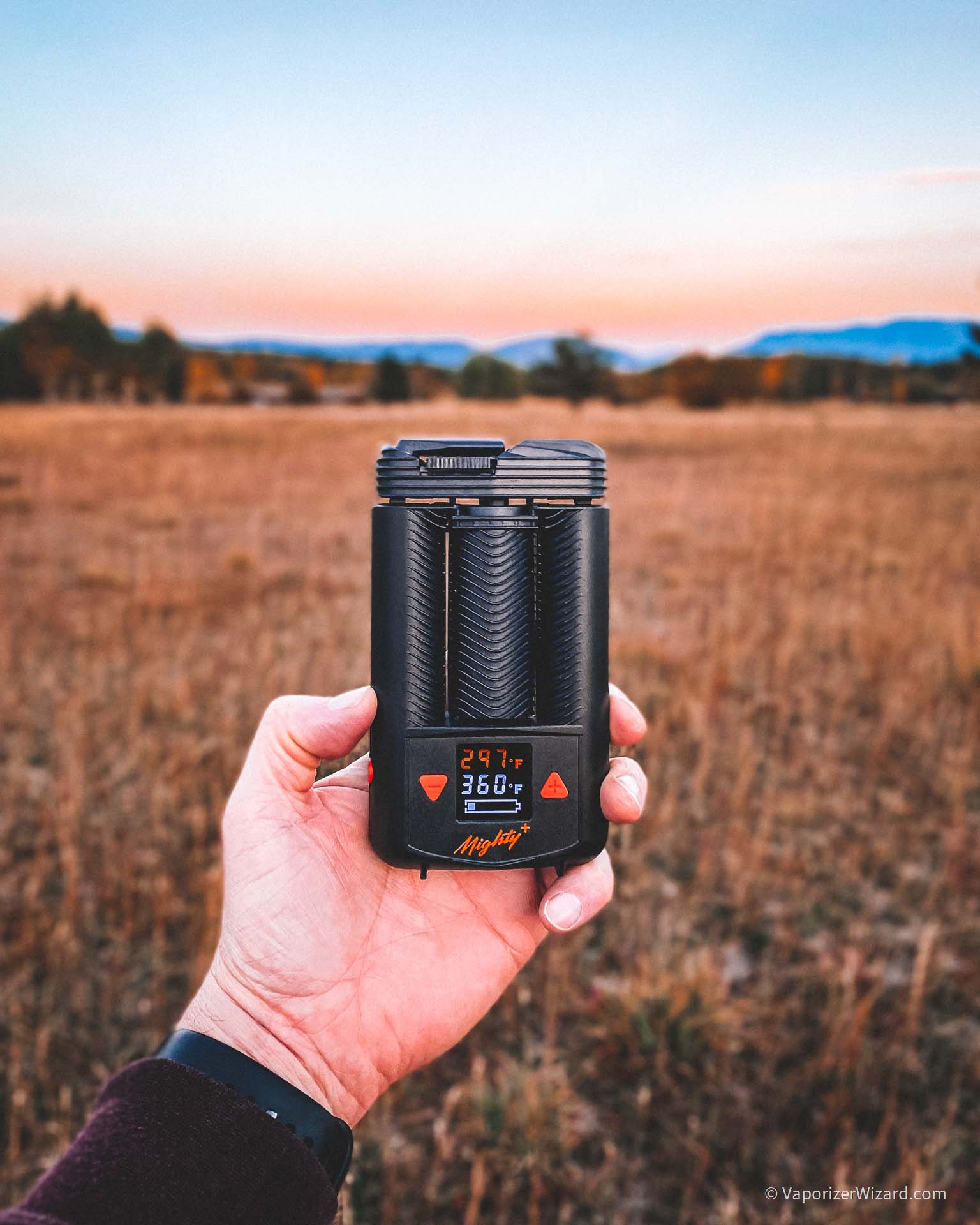 I feel like the Mighty would thrive in group scenarios because of the size and battery life. It's easy to grip and pass around the room. As I mentioned earlier, the Mighty usually gives me eight full sessions before the battery dies, which is outstanding for a portable vaporizer.
The downside to the great battery life is the overall size of the unit. If you don't care about concealment or not being to put a vaporizer in your pocket, I think buying the Mighty might be your best option.
Crafty+ Vaporizer Final Thoughts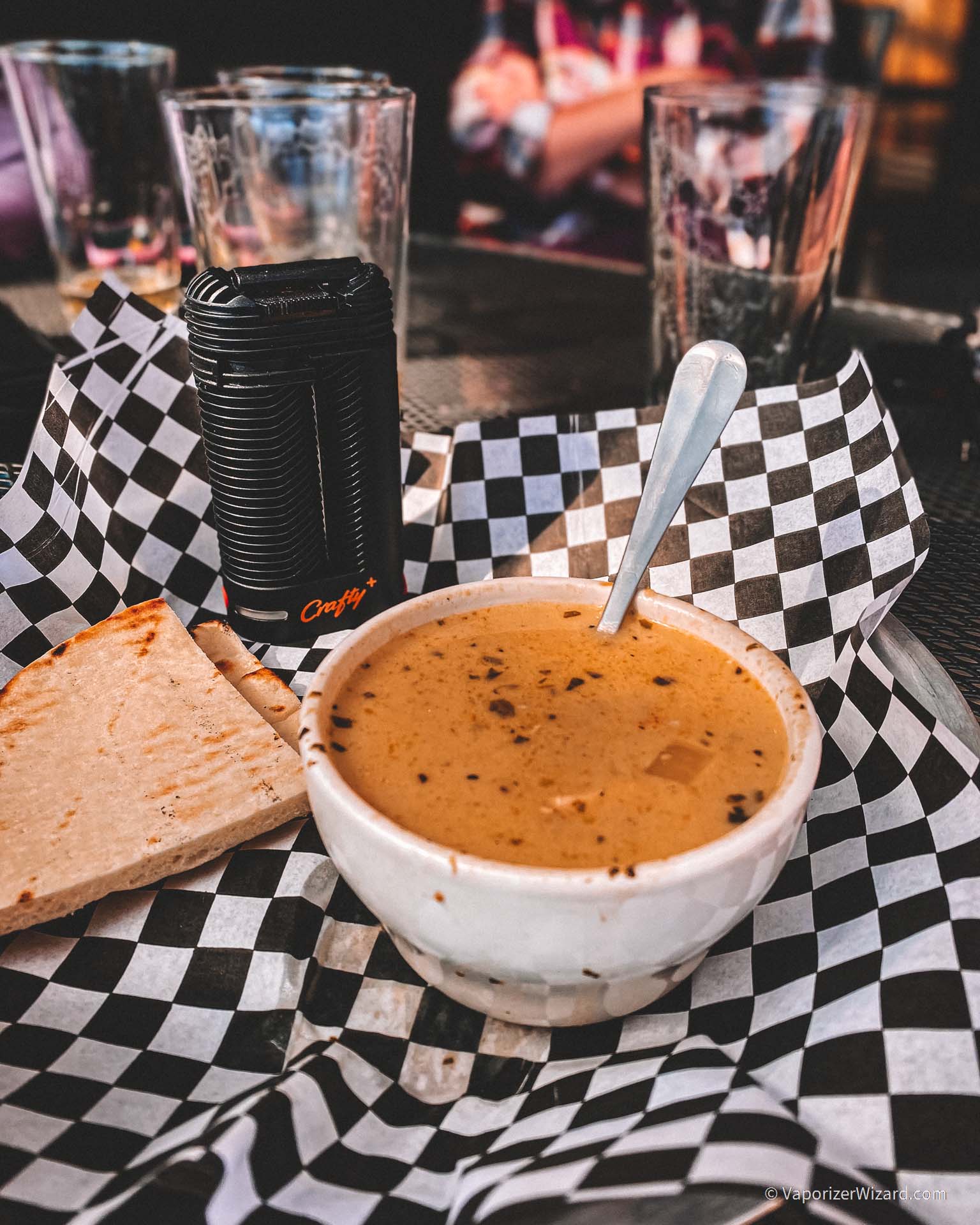 The Crafty is the ultimate personal vaporizer. It's easy to use, easy to clean, and I can always rely on it to get me medicated (provided it's charged). The Crafty thrives well in situations of concealment and portability. It can easily fit in any pocket, hoodie, or jacket.
If you want a more portable unit, I recommend you buy the Crafty+.
It basically comes down to your preference, and trust me when I say that you won't be disappointed with either of these vaporizers.
Thanks for checking out my site, and as always, if you have any questions about the Crafty, Mighty, or any other vaporizer, feel free to leave a comment below. Have a great day.