One of my favorite ways to use the Mighty+ and Crafty+ vaporizers is with my glass water pieces at home. Both of these vaporizers can kick out massive clouds, and while that's nice, the dry hot air can take a toll on your throat. Filtering the vapor through water reduces the overall temperature of the vapor and adds moisture which can have a huge impact on the overall session.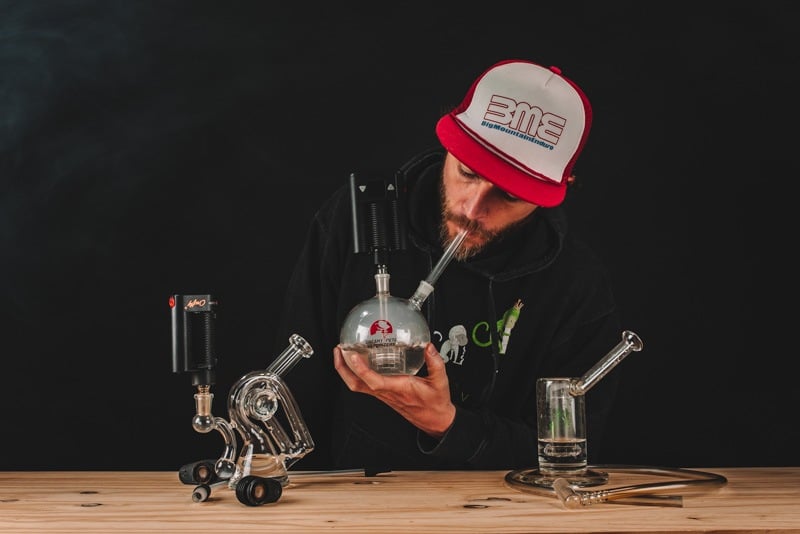 In this article, I'll go over how you can use your Mighty Plus or Crafty Plus vaporizers with pretty much any water glass pieces that uses a 14 or 18mm female connection. I'll also list a couple of options for whip + WPA's and show you my preferred method. Last but not least, I'll list a couple of my favorite glass options for vaporizers and the best places to pick them up.
Crafty+ and Mighty WPA Options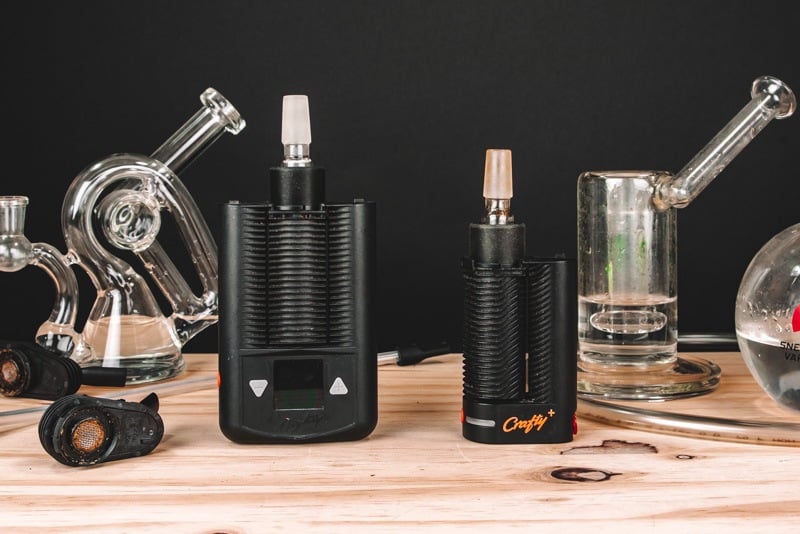 I have a few recommendations for Mighty+ and Crafty+ Water Pipe Adapters. All of them are great options to use with your water glass pieces. The first two options use an attachment that connects to the chamber similar to how the cooling unit connects. So you have to remove the cooling unit to attach the WPA. The third option slips over the mouthpiece. Check out my Crafty+ review for a full video tutorial and demo session with different attachments.
WPA Glass Adapter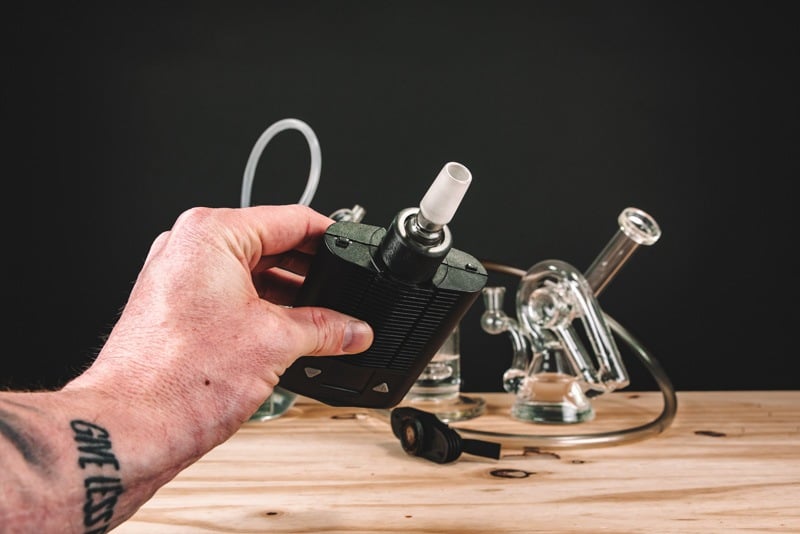 Of these two, I personally like the glass adapter more because it's a pure glass attachment and it comes with a screen. The downside to the glass adapter is that it can damage your Mighty or Crafty if you over tighten while twisting. As long as you remember to press down and slowly twist, you'll be fine. It comes in both a 14mm and 18mm options and retails for $19. Pick it up here.
Flexible Silicone Rubber WPA
The Flexible Silicone Crafty/Mighty WPA option is by far the most popular option because it's less likely to damage your unit. The downside to this one, in my opinion, is that it's silicone and it doesn't use a screen so it's recommended to use a dosing capsule to stop herbs from ending up in your water. I've previously written about my opinions on dosing capsules and I'm not a huge fan of them but a lot of people are. So if you don't mind the silicone attachment and you already use dosing capsules, this is probably the best Crafty/Mighty WPA for you.
The flexible silicone wpa retails for $24.50 and I recommend picking it up from either POTV here or directly from Delta3dStudios here.
Crafty+ & Mighty+ Mouthpiece Adapter (WPA)
The third option is a WPA that slips onto the mouthpiece. There are two different versions, one for 14mm and one for 18mm glass pieces. The problem with all three of these options is that the Mighty will be inverted and you'll need to hold both the Glass and Mighty while using. The perk of the whip attachment is that you can set the Mighty down or keep it up upright at least which you'll see below.
Mighty+ and Crafty+ Whip Options
The Crafty+ and Mighty whip options are perfect for those Netflix and chill nights. You can use both of these options with or without glass but they are more geared towards using with water pieces.
XMAX Starry WPA + Whip (Best Method)
My preferred method to attach Storz and Bickel portables (Crafty+ and Mighty) with a bubbler or bong is the Xmax Starry water pipe adapter. It's cheap ($12), well made, and it you just slip the silicone tubing over your Crafty+ or Mighty cooling unit straw. The Starry WPA can connect to glass pieces via a 14mm female connector.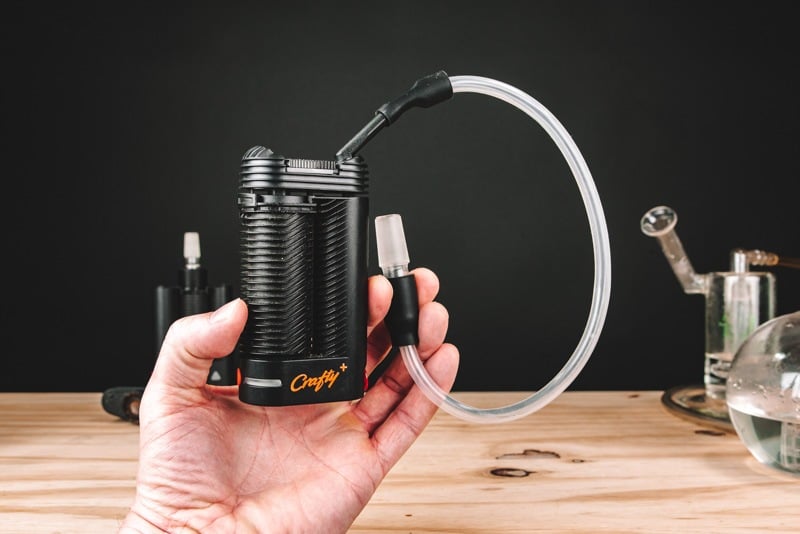 It is literally that simple, this will allow you to take much larger, longer, hotter draws without coughing, or take the same draws you normally do while being smoother and less dry. Pick up the Starry WPA + WHIP here.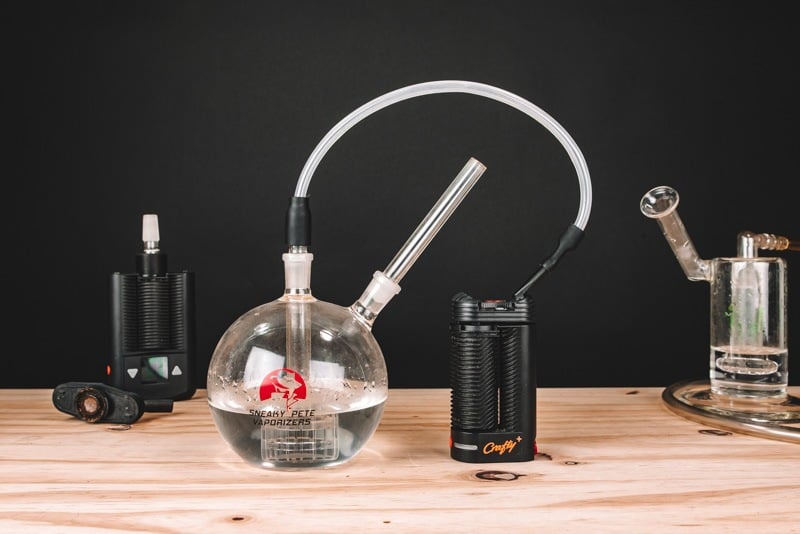 One benefit of adding water to your vaporizer is that I can finish a session much quicker and it's easier on the throat. With water, I can take larger, longer, higher temp draws, and thus finish a session and get back to my task quicker. Depending on this situation this can be a very nice benefit.
Arizer Extreme Q Whip
This used to be my preferred method before the XMAX WPA + Whip option was available. This is still a good option if you wanted a longer whip (3 Feet) and more air flow. The interior diameter of the Extreme Q whip is larger and allows for more aggressive pulls. However, I still prefer the Starry WPA. The Extreme-Q whip retails for $15 and you can check it out here.
Glass Water Piece Options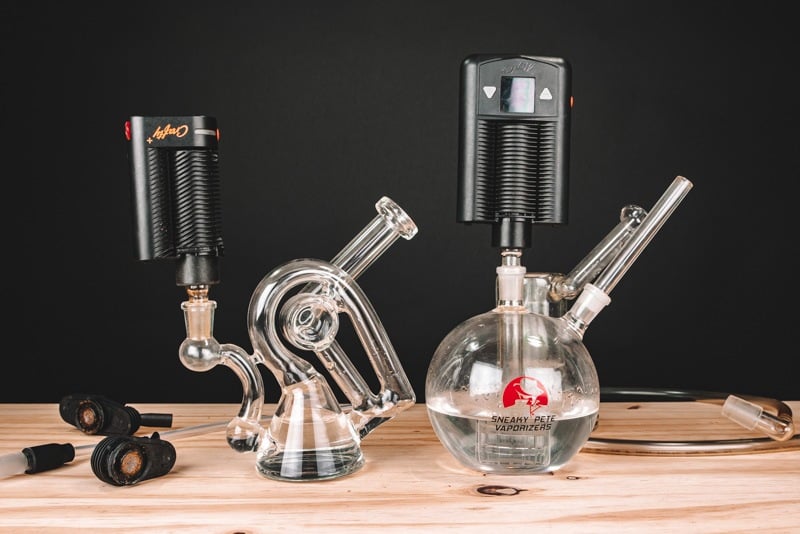 I recommend checking out the Mega Globe ($63) from SneakyPete. I use this bubbler the most of any glass piece I've owned. It's easy to hold in the hand, it offers great filtration and I can really milk the shit out of this thing. Pete also has a smaller version ($47) that I use a lot but I use the mega globe a lot more. Check the mega globe here and the smaller version here. I have a demo with this bubbler in my full Crafty+ review.
You can find glass cheaper but you don't get it as fast as you can from SneakyPete. You can order direct from dhgate at reduced prices but it will take 3+ weeks to get to you. I got both the D020-D and the D021 above from DHgate and they are solid pieces.
Best Mighty+ or Crafty+ WPA Options
For me, the easiest and best option is the Xmax Starry Whip + Adapter (Buy). It's cheap and doesn't require changing anything with the device. Just attach it to the mouthpiece and you're ready to go.
If you're looking for a direct WPA attachment, I prefer the Mighty/Crafty+ Glass Adapter (Buy). Yes it can damage the unit from over tightening but I think it forms a better seal, comes with a screen so I don't have to use dosing capsules and it's a pure glass option.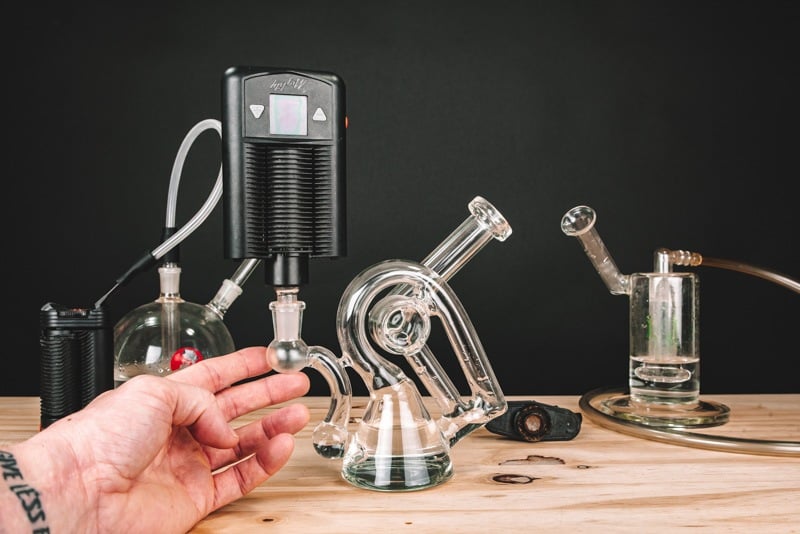 I'd love to hear about and see what kind of setups you are using. Please leave a comment down below with what works for you and as always, feel free to hit me up with any questions or suggestions. Thanks for checking out my Crafty+ Mighty Water Pipe Adapter Tutorial. Have a great day!