Now that the ski lifts have quit turning and I can no longer hike up to the snow, it's time to talk about the best vaporizers for skiing and snowboarding. As many of you know Skiing is one of my absolute favorite things to do, and it presents a unique set of challenges for vaporizers (as well combusting) due to the wind, cold, elevation, and snow.
After bringing around 75-100 different portable vapes up the ski hill I have definitely settled on a handful that really became strong favorites. Check out some tips or scroll down for a quick overview of my favorite vapes for skiing.
If you are looking for the best portable in situations other than skiing, check out my best dry herb vaporizer article.
5 Best Portable Vaporizers for Skiing: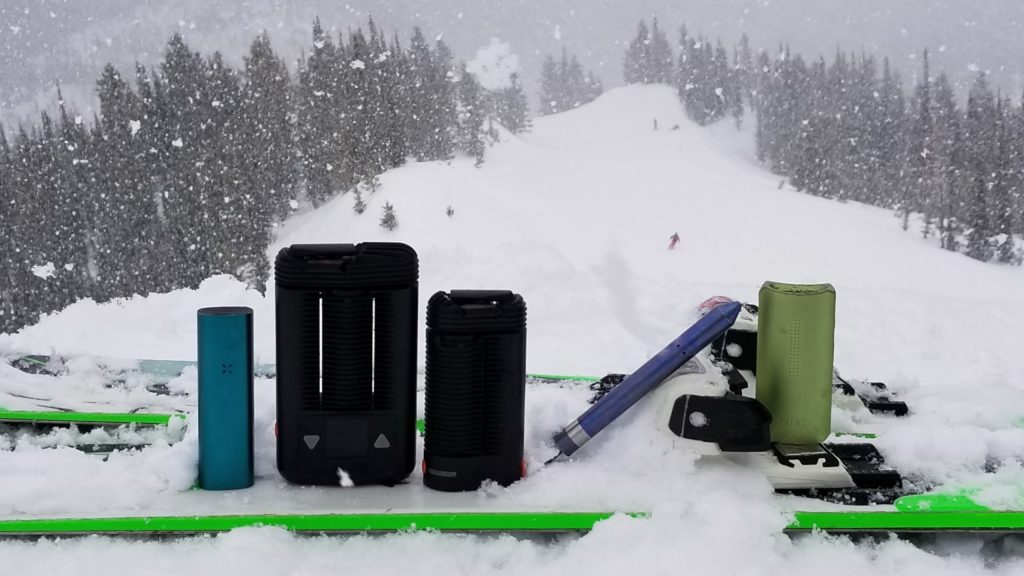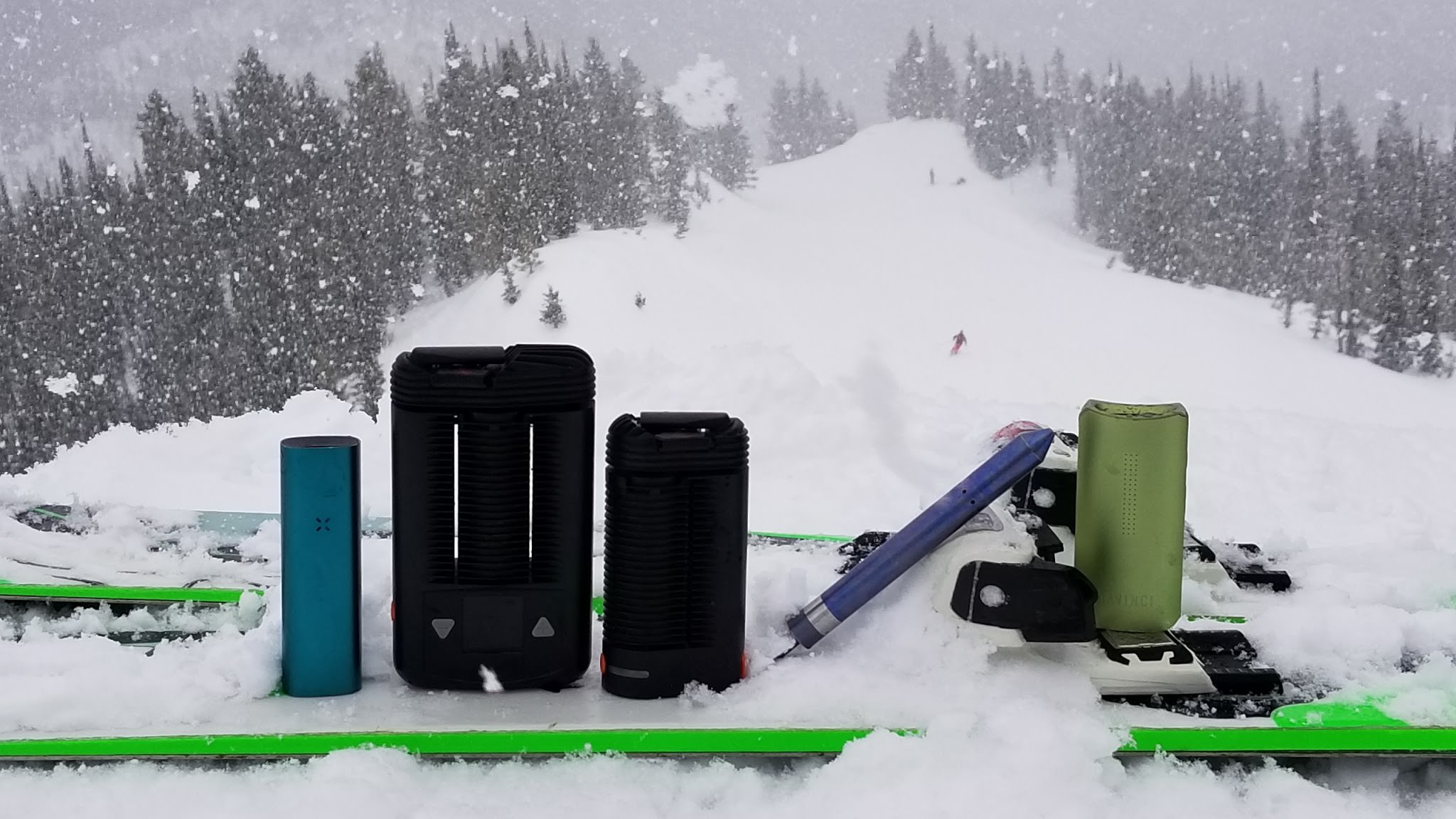 The five portable vaporizers that stand out as the best for skiing, in my opinion, are (in no particular order): The Crafty, the Mighty, the Pax 3, the Davinci IQ, and the Grasshopper. I also think the Boundless CF  is the best budget option.
Things I considered:
Sturdiness in Pocket/Crashes
Shape/Feel/Comfort in the Pocket
Cold Weather Performance/Heat up time
Battery life/Replaceable?
Vapor Flavor/Density/Potency
Solo/Group Use
Finding the perfect vape for skiing can be tough because I need to worry about how the unit feels in my pocket. Can I duck down in a tuck position? Does it inhibit my movement in turns or weigh down my jacket in weird spots? The vape also need to be sturdy enough in my pocket to survive crashes… go big or go home right?
Then the performance of every vape takes a hit out in the elements. The cold weather can sometimes cut battery capacity in half and also really slows down pre-heating. Even the elevation can play tricks on you when you get really high up there, especially with a torch and lighter powered vapes.
Lastly, I still care a lot about the vapor flavor and potency, as well as deciding if I need a vape for solo user, two person use, or larger group use.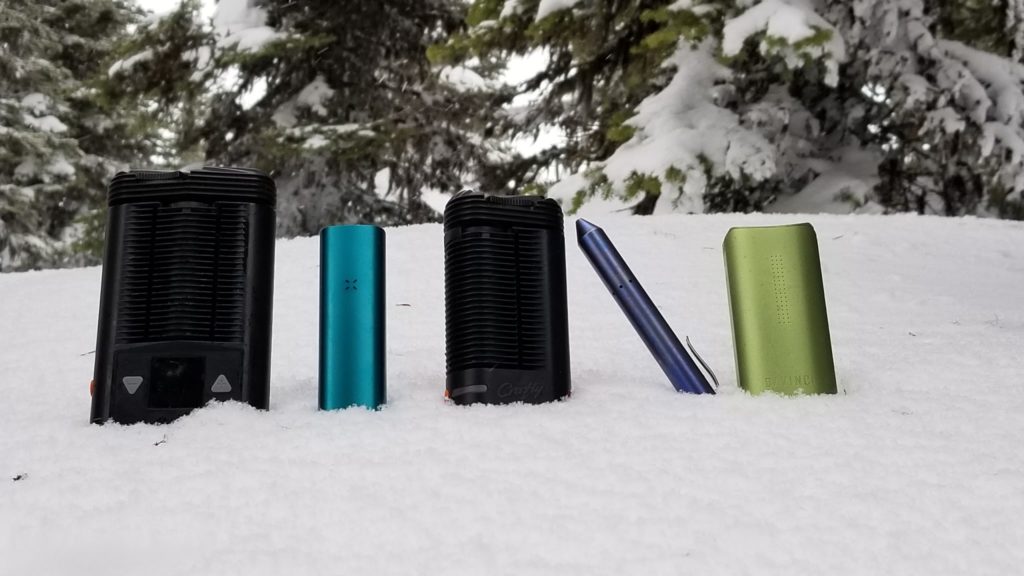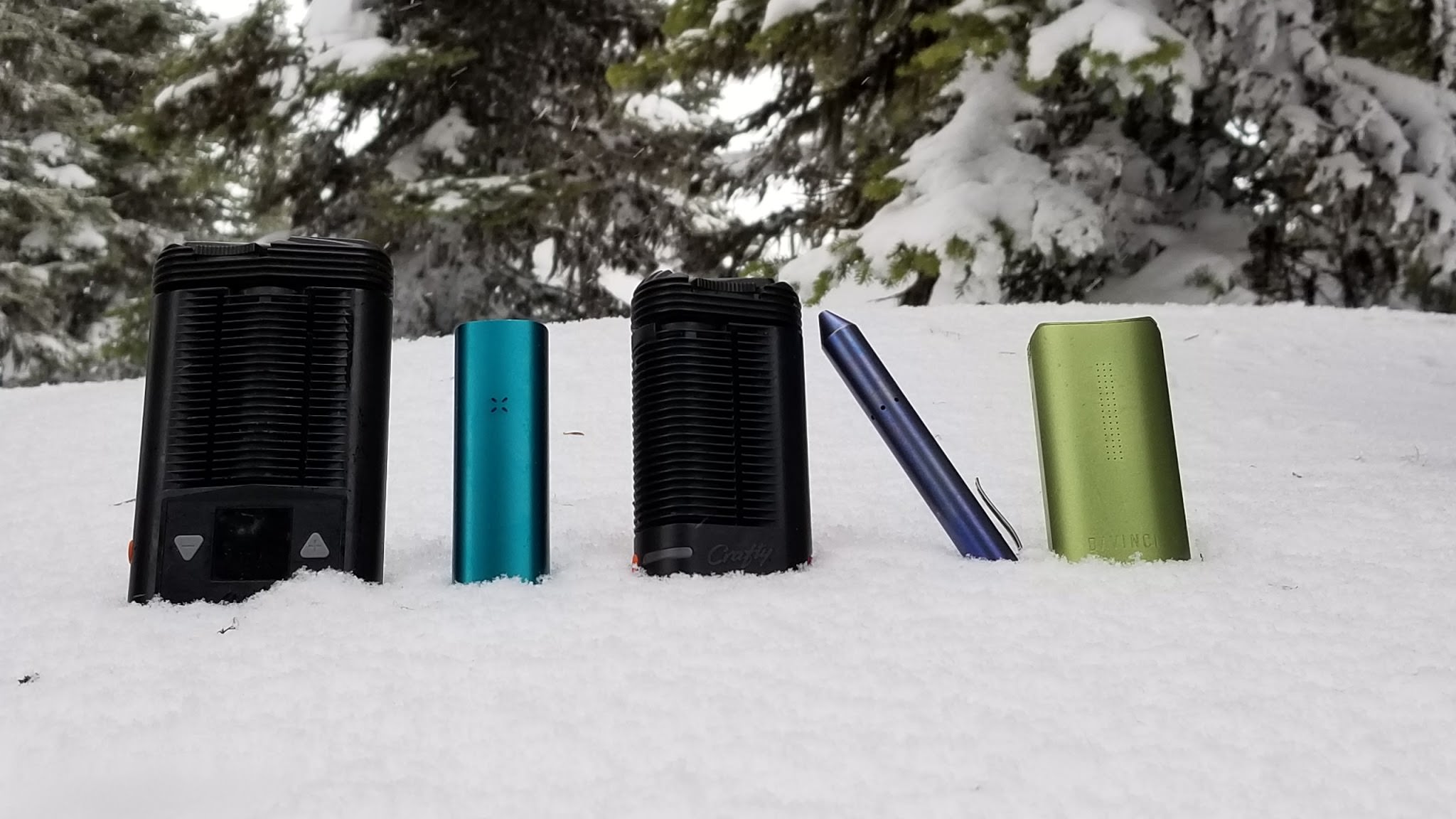 Tips for Using a Vaporizer While Skiing:
Fully charge before leaving, need all the power you can get in the cold. Expect 50% battery capacity on very cold days.
Keep the vape in your innermost pocket. It's warmer and provides more padding for crashes.
Empty vapes after use to help cut down on the smell.
Bring extra batteries, and/or external battery pack to recharge if you plan for very heavy use.
JyARz are my go-to container for skiing. Glass jar with rugged outer shell, I like to pre-grind before I head out to make repacking as smooth as possible.
Where to Vape While Skiing:
Generally, I like to vape in two main spots while skiing. The first is on the chairlift, this requires a vape with a reasonably fast heat-up time, and a short or medium session length otherwise you get to the top before the bowl is finished!
Quick tip! I like to start the pre-heating process while I am in the chairlift line so that I can start ripping shortly after getting on the chair. The Chairlift can be quite tough to impossible with lighters and torches on the windiest days, so I have not always had the best luck with the butane vapes on the slopes.
The other place I like to vape is in a nice secluded spot in the trees. Usually, when I stop in the trees I have a lot less issue with wind, and falling snow.  This is also the more relaxing and better way to vape with groups, however, there is only so much daylight so sometimes I like to keep moving if I want to get a lot of runs in!
Which Vape is Best For You? Pros and Cons.
Crafty/Mighty: Most enjoyable to use overall with a few downsides. Easiest to use in group situations (low draw resistance, no technique, very consistent and easy for non-vapers). Tastiest vapor overall.
The main downside to the Crafty is going to be the battery life, expect to only get 2 bowls per charge on the very cold days. The main downside to the Mighty (which with double battery life solves the crafty battery problems for all but the heaviest users) is the size. I do not prefer carrying the Mighty in my pant pockets, and it's sort of awkward in my jacket pocket. So I carry and bring the Mighty when I have my backpack but the Crafty when I don't.
Expect the Crafty and Mighty to take a couple minutes to heat up in the cold, since they vibrate to let you know they are heated up, I often click them on while they are still in the pocket. Expect these units to hold around .25g of herb when full.
Pax 3/Davinci IQ: Smallest sturdiest units with very fast heat up times. They both heat up fast in the cold with the pax 3 taking about 30s in the cold and the IQ taking about 60s. While they do give up a little bit in vapor flavor and density compared to my other top choices they make up for in comfort/size, and battery.
The IQ is going to have a replaceable battery so you can bring extras, and while the Pax3 battery is not replaceable a single full charge has outperformed and outlasted any of the other vapes I have brought onto the mountain. The Pax 3 or the IQ is probably the best solution for most people all things considered. They have no real downsides, and overall just do well at everything. Both units hold about .15-.2g with the half pack lid (pax3) or spacer (IQ) and they both hold .3-.4 with the standard full bowl.
Grasshopper: The Grasshopper is the quickest heating hardest hitting vape in the cold. If you want something to pop out and quickly (heats up in under 10s in the cold) take a rip and get back to shredding ASAP the hopper may be your best choice.
The hopper also has good flavor and a replaceable battery so you can bring extras to keep the fun going. With that said the Grasshopper does have one MAJOR downside and a few minor ones.
While my Grasshoppers have been very reliable overall, I have multiple friends and have talked to plenty of people online who have had a lot of reliability issues (even without the added stress of extremely cold weather vaping). The Hopper does have a lifetime warranty, so they will fix it, but dealing with a broken vape can be a huge hassle and huge time waste so this is a big downside.  Definitely think twice about considering the hopper if it is going to be your only vaporizer.
The minor downsides are that the Hopper bowl only holds about .15g so it's really best for 1 or maybe 2 people. The bowl is also a bit harder to pack (especially on a chairlift) and the battery life is weakest in this category so do bring extras!
Budget Options:
Boundless CF: This is definitely my go-to budget unit for the slopes.  It has more draw resistance than the others, it is the only non fully adjustable temp model listed here, it has the second smallest battery behind the Grasshopper and it is NOT replaceable. However the CF is very easy to use, it heats up nearly as fast as the Pax 3 in the cold, it works well with with varying sized bowls from .1-.3g of herb so it's good for solo or group use. This is the cheapest battery powered unit I recommend at $110.
Dynavap Vapcap M: This is the cheapest unit overall coming in at only $59 which is well below the competition. The M is very small, very light, and very efficient.  It is definitely best used by yourself due to the small bowl and difficulty repacking on the slopes. Unfortunately this vape is also powered by a butane torch or a lighter so some days I have great luck with it, and other days it's a pain in the butt to deal with when it's really windy or heavily snowing. Depending on the elevation of your local hill/mountain you can also run into butane lighter/torch issues as you get higher, although it does help to open the butane valve further at higher elevations
Thanks for checking my article out! If you have any questions, comments, or concerns let me know down in the comments box. I would also love to hear some of your favorite skiing and snowboarding spots. I plan to expand my skiing outside of Montana these next few winters so give me some ideas!