The Davinci IQ2 is a dry herb vaporizer made by the company Davinci Vaporizers, one of the older portable vape companies founded in Las Vegas, NV back in 2011. The IQ 2 is an updated version of the OG IQ which was one of the most advanced, intuitive portable vaporizers to hit the market.
The Davinci IQ2 vaporizer comes with a full temp spectrum that is adjustable via on vape temp dials. My favorite features are user-replaceable batteries, an all-glass vapor path, and now includes an adjustable air path called "air dial" that allows you to adjust the flow of the vapor. More airflow equals fewer clouds but smooth and cool vapor, while less airflow equals hotter vapor but bigger and denser hits.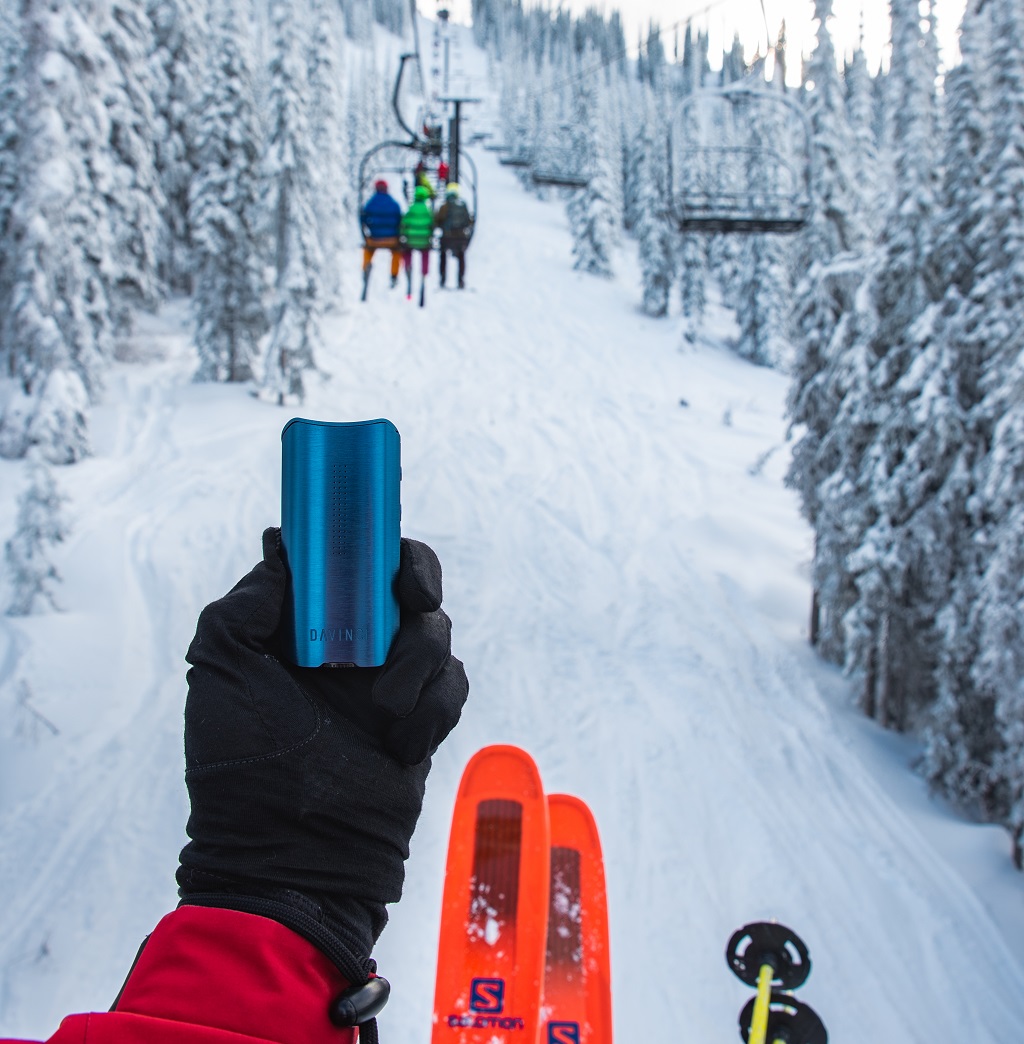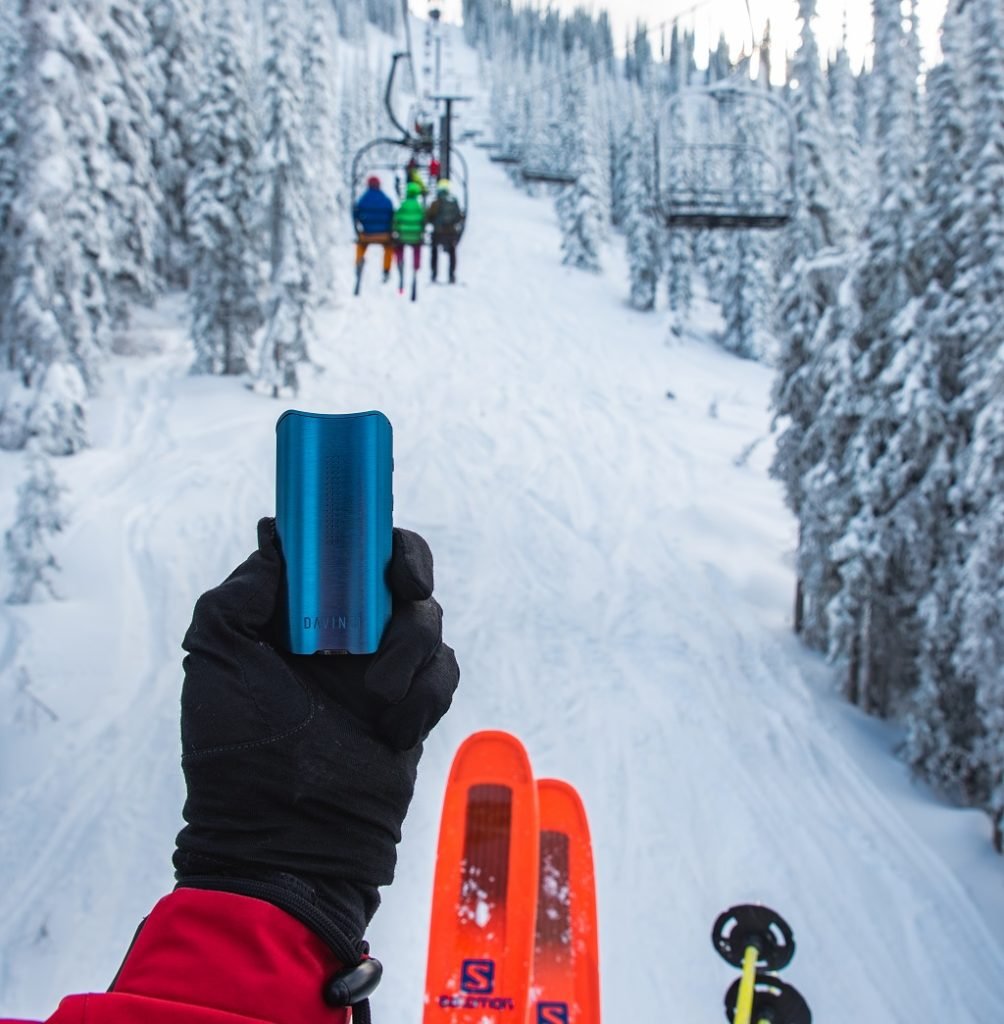 Davinci IQ2 Technical Specs

| | |
| --- | --- |
| Name: | Davinci IQ2 Vaporizer |
| Manufacturer: | Davinci Vaporizers |
| Price: | $249 |
| Materials: | Dry Herbs |
| Temp Range: | 280F – 430F |
| Heating: | Conduction |
| Battery Life: | 5-7 Bowls Avg |
| Battery Type: | Replaceable 18650 |
| Charging Type: | Micro-USB / 6 Hours |
| Warranty: | 10 Years |
| Extras: | Smartphone App |
SHOP DAVINCI IQ2
*USE CODE WIZARD30 TO SAVE 30% AT DAVINCI.
Remove the free item from the shopping cart to use the WIZARD30 discount code.
The new IQ2 vaporizer offers the same great battery life, heat-up times, vapor quality, and reliability. The Davinci IQ2 vaporizer also comes with some great accessories, including a new dosage capsule and ceramic extract disc, meaning this new version of the IQ vape can do both dry herbs and concentrates.
I'll get more into all of that later on in this Davinci IQ2 review, but for now, if you're looking for one vape that can do it all, the IQ2 is a one-quiver portable vaporizer for all of your on-the-go needs.
The Davinci IQ2 vaporizer retails for $249 (Code WIZARD30 for 30% OFF) and I recommend buying the new IQ2 vape directly from Davinci. The safest place to buy is directly from the source. They have great customer service, and you can rest easy knowing that you have a genuine product with a 10-year warranty. Read on below for my full Davinci IQ2 vaporizer review.
Size and Portability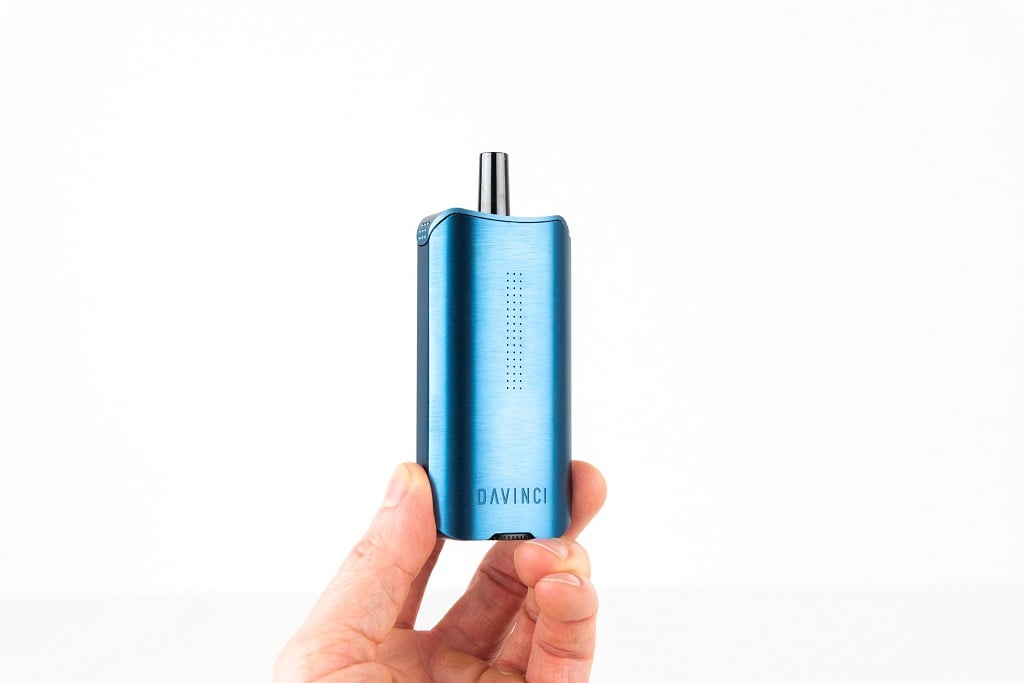 IQ2 Size – The Davinci IQ2 vaporizer is roughly 9% larger and weighs 11 grams more than the original IQ. 149 grams on the OG IQ vs 160 grams on the new IQ2. New weight comes from the addition of the adjustable air dial, thicker oven, and more insulation around the battery.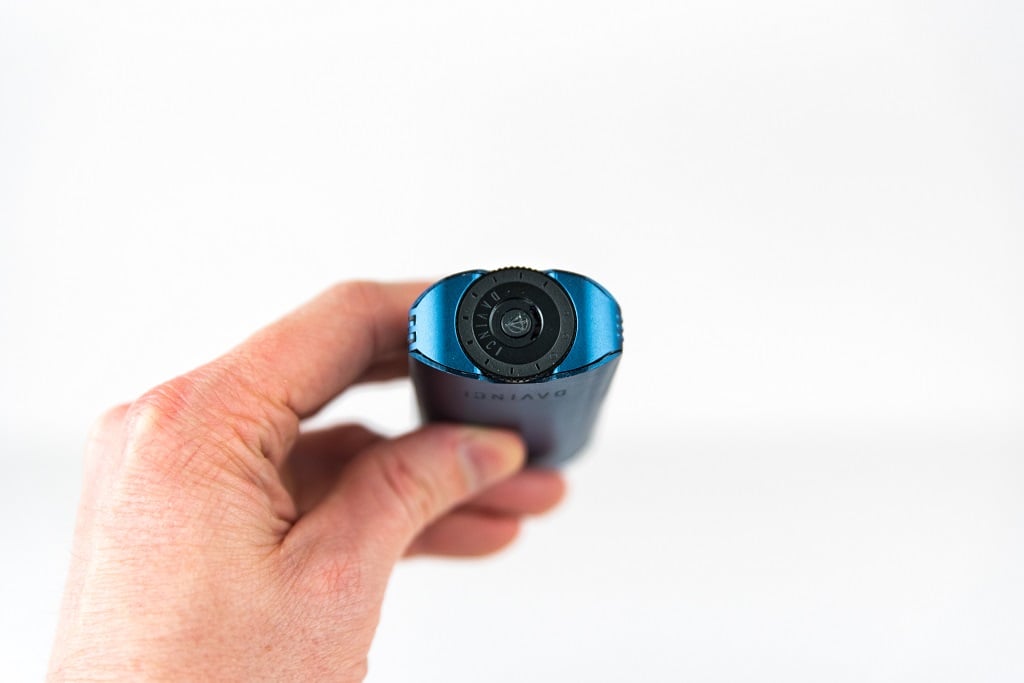 Portability – The IQ2 vaporizer is easy to hold in your hand and fits easily in a pocket or purse. I honestly enjoy using the extended or water tool adapter mouthpiece most but the flat piece does improve portability slightly. There are no loose parts so it feels good in my pocket when I am on the go.
Build Quality
Build Quality – The build quality on the IQ2 seems very premium. Davinci says the device was built with purity in mind and all components are medical grade and from what I can tell it's true. The exterior is a sandblasted aluminum shell, the oven, the vapor path is airtight and glass and zirconia ceramic. They also offer a very long 10-year warranty so they stand behind the quality.
So far mine still looks and acts brand new, but I have been pretty lucky during my time out and about with the IQ2 so it hasn't had any nasty drops or falls. I'm wondering how this outer shell will hold up as I continue to put it through its paces. I'll continue to update this IQ2 review after more testing.
Included with IQ 2 Vaporizer
Included
(1) Davinci IQ2 Vaporizer
(1) USB Charging Cable
(10)mm Water Pipe Adapter
(2) Pick Tools
(9) Alcohol Wipes
(9) Organic Cotton Pieces
(1) Dosage Pod
Accessories – There are a few accessories available that might be worth considering such as the IQ Sleeve, which is a leather cover that goes over the device to protect it from minor falls and scratches. It also helps dissipate the heat and makes it a bit nicer to grip. I also suggest picking up an extra battery or two.
Check out my full Davinci Vaporizer Accessory Guide for updates. They just released a new hydratube and the new premium dosage holder is a must for the IQ or IQ2.
Coupon Code – Remember that you get 30% OFF everything from Davinci Vaporizers with code WIZARD30.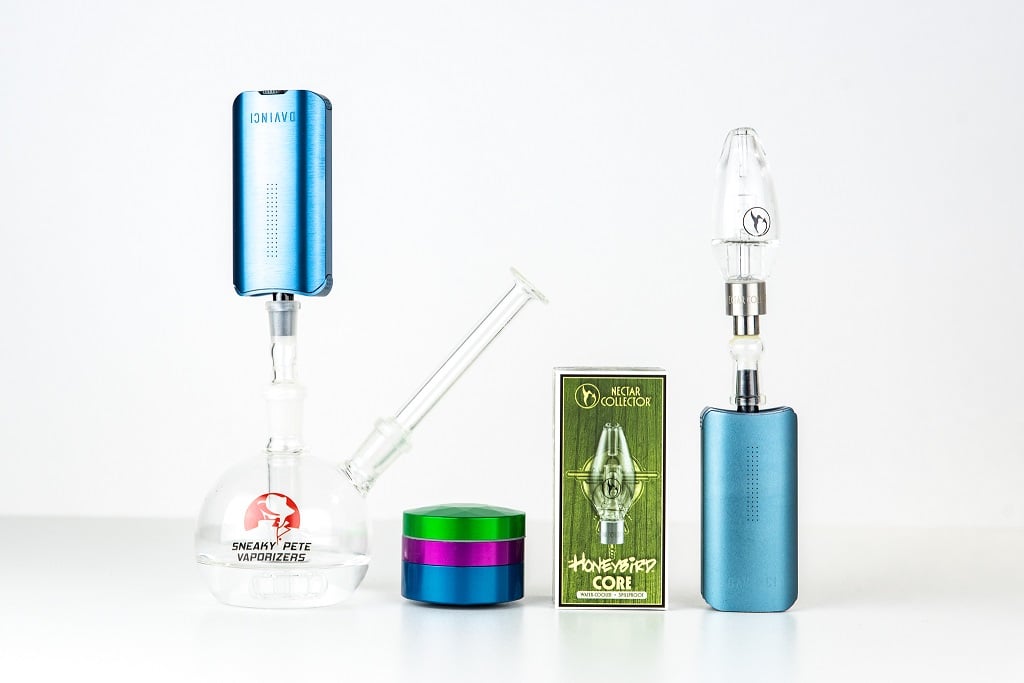 Amazon Accessories – Anker makes an external battery pack I use that can charge my IQ2 via USB on the go. I also personally use an old cheap nitecore-i2 external charger for my IQ2 and all my other vapes with external batteries and it still works great.
Vapor Quality
Vapor Quality – The IQ2 offers the best vapor quality of any conduction vaporizer I have tested. It produces good flavor at lower temps and potent, dense hits at higher temps. Especially with the air dial closed.
Heating and Temp Options
Heating and Temp Options – The IQ2 vaporizer temp range runs from 280F – 430F. The IQ2 comes with all the great software features in the OG IQ like smart paths, and heating modes but now the IQ2 comes with a new feature called Dosage Control. You can check out all the info about "smart paths" in my original DaVinci IQ review.
Dosage Control
Dosage Control – What is it and how is it calculated? – One of the new features with the IQ2 allows you to see the dose of "THC" in each draw you take as well as the total amount when you complete a session.
If I understand the algorithm, it's not the actual amount of THC you are consuming but rather a baseline to judge how much THC you MIGHT be getting based on certain parameters.
Davinci says these dosages are based on a few different variables like oven temperature, the length of your draw, pauses between draws, and the length of time the herbs have been under heat. The algorithm also considers the potency of your dry herb and the amount of dry herb or extracts in the oven.
I really like this type of system combined with the dosage pod for micro-dosing during the day. You can add a "maximum dose" per session, and the vape will alert you when you have reached your set dosage.
Oven Info and Loading Tips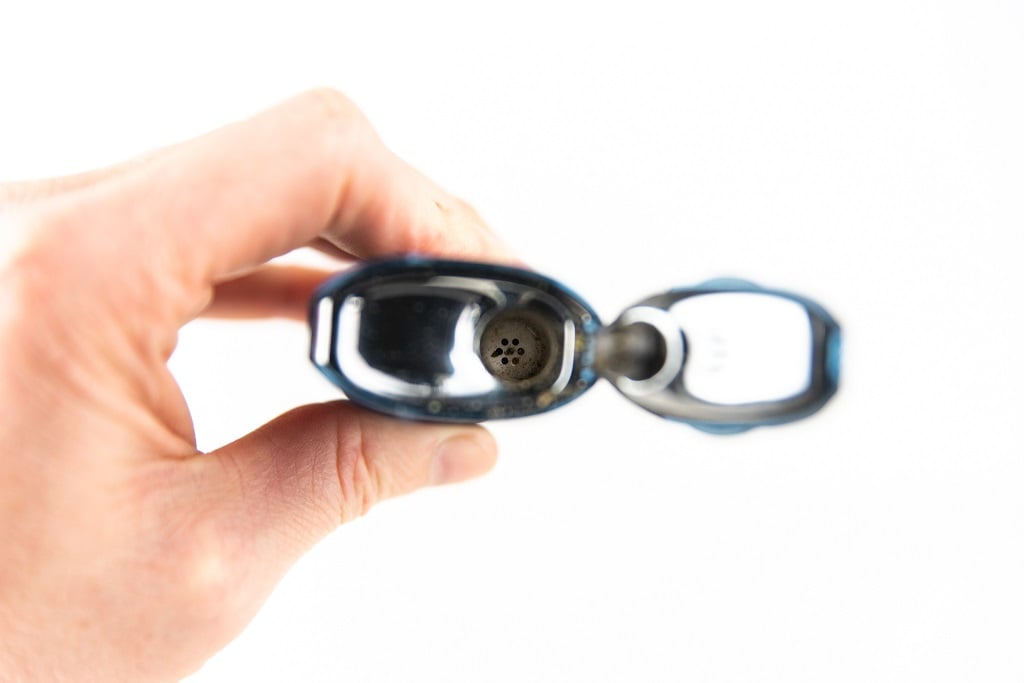 IQ2 Oven Info – The IQ2 uses a glass-lined ceramic oven and features a conduction-style heating method. This means that the herbs will always be heated regardless of whether you are drawing or not, this makes the experience sort of similar to a joint.
Convection vaporizers like the Firefly 2+ (Firefly 2+ Review) only heat the herbs as you draw from the vaporizer. This makes it easier to take a hit here or there without wasting any herbs. It's best only to load the amount you will finish in a single session with conduction styles vaporizers like the IQ 2.
How to Pack Oven – A fully packed oven will hold roughly .5 grams but you can use the pearl to shrink the oven size. You can now also use the dosage capsule for loads around .2 grams and smaller. I personally just use the pearl and shrink oven size for solo sessions, but the new dosage capsule is perfect for micro-dosing and lower tolerance users.
I recommend a medium to fine-grind for the IQ 2 oven, and it helps to use a full bowl and pack it down a little bit. You don't want the flower to be super loose because conduction heating requires contact with oven sidewalls.
Maintenance and Cleaning
Maintenance for iq2 – Davinci modified the flavor chamber for easier cleaning and maintenance. This is easily one of the biggest improvements to the new IQ2. The oven, vapor path, and flavor chamber are much easier to clean.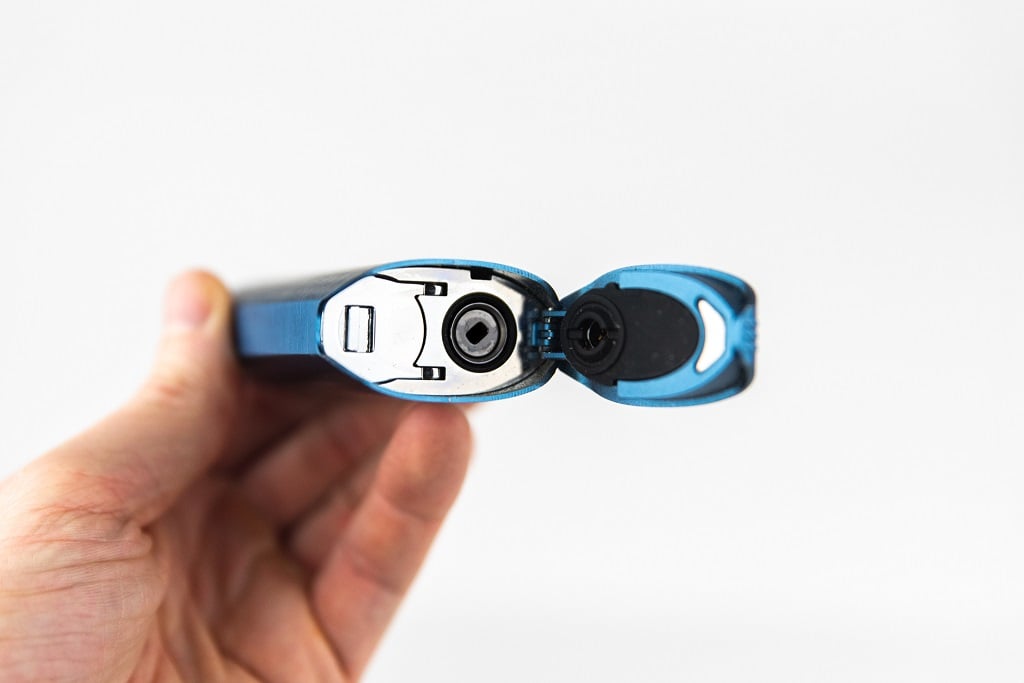 How to Clean the IQ2 – I do, however, recommend that you brush out the oven, and brush off the pearl quickly after each session. It doesn't take long to do and will increase the time you can use it without having to do a full clean.
A full clean will take about 10 minutes or less. Here's my Davinci IQ2 vaporizer cleaning process:
Wipe out the oven and pearl with some isopropyl alcohol wipes, or a q-tip dipped in iso. Be sure to hold the device upside down so any excess liquids don't fall into the device.
Remove the flavor chamber, cap, and mouthpiece.
Soak the vapor path and mouthpiece in some ISO. If the cap is dirty, remove and set aside the o-ring, and then soak the cap with the other parts.
Place the silicone mouthpiece seal and cap o-ring in warm soapy. The o-rings don't usually get too dirty and won't need to be cleaned every time.
Rinse the parts that were soaked in ISO with fresh water and then let everything completely dry before using it again. When in a hurry you can place them in front of a fan for faster drying.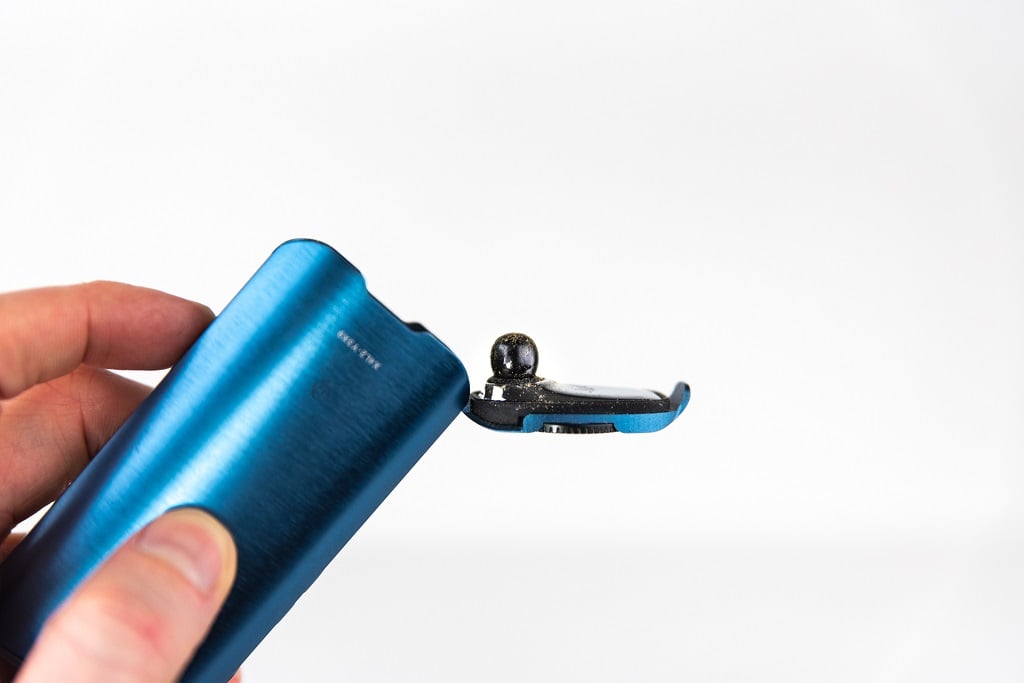 Warranty Info
Warranty Info – The Davinci IQ2 offers a 10-year warranty which is one of the best in the business. Davinci Vaporizers has also been around for the better part of a decade so you can rest easy knowing you're $300 purchase is covered if anything happens. I recommend buying the IQ2 directly from Davinci. This way you are guaranteed a legit product straight from the source.
Battery Info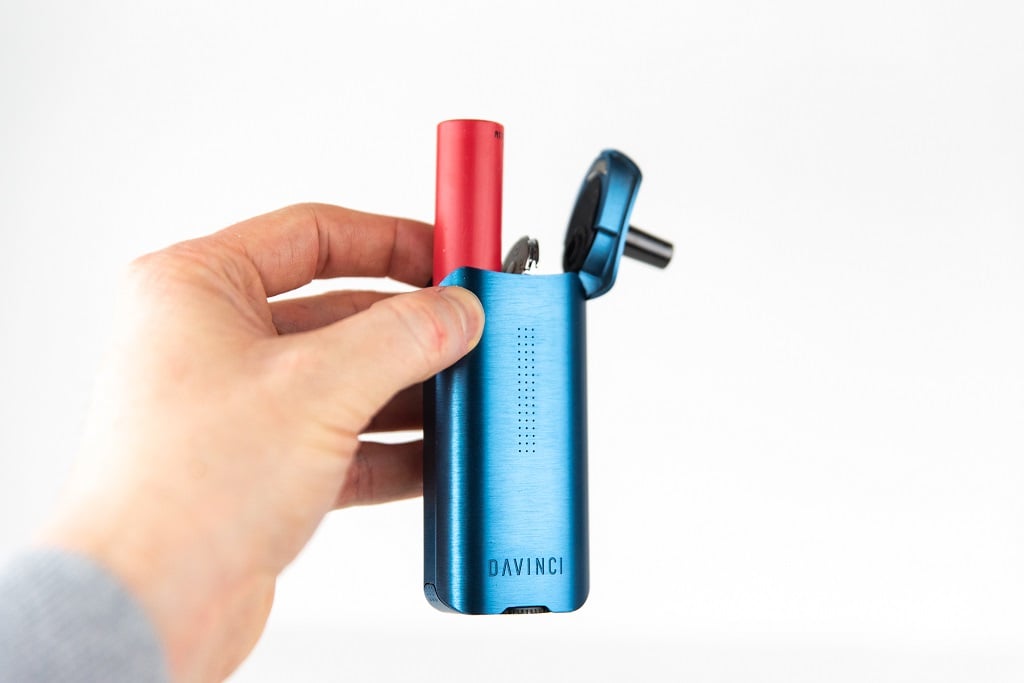 Battery Specs – The IQ2 comes with a high-quality 3500 mah 10 amp 18650 rechargeable replaceable battery. You get one battery included with the purchase but I recommend picking up an extra (or two). I have tested the vape with older lower quality 18650's (same mah and amp) and it still works just fine. BUT it does perform best with OEM batteries in my experience.
Battery Life – A fully charged IQ2 battery will last anywhere from 50-80 minutes. Your mileage may vary depending on how much herb, how long your sessions are, how hard you are drawing, how high the vaping temps are, the how hard you are drawing.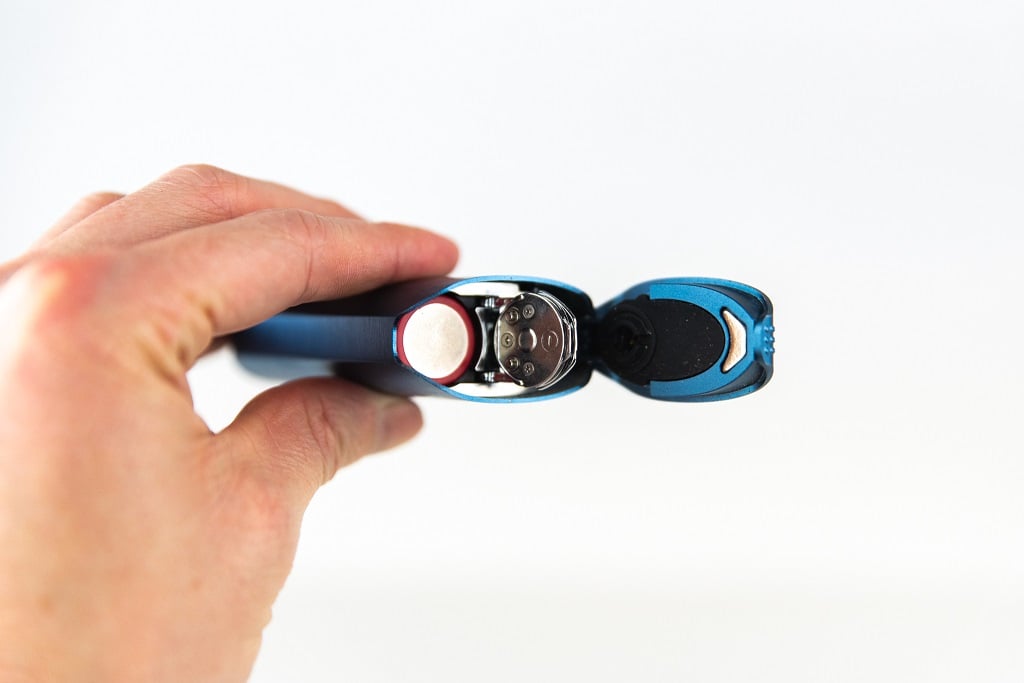 Charging Times – I've found the Davinci IQ2 takes up to six (6) hours to fully charge a dead battery within the device. This is honestly one of the slowest charging vaporizers on the market BUT it does offer good battery life. So if you are concerned about slow charging I would recommend picking up an extra battery or two and/or an external charger. This way you can charge multiple batteries at once and in roughly two (2) hours instead of up to six (6).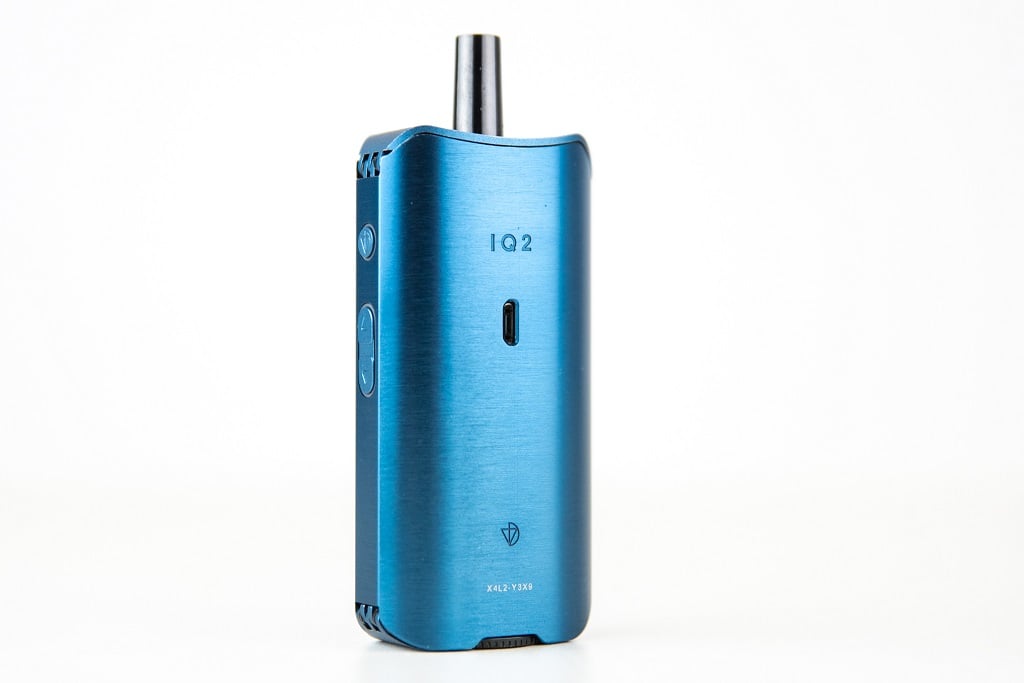 Battery Tips and Tricks – Remember that its best to leave unused batteries at a partial charge, ideally around 40%. They degrade much faster if you store them for long periods fully charged or fully dead. It can also help to use them on rotation and I recommend labeling them when you get them. IE. 1,2,3 or A,B,C
IQ2 APP Info
If you are an android user there is an app loaded with features. Unfortunately, Apple has decided that no vape apps are currently allowed in the Apple Store but there are some workarounds.
If you had already downloaded the app pre-vape-ban from purchasing another Davinci Vaporizer then you can still use it.
I have also heard you can use an android emulator on an iPhone such as 'BlueStacks' but I have yet to personally try this.
Luckily pretty much everything you can do in the Davinci APP you can still do directly on the device including the new dosage control. All of the information can be found in the manual or online via the Davinci website.
IQ vs. IQ2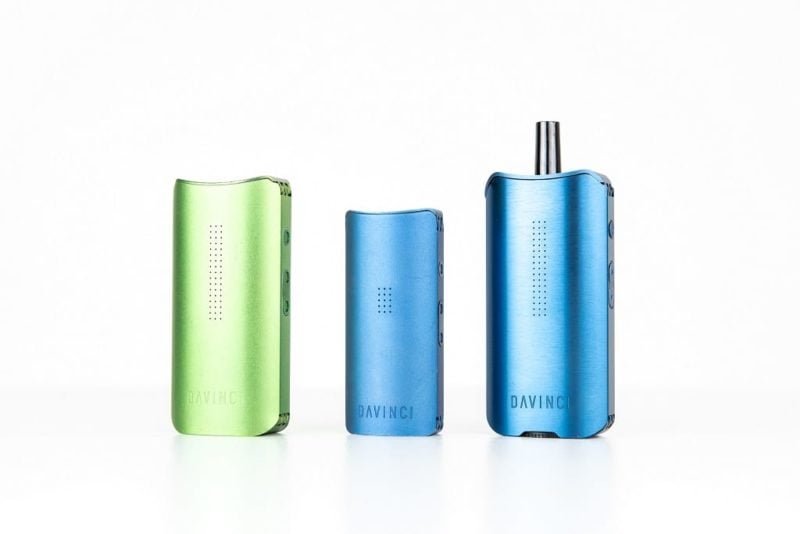 IQ2 Upgrades
Improved on the great taste with even better airflow and cloud production.
The IQ2 comes with an adjustable airflow dial allowing you to have a wider-ranging airflow from 40% less to 67% more airflow than the OG IQ.
The flavor chamber has been modified which makes cleaning much easier.
The pearl extends roughly 30% further making it easier to customize your oven size and keep your flower packed tightly.
The 10mm water pipe adapter is still included, but the IQ2 now comes with a dosage pod, a ceramic extract disc for use with concentrates, and an extra pick tool.
Glass-lined ceramic oven, glass zirconia pearl, zirconia flavor chamber vapor path, and glass mouthpiece/WPA.
Now includes a 20% thicker oven and more insulation around the battery for better heating and added oven consistency.
Davinci IQ2 Vaporizer Review Summary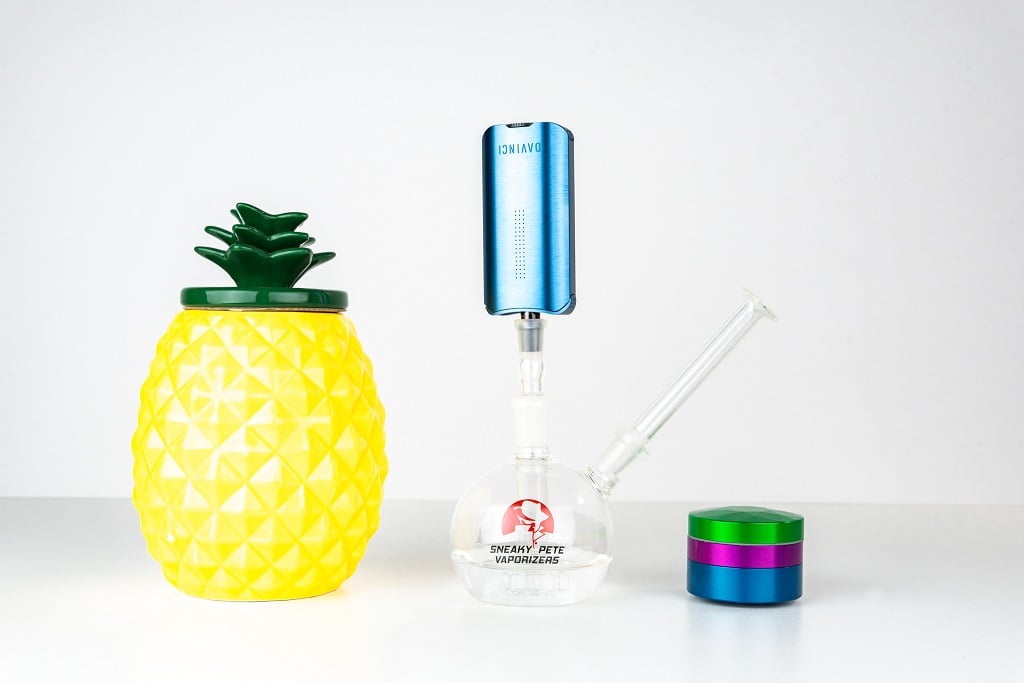 Overall the Davinci IQ2 is the best conduction vaporizer I have tested and could easily be your daily driver. It offers good battery life, quick heat-up times, and the new Air Dial allows you to adjust the draw resistance.
I recommend the Davinci IQ2 to anyone who wants a pocketable device and enjoys longer (10-15 minute) sessions. I use it most while hiking, walking to doggo, or really any outdoor adventures. I would also recommend the IQ2 if you wanted to track your dosages on a more detailed level.
Again, the only downsides that I've found with this vaporizer are the charging times. Still, you can easily mitigate that by picking up a cheap external battery charger and a couple of extra batteries. Like other small vaporizers, it also gets warm after a medium session. It can get hot with very long sessions on max temp, this can be mitigated with the IQ Sleeve.
Where to Buy – The IQ2 retails for $249 ($174 with 30% OFF Code "WIZARD30") and I recommend that you buy the Davinci IQ2 directly from Davinci to ensure you get the included freebies.
Thank you for taking the time to read my Davinci IQ2 vaporizer review. Be sure to hit up below in the comments or my contact page with any questions and have a great day!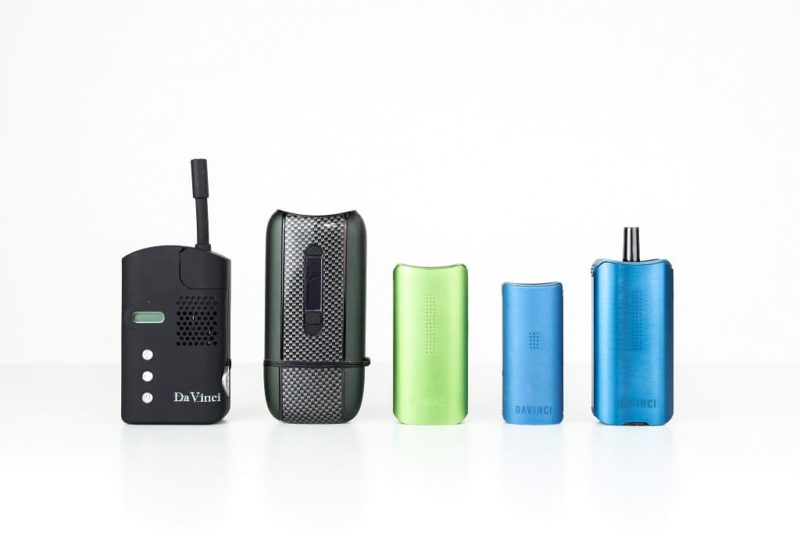 Davinci IQ2 Vaporizer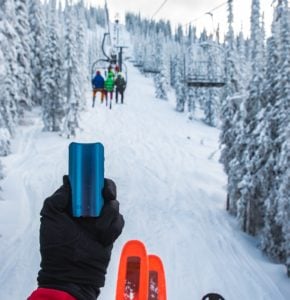 The Davinci IQ2 is a portable dry herb vaporizer made by Davinci Vaporizers. It features a full temp spectrum, a smart dosage tracking system, and a replaceable battery system.
Product Brand: Davinci Vaporizer