The Sidekick is a portable conduction dry herb and concentrates vaporizer made by 7th Floor vapes. The Sidekick is definitely an original design and comes packed with features like an LCD Display, 21 different temperature options, a stirring tool built into the lid, replaceable, rechargeable Li-Ion batteries, and a few more.
Update: The Sidekick has been out for quite some time and while it's a decent vaporizer and still might be sold in a few places, I recommend checking out my list for the best dry herb portable vaporizers before deciding on the Sidekick.
7th Floor has also produced the Silver Surfer, Da Buddha, and the handheld Life Saber. The Sidekick is the first portable vaporizer and unfortunately, at its current price, I think it leaves something to be desired.
Before we jump into the Sidekick vaporizer review, this unit retails for $199, I recommend picking it up directly from 7th floor to get the best deal.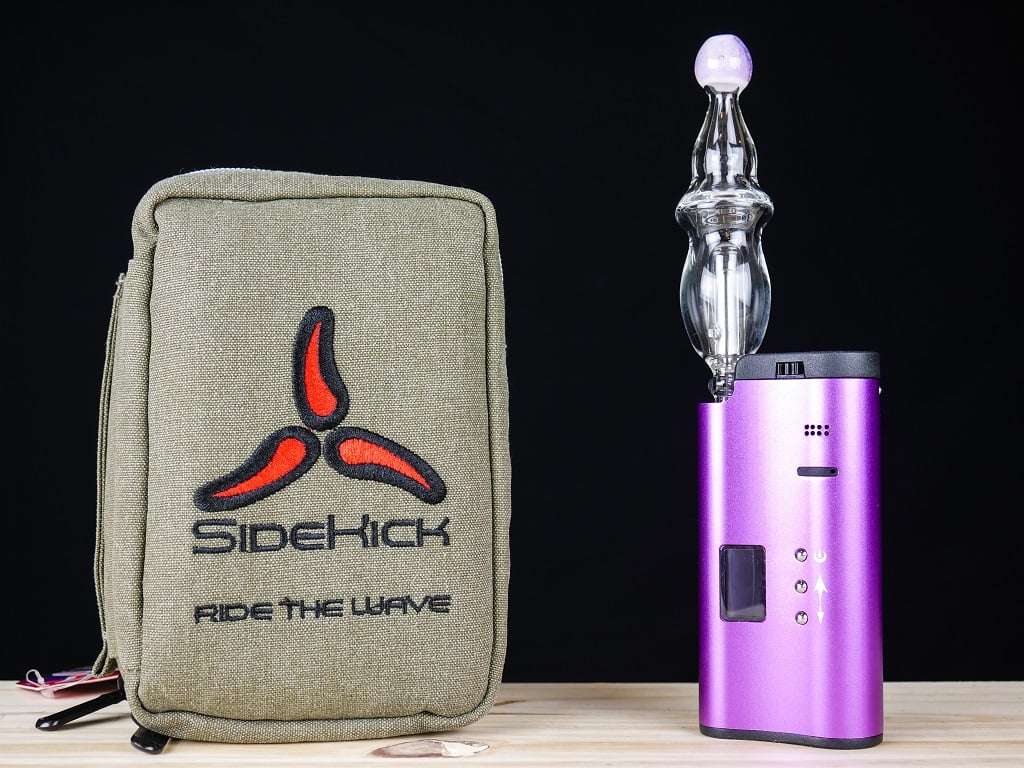 Size, Portability, and Build Quality
---
The Sidekick is the heaviest portable vaporizer that I've tested coming in at over 265 grams. The ORIGINAL Firefly weighed around 240 grams which is about the same as the Mighty and those were my two previous heaviest units. It's also on the larger side coming in around 5 inches tall (up to 6 with the stem out), 2 1/3 inches wide, and about 1 1/3 inches deep.
The Sidekick is about the same height as the Mighty with the mouthpiece attached and about 2/3's the width. Despite the heavy weight and size, it actually feels nicer and fits better in my pocket than expected. It also feels very nice in the hands. I still wouldn't take it out running, biking, skiing or anything where you don't want something weighing down my pocket. But it could easily be pocketed for a festival, concert, beach day, etc.
The build quality looks and feels fantastic. You definitely feel like you're holding a solid unit in the hands but I'm also a little wary of what would happen if it were dropped. I've dropped the Pax 2, GH, Crafty and Mighty multiple times with no problems but I'm afraid that the weight of the device itself would cause problems if dropped. Not to mention any glass stems or wands that you had attached at the time.
So overall this really isn't going to be the best vaporizer for someone who is looking for sheer portability BUT if you like the feel of a solid/heavy device in your hands then this could be a good fit for you. It's just not my ideal on the go daily use portable vaporizer.
Sidekick Accessories
---
7th Floor definitely takes care of you with Sidekick accessories. The Sidekick comes with a hand-made glass mouthpiece, two pairs of rechargeable 18350 batteries, two cleaning brushes with alcohol cleaning pads, a small Philips screwdriver, a stainless steel marble pick, a small bowl tongs/scoop, stainless steel oil can, a huny bucket with coconut oil mouthpiece lubricant, an external charging dock and last but definitely not least, the Sidekick carrying case. It's honestly my favorite part of the entire package.
You also get an external dual slot wall charger. 7th Floor definitely thought of everything you would need and then some.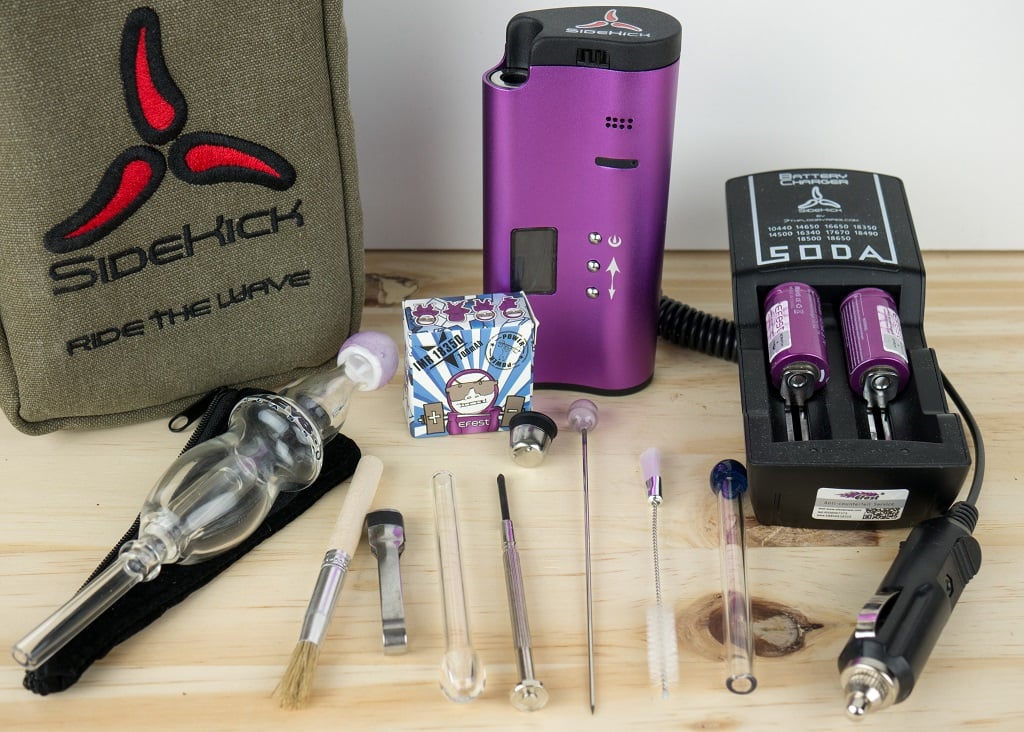 Heater, Vapor Path and Temp Spectrum
---
The Sidekick uses a full ceramic heating element, stainless steel screens, and a stainless steel "vortex vapor cooling rod" throughout a stainless steel vapor path.

The Sidekick is a session vaporizer that is almost entirely conduction. It has a pretty quick heat-up time for a session vape averaging between 30-40 seconds. For a session vaporizer, the Sidekick also tends to finish sessions faster than the average portable vaporizer. The vortex cooling rod definitely creates some cool, smooth vapor, but the length of the vapor path also reduces the clouds. You can crank up the heat and get stronger, more powerful draws but at that point, the taste goes completely out the window. So the Sidekick is not the unit for people that like clouds. Or at least people who like clouds and good taste.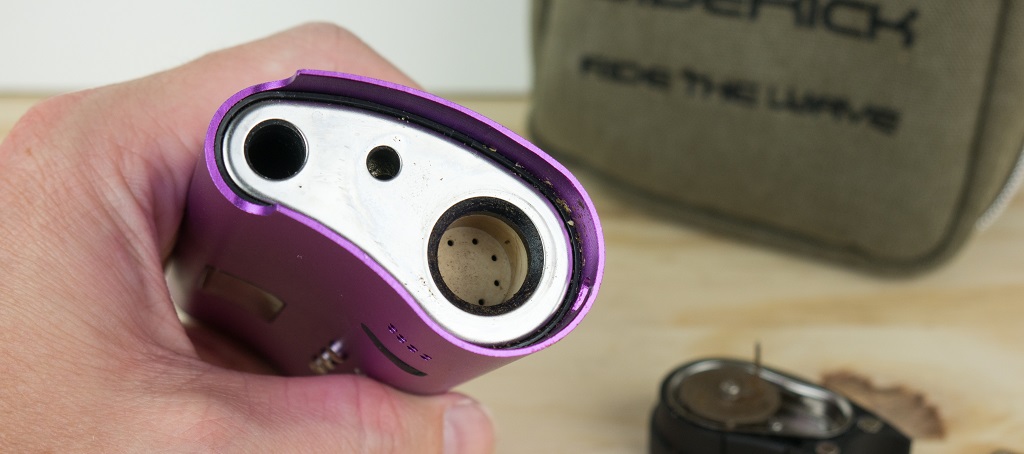 I've found the best taste is around 4.5 and anything above 7 tastes pretty overcooked. I personally feel like temp 7, which is supposed to be 385F, tastes more cooked than the Crafty Plus or Mighty at 410F. Temp 5.5-6 was the most enjoyable combination of flavor and vapor density.
Overall I think the cooling system works almost too well. I've found that removing the cooling rod can actually improve the flavor and clouds a little bit. This will make the vapor hotter/harsher causing a bit of a cough but it might produce the results you're looking for. Or at least the results I'm looking for.

The stirring tool does help, but quite a few of the conduction vaporizers coming out now are able to produce consistent and even AVB without stirring so while I like the stir tool, it's nothing game-changing.
Cleaning and Maintenance
---
The Sidekick isn't the easiest to clean nor is it the hardest. It fits somewhere in the middle but leans a bit towards the more maintenance-intensive units. I definitely recommending brushing/cleaning off the screen after pretty much every session. It tends to clog up pretty fast if left alone and can affect the draw resistance of the unit. The Sidekick has a really nice and free-flowing draw, it even has a bit less resistance than the Crafty and Mighty.
Back to the cleaning, the vortex cooling rod pulls out easily for cleaning and the chamber can be wiped out with some ISO for easy cleaning.
Battery Specs, Battery Life & Charging Options
---
The Sidekick comes with two sets of 18350 3.7v 800mAh removable, rechargeable Li-Ion batteries, so 4 batteries total. Most vapes only come with one battery nowadays so it's nice to get a couple of extras. You do get an external charging dock that will charge two batteries at a time.
Be sure to use the stickers included with the Sidekick to label the batteries. They should remain a set and be used/charged together for the life of the batteries.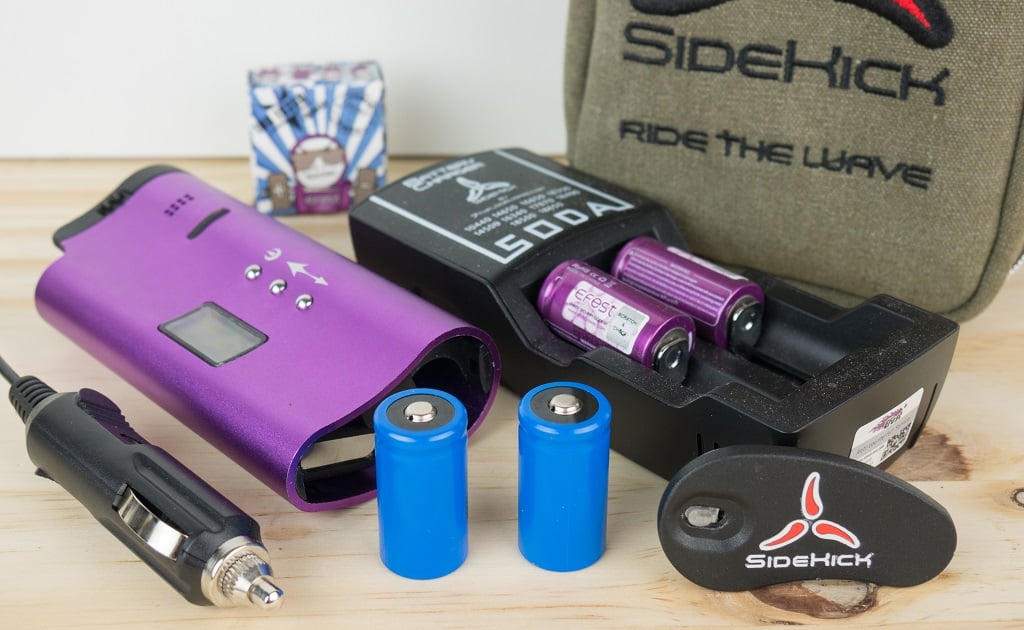 I found that each "set" of batteries will last me about 20-30 minutes on average which is pretty low compared to the other popular portable vaporizers currently on the market. You do get two sets, so a total of 40-60 minutes average battery life, but now you're carrying around extra batteries and maybe even a charger if you are a heavy user or are with friends. Each "set" of batteries takes about 90 minutes to fully charge. Overall I am underwhelmed by the battery situation, and I really wish the batteries lasted longer.
Sidekick Review Summary
---
Bottom line, the Sidekick is a solid vaporizer but it's a bit of a tough sell at $200 with a one-year warranty. While 7th floor has a long and strong track record for reliability, this is their first battery-powered and first conduction unit. You can pay $80 to extend the warranty out another two years bringing the total close to $300 and still only a 3-year warranty. You get a lifetime warranty with a few units for under $200 and a 10-year warranty with the Pax 3. I really wish the Sidekick retailed for $149.
Overall the Sidekick is good but not great, and at the price, I think some people might find another unit that suits them a bit better. For me, the Sidekick doesn't really deliver the same satisfaction as other portable vaporizers in the same price range. I get minimal clouds at lower temps or a more overcooked taste at high temps, it's larger and heavier than I prefer, the battery cover and bowl cover are finicky, and it only has average battery life and the screen needs to be brushed out quite often.
On the flip side, it does have a very long vapor path that creates very smooth/cool vapor, it does feel very good in the hands if you like a very solid feeling device, you get removable/rechargeable batteries and the unit heats up faster than most other conduction units. I would definitely recommend this unit to a person who puts a priority on cool/smooth vapor or anyone with sensitive lungs or an aversion to coughing. It is also a good complete package for anyone looking to make a single purchase and get everything from the vape itself to an external charger, carrying case, and extra batteries.
Update: Here are a few more options I recommend checking out before going with the Sidekick:
Thanks for taking the time to check out my site and for reading my Sidekick vaporizer review. If you have any questions about the Sidekick or any other vaporizer, feel free to hit me up on my contact page or leave a comment below and I'll get back to you as soon as possible.