So you want to buy a portable vaporizer!?! It's so easy to be hesitant when there are so many options and quite a few are priced upwards of $300. This article will help fine the best portable vaporizer for you so you won't be wasting you money on the wrong type.
If you're starting fresh and have no idea where to begin, you've come to the right place. This portable vaporizer buying guide to help you pick the right portable vaporizer for you based on categories. The categories are: Portability, Battery Life, Temp Control, Cleaning/Maintenance, Price Range, and Vapor Quality. If you already know a lot about vapes and just want to know my very favorites check out my best portable vaporizer page
Portable Vaporizers 101
Portable vaporizers come in all different types, sizes and price ranges. There's conduction vs convection heating methods, there are internal and external rechargeable batteries, different chamber sizes and different vapor paths. So here's a crash course.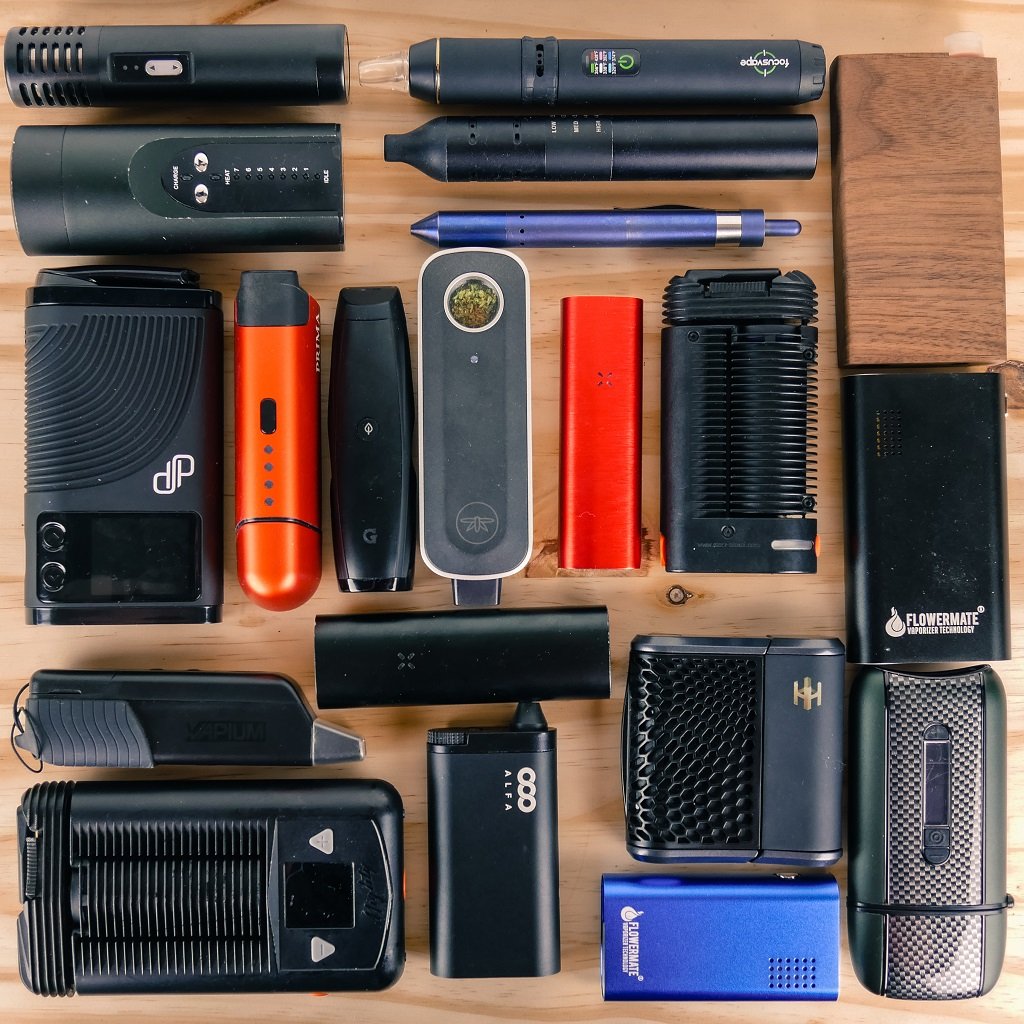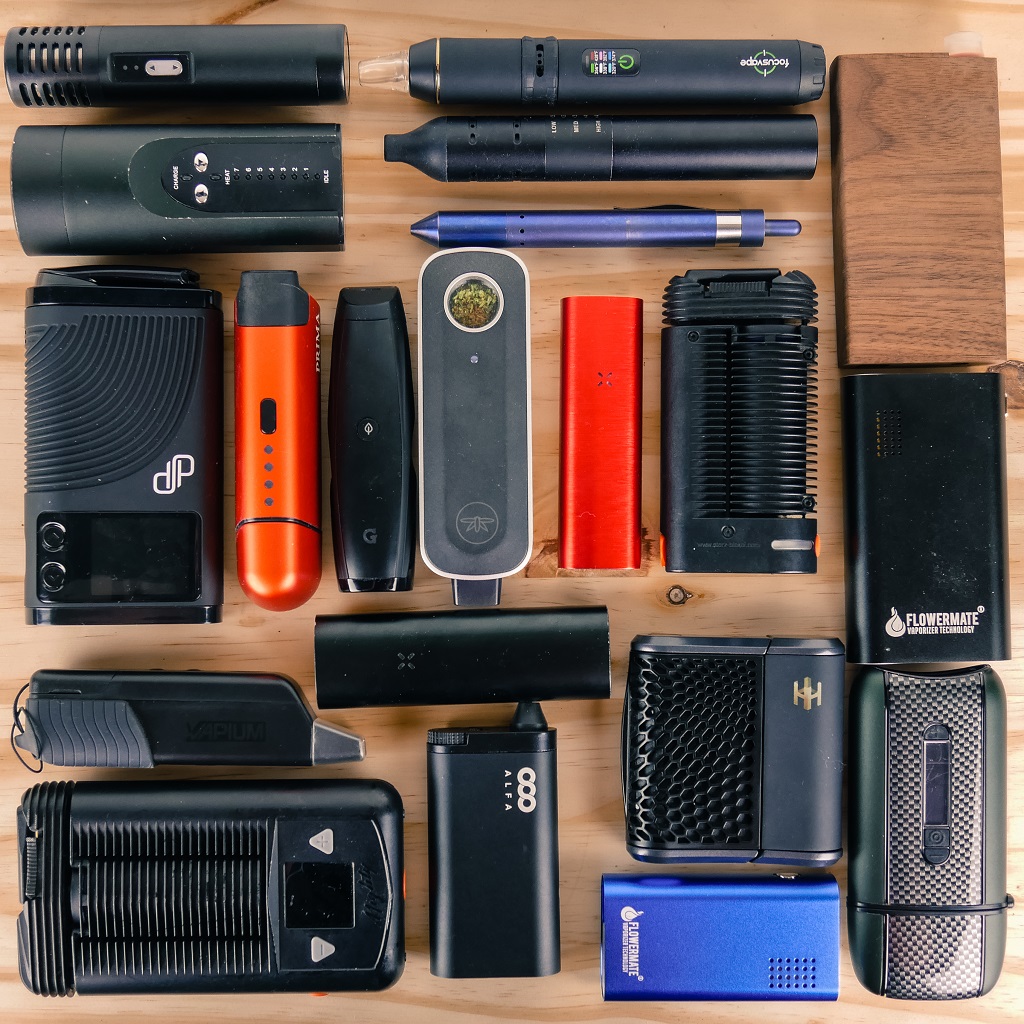 Conduction vaporizers use a transfer of heat from one object to another. It's always heating which can waste herbs when you aren't inhaling. The herbs comes into direct contact with the sides of the chamber and typically results in the outside of your herb heating but the inside remains green. Stirring is usually required to efficiently vaporize the herbs. The Pax 3 is one of the best examples of a conduction vaporizer. A lot of the vapor quality from conduction vaporizers depends on your herbs, grind type, pack type, and temp you vape at. Overall conduction vapes are generally very easy to use.
Convection heats the herb by passing hot air through the chamber. The herbs are never directly in contact with the heating source and the hot air only passes through the chamber when you are inhaling. This is why convection vaporizers like the Firefly 2+ and the Ghost MV1 are considered the more efficient because you are only heating the herbs when you are drawing unlike the Pax which is constantly heating. Convection units often take a bit more practice and finesse to use to their fullest potential.
Hybrid units heat with a combination of conduction and convection.  Generally these units have a lot of the increased flavor and efficiency of the convection units, but they are still incredibly easy to use like the conduction units. Some of my very favorite units utilize a hybrid heating system like the Crafty and Mighty.
Internal vs External Rechargeable Batteries – For the most part this completely depends on your specific situation. The externals give you more options of far as how long you can vape without a charge. You aren't held down by an outlet but at the same time most internal battery vapes have multiple charging choices now to include car adapters and battery packs. It really depends on the average battery life, charge time and different charging options
TL;DR: Conduction vaporizers tend to be a bit more wasteful and are usually intended to finish a bowl once you start it, but they are very easy to use. Convection vaporizers are "heat-on-demand" and heat your herbs only as you draw which is more efficient. They also tend to taste better but also require my practice and technique to use. Understand the different battery setups when you narrow down your choices, compare average continuous use, and the different charging options.
Resources:
https://en.wikipedia.org/wiki/Vaporizer_(inhalation_device)#Efficiency
Let's Get Started
Before we find the perfect vaporizer for you, you'll need to ask yourself a couple questions. These questions will help you determine which vape you might want by determining your priorities.
Q. Do you vape alone or will be vaping in a group? At parties?
Q. What do you currently smoke out of? Do you have glass already?
Q. Will be vaping primarily on the go or will you be at home mostly?
Q. What are the most important factors for you? (vapor production, taste, discretion, portability, efficiency, battery life, price)
Q. What materials will you be vaping? (Dry Herb, Oils/E-Liquids, Wax/Concentrates)
Q. How high is your tolerance? How big of a bowl and how often do you need a bowl?
How it works
I will list the my top portable vaporizer choices in each category and explain why. The idea here is to give you an idea of what the best vaporizer is based on the categories that you might find most important. The first vape listed in each category is generally the highest/best rated and the last is the lowest rated. All of the vapes I list, even in the final positions are great units.
For instance, if you need the most portable vape because you're always on the go and want to be able to conceal it when needed, check out the Portability category. This category rates the top 5 vaporizers I've tested in terms of weight, concealment capabilities, storage (pockets, hoodie, backpack), and overall size with all pieces to the vaporizer considered. Now if you wanted the vaporizer with the best battery life, then you can check out the Battery Life category. My hope is that this will kind of guide people in the right direction when they are first starting off or maybe even looking for something different.
If you think a different vaporizer should be in the top 5 for any of the categories please don't hesitate to leave a comment below. This way people can get more than one opinion and get a better idea of what they might want. Keep in mind that these are just the vapes I have personally tested. Thanks for taking the time to check out my site and don't forget to share the page below if this helped you out at all. – Buzz
*Notes: Finding the best portable vape isn't going to turn out the same for everyone. I recommend these vapes based on personal experiences with them. Every vaporizer on these lists have been completely tested by myself and I can assure they are quality products or I wouldn't be recommending them. There is no "one best vaporizer" but rather each vaporizer has pros and cons the others don't. So make sure and find the one based on the things you want.
Vapor Quality (Taste, Temp, Density):
(Based on my experience with 100+ other portables)
Factors: Taste, Density, Temp
1. Firefly 2+ – The Firefly 2 is every bit as smooth and tasty as the first two firefly vaporizers but with some much better features. The biggest of them being consistency. Firefly has finally figured out how to make it work every time. No need to fuss with the power tuning or load it super special, just hold the button, draw and you'll get the most amazing flavor of any portable vaporizer you have tested. The new Firefly 2+ also features reduced draw resistance when compared to the Firefly 2 and a slight improvement on overall battery life via a firmware update (same batteries). It heats up much quicker and maintains the heat much better which allows for more consistent results without having to play around with loading styles. Lastly, the Firefly 2 Plus Vaporizer is now $249.
2. Crafty – The Crafty is about as close to you can get to the Firefly 2+ in terms of taste and vapor smoothness. It definitely produces the same density of clouds but it's not quite as efficient or as clean tasting. The one thing I really like about the Crafty is that I can clear an entire bowl in 5-6 hits so I can quickly medicate and get on with my day. They have also recently improved the battery life giving you more freedom on longer adventures.
3. Mighty – The Mighty is the bigger bother of the Crafty and literally produces the exact same taste, density and smoothness. Really the main differences are the size, battery life and heat up time which doesn't really mean much in the Vapor Quality category. The Mighty is just a bigger, faster, stronger version of the Crafty. I don't necessarily like the size and I think it's in a portable category of it's own but it does produce excellent vapor quality. Check out the comparison here.
4. ArGo – The Arizer ArGo is another hybrid convection unit.  This is a really solid all around unit, it's the most portable Arizer unit. Like other Arizer units it has very good flavor and good efficiency, but the glass stems and small bowl are my complaints for an on the go device.
5. StickyBrick – You might be noticing a theme here, all of the top units for vapor quality are convection or hybrid convection.  The StickyBrick units are more full convection units, however they differ than the rest because they use a flame instead of a battery to power them. The stickybricks are fairly large, and cumbersome to ue, but they have wonderful vapor quality and they are a lot of fun.


Portability:
Factors: weight, concealment, overall size
1. Pax 3 – The Pax 3 crushes the portability category with lighter weight, smaller size and a redesigned mouthpiece that sits flush along the top of the unit. Drastically reduced cleaning/maintenance and a much better vapor production.
2. MIQRO – The Davinci MIQRO is incredibly small and light, its also on the cheaper end at around $150.
3. Davinci IQ – The IQ is the bigger brother to the MIQRO, its a bit larger but its more powerful in all regards.
4. Pax 2 – The Pax 2 is the same size as the Pax 3 but its not quite as fancy, and it has less battery life.
5. Crafty – The Crafty is not quite as small at the other choices, but its my highest rated overall portable while still fitting easily in my pockets.
Battery Life:
1. Mighty -The Mighty is made by Storz and Bickel, creators of the Volcano. This unit is a bit bigger than most portables but it also has huge battery life. It uses 2 internal li-ion rechargeable batteries which gives the Mighty and average continuous use of a bit over 100 minutes. I am usually able to get 8 full sessions in before the battery dies which is outstanding. The unit takes about 2 hours to completely recharge but the Mighty does have pass-through charging which allows you to use the unit while it's charging.
2. Solo 2 – The Solo 2 will go for days and day.  I had gotten over 120 minutes out of a single charge before.  I do list this one below the Mighty because the bowl is smaller at ~.15g. Even though I can keep the Solo 2 running longer than the Mighty, the Mighty will still vape more herb due to the larger bowl and shorter session times.  The Solo 2 does come in at a cheaper price though so its a great option.
3. Tera – The Boundless Tera is my favorite unit from Boundless. Not only does it have really good battery life, the batteries are also replaceable so you can carry extras with you if you are going to be away from power for a while.
4. Pax 3 – The Pax 3 has the best battery life out of any single battery unit.  Despite its small size and single Li-Ion battery the Pax 3 still consistently gets 90+ minutes of battery life
5. IQ – The IQ is another single Li-Ion unit that only gets about three quarter the battery life of the Pax 3, however the IQ has replaceable batteries so you can carry extras.
Temp Control:
1. Mighty – The Mighty uses an LED display to select any temp ranging from 104F – 410F. The buttons are very nice and don't stick at all and the display is very easy to see/read. This is one of the best portable vaporizers if you want absolute control over the temp you choose to vape at. I also noticed that the Mighty held it's temp a LOT better than other models. With aggressive draws, I only lose 10-15 degrees but some other models can lose almost 100 degrees! The vaping of your herbs are much more consistent with the Mighty and it's the same way with the Crafty.
2. IQ – The IQ offers full temp control in a very small package. I love the way the buttons feel on this unit and the unique led "screen" is fun.  This unit also has some cool features like 'boost mode' which ramps the temperature while you hold the button, and then drops back to the preset when you let off.  It also has 'vapor paths' which allow you to set desired temps during a session, so you might start at 340, and finish at 390 or whatever you prefer.
3. ArGo – The Arizer Go is my my most used Arizer unit, its the first one I feel comfortable taking along in my pocket without worrying about breaking the stem. It has full temp control on the unit that is easy to use. Overall I think this is a really good unit. It is priced in the middle so it's not a budget unit like the Starry or the ONE, however its also not premium priced like the IQ and the Mighty.
4. PoTV ONE – You may have noticed the theme here, I broke this category down by price since all of these units have full temp control.  The ONE is the second cheapest one on the list. It actually has some of the least draw resistance and it actually rips one of the hardest, but the battery life is lackluster, and the vapor comes out on the hotter end.  But if you want a cheap heavy hitter this might be your best bet.
5. Starry – The Starry is small, it has fully adjustable temp control and it has replaceable batteries so has a lot of the big things people want.  The vapor quality is decent and its usually priced under 100 bucks so the starry is a really great value.
Cleaning/Maintenance:
1. Crafty / Mighty – The Crafty and the Mighty are slightly interesting.  Instead of a short and quick cleaning at a high frequency like most portable vapes require, the Crafty and the Mighty need cleaned very rarely, but when you do clean them it takes a while.  You can go VERY long if you want in between cleanings, but when you do sit down to clean out the cooling unit I would expect to spend 15-30 minutes on it.
2. Solo 2 / Air 2 / ArGo – The Arizer units all share the same general heater and vapor path.  The bowl itself is basically zero maintenance like the Crafty/Mighty but with the Arizer units you need to clean the glass stems. You can go quite a long time in-between cleaning the glass stems however they are clear glass so they start to look gross and shady if you wait too long, so I often clean my glass stems fairly frequently. Luckily they clean up very quickly with some isopropyl alcohol.
Budget Vapes: (Best portable vapes if you're on a budget)
1. Xmax V2 Pro – This is the very cheapest vape battery powered vape that I can recommend. There are definitely cheaper units but they are not worthwhile and some are potentially not safe. The V2 Pro is actually reasonably solid despite is bottom tier price. It has a handful of temp settings, it has replaceable batteries, and it can produce dense vapor.  My biggest complaints are the vapor quality is on the hotter/harsher side, and the mouthpiece gets dirty fast and its just not my favorite. You can get this unit for 59 bucks with code "XM", but I do recommend adding the glass mouthpiece or the water pipe adapter for 10 dollars more as
2. Xmax Starry – The Starry comes in at 40 bucks more than the V2 Pro, but it offers full temperature control, better vapor quality, a replaceable battery and in my opinion a more enjoyable experience. I prefer the Starry over the V2 Pro in almost all regards except for price.
3. PoTV ONE – This is a new one, its the latest upgrade to the Fury line of vaporizers. This one comes in at 129 and while it doesn't have a replaceable battery like the Starry, it makes up for it with lack of draw resistance and vapor density. The vapor is a bit on the hot and harsh side but this thing RIPS for the price.
4. Vapcap-M – The Vapcap is the only flame/butane/torch powered unit in this section.  It is very small and very simple but it also works quite well and its really cheap. You can get this one for 65 bucks and its also the most stealthy of the budget vapes.  A lot of people including myself really like the Vapcaps, but be aware they require a flame so they are not for every situation or user.