The Davinci IQC is a dry herb portable vaporizer made by Davinci Vaporizers and arguably the best conduction vaporizer on the market. The Davinci IQC Vaporizer features a full temp spectrum, a replaceable 18650 battery system, and USB-C charging, making it perfect for use on the go.
The IQC vaporizer is an upgraded version of the original Davinci IQ and adopts some features from the IQ2 vaporizer. Davinci has put out quite a few portable dry herb vaporizers over the years. The Davinci IQC vaporizer is their 5th model and, without a doubt, my favorite and most refined Davinci vaporizer.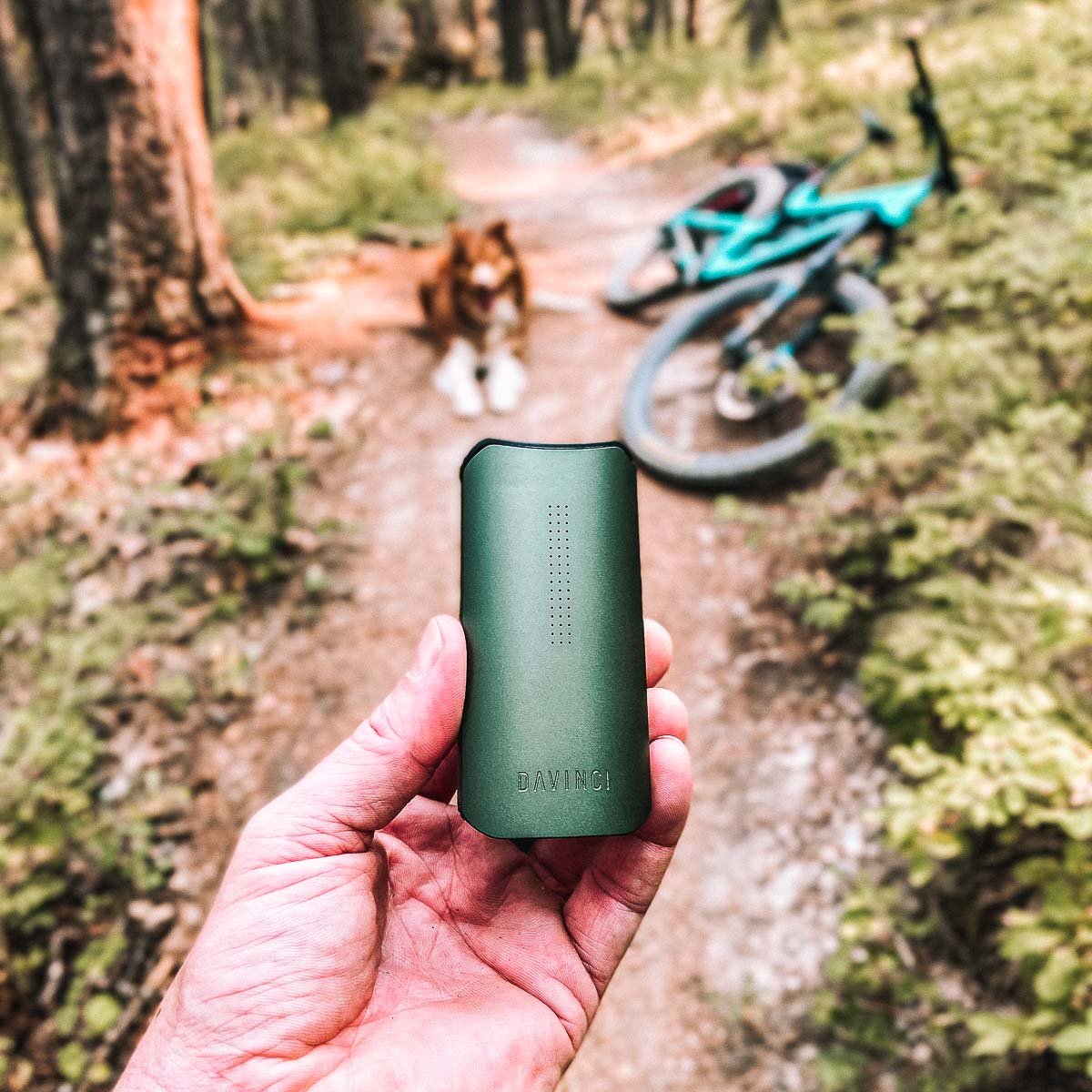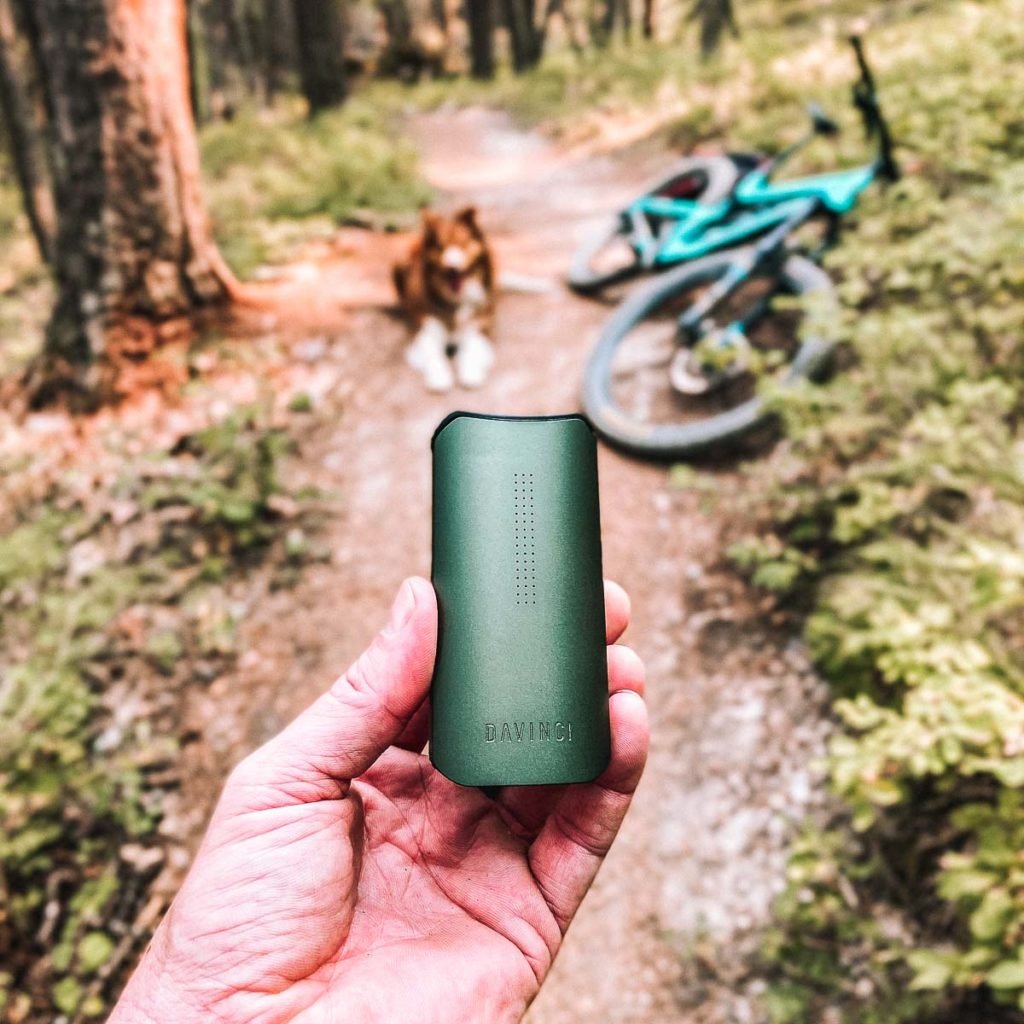 I use my IQC most for outdoor adventures—specifically biking, hiking, and skiing. The replaceable battery system makes it easy to swap an extra battery in and keep the session going, and the outer shell is very durable for those "oops" moments.
If you're looking for an easy-to-use portable vaporizer to take on the go or around the house with some glass, the Davinci IQC might be the best portable vaporizer for you. The only downside I've found so far is that it's not a pure convection unit, and the chamber size is large for single-person sessions.
I've rated the Davinci IQC a 9.1 out of 10, and it's currently ranked as my "best new vaporizer" on my best portable vaporizer list.
The Davinci IQC retails for $199 ($139 w/ code WIZARD30), comes with a 5-Year manufacturer warranty, and I recommend picking it up directly from Davinci. Please read below for my full Davinci IQC vaporizer review. *Remove the free item from the shopping cart to use the WIZARD30 discount code.
Size and Portability
While I enjoy using the IQC vaporizer at home, I use the IQC most on the go. The Davinci IQC will easily fit in your jeans, shorts, fanny pack, small purse, etc.…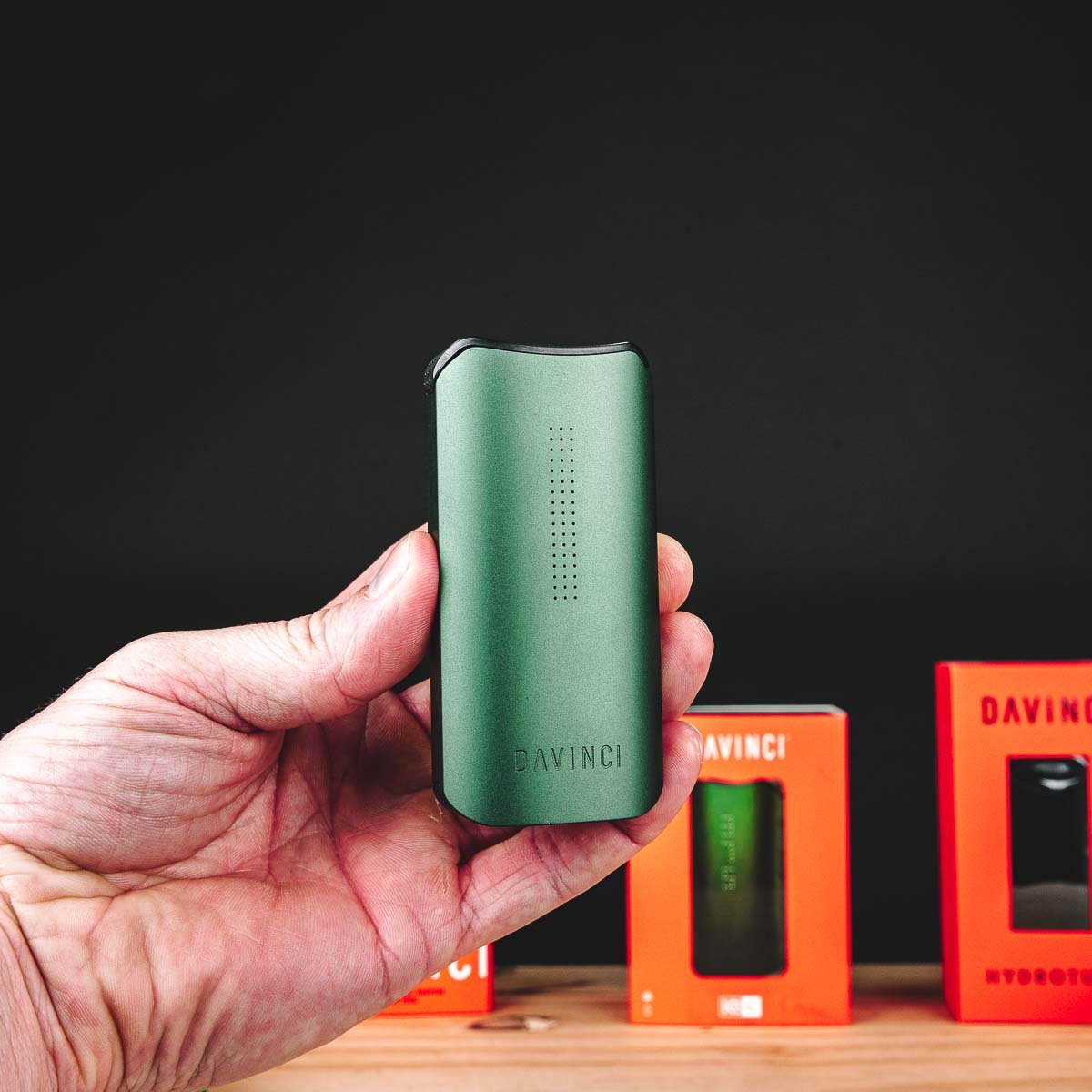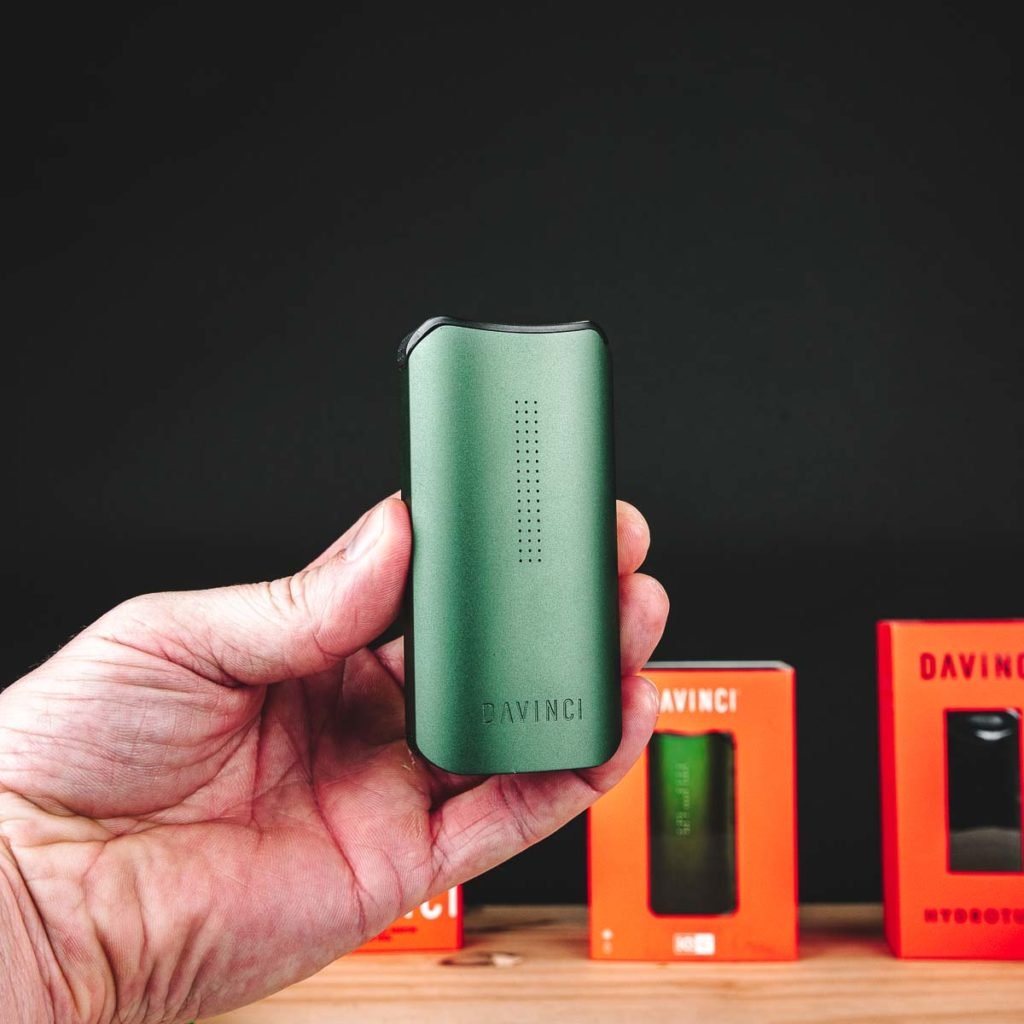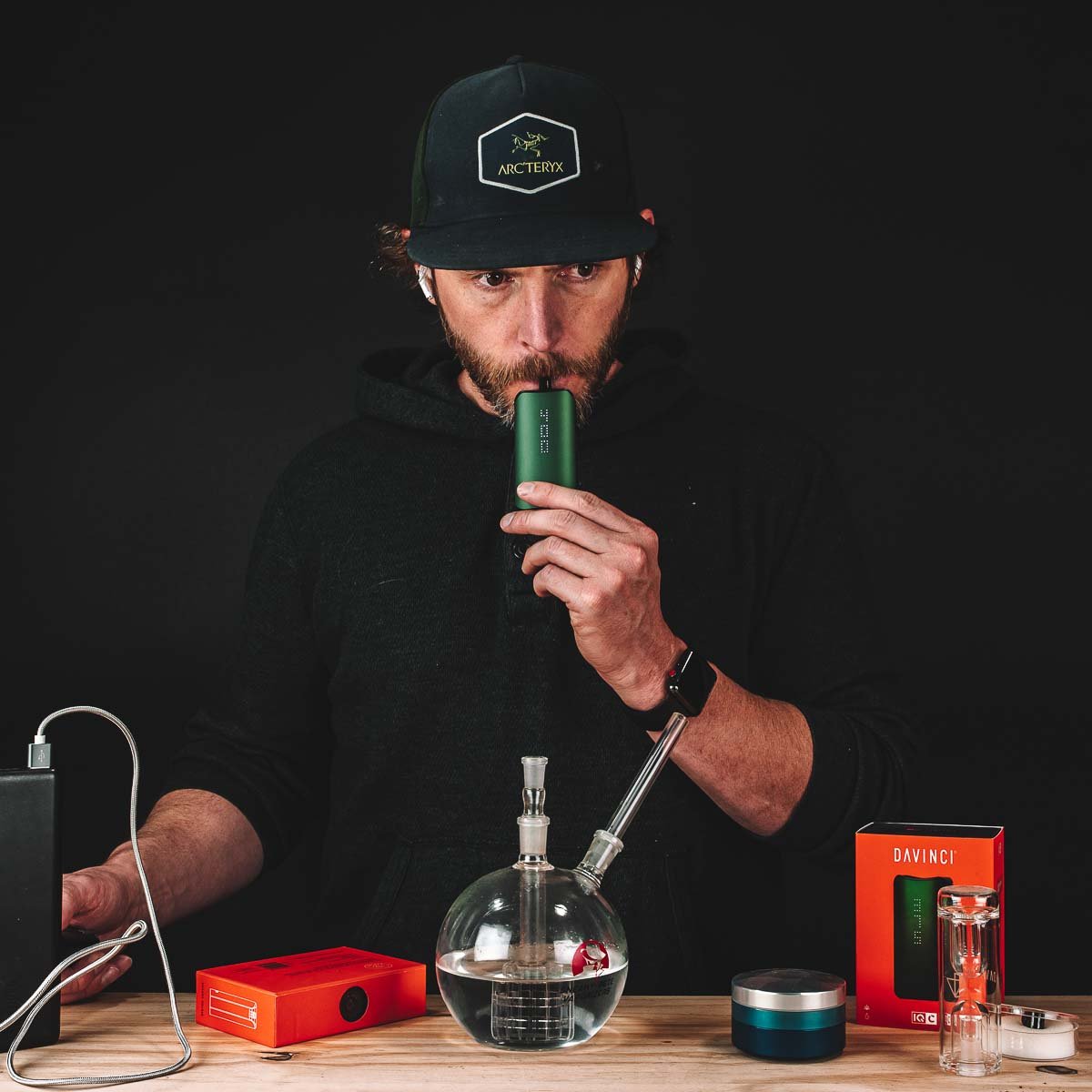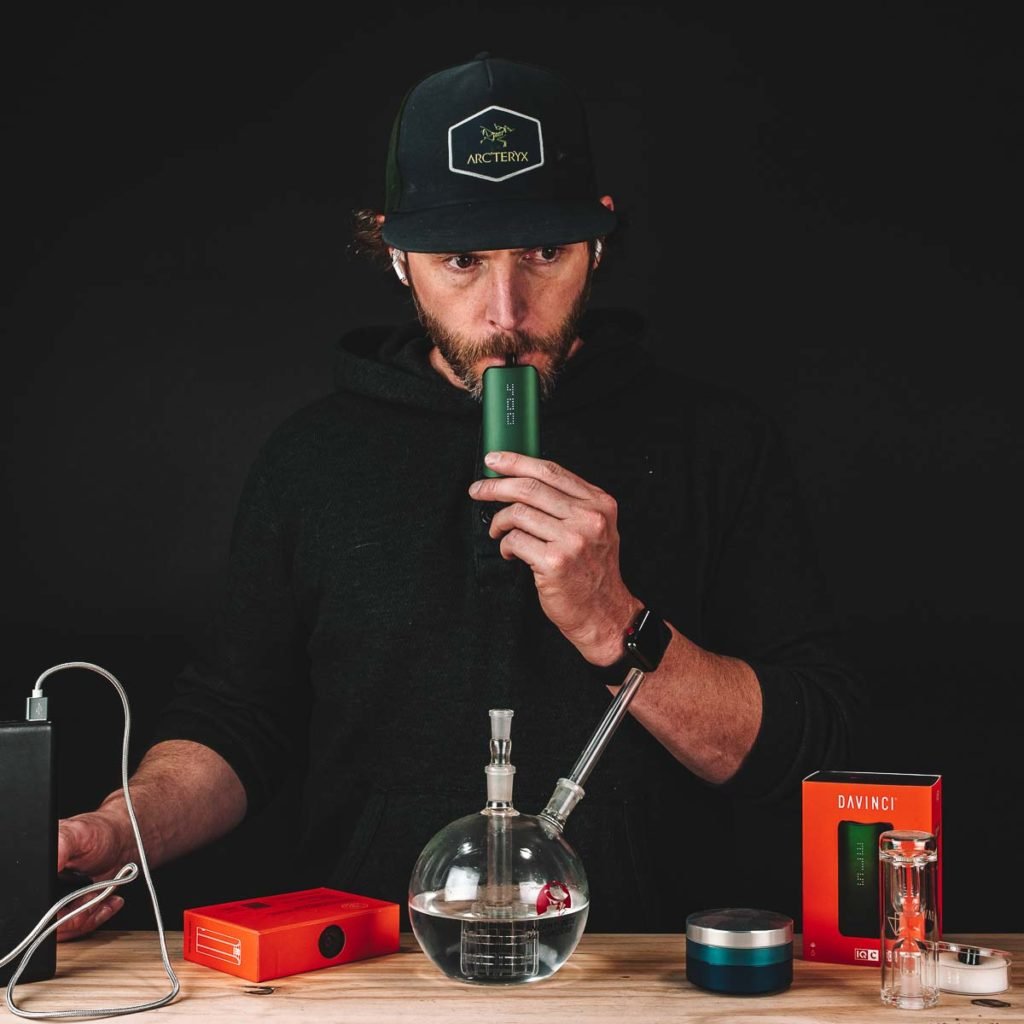 The exact dimensions of the IQC vaporizer are 1.75in wide x 3.61in tall x .97in-depth, and the IQC weighs roughly 160g.
The IQC is a small vaporizer compared to most other portable vaporizers on the market, but I would check out the Davinci Micro-C Vaporizer (read review) if you wanted something even smaller. The Davinci Miqro is the size of your key fob while still offering a replaceable battery system, but it's less powerful.
The size, weight, and larger bowl make the IQC an excellent vaporizer for group scenarios. It's easy to pass around and easy for beginner vaporist as well.
Design and Build Quality
The oven and vapor path are glass-lined ceramic.
The exterior is high quality brushed aluminum with a nice looking and feeling finish.
The oven, mouthpiece, and battery hinges all fit and feel great.
Overall this unit looks nice and does not feel cheap (like some other plastic units).
One downside to the new IQC vaporizer is the silicone recessed mouthpiece. It's not the end of the world. It's just not pure glass mouthpieces like the ones on the Miqro and IQ2. You can pick up the mouthpieces for around $10, but I honestly didn't notice the difference.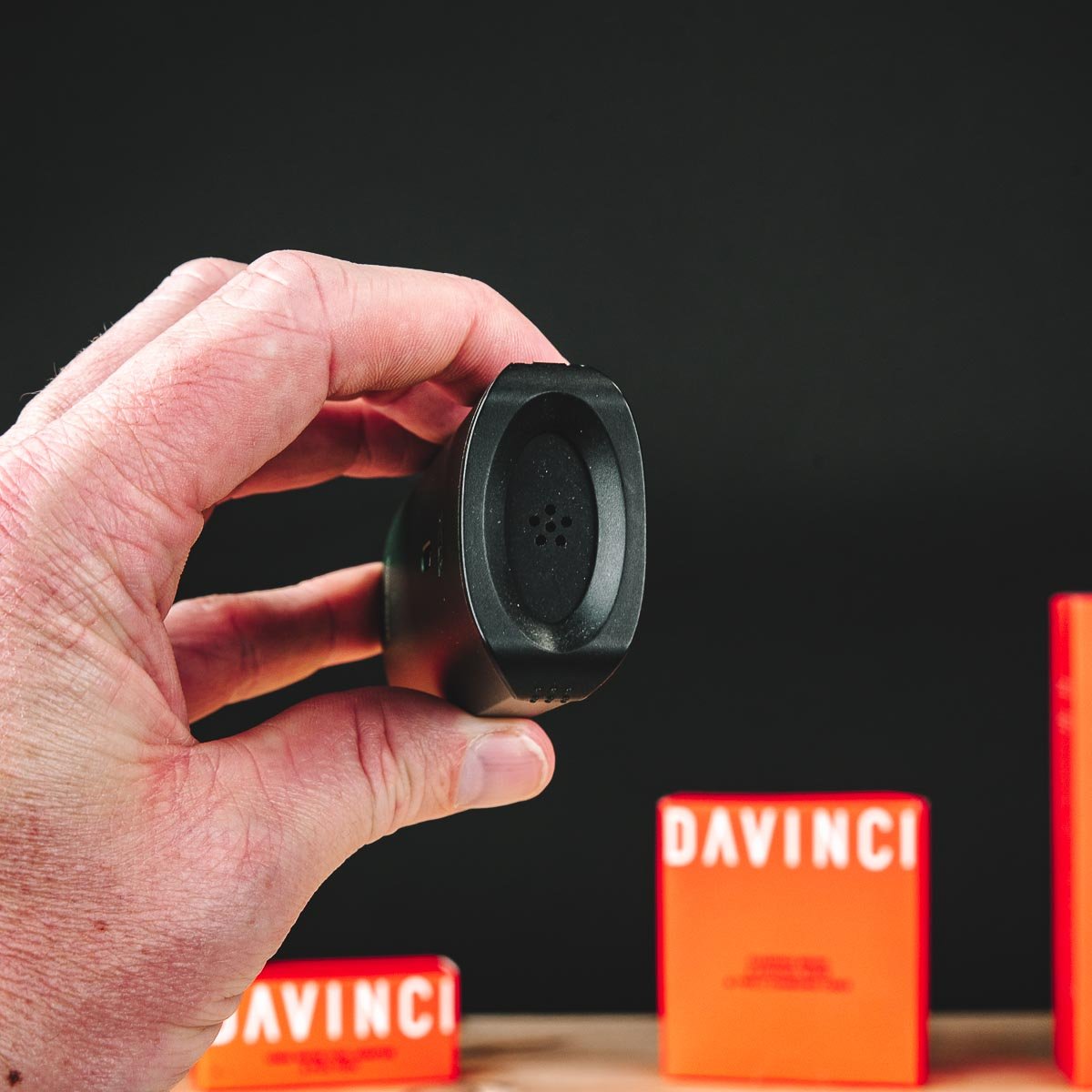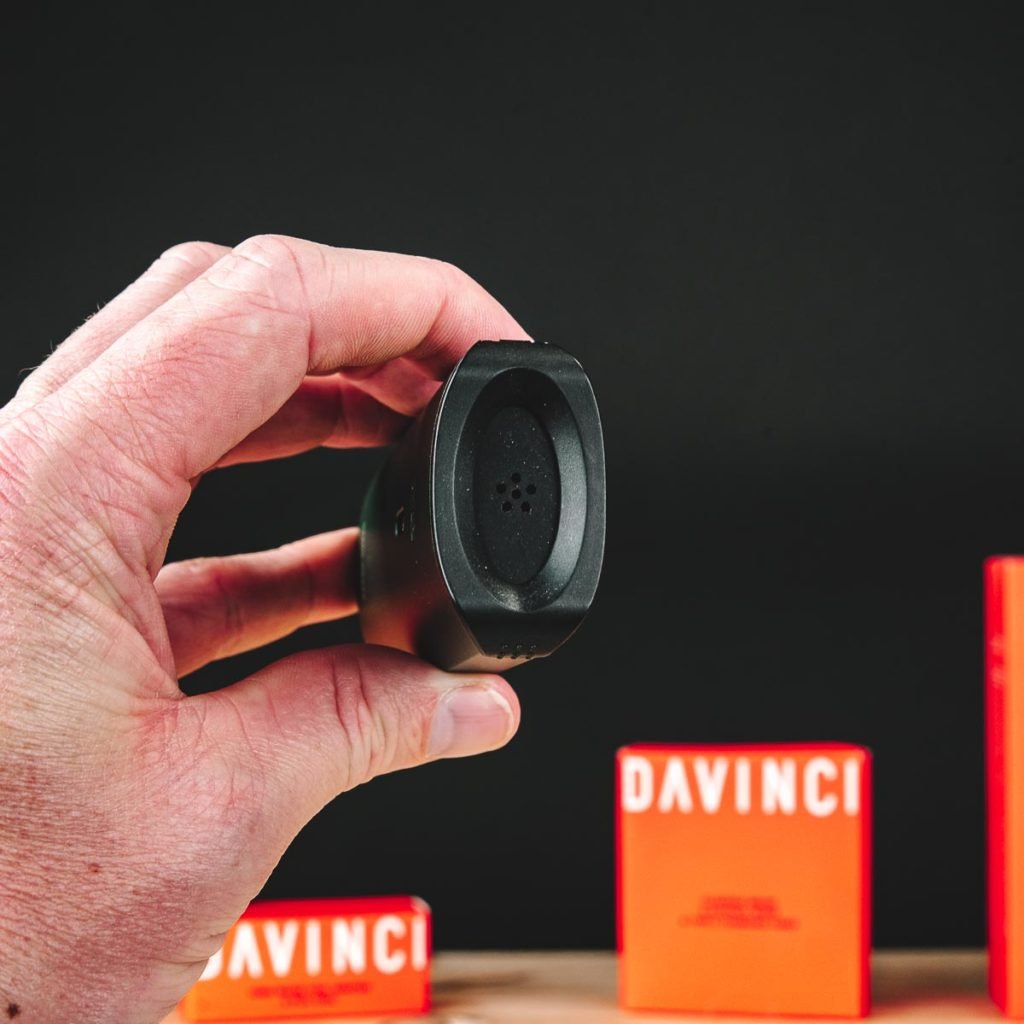 Included in the Box
The IQC comes with everything you need to vape dry herbs. You CAN vape concentrates with the IQC, but you'll need to pick up the stainless steel dosage pods. The Dosage Pod set comes with six pods that can be used with dry herbs and concentrates. The stainless steel dosage pods run $24.95.
1x DaVinci IQC
1x 18650 Battery
1x Users Manual
1x 10mm Water Adapter
1x Extra Pick Tool
3x Alcohol Wipes
1x Brush Tool
1x 3ft Braided Nylon USB To Type-C Cable
The IQC is available in Green (in this review), Red, Black, and Blue. They have some fancier names, but those are the basics.
Davinci IQC Accessories
Davinci Dosing Pods – I've already mentioned the dosing pods a couple of times in the Davinci IQC review, but I highly recommend picking up the stainless steel DaVinci dosing pods, especially if you will be using the IQC solo or with concentrates. I also have a full Davinci Vaporizer Accessory Guide on my blog with more dosing capsule options including the new stainless steel dosing capsules.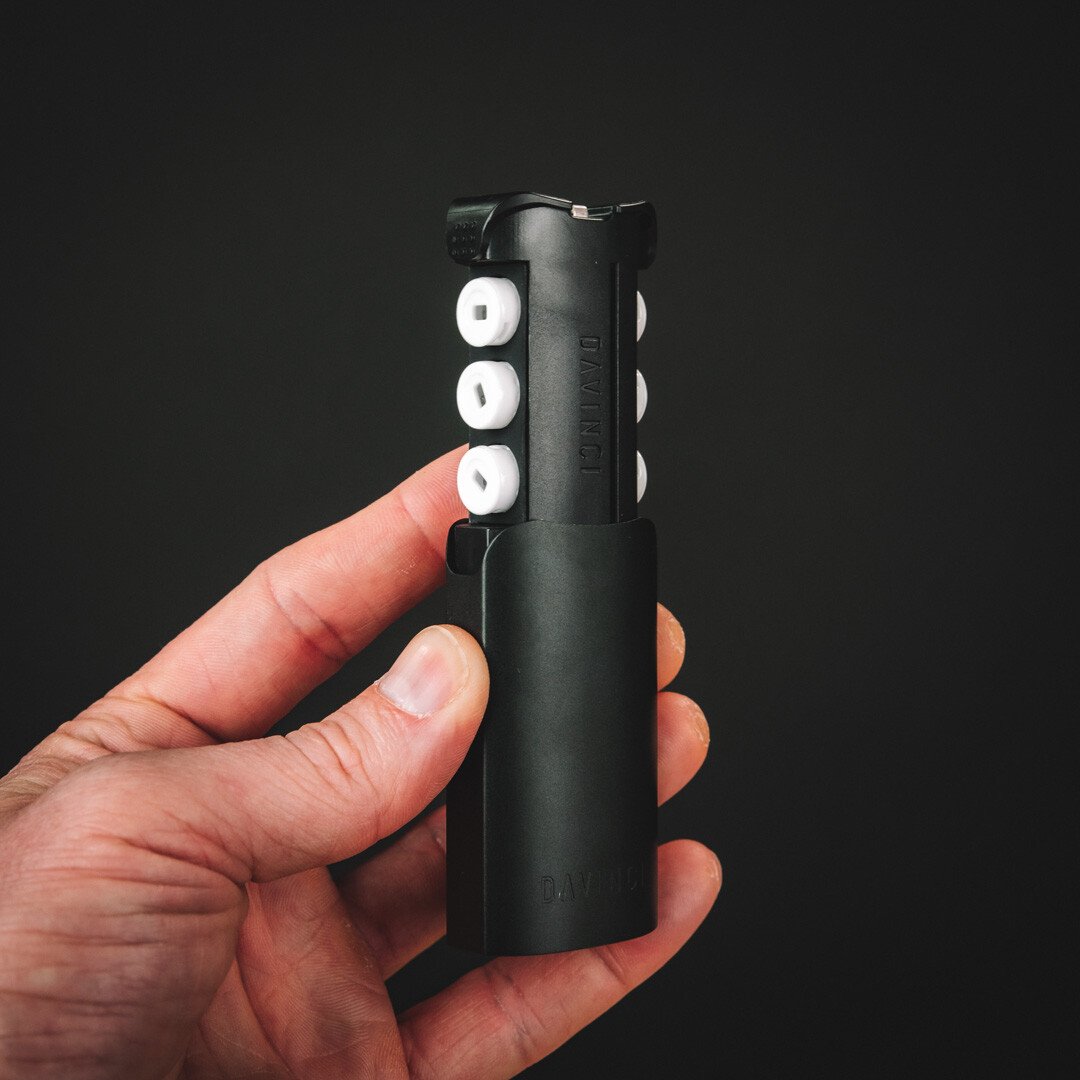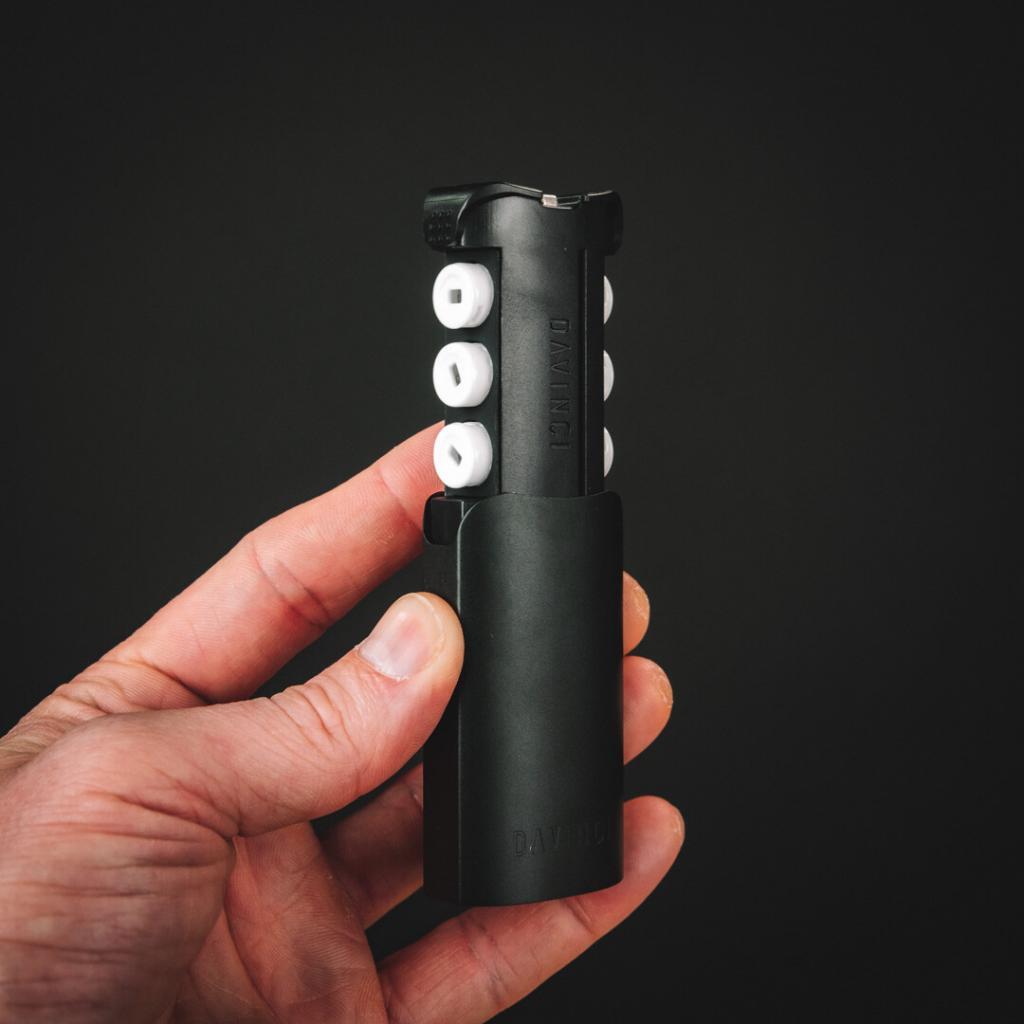 The .5 gram chamber is often too much for me in a solo session, and it might be for you as well. Here are some of the benefits of the Davinci dosing pods:
You can use them both with dry herbs and concentrates.
The pods shrink the chamber size allowing for more efficient single-person sessions.
The DaVinci dosing pods are great for micro-dosing and keeping track of the amount of herbs you use.
You can load herbs into the dosing pods before heading out for the day and easily swap on the go.
The pods keep the chamber clean and reduce the amount of "snacks" from dried herbs in the chamber.
The dosing pods are easy to clean. Just drop them in some ISO and let them soak. Rinse with warm water, and you're good to go.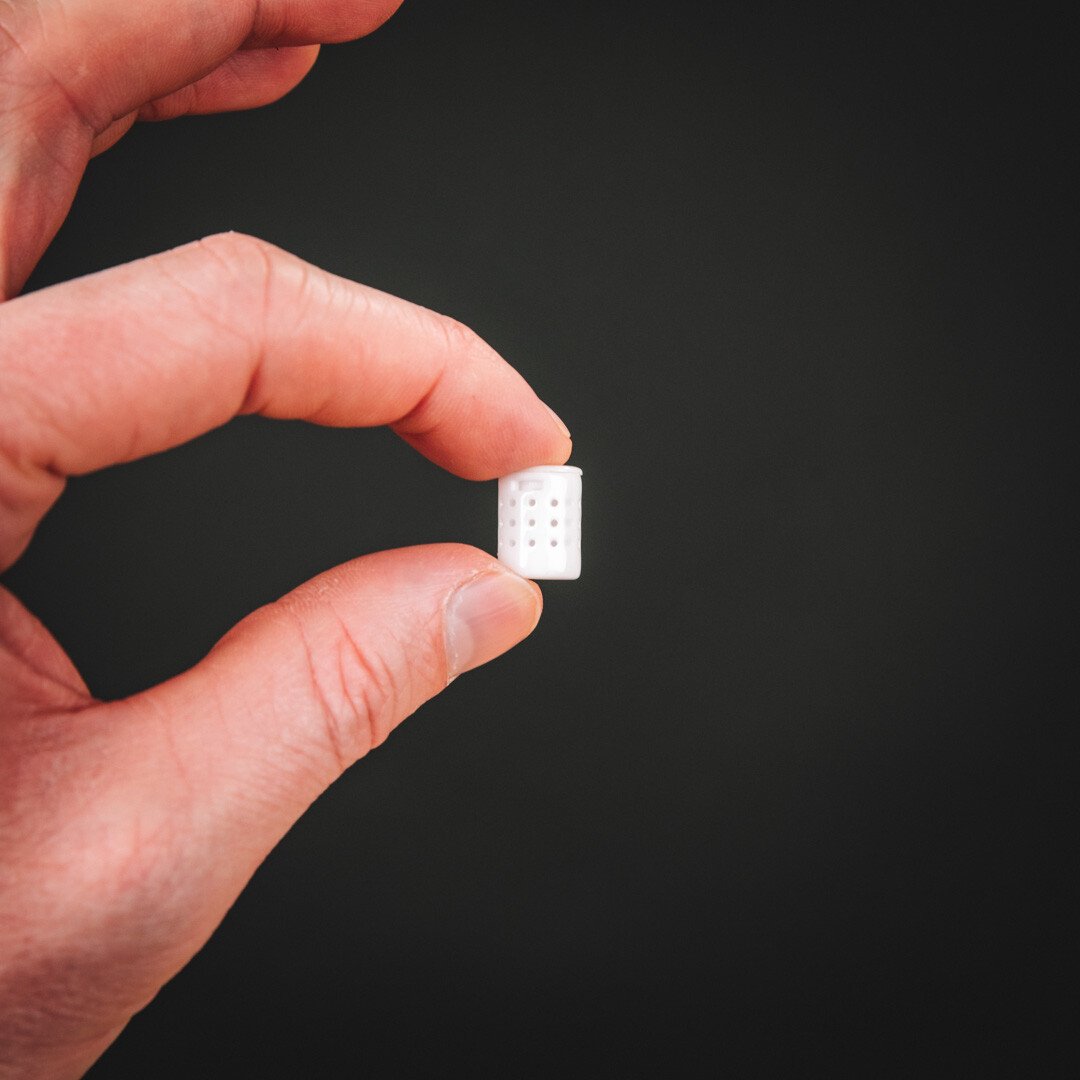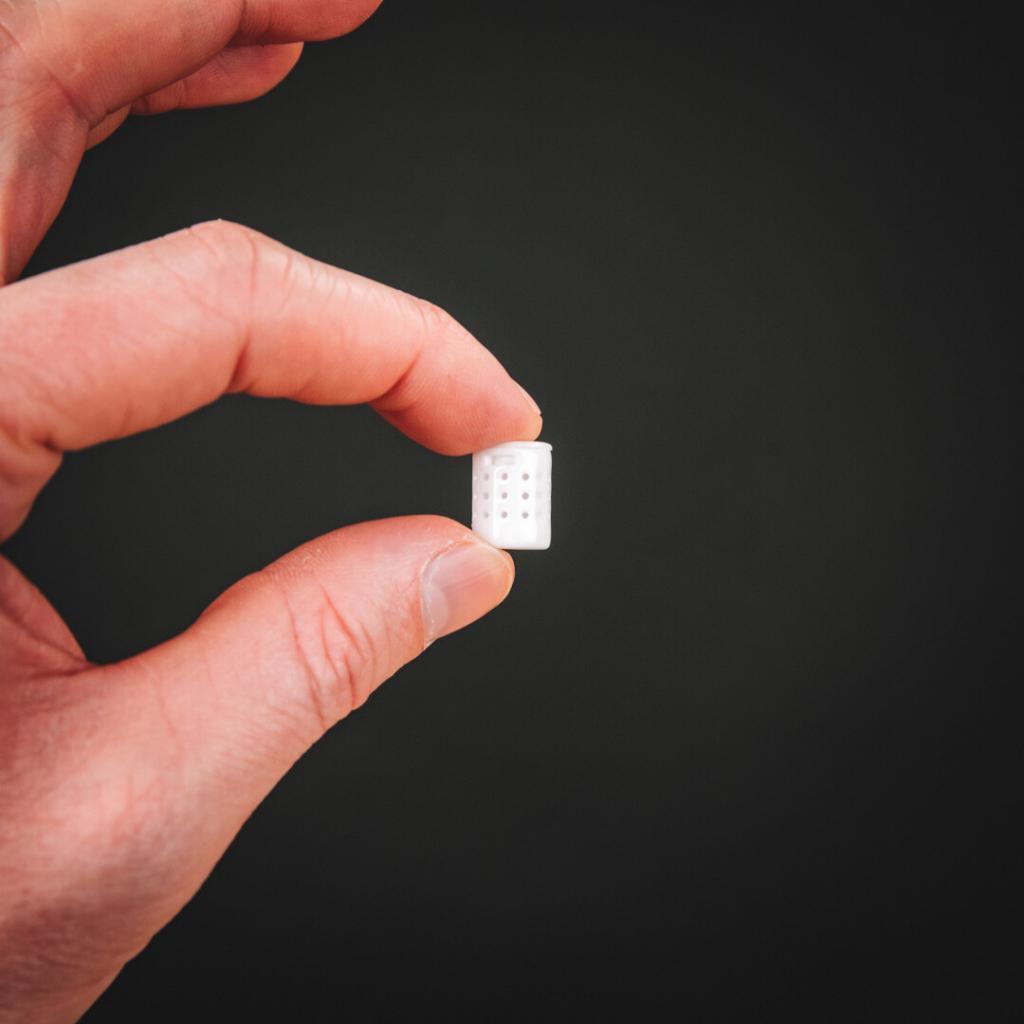 Davinci HydroTube – Unlike the pods, you don't need the hydro tube, but I will say that my favorite way to use the IQC at home is with a water piece. I prefer the Davinci 10mm WPA hooked up to one of my glass pieces, but if you don't have any glass already, the HydroTube is easy to manage and does have the option to be used out on the go.
I use a 10mm female to 12mm male adapter to connect most of my water pieces.
You don't need any extra connectors for the HydroTube.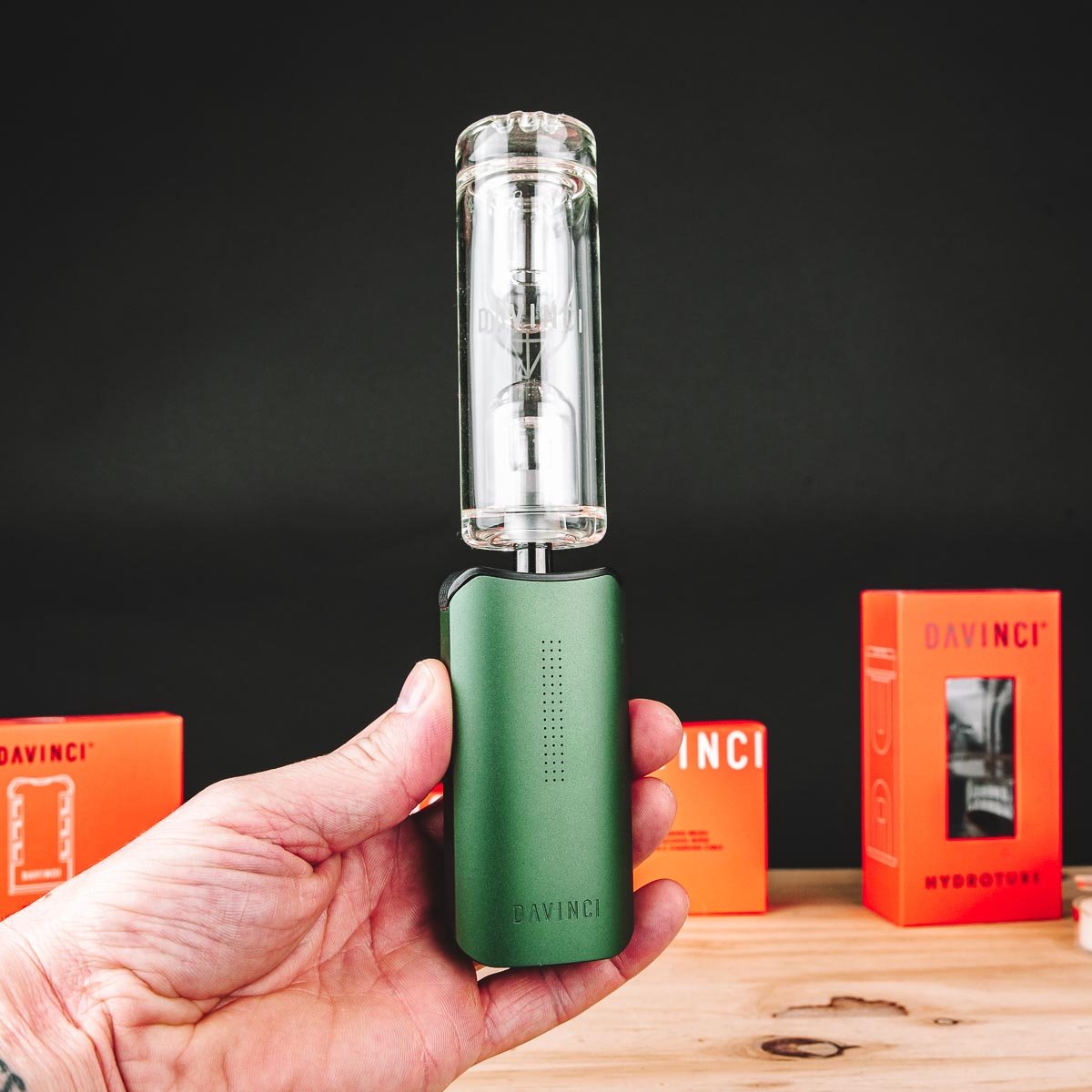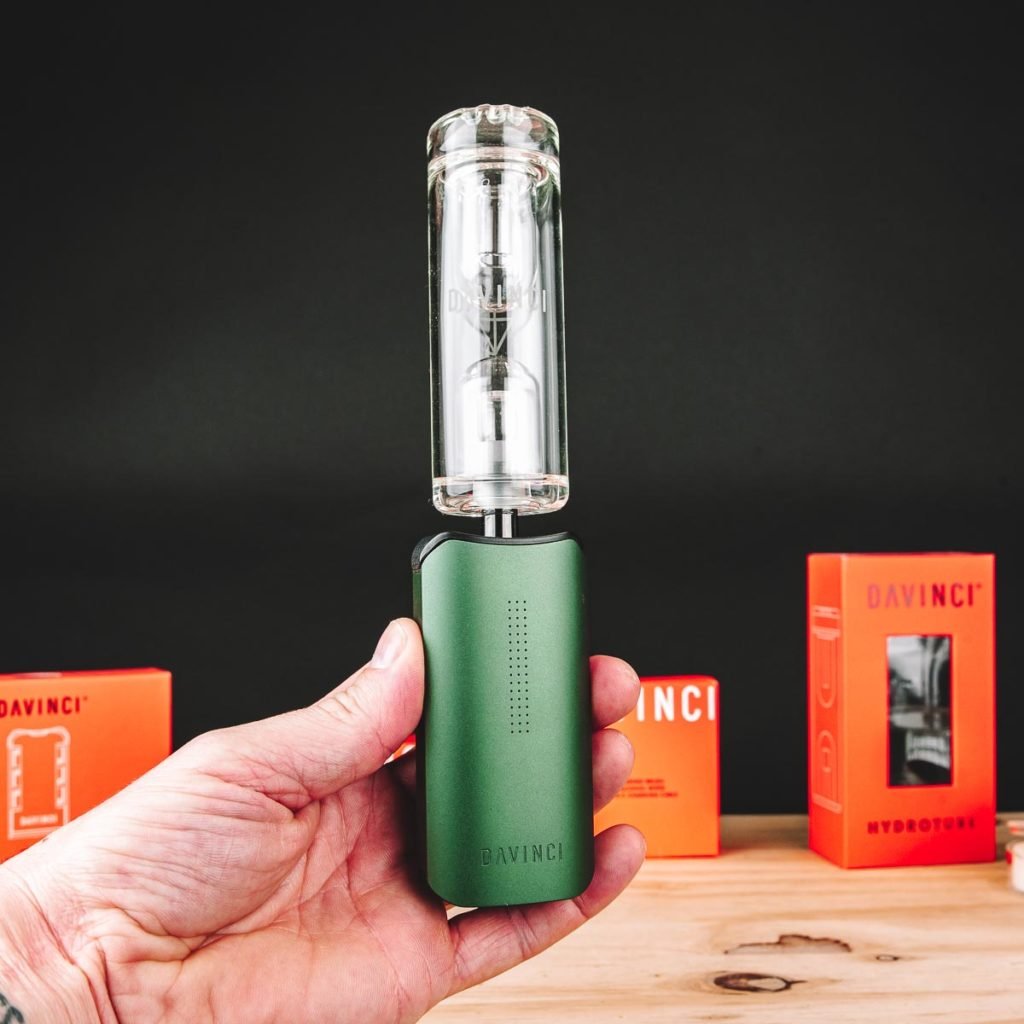 Battery Life and Charging Options
The IQC vaporizer uses a replaceable 3000mAh 18650.
The IQC charges via USB-C and takes roughly 2 hours to fully charge a battery.
I've been averaging around one hour (60 minutes) of use, which is usually 5-6 bowls for me, depending on session length, temp, and if you are running back to sessions or cold starts.
The added USB-C charging is a considerable upgrade compared to the previous Davinci dry herb vaporizers.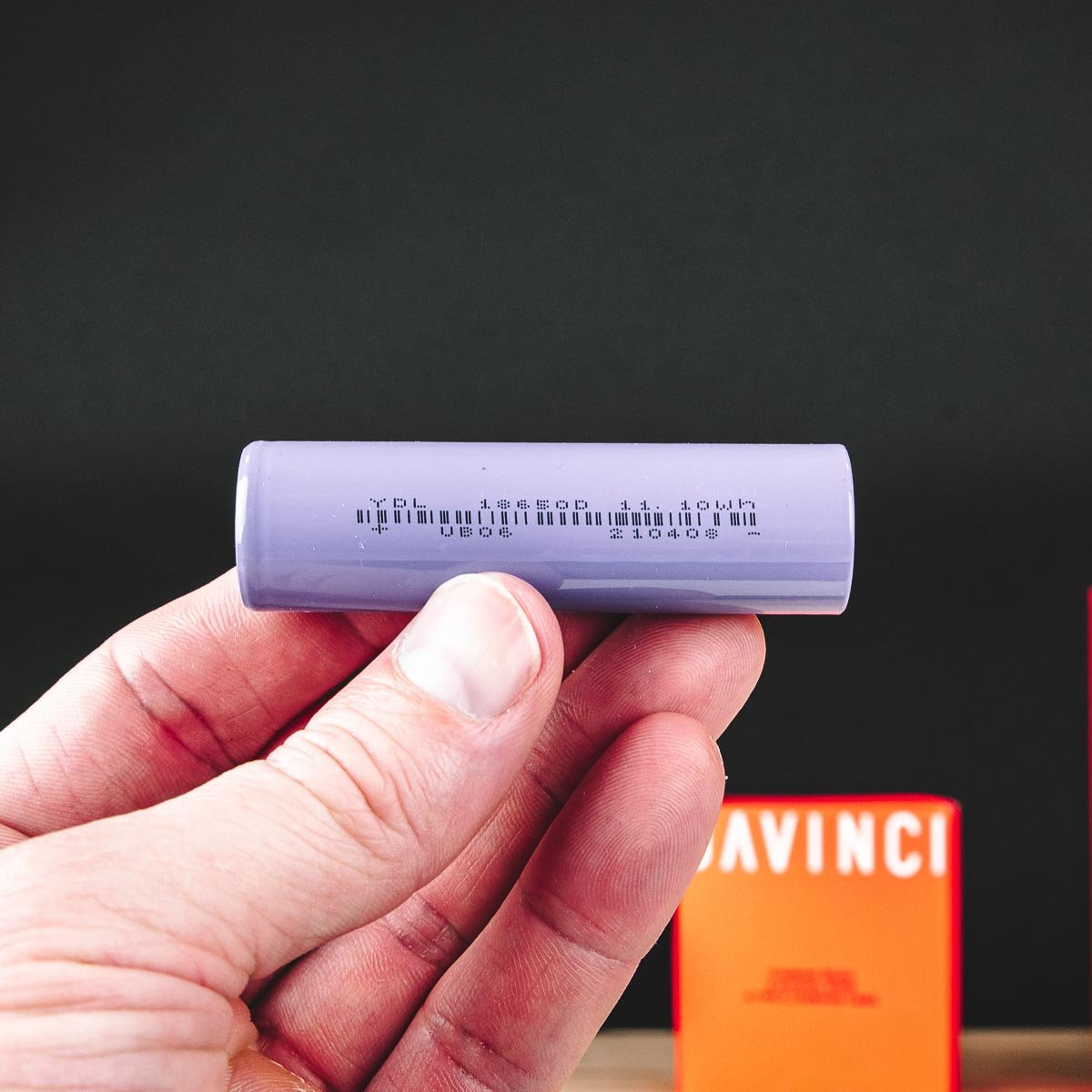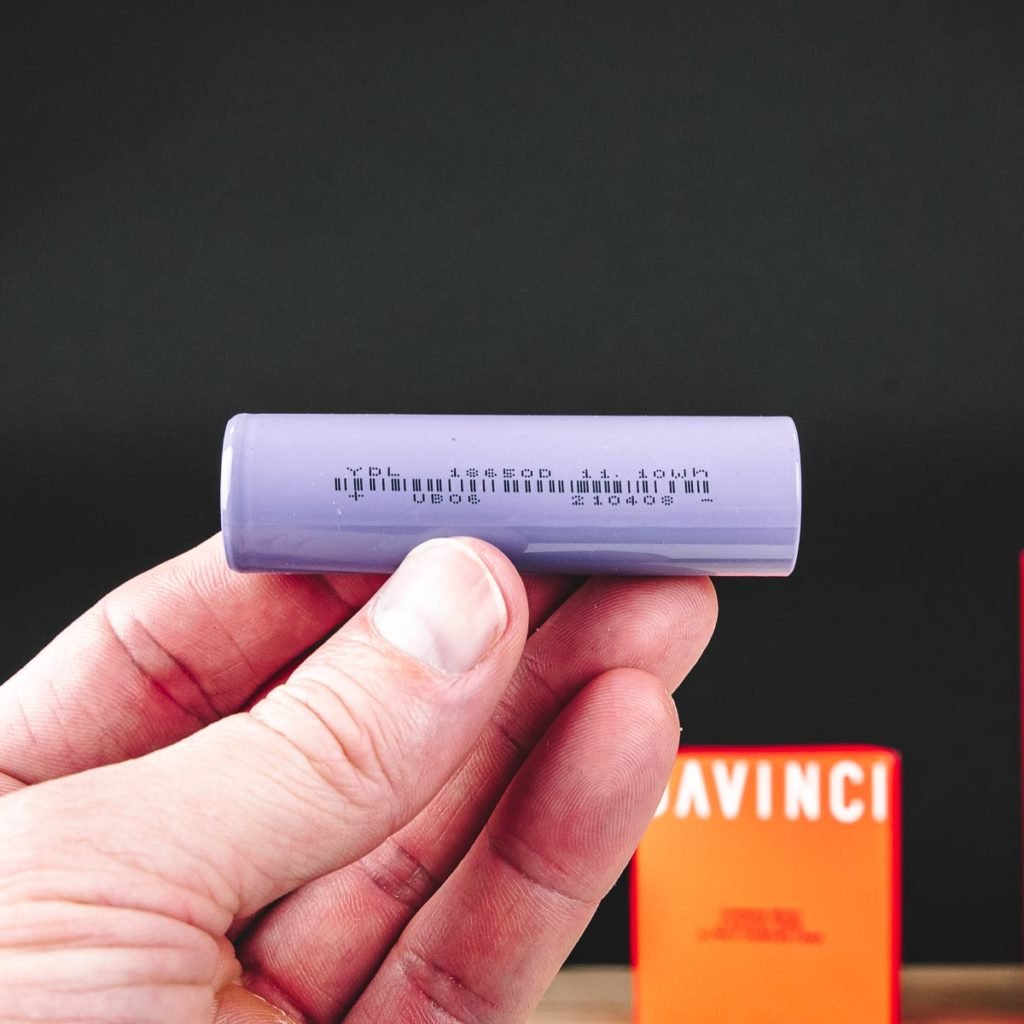 Charging Options: You can always pick up a couple of extra batteries for use on the go; they come in especially handy on camping trips. The IQC does offer pass-through charging, so you can use the unit while plugged in. This is my preferred method for home use and my glass water pieces.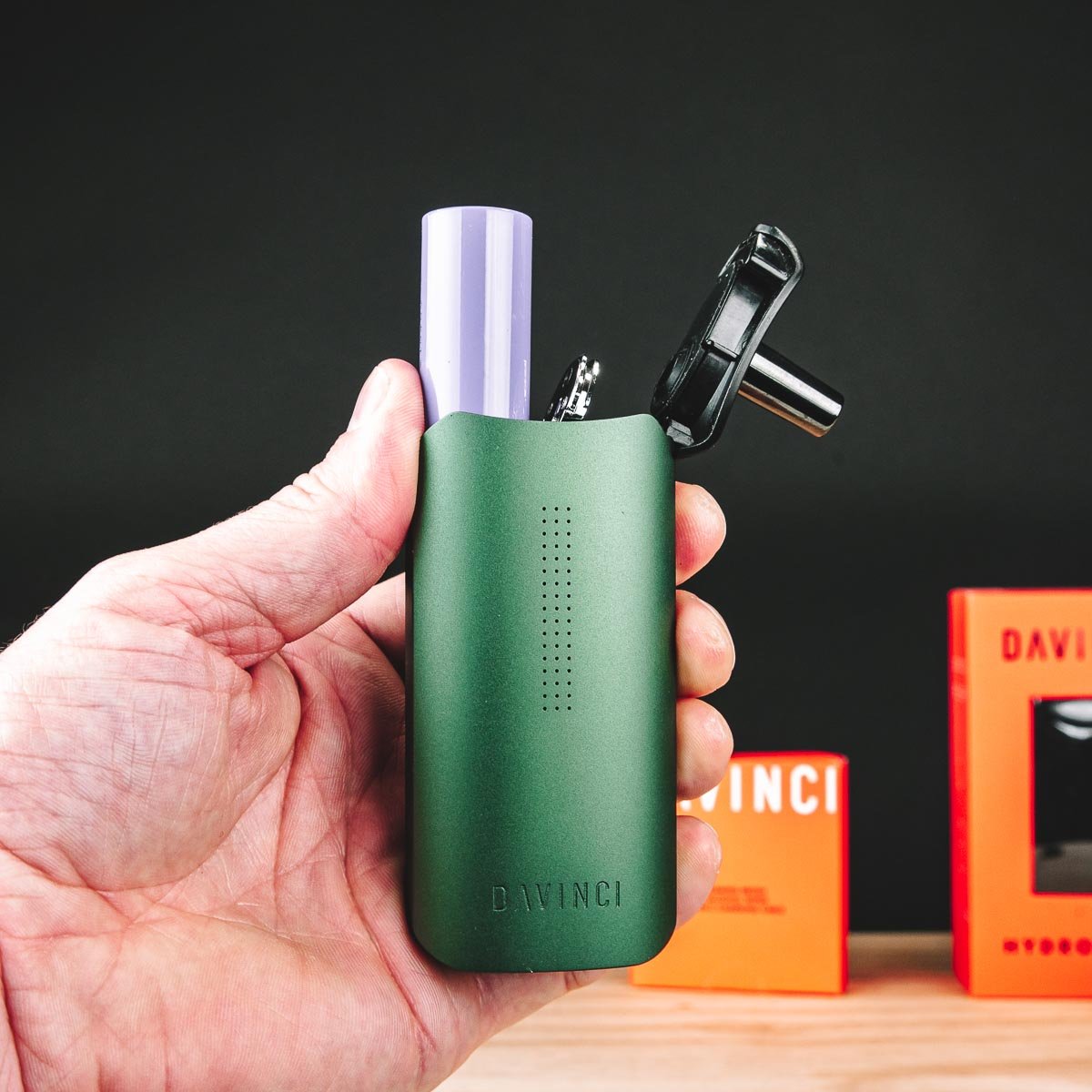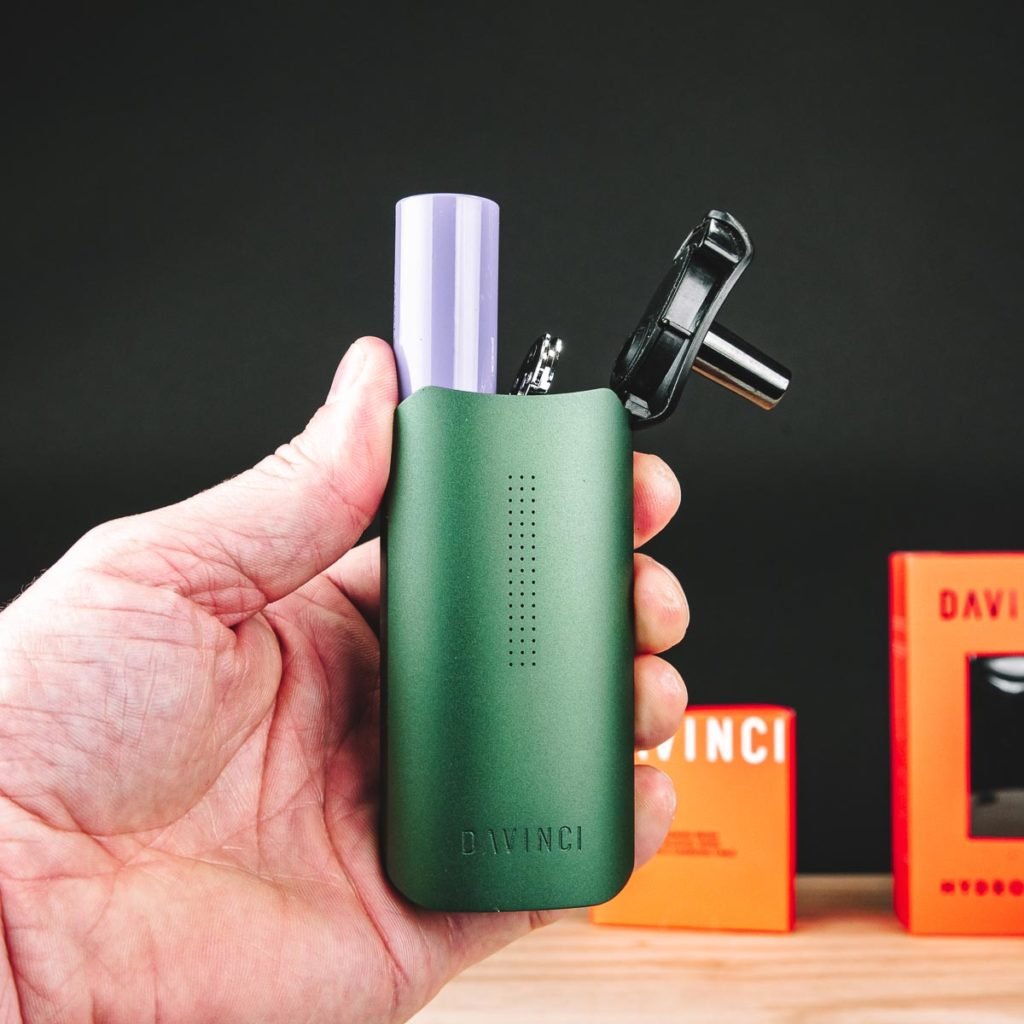 If you plan on using the IQC a lot on the go, I recommend picking up an external battery pack like an Anker. This way, you can charge it a couple of times on the go and still have an extra battery or two if you need it.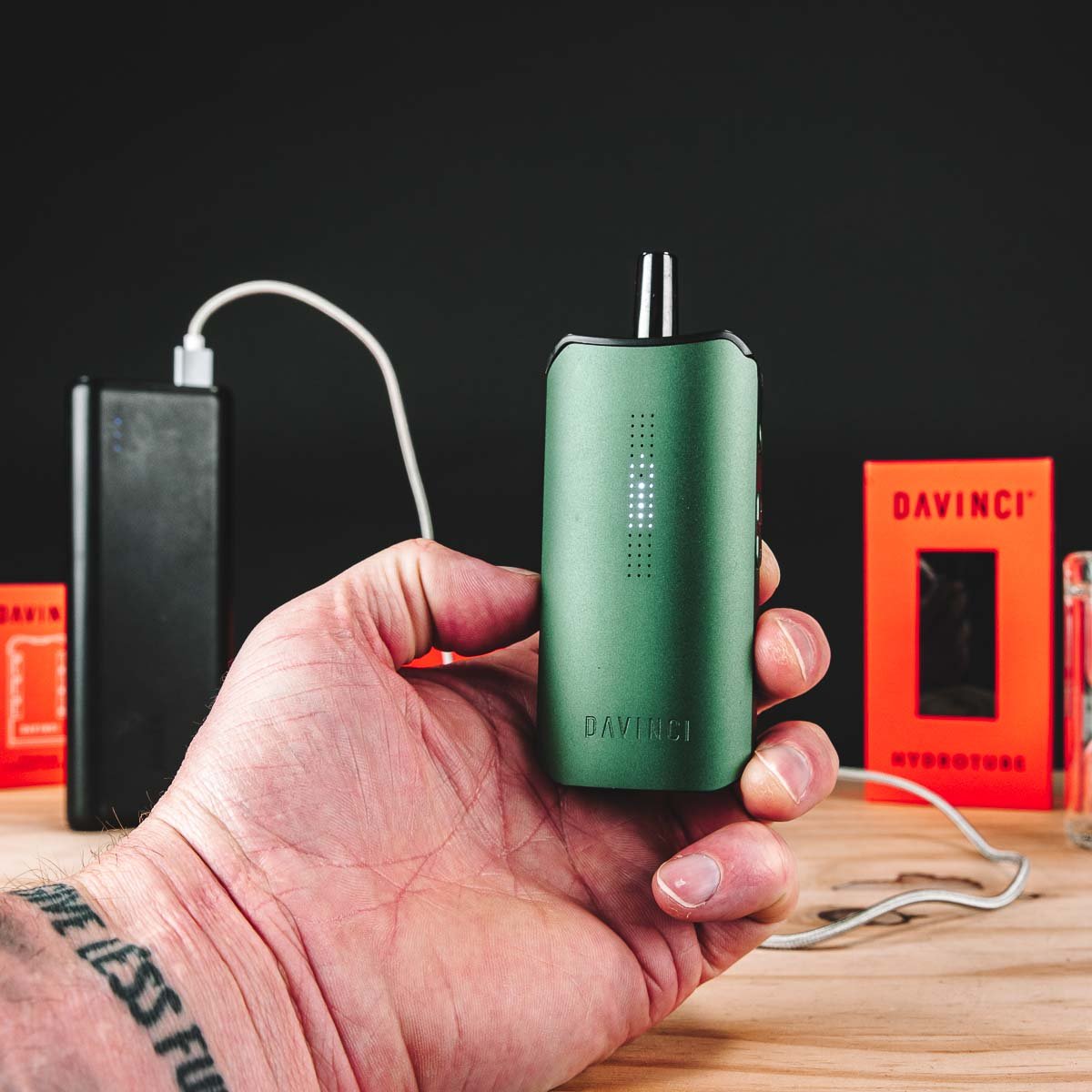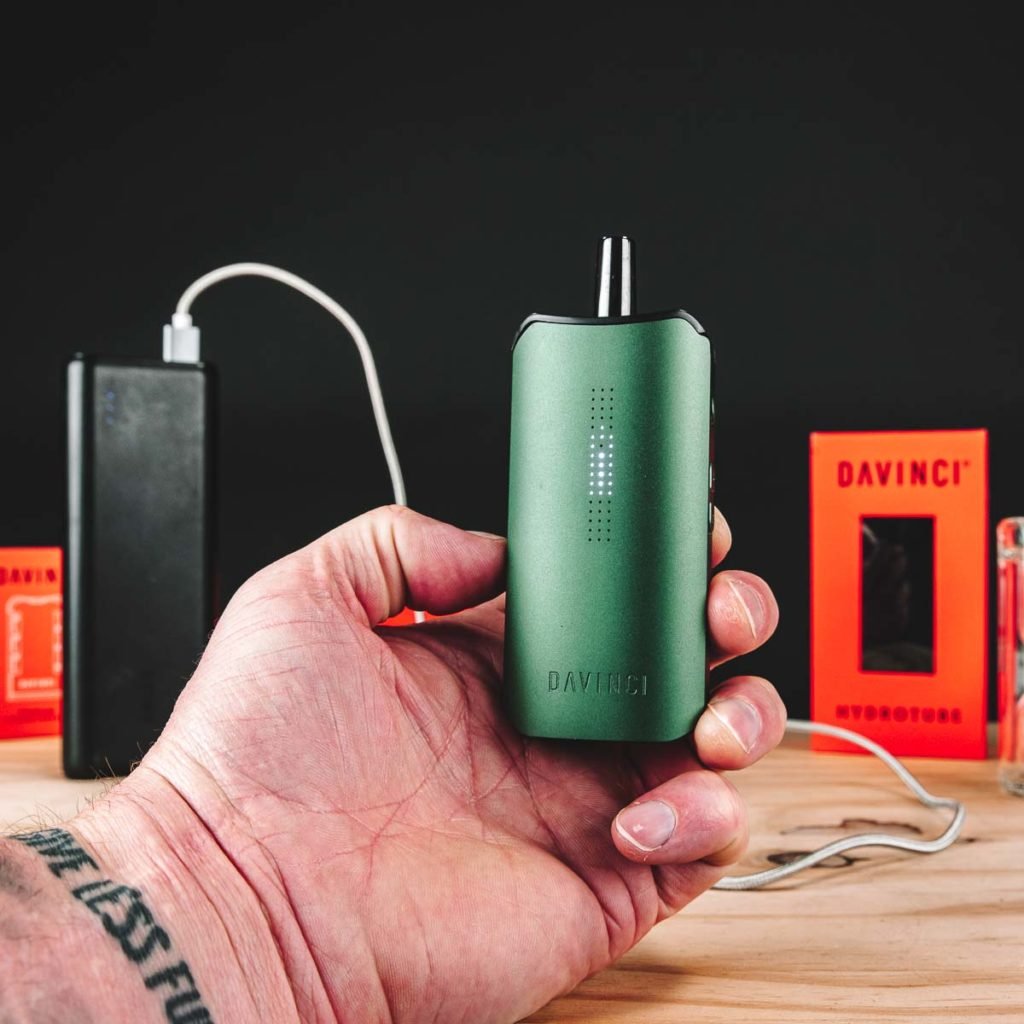 Lastly, an external battery charger is not a bad idea if you'll be picking up extra batteries. An external battery charger lets you charge up to four batteries simultaneously and free up the IQC for use while other batteries charge.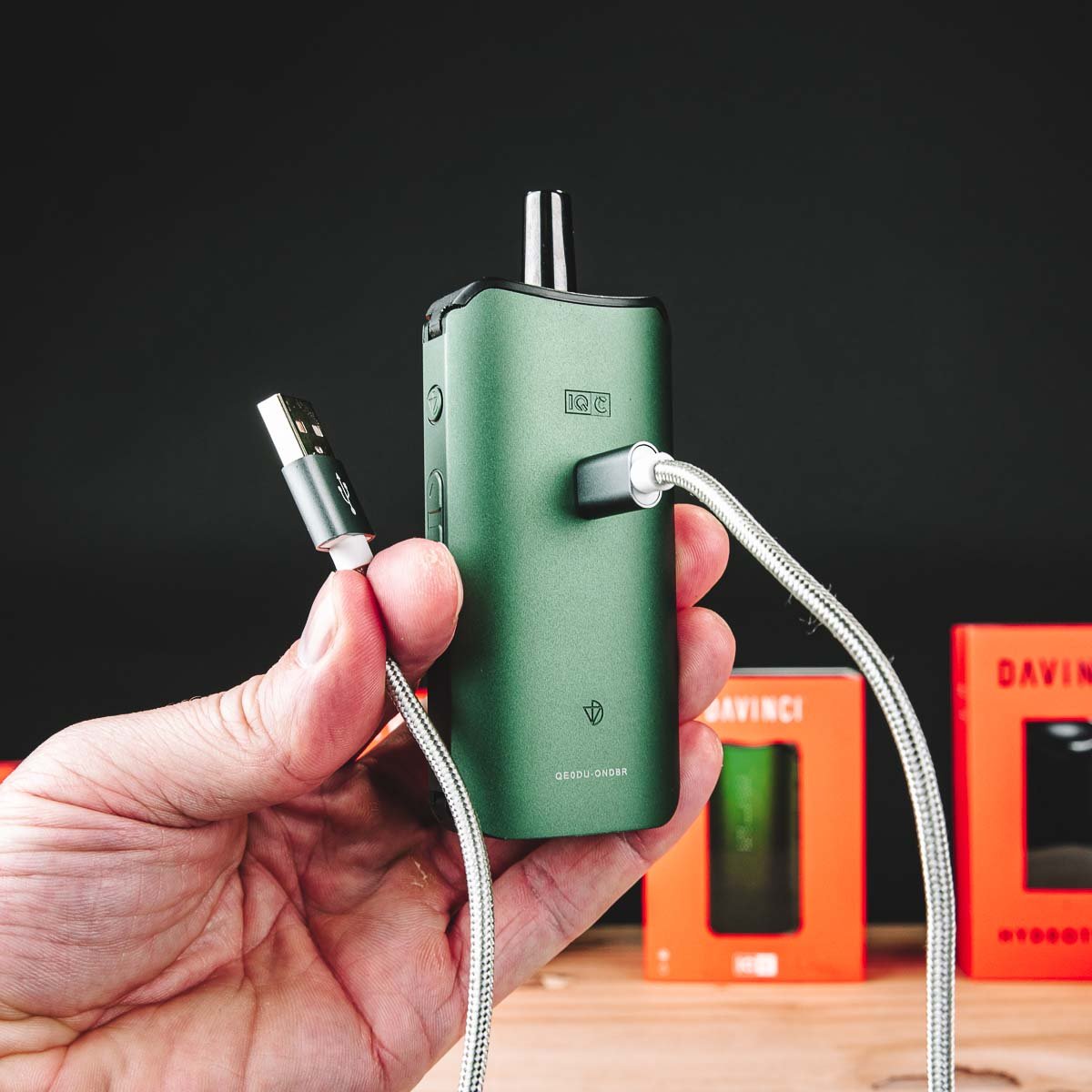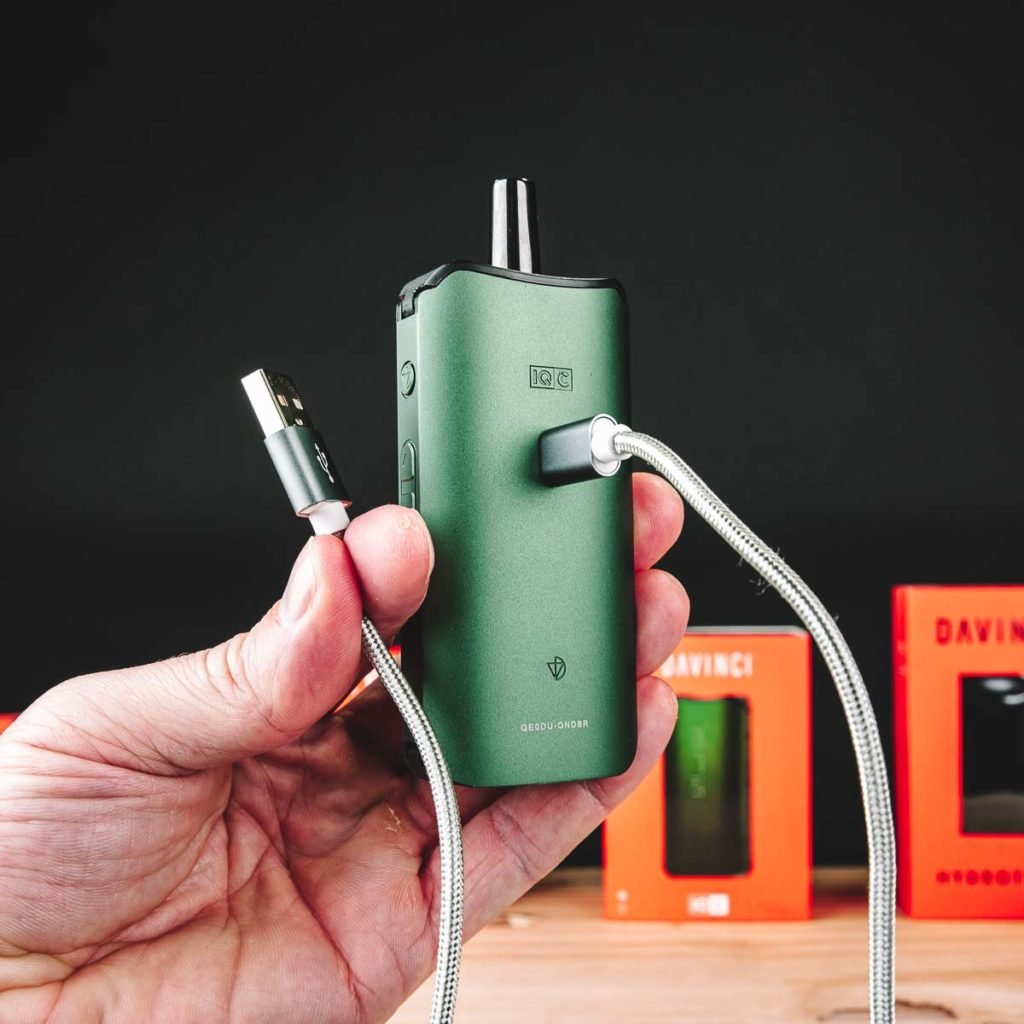 Battery Tips: If you pick up extra batteries, be sure to label them and rotate them around. Also, don't leave your batteries fully charged or fully exhausted for extended periods if possible to extend longevity. I try to store my batteries at roughly half-charge if I'm not using them for a while.
Heating and Temperature Options
The Davinci IQC vaporizer heats the chamber via conduction heating, meaning the entire chamber is being heated at all times. Once you start a session, it's best practice to finish the session in one sitting. A typical session lasts about 10-15 minutes, depending on how much herb I load, temp settings, and whether I'm using it single or in a group.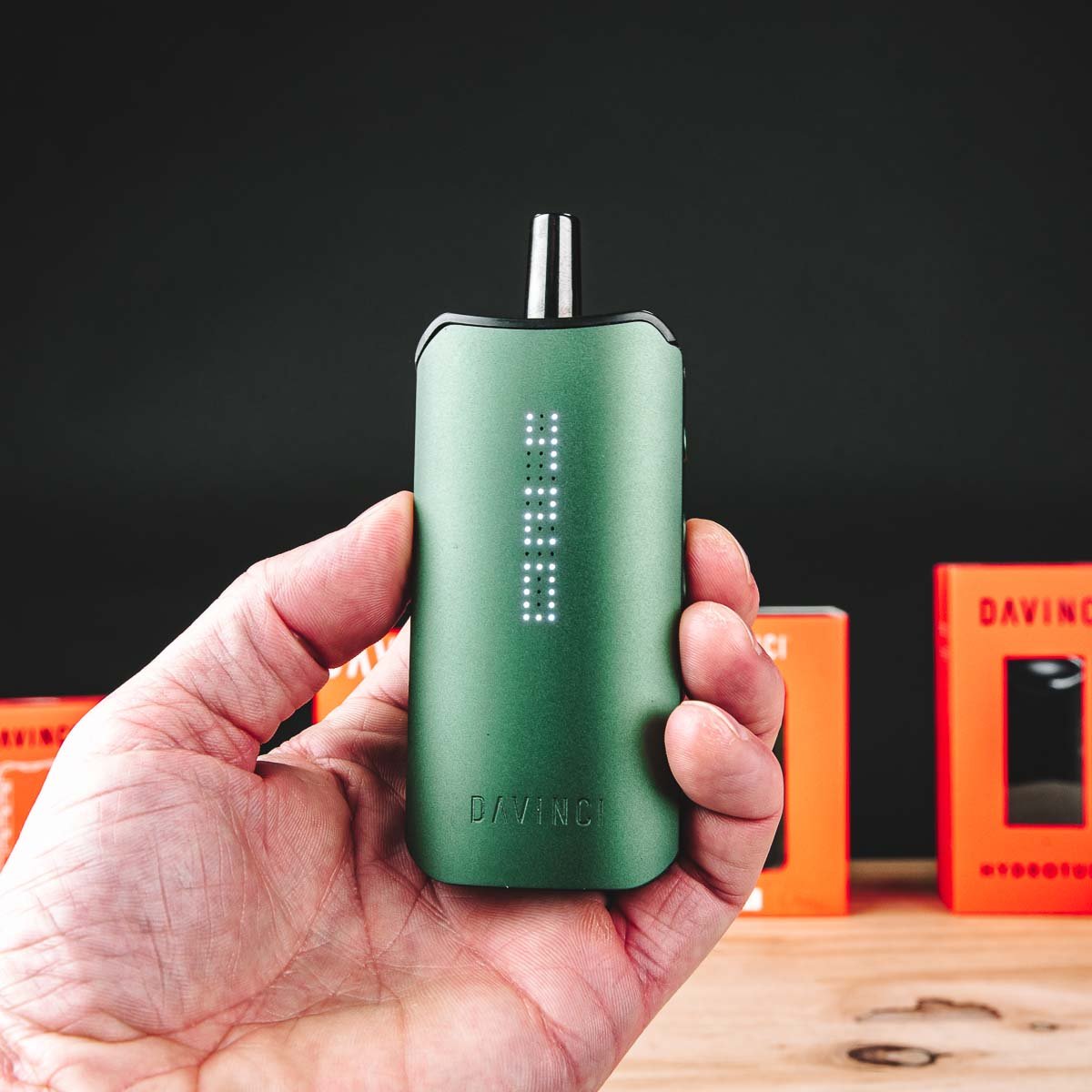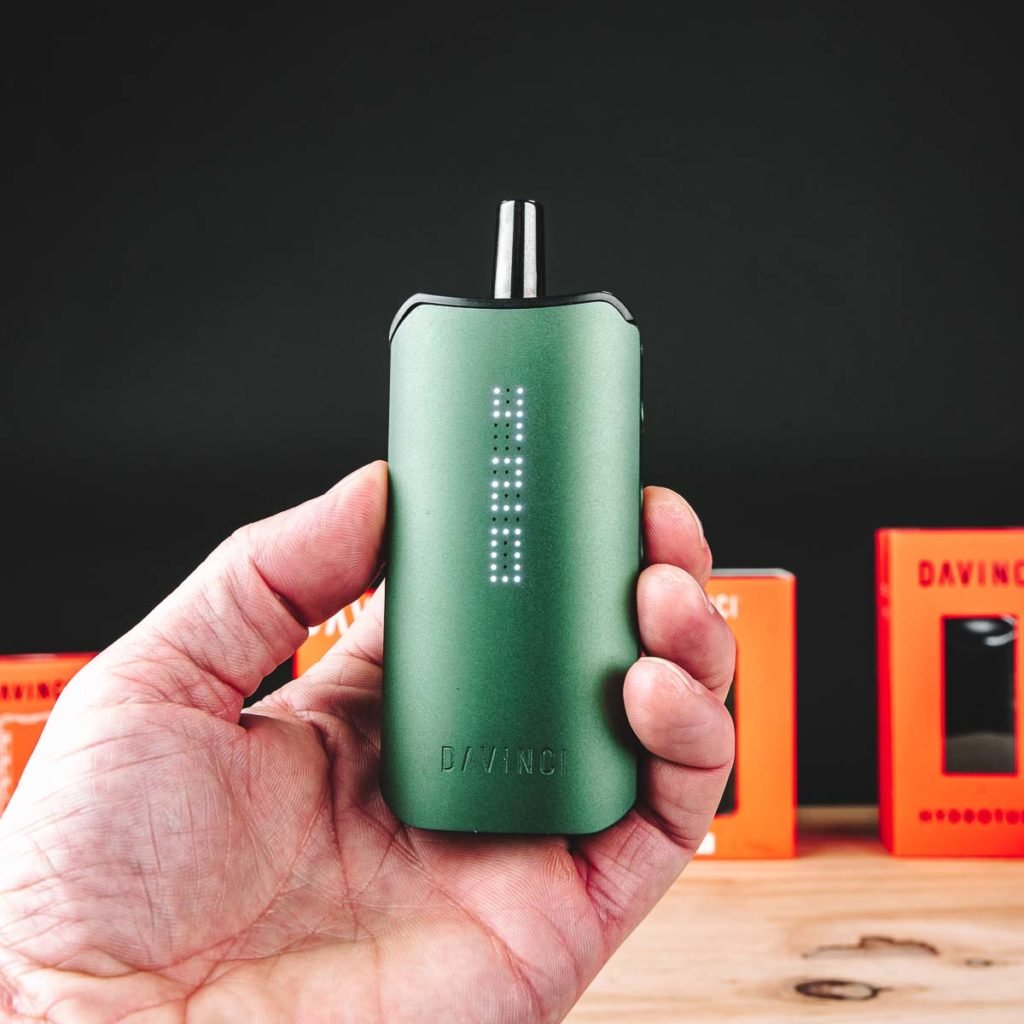 The IQC features a Precise Temperature Mode ranging from room temp to a max temperature of 430F, which is high enough to use with concentrates via the stainless steel dosage pods.
The Davinci IQC also comes with the popular Smart Path feature that allows you to select a smart path (1 – 4), and the IQC will automatically temp step (slowly raise temperature) the session for you. Literally, press one button and the vaporizer will take care of your entire session for you. Definitely a feature I enjoy about this unit. I like to start my sessions on smart path two (2) and finish with smart path three (3).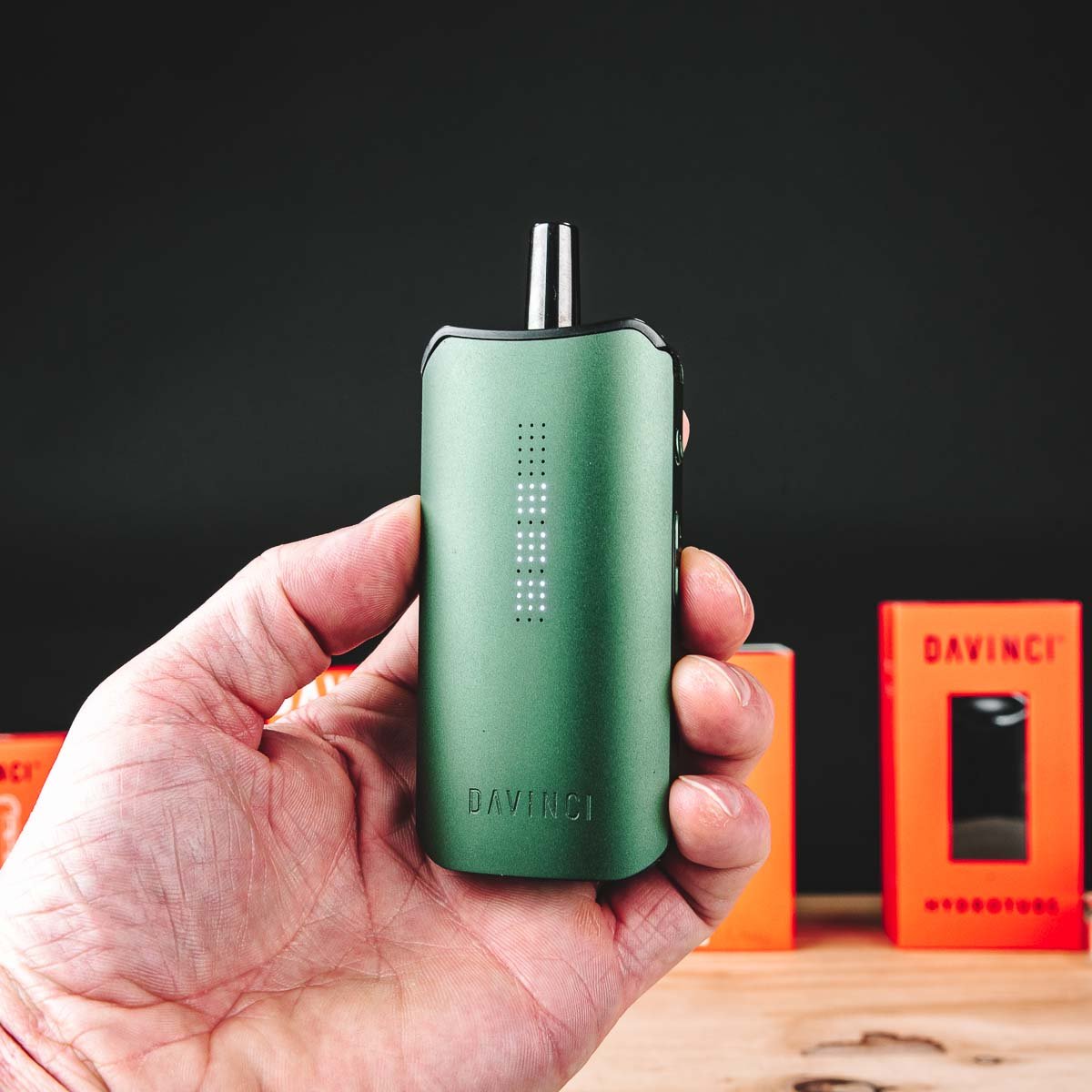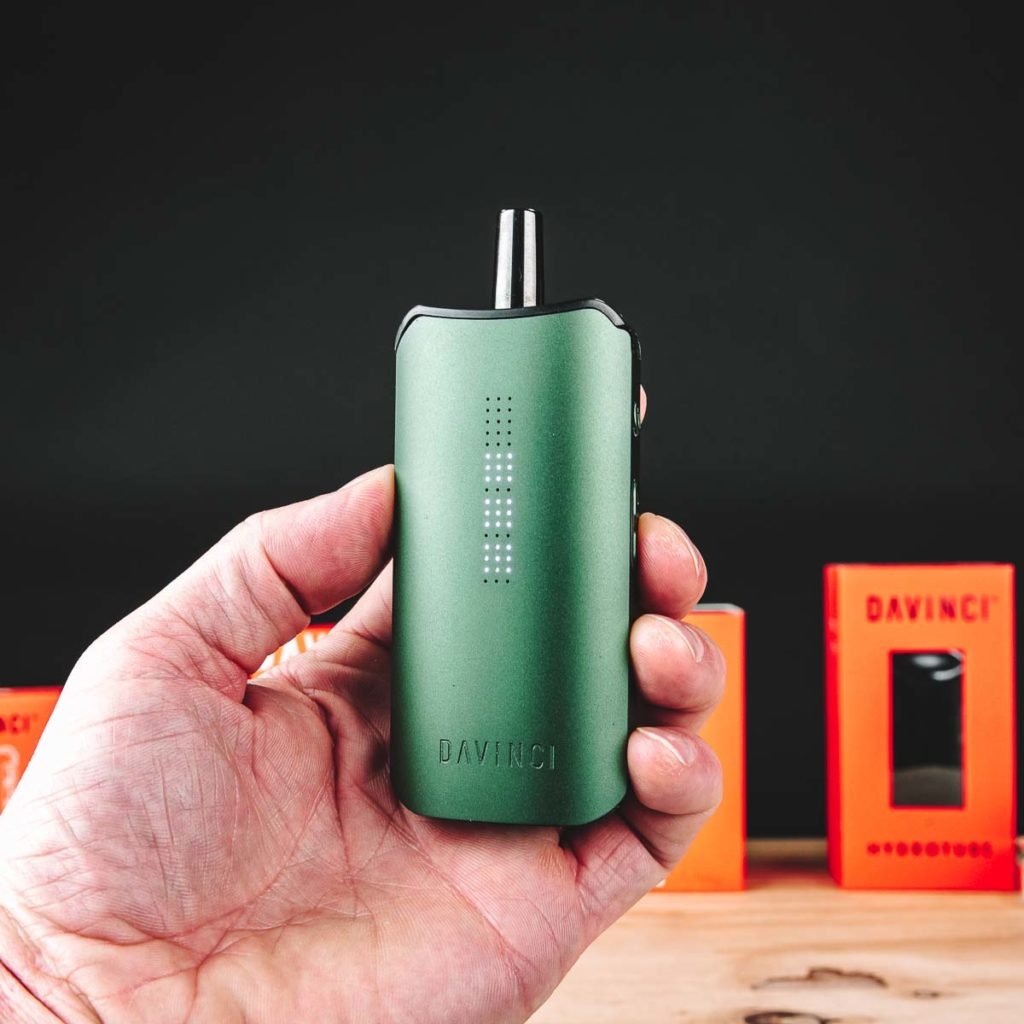 The IQC vape also features an average 30-second heat-up time. This can vary quite a bit depending on session tempo, bowl size, and whether or not you are using the dosage pods. The stainless steel pods will heat up faster and maintain heat better than the Alumina Ceramic dosage pods.
Oven Info and Loading Tips
The Davinci IQC uses a glass-lined Zirconia Ceramic oven and can hold up to .5 grams of dry herb. Most portable vaporizer chambers hold around .25 grams, so this oven is roughly double the size of the average bowl. This is both good and bad.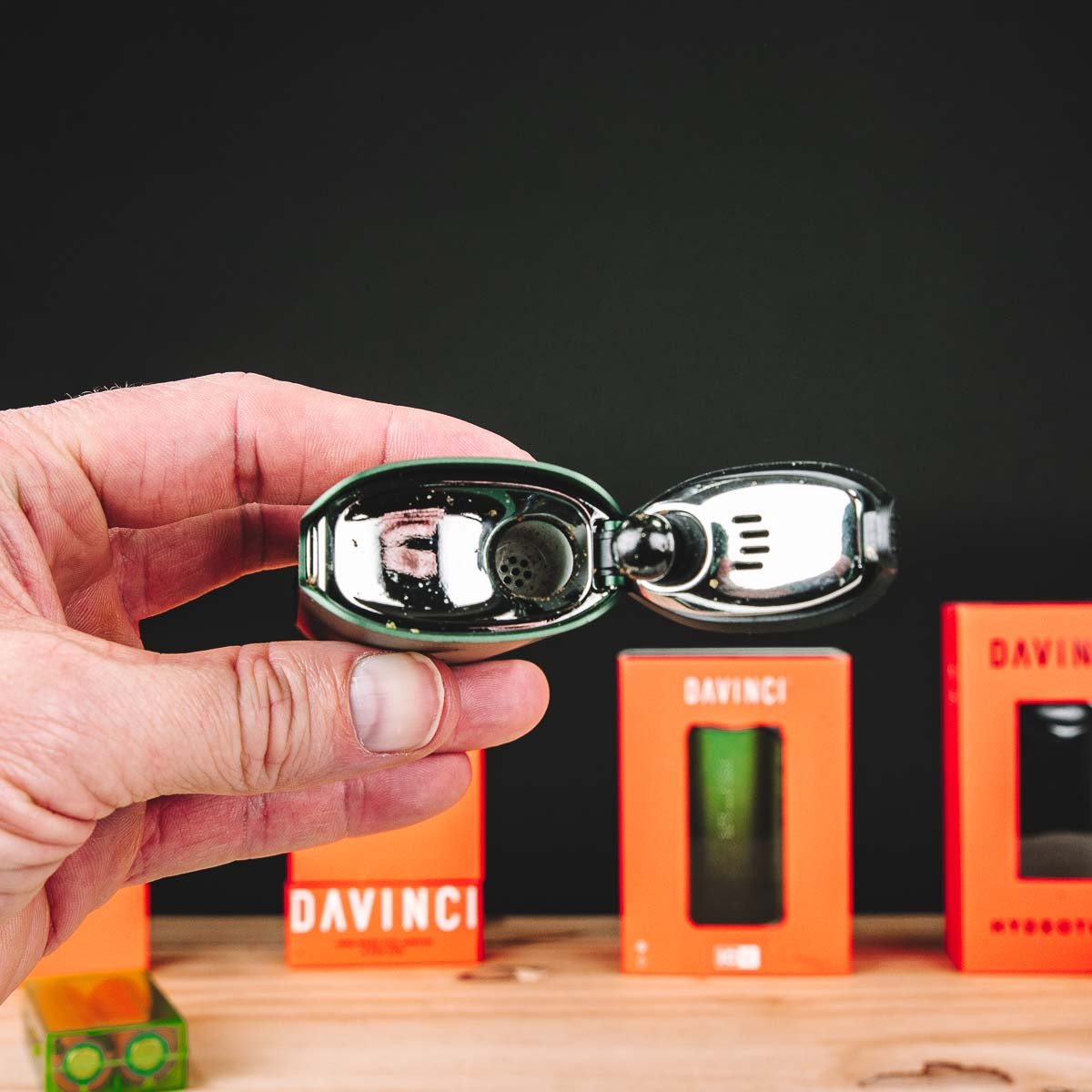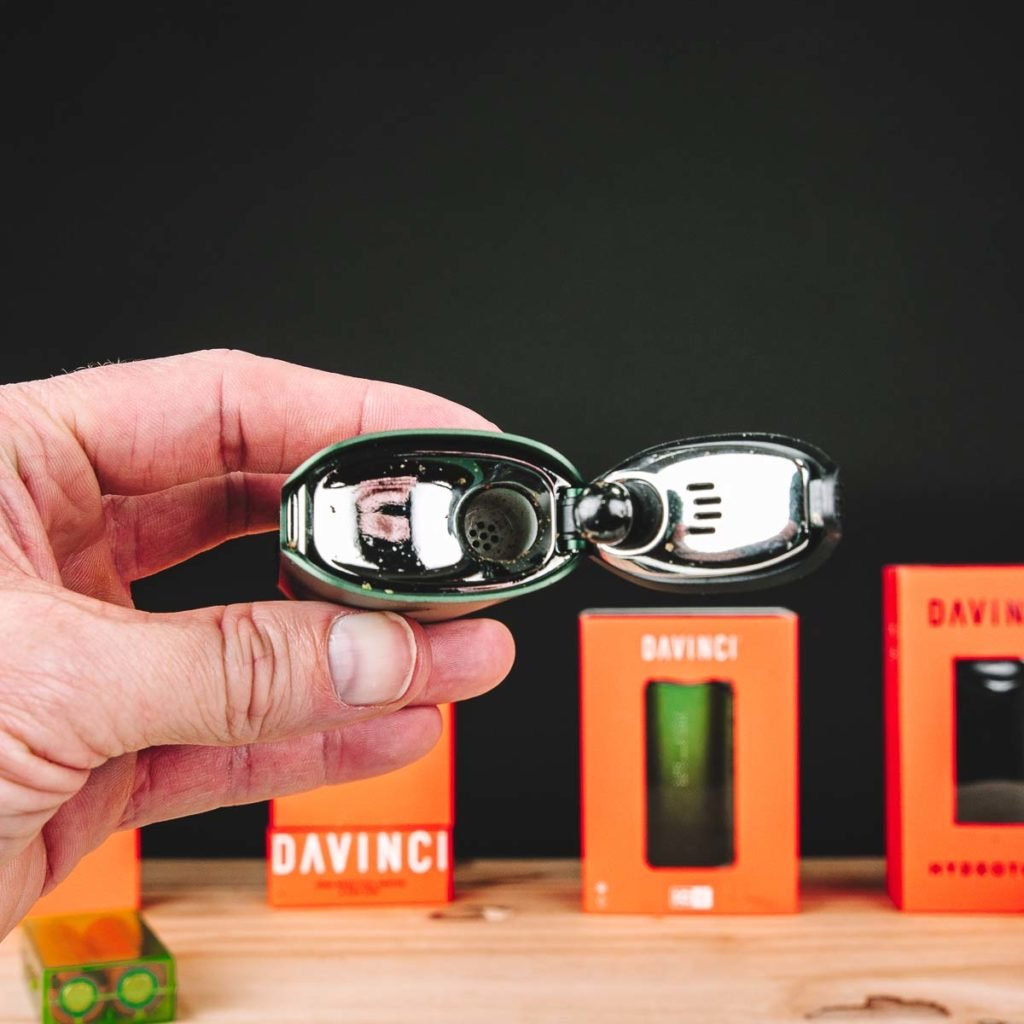 It's great for group sessions and heavier users, but it's not good for solo person sessions or micro-dosing. This is why investing in the dosing pods is essential if you have a low tolerance or if you'll be using the IQC for solo sessions more often than not.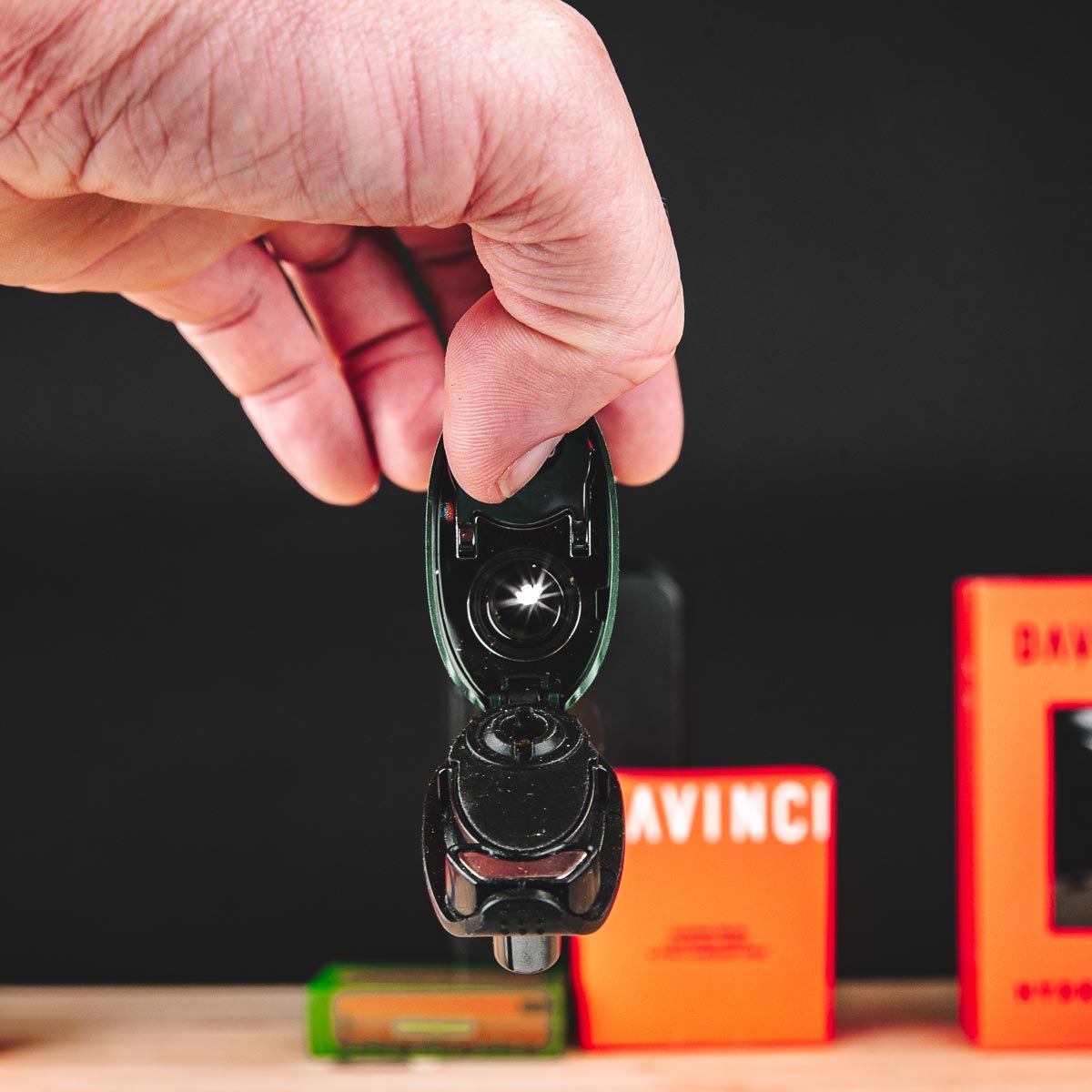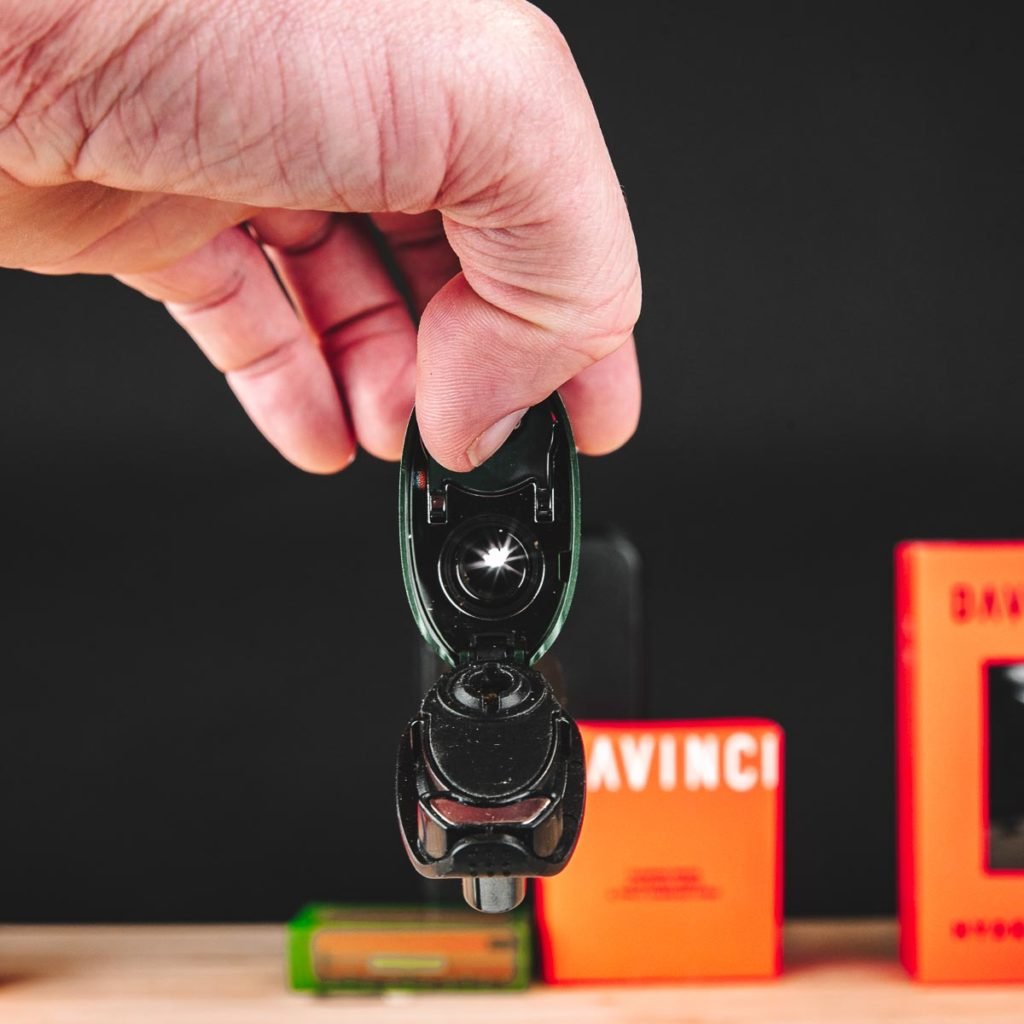 Not only is the oven massive, but it requires a fully packed chamber or the use of dosing pods for best results. It comes with a "pearl" that can help shrink the chamber size slightly, but you still need a bit of herb to get the best results.
Here are a few more tips to get the best results with your Davinci IQC:
Use an average grind without the dosing pods (full chamber) and a fine grind with the dosing pods.
Pack down the herbs lightly as you load the bowl.
Stir the chamber after a few draws (funnel design and built-in stir tool make stirring very easy).
I recommend an average grind because I've been getting treats now and then with a very fine grind and a fully packed chamber. No treats with the dosing pods or a medium or coarse grind.
Vapor Quality and Draw Resistance
As I mentioned above, the Davinci IQC uses pure conduction heating, but honestly, the first couple of rips out of the IQC taste great and are as clean as a hybrid (conduction/convection) vaporizer.
After a couple of draws, the conduction aspect takes over, and the vapor quality drops off a bit. Still, this new IQC vaporizer is hands down the best tasting vaporizer Davinci has ever made and my favorite-tasting conduction unit on the market.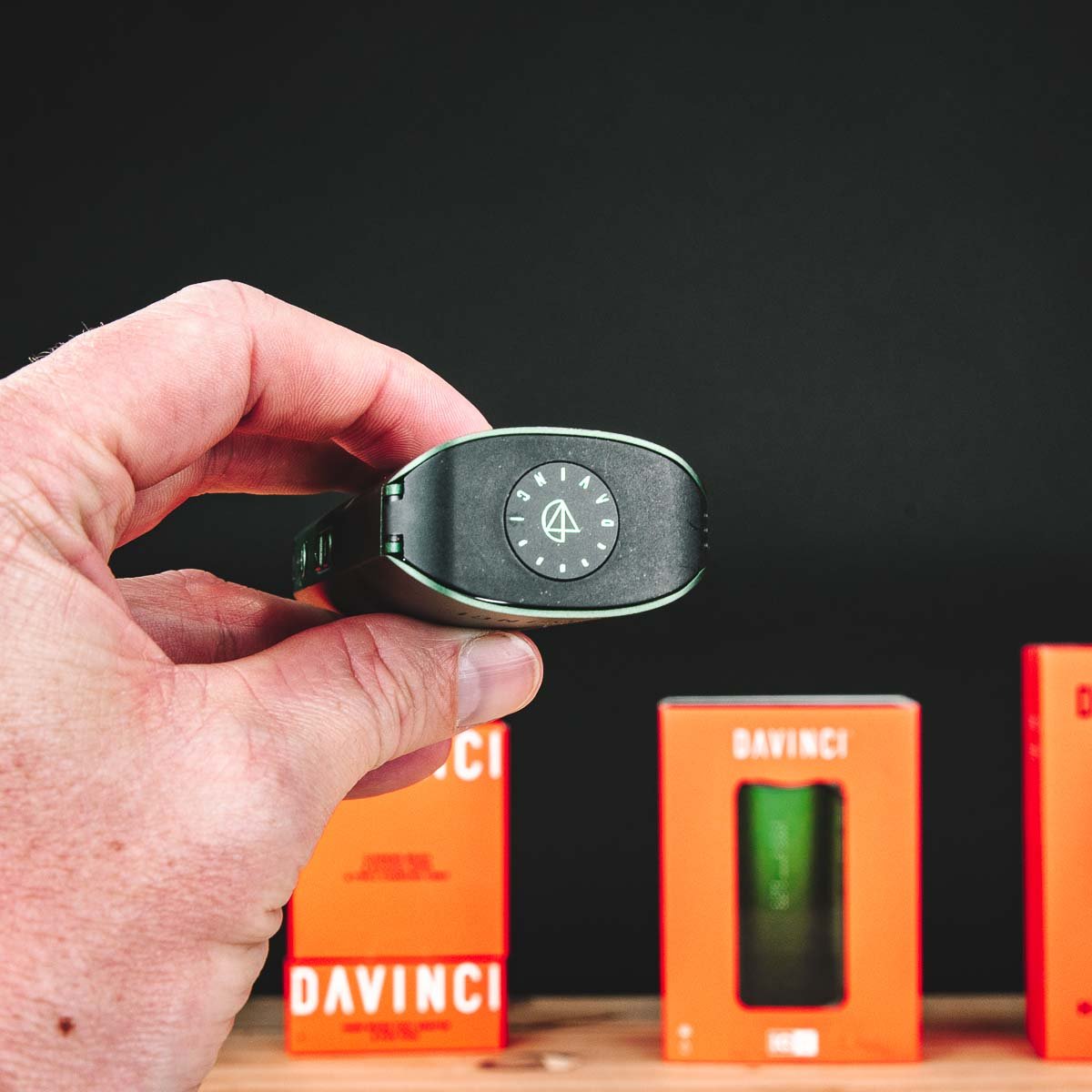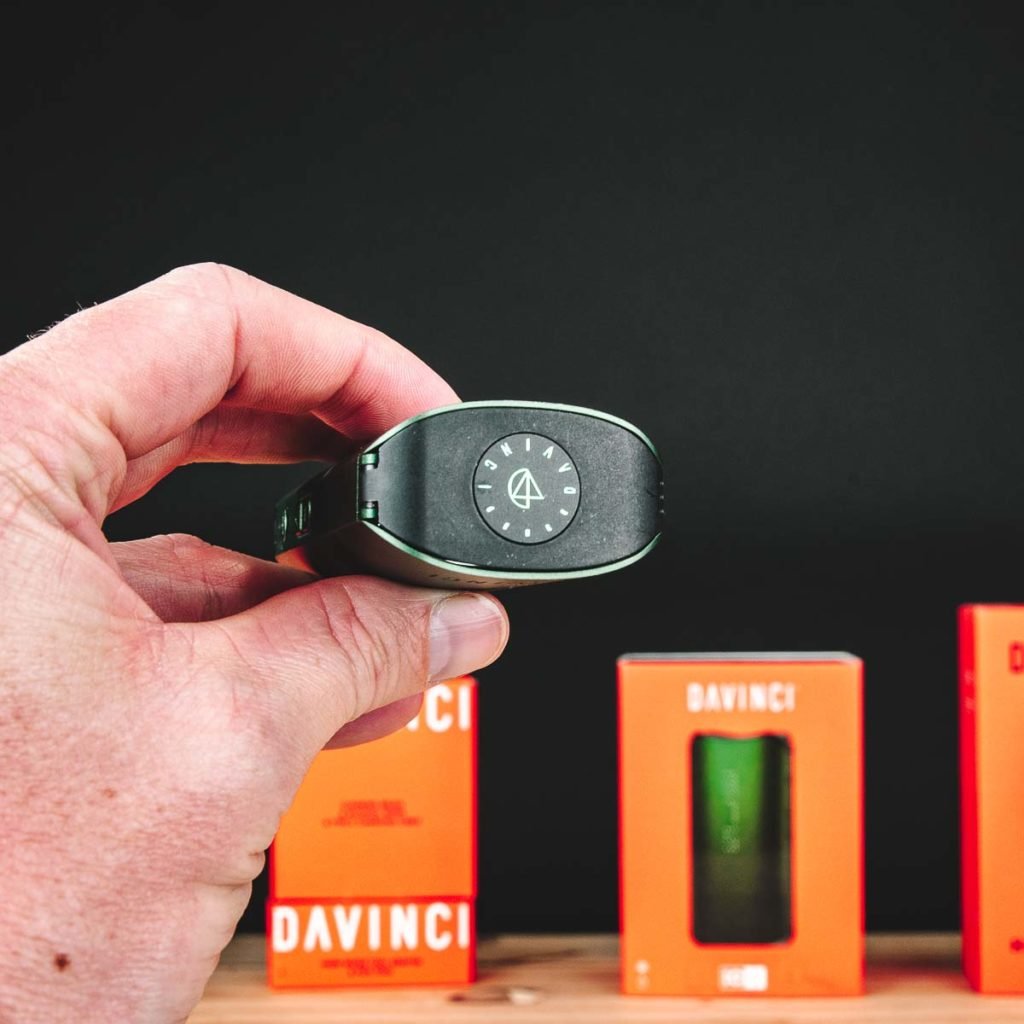 The draw resistance is average for a conduction vaporizer but an improvement over the original Davinci IQ vaporizer. Last but not least, the entire oven and vapor path in the Davinci IQC is completely sealed via zirconia glass. No metals and no plastics in the vapor path.
ICQ Mobile App
First, the Davinci APP is available for ALL platforms, but it takes a little extra work to get it going on your Apple iOS device.
The Android APP is available via the Play Store, and you can always access your Davinci vaporizers via the web-based app if you don't want to use your phone.
With the APP, you have access to the following:
Precision Temperature Control
Custom Smart Paths
Real-Time Graph
Device Information
Temp Change
Stealth Mode
Vibrate Mode
You don't get the real-time dosage tracking offered in the IQ2, which is a nice feature, especially if you're looking to keep track of your session history and know exactly how much herb you are using.
Comparisons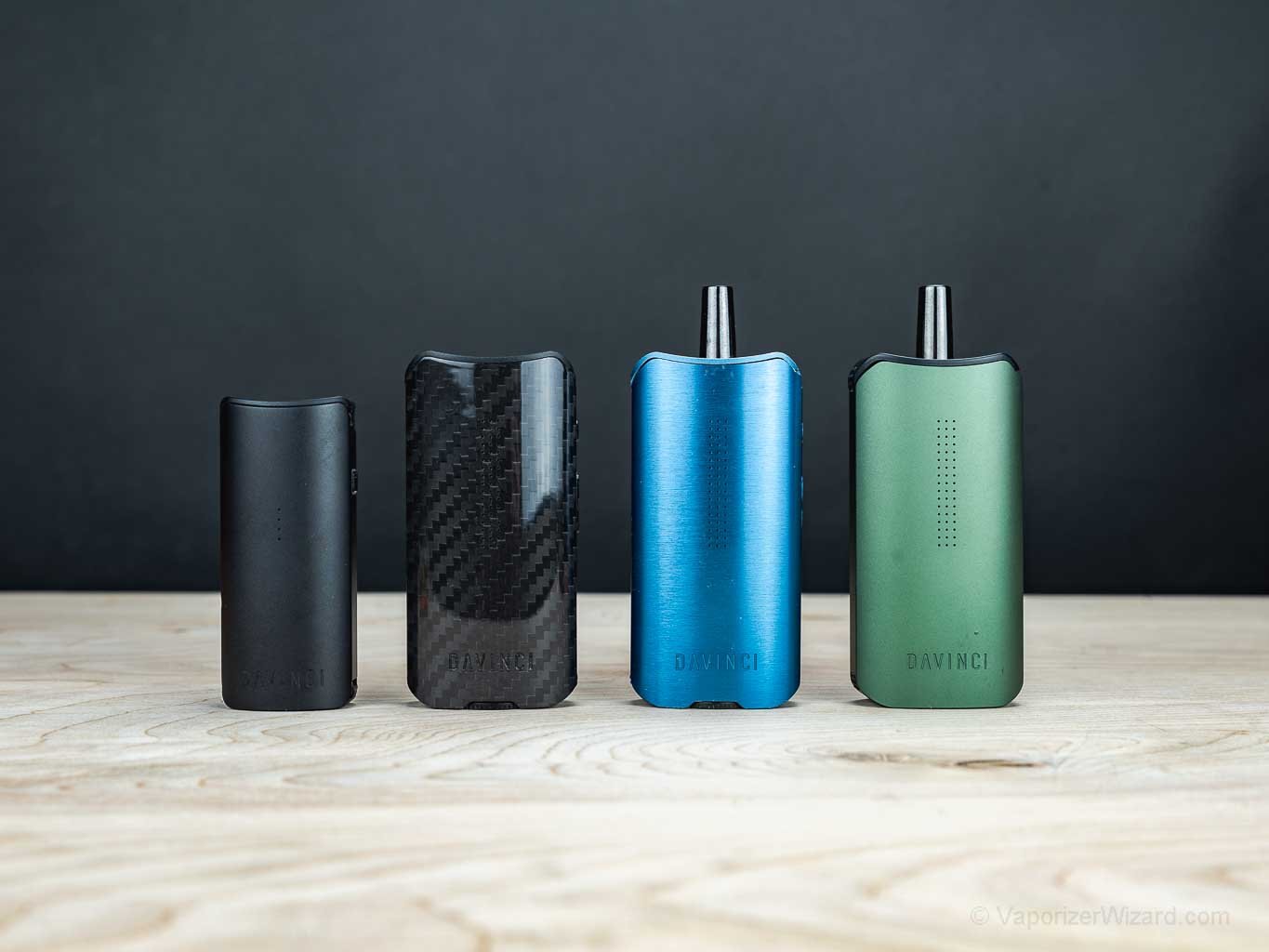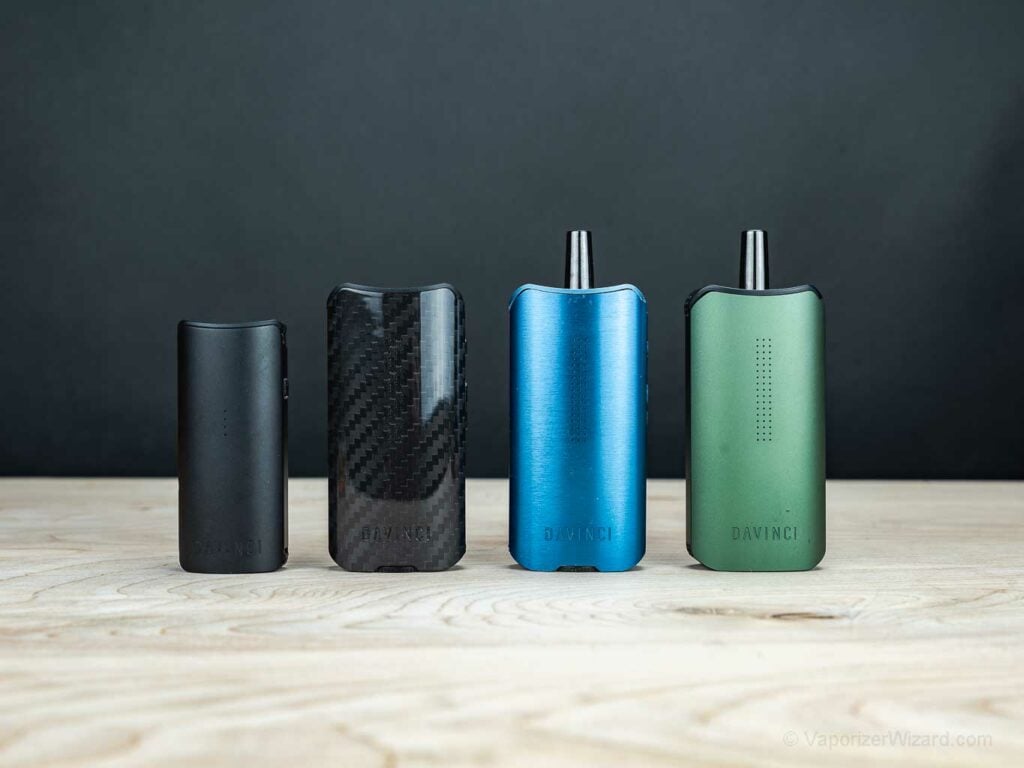 | Features | Davinci IQC | Davinci IQ2 | Davinci MIQRO-C |
| --- | --- | --- | --- |
| Price: | $199 | $295 | $99 |
| Dosage Tracking: | No | Yes | No |
| AirDial: | No | Yes | No |
| Dry Herbs and Concentrates: | Yes | Yes | No |
| APP Available: | Yes | Yes | No |
| Charging Times: | 2 Hours | 6 Hours | 2 Hours |
| Battery Specs: | 3000mAh | 3500mAh | 900mAh |
| Charging Type: | USB-C | USB | USB-C |
| Body Shell: | Sandblasted Al | Brushed Al | Sandblasted Al |
| Mouthpiece: | Silicone | Zirconia | Zirconia |
| Chamber Capacity: | .50g | .50g | .25g |
| Warranty: | 5 Years | 10 Years | 2 Years |
Davinci Vaporizer Comparison Chart
The Davinci IQC is an upgraded version of the original Davinci IQ but missing a few of the features offered in the IQ2. When compared to the original IQ AND the IQ2, the new IQC vaporizer features:
USB-C charging
Improved flavor chamber design
Refined hinges, design, and overall functionality
Better flavor and airflow
The IQC doesn't include Dosage Tracking or the AirDial featured in the IQ2. The IQ2 also offers a 10-year vs. five-year warranty on the new IQC vaporizer.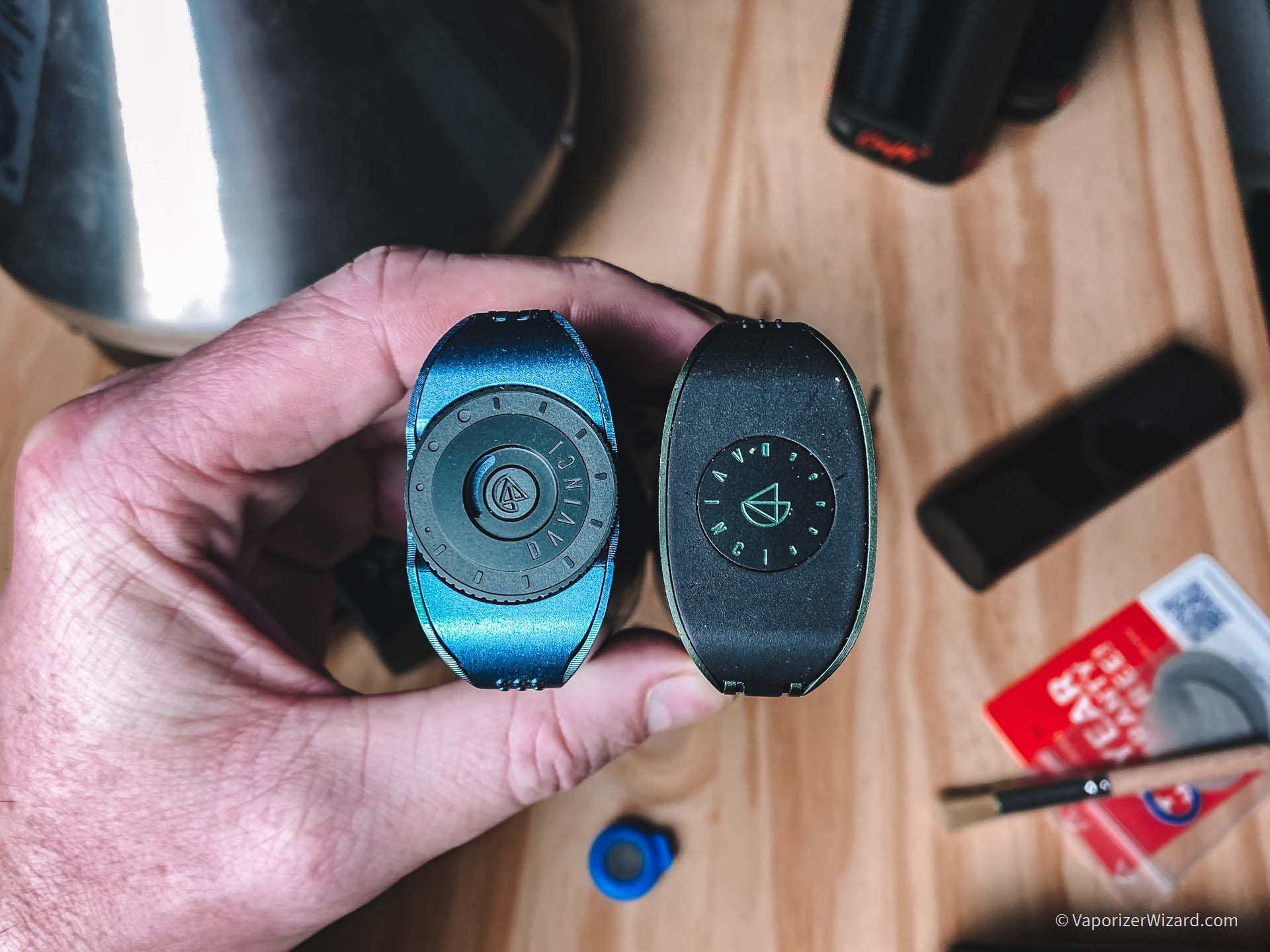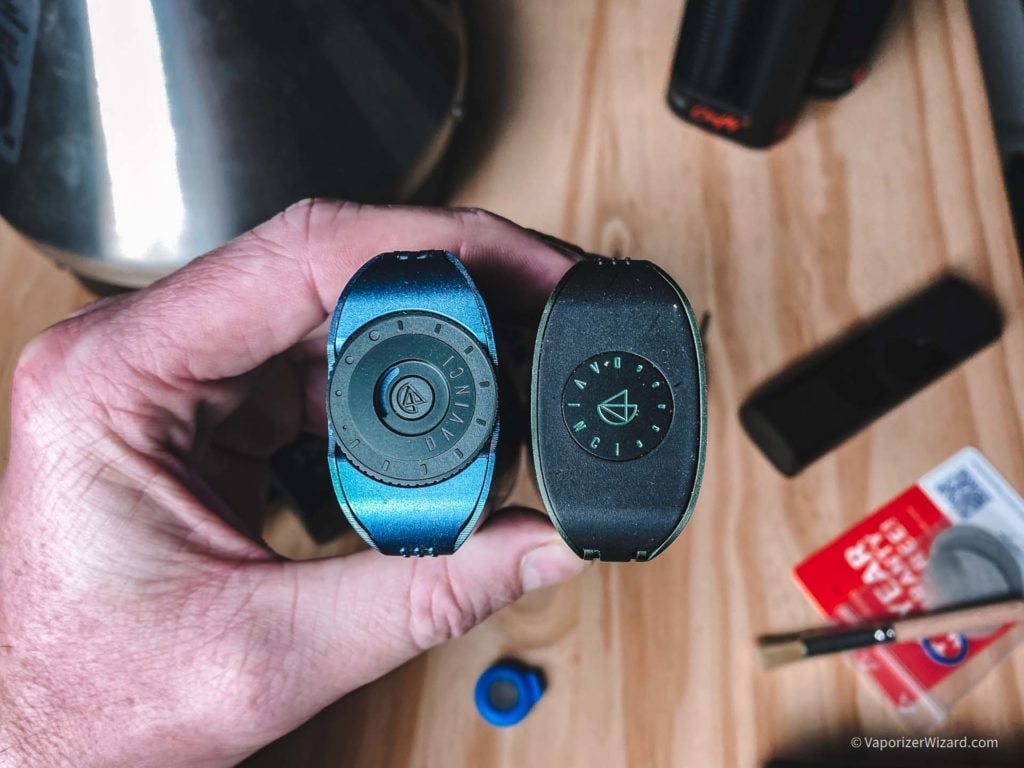 Cleaning and Maintenance
The biggest cleaning advice I can give for pretty much any conduction vaporizer is to empty the chamber immediately after your session. Leaving debris in the oven stains the chamber, causes more build-up in the air path, increases draw resistance, and reduces overall vapor quality.
I would also recommend picking up the DaVinci dosage pods because they drastically cut down on the amount of cleaning needed with any Davinci vaporizer. All the herb stays within the capsule, and cleaning the dosing pods is much easier than cleaning the entire vaporizer.
Last but not least, it's a good idea to wipe everything out from time to time with a q-tip and a little bit of Isopropyl alcohol. Only use a small amount and make sure the vaporizer is upside down, so none of the ISO gets into the chamber. Let the unit completely dry before using it again.
Warranty Info
The Davinci IQC vaporizer comes with a 5-year warranty covering defects in materials and workmanship.
"The Limited Warranty does not apply to normal performance degradation of batteries, accessories, wear and tear of hinges, mouthpiece, or neglecting to adhere to cleaning instructions."
The batteries are pretty cheap, so if you are a heavy user, I recommend picking up a couple of extras and rotating them to increase longevity.
Davinci IQC Review Summary
Overall the Davinci IQC is currently the best conduction vaporizer you can buy. The IQ2 offers a few more dosage tracking features + a ten-year warranty. However, I don't use those features, and a 5-year warranty is still better than most of the vaporizer market.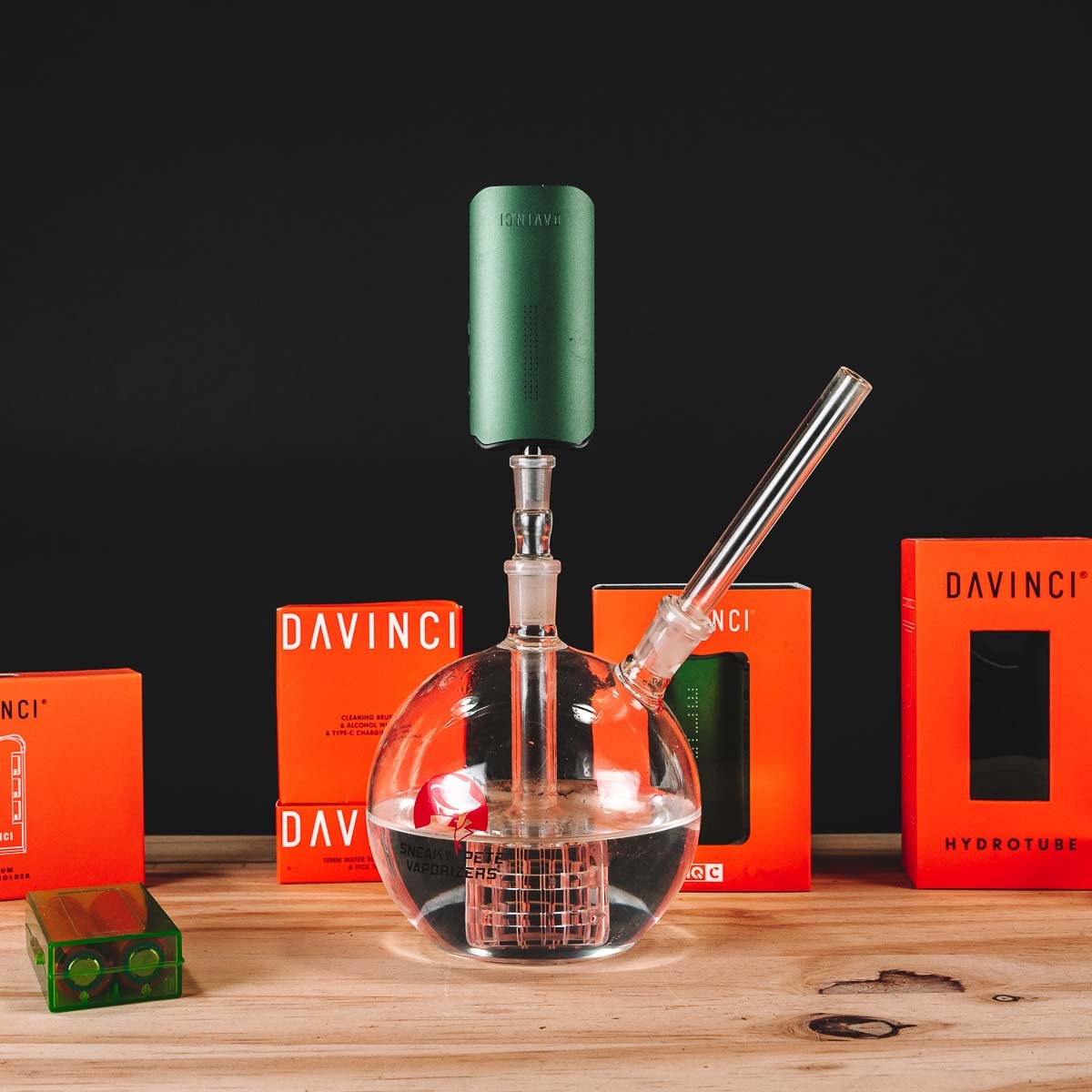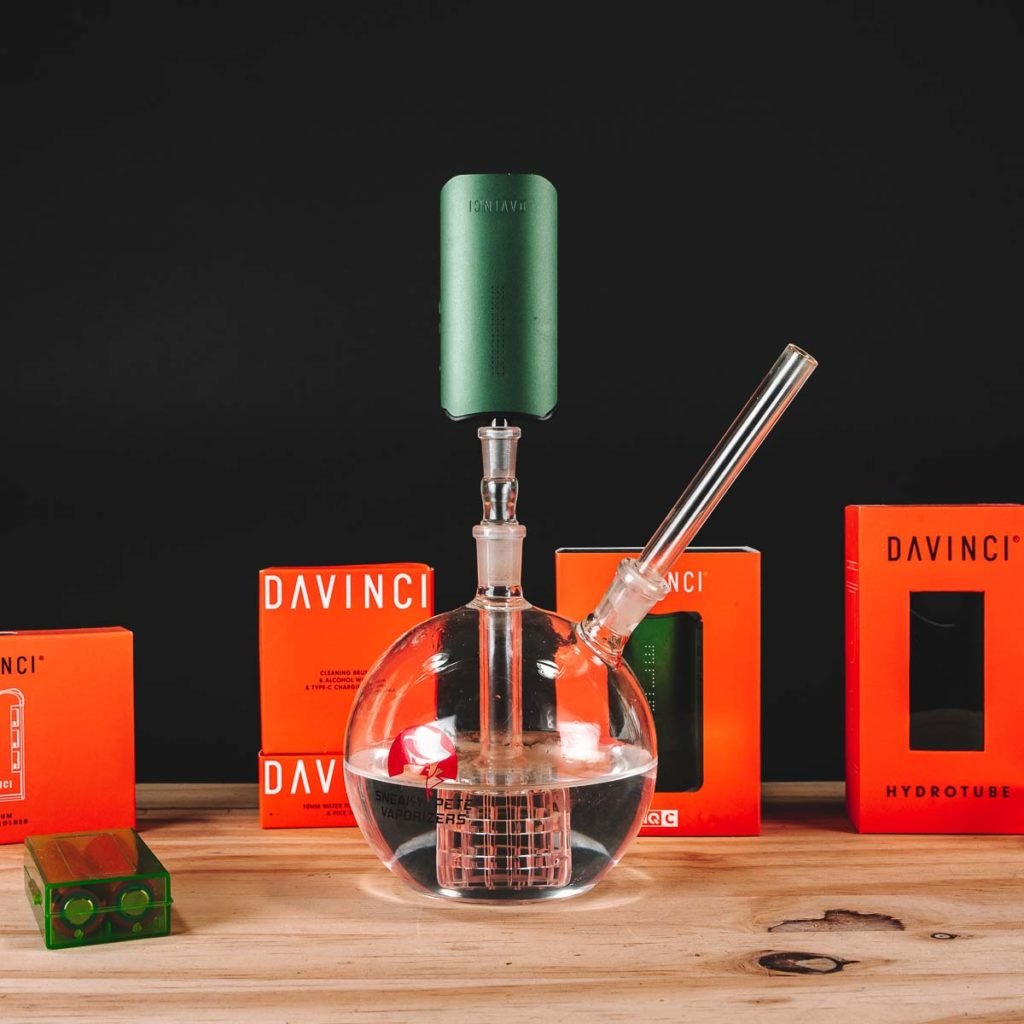 I would consider upgrading to the IQ2 if you enjoy digging into the analytics of things. You can break down exactly how much herb you are consuming and what works best for you. The IQ2 features "dosage control," which allows you to track the dose of "THC" in each draw you take and gives you the total amount for each session. Combine the dosing control with the stainless dosing pods, and you have a very precise system for micro-dosing.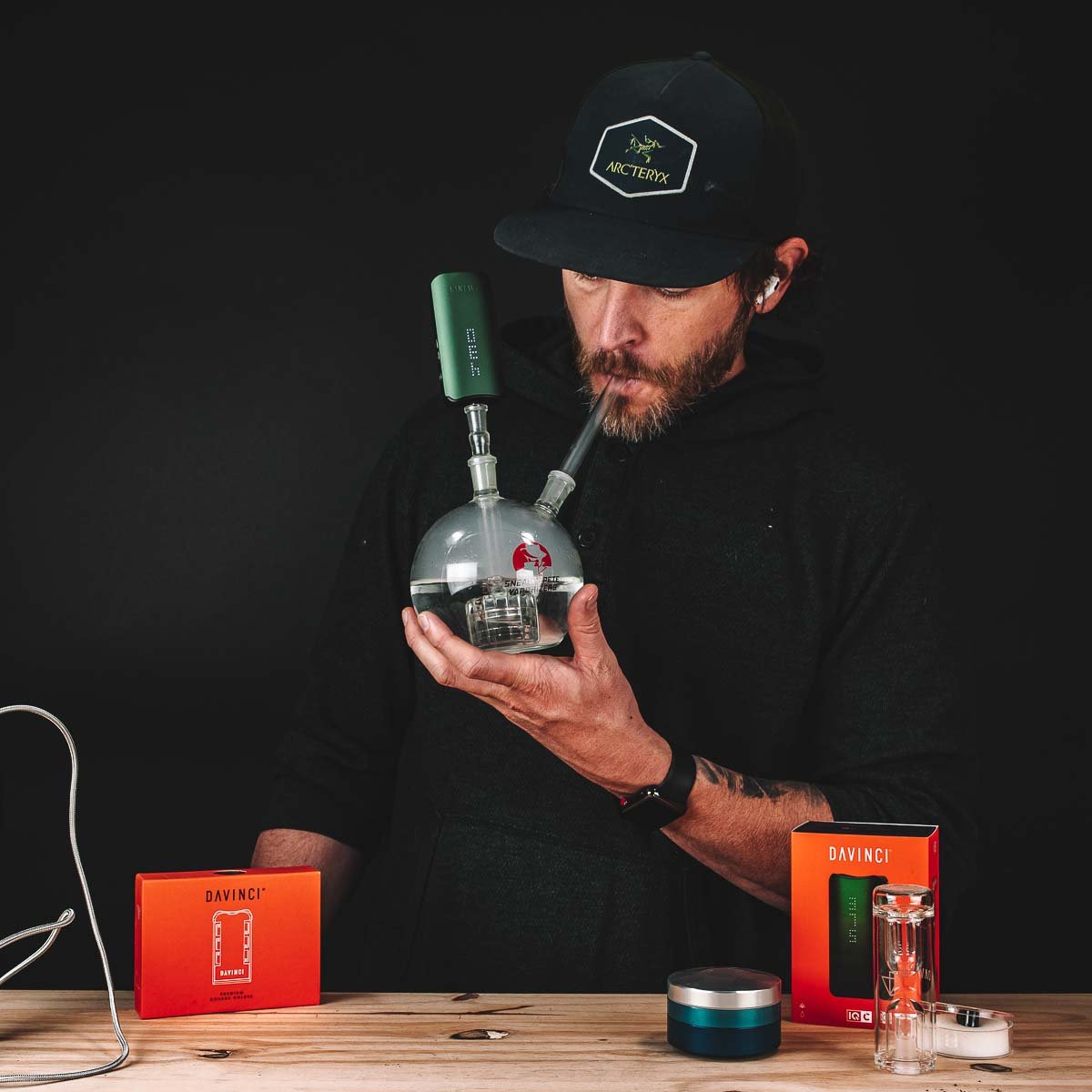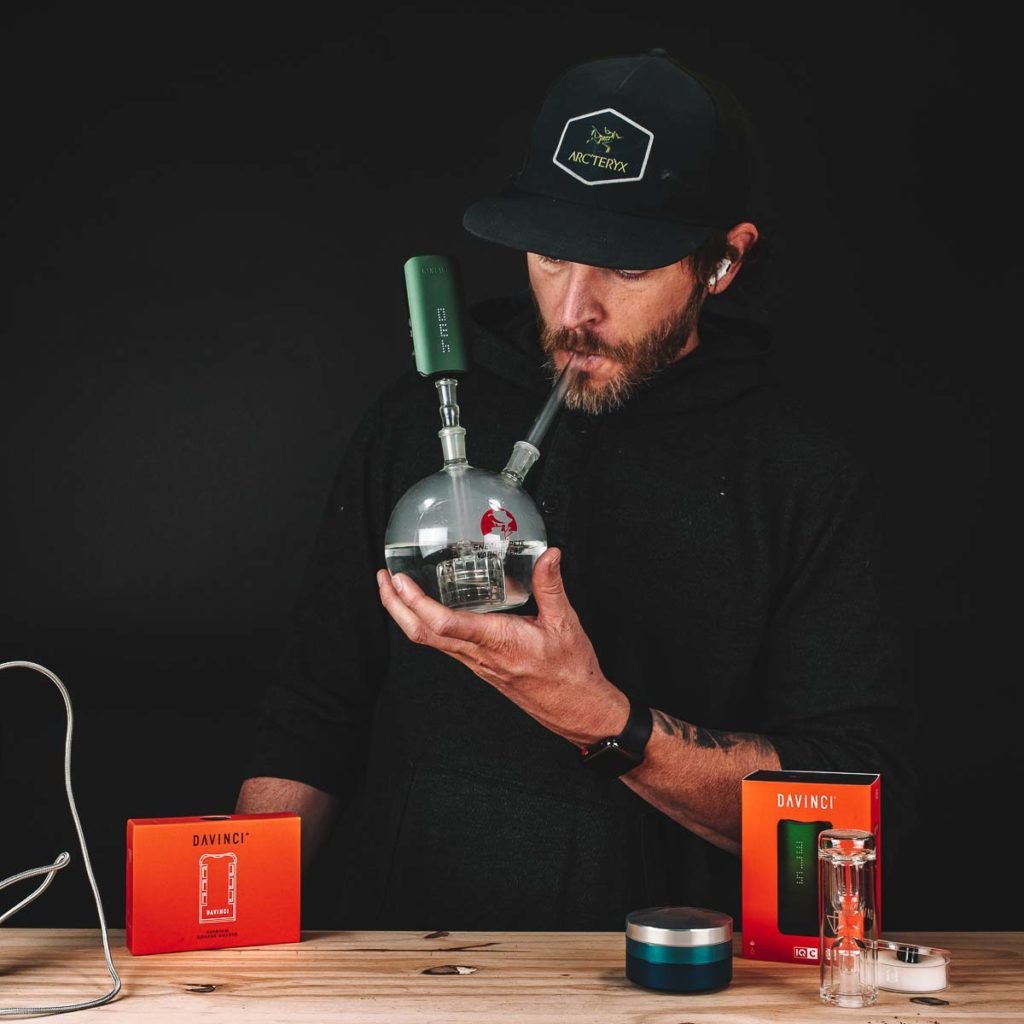 Remember that the IQ2 doesn't have USB-C charging and can take up to 6 hours to fully charge from dead within the device. The IQC charges in roughly 2 hours.
If it were me, I'd buy the new IQC, the stainless steel dosage pods, and an extra battery. The IQC retails for $199, and you can click here to buy it directly from Davinci. Don't forget to use coupon code wizard30 to save 30% on all Davinci vaporizers.
Thank you for taking the time to check out my Davinci IQC vaporizer review. Feel free to hit me up in the comments with any corrections, suggestions, or thoughts of your own. Have a great day!
Buying Options + Coupon Code
Technical Specs
| | |
| --- | --- |
| Name: | Davinci IQC Vaporizer |
| Manufacturer: | Davinci Vaporizers |
| Rating: | 9.1/10 |
| Price: | $199 |
| Materials: | Dry Herbs |
| Temp Range: | up to 430F |
| Heating: | Conduction |
| Battery Life: | 5-6 Bowls Avg |
| Battery Type: | Replaceable 18650 |
| Charging Type: | USB-C / 2 Hours |
| Warranty: | 5 Years |
| Extras: | Smartphone App |
Performance by Category
| Category | Rating |
| --- | --- |
| Vapor Quality | 8.9 |
| Ease of Use | 9.0 |
| Build Quality | 9.3 |
| Reliability | 8.8 |
| Portability | 9.3 |
| Efficiency | 8.8 |
| Battery Life | 9.4 |
| Cleaning | 8.4 |
| Value | 9.4 |
| Warranty | 9.5 |
| Davinci IQC Rating | 91/100 |
More Davinci Vaporizer Reviews
Davinci IQC Vaporizer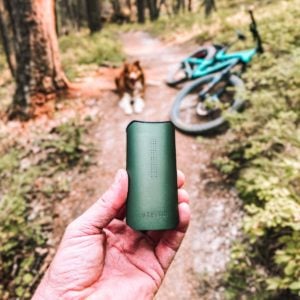 The Davinci IQC is a dry herb portable conduction vaporizer made by Davinci Vaporizer. The IQC features a replaceable 18650 battery system, USB-C charging, and a full temp spectrum with on vape display. The Davinci IQC vaporizer is also pocket-friendly, under $150 with my coupon code, and has a 5-year warranty. Check out my Davinci IQC review for more info, buying options, and my coupon code.
Product Brand: Davinci Vaporizer
Pros
Price/Value
Build Quality
Vapor Quality
Fast Heat-Up
Pocket-Friendly
Full Temp Spectrum
Dosing Capsules
Great Warranty