The Grasshopper vaporizer by Hopper Labs is the first vaporizer to come to fruition via crowdfunding. It took them a while to get to where they are with the original crowdfunding backers waiting roughly 18 months to get their units. Followed by a pre-order period during 2015 and 2016 with wait times as long as 6 months. As of 2018, they are shipping on-demand with no more pre-ordering.
Update: The Grasshopper is now the Hopper IO (Instant-On). The Original Grasshopper vaporizer was NOT the most reliable vaporizer. It had many issues with not only the physical parts of the device but with customer service, shipping times, and often delayed deadlines. I personally have had great luck with my units but sadly that is not the case with everyone.

I've always said the Grasshopper (Now Hopper IO) would be the best portable vaporizer if only it was more reliable. It's still not 100% and if you do buy it, don't let it be your only vaporizer. I suggest checking out my list for the best portable vaporizers in 2021 before going with the Grasshopper/Hopper IO.
The first thing that blew me away when I got my Grasshopper was how fast the unit heats up. Literally seconds after clicking the button the unit was showing a blue LED indicating it was ready to go. No other battery-powered vaporizer will get a session in as quickly as the Grasshopper can. The next thing you will notice is that it has a spinning dial on the back end that allows you to fully adjust the temperature from 130 °C – 210 °C (266 °F – 410 °F).
It's very sleek, slim and carries a bit of weight "for a pen". As for a vape… it's one of the lightest portable vaporizers currently on the market. I recently weighed my other light portable vapes and to find the Grasshopper (65g) was roughly 30 grams lighter than the brand new Pax 3 vaporizer which came was next in line (95g).
Grasshopper Vaporizer Review

The Grasshopper is currently rated a 9.1 out of 10. It is one of the highest-rated portables excelling in size/portability as well as discreetness due to the quick sessions and is one of the least smelly vapes.
When you have the grasshopper in your hands you will really notice the quality and craftsmanship of the unit, it just feels really nice, the clicker feels great, and everything threads nicely.
Or you can pick up the Titanium Grasshopper for $265. Both units come with a lifetime warranty.
I'm not saying don't buy the Grasshopper, I'm saying don't buy the Grasshopper if it will be your only vaporizer. The odds of you having to send it back in for repair are higher than other vapes I recommend. With that said, It's honestly one of the best portable dry herb vape pens to hit the market but only when it works. That's about all I can say. It does come with a lifetime warranty but be prepared for it to take some time to get back to you after its fixed. Let me know if you have any questions about current shipping times or repair rates down below in the comments.
Size, Weight & Portability (SS vs TI)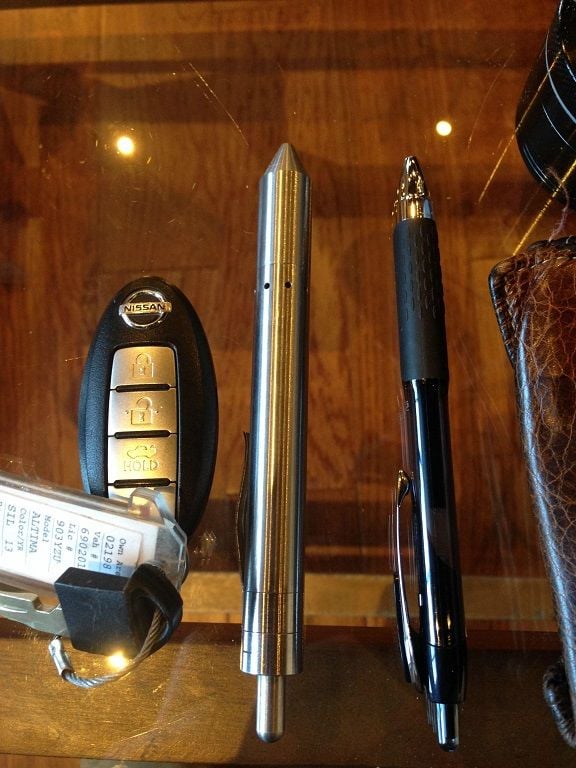 The Grasshopper is one of the smallest and most concealable vapes currently on the market. Even smaller than the Pax 3. It directly mimics the look of a pen and the clip makes it easy to keep in your jean/short pockets or in the front pocket of your shirt. The exact dimensions are The Grasshopper is about 5.60" in length and 0.55" in diameter.
The Stainless Steel model will weigh about 65g and the Titanium model weighs roughly 56 grams. Both units are pretty light but I definitely still noticed the weight difference between the two models, most people like the decreased weight with the titanium unit, however, a few people I have talked to do enjoy the extra weight of the SS.
Outside the weight difference, the other main difference is that the Ti hopper will not pick up as many scratches going through your day to day activities.
Heating, Mouthpiece and Tips For Best Use
The Grasshopper uses a very powerful heater outputting 45w. To put that into perspective, the Mighty vaporizer uses a 30w heater and it's a giant compared to the Grasshopper pen. This allows the Grasshopper to heat in about 5 seconds and provides basically on-demand heat.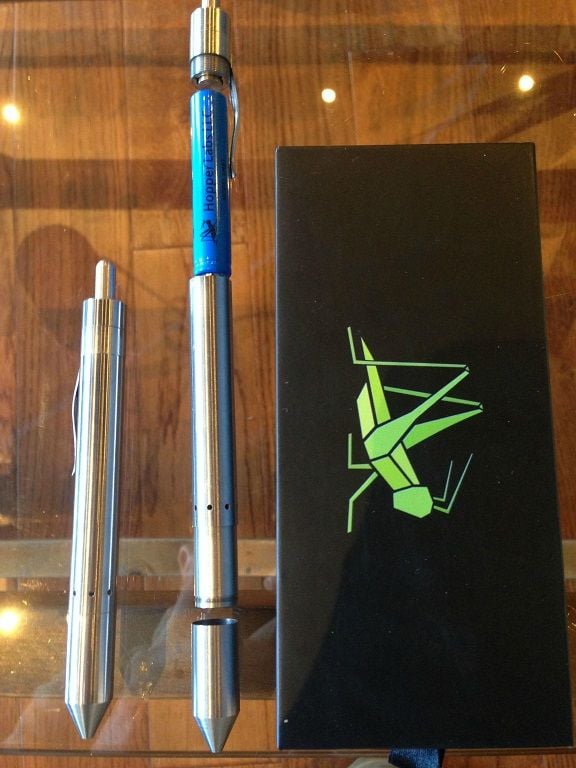 My preferred method of use is to hit the tactile clicker, take my draw, and then hit the clicker again to turn it off. You can also continue to draw for a couple of seconds after you click the button to get any remaining vapor. This will help reduce smell as well. Then just repeat the process for the next draw or pass it on to the next person.
The mouthpiece does tend to get pretty hot with prolonged use so the previous method of turning the hopper off in between each draw is helpful for the heat as well. The Grasshopper also comes with a silicone mouthpiece that fits on the end of the hopper and helps keep your lips cool, and it also fits perfectly with a 14mm water pipe adapter.
I personally don't use the silicone mouthpiece anymore unless I am vaping through glass, but some people use it often.
One of the downsides to most other portables is that the heater isn't strong enough to keep up with aggressive draws. This is where the Grasshopper shines. You can pull nearly as hard as you want and it will keep producing vapor. I really like this because I can take a couple of hits and be completely medicated in a couple minutes. As opposed to other session vapes like the Arizer Air or Pax 3, you can sit with those and take 10-15+ draws over the course of 10-15 minutes. I like the longer sessions for relaxing at home watching TV, but when I'm out on the go, I prefer a quicker on-demand vape.
Chamber Info, Grind Preference, and Demo
The chamber is good sized the overall size of the vape. I was able to get up to .3 grams with a tight pack and a fine grind. However my I normally pack in .1 or .2g. One great thing about the Grasshopper is that it will work great with a completely filled chamber, or you can even just throw in a few crumbs and vape. Whereas a lot of other vapes work best only with a full chamber. Since the Grasshopper is very strong you can completely vape an entire bowl in only a few draws if you have the lung-power. It also cooks the bowl very evenly with no need to stir. If you want to see a bunch of back to back hopper bowls with my roommate, check out the Grasshopper Demo Video below:
Grasshopper Vaporizer Demo
Battery System and Charging Options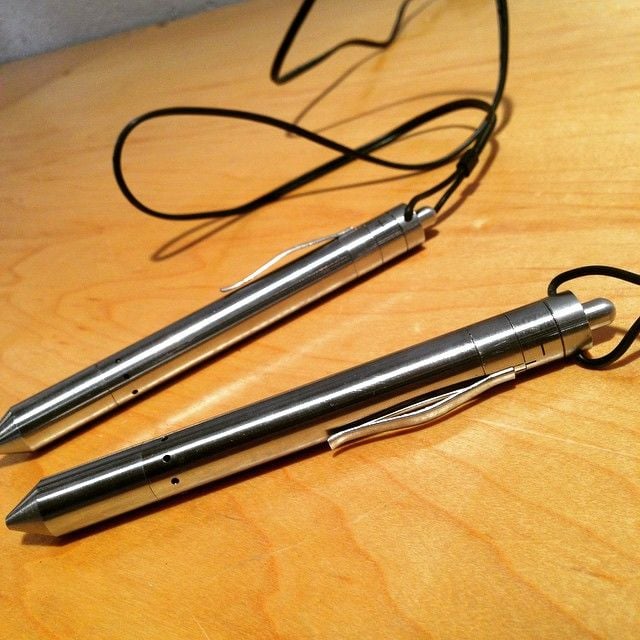 Batteries have been charging in about 60 minutes or so but I picked up an external charging dock and a handful of extra batteries. I prefer to charge up a few extra batteries and just swap them rather than have to plug in the USB charger but you can do that as well.
The included charger has a really cool design, it magnetically hooks to the back of the charger and charges via USB. The charger had a few issues with the original version, but it has been redesigned and it works great now. I do however still use my external nitecore-i2 charger more often than the USB charger since I can charge 2 batteries at once.
Grasshopper Accessories
Included with the Grasshopper will be the mouthpiece guard, extra mouthpiece screens, and the USB charging system. They also just released the PFE (Performance Front End) which doubles as a water pipe adapter (without using the silicone mp) and it also increases airflow which is my favorite part. It is not necessary, but it is an enjoyable upgrade over the stock mouthpiece.
Grasshopper Vaporizer Warranty
The Grasshopper comes with a lifetime warranty. Only a couple of vapes in the market come with a lifetime warranty. This is a HUGE pro and another reason why I like this vaporizer so much. Matt and Trevor were very adamant about standing behind their product. They will either fix or replace your unit for the life of the unit and I don't have any doubt that they will take care of their customers.
Comparable Vaporizers
If you aren't quite sold on the Grasshopper but would like to stick with a convection on-demand unit, I recommend checking out the Firefly 2 Plus. The Firefly 2+ vaporizer is a huge improvement over the original with the same amazing taste and vapor production as the original. It's definitely bigger than the Grasshopper but you can still pocket it and quick sessions are one of the best ways to remain inconspicuous. The Firefly 2 PLUS won't hit as hard as the Grasshopper, but it has smoother/cooler vapor, and works great with concentrates.
If you don't mind a session style vaporizer and still want to stick with the most portable unit, I recommend checking out the Pax 3. The Pax 3 is one of the most durable, reliable, and consistent portables currently out on the market. Plus it has an option for concentrates.
Grasshopper Review Summary
All in all, I was immediately blown away by the heat-up time and craftsmanship of the Grasshopper, and now years later I am still dragging my hopper around Skiing, biking, and just out on the town. No vape is like the Grasshopper. On-demand heat, Discreet size, and smell, large bowl, evenly vape herbs, and a lifetime warranty.
Whether you are looking for your first vape or you are a vape connoisseur you will fall in love once you hold it, and realize how quick it heats up. Beginner and advanced users alike will get exactly what they need out of this vape. It's extremely easy to use, produces great taste and huge clouds. Matt told me multiple times that they designed the Grasshopper to replace a pipe experience. It's supposed to be fast and get you medicated quickly, but you can also stop using it mid-bowl without wasting your herbs. It does all of this very well while being the size of a pen.
If you guys have any questions about the Grasshopper you can check out my Grasshopper FAQ or feel free to leave a comment below.