The G PEN Elite 2 is a portable dry herb vaporizer and an updated version of the original G PEN Elite released back in 2016. The new Elite 2 takes everything good about the OG Elite and adds in some impressive features like a bigger battery, USB-C charging, and quicker heat-up times.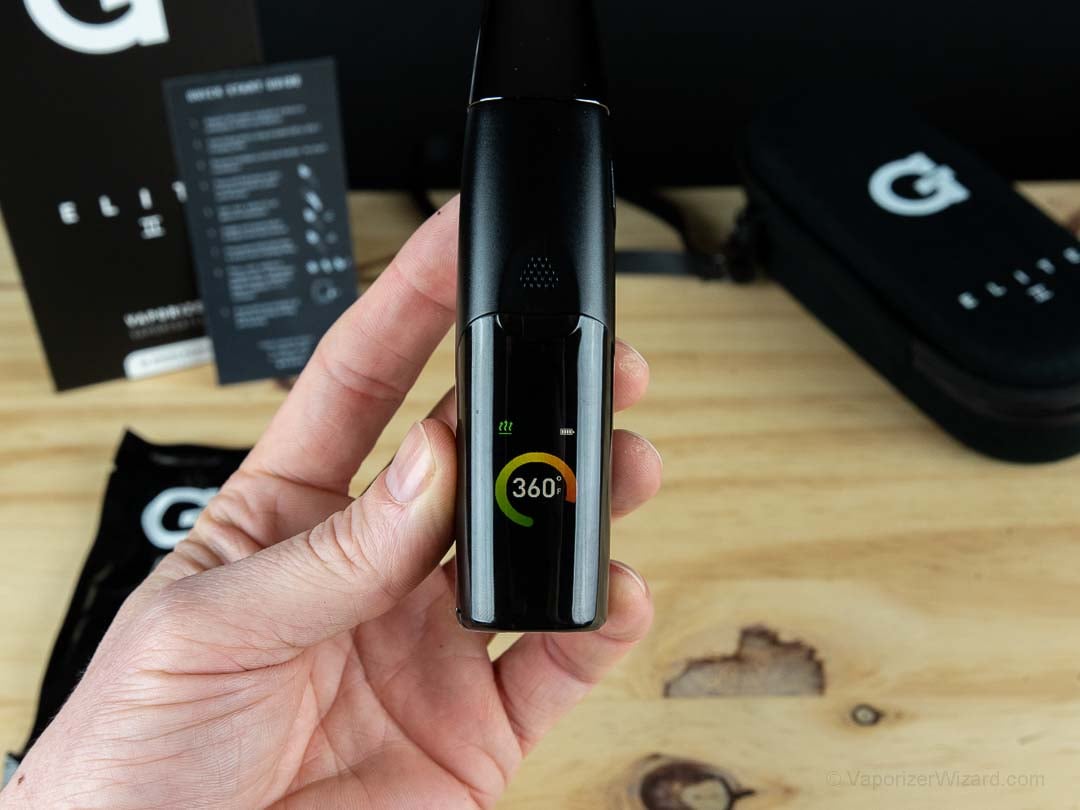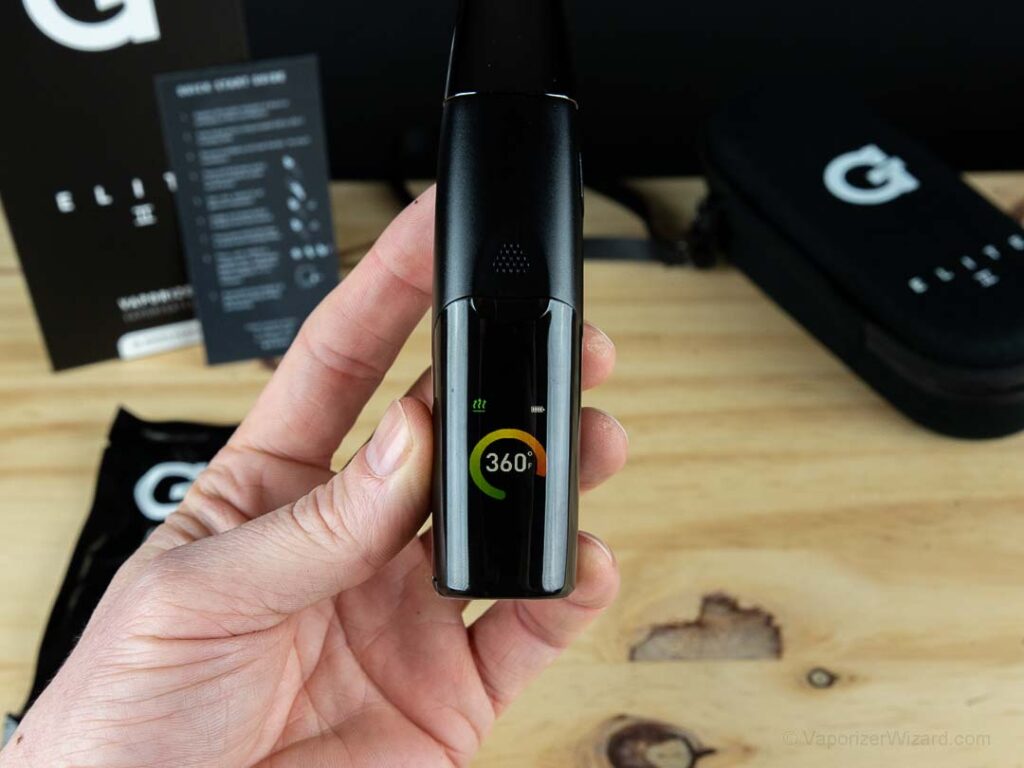 G PEN Elite 2 Technical Specs

| | |
| --- | --- |
| Name: | G PEN Elite 2 |
| Manufacturer: | Grenco Science (G PEN) |
| Price (MSRP): | $249 |
| Materials: | Dry Herbs |
| Battery: | Rechargeable 2100mAh |
| Battery System: | Non-Replaceable |
| Battery Life: | 60 Minutes |
| Charge Time: | 90 Minutes |
| Charge Type: | USB-C |
| Heat Up: | 20 Seconds |
| Heating: | Hybrid (Conduction Heavy) |
| Temp Spectrum: | 200F – 430F (93C – 221C) |
| Chamber Type: | Ceramic |
| Chamber Size: | .2 grams |
| Warranty: | 2 + 1 |
| Dosing Capsules: | No |
G PEN Elite 2 Pros and Cons

Pros

Pocket-Friendly
20 Second Heat-Up
Full Temp Spectrum
Good Vapor Quality
USB-C Charging
Easy to Use
Digital Display
On-Vape Buttons
Solo and Group Use
3-Year Warranty

Cons

$249 Price Tag
Small 2100mAh Battery
Non-Replaceable Battery
Slick Outer Shell
Draw Resistance
SHOP G PEN ELITE 2
USE CODE WIZARD20 AT GPEN FOR 20% OFF AND WIZARD22 AT VAPOR FOR 22% OFF
G PEN also introduce a new type of heating (convection boost) which drastically improved the overall vapor quality, especially when compared to the original Elite vaporizer. The new Elite 2 still uses quite a bit of conduction heating overall, but the taste is much cleaner with the new update.
The Elite 2 retails for $249, and you can click here to pick it up directly from G PEN. Use code WIZARD20 at G PEN for 20% OFF. You can also click here to pick it up from Vapor. USE Code WIZARD22 to save 22% at Vapor.
This G PEN Elite 2 review will go over all the specs, including a comparison with the OG Elite model, and help you decide if the new ELITE 2 vaporizer is right for you.
G PEN Elite 2 Quick Synopsis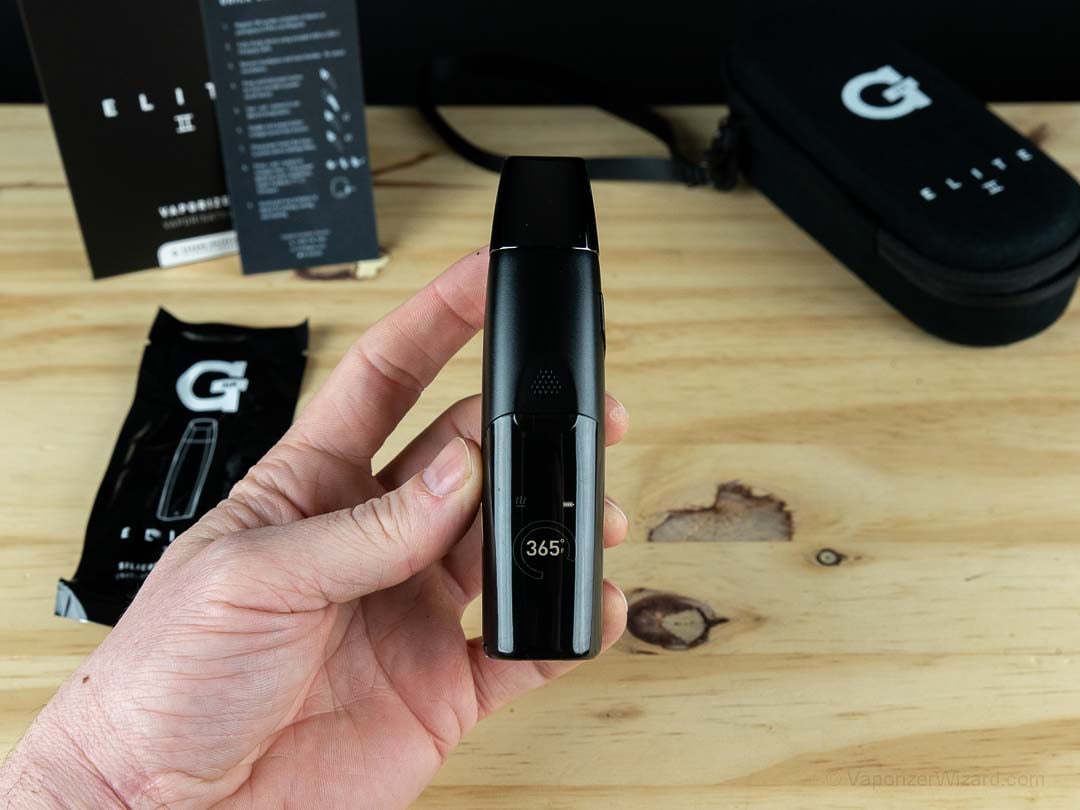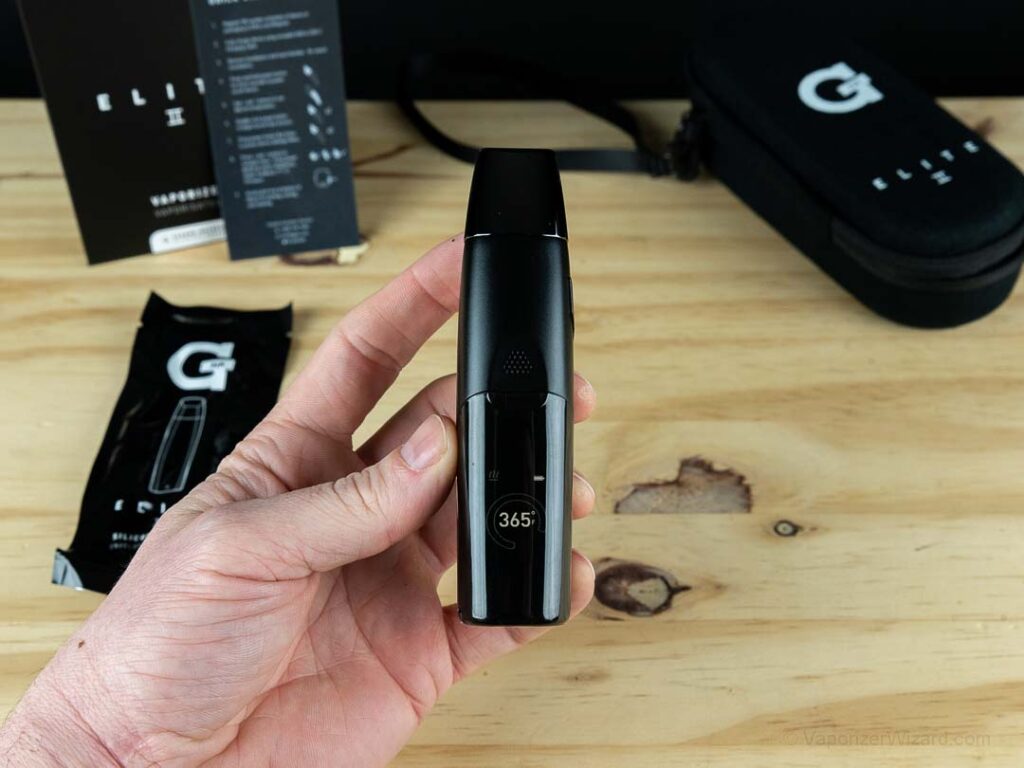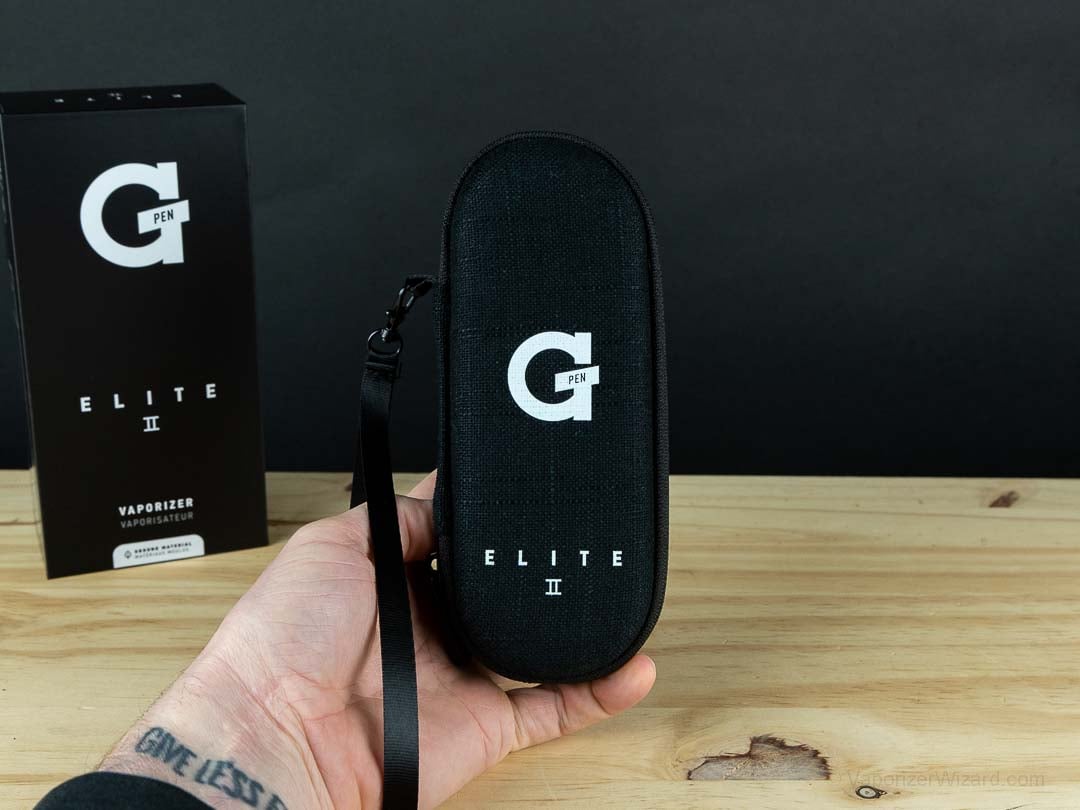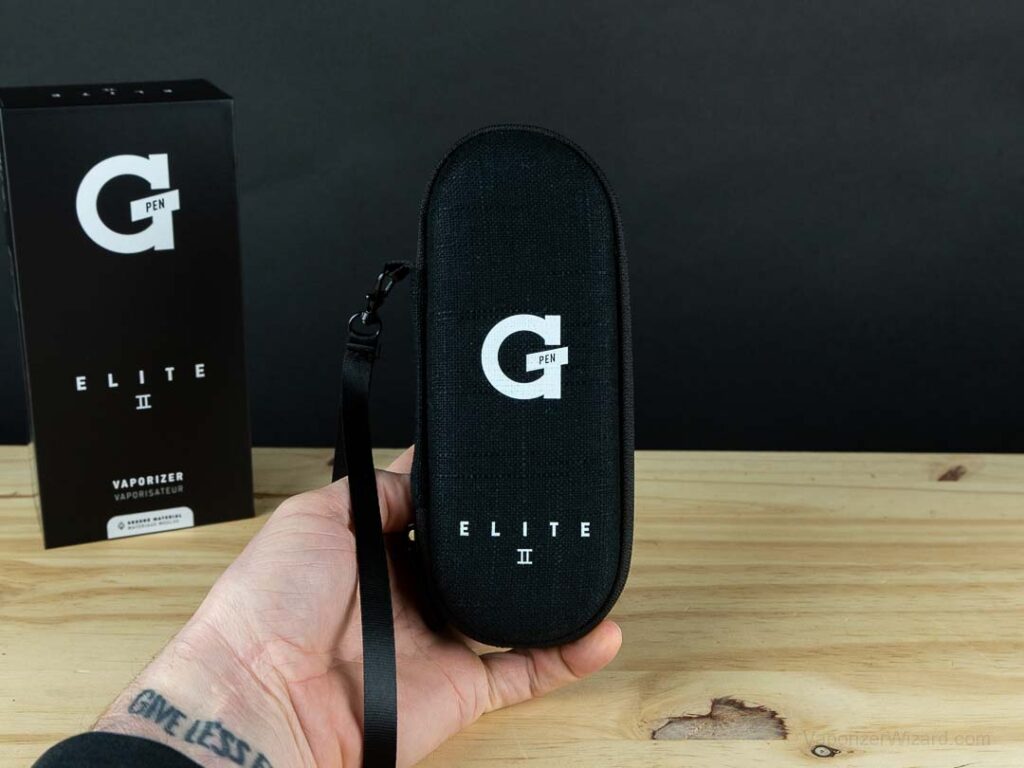 Overall, I'm very impressed with the new GPEN Elite 2, but with the upgraded internals comes a brand new MSRP of $250, making it the most expensive dry herb vaporizer model released by G PEN. By comparison, the OG Elite retailed for $119.
While the added features are exactly what the new G PEN Elite 2 needed, the overall session experience doesn't quite hit the $250 price point. The beautiful thing about the original G PEN Elite was that it was properly priced for the features it offered and even dropped to as low as $80 at some points.
While I don't think it's quite worth the $250 price tag, there are quite a few sales throughout the year, and other retailers like vapor will drop prices on G PEN products pretty frequently.
So what I'm saying is don't write off the ELITE 2 vaporizer because of the high MSRP. Just find it when it's on sale.
Included in the Box + Accessories
G PEN Elite 2 Vaporizer
G PEN Elite 2 Silicone Sleeve
USB to USB-C Charing Cable
Hemp Travel Case
Pick Tool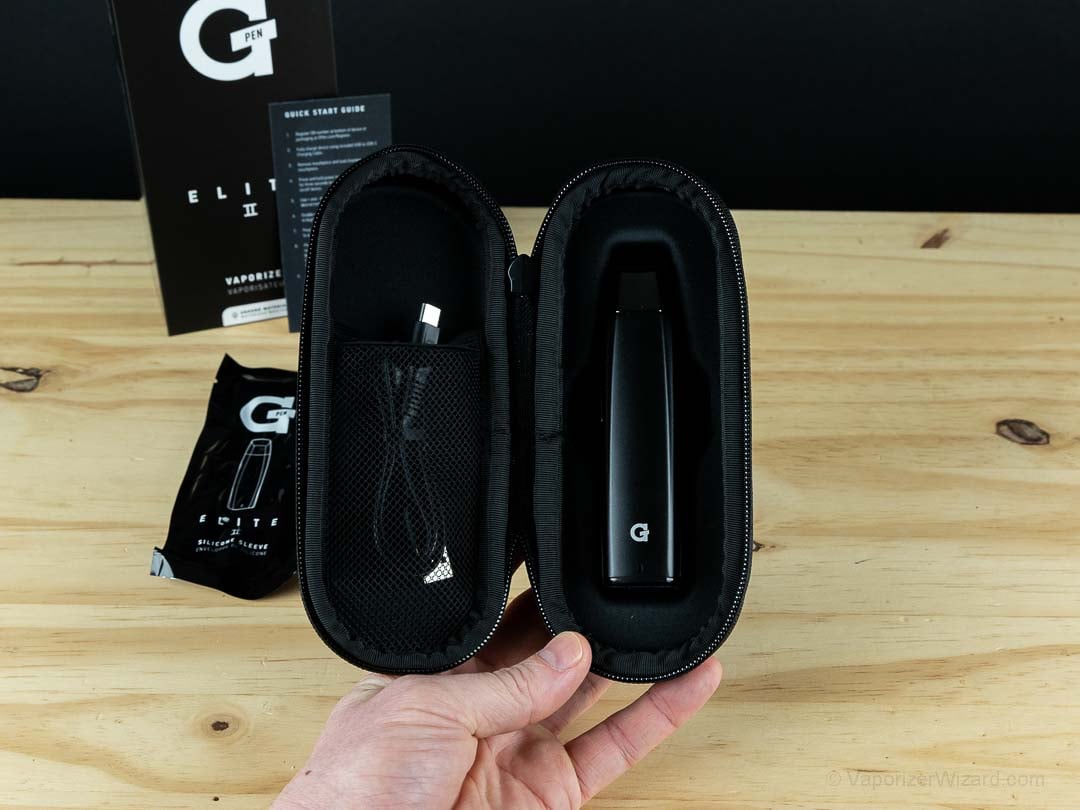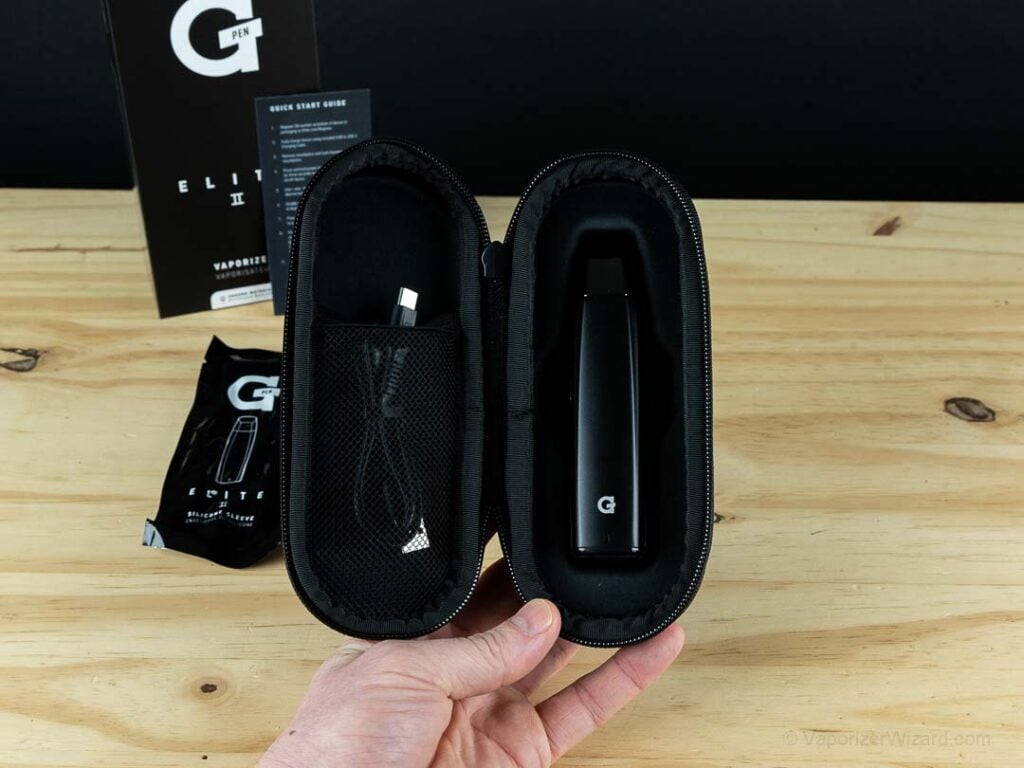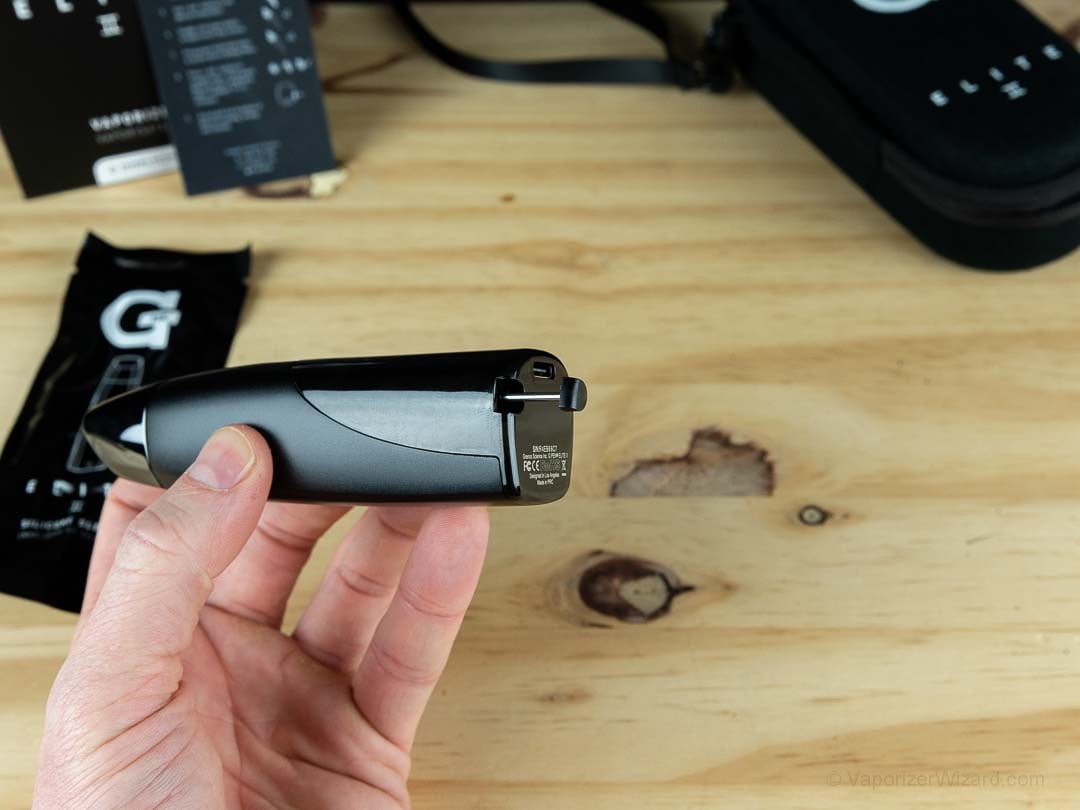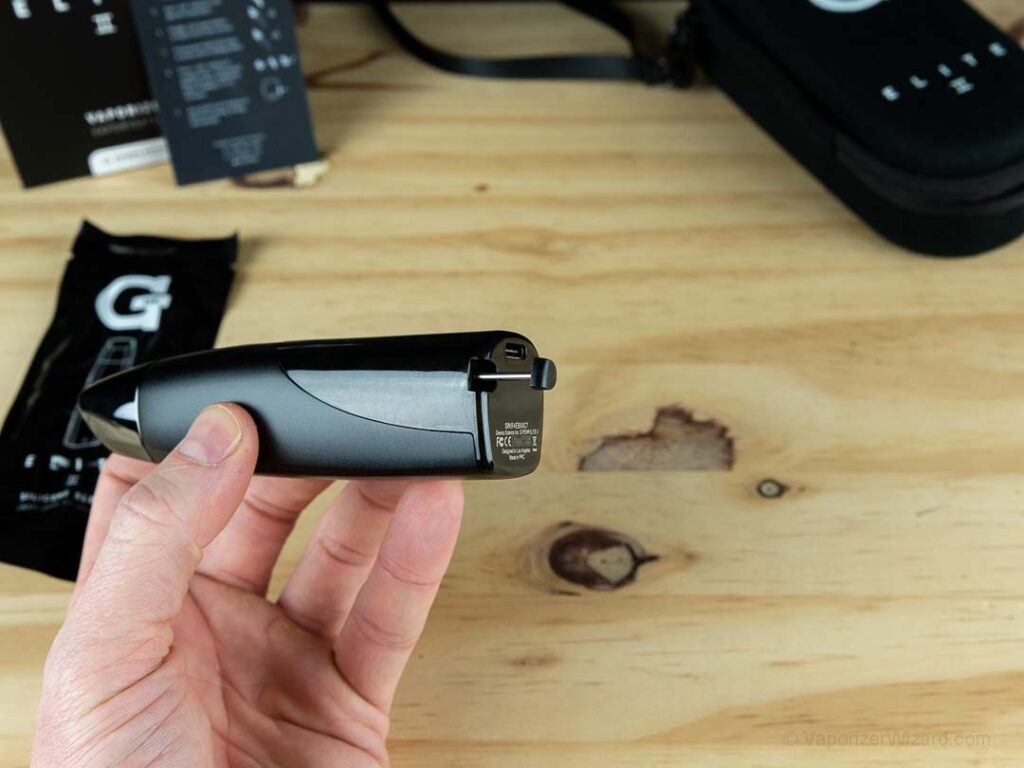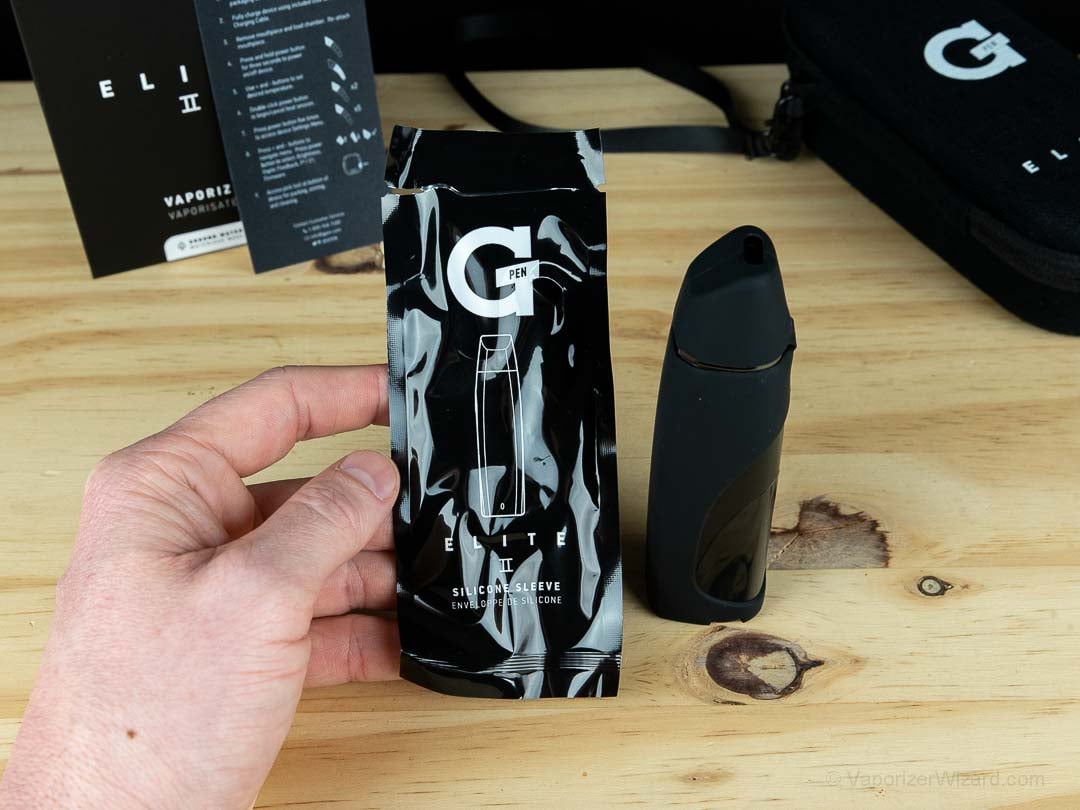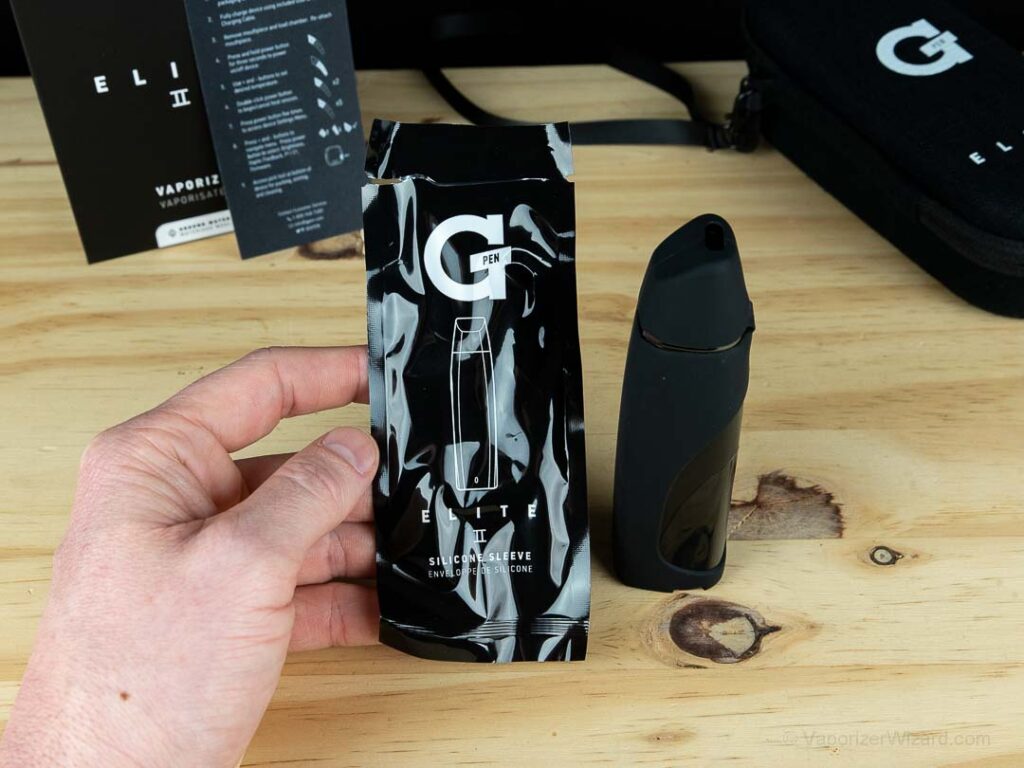 Size and Portability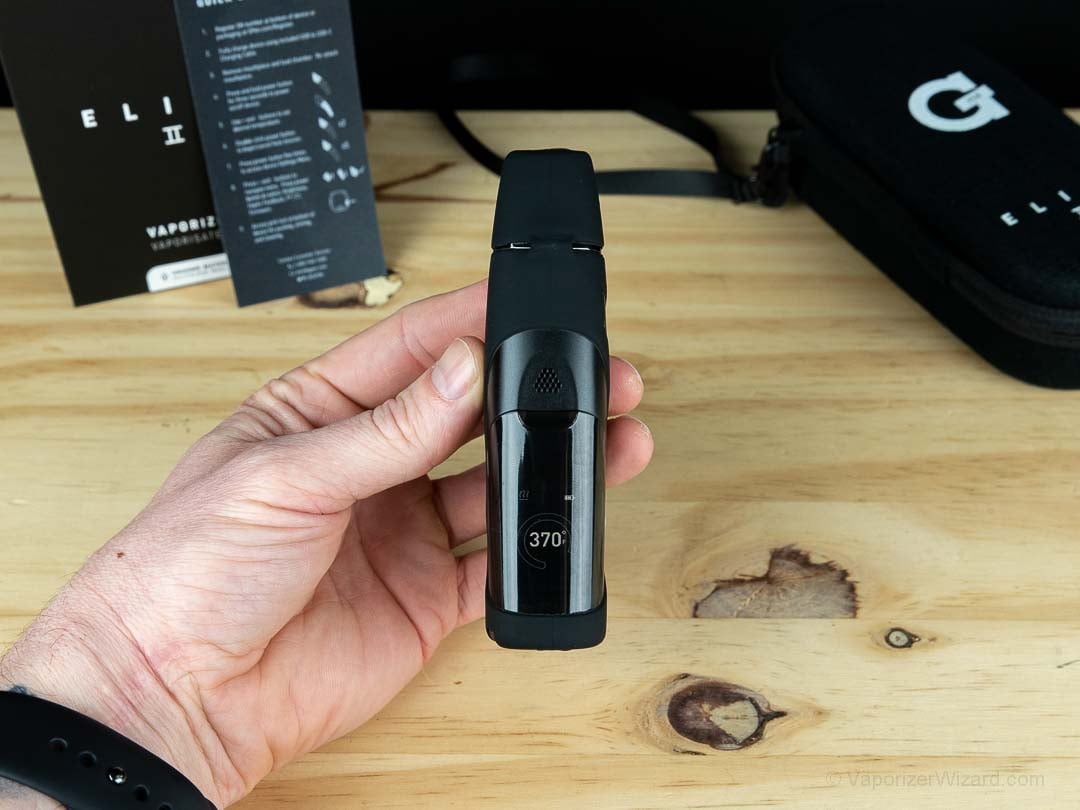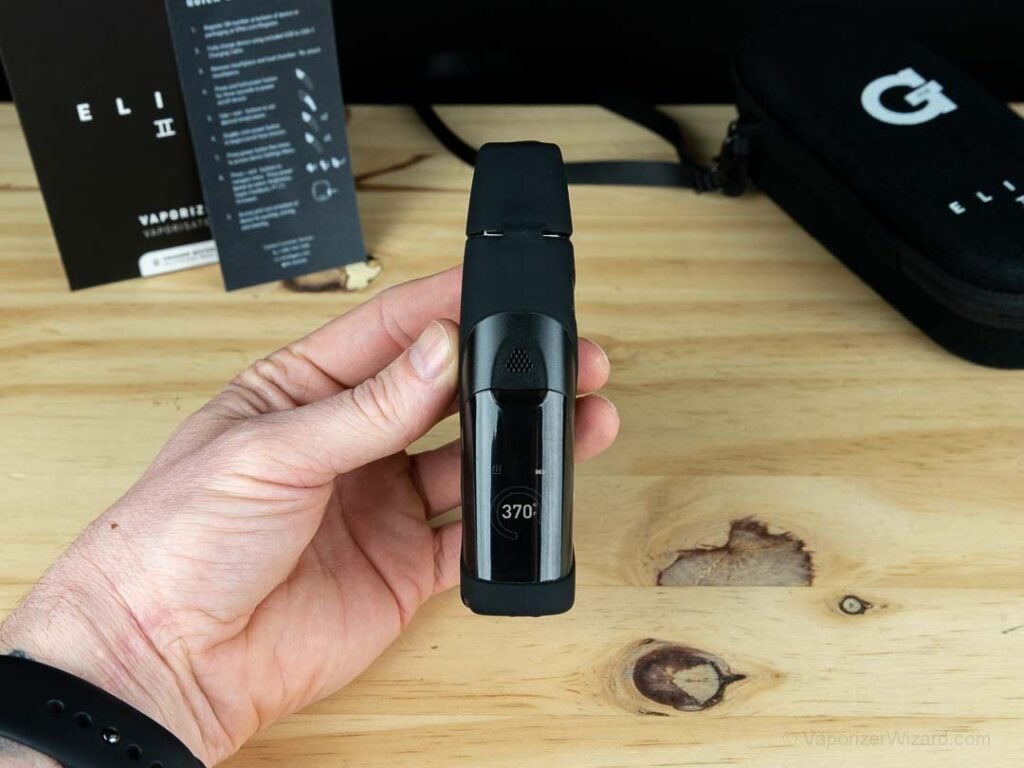 The G PEN Elite 2 weighs around 156G and is an easily pocketable vaporizer, but it's roughly 66g heavier than the original Elite (90g) and a bit "hefty" when compared to other smaller, more pocket-friendly vaporizers like the POTV One (POTV One Review) or the new XMAX V3 Pro (XMAX V3 Pro Review).
The outer shell is a bit slick to hold on to, but you do get a silicone sleeve for added grip and protection. It also helps keep the mouthpiece attached to the unit when loading and unloading.
Elite II Build Quality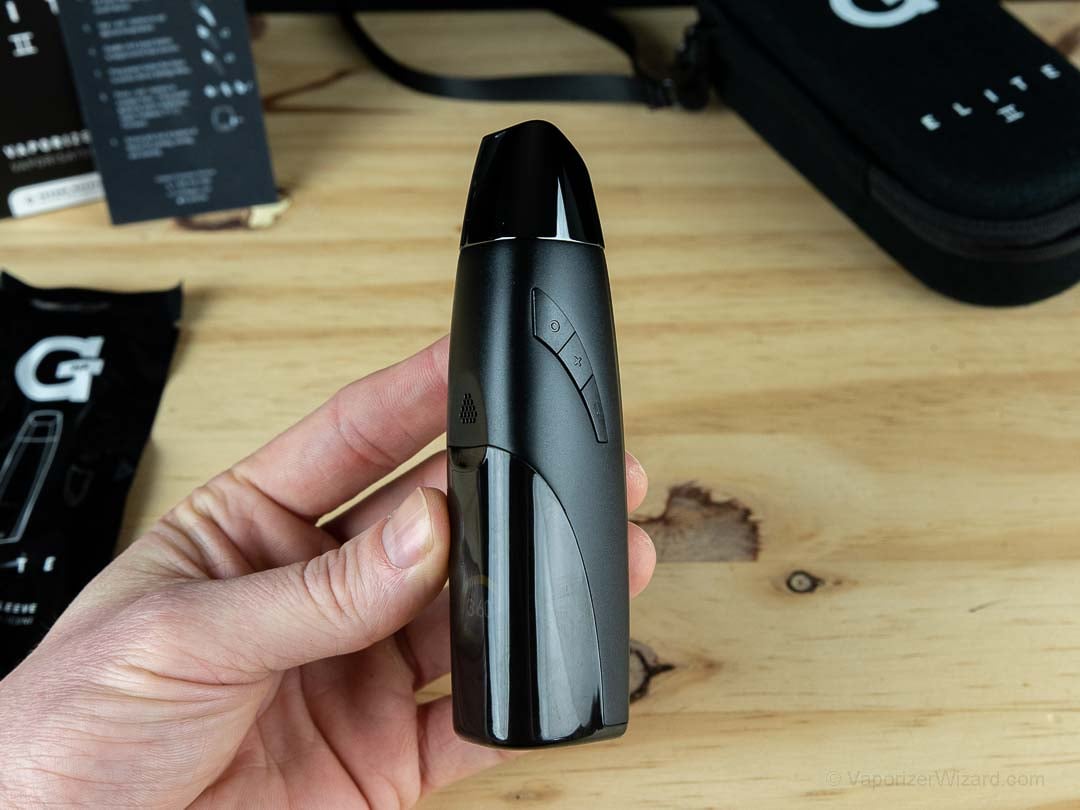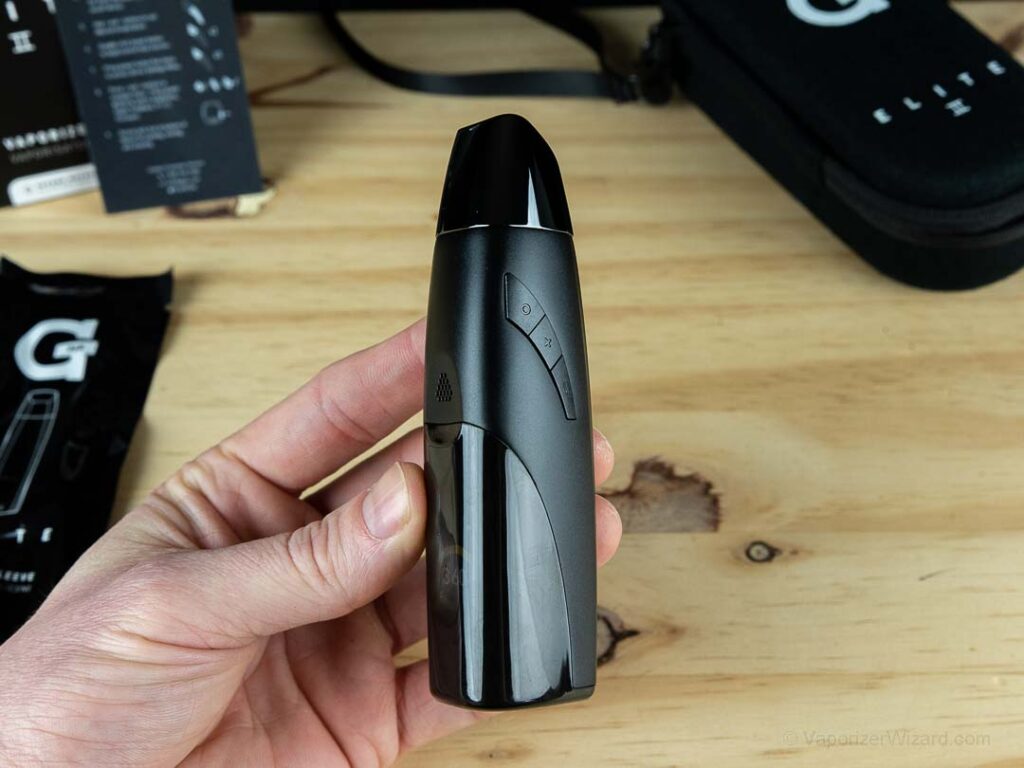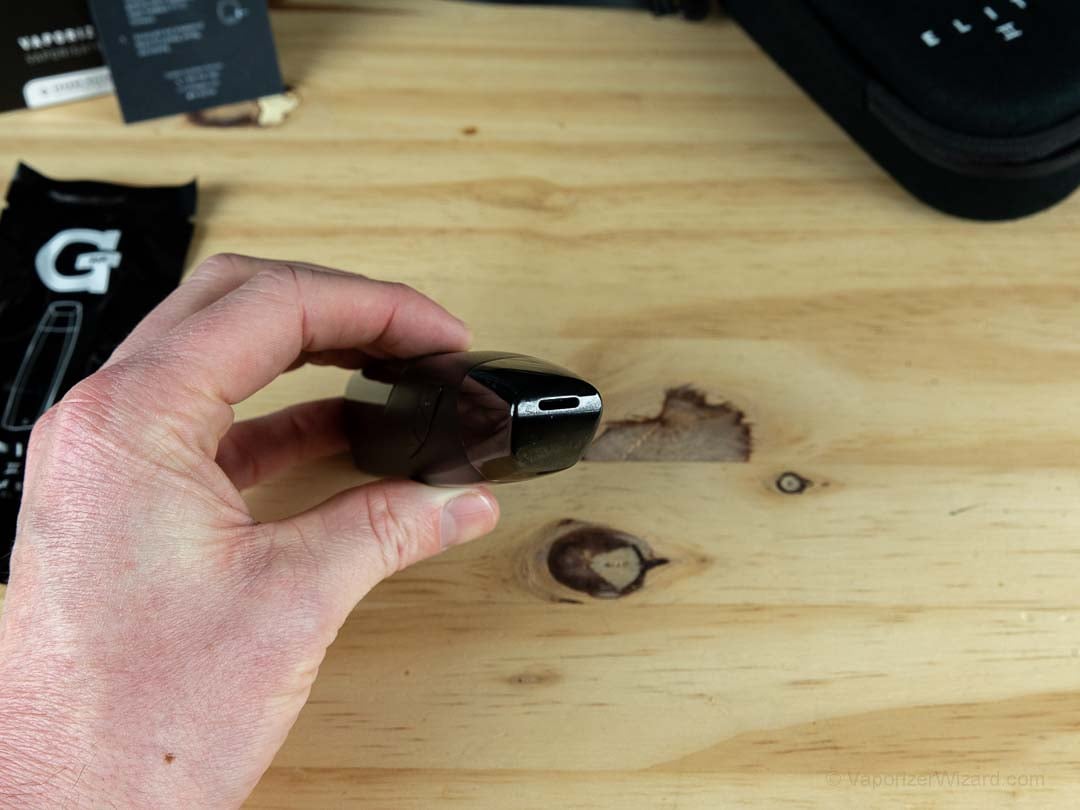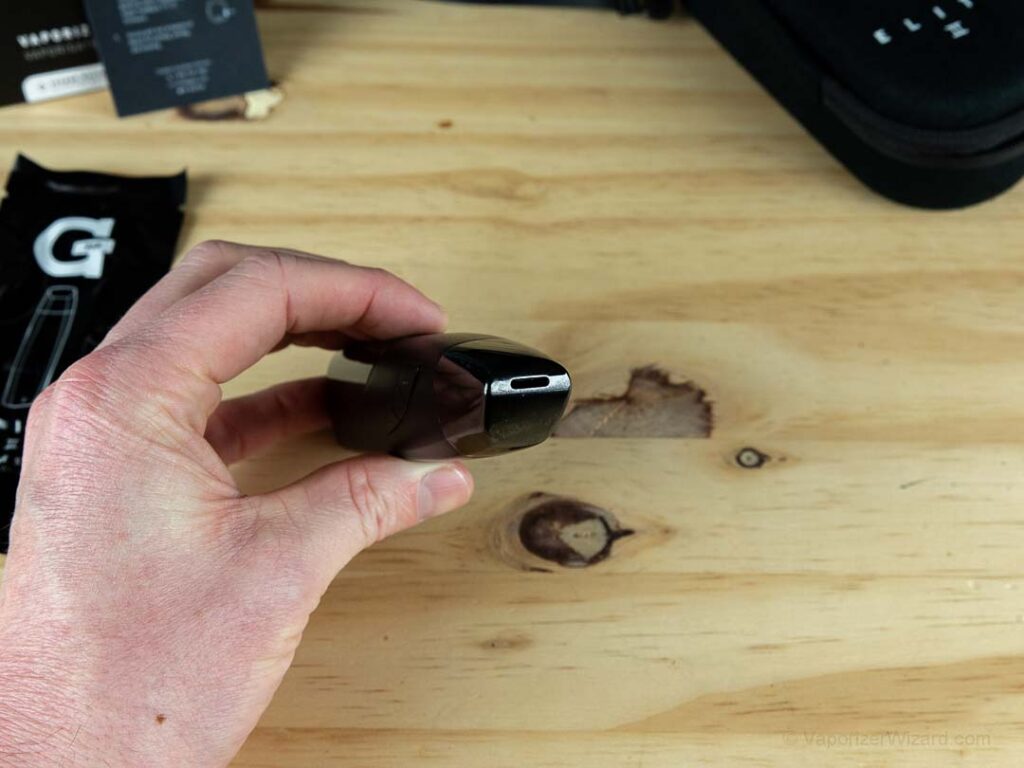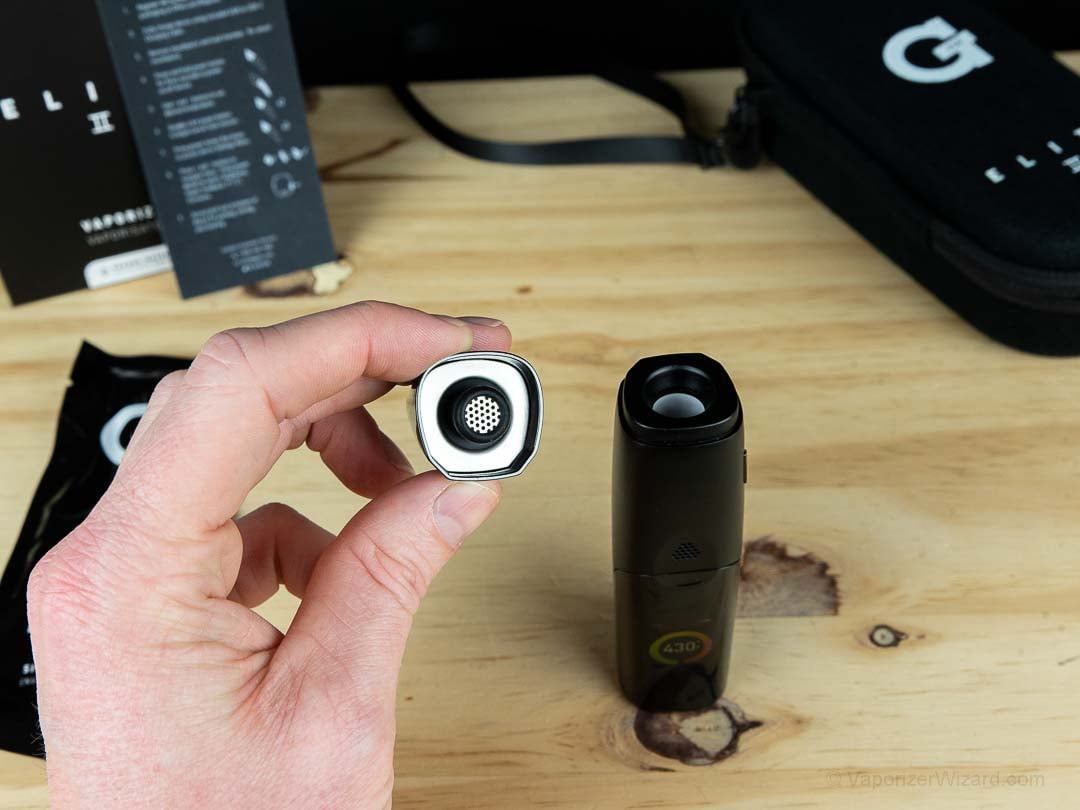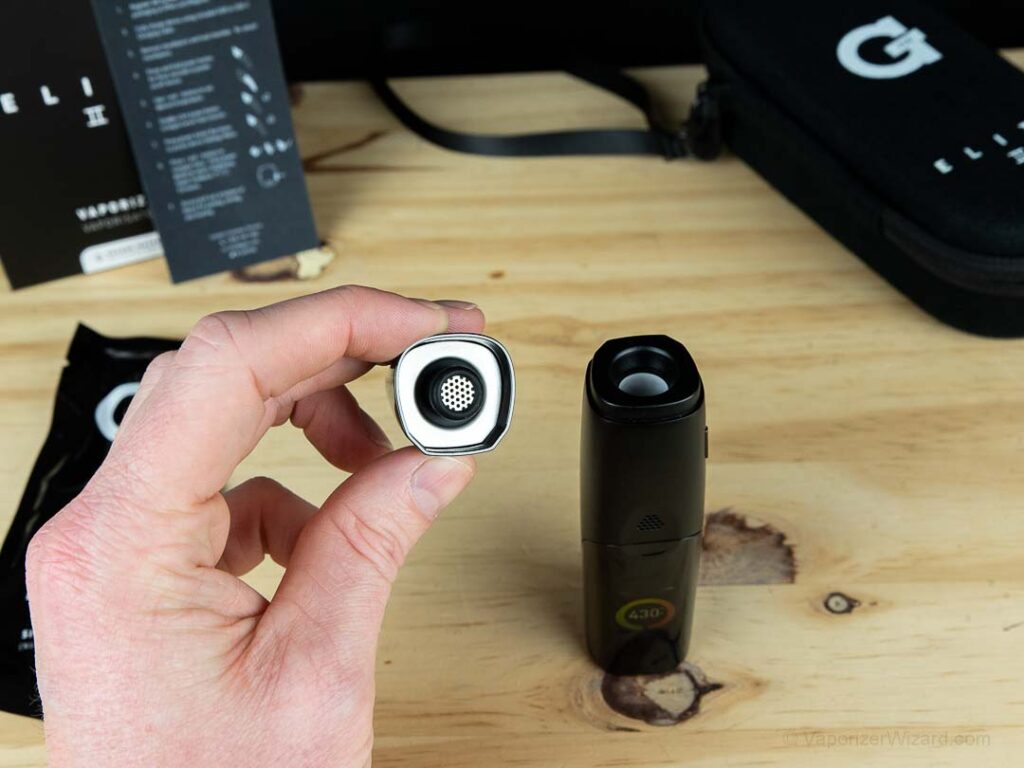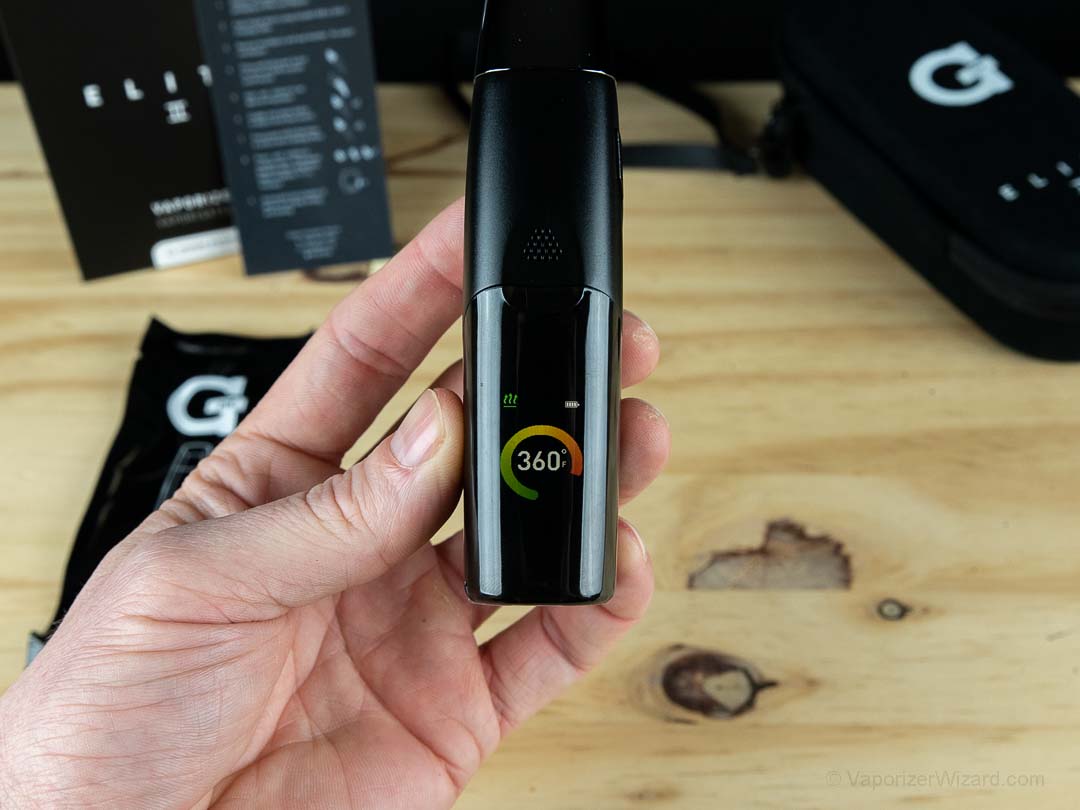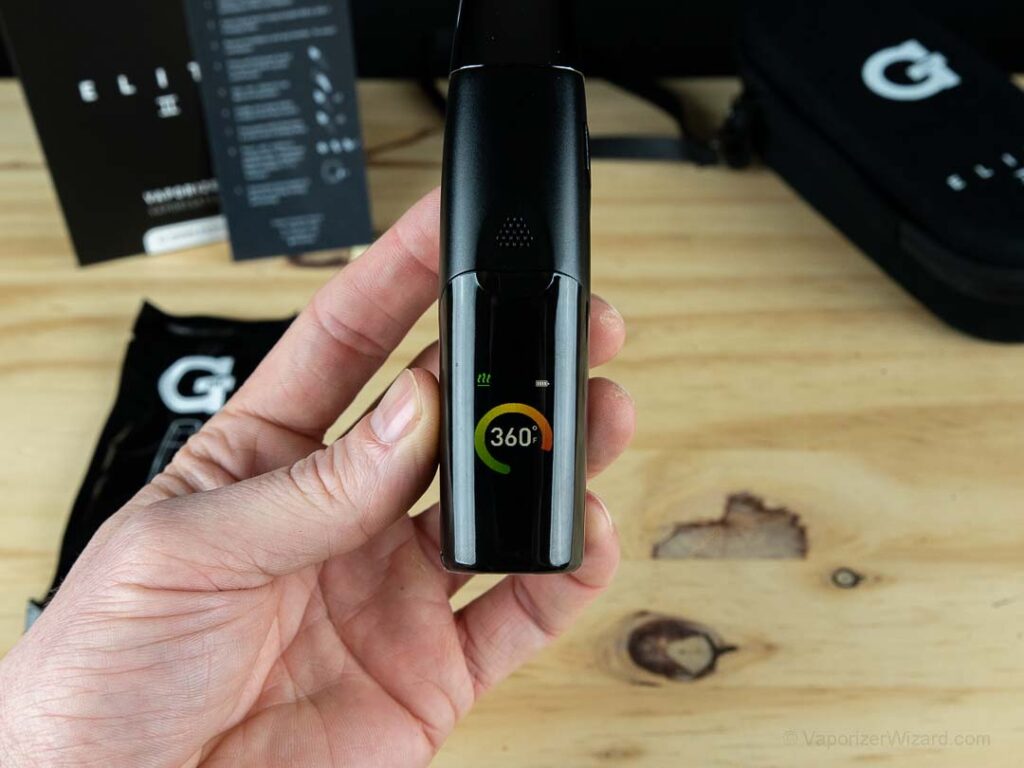 Body – The Elite 2 vaporizer body is made of zinc alloy and uses a magnetic zirconia mouthpiece. The screens are stainless steel, and the gaskets are made of heat-safe, food-safe silicone.
Display – The screen is a full-color TFT display. It's massive and honestly looks great. You can adjust the brightness via the menu options, and I've found it easy to read even on sunny days.
Accessories – The 3ft charging cable is of good quality and even comes with G PEN logos to help keep things organized. Most vaporizers skip this or don't have any logos on the charges so it's just a nice little addition that doesn't really matter but they made the effort which I like.
Clean air isolated intake just above the display doubles as a built-in carb. I don't really use it as such because it's not the freest-flowing vaporizer, but it's a nice feature.
Silicone Sleeve – The Elite 2 also comes with a silicone sleeve to help make the device easier to grip, and it secures the mouthpiece with the unit. It's not the most secure system but it does work and helps with the slick outer shell.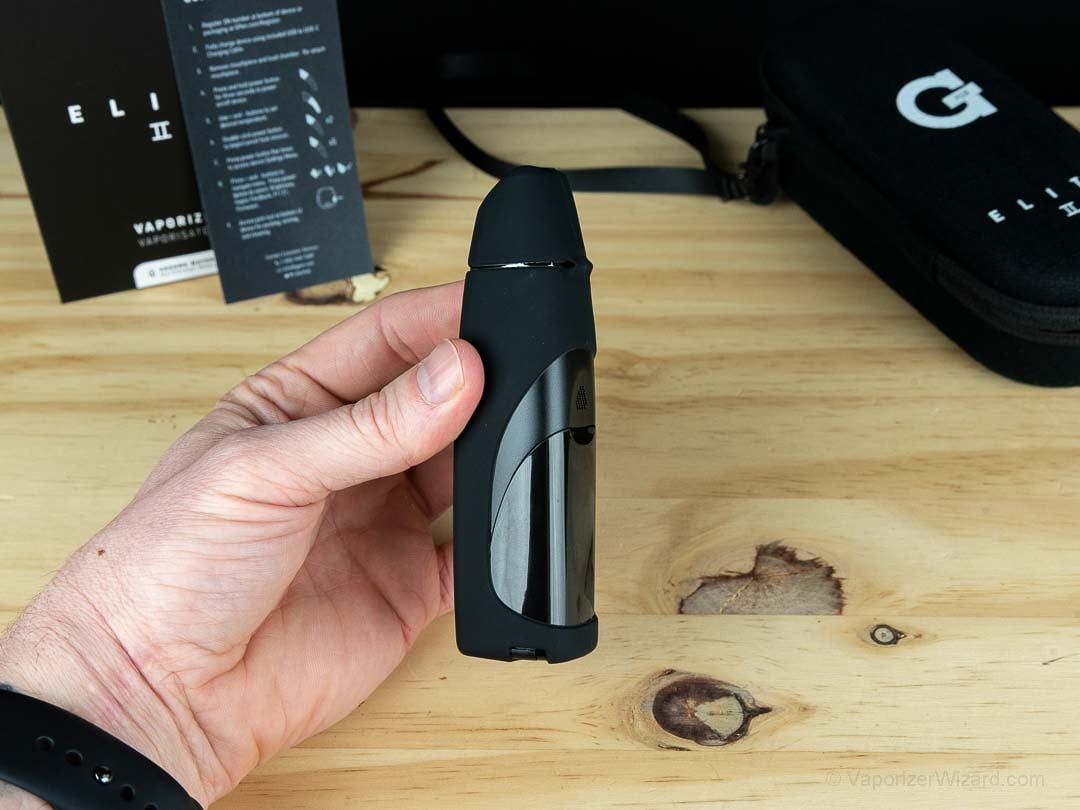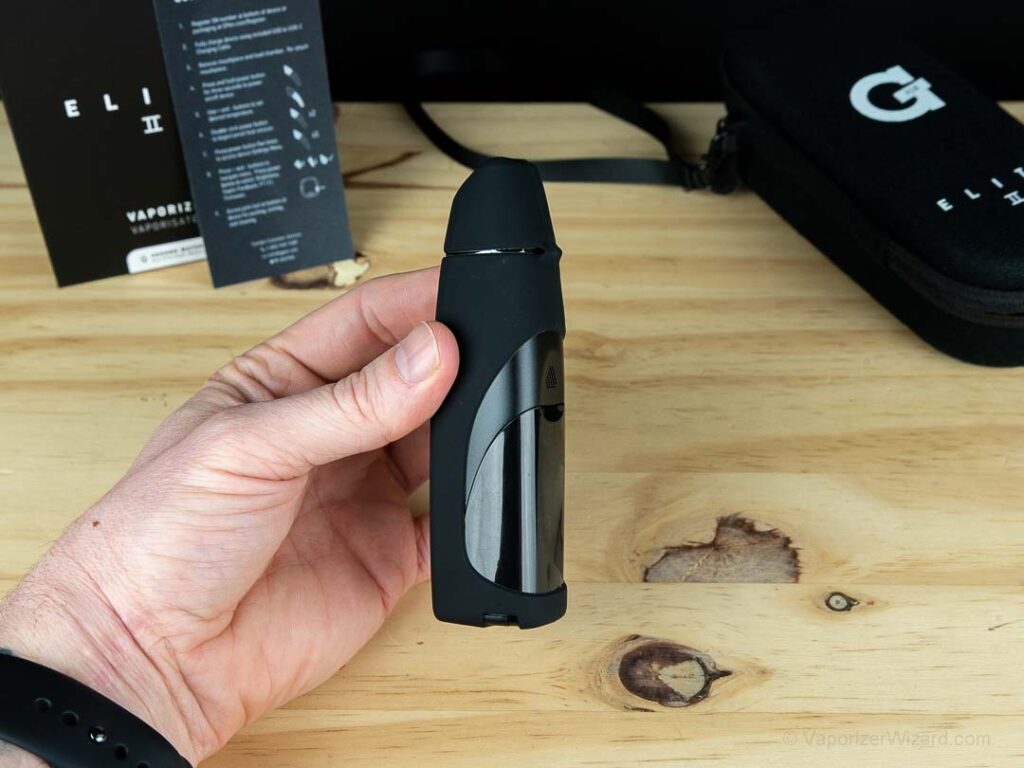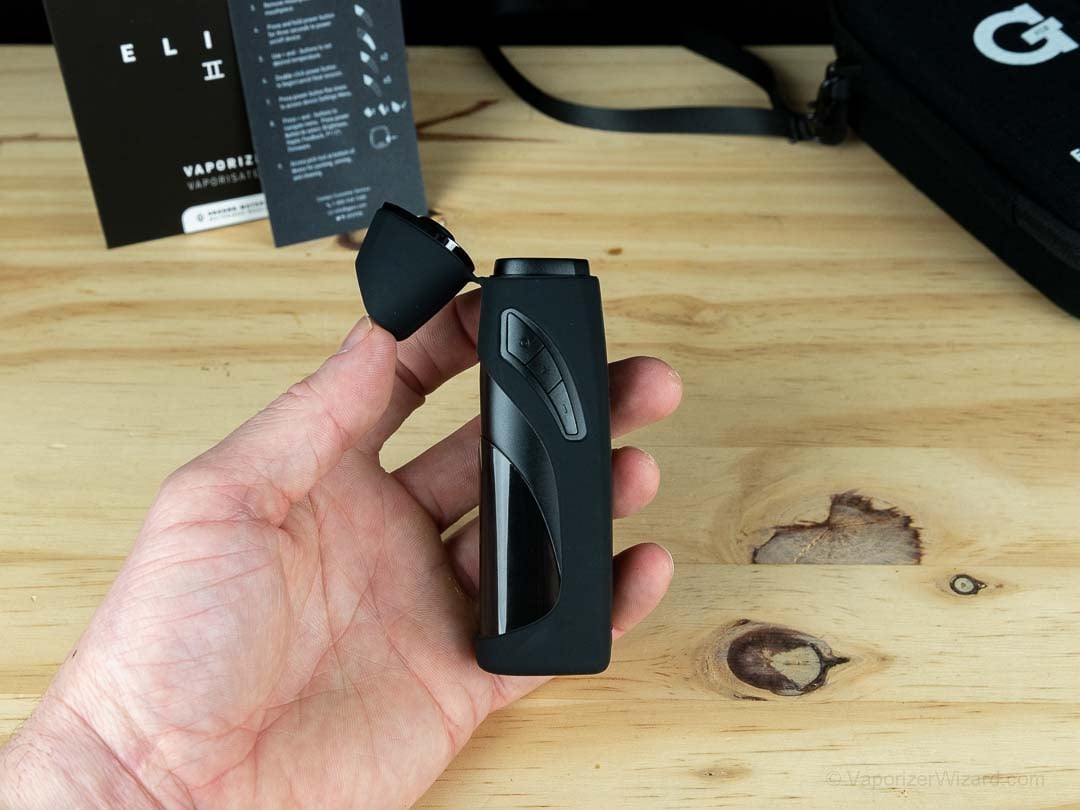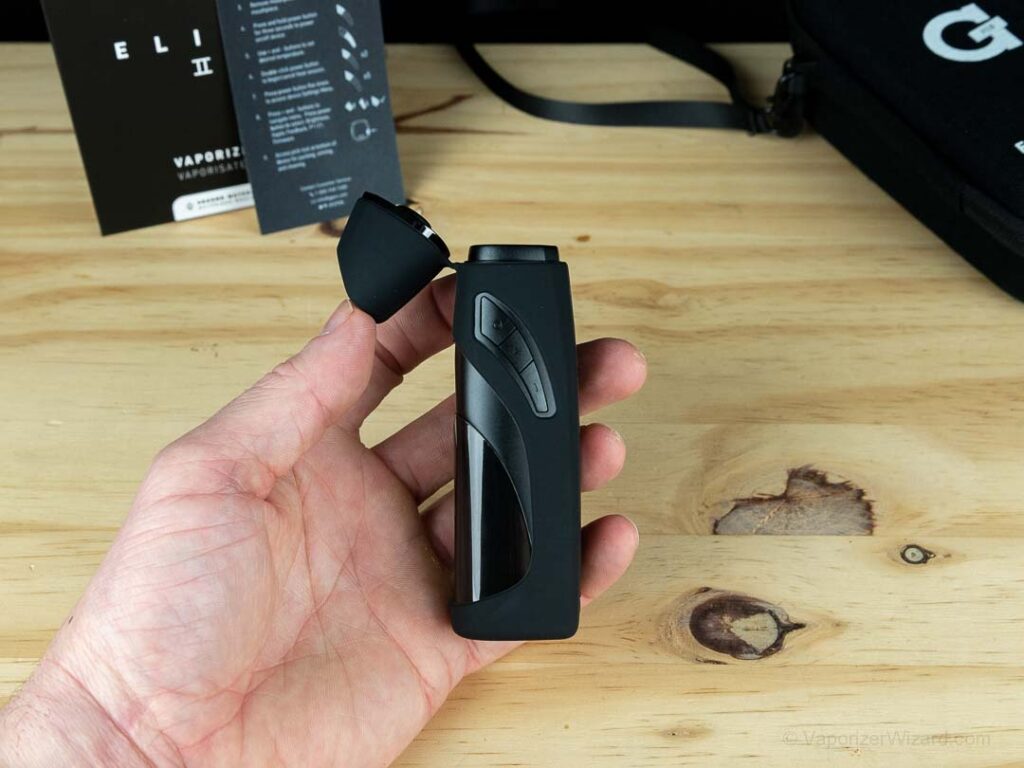 Lastly, the G PEN Elite 2 comes with built-in WIFI for firmware updates and for tracking your usage, similar to the Storz and Bickel Crafty+ vaporizer.
Overall the device is solid, and there are no weird rattles. The buttons are precise and reactive to clicks. The screen is bright, easy to read, and easy to adjust if needed. The added haptic feedback alerts you to battery levels, temps, and session timers. The built-in pick tool helps keep the chamber and screens clean after a session and secures back into the bottom of the vaporizer.
I was honestly trying to find things I didn't like about the build quality section, but the only thing I could "complain" about is the mouthpiece. It uses a pretty strong magnet to lock it into place, but I could see it coming off in your pocket during more rigorous activities.
Battery System and Charging Info
Battery Specs – The Gpen Elite 2 vaporizer uses a 2100mAh rechargeable, non-replaceable lithium-ion battery.
Battery Life – I've been averaging around 60 minutes of use from a fully charged battery.
Charging Info – Charging a dead battery with included USB-C charging cable takes about 90 minutes. It does not come with a charging brick.
Overall the battery life is considered about average for a vaporizer at this price point but could use some improvement. The G PEN Elite 2 can get in about 4-6 sessions before the battery dies.
The Elite 2 also features pass-through charging, but I recommend a small charge on the unit because I don't know if the system is powerful enough to charge and power the heater.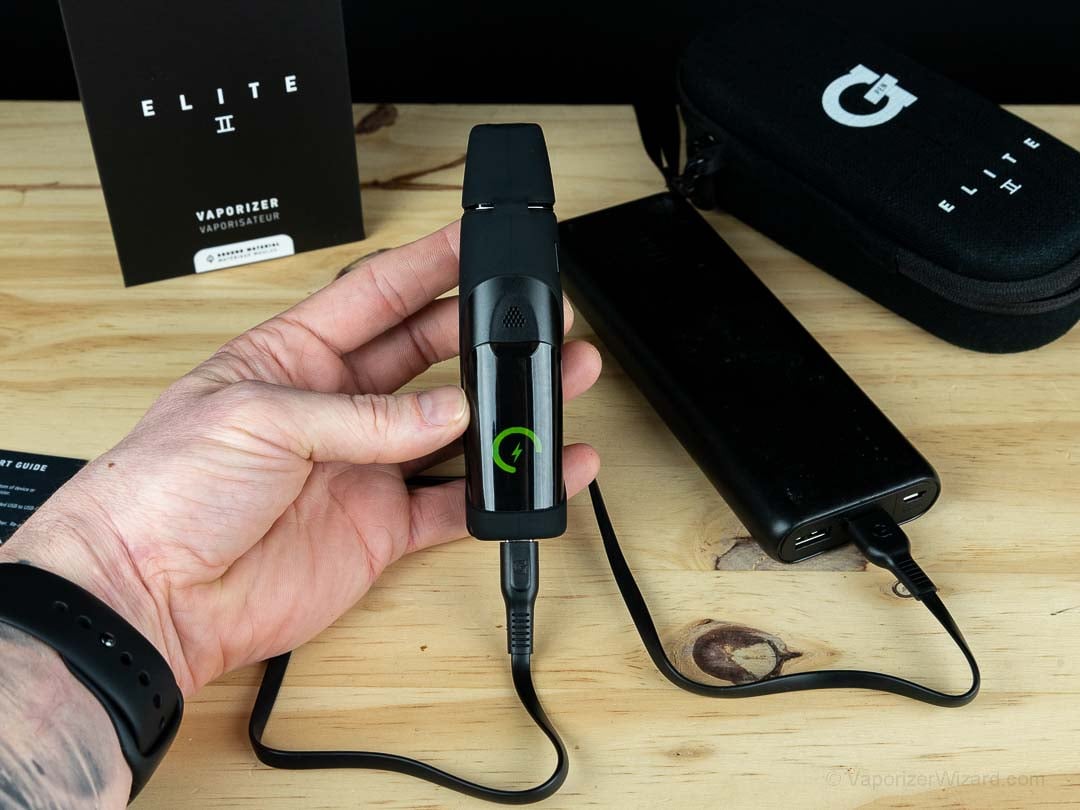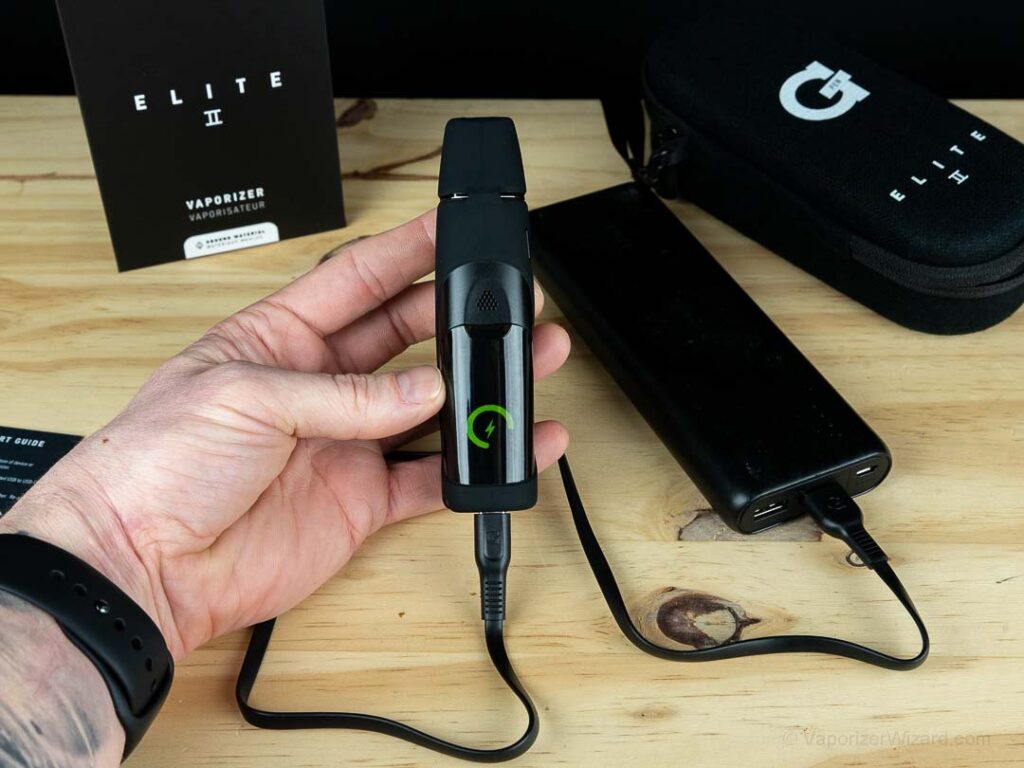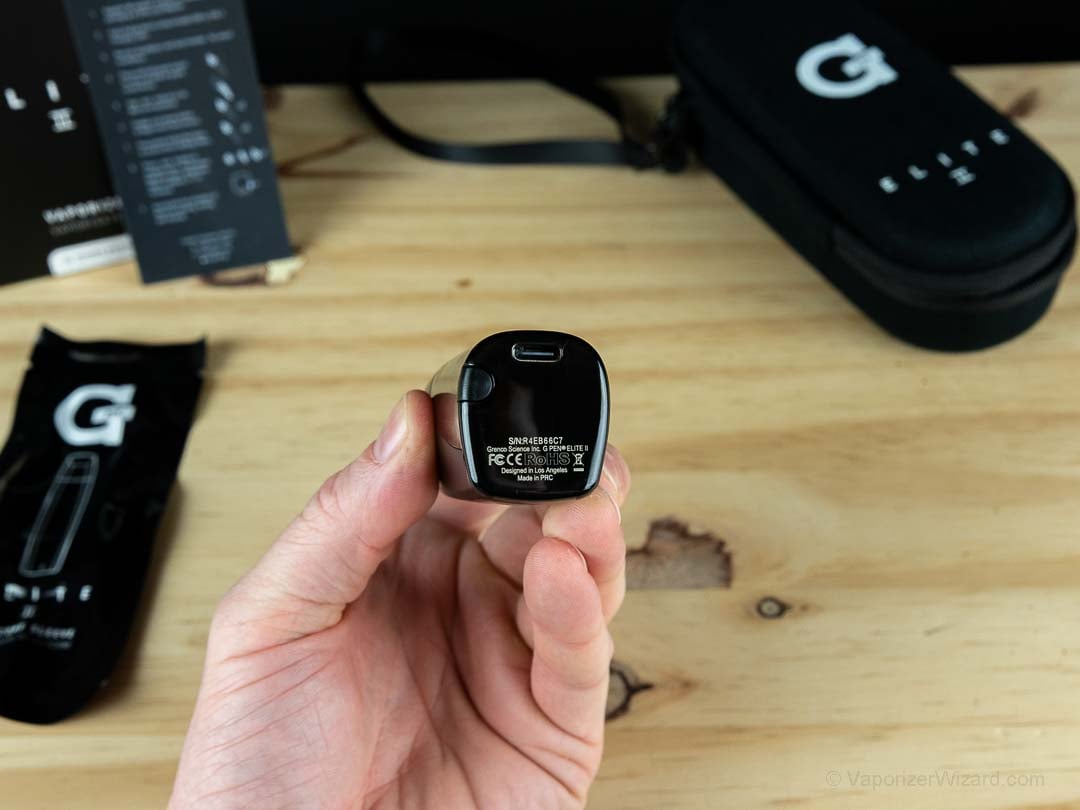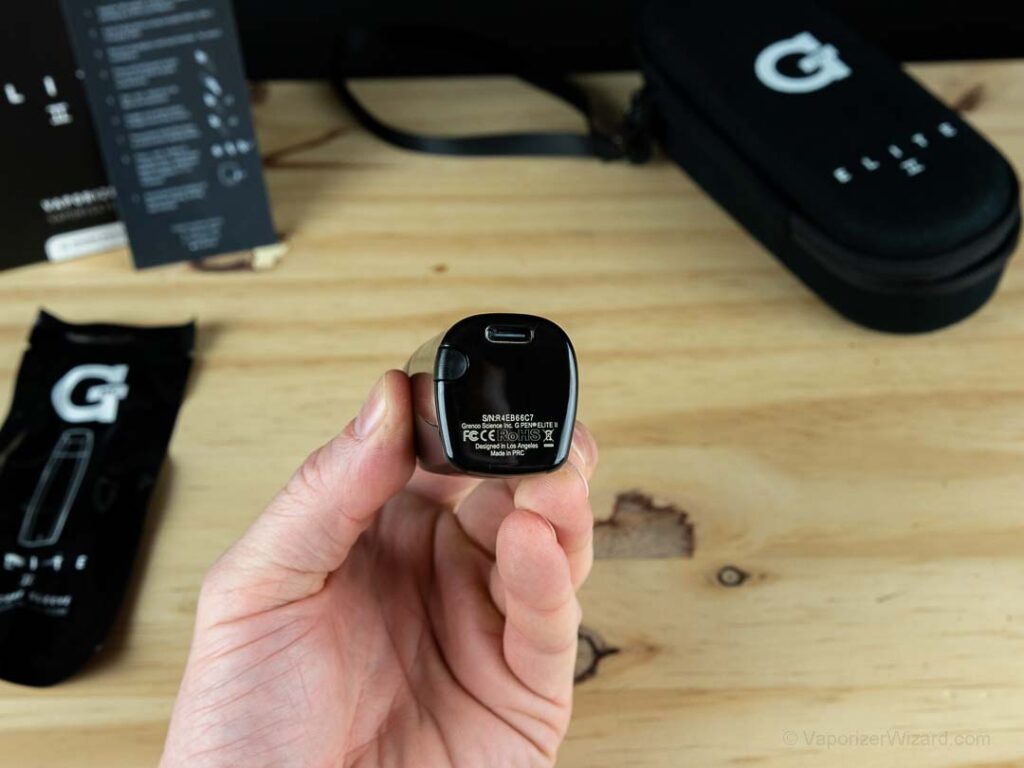 Heating and Temp Options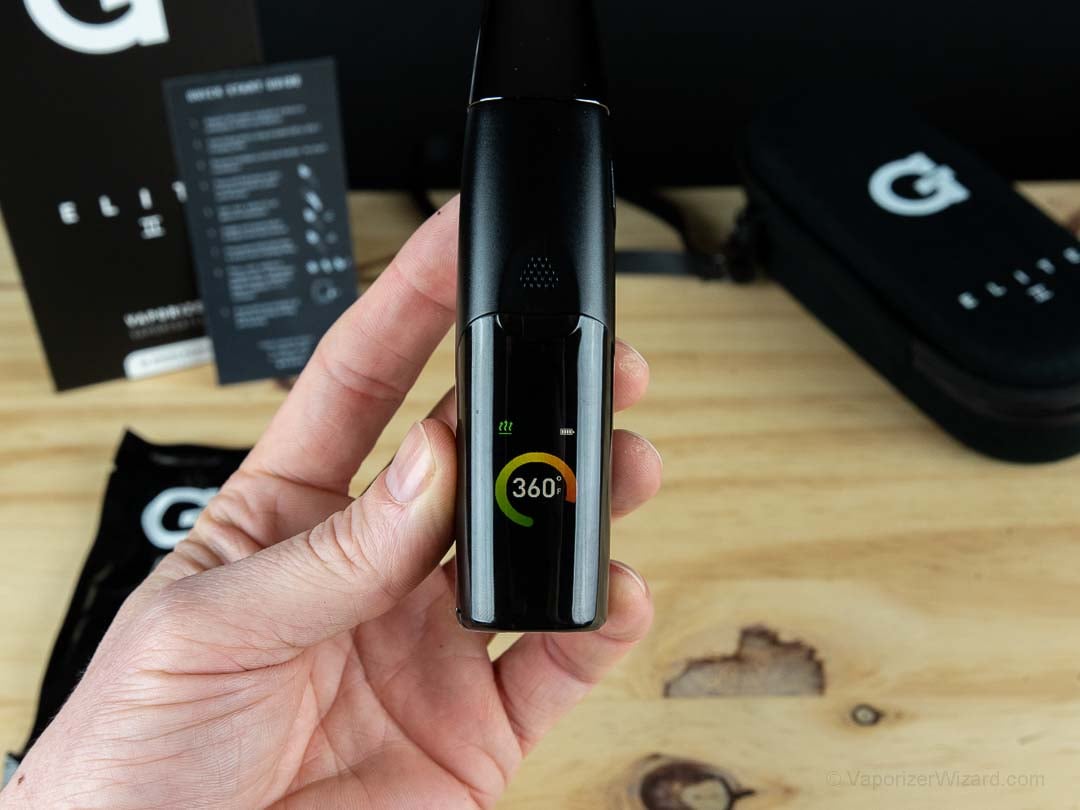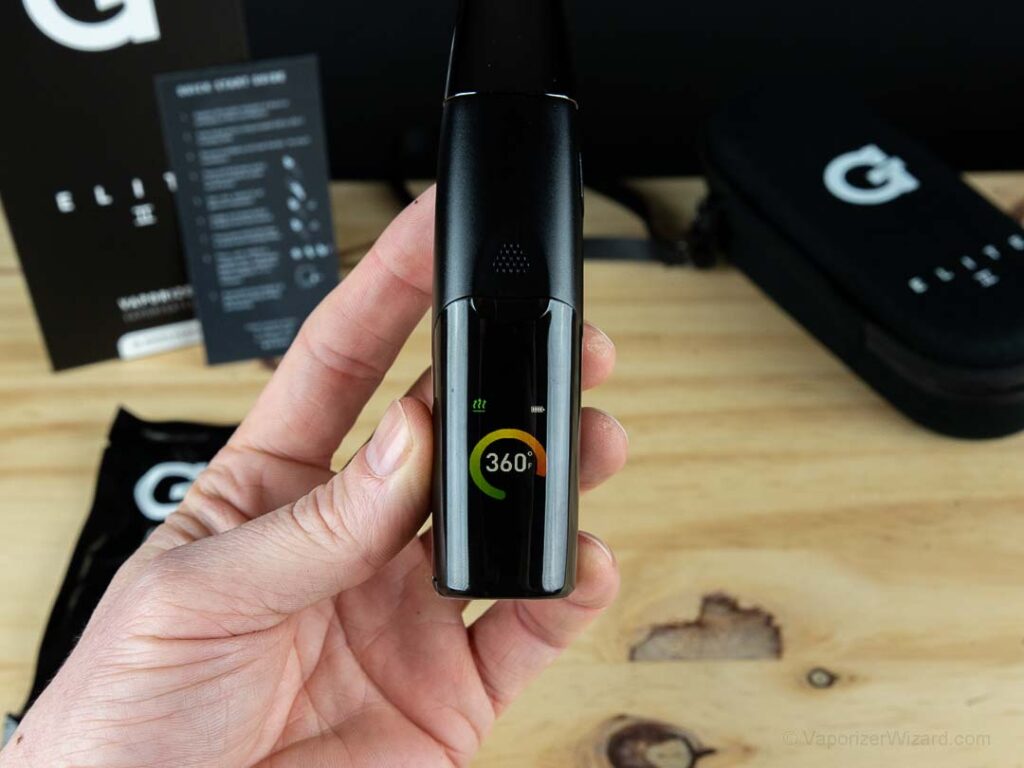 Heating – During testing, I found the Elite 2 vaporizer to heat up to 400F in around 20 seconds. That is extremely fast for a battery-powered conduction-style vaporizer. Most other portable conduction vaporizers heat up in around 30-45 seconds.
The Elite 2 vaporizer also uses a technology called convection boost which kicks the heater in when you are drawing from the unit. So the Elite 2 could be considered a hybrid-style vaporizer (conduction and convection), but it's just more consistent heating and definitely leaning heavily towards conduction. It's similar to the Pax vaporizers and the boost heating or "lip sensing technology," which kicks the heater into overdrive when it senses you pulling through the device or putting your lips to the mouthpiece.
Another thing I really like about the Elite 2 is that it extracts the bowl pretty quickly without the need to stir or mix the bowl. You CAN mix it for better results and really get everything out of the session but again, not needed.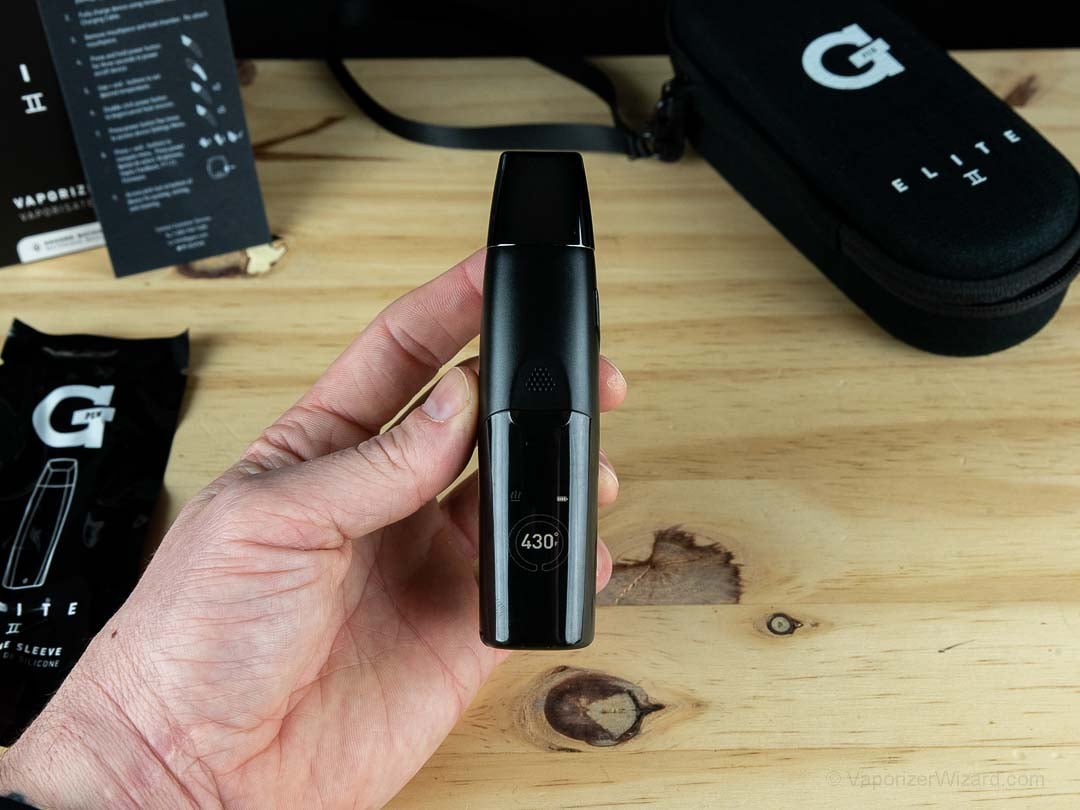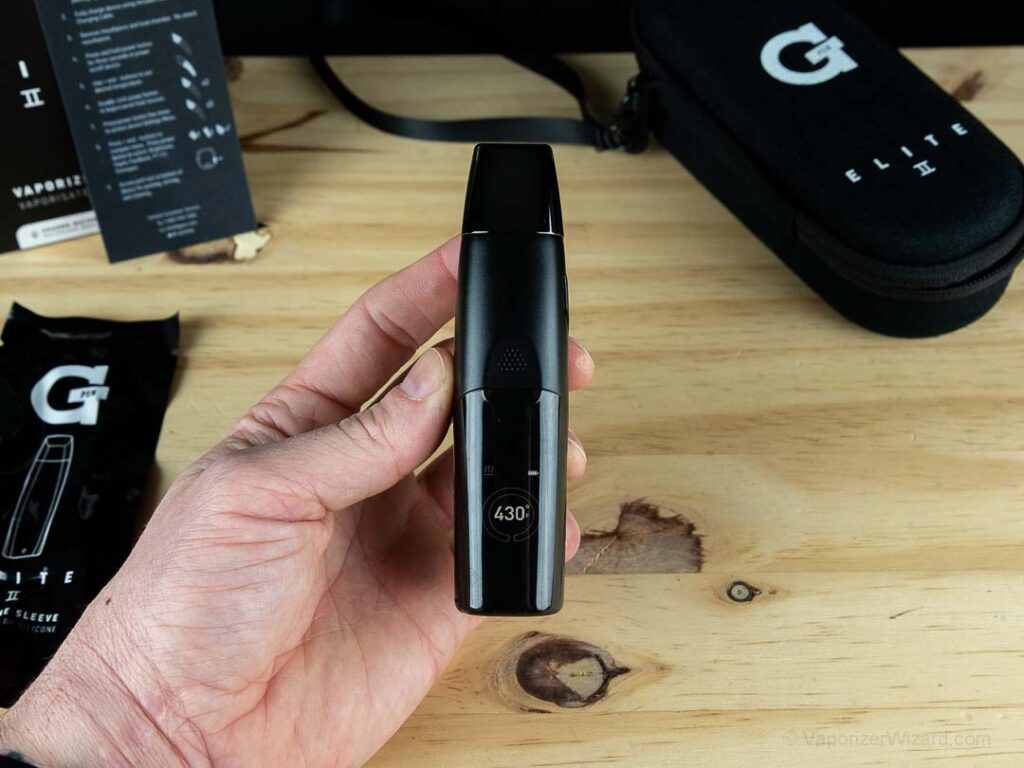 Temp Options – The Elite 2 vaporizer features a full temp spectrum ranging from 200F – 430F (93C – 221C). You can change temp options via the side + and – buttons and can see the preset temp and actual temp via the large display.
One of the features that I like about the G PEN Elite 2 is that the unit doesn't start heating automatically. You can turn the device on, and it will remember your last heat setting and then wait for a double click on the power button to start heating.
A lot of vaporizers immediately start heating as soon as you turn on the device which isn't necessarily a bad thing. It's just nice to be able to change some temp or session settings before the device starts taking off.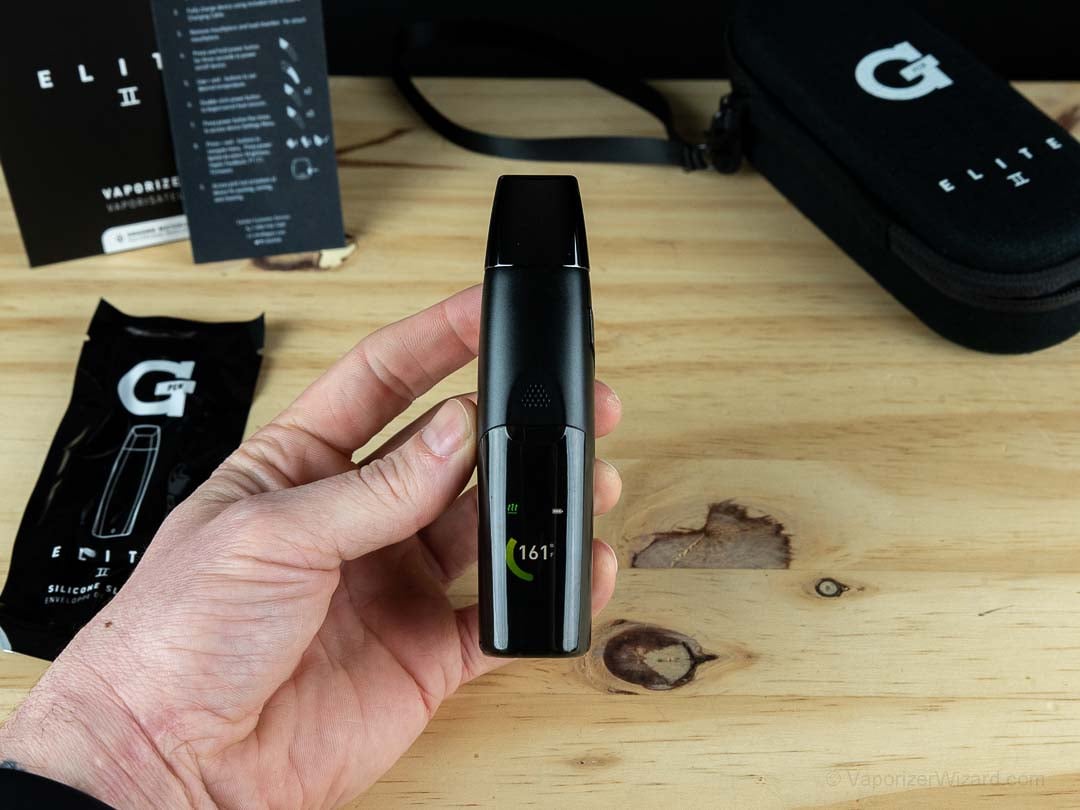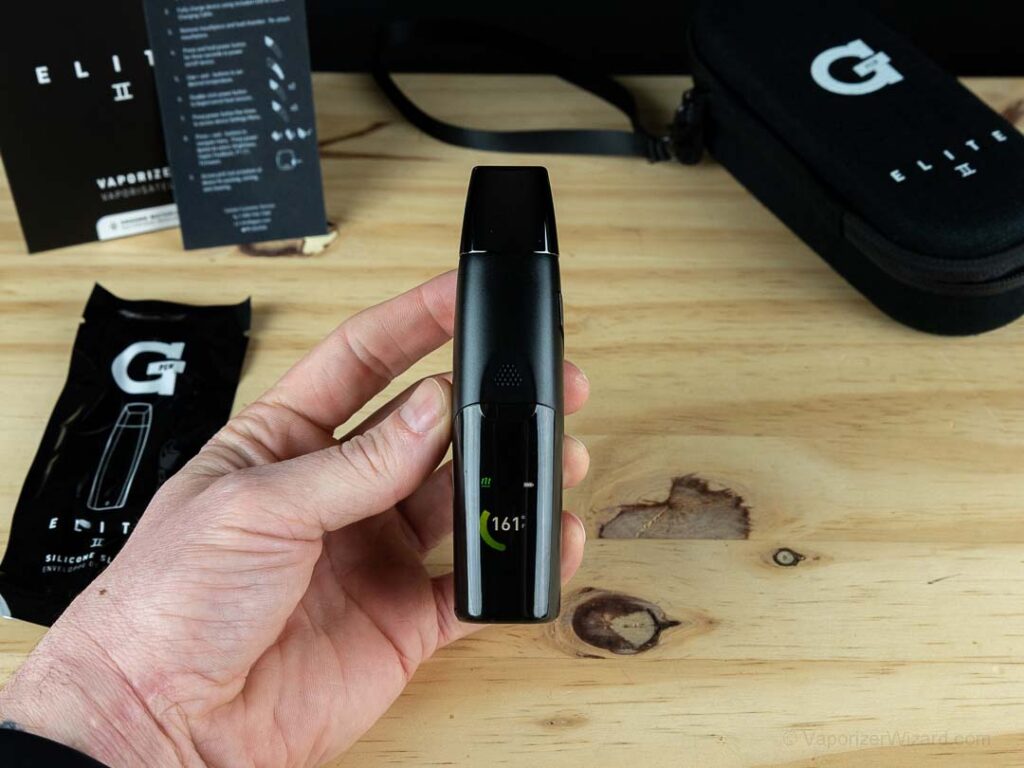 Temp Suggestions – I prefer to start the session out with the G PEN Elite 2 around 360F, and then temp step my way up to around 400 or 410.
Temp stepping works by increasing the temperature of the device during the session by certain increments. For example, I like to take a draw or two and then bump up the temp from 360F to 380. Take a couple more draws and then bump up the temp to 400F.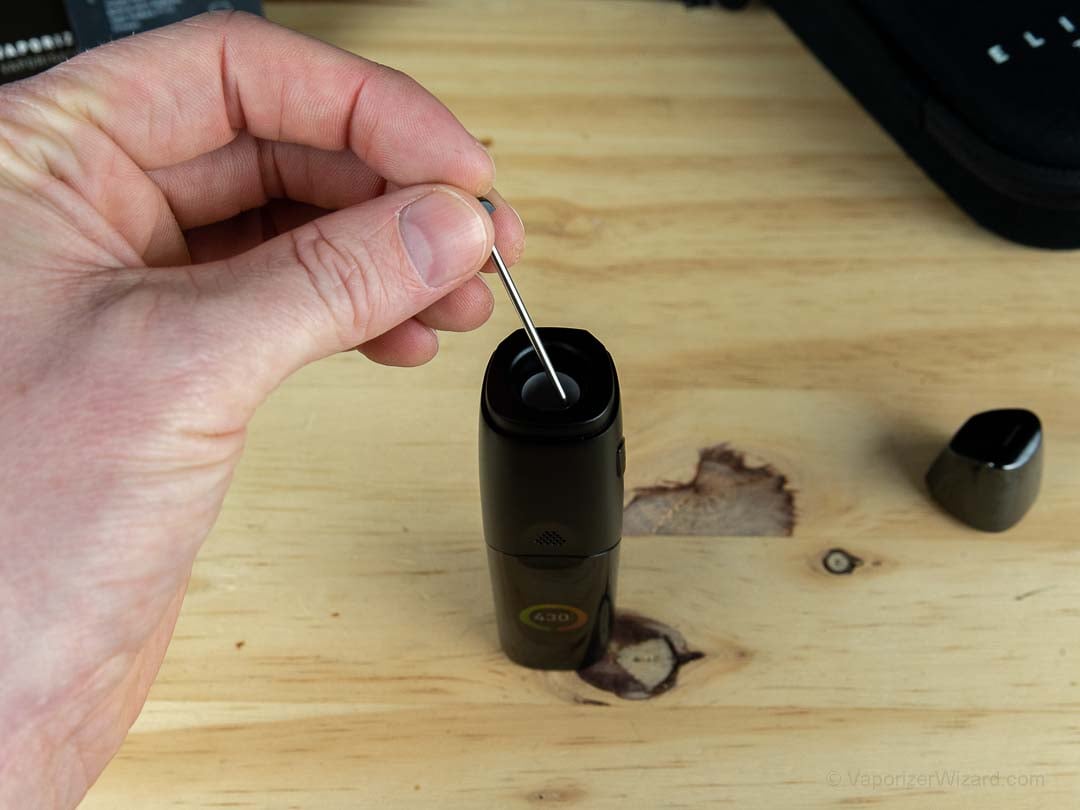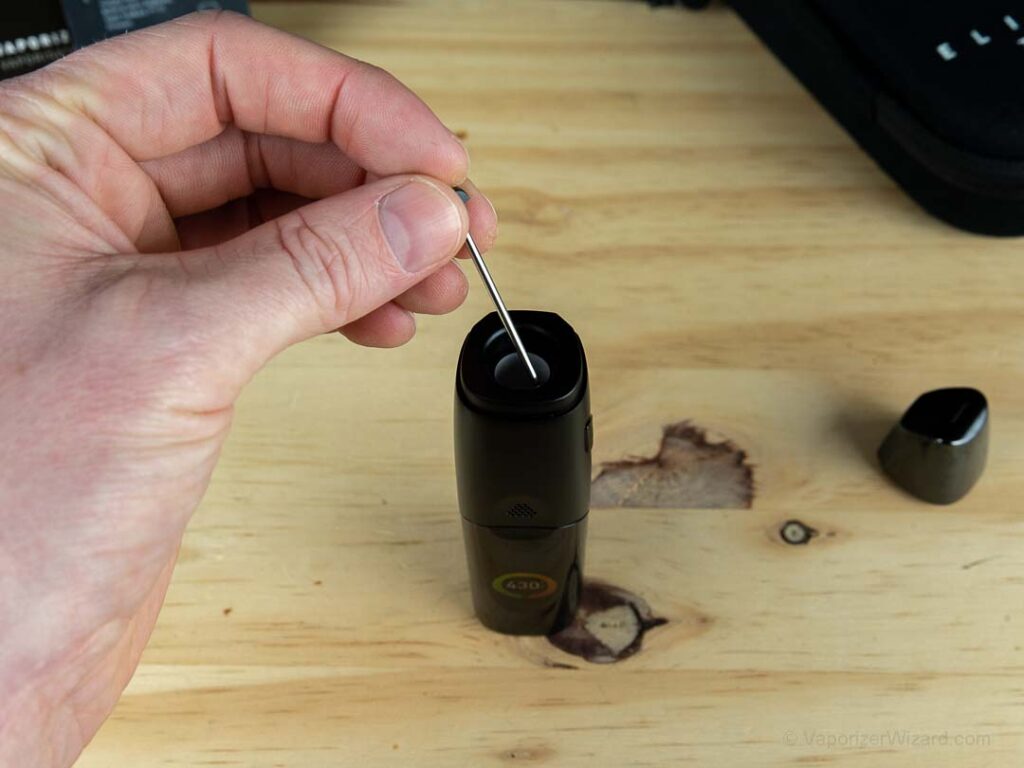 You'll know the bowl is finished when the vapor becomes lighter or wispier and tastes like burnt popcorn. The herbs in the chamber should be brown to dark brown in color. You can also stir the chamber a bit with the included pick tool.
Vapor Quality and Draw Resistance
Vapor Quality – The GPEN Elite 2 features really good vapor quality, and the full temp spectrum allows you to customize each session to your specific tastes. It claims to use convection heating, and while it does taste much better than its predecessor, it's definitely more of a hybrid/conduction-style device.
I'm actually very impressed with the vapor quality of the GPEN Elite 2. It's definitely not on par with units like the Firefly 2+ (100% convection) or the Crafty+ (Hybrid Heating), but I'd consider it as good as any other conduction-style vaporizer like the Davinci IQ2 or the Pax units, maybe even slightly better? o.0
It's also important to know the Elite 2 is a conduction leaning session-style vaporizer meaning the herbs are always being heated and works best when you have 10 minutes or so to sit down and enjoy it. I like to compare conduction-style vaporizers to smoking a joint or blunt.
Convection-style vaporizers like the Firefly 2+ (read the review) and the Tafee Bowle (review here) only heat herbs while you're drawing. So convection-style vaporizers are more like a bong rip or quick rip out of a bubbler.
There's no right or wrong choice with either. It's purely what kind of session style you are looking for in a vaporizer.
Draw Resistance – This is one category that I'm not particularly fond of. The draw resistance is quite heavy compared to other portable vaporizers. Meaning it's harder to draw from than some of the other portable vaporizers in this price range. It's super important to keep the screen above the chamber as clean as possible.
The spiraled mouthpiece chamber helps to reduce heat from the chamber, but it also adds quite a bit of restriction to the device. If you have weak lungs or need a more free-flowing vaporizer, I'd check out the Crafty+ vaporizer (read the review).
Elite 2 Chamber Info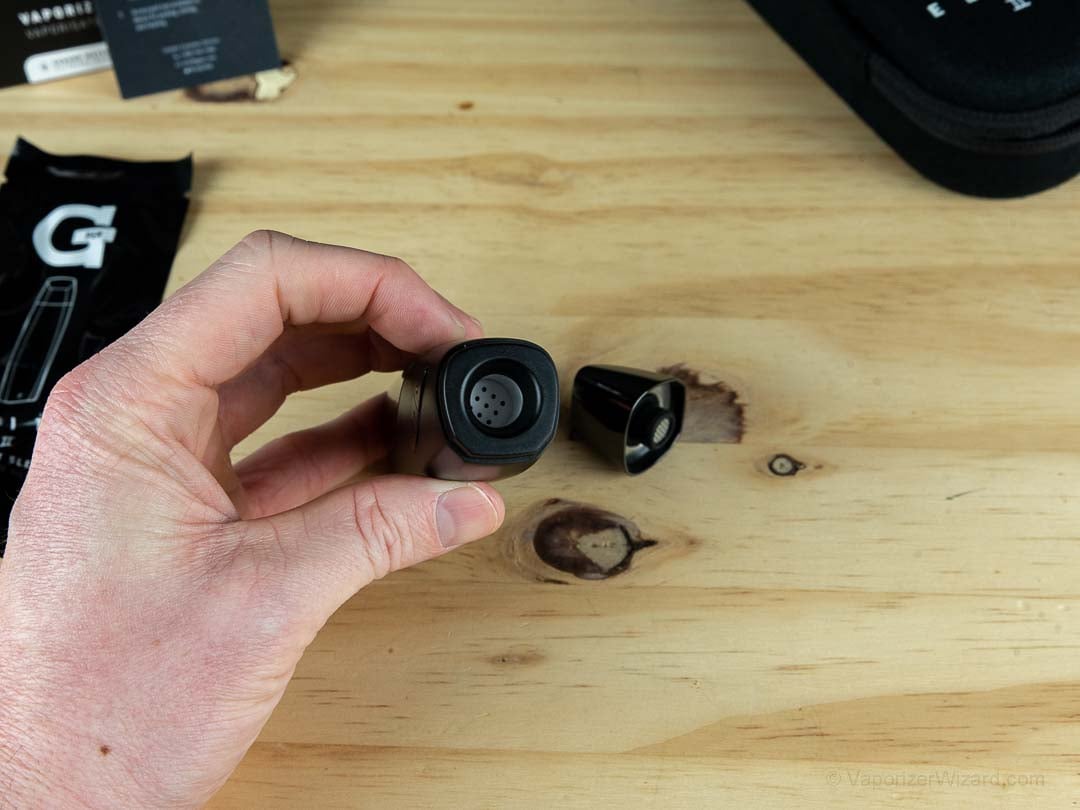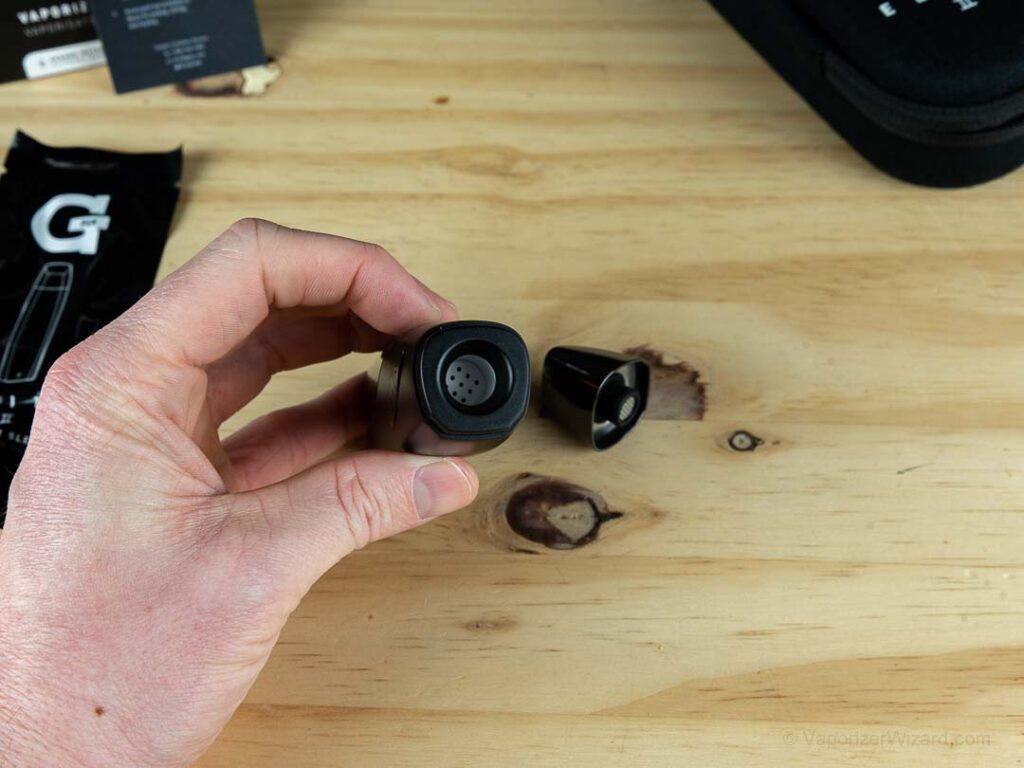 Chamber Size – The GPEN Elite II vaporizer features a ceramic heating chamber, and it can hold about .2 grams of dry herbs.
Grind Recommendation – I recommend a medium to fine-grind, and you can pack it down slightly but not too much because it will increase the overall draw resistance and can clog up the screen/mouthpiece quicker.
I've also found that a full chamber works best, and you can use included pick tool to stir the chamber a bit after a couple of draws, but it's not necessary.
Be sure to empty out the chamber after a session to cut down on the cleaning and maintenance required.
Maintenance and Care
General maintenance on the GPEN Elite 2 consists of emptying out the chamber immediately after a session and keeping the screen above the chamber clear of any debris. Keeping the screen clean will also help reduce draw resistance.
How to Clean the G PEN Elite 2
Overall the GPEN Elite 2 is easy to clean and takes about 5 minutes. You'll know when it's time to clean the device by how dirty the screen is above the chamber and how hard it is to draw from the unit. Sometimes the taste can also drop because of herbs caught in the mouthpiece.
The first step is to make sure the device is powered off.
Remove the silicone sleeve and the mouthpiece.
Place a small amount of ISO on a q-tip.
Turn the device upside down and swab out the chamber.
Remove the screen and spiral ceramic insert from the mouthpiece. You can use the included pick tool to push it out.
Place the screen, mouthpiece, and spiral insert into ISO.
Swap out the mouthpiece silicone insert with q-tips and ISO.
Rinse the pieces from the mouthpiece with warm water.
Let everything dry.
Put the mouthpiece back together.
Ready to go.
G PEN ELITE II Warranty
The GPEN Elite II vaporizer comes with a two-year manufacturer's warranty, and you can register the device on the GPEN website for an additional year. Bringing the total GPEN Elite 2 Warranty to three years.
Three years on a portable electronic device is actually pretty good and above average when compared to other portable vaporizers currently on the market. By comparison, the Storz and Bickel Crafty+ offer the same warranty options (2 + 1 if registered).
Vaporizer Comparisons
Overall the GPEN Elite 2 is a good portable vaporizer and offers quite a few features. You get 20-second heat-up times, a full temp spectrum, a beautiful display, USB-c charging, and a really good warranty.
HOWEVER, it's pretty pricey when considering other popular portable vaporizers. I'm working with GPEN to try and get a discount code, and I feel like that will make it more competitive in the current market.
In this price range, I would definitely consider checking out the Crafty+ vaporizer (read review). The Crafty+ is a hybrid (convection + conduction) session-style vaporizer with excellent vapor quality, a free-flowing draw, and USB-C charging.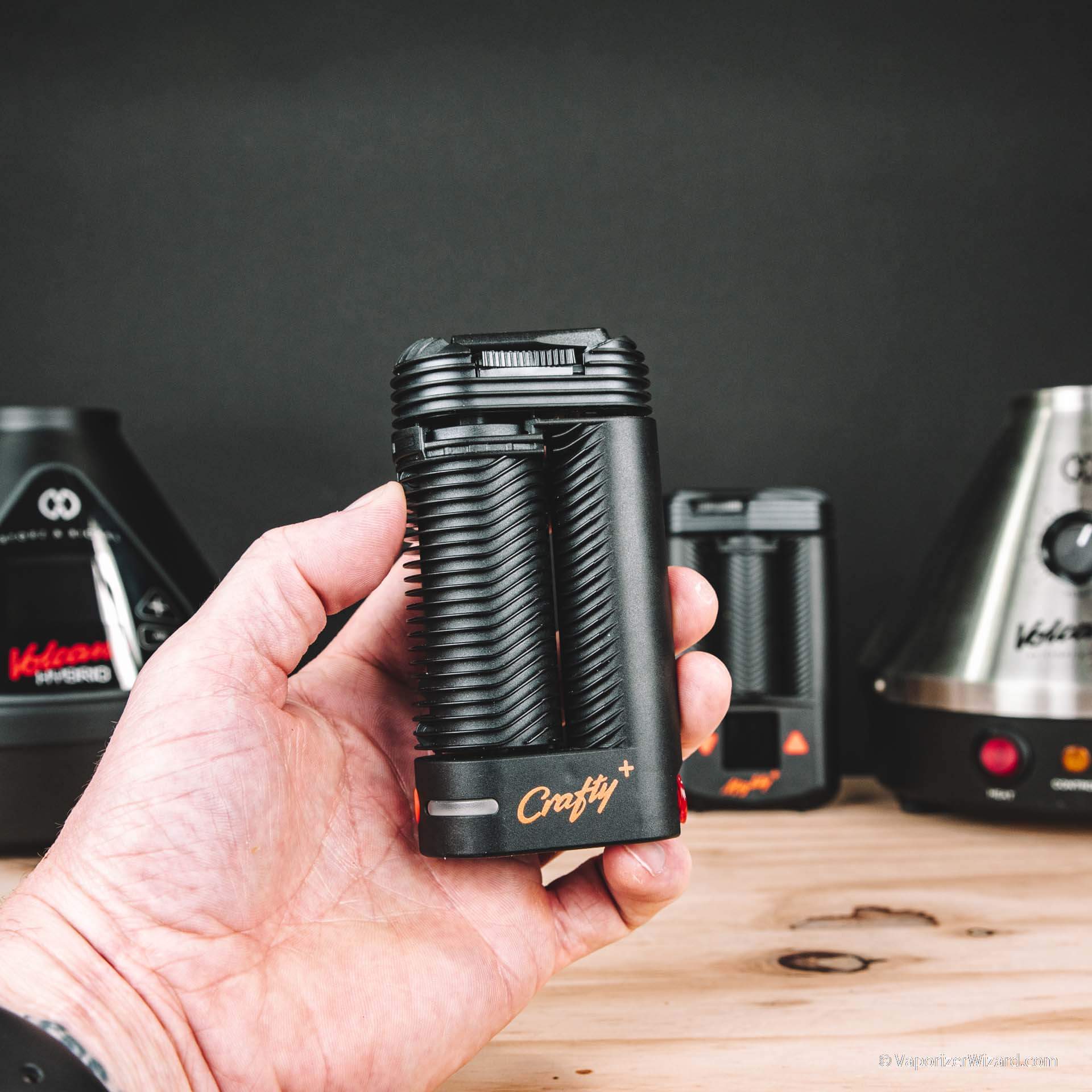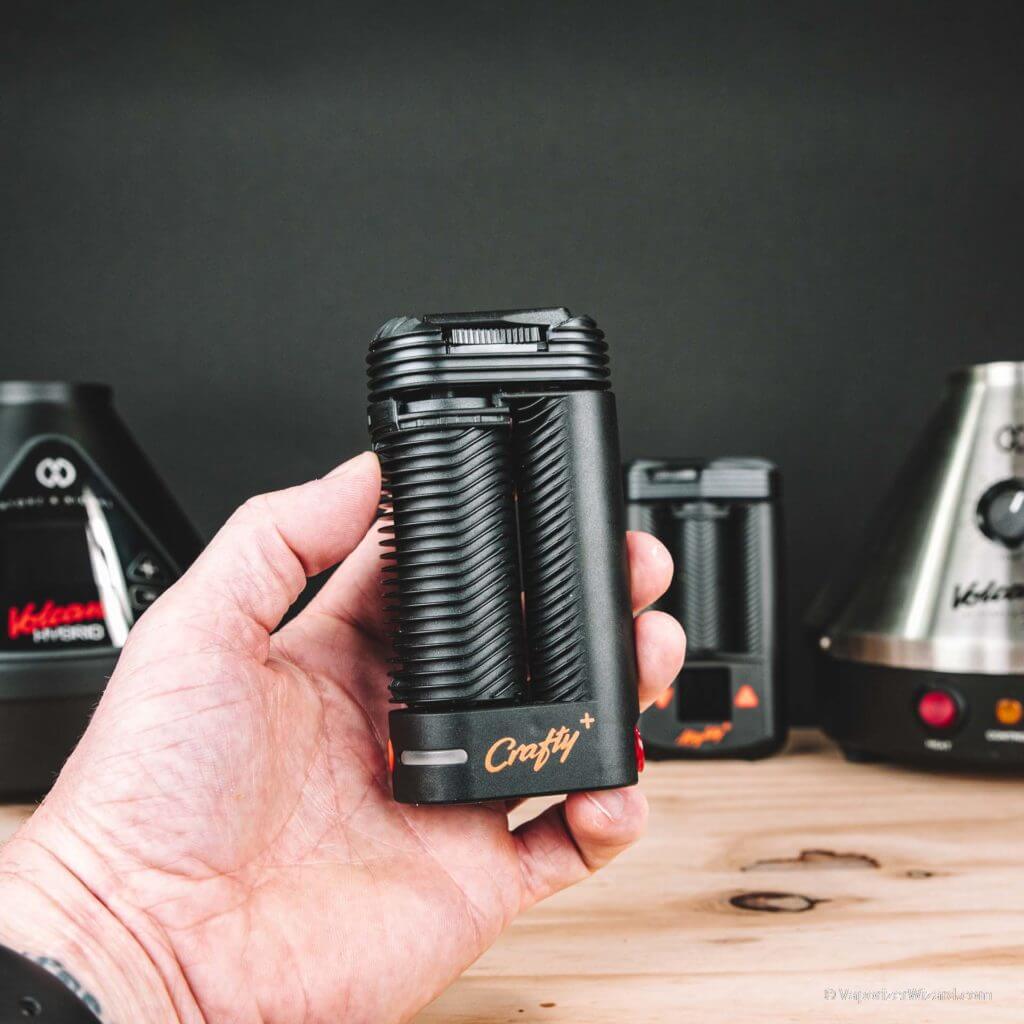 The Crafty+ does NOT have an on-vape display and you can only access the full temp spectrum via the APP, but the three temp options via the button are plenty for a session.
The Crafty+ retails for $279 but vapor usually has it for around $219, and you can use coupon code SBVW25 for an additional 25% OFF. Bringing the Crafty+ to around $165 after my coupon code. You can click here to check current Crafty+ pricing.
I think you could argue some of the features (beautiful display, temp buttons) on the GPEN ELITE 2 add quite a bit of value, but the session experience of the Crafty+ is that much better.
If you're looking for a budget option, I'd check out the POTV One (read review) and if you wanted something comparable with replaceable batteries, I recommend the XMAX V3 Pro (read review)
Hit me up in the comments or via my contact page with any questions about comparisons or recommendations.
G PEN ELITE II Review Summary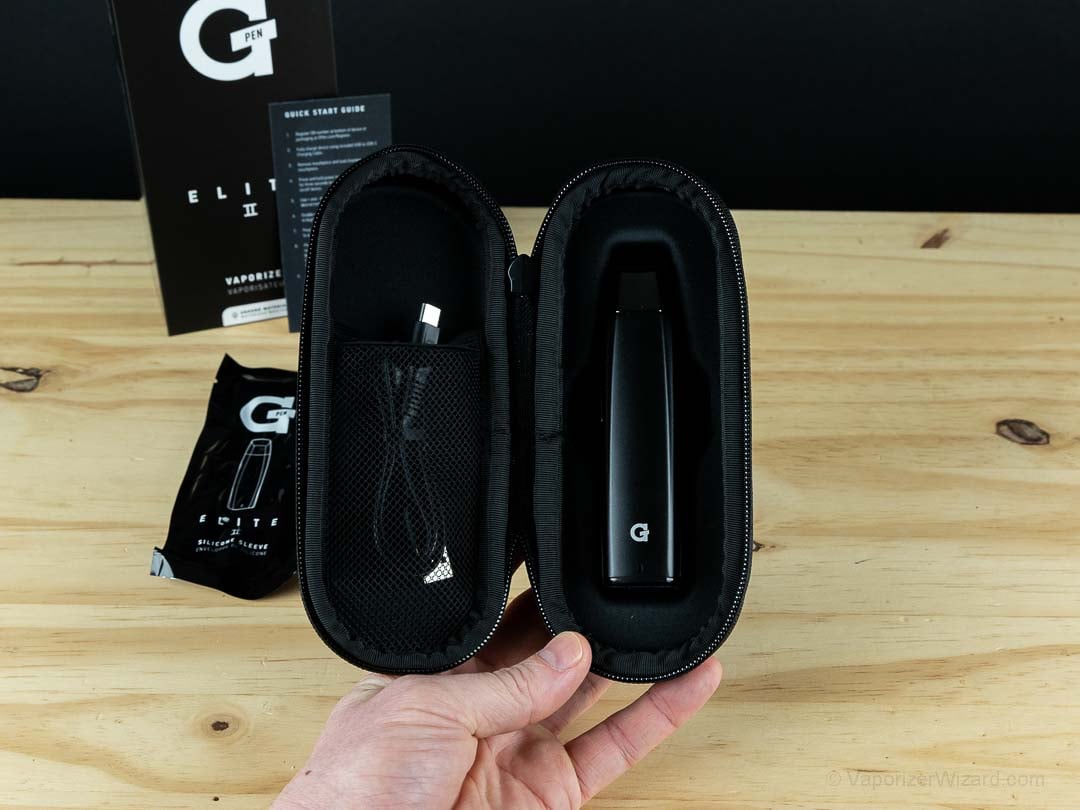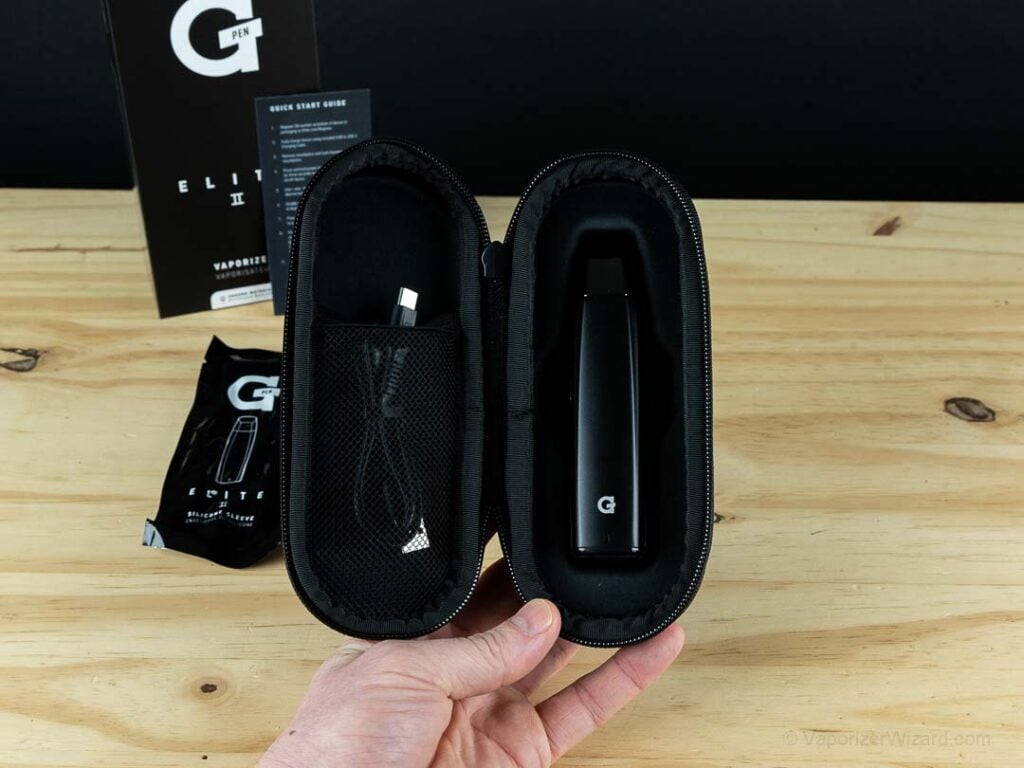 Overall I'm actually really impressed with the G PEN Elite 2 vaporizer, and I think it's the best portable vaporizer G PEN has released to date.
The Elite 2 is loaded with features, and the vapor quality is actually pretty good. It heats up super fast (~20 seconds) and features a crisp and bright, easy-to-read digital display with a full temp spectrum and decent charge times via USB-C charging.
I've found the Elite 2 vaporizer easy to use, good for solo-person use or group sessions, and it's easy to load/unload the chamber.
I'm not a huge fan of the draw resistance, but the ceramic spiral in the mouthpiece does help cool the vapor, which is a big issue with top-chamber portable vaporizers.
I also think the Elite 2 should be in the $200 range and possibly even cheaper with a coupon code, but I'm still waiting to hear back from G PEN.
All-in-all, the Elite 2 is a good portable vaporizer with excellent features offered in a pocket-friendly form.
Right now, the G PEN Elite 2 vaporizer retails for $249, and you can click here to pick it up directly from G PEN. Use code WIZARD20 for 20% off directly from GPEN. You can also click here to pick it up from vapor. Use code wizard22 to save 22% at Vapor.
G PEN Elite II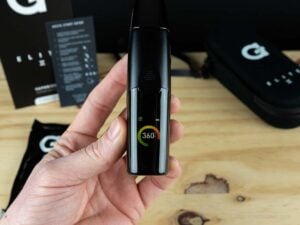 The G PEN Elite II is a portable dry herb vaporizer made by Grenco Science. The Elite 2 is packed with great features, including fast 20-second heat-up times, a hybrid-style heater, and USB-C charging. The Elite 2 is honestly the best dry herb vaporizer G PEN has released to date, and I think you'll like it as well. Check out my full G PEN Elite 2 review to find out if it's worth it for you.
Pros
Pocket-Friendly
20 Second Heat-Up
Full Temp Spectrum
Good Vapor Quality
USB-C Charging
Easy to Use
Digital Display
On-Vape Buttons
Solo and Group Use
3-Year Warranty
Cons
$249 Price Tag
Small 2100mAh Battery
Non-Replaceable Battery
Slick Outer Shell
Draw Resistance