The Arizer ArGo is a portable conduction/convection hybrid vaporizer. It's made by the Canadian company Arizer Tech which also currently makes the Solo 2, Air Max, Air SE, Extreme-Q, and XQ2.
The ArGo Vaporizer is extremely compact, features a replaceable battery system, and offers a full temp spectrum. As you'll read in my Arizer ArGo review, the only downsides are the short vapor path creates some warmer temps, and the draw resistance ramps up after a few sessions if you don't clean it out.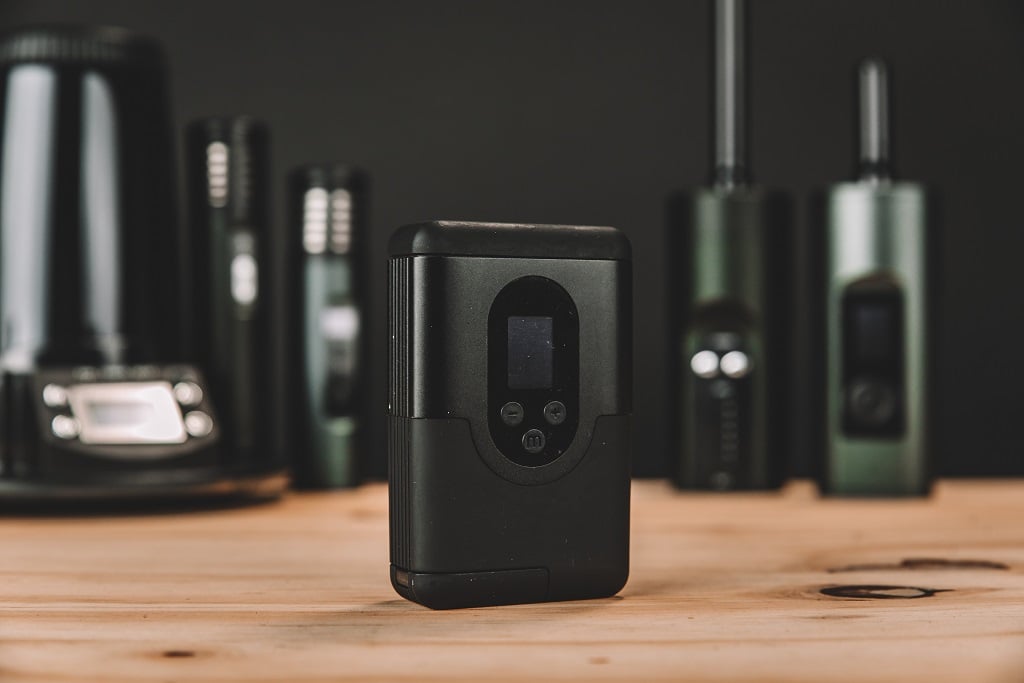 I can honestly say that this is one of the best portable vaporizers to be released in the last couple of years. It has basically everything you could want in a vaporizer with only minor downsides.
This is also one of the vaporizers that I've been using most while out hiking, biking, or anything that requires me to pocket the device. The ArGo is priced in the medium to high price range for portables but I think you'll find that it's worth every penny.
The ArGo vaporizer retails for $119 and you can click here to pick it up directly from Arizer. Use coupon code VAPEWIZ25 to save 25%. Read on below to check out my full Arizer ArGo vaporizer review.
Design and Build Quality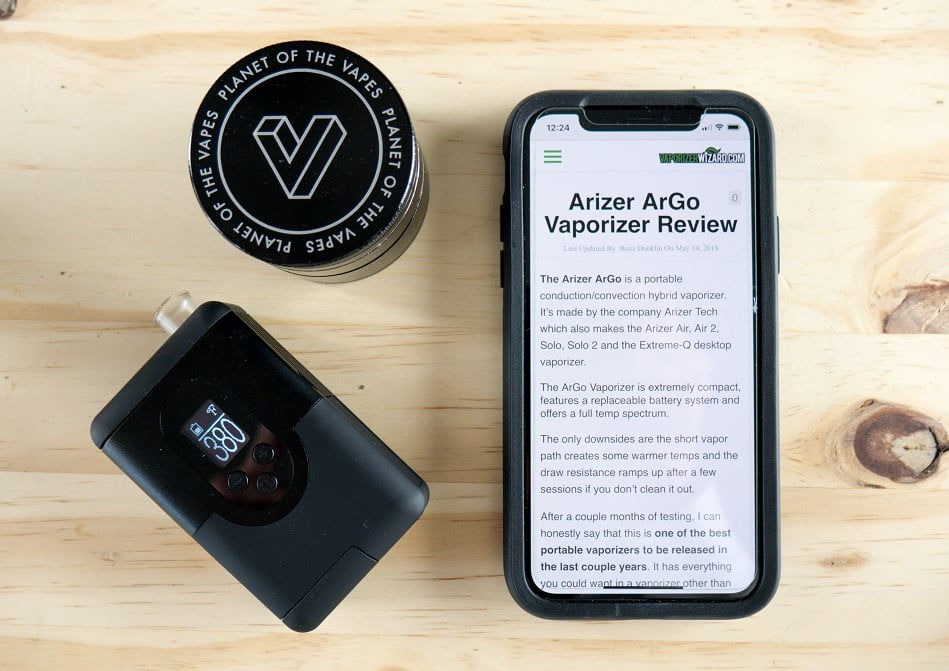 Size and Portability – If you've read a few of my reviews you know that I put a pretty big value on the overall size of the device. I'm usually outside with these vapes hiking, biking, skiing, etc. So for me, it's really important to be able to easily pocket the vaporizer and conceal it for discretion.
Arizer ArGo is one of the MOST portable vaporizers that I have ever tested. I can literally palm it for discretion and the new design allows the mouthpiece to be completely concealed for on the go use. With all of the older Arizer units, they were too tall to fit comfortably in my pockets on the go which has been fixed with the ArGo. Overall it's not quite as light as the Pax Plus (93 grams) but at 135 grams, it's still one of the lighter portables and it's not going to weigh you down by any means.
Build Quality – The build quality on all Arizer vaporizers is outstanding. They are built like tanks, and they have one of the best long-term track records for reliability. The outer shell is smooth and feels great in the hands. The display is nothing special but works well and all the buttons provide good feedback. The battery is easy to get to and replace and the ArGo comes with a two-year manufacturer warranty for a little extra peace of mind.
The one consistent downside on all the previous models was the long exposed glass stems. That didn't work out too well with my outdoor activities and definitely not the best for throwing in your pocket. Now the stem can be completely concealed which protects it and makes it much more pocketable. This change really fits well with my usage and lifestyle so I am very happy about it.
What's Included + Accessories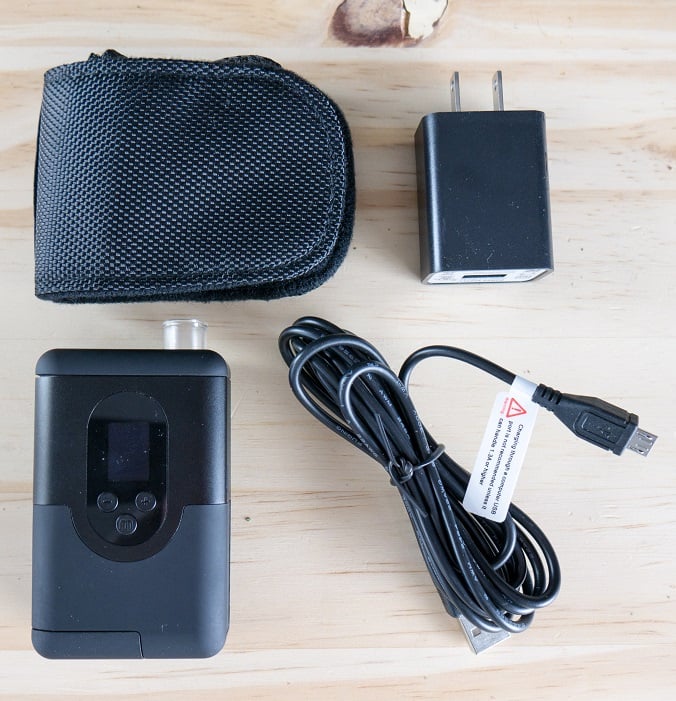 Included in the Box:
1 X ArGo Portable Vaporizer
1 X 18650 3.7V 3400mAh Replaceable/Rechargeable Battery
2 X ArGo Glass Stems
1 X USB Charger/Power Adapter
1 X Belt-Clip Carrying Case
2 X Silicone Stem Caps
1 X Stirring Tool
4 X Screens
1 X Owners Manual
Extra Accessories – Everything that you need to operate the ArGo is in the box and so far there are not too many third-party accessories for it. The only thing right now that I recommend is picking up an extended stem if you want a longer vapor path for cooler vapor. But I would get it first and see how you like it. A longer stem is most useful if you really like to stick to the higher temps.
Heating, Vapor Path, Temp Options 
Arizer GO Heating – The Arizer GO uses a convection/conduction hybrid heating method. It's basically the same as the Solo 2. The heat-up time (60 seconds) is a bit slower than I would prefer, especially if I'm trying to get in a quick session but it's not bad in the scheme of things. Most portable vaporizers these days are in the 30-second pre-heat range and something like the Pax Plus will heat up in around 15-20 seconds.
Vapor Path – While the stems can be an annoyance at times, they are also great for smooth, flavorful rips. I also prefer the neutral taste and feel of glass stem over plastic which most other portables use.  I really enjoy the taste and vapor production from the Arizer units. Again, this unit (Arizer ArGo) may produce slightly warmer temps over the Solo 2 because of the shorter vapor path but you can pick up the extended mouthpiece if needed.
Temp Options – The ArGo vape offers a full temp range from 122F – 428F (50C – 220C) that is fully customizable. The temp buttons are located directly on the device and easy to change. The temp is also easy to read but unfortunately, this device does NOT come with haptic feedback which would have been a nice addition.
Chamber Info and Draw Resistance 
Chamber Info (Bowl Size) – The ArGo chamber holds roughly .15 grams depending on your grind preference and packing style. I prefer a coarse grind and a full but very light pack (don't press down on the herbs). I like to use a jyarz container and just dip the stem into the herbs so it fills the bowl. This makes it so you don't need to stir. If you pack too tight stirring may be required and finer grinds will cause more frequent cleaning.
Draw Resistance – The important thing here is that you clean out the stem/chamber after a session. Use a brush and clean out the chamber while it's still hot. If you allow the herbs to cool and settle on the screen it will increase your draw resistance with each bowl.
If you stay on top of the maintenance, the draw resistance isn't bad. It's not as free-flowing as something like the Crafty+ or Mighty+ Vaporizers but I would say it's fairly similar to the Pax Plus.
Arizer ArGO Battery Info
Battery Specs – The ArGo vaporizer uses a replaceable/rechargeable 3.7v 3400mah 18650 sized battery.
Battery Life – The average battery life so far has been around 90 minutes which is usually around 7-8 bowls. Generally, this is more than enough battery life for outdoor adventures, trips to friends, festivals, concerts etc. However for something like a multi-day camping trip I would recommend packing an extra battery or two. The ArGo can also charge via USB and uses path-through charging so it works well with any external battery packs you might have.
Charging Times – The downside to the ArGo is the charge times. It takes roughly 3.5 hours to charge the device via USB with the battery in the unit. This is why I do recommend picking up an extra battery or two.  You can also get something like the Nitecore i2 external battery charger. The Nitecore i2 basically cuts the charge time in half and you can charge two batteries at one time.
Cleaning and Maintenance
As long as you stay on top of the cleaning, this is a pretty easy vaporizer to maintain. Even if you let it go for a while you can always just throw the stem and screens into some ISO (isopropyl alcohol), let them sit for a bit, and then rinse them off with warm water.
The downside of letting it go for longer periods is the draw resistance. Herbs can also collect down into the chamber without frequent cleaning. I prefer a lower draw resistance vape, so for me, it's worth staying on top of maintenance. If you are someone who does not care about draw resistance, you can completely neglect cleaning for very long periods of time with no adverse effects other than draw resistance.
Comparisons (ArGo, Pax Plus, Crafty+)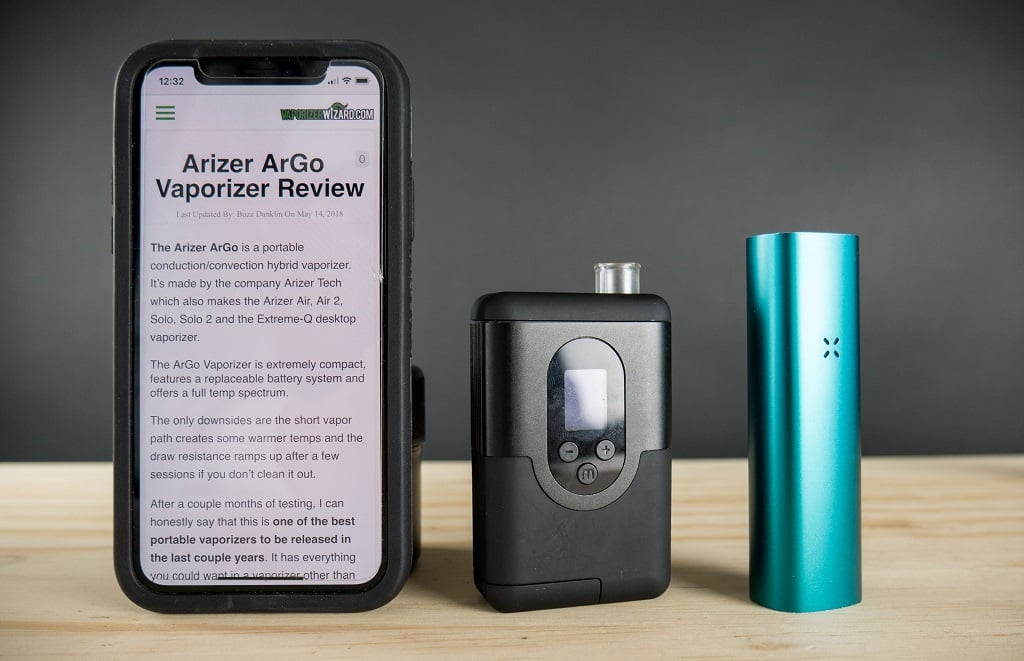 While the ArGo is awesome, there are some reasons that the Pax Plus or the Crafty Plus might be a better choice.
Pax Plus – The Pax Plus (read review) design is slimmer and lighter by over 40 grams. This is why the Pax Plus is my favorite vaporizer to bike with and I can completely palm it on trail runs.
The Pax Plus heats up around three times faster and offers fancy heating algorithms. The Pax Plus charges fully from dead over an hour faster than the ArGo and it has longer battery life. So if you don't want to deal with replaceable batteries, the Pax Plus might be a better fit.
Lastly, the Pax Plus vaporizer comes with a 10-year warranty instead of 2 years. The main downside to the Pax Plus is that it's purely conduction, so the vapor quality is a notch below the ArGo and a couple below the Crafty.
Crafty Plus – The Crafty+ (read review) is one of the most free-flowing portable vaporizers on the market. It has top-notch vapor quality above the Pax Plus and even the ArGo. It's one of the easiest and most consistent vaporized to use. Novices and experienced users will both appreciate this device.
The Pax Plus and ArGo have some pretty good draw resistance and that's why I really appreciate the Crafty Plus here. The downsides to the Crafty+ are less battery life and much slower heat-up times.
ArGo Review Wrap-Up
Should You Buy the ArGo Vaporizer? The ArGo is really going to be a great vaporizer for the majority of the people reading this review. The only real downsides are the heat-up times and the draw resistance.
I've really been wanting a more portable device out of Arizer since I reviewed the OG Solo back around 2014, and they truly delivered. I'm really impressed by this unit and I think you will be too.
The ArGo retails for $119 and you can click here to pick it up directly from Arizer. Don't forget to use coupon code VAPEWIZ25 to save 25%.
If you aren't quite sold on the ArGo but still looking for an Arizer vaporizer, I recommend checking out my Arizer Vaporizer Buying Guide for info on all the different arizer vaporizers.
If you have any questions about the Arizer ArGO, Solo 2, or any other vaporizer, feel free to hit me up in the comments or shoot me an email over on my contact page. Thank you for taking the time to read by Arizer ArGo vaporizer review and take it easy!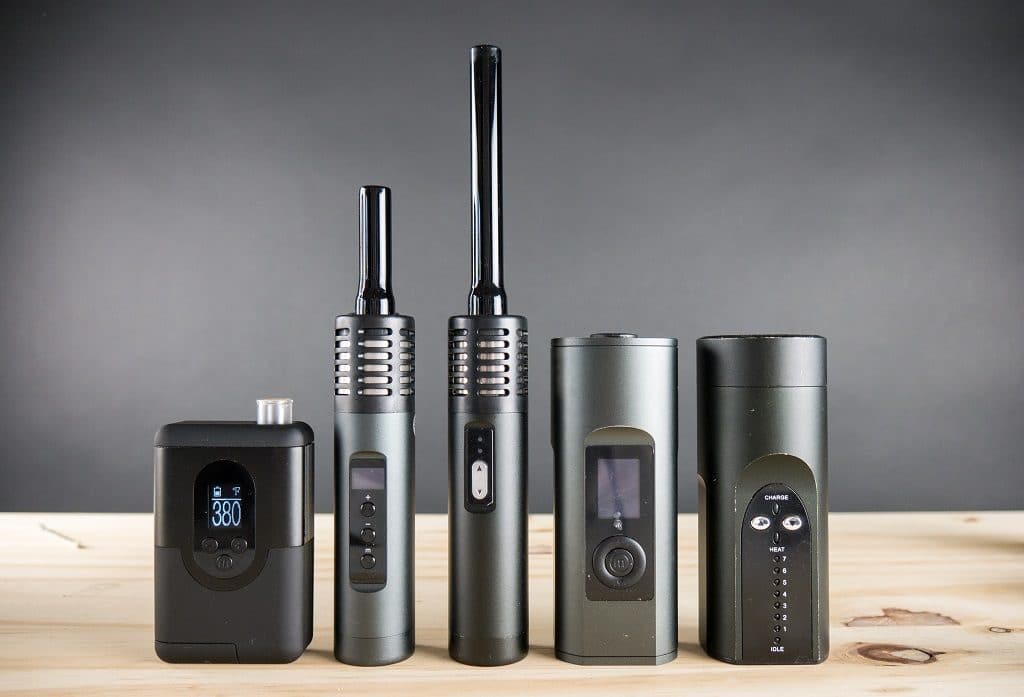 Buying Options + Coupon Codes
Arizer ArGo Vaporizer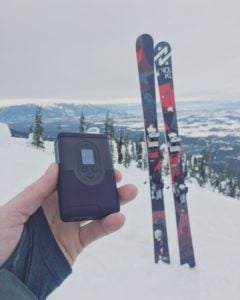 The Arizer ArGo is a portable dry herb vaporizer made by the Canadian company Arizer Tech. The Arizer Argo vaporizer is very pocket-friendly, features a full temp spectrum, replaceable batteries, and a hybrid heating system.
Product Brand: Arizer