The Airvape Legacy Pro is a portable dry herb vaporizer that can vape dry herbs and wax. It's easy to use, discreet, and one of the better-tasting portable dry herb vaporizers on the market.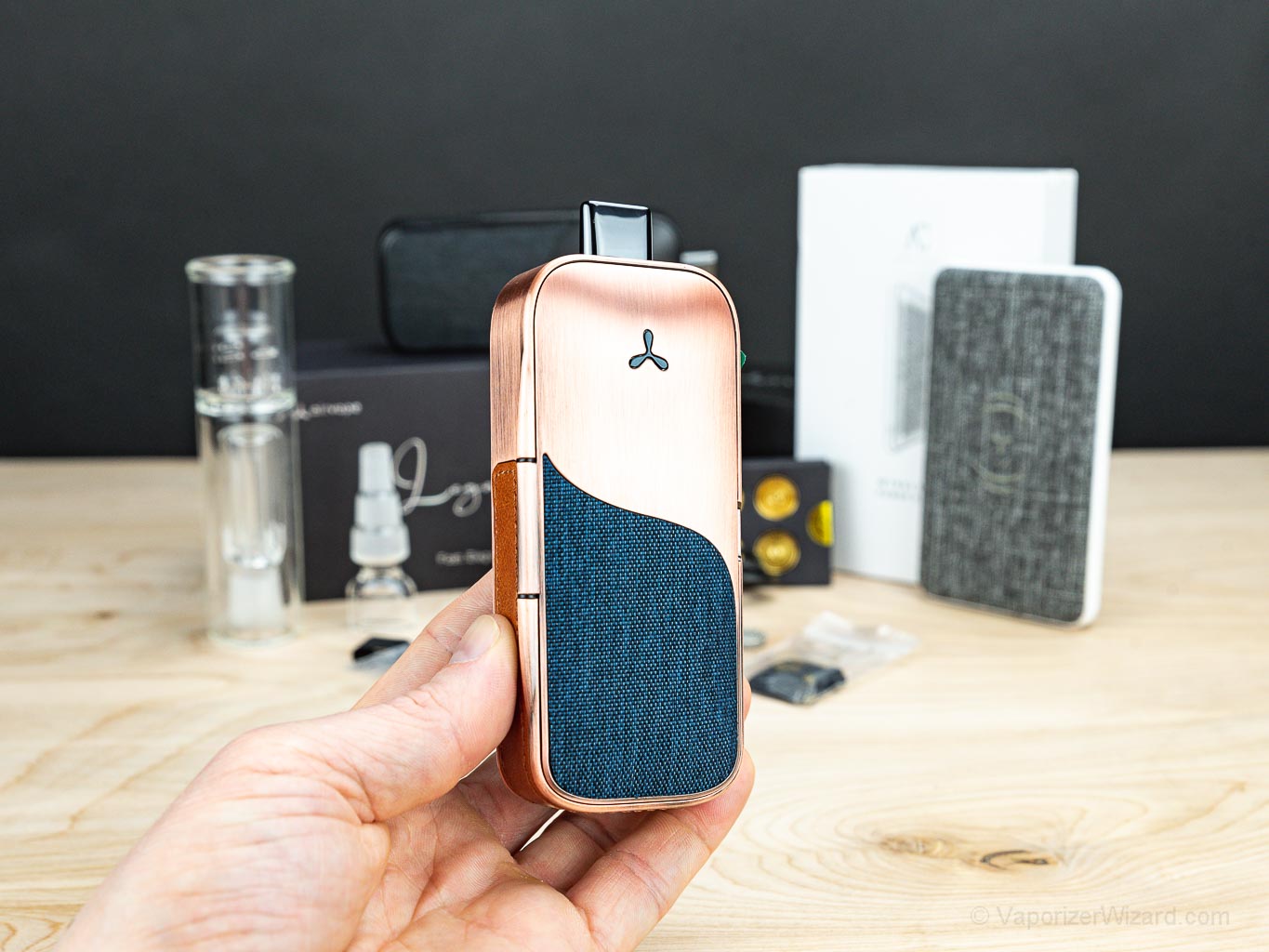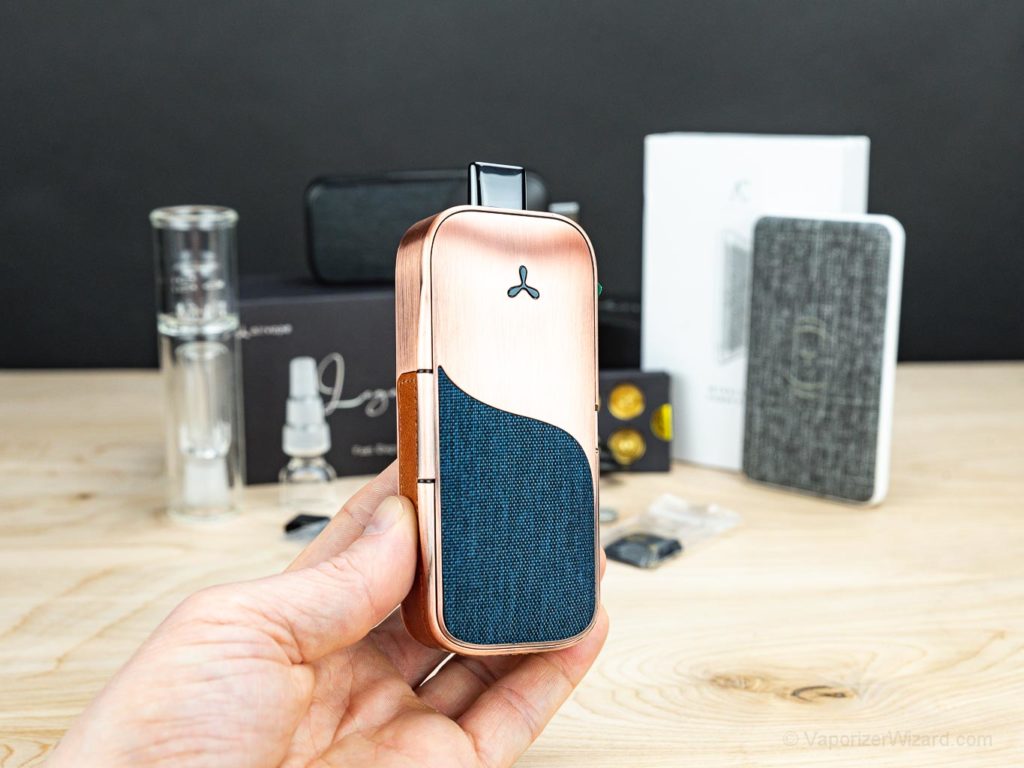 Some standout features of the Legacy Pro portable vaporizer include a replaceable 18650 3200mAh battery system, fast 15-second average heat-up times, a removable glass airpath, and excellent taste via the hybrid heating system. It also comes with a lifetime warranty and discounts on future variations or newer models.
The Airvape Legacy Pro vaporizer retails for $269, and you can click here to check out both the Legacy Pro and Legacy Pro SE directly from AirVape. Read on below for my full Legacy Pro Review, or you can check out my Airvape Legacy Pro QuickStart Guide for more specific use recommendations.
Legacy Pro Quick Synopsis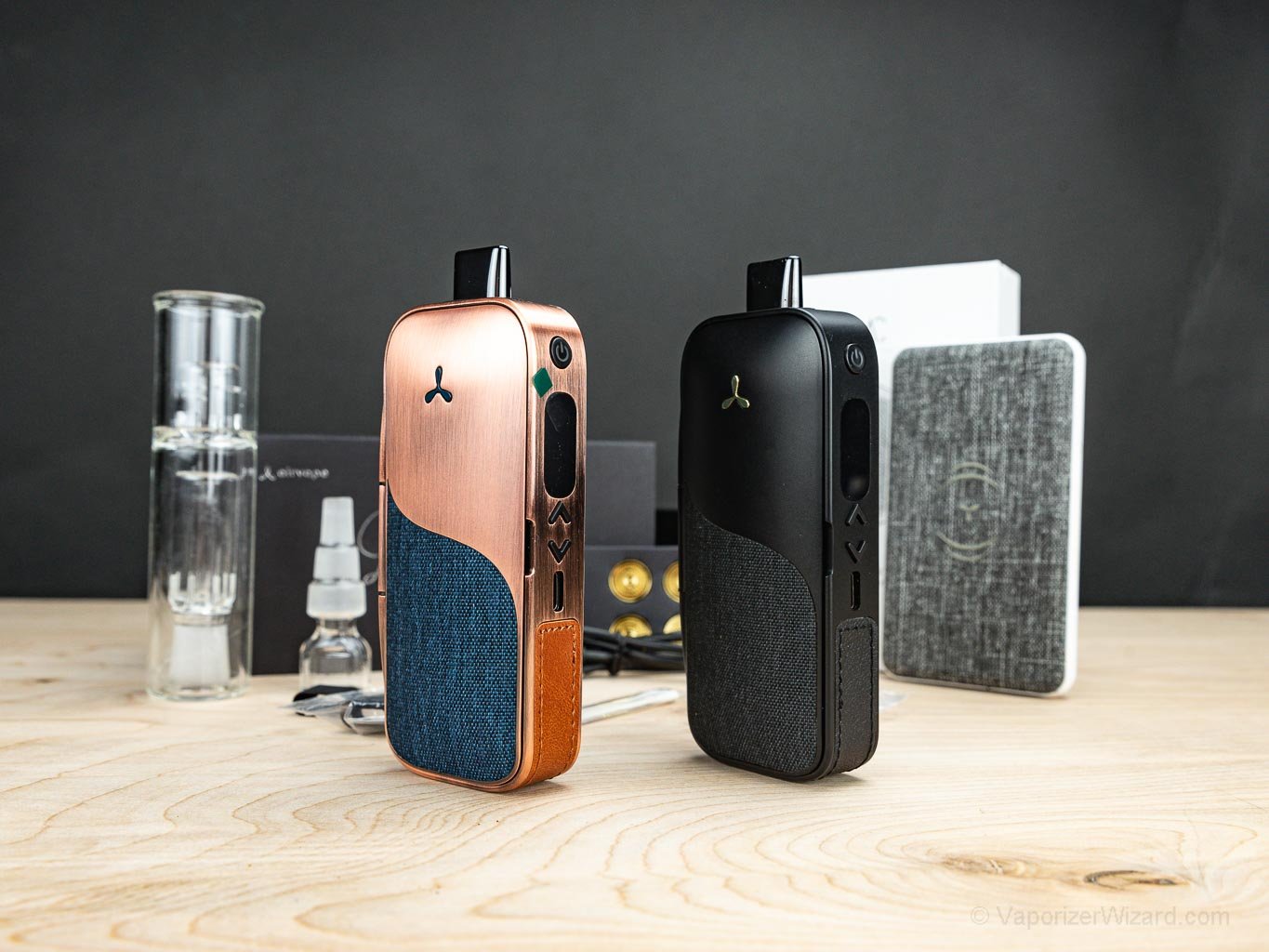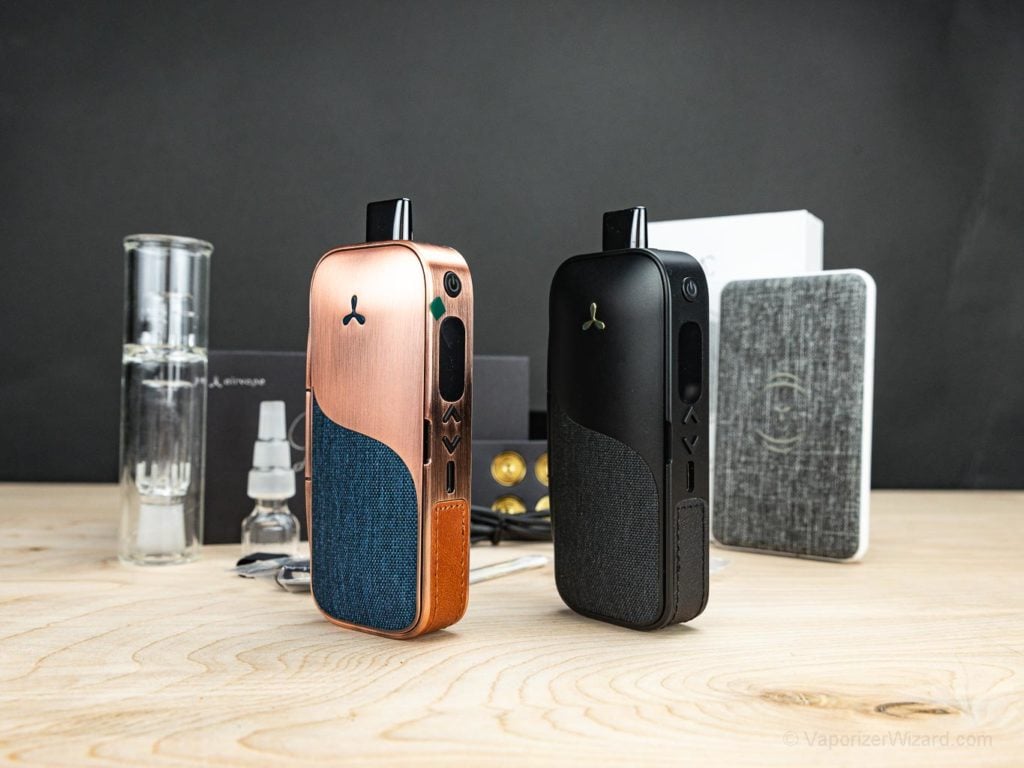 I've been using the Legacy Pro a lot out on the go but surprisingly a lot at home because of the quick heat-up times and the option to throw in some concentrates/wax.
The Legacy Pro also features impressive battery life and multiple charging options to keep sessions going. I'll get more into how to use the Legacy Pro with both dry herbs and wax later on in this Airvape Legacy Pro vaporizer review.
The biggest downsides I've found so far are the mouthpiece doesn't secure very well and tends to come out occasionally, it's not the easiest to load, and it's a bit on the heavy side for a portable vaporizer.
Overall the AirVape Legacy Pro is a powerhouse with above-average vapor quality, quick extraction, and great battery life but could use a diet to feel a bit comfier in the pockets out on the go.
Included in the box + Accessories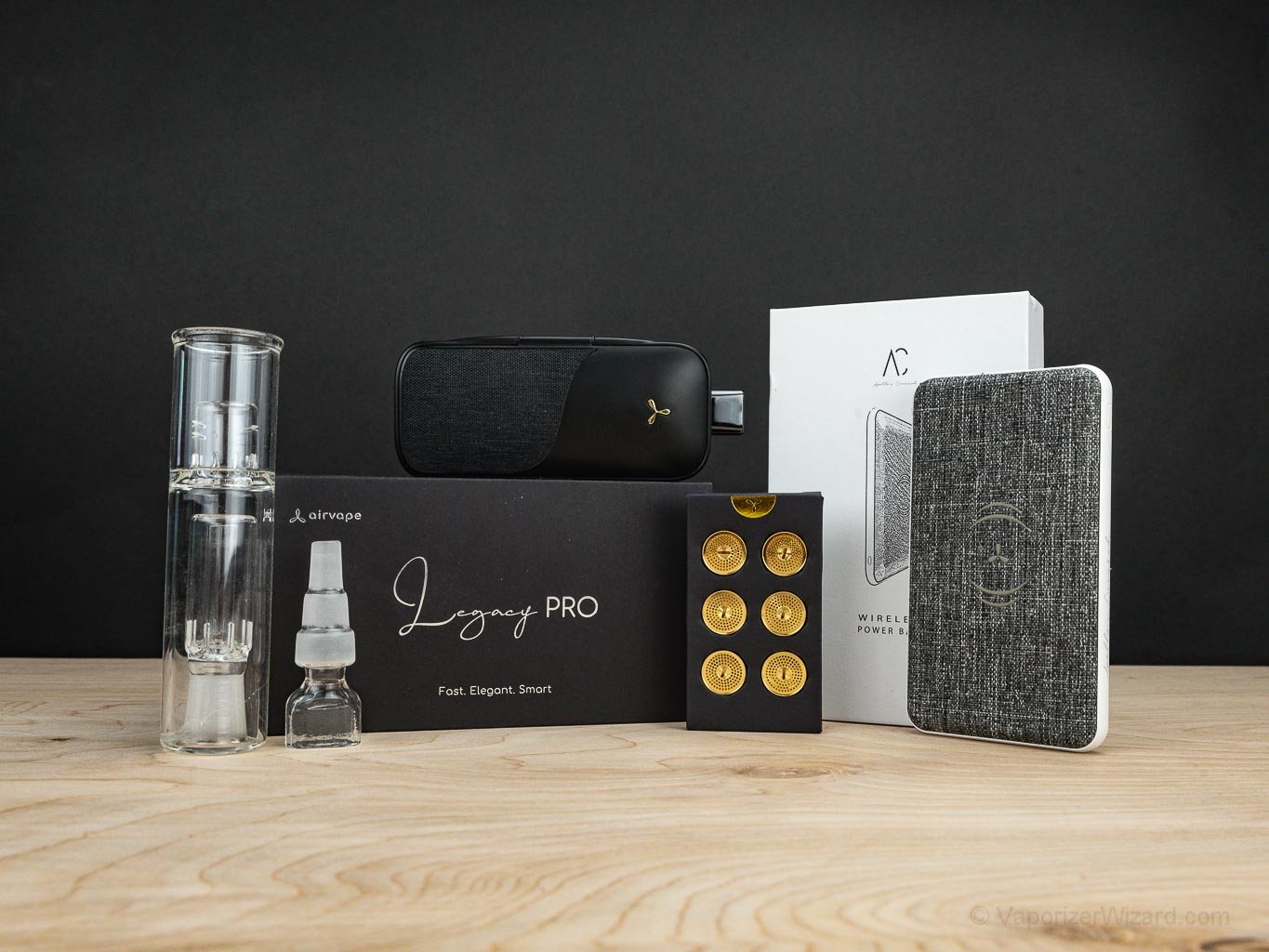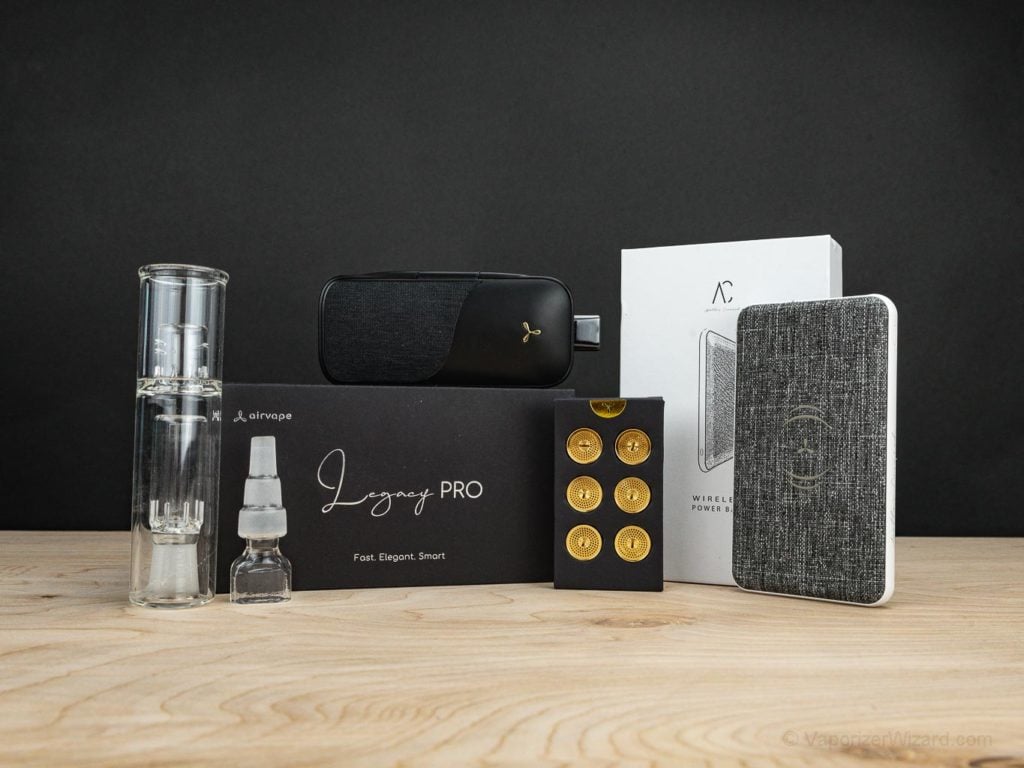 Included with AirVape Legacy Pro:
AirVape Legacy Pro Vaporizer
USB-C Charging Cable
Q-Tips
Alcohol Pads
Concentrate/Wax Pad
Extra Seals and Screens
Cleaning Brush
(1) 18650 3200mAh Battery
The Legacy Pro vaporizer comes with everything you need to vape both dry herbs and concentrates. There are a few accessories that I recommend picking up to complete the experience.
Herb Grinder – The first accessory I recommend, and I recommend it for all dry herb vaporizers, is a weed grinder. If you want the very best, I recommend the Brilliant Cut Grinder. It's my top choice in my best weed grinder 2023 article, and you can read more about it in my full brilliant cut grinder review. Otherwise, any grinder will get the job done.
Water Pipe Adapter – The next accessory I recommend with the AirVape Legacy Pro is the "water bong adapter" they have listed on their site. It's a water pipe adapter that allows you to connect the Legacy Pro to the current water pieces you might already have at home.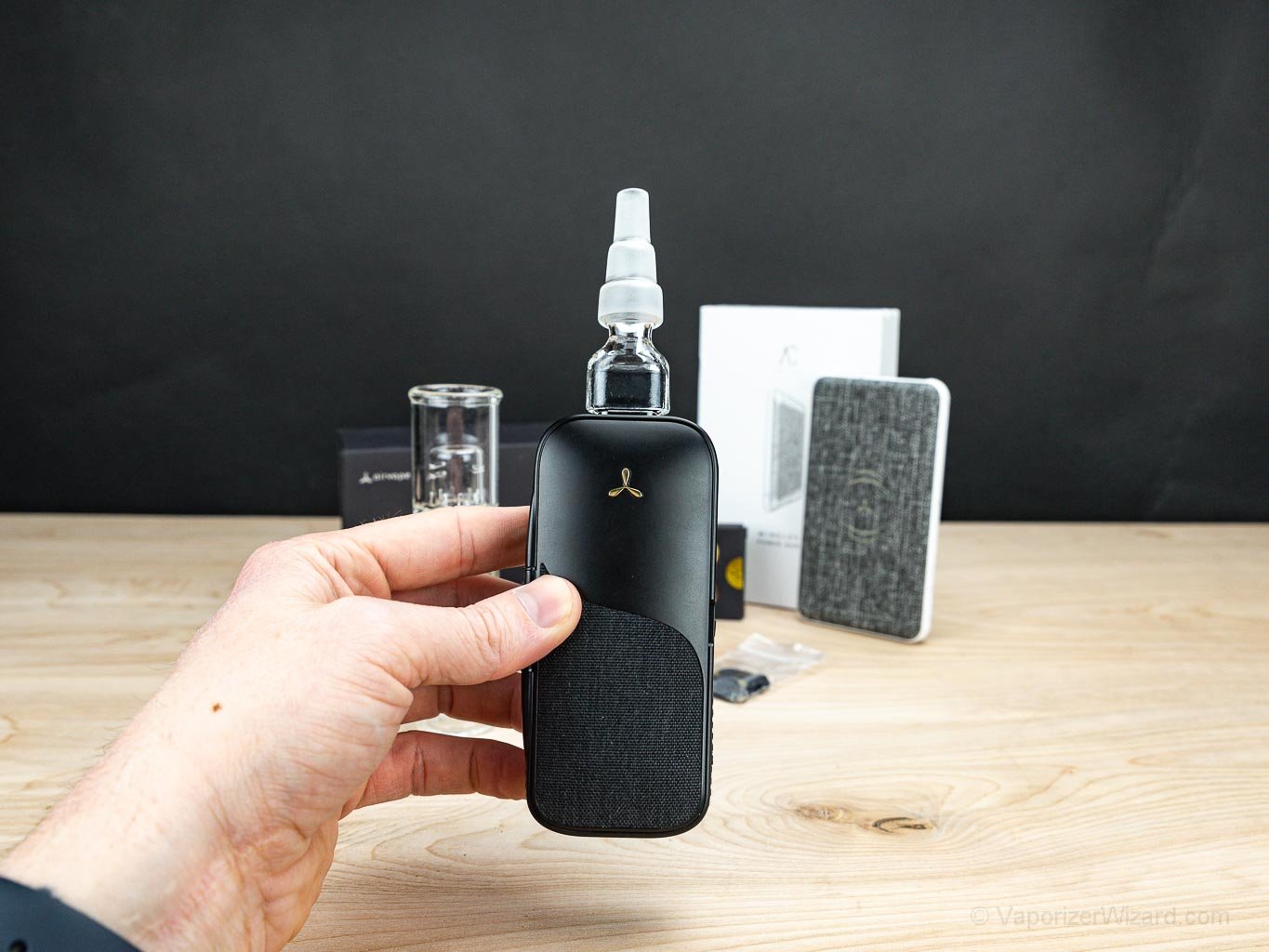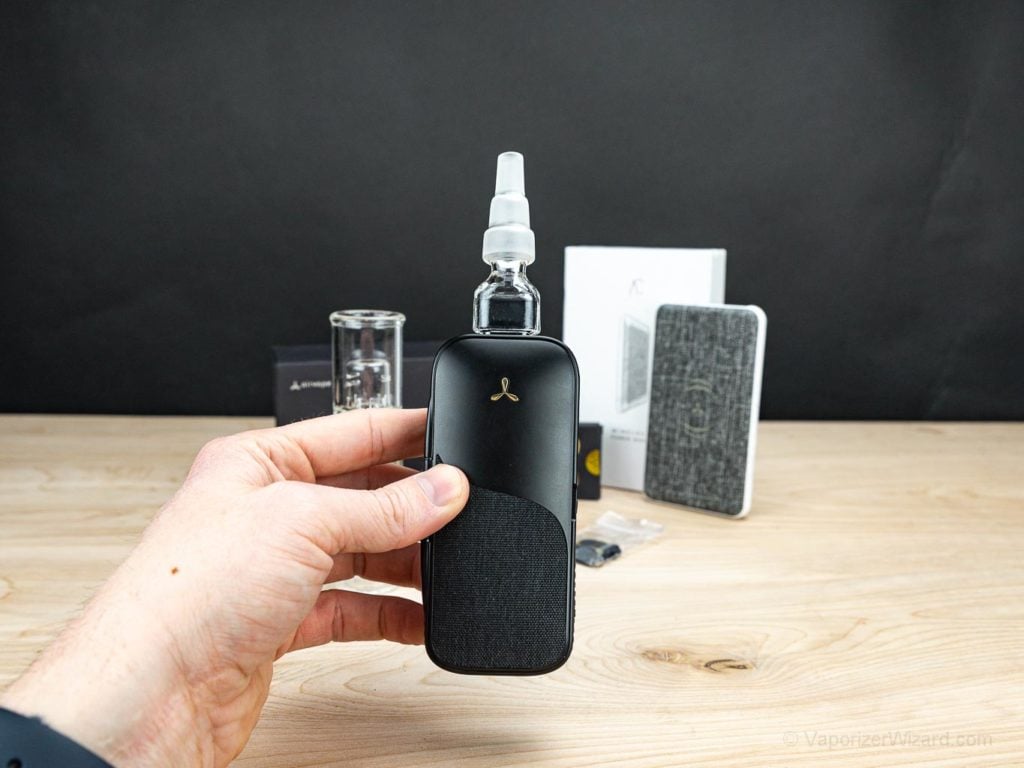 Bubbler – If you don't have any pieces at home, then I recommend grabbing the "water bong" for $39.99. It comes with a water piece and the WPA to connect directly to the vaporizer.
One issue with dry herb vaporizers is the vapor can be hot and dry, especially in portable vaporizers with short vapor paths. Water filtration can not only cool the vapor but add moisture as well.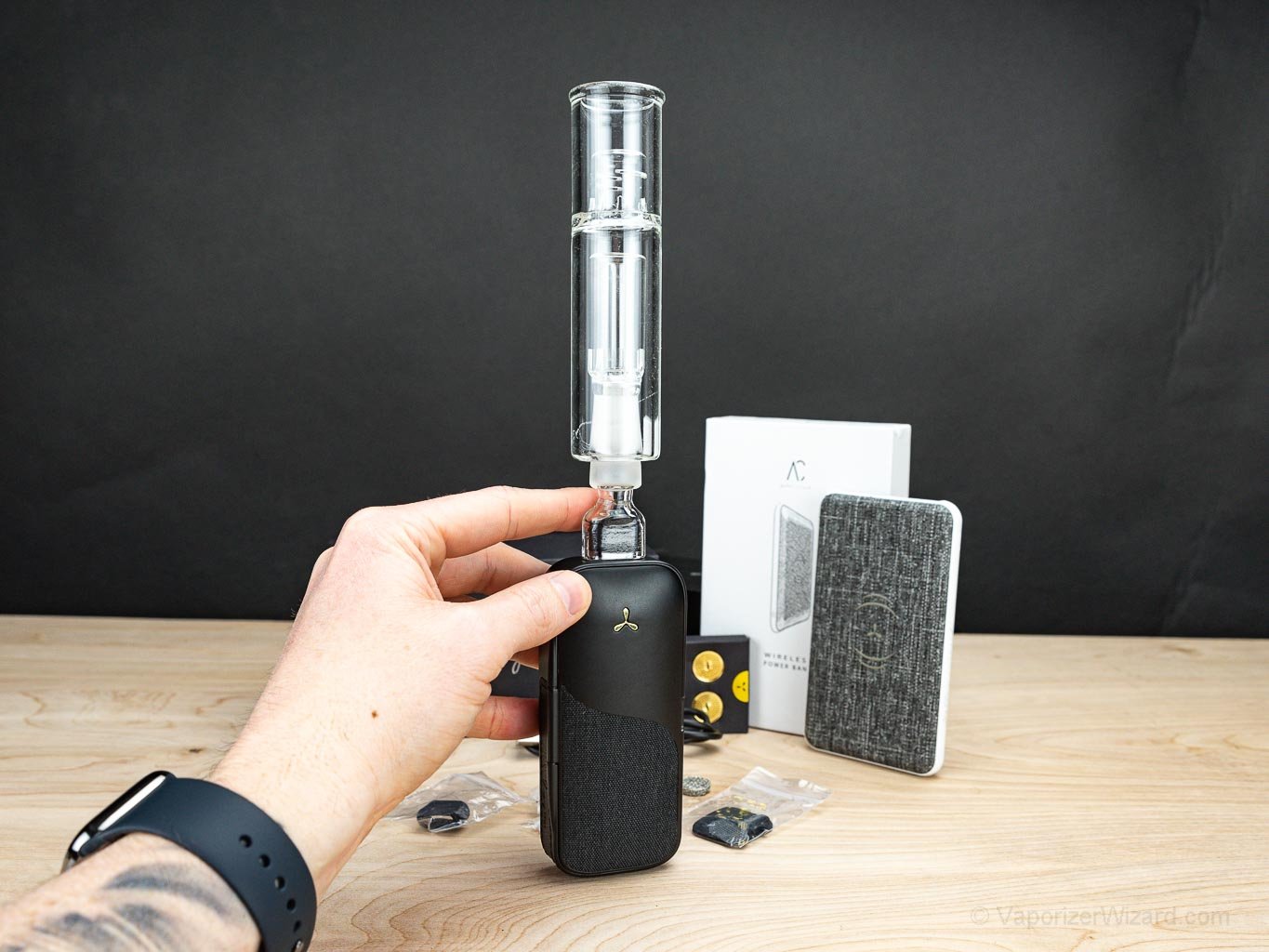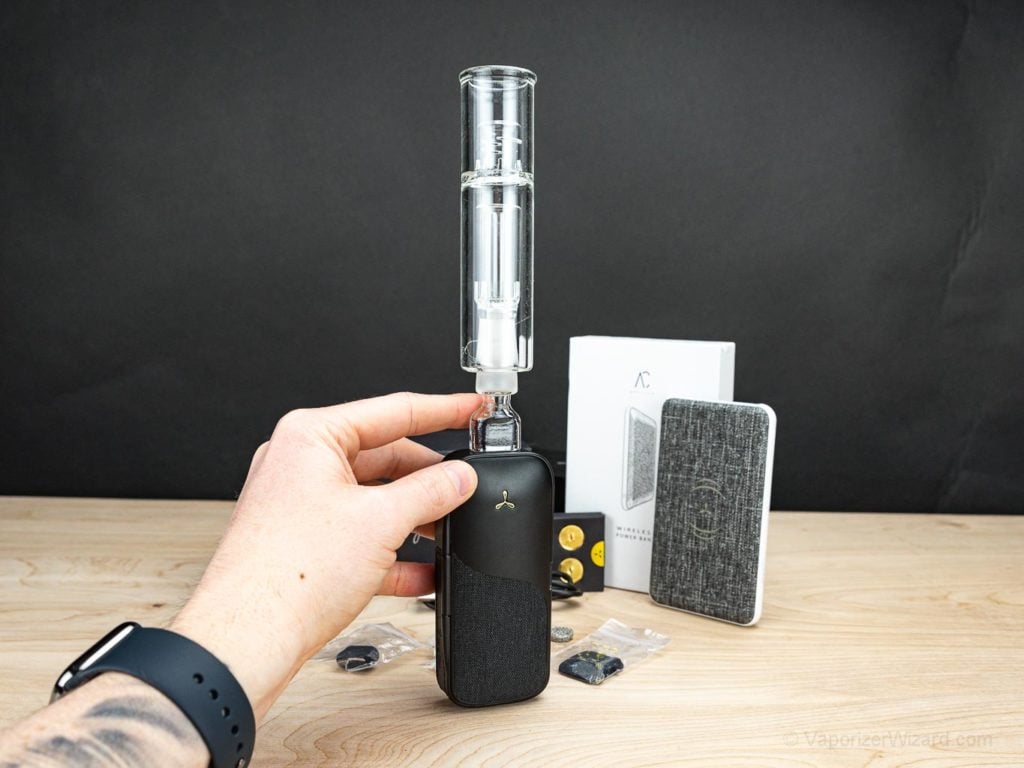 I use water pipes daily with my vapes, but they do add some complication and make it a bit more cumbersome.
Dosing Capsules – Vaporizer dosing capsules have become pretty popular over recent years, and AirVape just released the Air-Bubble dosing capsule system for the Legacy Pro. They are 24k Gold plated stainless steel, and you get six for $29.99. Check them out directly from AirVape here.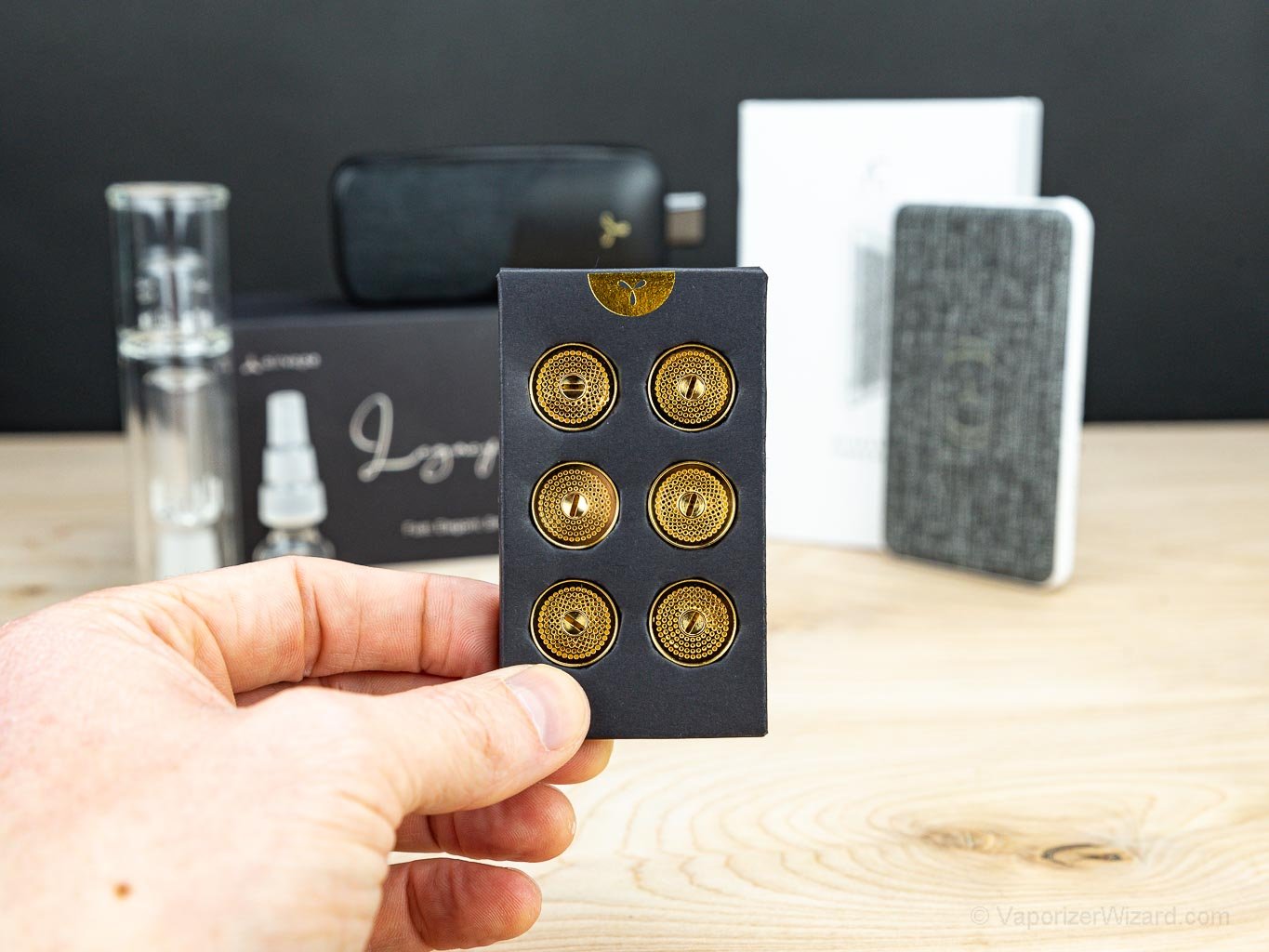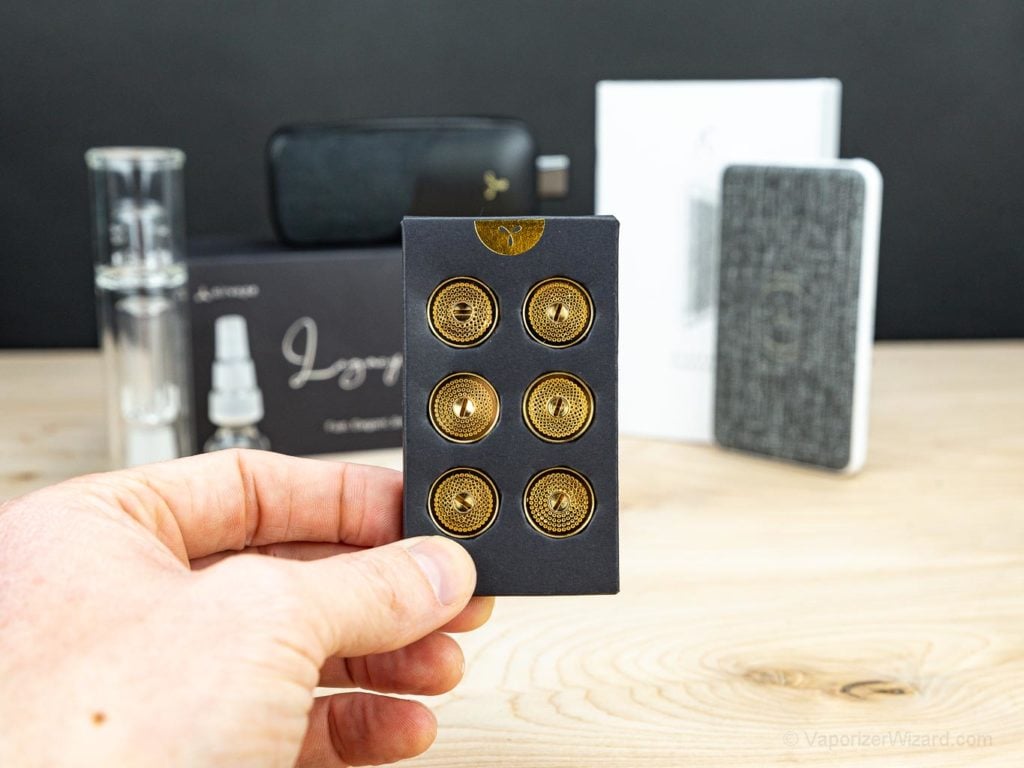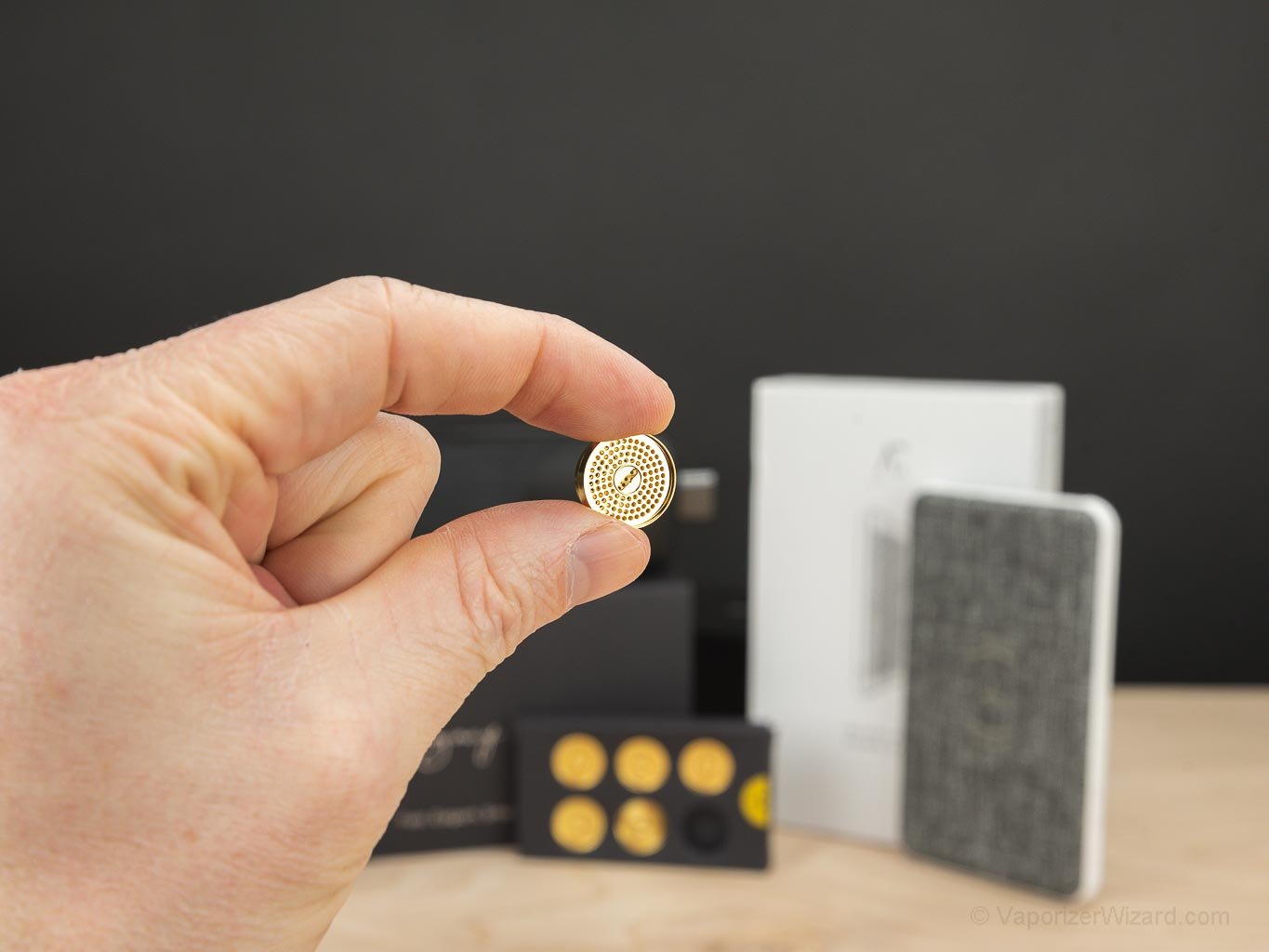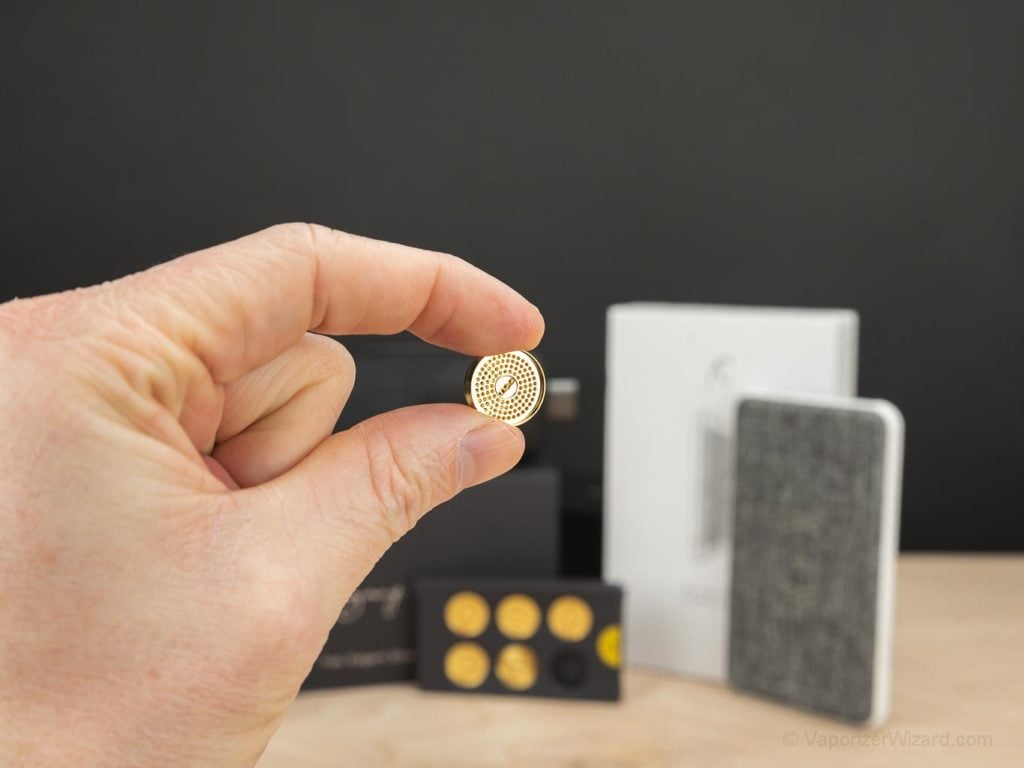 Dosing Capsules are great for micro-dosing, keeping the chamber, air path, and screens cleaner for longer, and can help you be more efficient with your dry herbs.
SteamPunk Edition
AirVape also released the Legacy Pro SteamPunk edition featuring a worn brass finish, "Aegean Blue" textile, and brown leather exterior. Check out the Legacy Pro SteamPunk Edition here.
I'll be doing a separate blog post on the new SteamPunk Edition with more photos, but I'll post a couple below.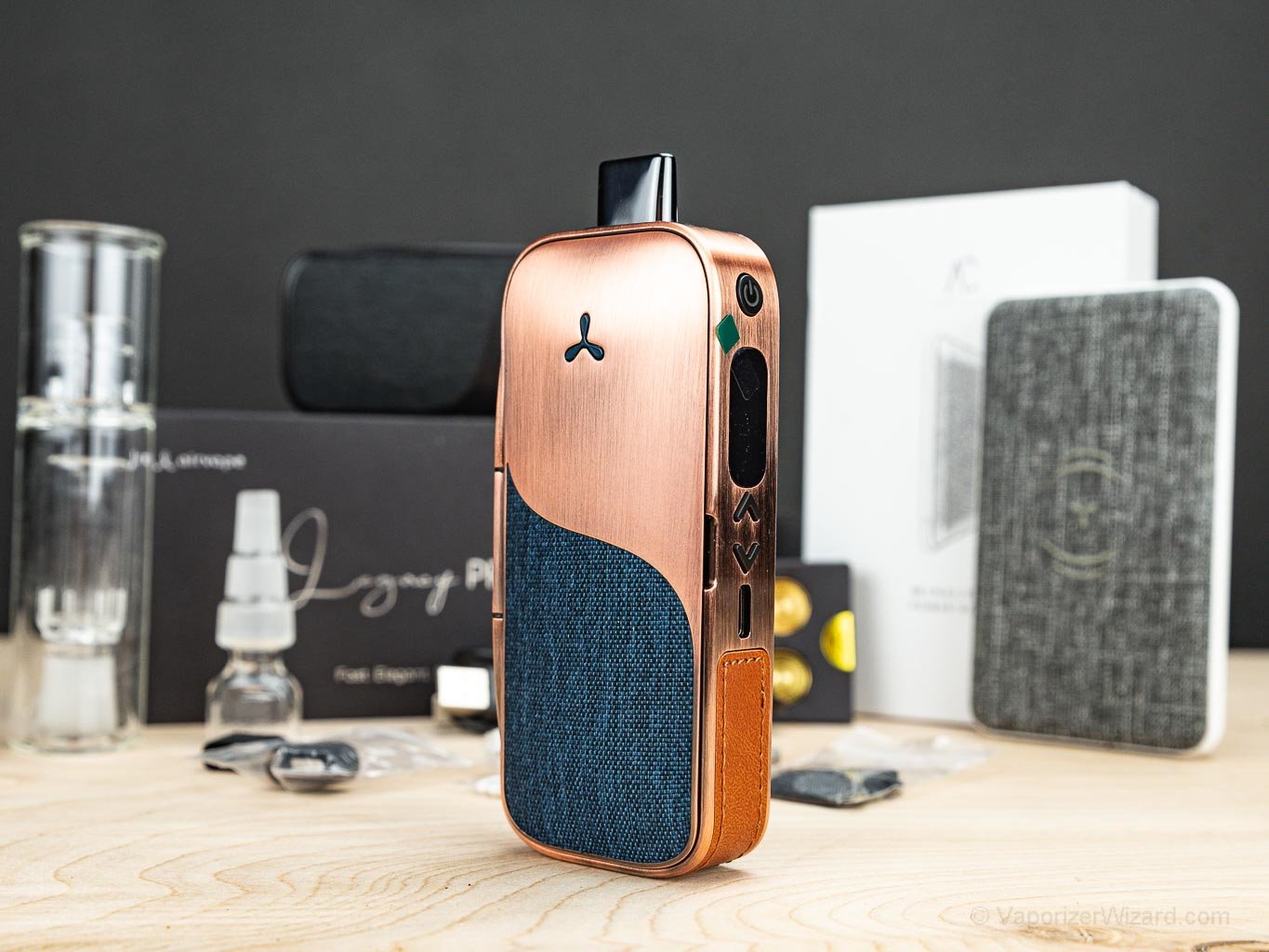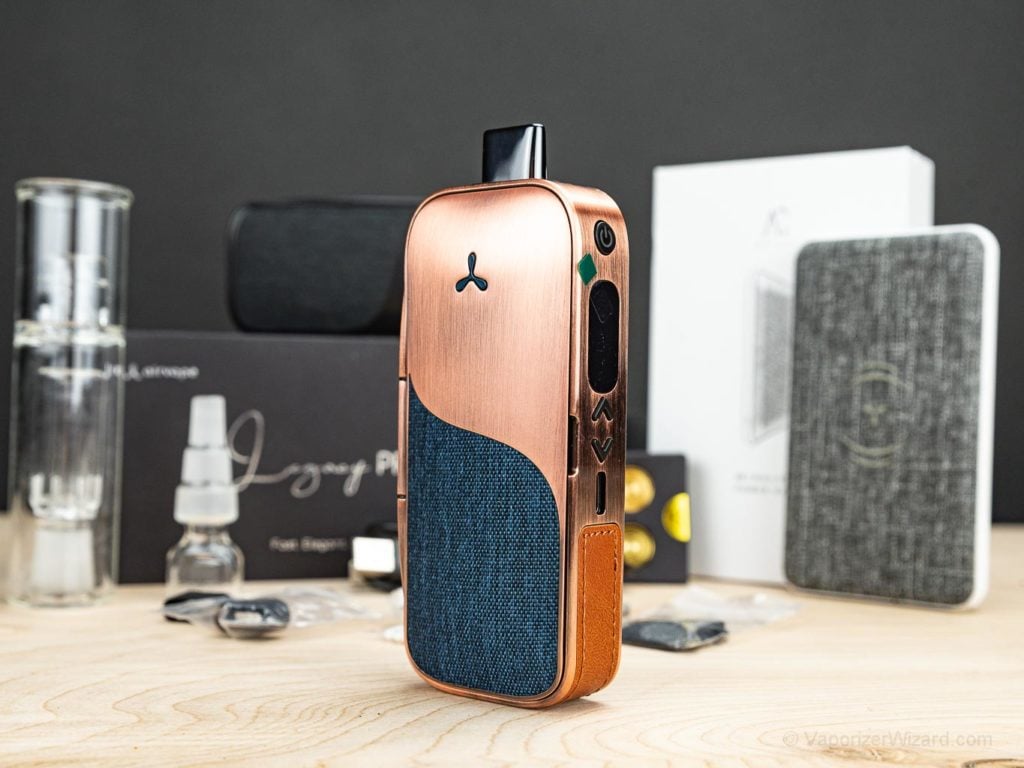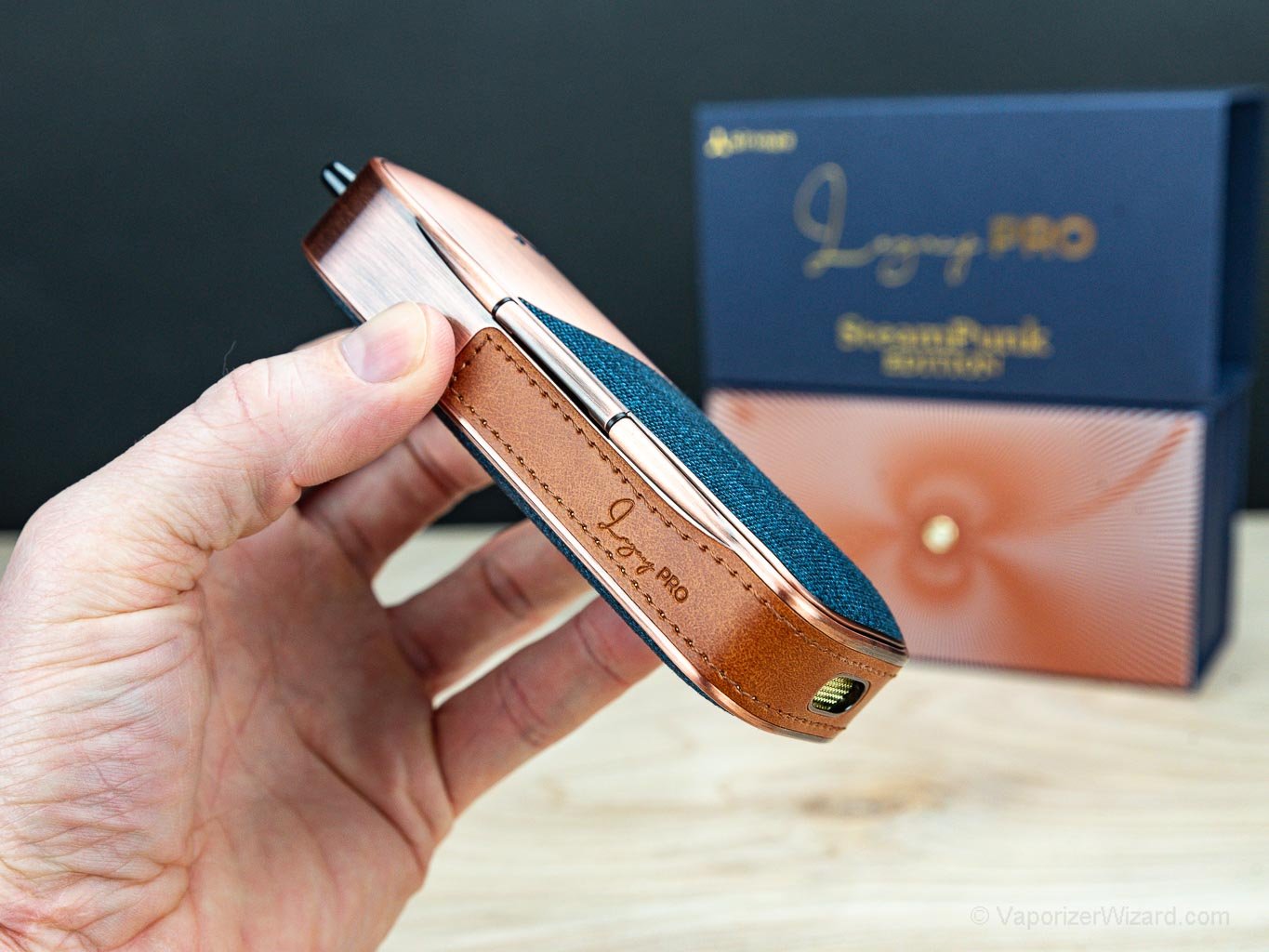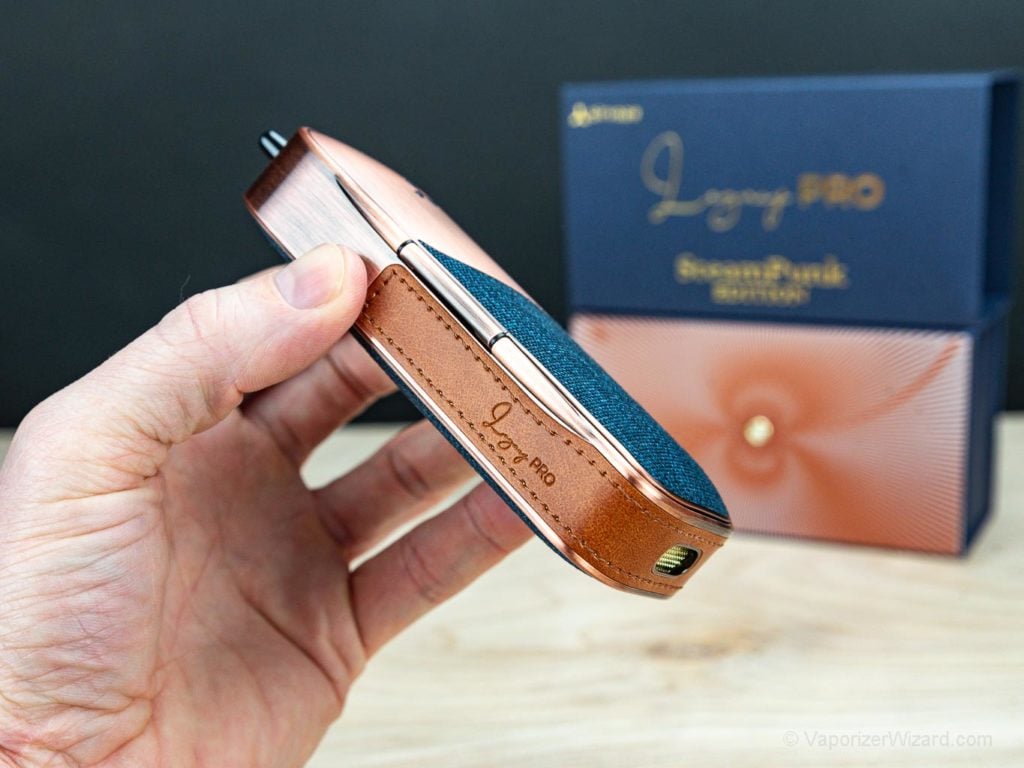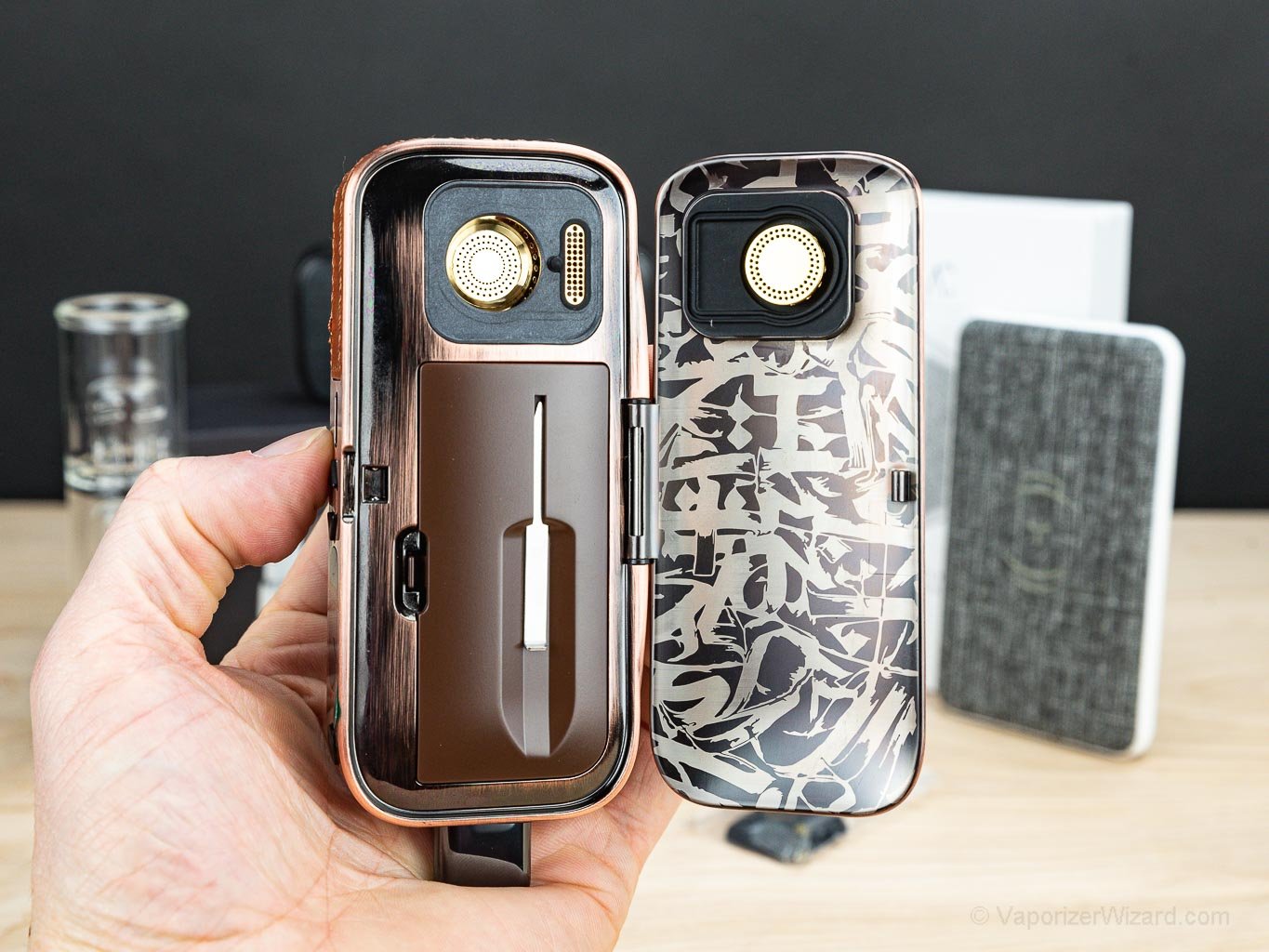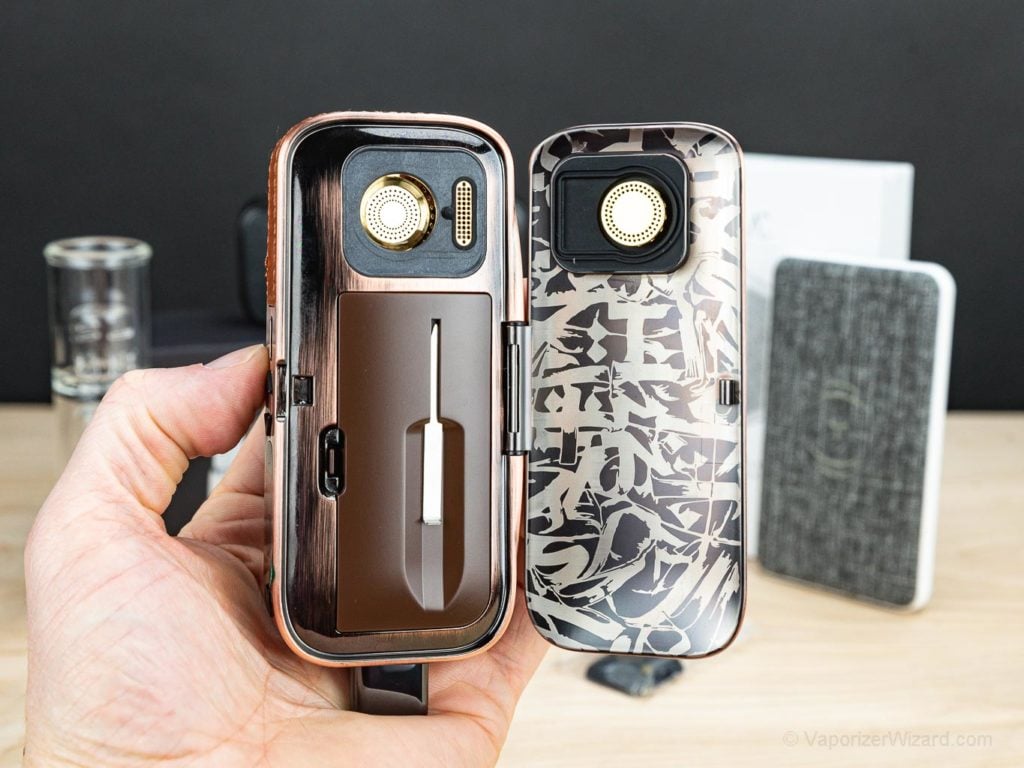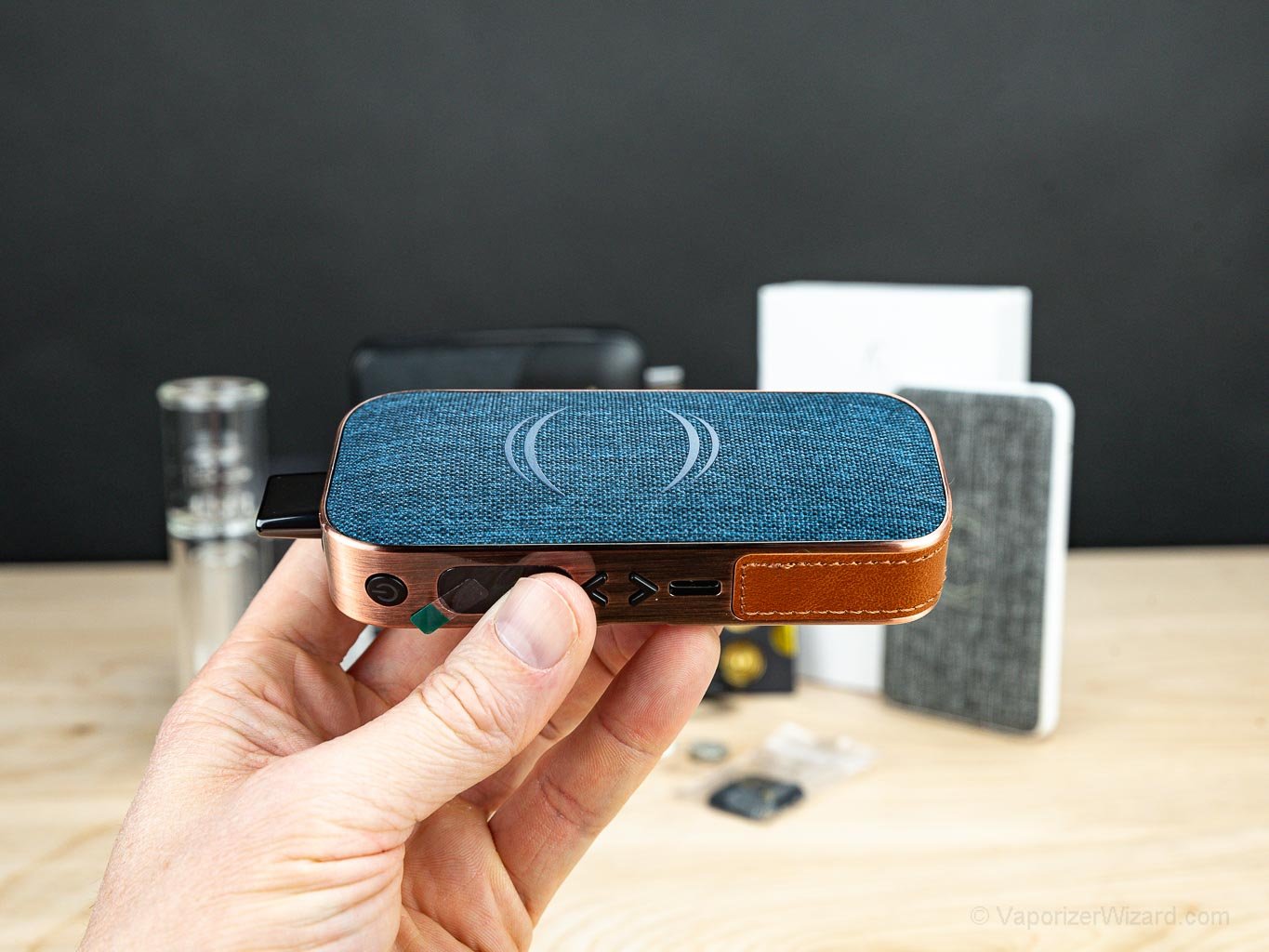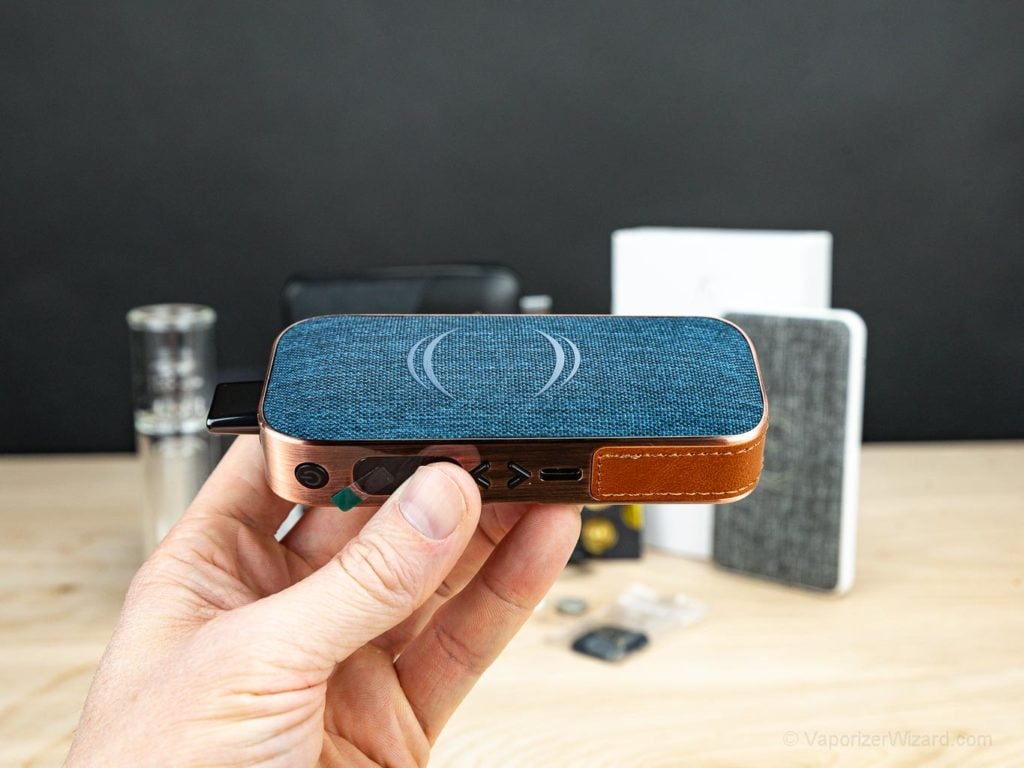 Size and Portability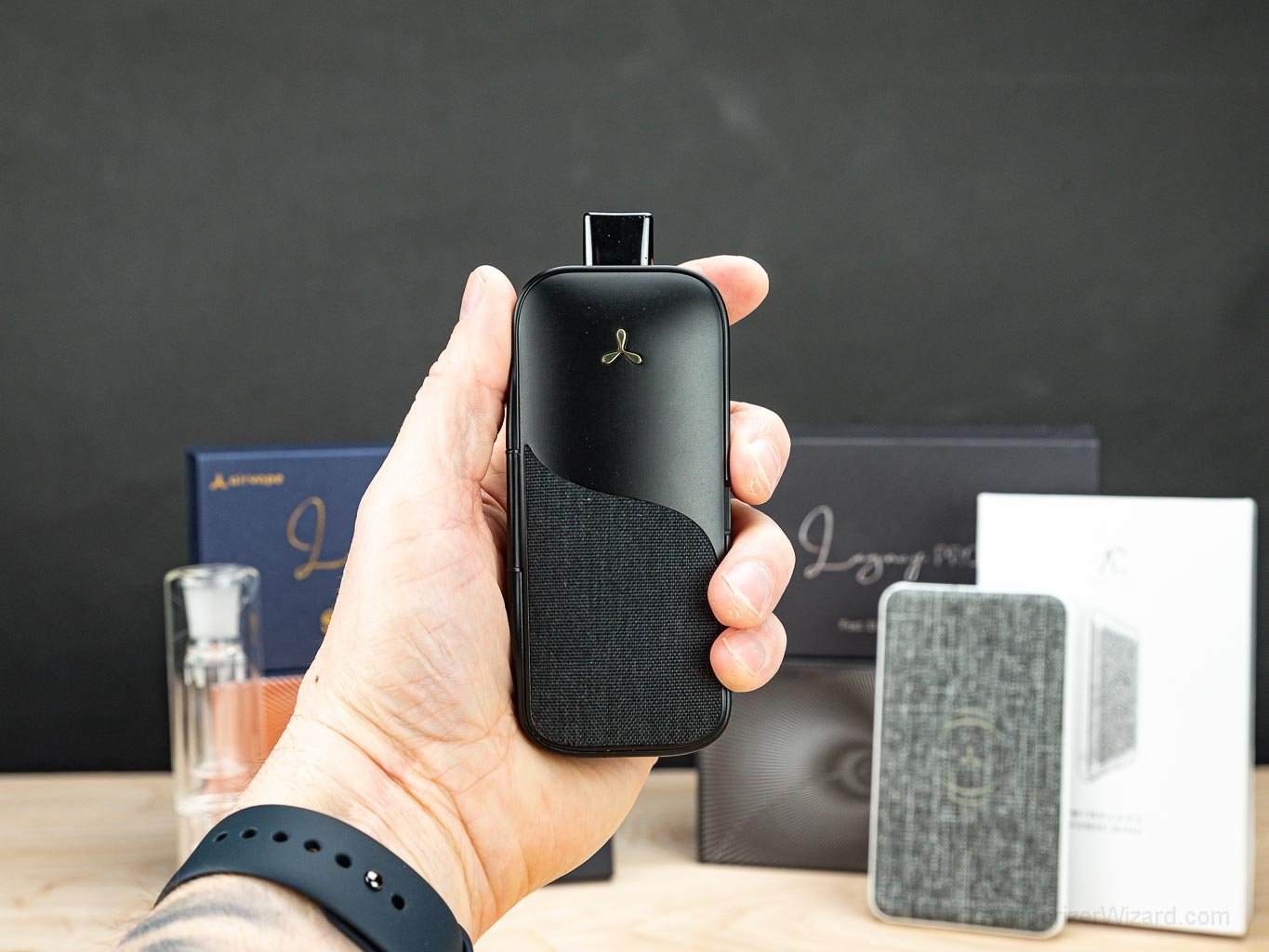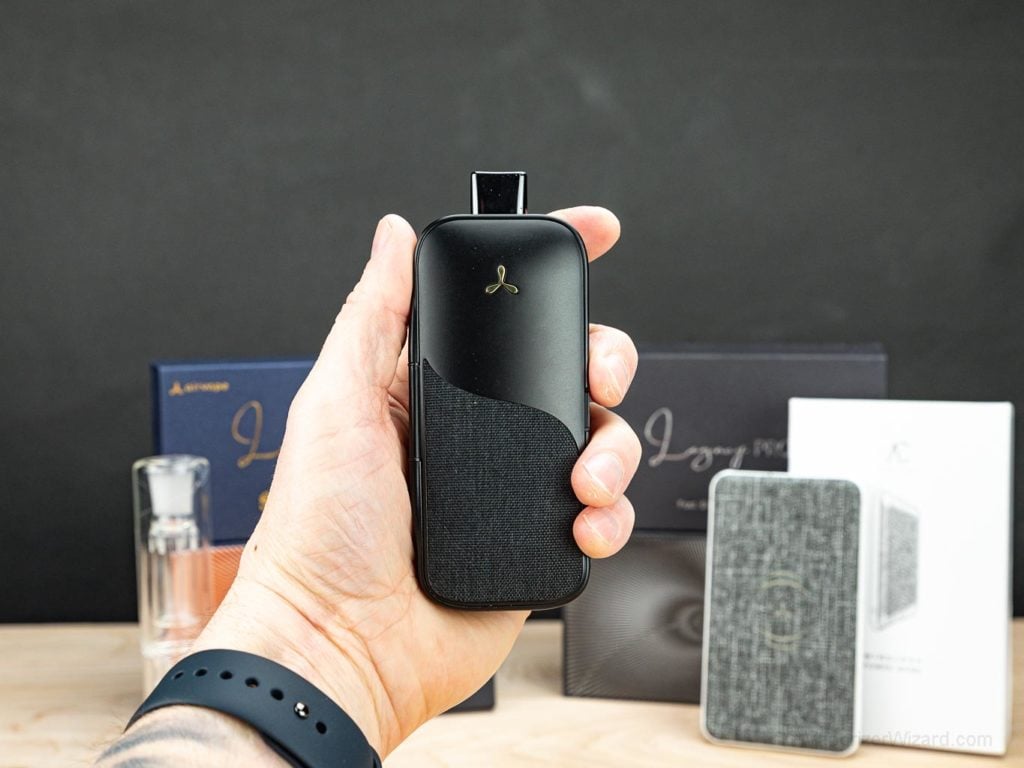 Size – The Airvape Legacy Pro has quite a few industry-leading features, but the overall size and portability aspect of the Legacy Pro are two of the features I'm not particularly fond of. The Airvape Legacy Pro's exact dimensions are 4.6 in height, 2 inches wide, and less than one inch thick, and weighs roughly 232 grams or 8.2 ounces.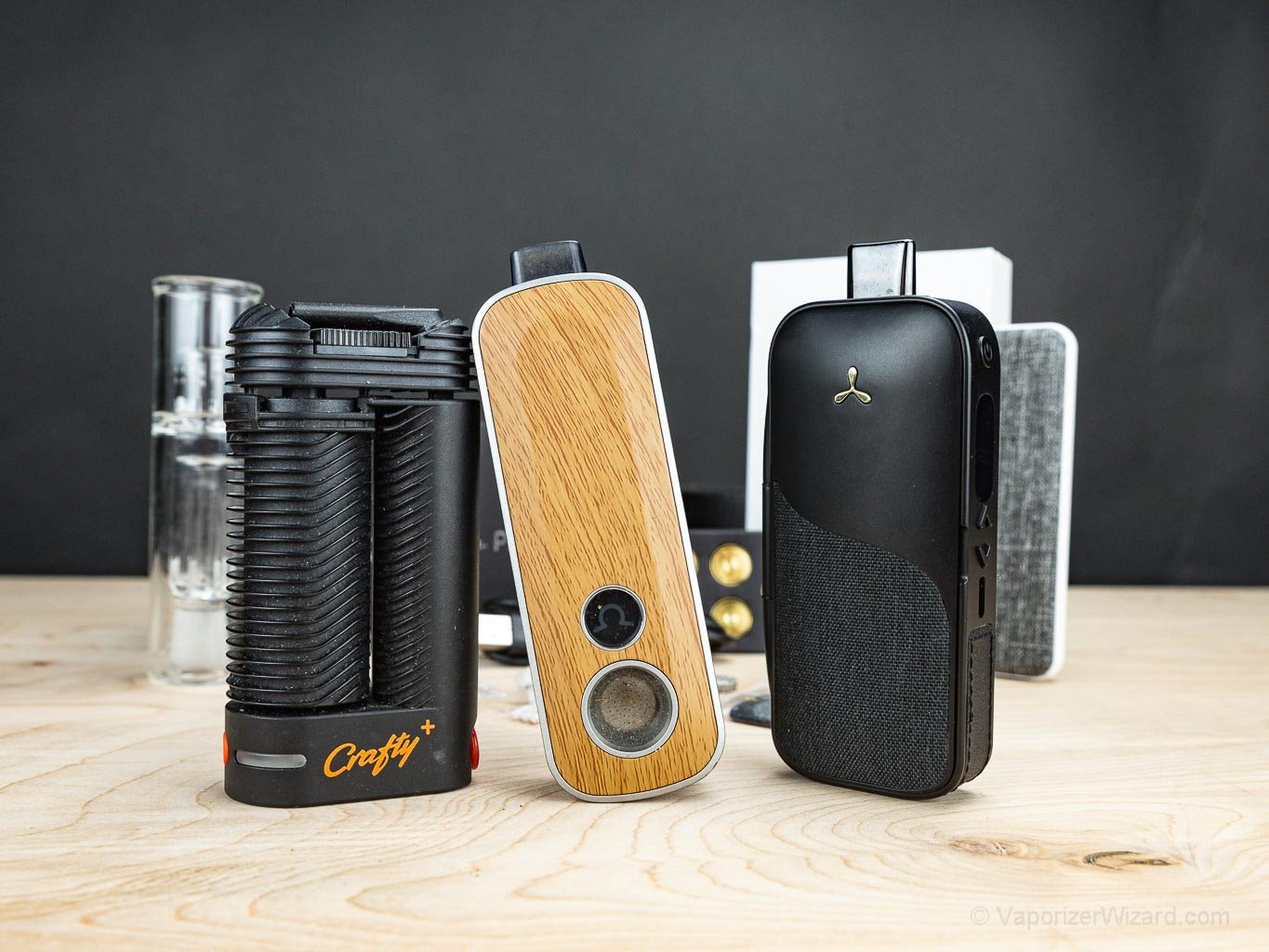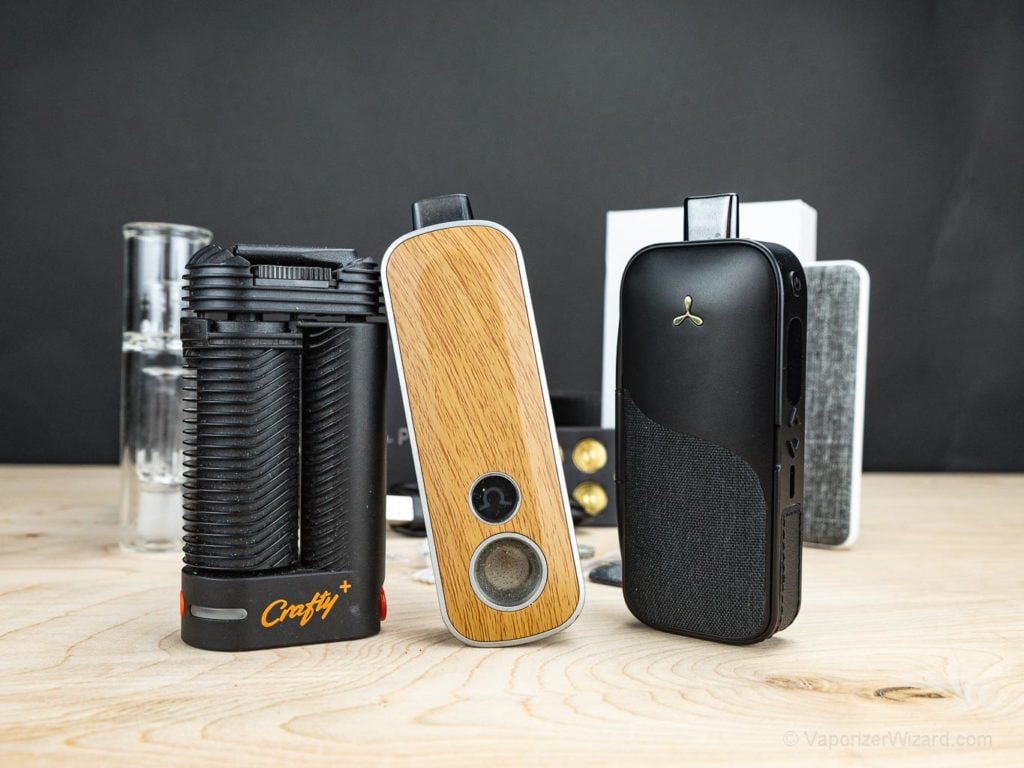 By comparison, the Crafty+ is 135g, the Mighty+ is 230g, the Firefly 2+ 141g, and the Davinci IQC is 160g.
While the Legacy Pro vaporizer is not necessarily the smallest, most discreet portable vaporizer, its slim form makes it easy to hide away in your jean pockets, hoodie, or purse and convenient to use out on the go.
Fanny Pack – Airvape also offers a smell-proof "bum" bag, aka "fanny pack," to keep the device safe and cut down on the smell. Plus it just fits bitter in a fanny pack anyways. And they're cool.
Design and Build Quality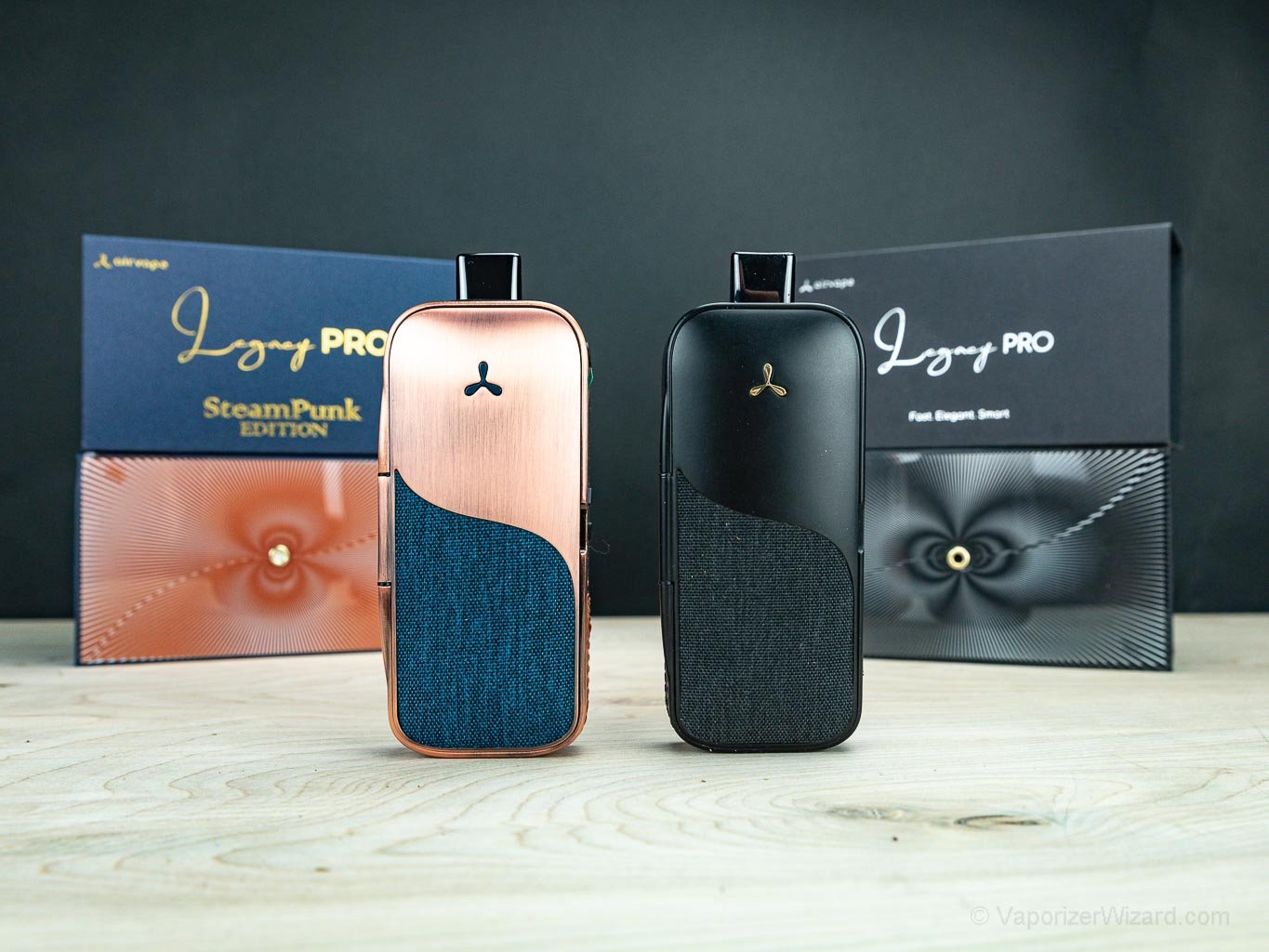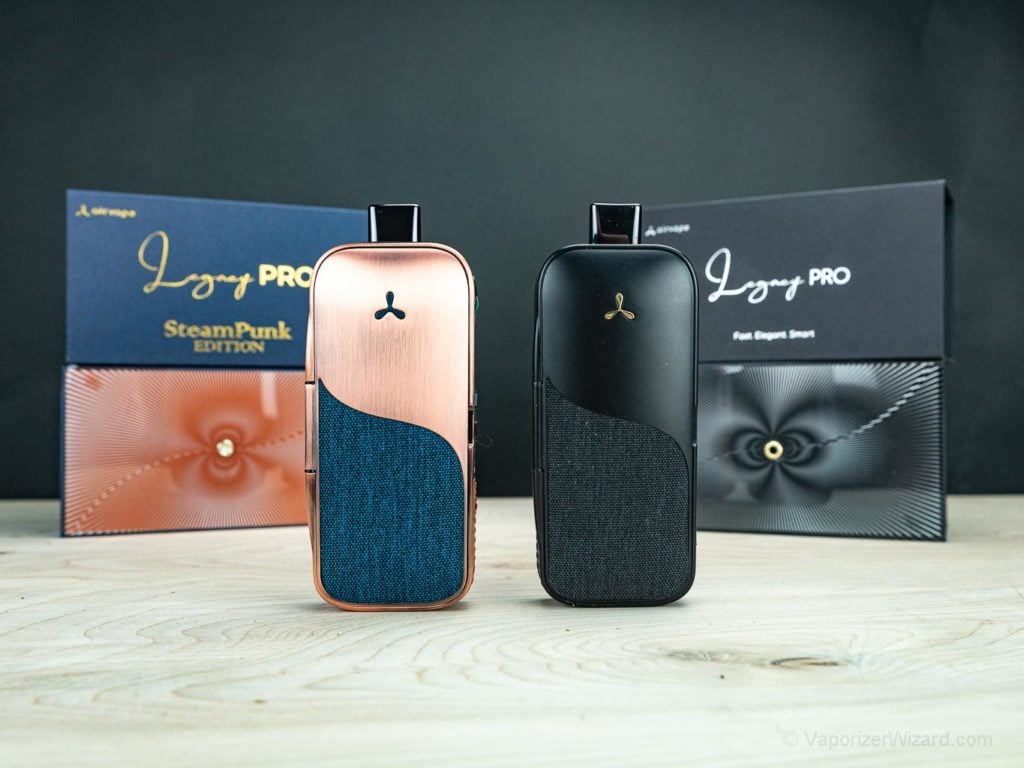 Exterior – The Airvape Legacy Pro outer shell is a mix of hemp-based textile, vegan leather, and black ceramic.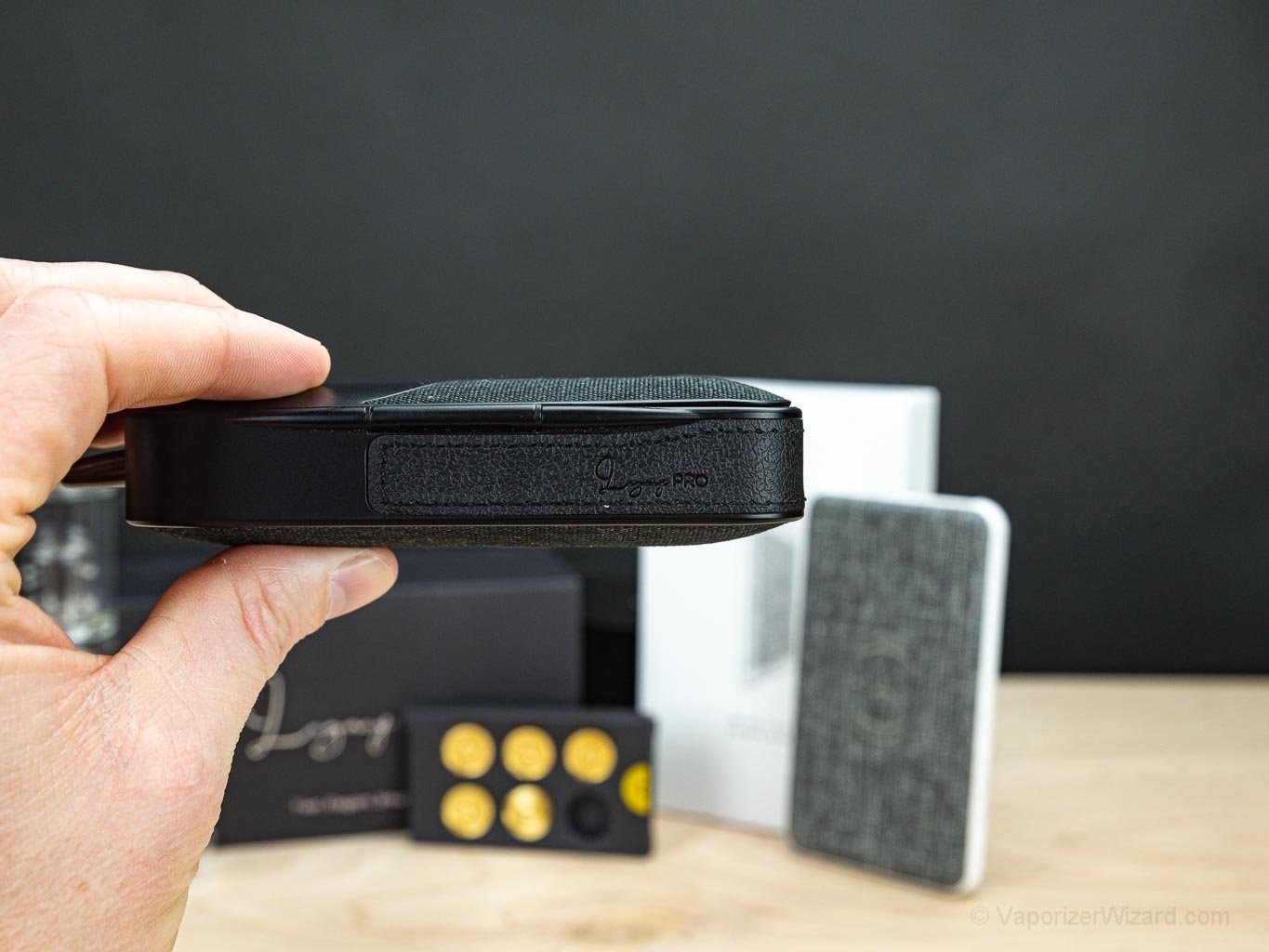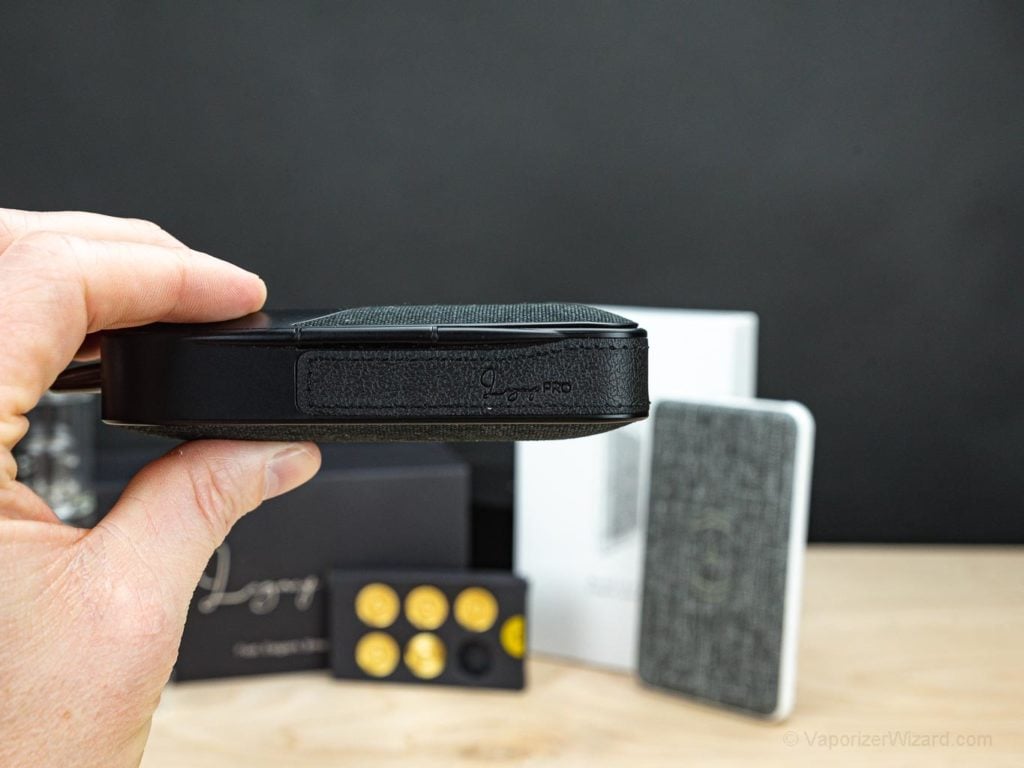 The hemp-based textile adds some much-needed grip to the Legacy Pro because the black outer shell is pretty slick. The leather is a nice touch and, again, adds grip around the edges of the unit, specifically while you're holding it for use.
Buttons / Lid – The buttons are well-placed, have a solid response when pressed, and are easy to navigate without having to look at what you're pressing. You can physically feel the difference between the power button, temp up, and temp down.
I don't know how the hinges will perform long term (top lid, and battery lid) because I haven't been using them for all that long, but for now, they pop open and close nice and tight.
Components – The Legacy Pro uses a 24k Gold herb chamber, ceramic mouthpiece (silicone gasket), and a removable glass airpath. It also features a built-in "micro-dosing" disk which acts similarly to the pearl on the Davinci IQ2. It's meant to shrink the chamber for a smaller session and while it does shrink it a bit, it's definitely not micro-dosing level.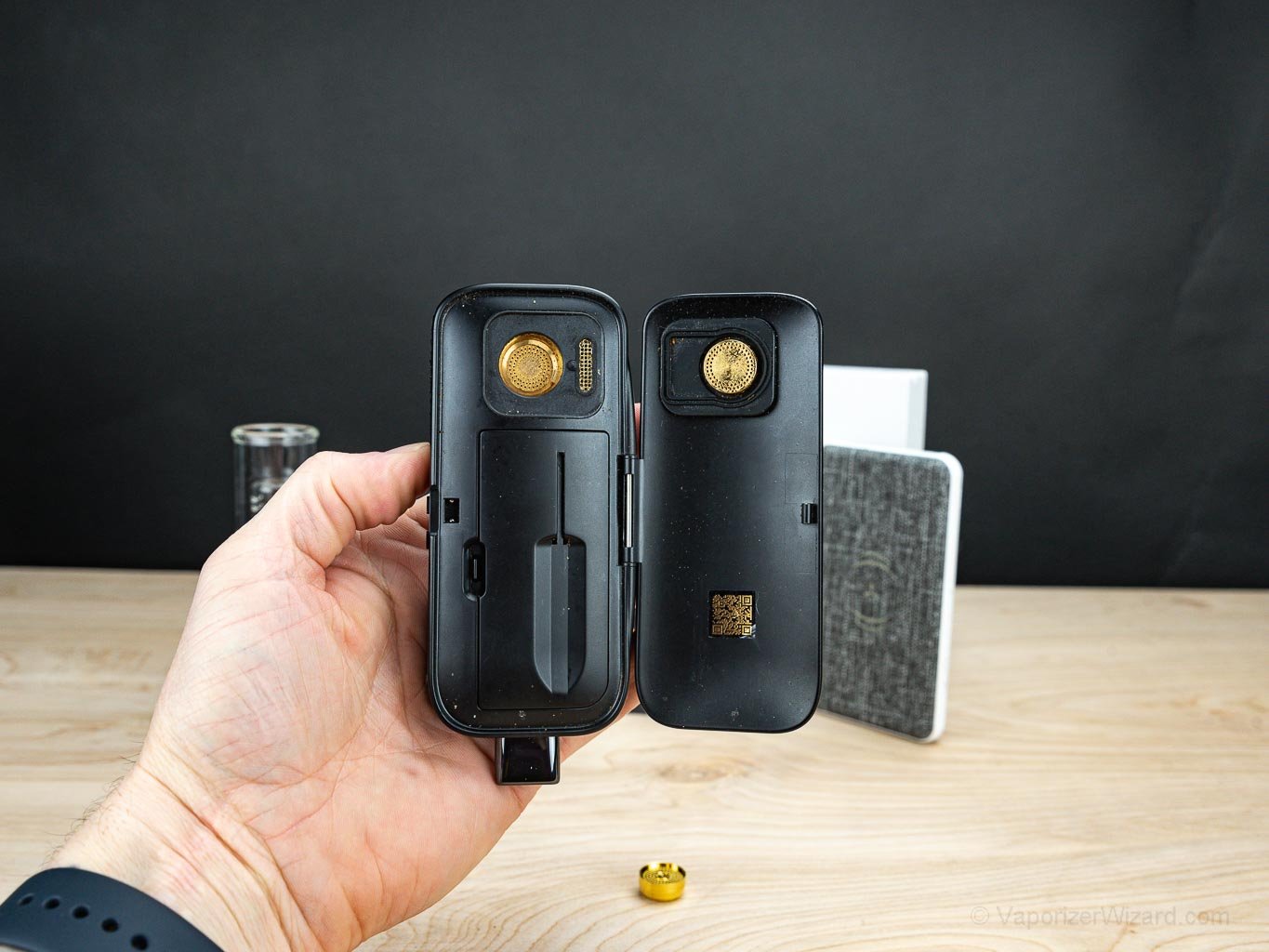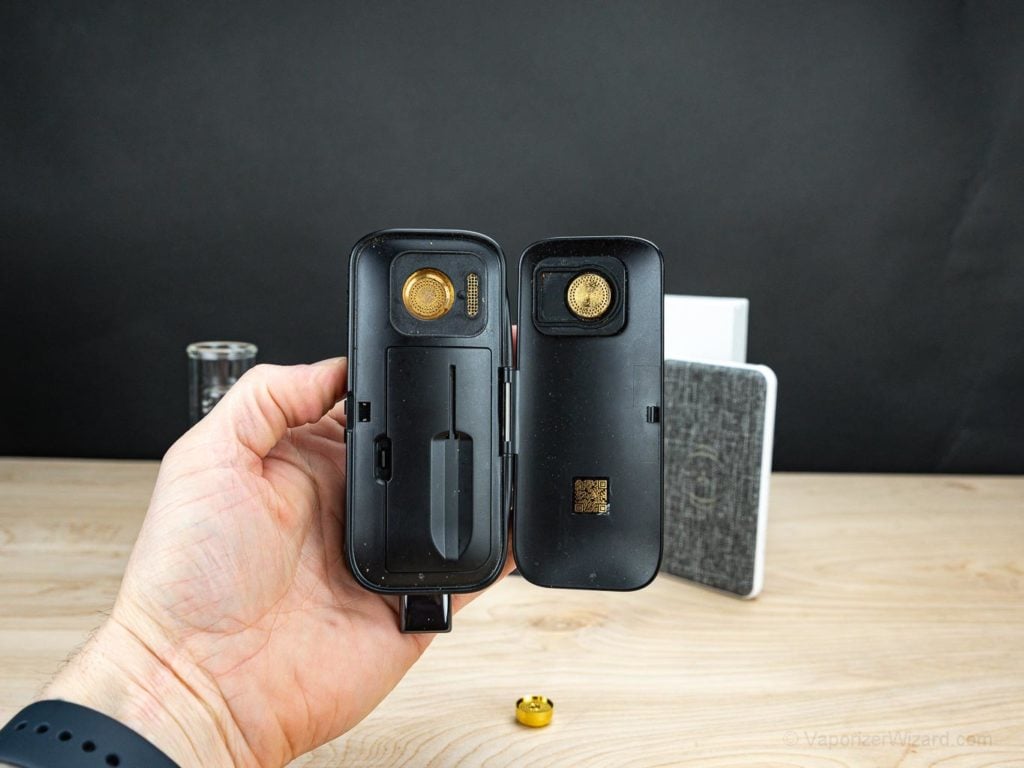 I recommend picking up the Air-Bubbler dosing capsule system if you want to shrink the chamber size for single-person sessions. They also help keep the vaporizer cleaner for longer.
Software – The Airvape Legacy Pro also comes with haptic feedback (vibration notifications), which will notify you when your session is ready to begin, when it's ending, low battery life, etc.
Complaints – The only real issue I had as far as build quality goes is the latch needs to be easier to open with gloves (I love to vape while skiing!) or with people with dexterity issues. It's a small groove and does take a little bit to lift.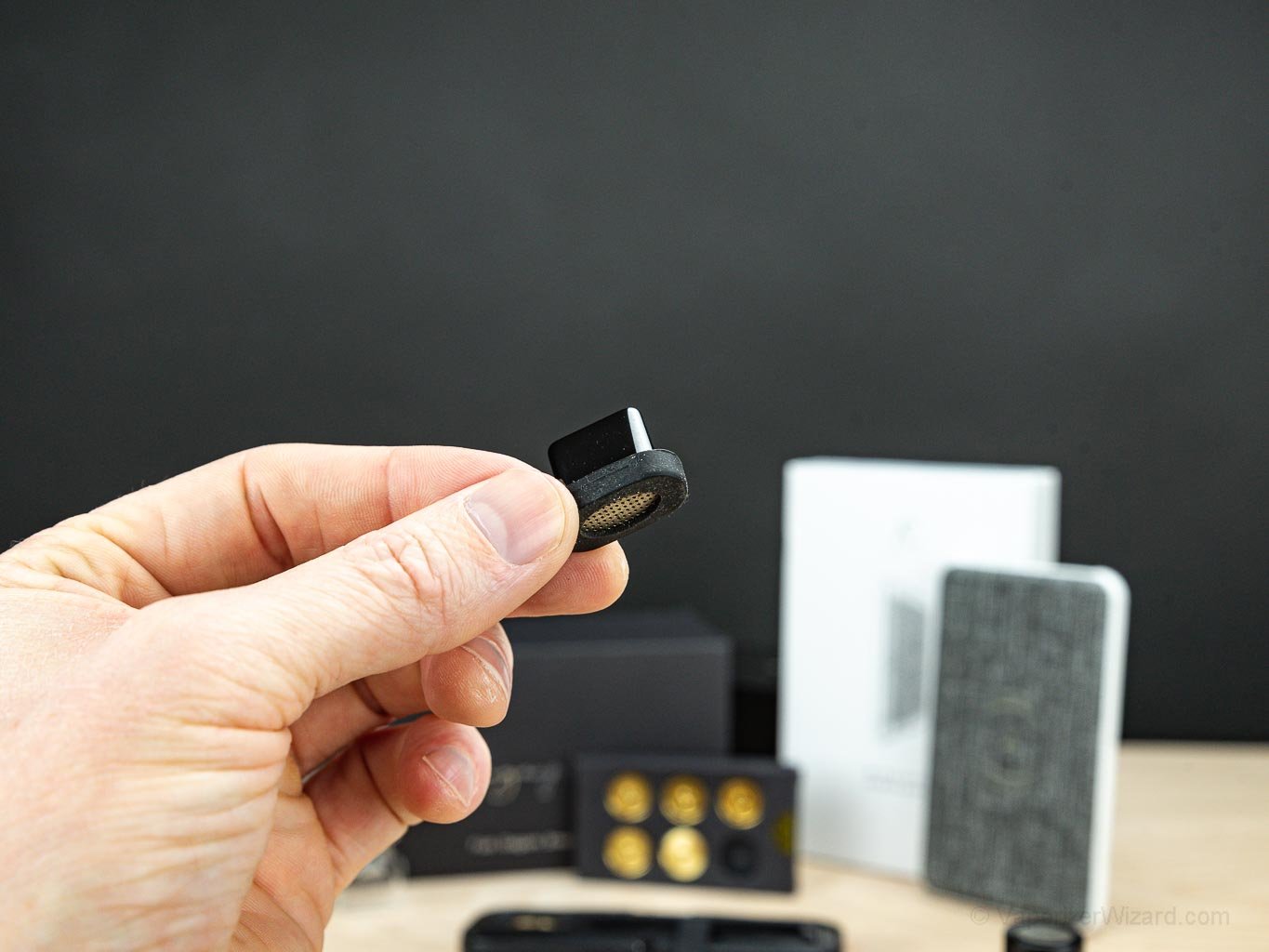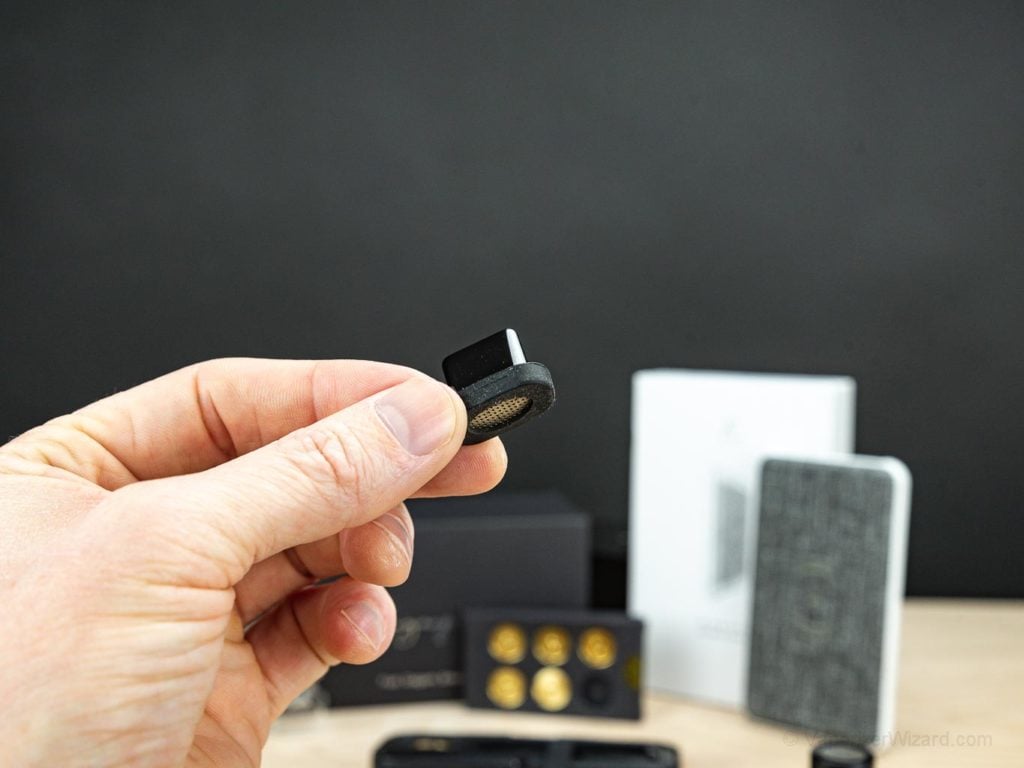 I will probably lose the mouthpiece at some point. Seems kind of silly, but nothing is keeping the mouthpiece in place other than the silicone gasket, so be sure to keep an eye on it. If you are prone to losing small pieces, you can pick up an extra backup mouthpiece for 15 bucks.
Battery System and Charging Info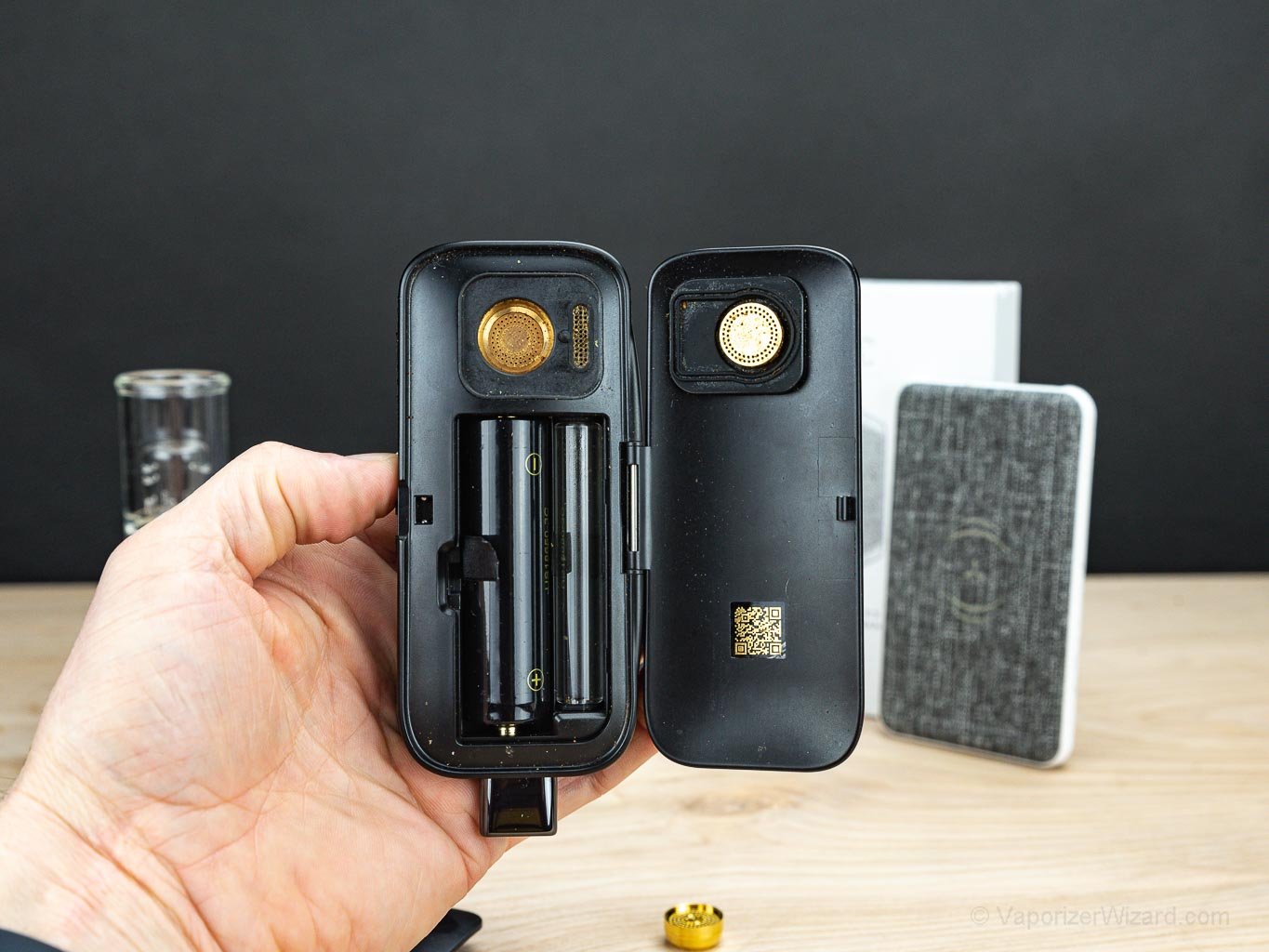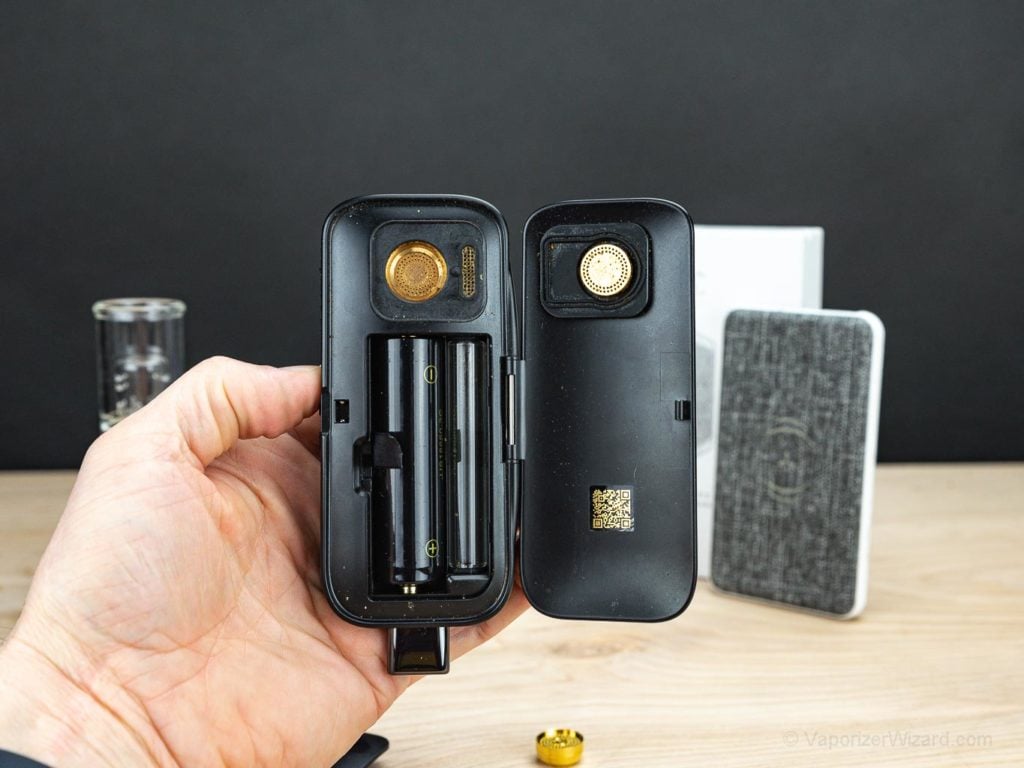 Battery Specs – The AirVape Legacy Pro uses a 3200mAh 18650 replaceable/rechargeable battery, and replacement batteries run $15. Personally I love vapes that use replaceable 18650's because a lot of people already have a few spares around, and they can be found locally in most areas.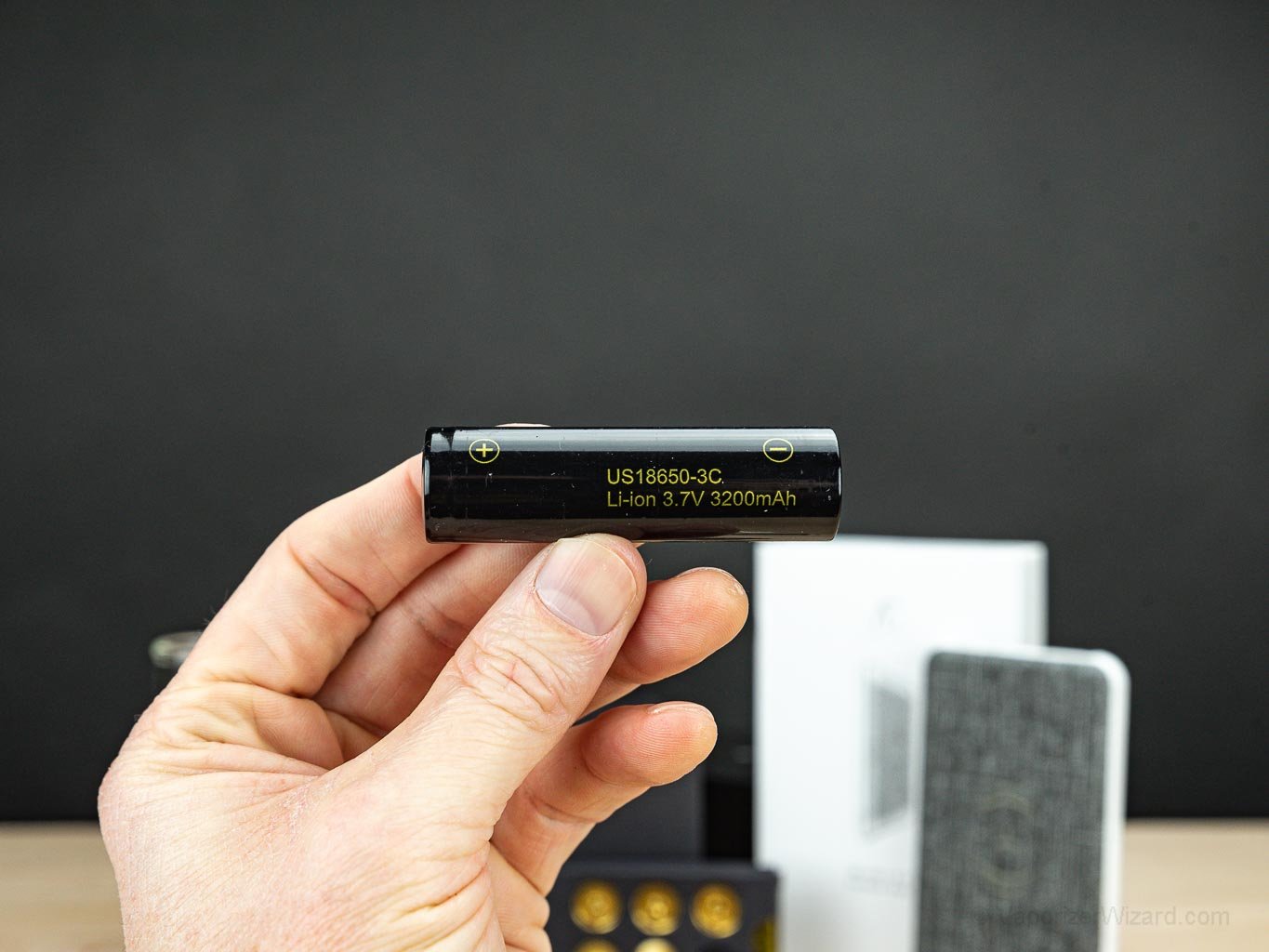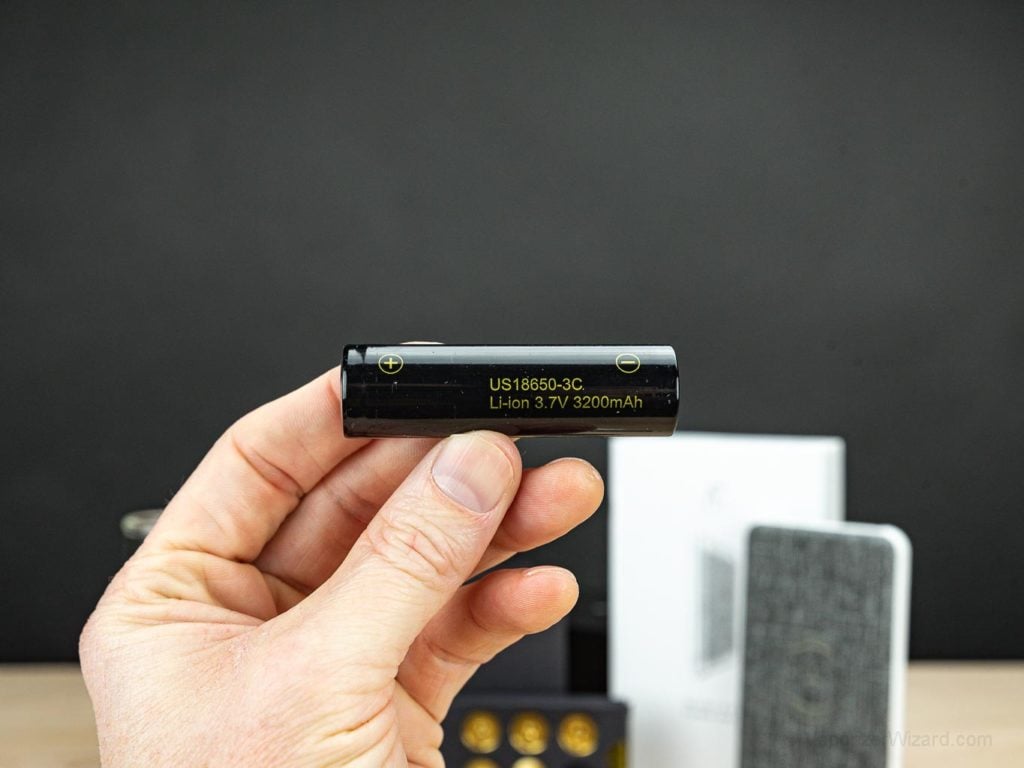 Battery Life – During testing, I averaged roughly 10-12 bowls on a single charge which was roughly 90 minutes of session time on a fully charged battery. Overall this is quite good for a convection-heavy vape which usually performs a bit worse in the battery department.
Charging Type / Time – The Legacy Pro charges via USB-C or wireless, and it takes three hours to charge the Legacy Pro fully via USB-C.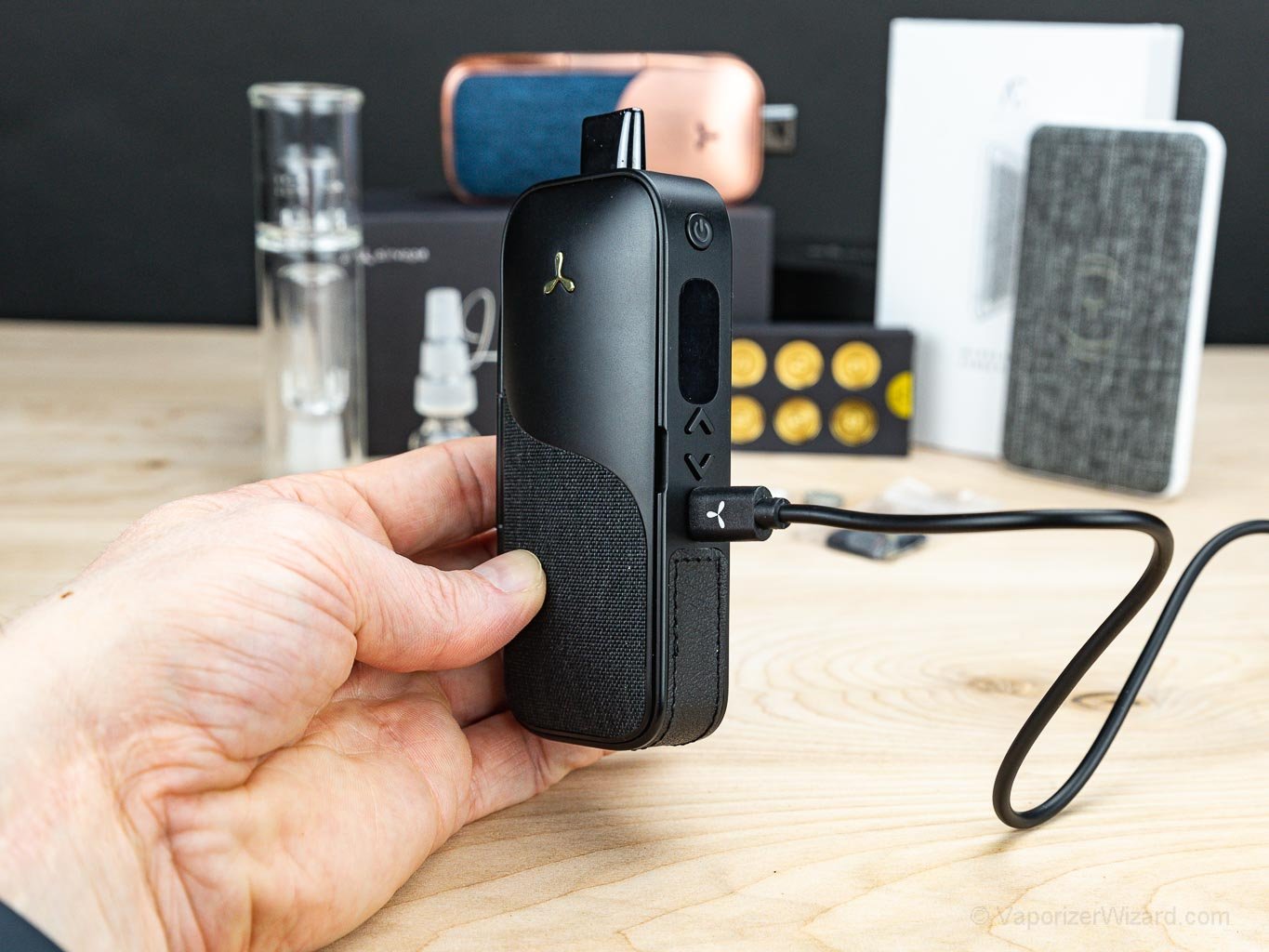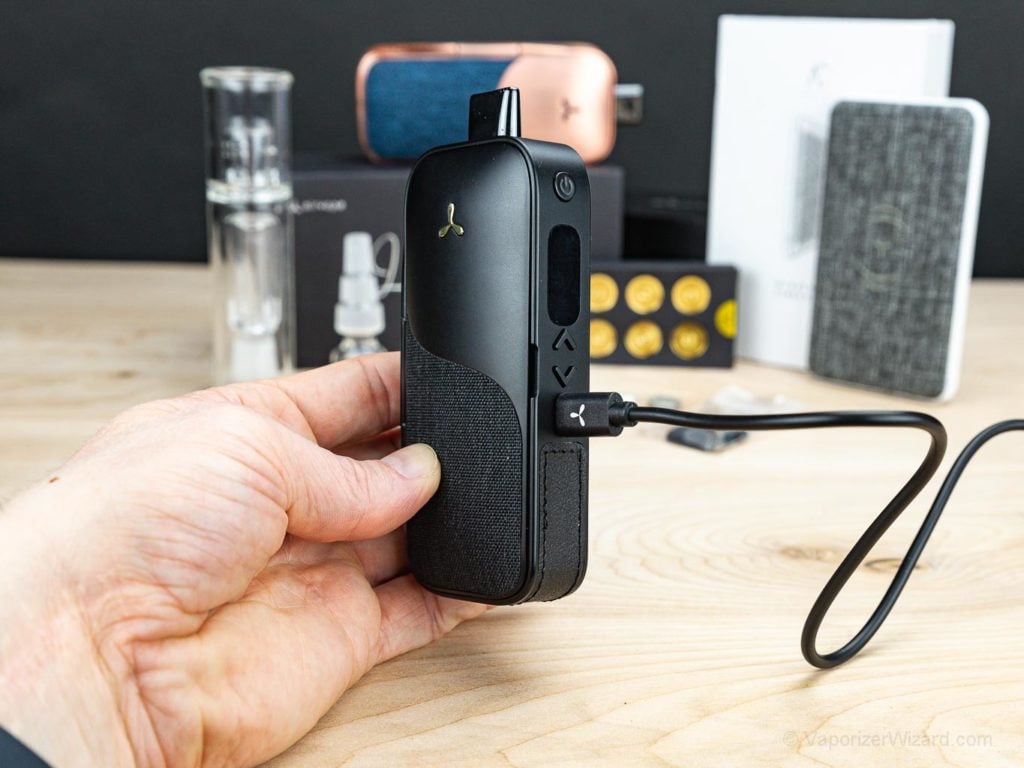 The wireless charging is a nice feature, but I find myself using USB-C the most. I haven't tested wireless charge times yet, but I imagine it's around 5-6 hours. I think it's more for a quick charge here and there to get a session in.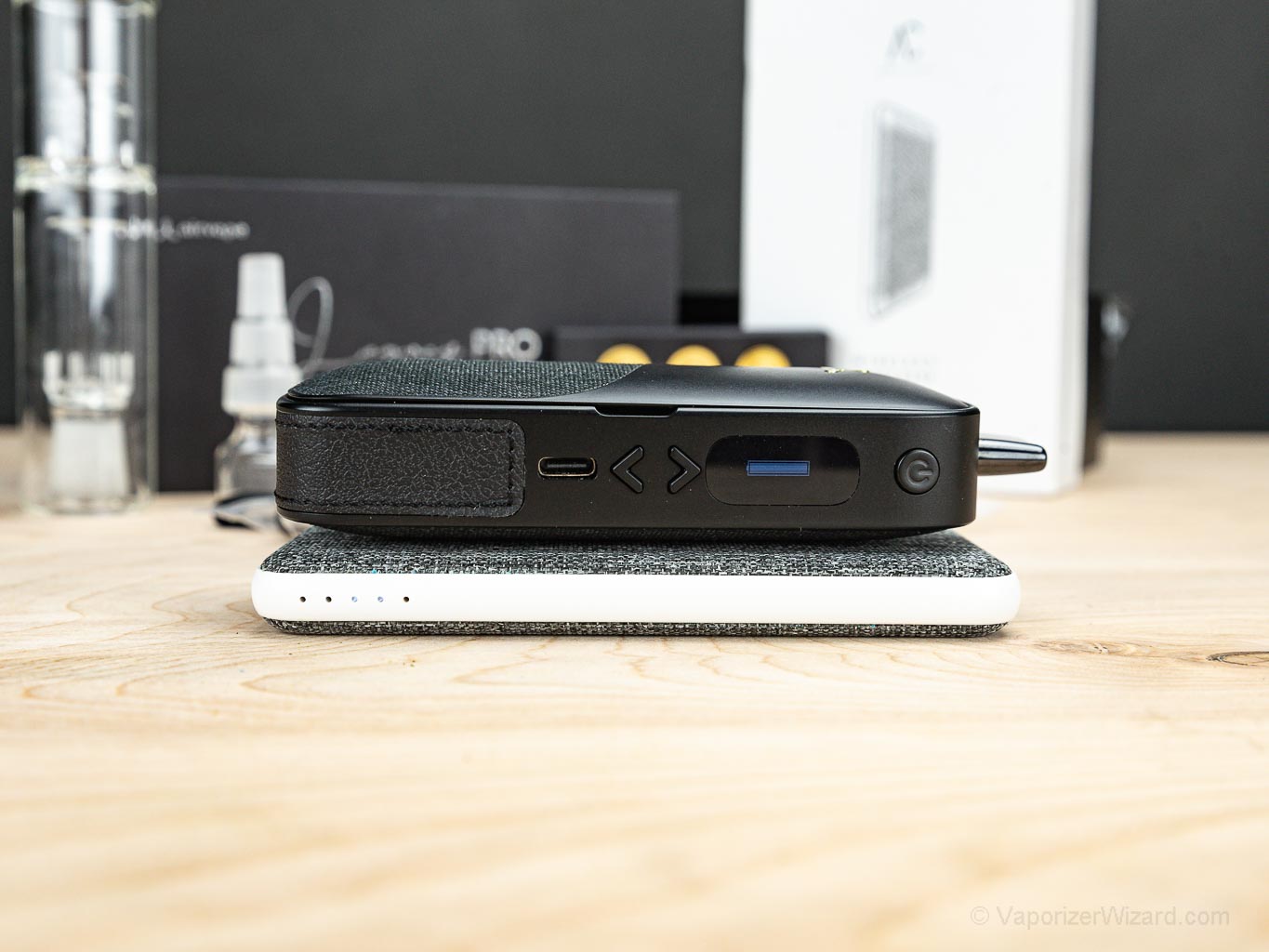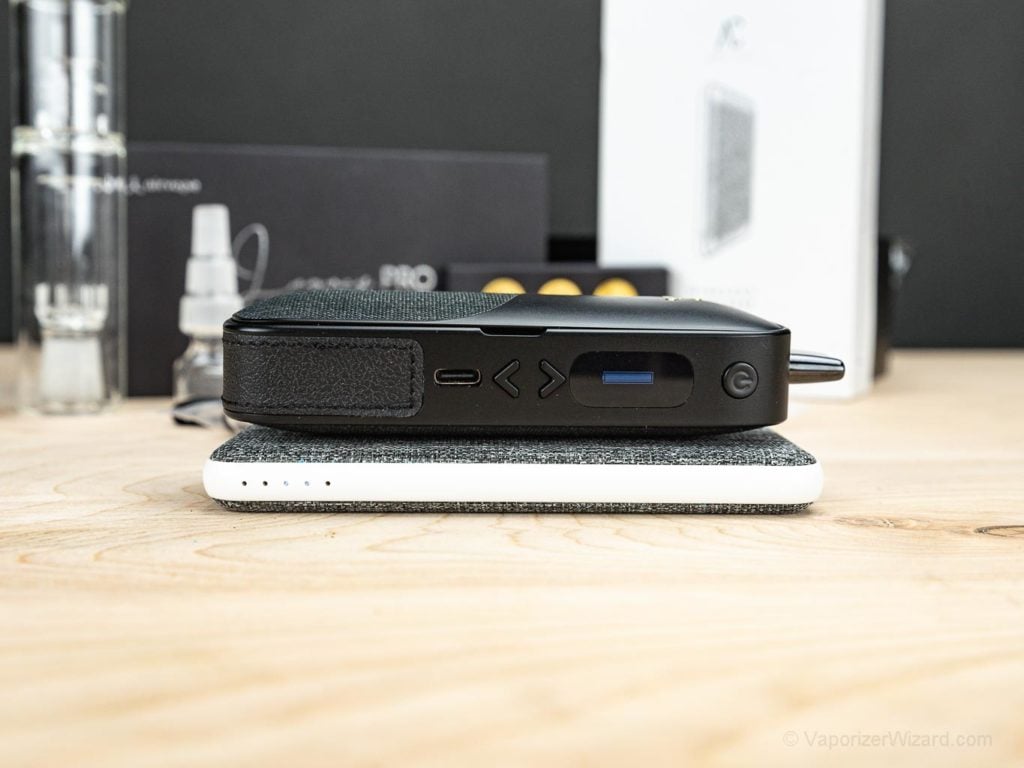 Battery Tips – The Legacy Pro features a replaceable battery system making it easy to pick up a couple of extra batteries and an external charger. With the external charger, you can charge multiple batteries at once faster than a single battery within the unit.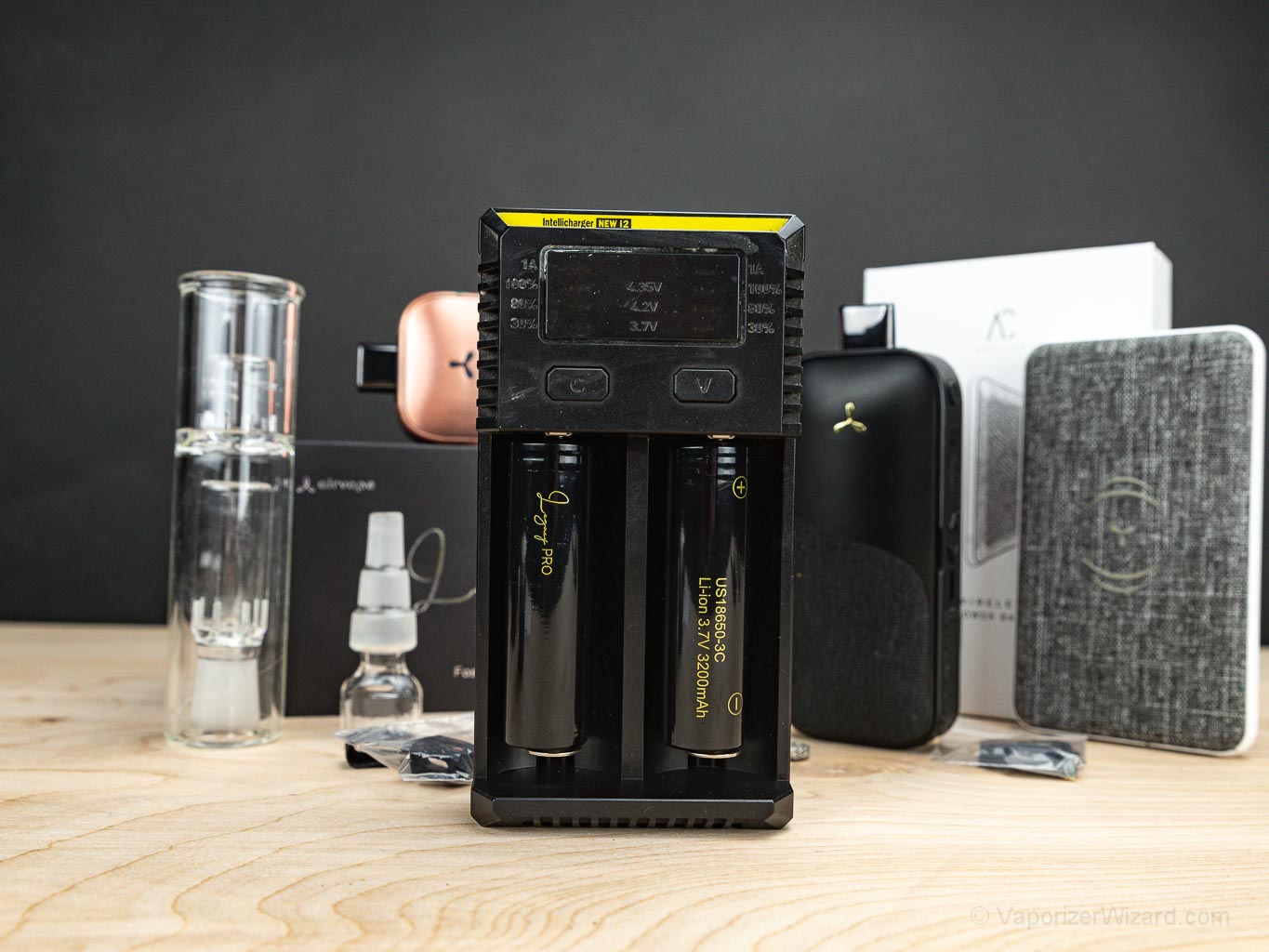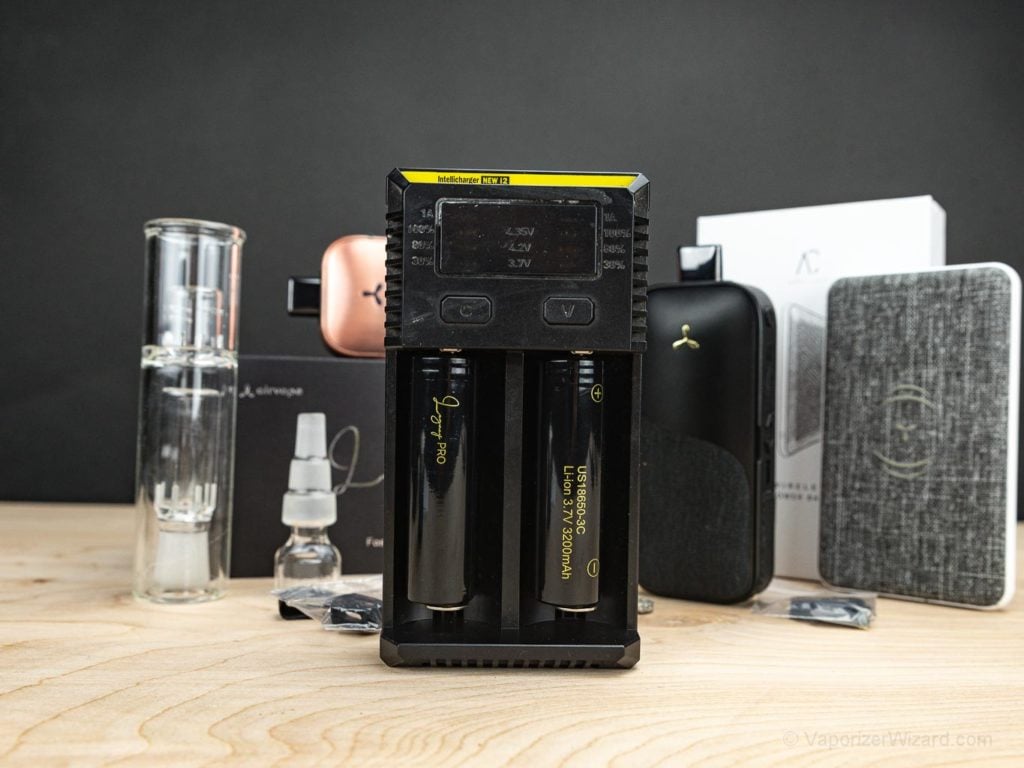 You can also pick up a portable battery pack like an Anker and charge the unit on the go.
Portable Power – The replaceable battery system makes the Airvape Legacy Pro a great portable vaporizer to use out on the go. Allowing you to swap out batteries and charge them up prior to heading out makes the Legacy Pro great for any longer day adventures like a festival, camping, or even just marathon sessions with friends.
The three-hour charge time is about average for portable vaporizers with large batteries, especially for units with replaceable battery systems.
Heating and Temp Options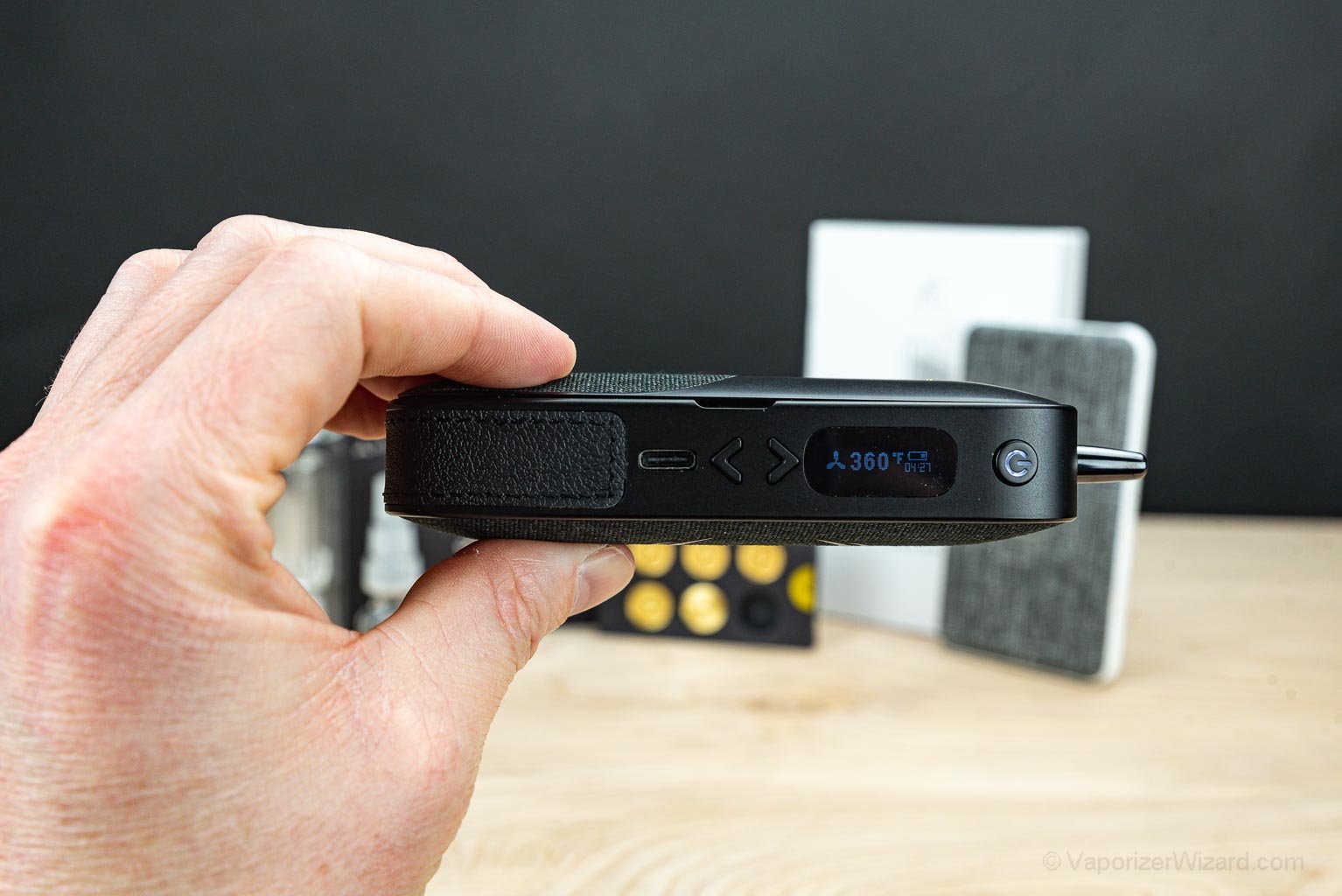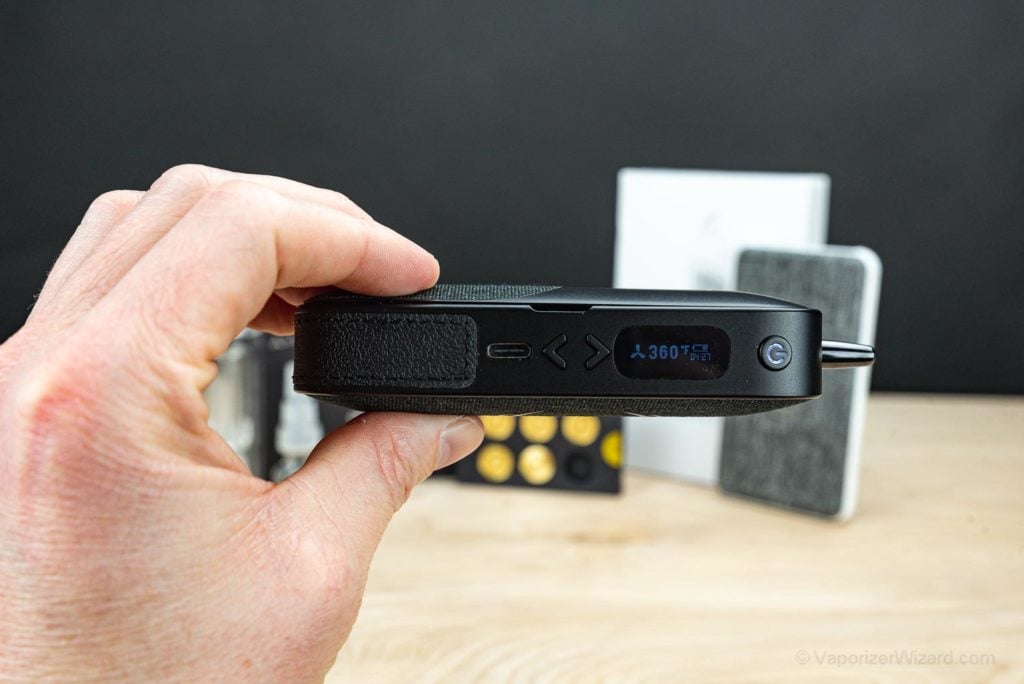 Heating – The AirVape Legacy Pro uses a hybrid heating method, meaning it uses both conduction and convection heating to produce excellent flavor and clouds.
The session mode uses more conduction via the chamber holding heat, but the on-demand mode is mostly convection and produces some very tasty sessions.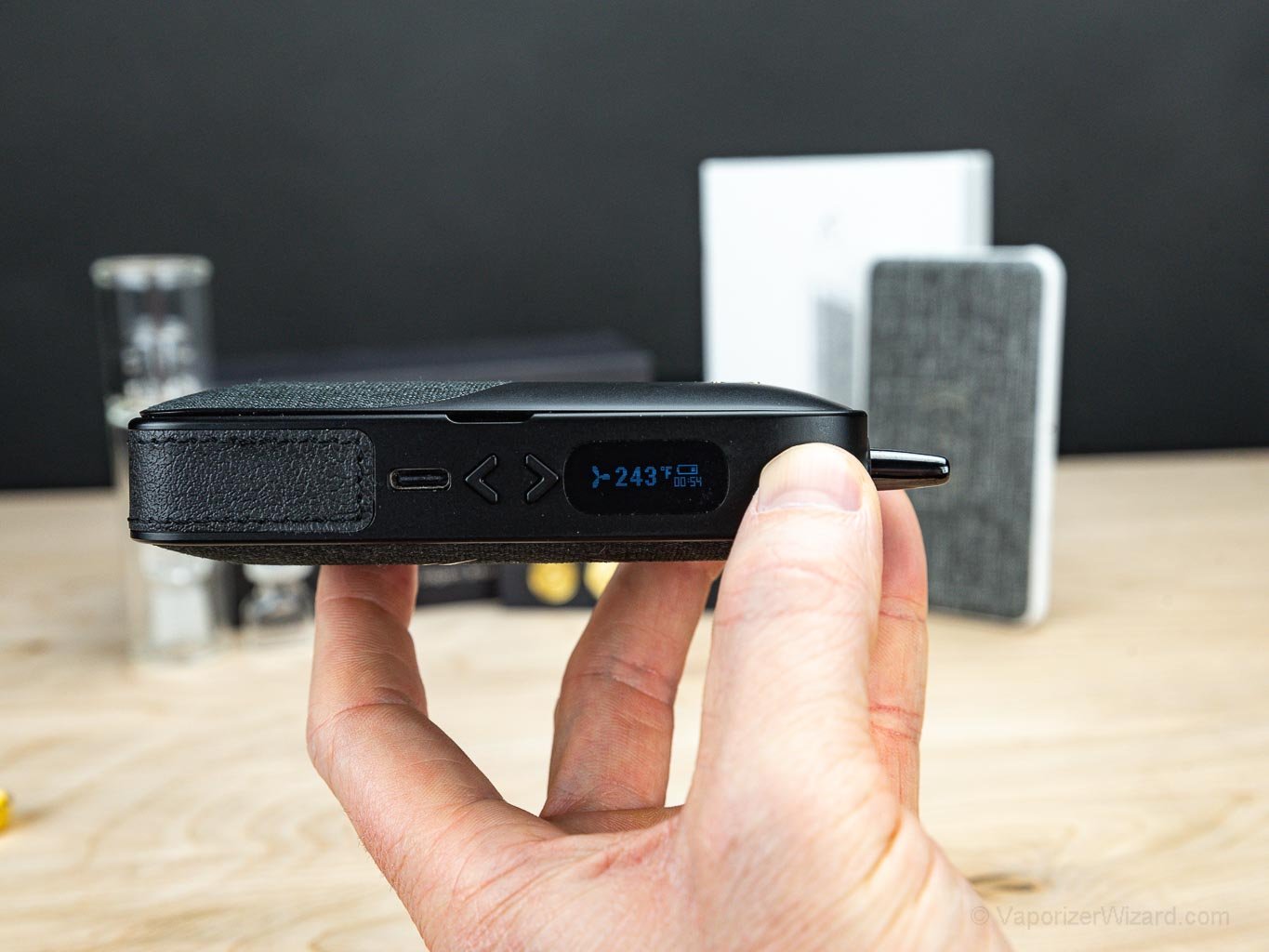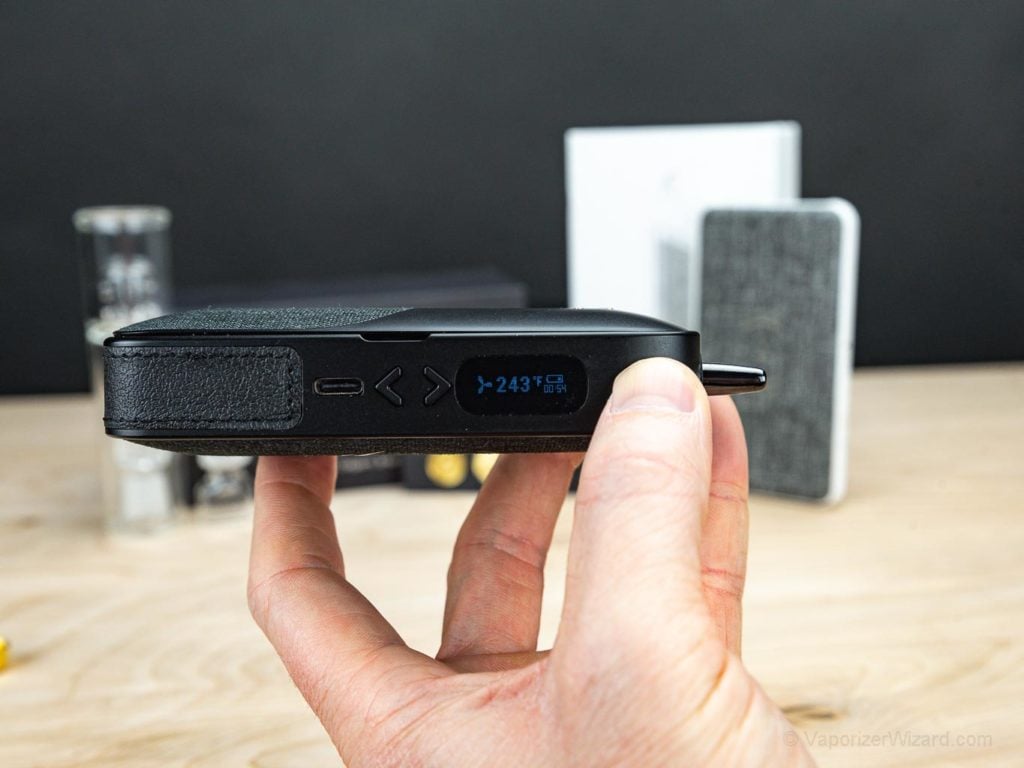 You can easily switch between the session mode and on-demand mode by holding down the up and down buttons at the same time. You can learn more about each mode, how to switch between them, and my preferred settings in my AirVape Legacy Pro QuickStart Guide.
I prefer convection vaporizers, so I expected to use the on-demand mode exclusively. However, I was pleasantly surprised with the session mode and ended up using both modes depending on the situation or my mood.
Temp Options – The AirVape Legacy features a full temp spectrum ranging from 100C – 240C (212F – 464F) and is easily adjustable via the big up and down arrows on the device.
This is more than enough range for flower and the higher temps will help with extracting as much as possible from the concentrates.
Vapor Quality and Draw Resistance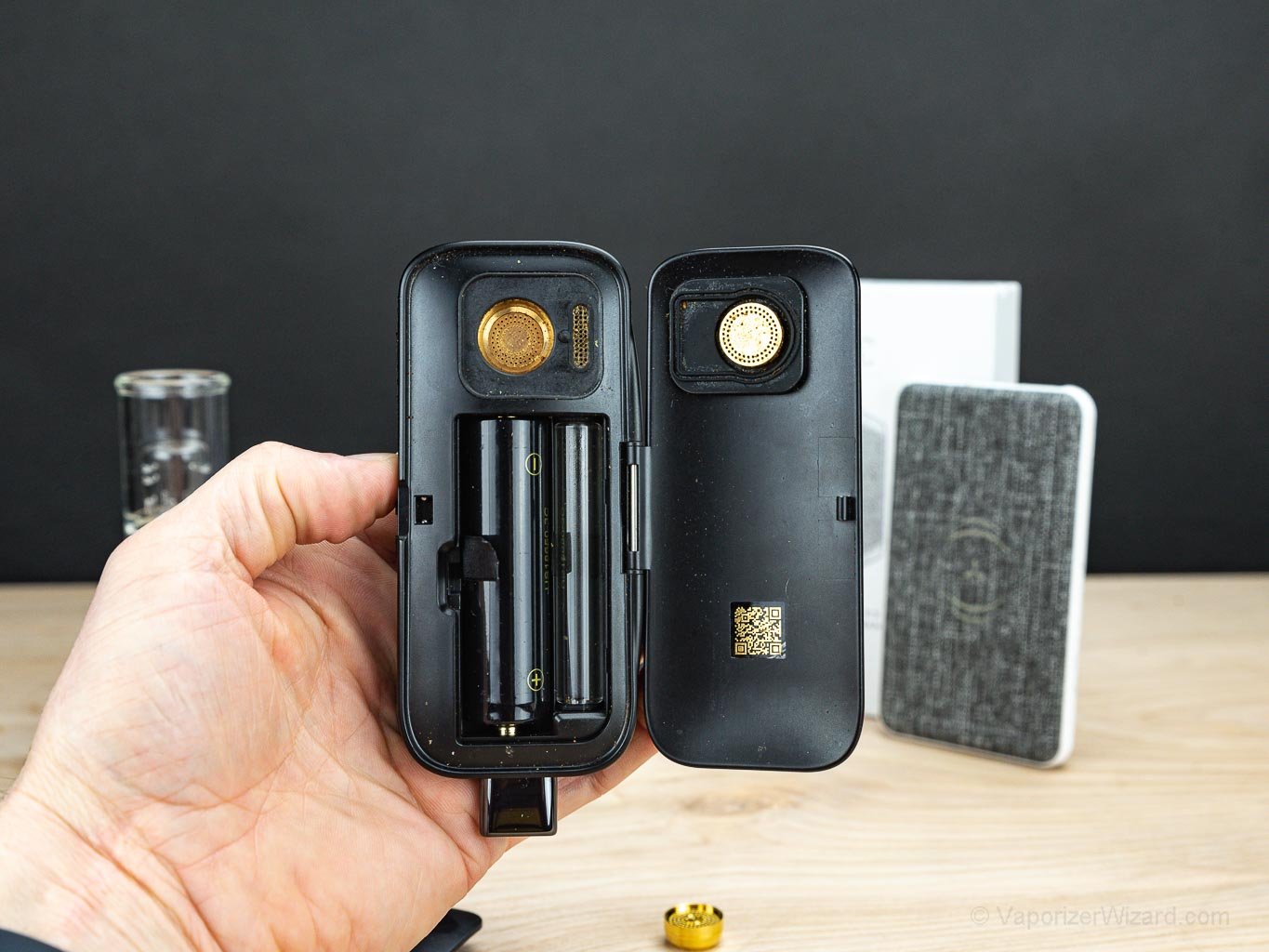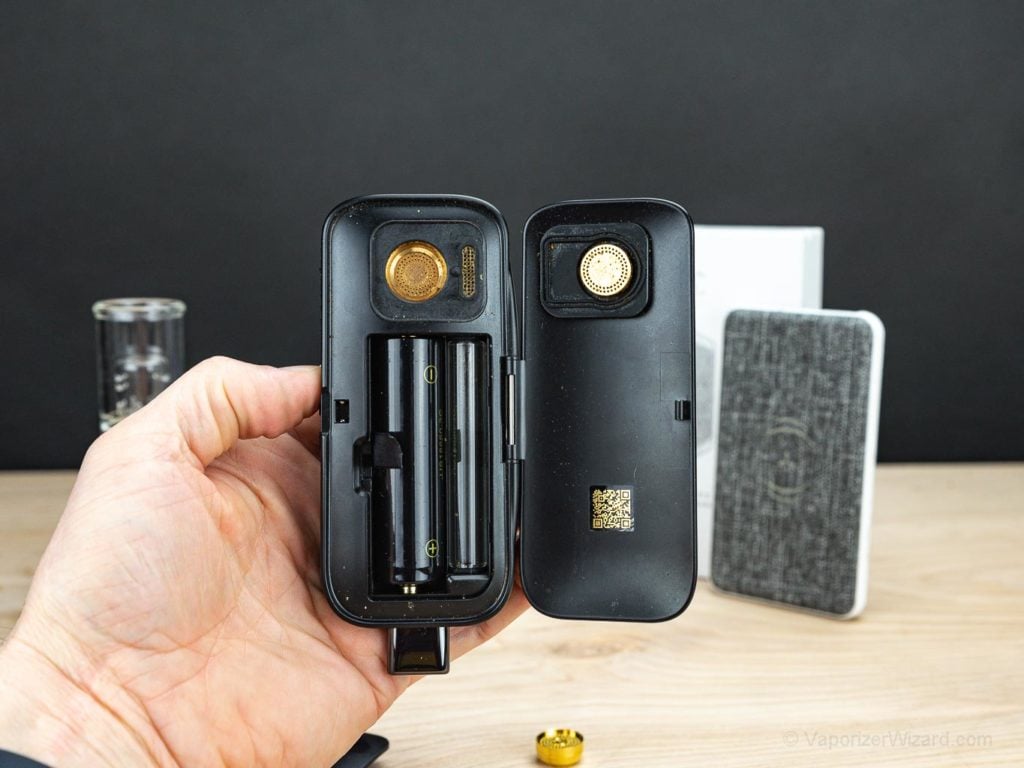 Vapor Quality – The vapor quality category is where the Legacy Pro vaporizer shines. It's not entirely on par with the Firefly 2+ (Firefly 2+ review) or the Tafee Bowle (Tafee Bowle Review) but it's easier to use than the Firefly 2+, and the Tafee Bowle is a "home-use" type of vaporizer and not the best for use on the go.
Vapor Path – The Legacy Pro uses a Gold Plated heating chamber, ceramic mouthpiece, and a removable glass airpath to create top-tier flavor and decent cooling, but it does use a silicone gasket around the mouthpiece, so it's not completely a gold/glass airpath.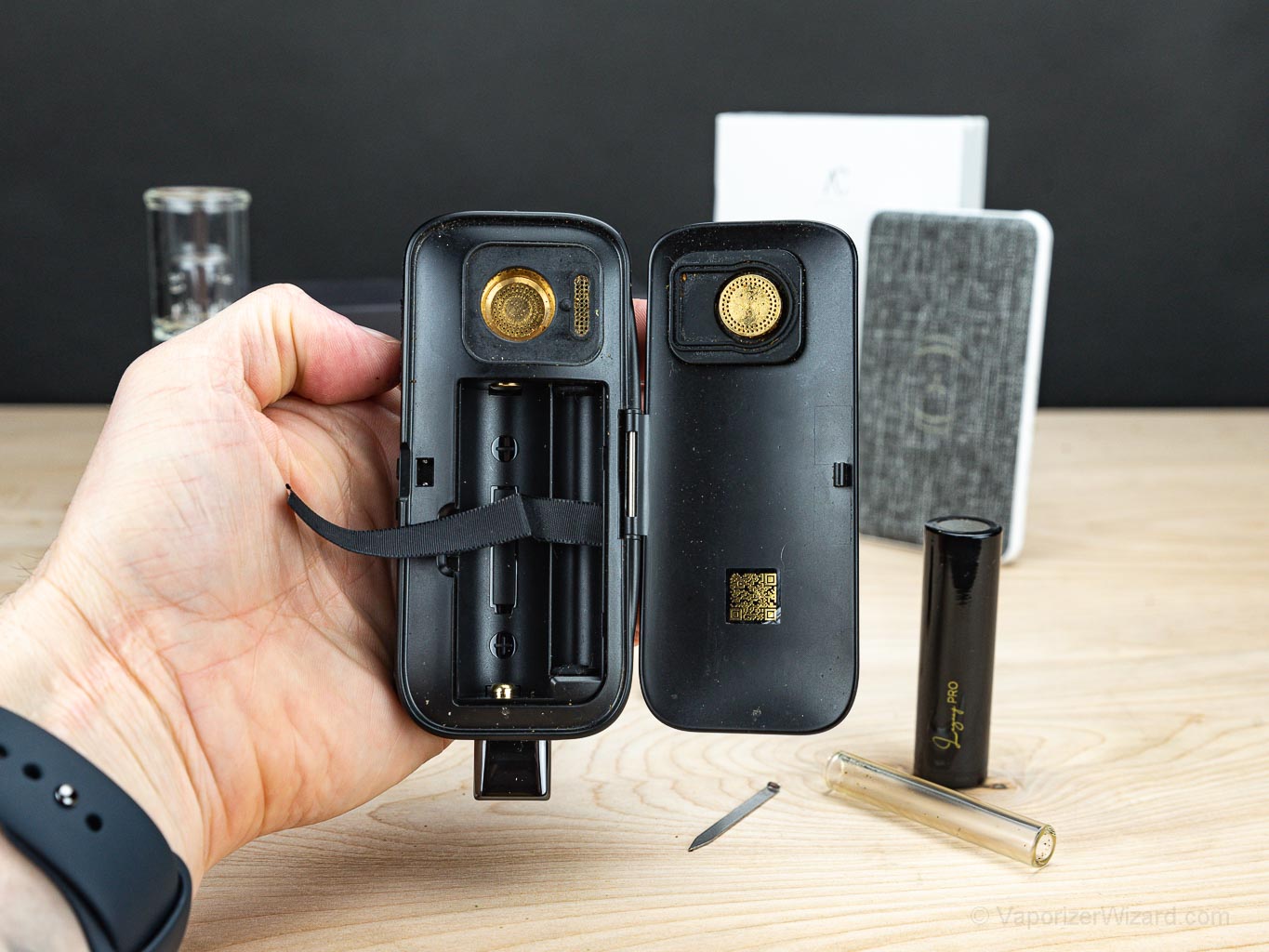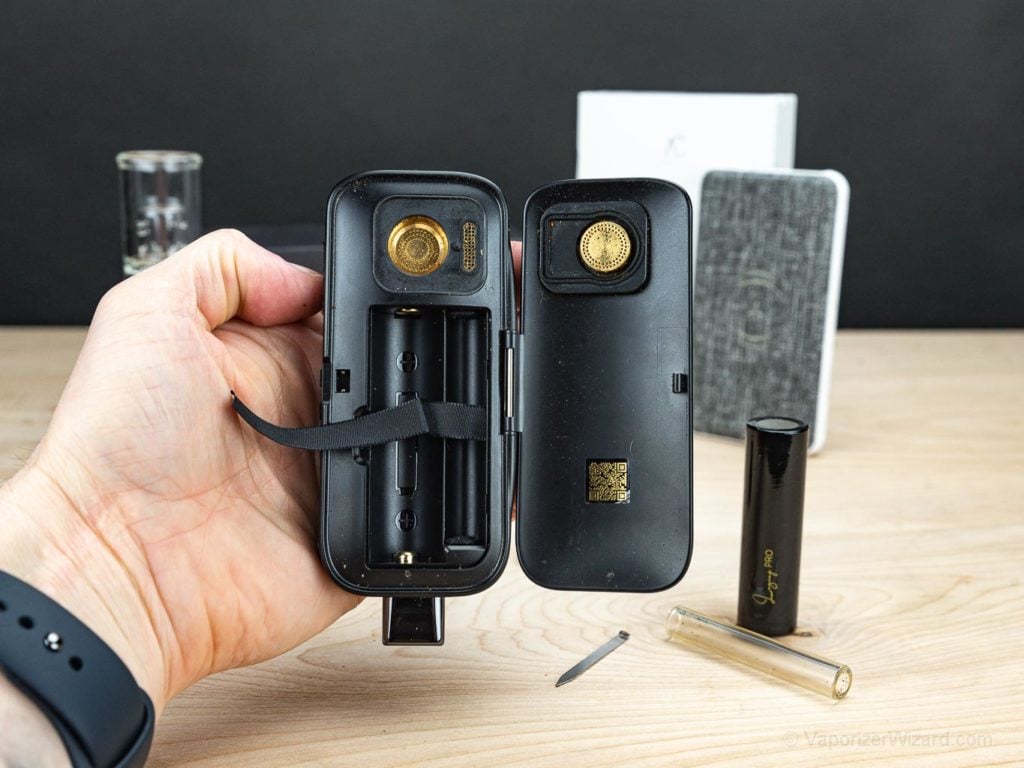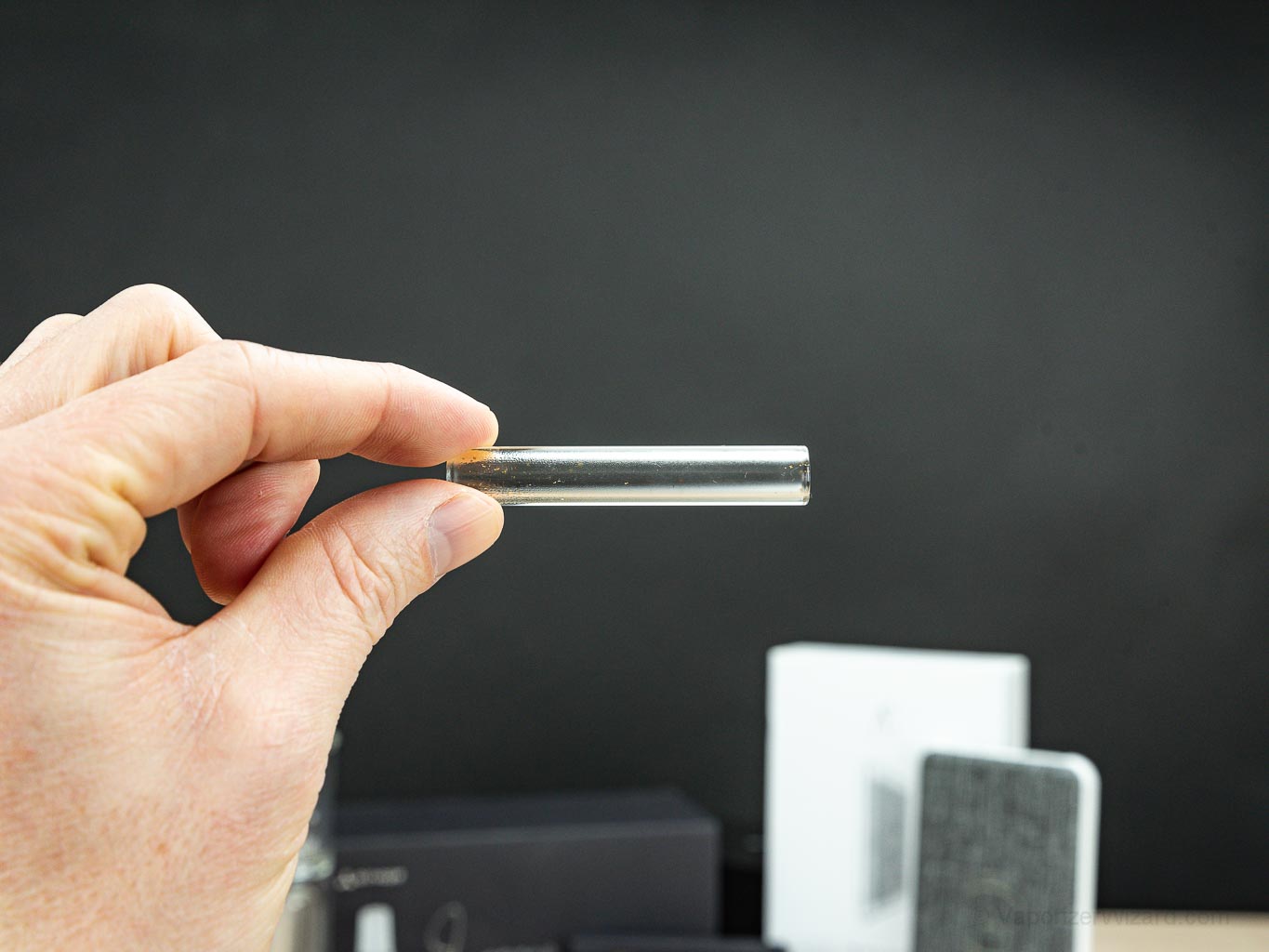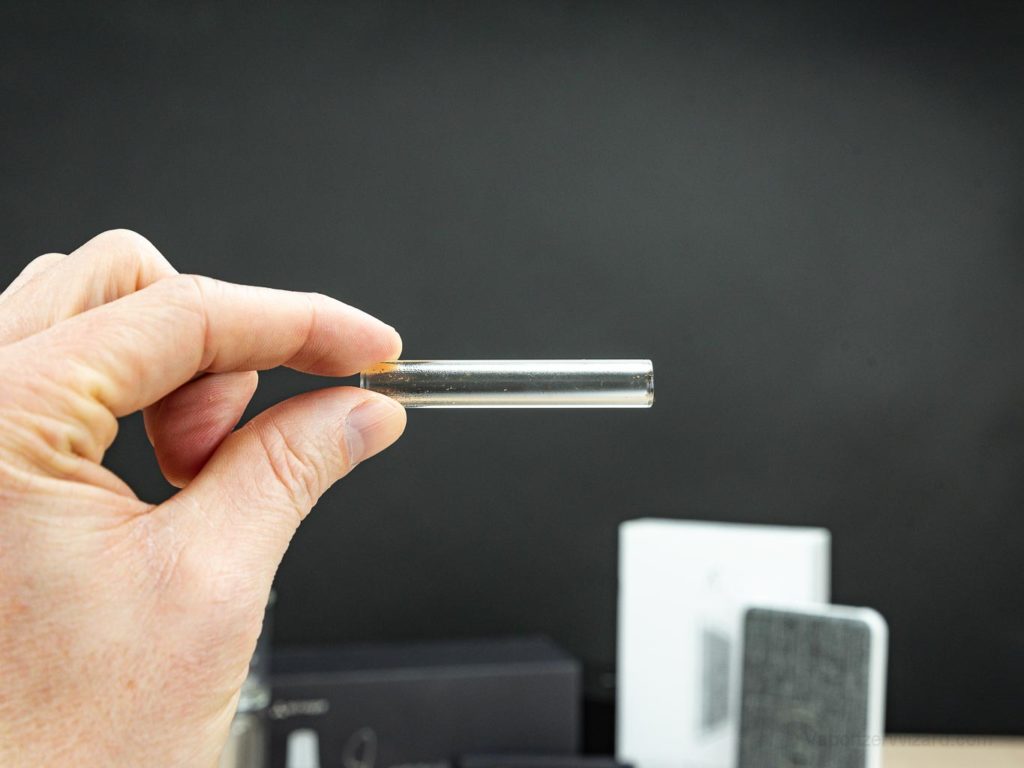 A lot of vaporizers use silicone gaskets for the mouthpiece, so it's not a bad thing, but I wish it could have been designed differently.
Draw Resistance – It's less free-flowing than some other units like the Crafty+ or Mighty+, meaning the unit does have a bit of restriction when pulling. You can alleviate some of the restriction via lighter packs and keeping the unit clean, but overall the draw resistance is about average compared to other portable dry herb vaporizers.
Maintenance and Care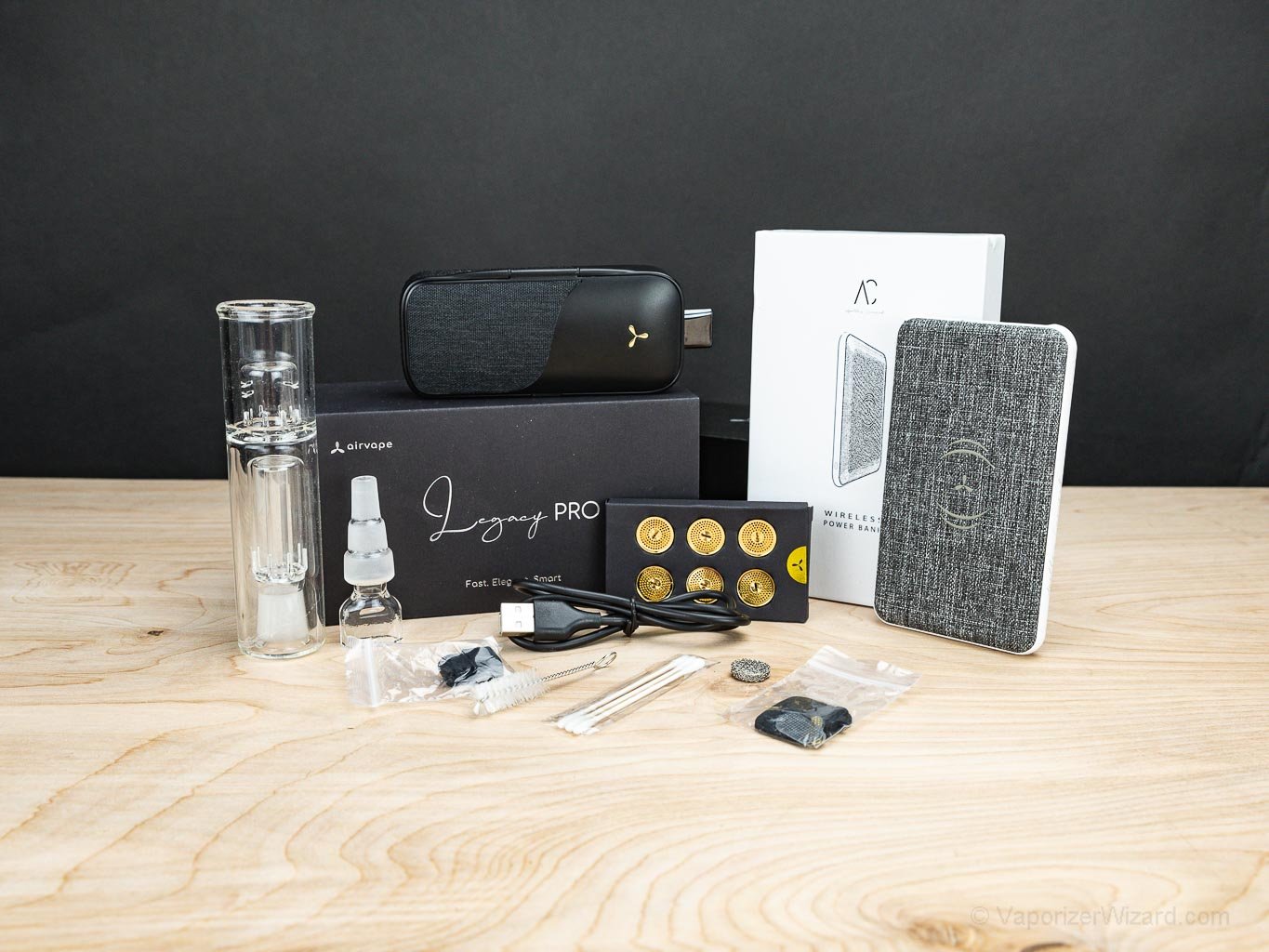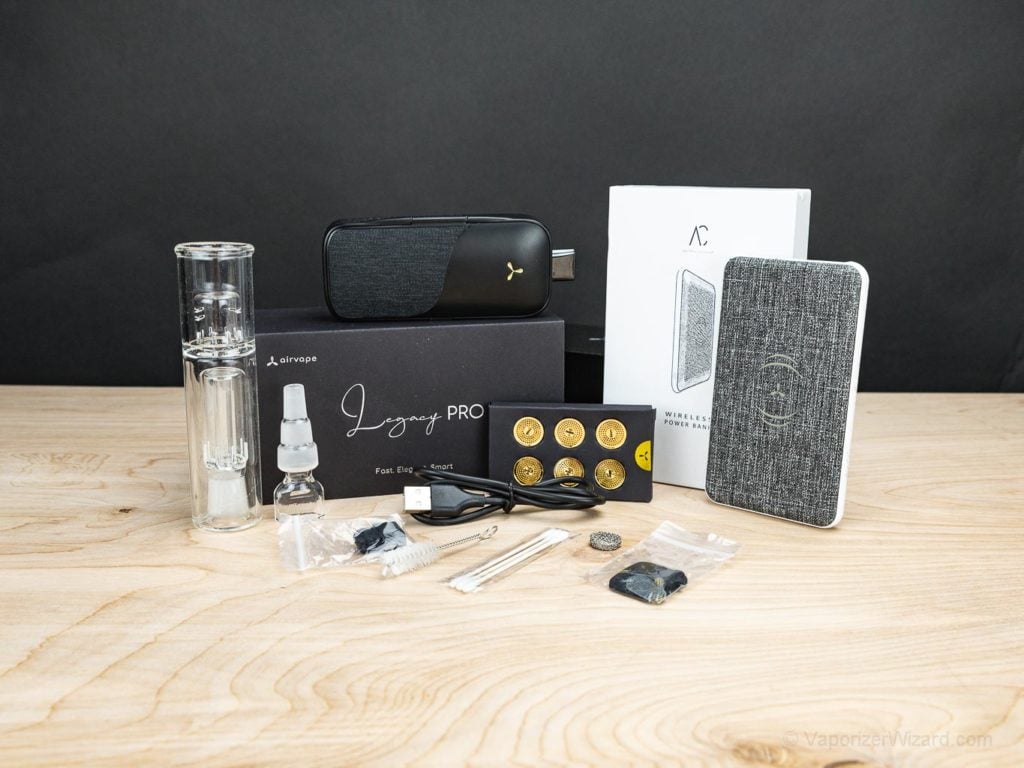 First Things First – Like most dry herb vaporizers, it's essential to clean out the chamber immediately after a session. This helps keep the chamber, screens, vapor path, and mouthpiece cleaner for longer and will also help reduce the amount of draw resistance.
If I am out and about, I usually just tap the bowl out after the session and quickly blow any remaining crumbs out before putting the unit back in my pocket. When I am at home, I like to empty the AVB into a storage container and then give the unit a quick brush before closing it up and putting it away.
Remember, you can save the already vaped bud (AVB) to make cookies or use in other recipes. It's a sleepy couch-lock type of experience but still a fun/efficient way to get double use out of your flower. Check out my recipe for Chocolate Chip Cookies using AVB Cannabutter and my guide for water-curing avb to get started.
When To Clean – Once you start to feel a bit more draw resistance or see debris start to form on the screen, it's probably a good idea to do a full cleaning.
How to Clean The AirVape Legacy Pro
A full cleaning consists of removing the screen, aka "micro-dosing disk," opening the battery compartment door, and lifting up the strap to remove the battery and the glass air path.
Remove the mouthpiece from the vaporizer and separate the screen and silicone gasket housing from the ceramic mouthpiece.
Place the glass air path, gold-plated micro-dosing disk, mouthpiece screen, and ceramic mouthpiece into a small amount of isopropyl alcohol. It shouldn't take too long to loosen up the gunk.
Rinse with some warm water and let completely dry before putting the pieces back into the vaporizer.
Next, we'll grab a q-tip and put a small amount of isopropyl alcohol on the tip. Hold the vaporizer so the chamber is upside down (You want any excess drips to fall off the unit with gravity, instead of running into the unit), and swirl out the chamber with the q-tip. Remember, a small amount is all you need. Use this method to clean the gold-plated vapor path next to the chamber.
The area surrounding the micro-dosing disk is tricky because it has a silicone gasket that needs to be removed before you clean it with ISO. You can get under it with a fingernail and just lift up.
You can clean the gasket from the dosing disk and the mouthpiece with some warm soapy water.
Once the silicone gasket is removed, you can use the same method from above by placing a small amount of isopropyl alcohol on a q-tip and swirling it around until it's clean. Again, make sure everything is dry before placing it back in the vaporizer.
The last step is to clean out the mouthpiece area with a q-tip and some iso.
Supplies Included – You will also get a couple of replacement screens, a nice brush for the chamber, a concentrate pad insert, USB-c charging cable, and last, but definitely not least, the built-in stir tool is perfect for both stirring and cleaning out the chamber after a session.
Overall a full cleaning takes about 10 minutes or less, and the better you stay up on the routine maintenance, the fewer full cleanings you'll have to do.
Warranty Information
The AirVape Legacy Pro comes with a limited lifetime warranty covering any defects in material or workmanship. This covers the unit only. The battery can be replaced within six months for $24.99 + shipping and after six months for $39.99.
AirVape also offers an upgrade/discount program on future or upgraded versions. For example, if you have the AirVape X, you can get 50% OFF the new Legacy Pro. You don't have to send your old vaporizer in, but you do have to show proof of purchase of the original unit to receive the discount.
Legacy Pro Review Conclusion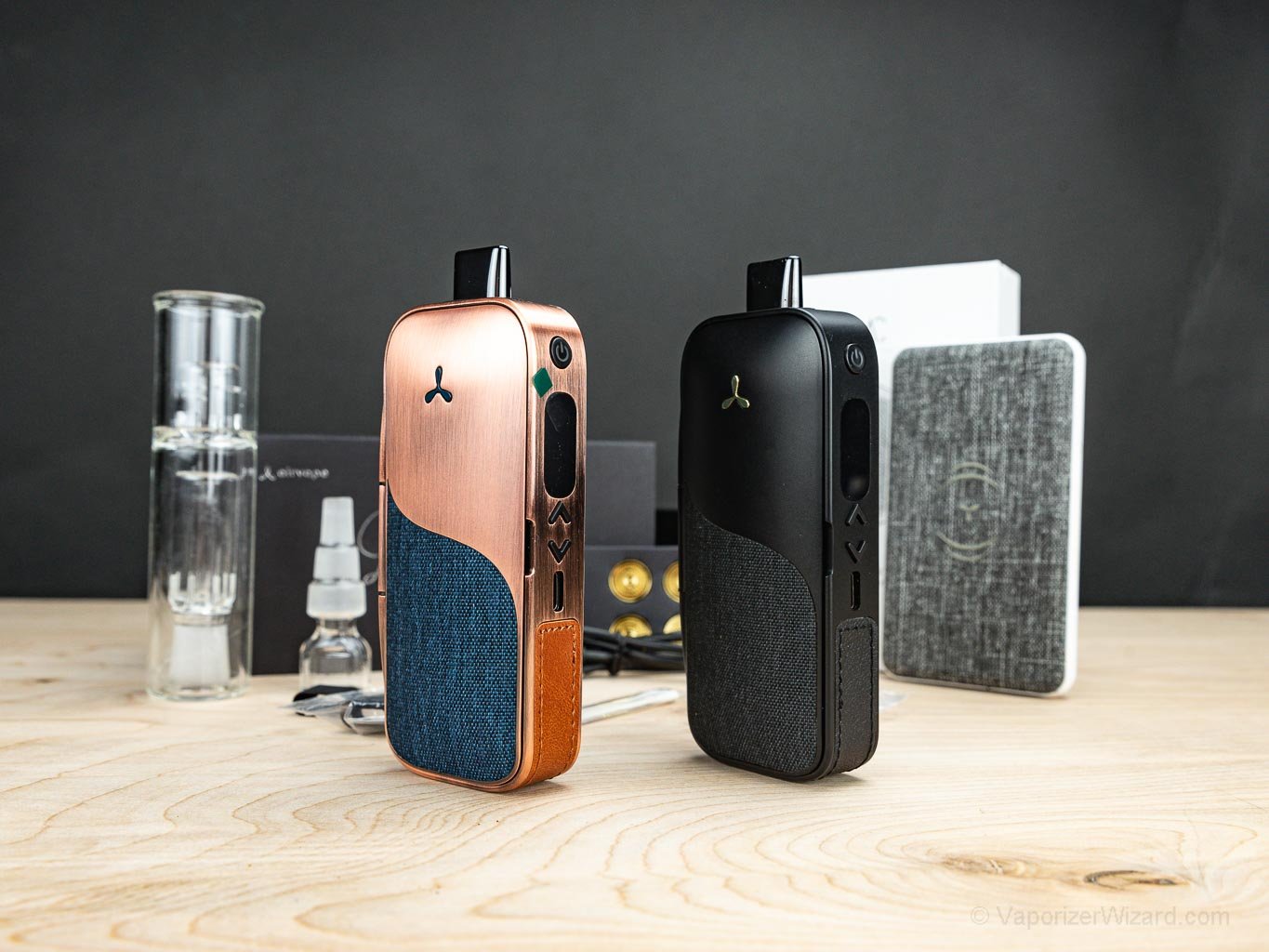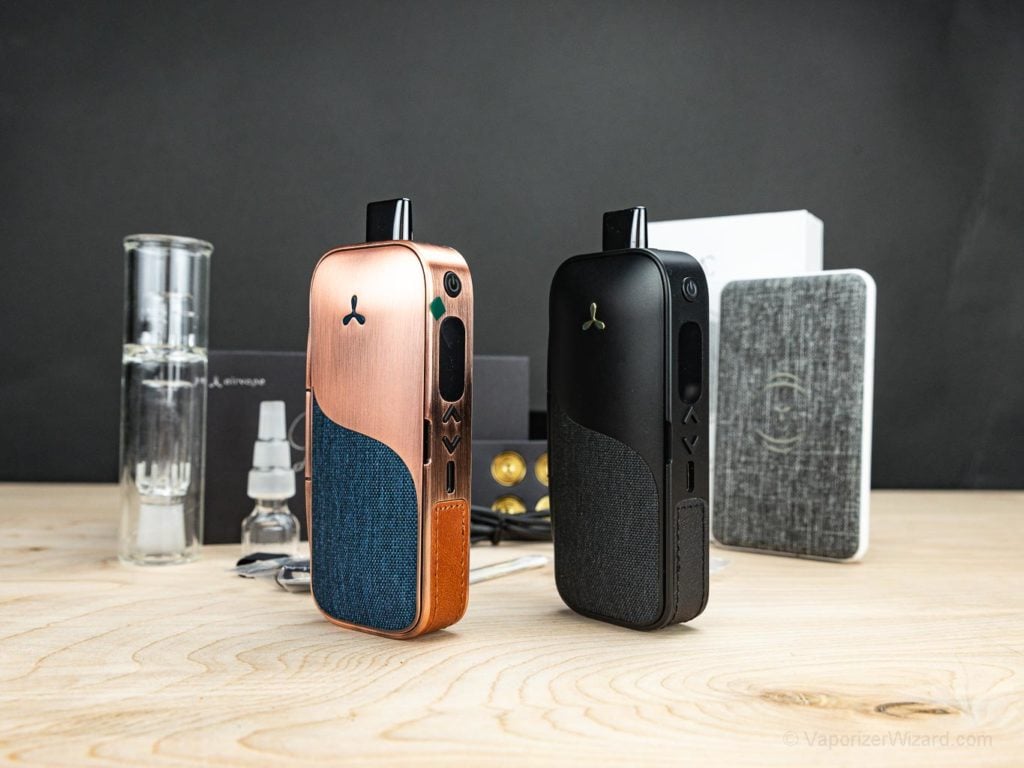 The AirVape Legacy Pro is a feature-packed high-quality portable vaporizer with excellent flavor, extremely fast heat-up times, and impressive battery life. The full temp spectrum allows you to vape dry herbs (flower) and concentrates, and you can easily change temps or session modes via the on-vape display.
My only gripes are the mouthpiece and loading/unloading the chamber can be a bit cumbersome. The three-hour charge time isn't the best, but you can always pick up an extra battery or two for replacements.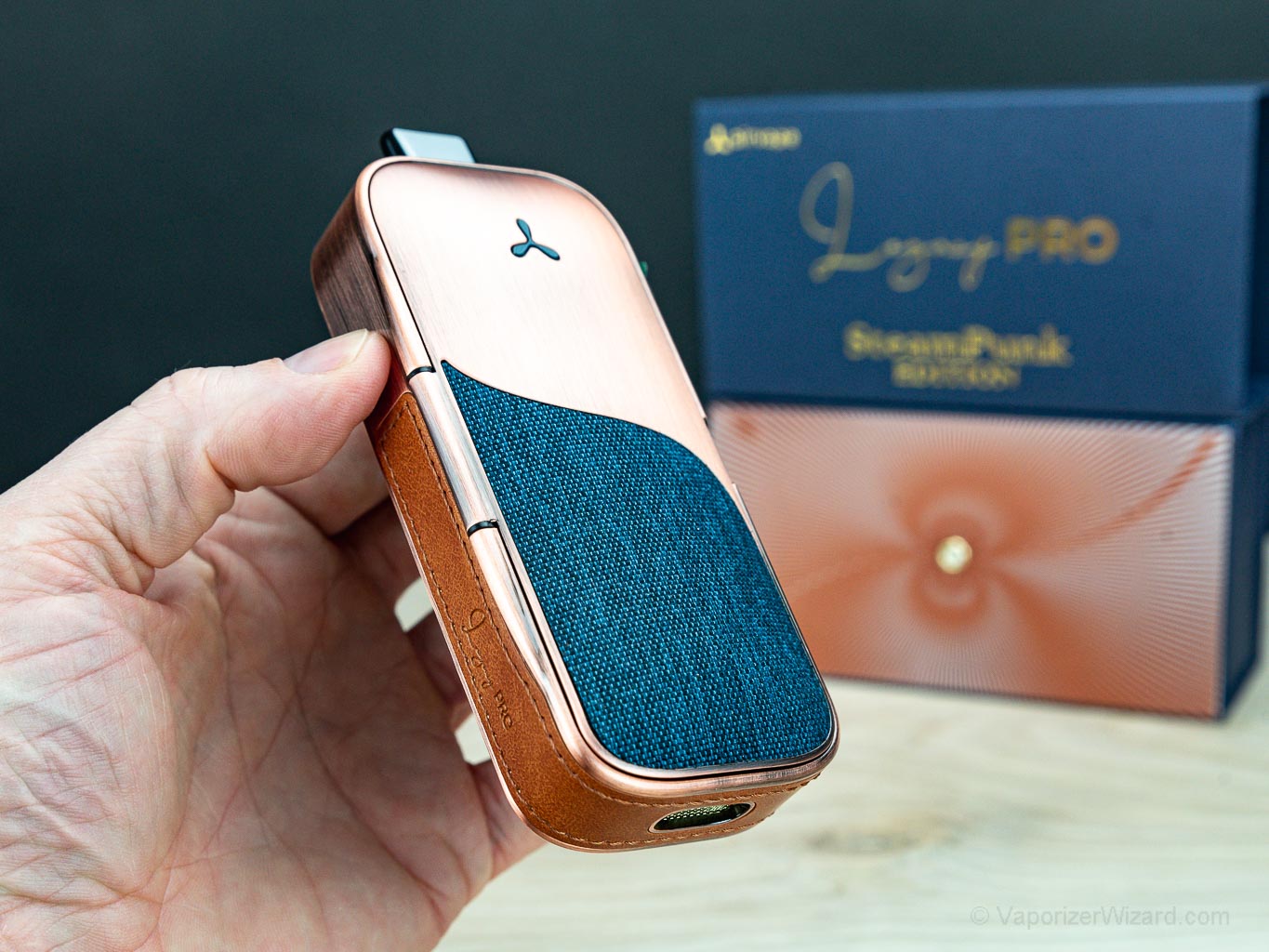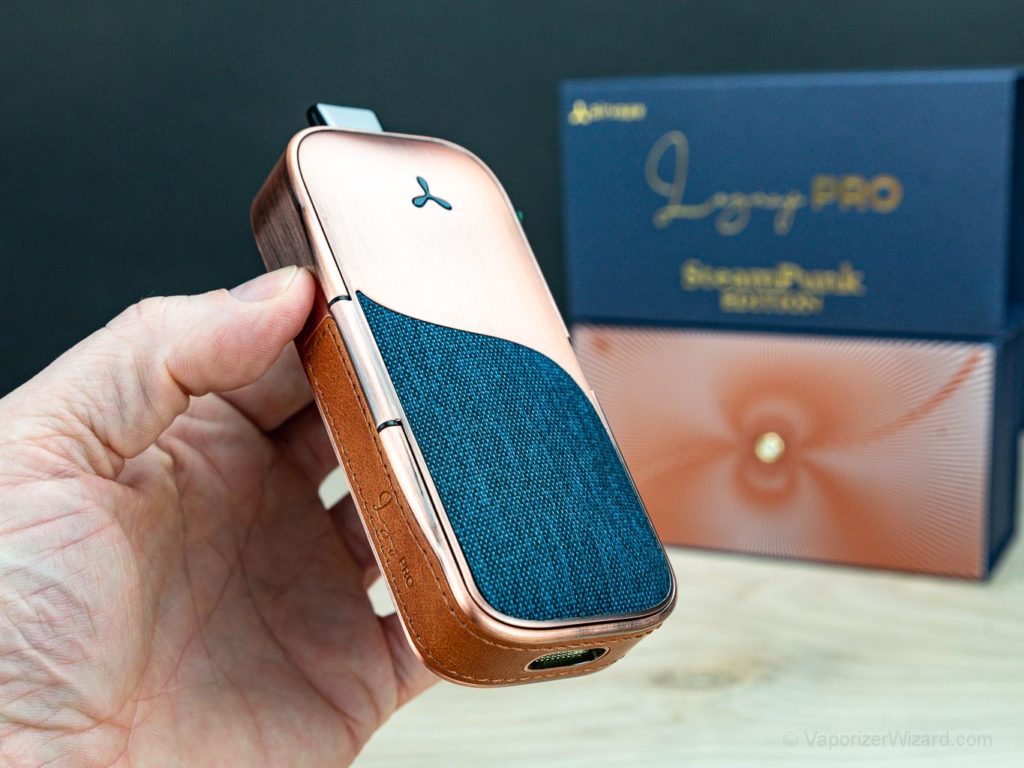 Price/Value – As far as price and value go, I think the Legacy Pro offers quite a bit for the price, but it is a bit pricey when compared to other units like the Firefly 2+ or the Crafty+ by Storz and Bickel. The Firefly 2+ and the Crafty+ units offer exceptional flavor and retail around the $200 price point. Check out my Crafty+ Review and my Firefly 2+ review for more info.
You do get a lifetime warranty with the Legacy Pro, which adds quite a bit of value, and the overall battery life is much better with the Legacy Pro compared to the Crafty+ and Firefly 2+. And just like any dry herb vaporizer, there are a couple of quirks with both the units mentioned above.
Overall the AirVape Legacy Pro produces excellent flavor, quick extraction, and enough battery life to keep you medicated out on the go.
Buying Options – The AirVape Legacy Pro vaporizer retails for $269, and you can click here to pick it up directly from AirVape. I recommend grabbing the dosing capsules and an extra battery if you'll be using it on the go.
Thank you for taking the time to read my AirVape Legacy Pro vaporizer review, and feel free to hit me up in the comments with any questions, suggestions, or tips. You can also hit me up via the contact page if you would like to keep it discreet.
If you already have the AirVape Legacy Pro, please leave your review below in the comments. I would really like to hear what people think about the new Air Bubble Dosing Capsules and if anyone actually uses the wireless charging option.
You can also check out my Airvape Legacy Pro QuickStart Guide to learn how to use the airvape legacy pro. Thanks again for checking out my site and have a great day.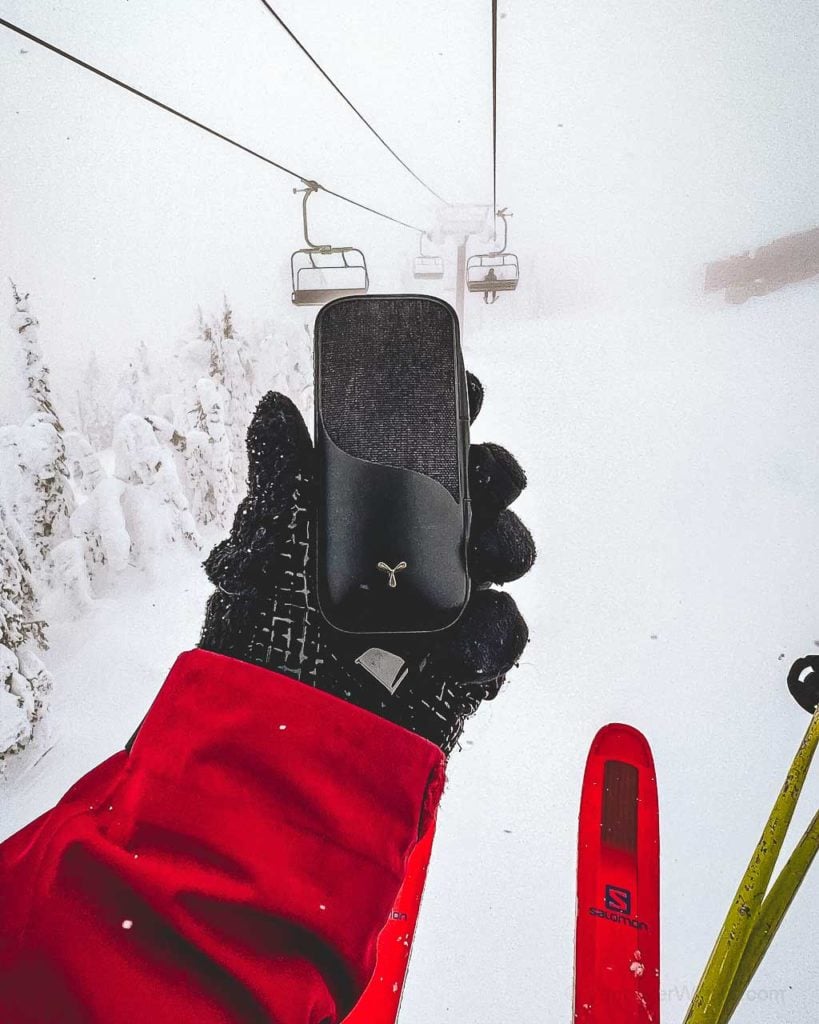 Buying Options + Coupon Codes
Legacy Pro Technical Specs
| | |
| --- | --- |
| Name: | AirVape Legacy Pro |
| Manufacturer: | AirVape |
| Retail Price: | $269 – $299 |
| Materials: | Dry Herb and Wax |
| Temp Range: | 100C – 240C (212F – 464F) |
| Heating: | Hybrid (Convection / Conduction) |
| Battery Life: | 90 Minutes (10+ Bowls) |
| Battery System: | Replaceable / Rechargeable |
| Battery Type: | 18650 3.7v 3200mAh |
| Charging Type: | USB-C / Wireless |
| Warranty: | Lifetime + Upgrade Discounts |
| Dosing Capsules: | Yes (24K gold) |
| Features: | Removable Glass Air Path |
Pros and Cons
Pros
Great flavor
Good for micro-dosing
Fast extraction
Great battery life
Rechargeable/Replaceable System
USB-C + Wireless charging
Good for solo and group sessions
15-second heat-up times
Full temp spectrum
Flower and concentrates
Discounts on upgrades
Lifetime warranty
Cons
Messy chamber
Hard to load/unload without spilling
Screens clog up quickly without proper maintenance
Dosing capsules finicky but help keep the unit cleaner for longer
The mouthpiece doesn't attach and easily falls out
Slim form factor but on the heavy side
Slow charging inside the unit
$269 is a bit pricey
AirVape Legacy Pro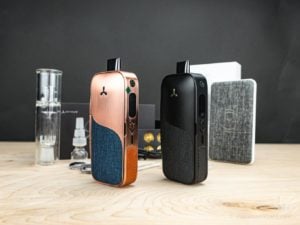 The Airvape Legacy Pro is a portable vaporizer powerhouse packed with features. See what I like and don't like in my full Airvape legacy pro vaporizer review.
Product Brand: AirVape
Pros
Great flavor
Good for micro-dosing
Fast extraction
Great battery life
Rechargeable/Replaceable System
USB-C + Wireless charging
Good for solo and group sessions
15-second heat-up times
Full temp spectrum
Flower and concentrates
Discounts on upgrades
Lifetime warranty
Cons
Messy chamber
Hard to load/unload without spilling
Screens clog up quickly without proper maintenance
Dosing capsules finicky but help keep the unit cleaner for longer
The mouthpiece doesn't attach and easily falls out
Slim form factor but on the heavy side
Slow charging inside the unit
$269 is a bit pricey