The AirVape XS is a portable conduction vaporizer made by Apollo. This is the second dry herb vaporizer out of Apollo and so far it's a good unit especially for the overall size, price and the fact that it comes with a lifetime warranty.
The XS comes with a large, easy to read digital display featuring a full temp spectrum, session length timer, current battery life, and on vape temp buttons. Did I mention that it's almost as thin as your smartphone?
UPDATE: The XS has been replaced by the X and the AirVape also made a smaller portable called the XS Go. I haven't had the chance to review the new X or the Go but I will be reviewing the new AirVape Legacy as soon as I can get my hands on it. The Legacy is supposed to be a full convection portable. I also recommend checking out my list for the top portable vapes under $150 for more options.
The only downsides that I've found so far are the overall battery life and the temps seem to run a bit high. But if you're looking for the slimmest vaporizer under $200, I think the XS will be your best option, along with the Pax 2
You can pick up the AirVape XS ($149) here from my recommended authorized retailer or read on below to get my full AirVape XS review.
Size, Portability, and Build Quality
---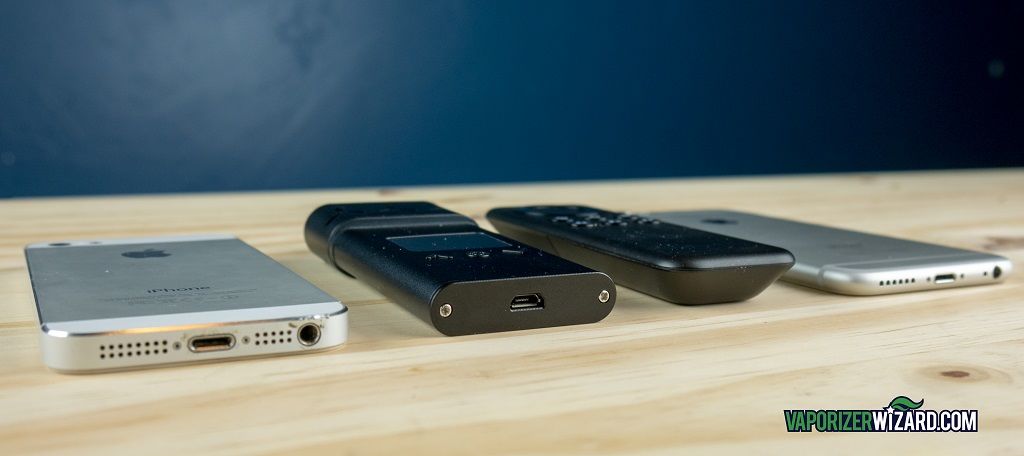 ---
The overall size of the Air Vape XS is the main selling point by far. It's very slim which makes it one of the easiest vapes I own to pocket and also very easy to hold. I can't quite completely palm it because of the height but it is shorter than the average smartphone.
The outer shell is a brushed rugged finish and you don't have to worry about it easily scratching. The only thing that could potentially break would be the glass mouthpiece at the top and it seems pretty durable. Lastly, the haptic feedback is a nice feature to remind you when the bowl is pre-heated and ready to go.
Air Vape XS Accessories
---
With the Air Vape XS, you get a USB cable and wall charger. Extra screens, some cleaning tools, a faux-leather case (meh), the instruction manual and the unit itself.
They also have a concentrate insert available for the unit but I haven't had a chance to try it out yet. I will be sure to update this review when I have tested it out.
Heating Specs and Temp Options
---
Heating: Although the Air Vape XS claims to be a hybrid heating system, I would have to say that it leans more towards a full conduction system. I would also say the entire unit runs a bit hot. Temp 380 seemed more like 400 to 410 on the Crafty or Mighty so I tend to stick to the 350-360 range which ends up helping with overall battery life anyway.
The AirVape XS uses a fully isolated air path, ceramic oven, glass mouthpiece, but a silicone gasket to connect the chamber and mouthpiece. I wish they could have used an all-glass vapor path somehow.
The ceramic oven is sized well for 1 or 2 people holding roughly .15 grams of dry herbs.  With a very fine grind and a tamp down it can hold a bit more.
Temp Options: The full temp spectrum runs from 200F to 428F and will reach temps of 360F-400F in about 30-45 seconds. The heat-up times are about average however a lot of new portable vaporizers are heating up in around 20 seconds. It also uses a three or five-minute session timer.
The pre-heat time cuts into your five-minute session timer which really isn't a big deal but now you're starting a session with 4 1/2 minutes remaining. Again, you just have to turn it back on but it would have been nice if the timer started when the unit was fully pre-heated. Luckily the Airvape does a great job of vaping the full oven quickly and evenly so the short timer is generally not an issue.
Vapor Quality, Draw Resistance and Usage tips
---
Vapor Quality: The first couple rips are great tasting with smooth vapor but drops off pretty quickly. Like I mentioned above, I would stick with the lower temps for best tasting sessions. 350F-370F seems to be a good range.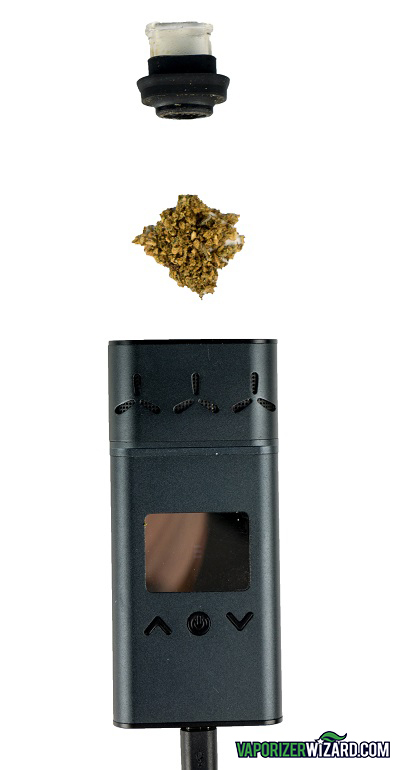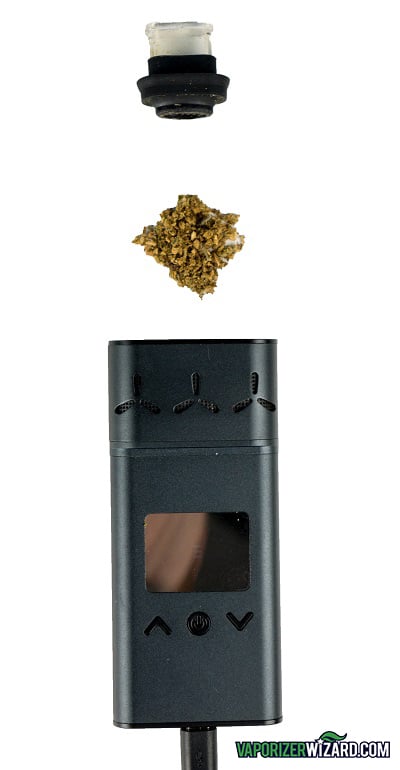 The Air Vape XS does, however, have HUGE cloud potential. The higher temp sessions will definitely satisfy heavy hitters but don't expect superior taste. I'd say anything above 400 and the taste pretty much goes out the window.
Draw Resistance: Slightly below average draw resistance which is good. Meaning that is has less draw resistance than most other portables I've tested.
AirVape XS Usage Tips:
A full chamber with a fine grind will produce the best results. My preferred loading style would be an average grind with a full but lose pack.
A fine grind will provide the largest clouds but will clog the screen faster and need to be cleaned more often. Whereas a coarse grind will help stop the herbs from collecting on the screen.
No need to stir! I've been getting even AVB with numerous loading styles including just straight throwing whole nugs in the chamber. I was very impressed by this.
Sessions run hot. I suggest a slightly lower temp than your normal preference. For me 350-370 is my sweet spot bumping it up to 380+ to finish off the chamber.
Cleaning and Maintenance
---
The routine maintenance is actually pretty minimal. I was thinking that the screen would clog pretty fast and increase draw resistance but I was able to get in 20 – five minute sessions before I needed to fully clean the screen, mouthpiece, and take a q-tip to the chamber. The entire cleaning process doesn't take more than five minutes.
You can just drop the silicone parts into some warm soapy water. The screens and glass mouthpiece can be soaked and cleaned with ISO.
Neglecting to brush/blow out the bowl and screen after sessions could potentially increase the frequency of cleaning. But as long as you empty and brush out the chamber after your session you should be good.
Be sure to rinse off all pieces and let them completely dry before using the unit again.
Battery Information
---
Battery Specs: The Airvape XS uses a 1300 mah internal NON-replaceable battery which is a bit weak. They definitely had to use a smaller battery to get the thin styling but most other portables in today's market will have 2500 mah or more.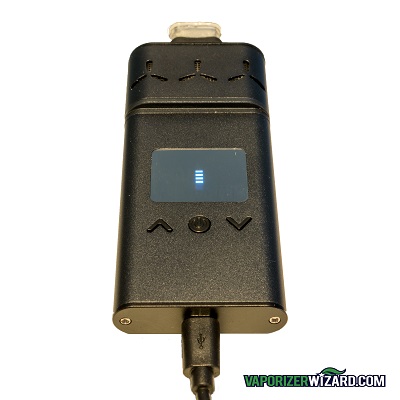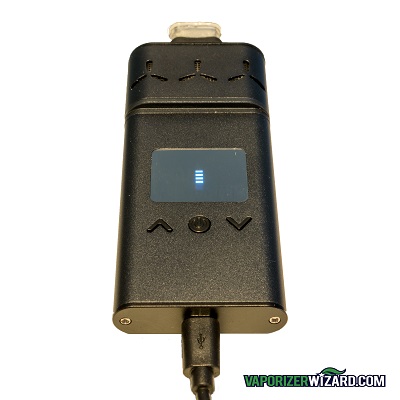 Avg Battery life: I've been averaging around 25-40 minutes on a fully charged battery. The overall battery life depends on the temps you vape at and whether you are vaping single five-minute sessions or back to back sessions. It will take more battery power to heat a cold bowl vs vaping back to back sessions.
Avg Charging Times: Typical charge times have averaged about 1 hour 20 minutes. The good news is that the unit does have pass-through charging so you can use it while it's charging.
I've been getting about 3-4 bowls on a full charge depending on what temps I'm vaping at and how large I packed the chamber.
Charging Options: You can charge it via USB or use the included wall charger. The screen will display the battery level as it charges.
Overall, the Air Vape XS leaves something to be desired in the battery department. If you're looking for a portable unit with better battery life, I would check out the Pax 2 below.
Comparisons 
---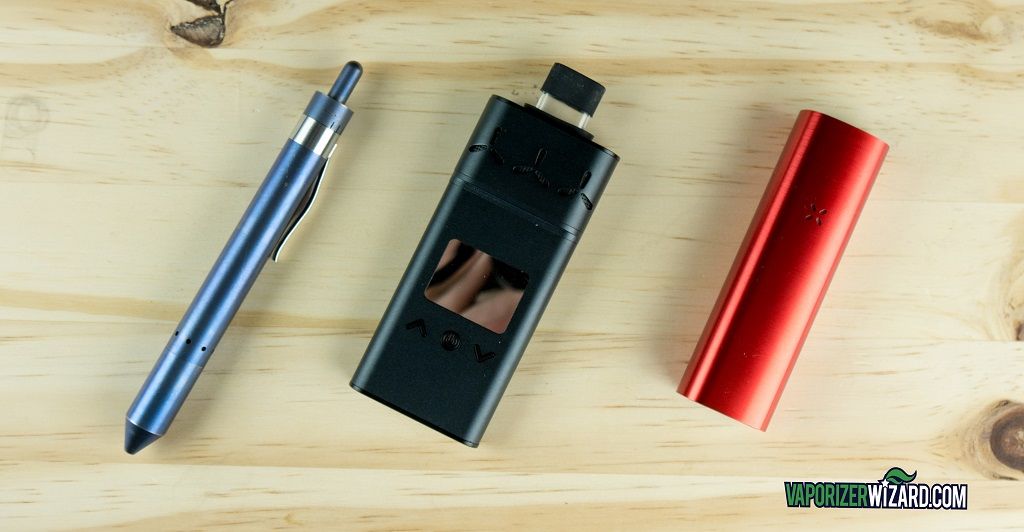 Pax 2 ($149) – If you're looking for something durable, proven, and just as portable, I would check out the Pax 2. It doesn't come with a digital display or a full temp spectrum, and the Airvape wins on clouds, but I prefer the vapor quality, both taste and temp much more on the Pax 2. You also get 90 minutes of battery life on the Pax 2 which is over double the Airvape XS and they both charge in 90-100 minutes. Last but not least, the Pax 2 comes with a 10-year warranty.
You can also check out my list for the best portable cannabis vaporizers for more options.
AirVape XS Review Wrap-Up
---
Overall the Air Vape XS is a great vaporizer for the size and price. I love that they offer a lifetime warranty since very few other vapes have that. They also have an upgrade program. Existing registered customers are eligible for an upgrade on future models for a "fraction of the price." They are definitely trying to take care of their customers.
I'm not a big fan of the battery life but if you're not a heavy user or won't be using it for long periods without charging, the Air Vape XS could definitely work for you. Lower temps will produce the best tasting sessions and be sure to keep on top of the routine cleaning to avoid increased draw resistance.
Click here to pick up the Air Vape XS from my recommended authorized retailer. They have fast, discreet shipping, and usually throw in a free gift.
Thanks for checking out my site and reading my Air Vape XS vaporizer review. Let me know if you have any questions by leaving a comment down below or hitting me up on my contact page. Have a great day!