The Magic Flight Launch Box is one of the most affordable portable vaporizers. At $119, it's one of the better portable vaporizers for this price range. The MFLB is lightweight, extremely portable, stylish with tons of accessories, and it heats up fast.
Update: The MFLB is still being sold but it seems that they are winding down a bit. Most of the distributors I recommend aren't carrying the MFLB anymore. Here are a few articles for you to check out instead.
Read on below for my full Magic Flight Launch Box Vaporizer Review.
MFLB Size and Portability
The MFLB is very simple to use after the first couple of sessions of some trial and error. The unit heats up in as little as 3-5 seconds making it the fastest heating portable vaporizer on the market. With that said, you can combust your herbs if you leave the battery pressed in for too long.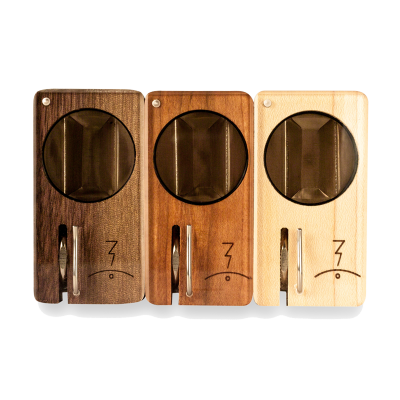 The Magic Flight Launch Box is available in three different colors. Walnut, Cherry and Maple. It has a pretty big trench for your herbs and has accessories available to use concentrates. If you pick up the Magic Flight Power Adapter, you can use the vape at home or in the car. This eliminates the need for batteries unless you plan on being outdoors or somewhere without electricity for a while.
One of the good things about the MFLB is the fact that it uses external rechargeable batteries rather than internals. If you know you're going to be out camping or hiking for a few days, you can always pack a couple of extra batteries.
I would say the vapor quality is decent for the size and price. It's still not quite as good as some other units like the Arizer Air or the Pax 2 but when used correctly it can give off some pretty dense clouds. The portability of the unit is fantastic and can be easily concealed. The MFLB does have a bit of a learning curve but you can check out the vape session in my video to get a couple of different methods for best results. I recommend shaking up the box after each draw to get a consistent vape of your herbs.
MFLB Review Summary
I definitely recommend the MagicFlight Launch-Box if you need a discreet and affordable portable vaporizer. It's not the easiest to master but becomes second nature after a session or two.
If you're looking for something with better vapor quality and want to stick with a portable, then I recommend you check out my Pax 2 review or the POTV ONE Vaporizer. If you want the best vapor quality of all units then you can check out my Volcano Review.
Magic Flight Launch Box Review Video