Haze V3 Vaporizer Review [4K] ~9:32
UPDATE:  Unfortunately Haze Vaporizers has closed up shop as of 12/31/2018.  Due to this I no longer recommend you purchase their products due to lack of warranty/support/accessories. Head on over to my favorite portable vaporizers and my favorite desktop vaporizers pages to see what I am currently using and recommending.
The Haze Version 3 is a portable vaporizer made by the company Haze Technologies and as you guessed it, the third update from the original. When released, the OG Haze was one of the first dual bowl vaporizers offering the ability to mix and match materials.
[one_half]
For instance, you can have one chamber with dry herb and the other with some e-liquids. Get in a quick session with some Sour D and chase the smell away with some fruity e-liquid flavor.
It can also vape concentrates via the included all-purpose cans. This is truly an all in one portable vaporizer for someone who likes to have options.
Now the original Haze and the version 2 had some issues with the mouthpiece sticking with moderate use. But the new Version 3 Haze has completely fixed the issue. They added a lip to the mouthpiece and boom, no more sticking.[/one_half][one_half_last]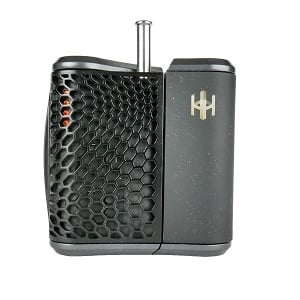 [/one_half_last]The Haze V3 retails for $249. Click here to get it from the same store that I got mine from. Full Haze V3 Vaporizer Review below.
Haze V3 Size, Portability, and Concealment
---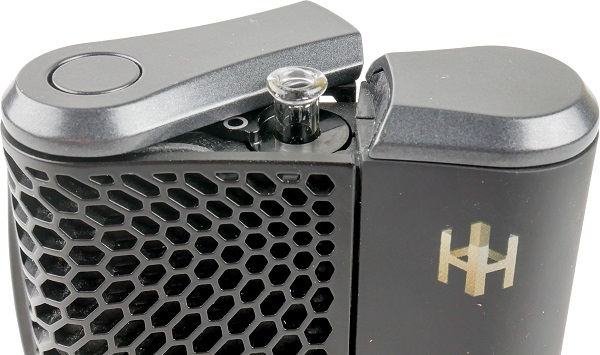 The size of the Haze is similar to that of a flask. It weighs a little more than other portables due to the stainless steel but overall it's not a deal-breaker. It fits perfectly in my jeans pocket and can easily be concealed in a backpack or hoodie.
The mouthpiece secures back into the unit when not in use and they have completely fixed the mouthpiece sticking issue by adding a lip to the glass mouthpiece. The Haze weighs roughly 193 grams (~6.8 ounces) with 2 all-purpose chambers and the mouthpiece stored inside. The Haze stands 3 ¼" tall, 3 1/8" wide and about an inch deep. It's 4 ¾" tall with the mouthpiece pulled out.
Temperatures, Heat Exchange System & Vapor Path
---
The Haze uses a patented heat exchange system with stainless steel chambers and a stainless steel vapor path. The heat exchange system works by pulling in cool air from outside the unit and passes by the air that exits the unit. This cools the exiting vapor while simultaneously preheating the air entering the chamber which helps conserve battery life.
The average heat up time is between 50-60 seconds and it maintains a pretty constant temp regardless of draw strength. It also does a very good job of evenly vaping your herbs without having to stir or mix.
Haze v3 Dual Chamber System & Packing Techniques
---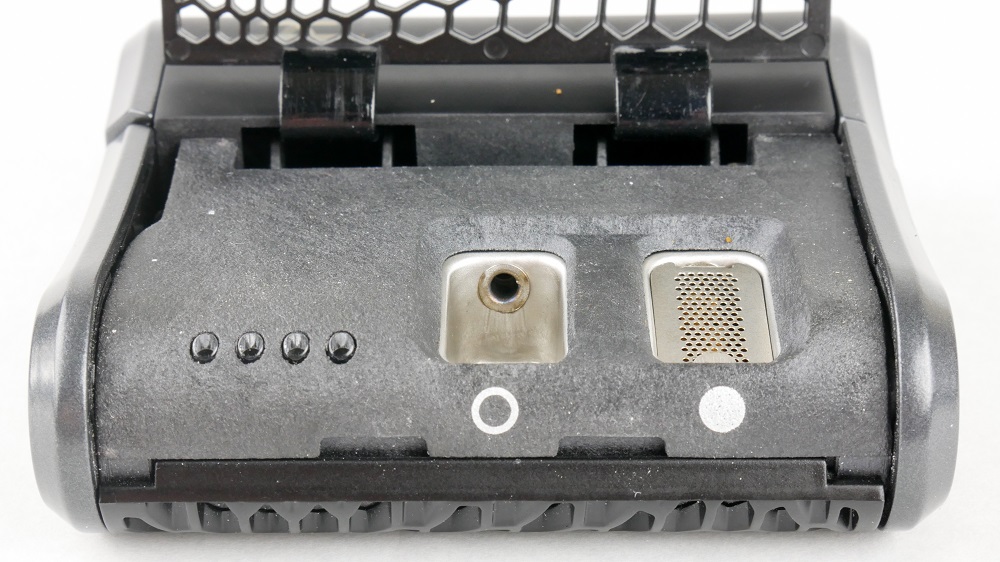 Like I mentioned earlier, the Haze is one of the first dual bowl vaporizers and they pull it off extremely well. You can use any combination of dry herbs, concentrates or oils with the included cans.
You get two all-purpose cans that can vape dry herbs, concentrates, and oils. Then you get 4 screens for dry herbs. Two convection screens and two conduction screens.
I've tried them all for dry herbs and I recommend that you use the all-purpose can, grind super fine and pack down the herbs tightly in the trench. I get about .2 grams in the all-purpose cans and a little less in the conduction/convection screens. One can fully packed is definitely enough for one person and just right for two.
You can also pick up an extra two-pack of the all-purpose cans for $10.99. This way you can pre-pack 4 bowls for trips and easily swap them out when you are finished.
Batteries, Charging Info, and Session Times
---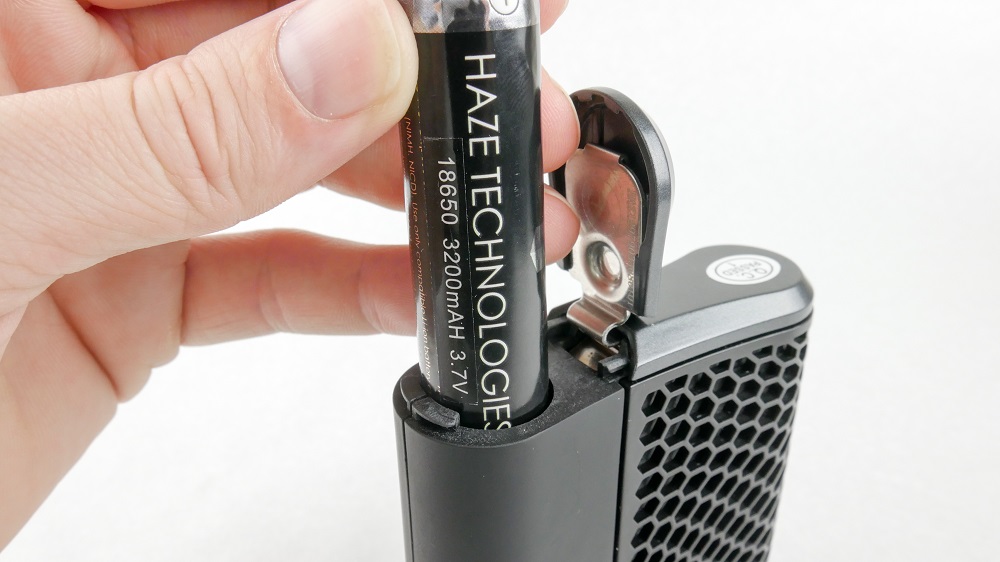 The Haze comes with two external rechargeable lithium-ion batteries. The exact Haze battery model is "3200mAh Li-ion 18650 3.7V" which is a big upgrade from the original 2600mAh in the 2.5 Haze version.
The batteries are my favorite part about the vaporizer because I can always have one on the charger ready to go. If I know I'm heading out for the day to go hiking or snowboarding then I'll make sure both are fully charged before I head out.
I can get on average four sessions per battery and each session lasts 10-15 minutes depending on your herbs, grind quality and what pre-packing can you decide to use.
Note* – They sent me the 3200mAh batteries for the review unit. The default batteries are 2600mAh. You can get the upgraded 3200mAh batteries for $30.
The Haze comes with an external charging dock which can charge one or both batteries in about 4 hours and they also offer a car charger adapter that plugs into the charging dock. Having multiple batteries is a lifesaver because you can't use this unit if you don't have a charged battery.
Haze Accessories
---
The Haze comes with a couple cleaning items like a brush and scoop which are pretty standard when buying a new portable vape. It also comes with two different mouthpieces, one all glass and one stainless steel.
The glass mouthpiece is said to have the best flavor but I don't really notice a different between the two. The stainless steel mouthpiece seems to be a bit cooler on the lips.
Haze v3 Warranty Information
---
The Haze vaporizer is backed by a 10-year warranty covering against defects in materials and craftsmanship.
From Haze Technologies… Haze is backed by a 10-year manufacturer's warranty. It does not apply to normal performance degradation, batteries, or glass mouthpieces.
Summary & Where to buy the Haze V3
---
If you want a portable vaporizer that allows you to vape all materials (Dry, Concentrates, Oils) then the Haze v3 vaporizer is what you want. The dual bowl system and the pre-packing cans make loading and unloading extremely easy. I have unlimited options as far as what materials I want to vape and how I want to vape them.
[one_half]
The 10-year warranty is a testament to the quality of the product and Haze Technologies is heavily involved with the vape community. They are constantly making changes and upgrades and seem to be a company to keep a lookout for in the future.
You can click here to buy the Haze V3 from the same place I got mine from. They have fast/free/discreet shipping and they are an authorized retailer which ensures you get the manufacturer warranty.
If you aren't quite sold on the Haze you can check out my Firefly 2+ review. The Firefly 2 is a pure convection portable vaporizer with quick heat up time (5-7 seconds), low maintenance and it's currently one of my favorite dry herb vapes for concentrates.[/one_half][one_half_last]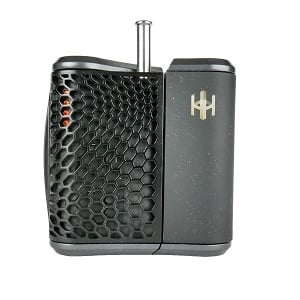 [/one_half_last]
If you have any questions about the Haze or any other vaporizer, you can leave a comment below or send me a message on my contact page.