The Volcano Vaporizers are the most well-known dry herb vaporizers on the market, and for good reason. They are extremely reliable and produce consistent results, and you can always rely on them to get you medicated quickly and efficiently.
Below you will find a full Volcano vaporizer usage guide along with ten or so tips to get the most out of your Volcano Vaporizer. Hit me up in the comments below with any questions!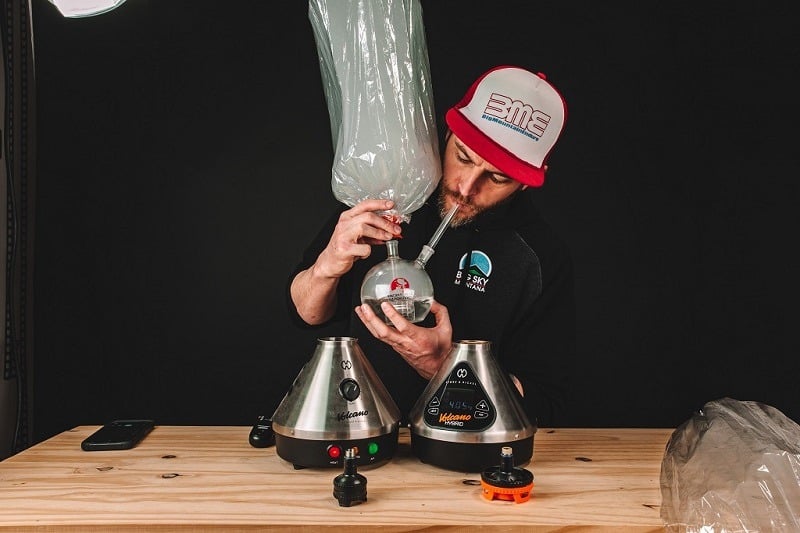 Volcano Vaporizer Brief Overview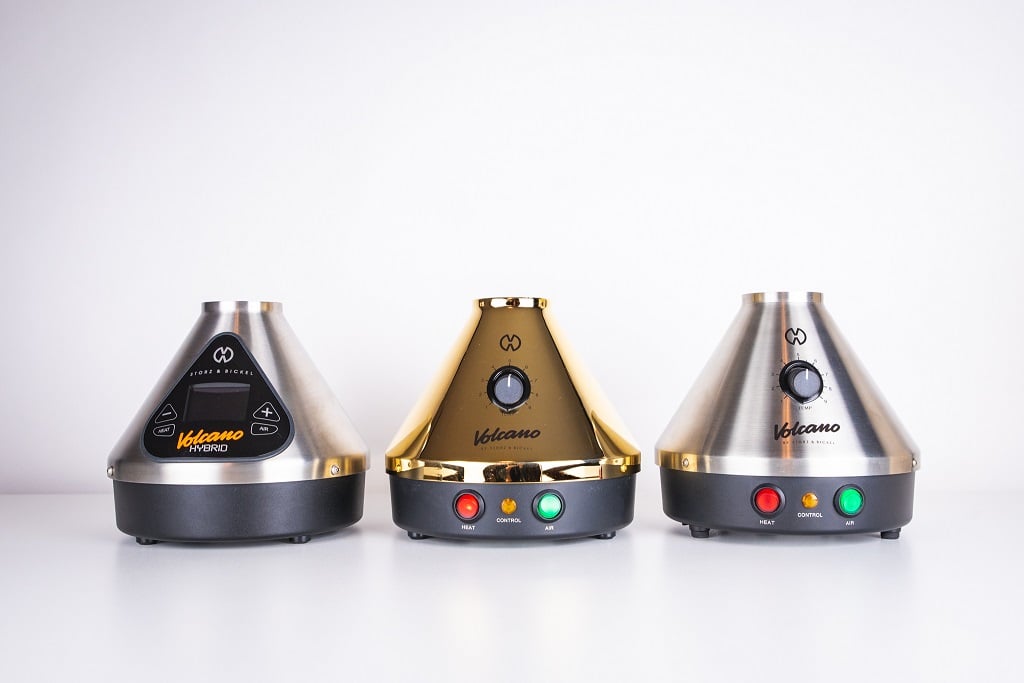 I've been using the Volcano Classic (Volcano Classic Review) for almost a decade now, with the Volcano Hybrid (Volcano Hybrid Review) taking over recently. The Volcano vaporizers are by far my most used dry herb vaporizers, and throughout the years, I've figured out what works and what doesn't.
The Volcano desktop vaporizer comes in a few different versions. I'll be talking about the newest version, the Volcano Hybrid, and the older proven model, the Volcano Classic, below.
I also have the Volcano Gold Vaporizer (Volcano Classic Gold Review), but it's literally the exact same as the volcano classic but coated in 24k gold and a new Volcano Classic White "Peace Edition." I'm putting together a blog from my trip to Germany and I'll show more pictures of the white Volcano then.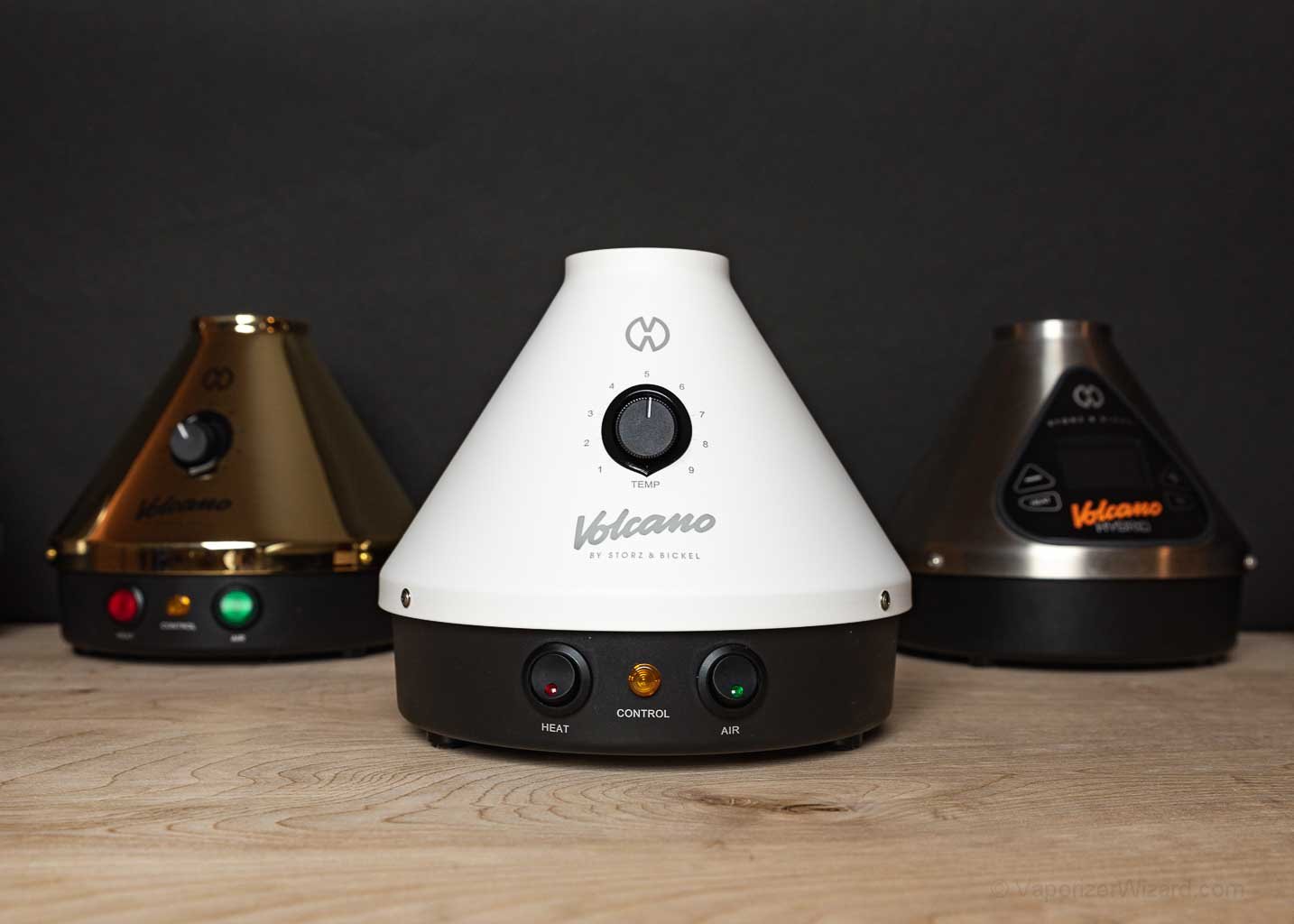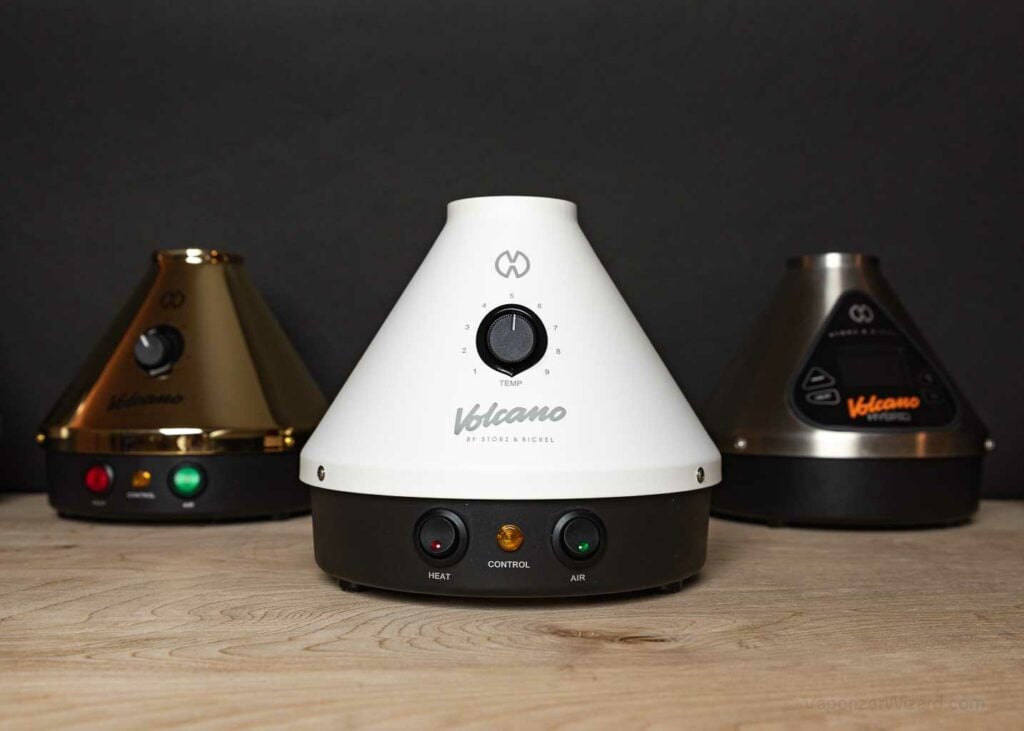 The Volcano Hybrid is currently rated as the best overall desktop vaporizer, and I don't see it getting beat out anytime soon. The Hybrid Volcano is easy to use, easy to maintain, and I can always rely on it to get me medicated quickly and effectively. Check out my Volcano Hybrid review for all the details.
As always, feel free to hit me up in the comments below with any questions, suggestions, or ideas for getting the most out of our Volcano vaporizers.
Volcano Vaporizer Usage Guide
Heavy Session
When I am looking for a heavy session, and I have some time to spare my preferred method of using the Volcano is to pack a large bowl and temp step it. So I will generally start with a good-sized bowl, from .3-.5 grams depending on my mood and the quality of potency of the herb I am using. I like to start my first bag at around ~365F on the hybrid or ~5.5 on the classic.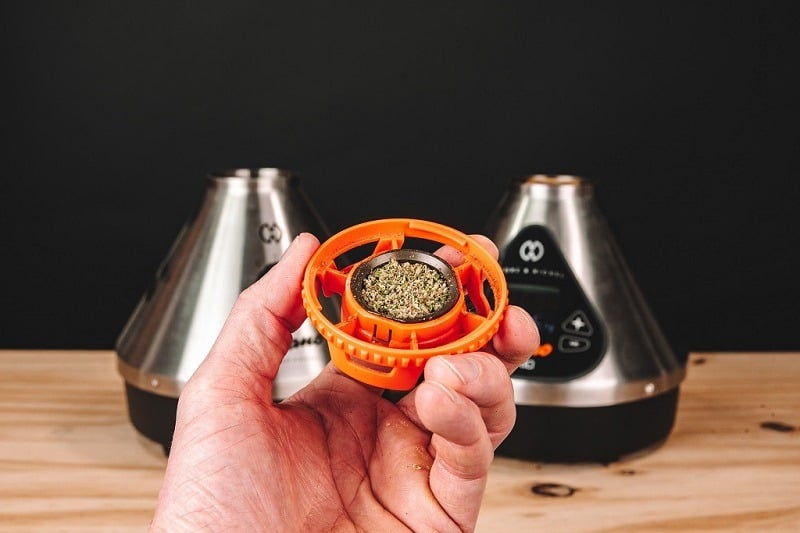 After the first bag, I like to stir it, or at least shake it around a bit, so the herb mixes. Then I refill my second bag, and I like this bag to be around ~385F on the hybrid or ~6.5 on the classic. Then I stir the bowl again and I usually fill my third and final bag around ~405F or ~7.5. If you are really wanting to maximize efficiency, you can finish the final bag closer to max temp if you prefer, but the vapor definitely becomes harsher and the flavor goes downhill without much of a bump in effect.
Micro-Dosing
When I am looking for a consistent chill vibe for playing games or watching shows/movies for an extended period of time, this is my preferred method. I generally like to add about .1 grams to the volcano, and then I fill a single bag between 395 – 405F or ~7-7.5. When I am ready to top up, I add another .1 grams on top of the existing bowl and give it a quick stir. I then fill my next bag at the same temperature as last time.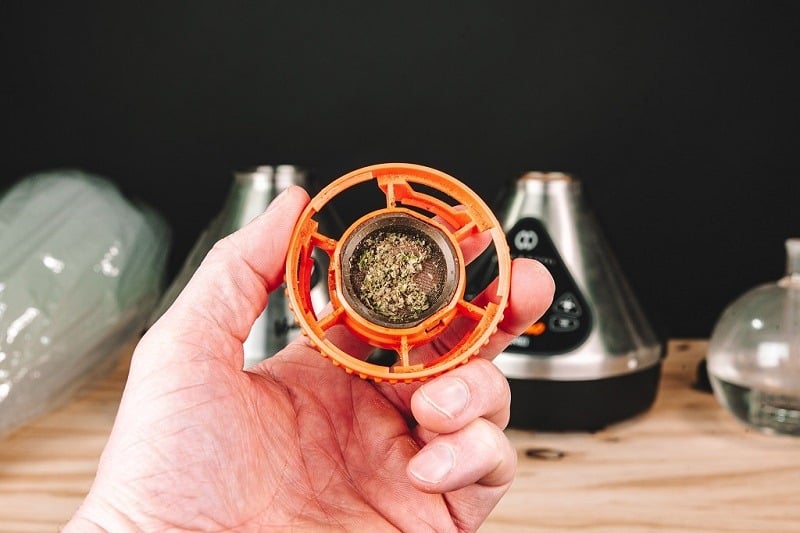 I will repeat this process 4-6 times until the bowl is pretty full. At the very end before I empty the bowl I like to do one final stir and bag fill without adding any extra herb.
To the Moon
When I am trying to get "heavily medicated," this is the best method. I fill the bowl as full as I think I want it, then I add another .1 or .2 on top. Then I set the volcano straight at the highest temp you can tolerate. For some people, this might be ~405F or 7.5, and for some people, this will be max temp. It's best to filter these type of bags through water which I get into later on in the Volcano tips section.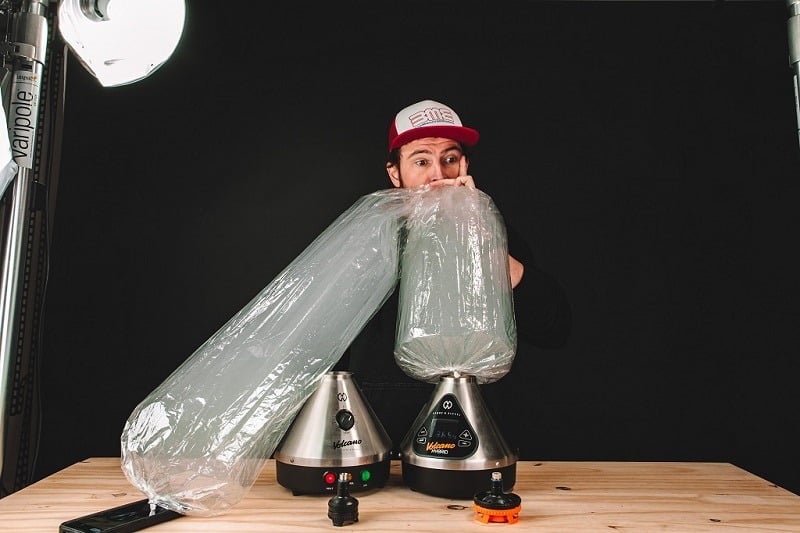 Volcano Vaporizer Tips and Tricks
1 – Medium to Coarse grind works the best. A fine grind will cause more residue to stick to the screens and more likely to get little treats from the fine herbs.
2 – Keep your bag upright while filling. If you have your bag bent over, then the vapor will condense on the sides faster, decreasing the longevity of the bag and increasing the chances of leaks developing.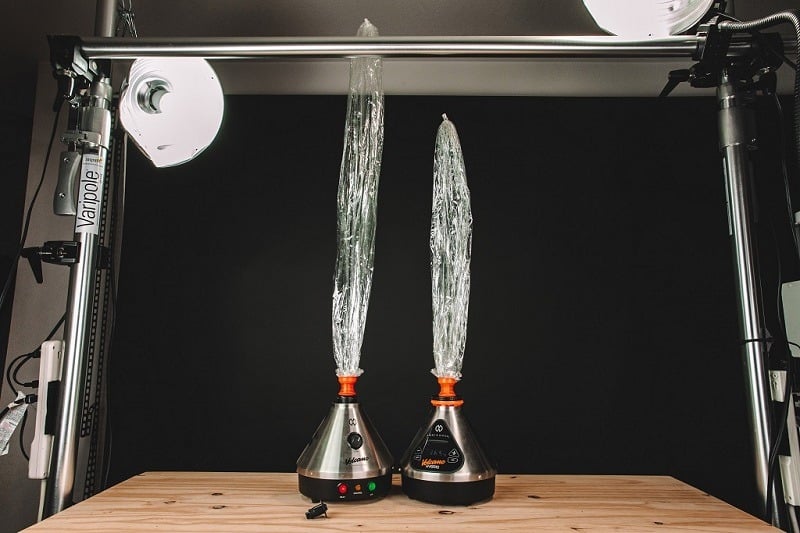 3 – Just because your herbs do not completely cover the bottom screen does not mean they will not vape evenly. You can definitely microdose with small packs despite looking underwhelming and still get good results.
4 – Just because you don't see a lot of vapor does not mean you won't feel the effect. If you start your first bag at low temps near the 350's, you often won't see much vapor, but you will still get some effect.
5 – You can preheat the chamber slightly before putting the bag on. I like to flip the air on for about half a second or so before I put the bag on. This will also blow away any dust or crumbs that may have gotten into the mouthpiece. Be aware if you pre-heat too long, you will waste some of the most volatile terpenes.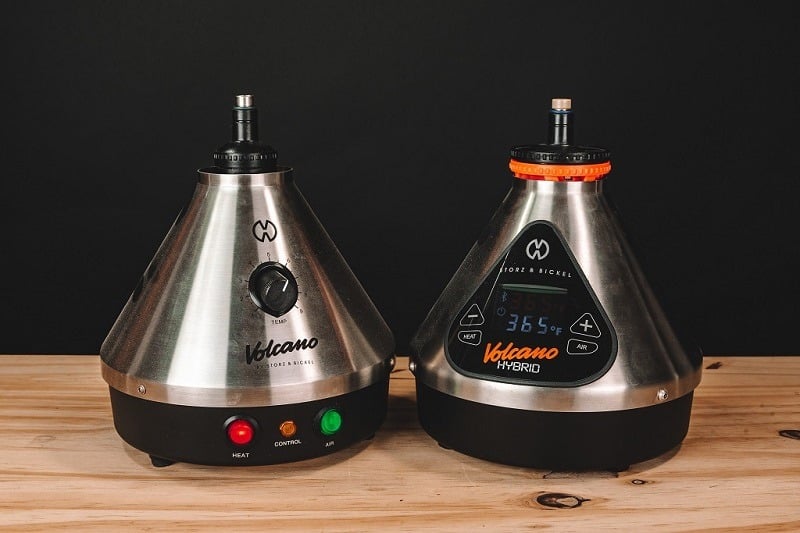 6 – Absolutely save your AVB (Already vaped bud). I generally use my AVB to make edibles, but if you ever go through a drought, you can re-grind your AVB and run it back through the volcano at a high temp to save the day.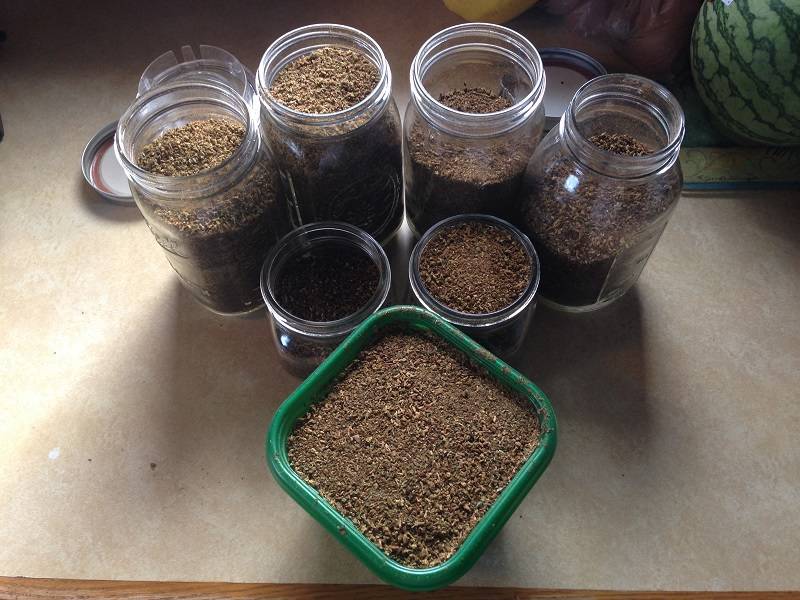 For some ideas on what you can do with your already vaped bud, check out my article on water curing AVB and also my recipe for making chocolate chip cookies with AVB Cannabutter using the Magical Butter (MB2e). Hit me up in the comments with any questions.
7 – If you plug your Volcano Classic into a smart outlet and leave the power switch on, you can turn the Volcano on via your phone/alexa/etc. This way you can turn it on and have it pre-heat during your drive home from work etc. Definitely not needed with the Hybrid due to the fast heat-ups.
8 – The easy valve bags will make a seal against both 14mm and 18mm glass. If you want to cool and moisturize your vapor press your bag up to a bubbler/waterpipe!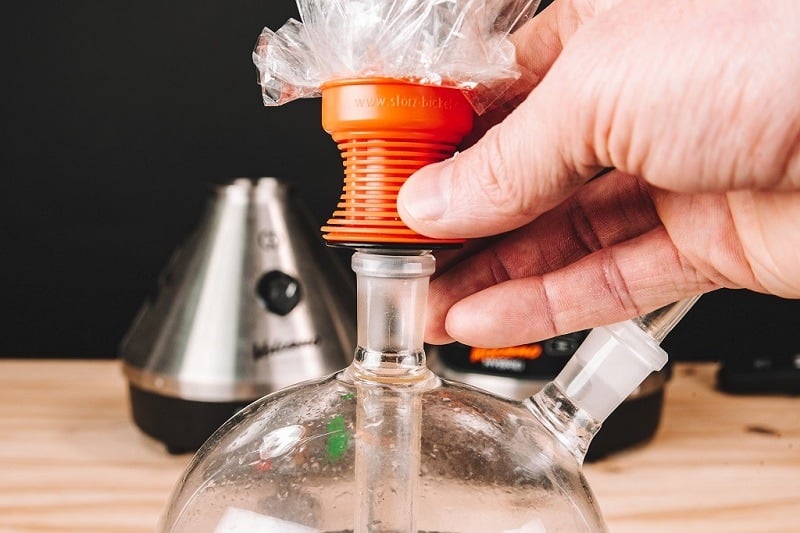 9 – Brush off the screens regularly. Both the bottom part of the filling chamber and the screen on the top part of the filling chamber after each session if you want to reduce the frequency of cleaning the entire filling chamber.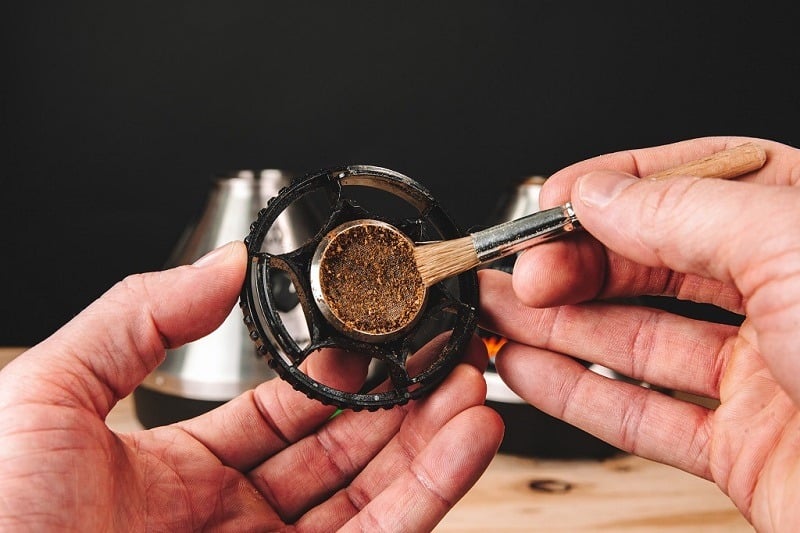 10 – Add kief to the top of your bow. You can mix Kief into your bowl if you want to spice it up, but it will cause it to get dirty faster.
11 – XL vs Standard Volcano Bags. Storz and Bickel offer two different sizes of balloons for the volcano hybrid, volcano classic, and the older volcano digit model. The XL volcano bags are absolutely huge and only necessary for larger groups or party scenarios.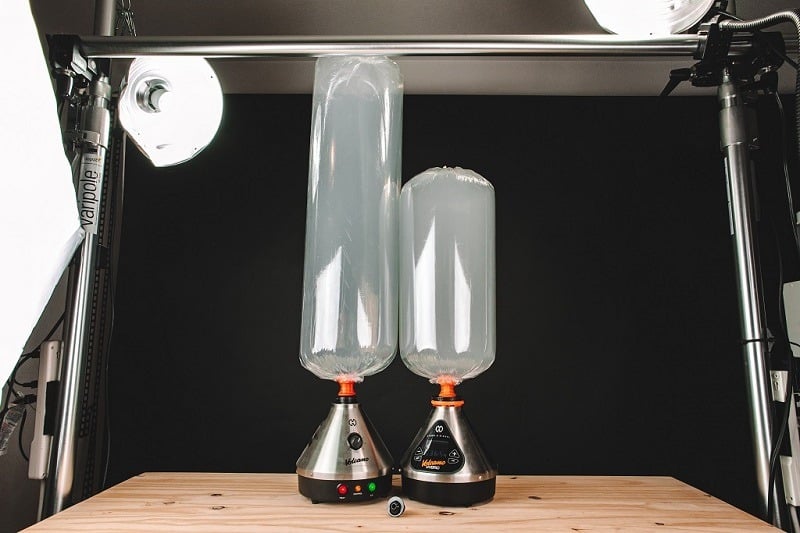 So that will wrap up my Volcano vaporizer usage guide, and I hope this has helped you get the most out of your Volcano vaporizer. I've been using my Volcano Classic for 6-8 years, but not the Volcano Hybrid has taken over. The quick heat-ups and digital temp display make it much easier to operate the Hybrid. Not that the classic is hard, but sometimes it's the small things that make a big difference.
Thank you for taking the time to check out my site and hit me up in the comments below or on my contact page with any questions. I also have a full buying guide for dry herb portable vaporizers if you want to check out something to use on the go.
Join the Volcano Vaporizer Usage Guide Discussion
What did I miss?
Do you prefer the whip or the balloons?
Water piece or no water piece, is it really a question?
What's your favorite feature about the Volcano?