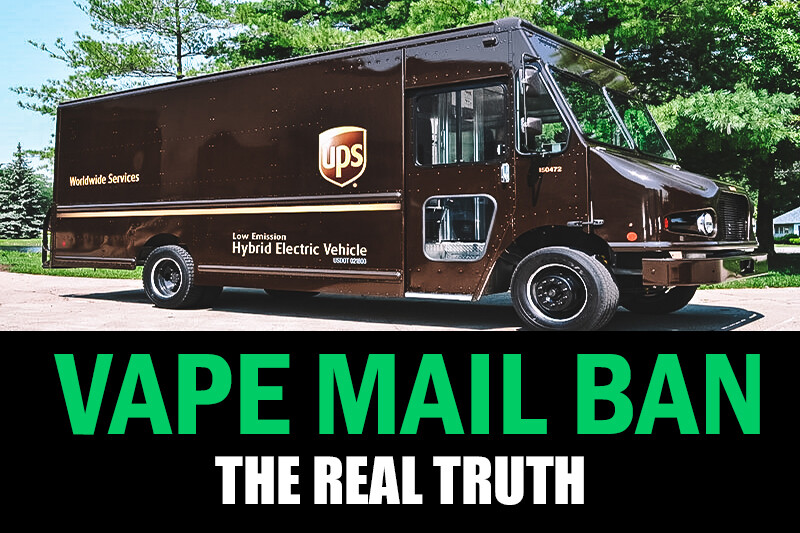 In mid-2020 we started hearing the possibility of a vape mail ban getting passed. Most of us, including me, didn't really worry too much because I truly didn't think it would go through. But here we are, once again, operating out of the shadows because an overly ambiguous bill threatens the livelihood of consumers and businesses in the cannabis industry.
To be honest, companies like Juul carry a lot of the blame. Ironically Juul was spun off from the dry herb vape company Pax Labs, formerly Ploom, in 2017. A few years back Juul was accused of directly advertising to young teens and using double the amount of nicotine as other e-cig brands. Juul is currently listed as the defendant in 56 civil cases.
I wouldn't doubt if they are a big part of why this bill was pushed for again in 2019. Granted, I don't think these politicians truly understand who dies from EVALI, or even understand what it is, it was just the news they needed to get the support to pass the bill. IMO, big tobacco didn't like the idea of e-cigs being sold online and JUUL held 74% of the market share as of September 2018. So what did they do instead?
Altria Group (formerly Philip Morris Companies), acquired a 35% stake in Juul Labs for $12.8 billion on December 20, 2018 (source). You read that right, $12.8 Billion, with a B, and only a 35% stake.
Fun Fact: Juul received a $2 billion bonus to distribute among its 1,500 employees.
Another Fun Fact: By the end of 2020, Citing a "significant deterioration in JUUL's business prospects," Altria said in a regulatory filing that it's slashed the value of its 35% stake in Juul to just $1.6 billion, valuing the e-cig-maker at slightly more than $4.5 billion, down from ~36 billion valuation when Altria first invested.
So Philip Morris probably said, "Ok, we can't compete so we will buy them out and pass legislation to stop the online sales of e-cigs to prevent new upstarts." JUUL holds a 42% market share as of July 2020 but I'm guessing Philip Morris won't have an issue with this vape mail ban and you will continue to see ENDS, specifically JUUL e-cigs in all of your local gas stations. Juul even says on their site:
"While online sales are paused, you can continue your journey with JUUL by purchasing your JUUL products at your closest e-cigarette and vape stores. With over 88,000 stores carrying JUUL products across the country, it's easy to find a convenient option near you."
A quick search with the store locator showed 20 different gas stations within 20 minutes of my house selling JUUL products. Pretty convenient that they have their own distribution network and don't need to use the mail to get their products into local businesses' hands.
Now that online retailers are out of the way, you will see Altria start to advocate on behalf of e-cig vaporizers and how safe they are.
So this blanket bill basically kills all small mom-and-pop ONLINE retailers, manufacturers, and distributors while allowing "Altria Group" to go about business as usual because this won't affect them in the slightest. Their shipping networks are vast and well lubricated.
So what is it that this bill was truly trying to go after? Stopping everyone from selling tobacco/cannabis oil pen products online so they can sell them through gas stations. Here is a list of all the people that lobbied for the bill. Why in the world would JUUL support the banning of online e-cig sales? Because they just received $12.8 billion to put all of their e-cigs in gas stations. The first 5 donations totaled were over $250k and it was a massive list of donations. Easily in the millions.
So now that you know the real reasoning behind the passing of this bill, you can see just how disgusting this is. These politicians either got duped by slick lobbyists talking points and campaign contributions, or they don't care about your kids and safe alternatives to cigarettes. It always has been and always will be about the benjamins. Money talks and when you have a company like Philip Morris (Altria Group) that can throw $12.8 billion into JUUL, not to mention money spent on lobbying, you can heavily influence legislation. It might just take a couple of tries and the right "news" or "event". I'm not downplaying EVALI by any means, but the first case of EVALI wasn't reported to the CDC until August of 2019. As you'll read below, this isn't the first time we've seen this bill (PACT ACT).
The PACT Act (Preventing Online Sales of E-Cigarettes to Children Act)
The original bill (H.R. 3042) was introduced on July 13, 2015, and was called the "Stop Tobacco Sales to Youth Act of 2015". It uses the same verbiage as the bill that just passed.
(6A)electronic cigarette

The term electronic cigarette means any electronic device that delivers nicotine, flavor, or other substance via an aerosolized solution (including an electronic cigarette, cigar, pipe, or hookah) to the user inhaling from the device (including any component, liquid, part, or accessory of such a device whether or not sold separately) but excludes product that—

(A)is approved by the Food and Drug Administration for sale as a tobacco cessation product or for another therapeutic purpose; and(B)is marketed and sold solely for a purpose approved as described in subparagraph (A).
Now this first try in 2015 may have started with good intentions, but it was also the first time we got to see the over-generalized definition of an 'electronic cigarette' or ENDS which stuck with the bills as they evolved and got larger.
They tried again in 2018 with H.R 7337: "Stop Tobacco Sales to Youth Act of 2018" with the same bill and it failed to pass.
Here enter the PACT ACT H.R. 3942 "Preventing Online Sales of E-Cigarettes to Children Act" and throwing it into a 5000-page coronavirus pandemic relief bill (Page 5136 if you wanna look). Classic.
The PACT Act, and what the other two were trying to do, amended part of the Jenkins Act (Act of October 19, 1949) to include ENDS.
What are ENDS? Electronic Nicotine Delivery System
"Any electronic device that, through an aerosolized solution, delivers nicotine, flavor, or any other substance to the user inhaling from the device," including "an e-cigarette; an e-hookah; an e-cigar; a vape pen; an advanced refillable personal vaporizer; an electronic pipe; and any component, liquid, part, or accessory of a device described [above], without regard to whether the component, liquid, part, or accessory is sold separately from the device."
While the definition is very broad and seems to capture almost everything, a recent article from mjbizdaily reports there is no mention of hemp or marijuana in the new law. It does mention "any other substance" but as time goes on I think we will see that this is a bill aimed solely at stopping the online sale of nicotine vapes.
UPS Vape Mail Ban
SO here's what we got from UPS: "As of April 5, 2021, UPS will not transport vaping products to, from, or within the United States due to the increased complexity to ship those products."
And here's the latest update on the site:
Vaping Products are considered Tobacco Products for the purpose of this policy. UPS no longer accepts for U.S. domestic shipment, including import and export into or from the U.S., any Vaping Product, including but not limited to e-cigarette devices and e-liquids or gels, regardless of nicotine content, even if a Shipper or consignee is permitted to ship and receive Vaping Products under applicable laws or regulations.
Hopefully, dry herb vaporizers are NOT under attack and the main focus is oil pens and e-liquid products. Specifically nicotine vape pens, CBD oils, and black-market cannabis oil pens.
What does this mean for Dry Herb vaporizers?
In the short term, we have seen businesses and manufacturers close their doors. Some temporarily like puffitup, and others permanently. Some new companies seem to be avoiding the word altogether like the new "Neo Herbal Atomizer" and we've seen old companies like Dynavap pivot to "Thermal Extraction Devices".
Other distributors like Planet of the Vapes are continuing full speed ahead with the shipping of dry herb vaporizers. POTV cleared out all oil and liquid-based vape pens from their inventory prior to the vape mail ban date of April 5th and POTV said they are going "back to our roots" as a "dry herb vape-only store".
So while this vape mail ban might affect some of our readers here, I think the majority of us, or at least me, are mostly dry herb cannabis users. I definitely use concentrates and will take a dab here and there but I very rarely use oil-based cannabis pens and I don't use nicotine or tobacco products.
We here at VaporizerWizard.com will continue to use and review dry herb vaporizers for cannabis consumption and will continue to advocate for the use of what we believe is the safest method of consumption, dry herb vaporizers.
While some of your favorite vape pens might be temporality unavailable, dry herb vaporizers like Storz and Bickel, Dynvap, Arizer, Davinci, Firefly, Healthy Rips, Boundless, etc… actual dry herb vaporizers, will still be sold and delivered to your door.
What can we do to help?
The USPS commenting period ended on March 22, 2021, and we are all kind of just waiting to let the dust settle to see what happens. Again, I'm pretty sure we are in the clear as far as dry herb vaporizers go and if you are looking for liquid or oil-based vape pens, you may be able to find them locally or via big-box distributors that can afford the new regulations, but only time will tell.
In the meantime and in-between time, we can do our part by spreading the word about dry herb vaporizers, the healthiest, safest method of consumption for cannabis (source and source).

The very best place to spread the word would be to your state's senators and representatives! More and more states continue to legalize both medical and recreationally and hopefully we will see cannabis federally legal soon!
But If you aren't confident that dry herb vapes will escape this situation unscathed, now is a great time to buy a vape due to the 4/20 vape sales!
STOP THE MISINFORMATION ABOUT DRY HERB VAPORIZERS and EVALI (VAPI)
YaleMedicine has an entire page on EVALI. What it is, symptoms, risk factors, treatment, etc and they define vaping as:
Vaping involves using a device—categorically called e-cigarettes, but also known as vape pens, mods, or tanks—that heats up a small amount of liquid, turning it into a vapor that can be inhaled. Most vape liquids—also called e-juice or e-liquid and sold in cartridges, pods, or custom containers—contain substances such as propylene glycol and glycerol as base ingredients that create the vapor.
So they explain that vaping is a device that heats the liquid into an aerosol. They also go on to state that most EVALI cases were from black market THC vaping liquids and that further research shows nicotine vaping devices contained harmful acetals.
Besides those base ingredients, many of the more popular vaping devices contain nicotine and artificial flavors. Researchers who have analyzed commercial vaping liquid samples have also detected potentially harmful acetals that form when flavoring chemicals mix with the base ingredients. "

Meanwhile, health officials investigating EVALI cases have found that many patients used vaping liquid that contained additional compounds, such as THC, cannabinoid (CBD) oil, and vitamin E oil.

The latest national and state findings suggest products containing THC, particularly those obtained off the street or from other informal sources (e.g. friends, family members, illicit dealers), are linked to most of the cases and play a major role in the outbreak," according to a statement released by the CDC.
This leafly article (which is very good) found that Honey Cut, a popular THC cart thickener, proudly advertised diluting vape pen oil up to 75% with its "proprietary blend." When tested by SC Labs in Santa Cruz, Honey Cut showed to contain 90 to 95% pure vitamin E acetate (Tocopheryl-acetate) with the rest being other forms of Vitamin E. Reports in the article mention 55gal drums going out of the store full of vitamin E acetate.
A quick glance at YaleMedicine Evali page or the CDC's Sever Lung Disease page will have you second-guessing your cannabis vaporizer purchase but when you dig in deeper you can see that it's THC and/or Nicotine LIQUIDS found through the black market and unregulated methods that are causing the health issues. While THC and/or Marijuana are mentioned in both articles, it's highlighted multiple times on both pages that "e-cigarettes work by heating a liquid to produce an aerosol that users inhale into their lungs".
Once again, they are referring to liquids. Dry Herb vaporizers heat dried herbs. Not liquid.
I feel like both of these studies/articles are misleading and cast a bad rep on the cannabis industry. It's not THC causing the issue, it's the compounds added to the THC in oil cartridges and then heated to produce an aerosol.
THE TERM "VAPORIZER" and "VAPING"
I hope that over time we can somehow escape the shackles of the assumptions that come with the term "vaporizer" or "vaping" but it's literally what it is. Shit, it's the name of our website. So I don't see us trying to pivot to the "dryherbextractor wizard" anytime soon. This industry has survived almost two decades with the majority of that time being in strict prohibition. And again, I truly don't believe they are coming after dry herb vaporizers. This is a pull from big tobacco to limit how and where you can get your e-cigs.
Thank you for taking the time to listen to me rant about this bs. I'm absolutely fed up with politicians and the amount of greed in this world and I'm writing this in the morning so I'm naturally grumpier. *Slurps down more coffee*
Also, I have tried to list all of my sources within the text but please let me know if I missed something. Lastly, I'm human and I make mistakes/read things wrong sometimes, hit me up in the comments below with any corrections or differences of opinion. I would love to hear your thoughts on the vape mail ban and EVALI studies, even if you think I'm a big idiot.
Join the Discussion:
What is your take on the vape mail ban?
Do you think they will come after dry herb vapes?
Are you as fired up about this as I am?
What do you think about YaleMedicine and CDC Articles?
What do you think about the wording "or any other substance" in the ENDS definition?