The PUFFiTX is a portable conduction vaporizer that mimics the look of a medical inhaler. It's one of the only portable vaporizers to use a forced-air system.
Update: This unit is discontinued and no longer being sold. Check out my top-rated portable vaporizers to see more current options.
The fan is built into the unit and it does reduce the draw resistance to pretty much nothing but the noise it makes is so loud. You couldn't use it out in public without someone knowing. The plus sides are the unit is very portable and discreet.
Puffit-X Size and Portability
---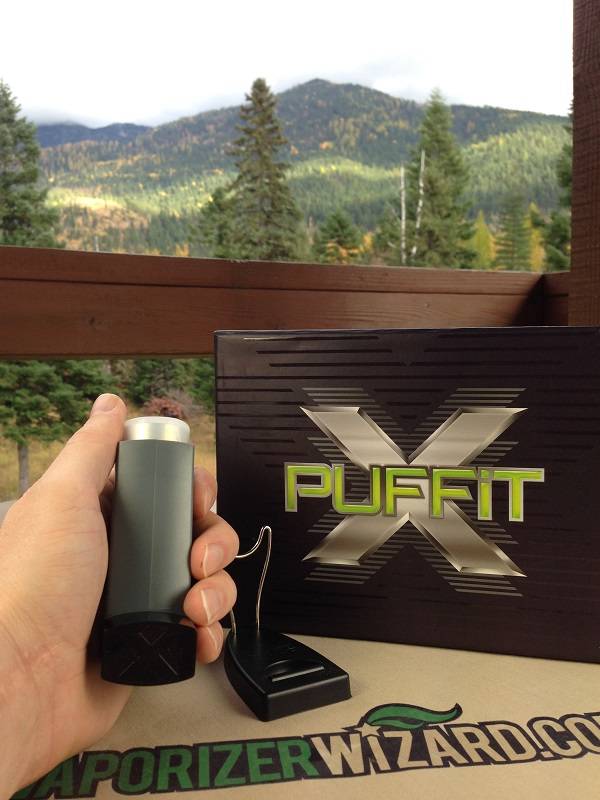 The PUFFiTX is very discreet and small in size. It stands 3 7/8" tall, 2 ½" deep, and 1 ¼" wide. It weighs about 87 grams with a packed bowl which is less than the Pax (100 grams) and it's very similar in looks to a medical inhaler. You could easily pull it out, heat the chamber and have a session in a park or a concert without getting noticed. Everything is attached so there are no extra pieces to carry around and it comes with a nice carry case to keep everything in.
PuffitX Heating
---
The PUFFitX has 8 different temp selections ranging from 300 to 430 degrees Fahrenheit. You can adjust the temps by turning the rotary dial temp selector. The lower temps don't seem to produce any effects so I'll usually start my session out at temp 7 (~410F) and finish it off at temp 8 (~ 430F). The typical heat up time ranges from 20-35 seconds depending on herb, grind type, and temp.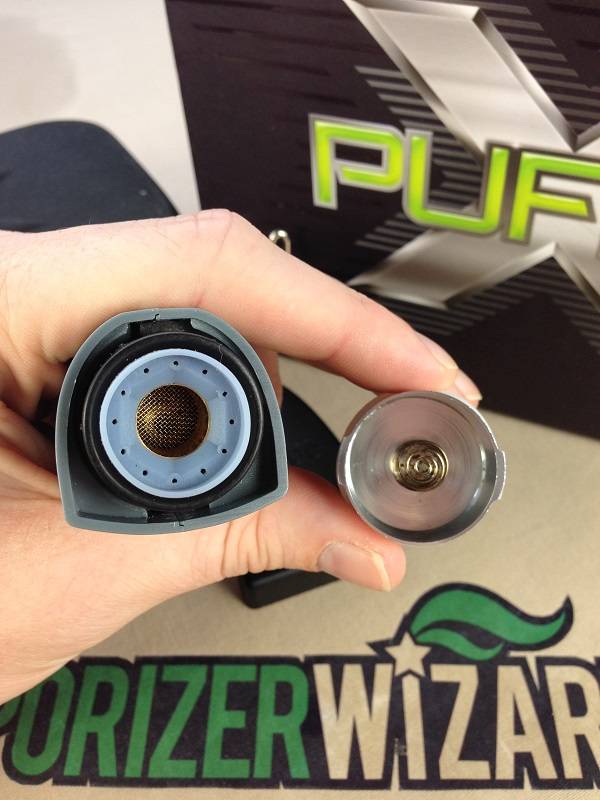 Puffit-X Chamber
---
The chamber is gold plated and uses a forced-air system to deliver vapor with very little draw resistance. The unit still works without the fan and sometimes I even prefer to do this because the fan can be pretty loud on fan speed 8. If you are out in public and are trying to be completely discreet, then I recommend you turn off the fan or leave it on fan speed one. Otherwise, it is nice to use the assisted air because you don't have to rely on your lungs to pull vapor.
Puffit-x Battery Info
---
The battery life is pretty decent for a smaller discreet portable. I've found I get between 25-35 heating cycles before the battery dies which is about 3-4 bowls. This would last one person all day but you would be cutting it close if you were sharing with company. The unit has a rapid recharge which charges the battery back to 80% capacity in one hour and then trickle charges for another hour or so.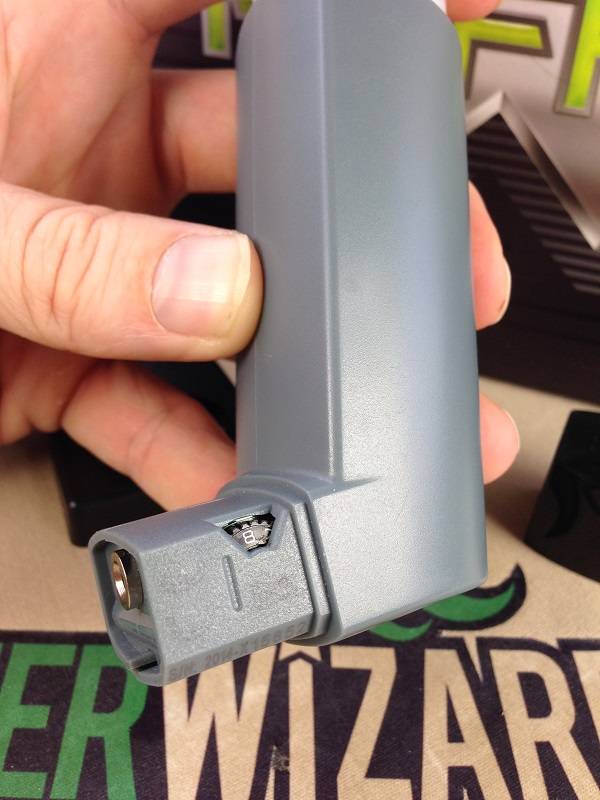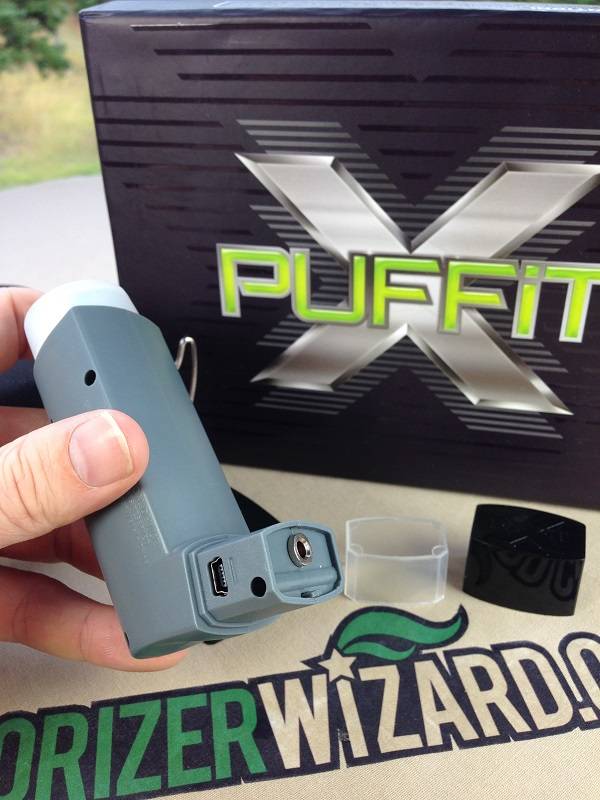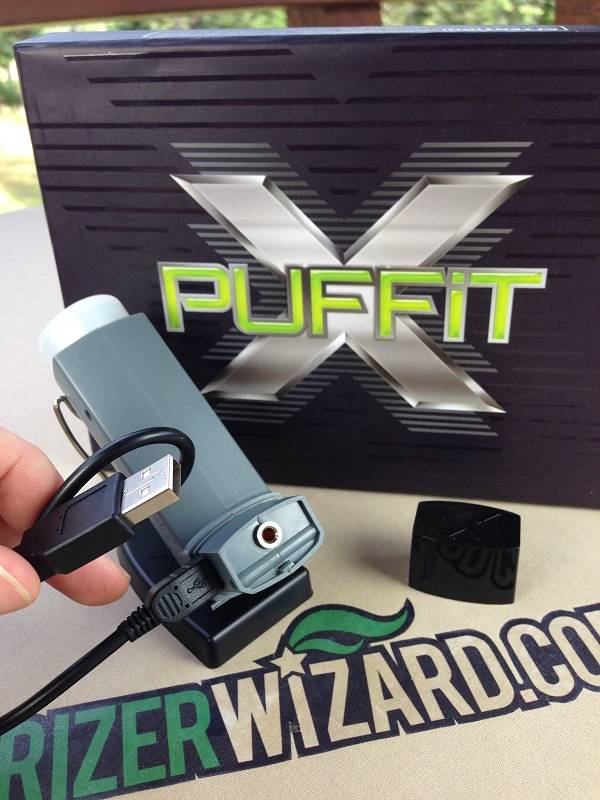 Accessories
---
The Puffit-X comes with a nice carrying case that stores all of your cleaning accessories and charging cable. It also comes with a nice little stand to sit it on while charging or cooling down. It also comes with a Silicone Heat Shield that goes over the top button. I recommend you do this immediately because the top gets extremely hot and will burn you.
Puffitx Warranty
---
Discreet Vape offers a 1-Year warranty for the PUFFiT-X which covers defects in materials and craftsmanship. This is about average for the novelty vapes. The battery is covered for the normal 90 days and does not cover degradation from use.
Puffit-X Review Summary
---
Overall, the PUFFiT-X is a perfect portable if you need absolute discreetness and portability. Just don't use the fan out in public. The device does actually look like a medical inhaler and you could easily pull it out and vape at a festival, concert or outdoor activity. The battery life is decent for the size of the unit and if you don't like a unit with a lot of draw resistance, then the forced air system might be just what you need.
Thanks for checking out my site and if you have any questions about the PUFFiT-X or any other vaporizer, feel free to leave a comment below or email me on my contact page.