UPDATE: Discreet vape is no longer making products so I do not recommend any of their models. I recommend checking out my recommendations for the best vaporizers and let me know if you have any questions.
The PUFFit 2 portable vaporizer is made by Discreet Vape and it mimics the look of a real medical inhaler. It's one of the most concealable and discrete vaporizers that you can get right now. This PUFFiT 2 vaporizer review will show you just how easy it use and vape inconspicuously in public. I wasn't really a fan of the previous PUFFiT models but this new model is actually really good.
Don't expect HUGE clouds or the best vapor quality but if you need to be sneaky while vaping out in public, I highly recommend the PUFFiT 2.
You can pick up the dry herb PUFFiT 2 for $99 VapeWorld or VaporNation and they are currently underway with a wax option as an accessory (current method isn't the best).
[one_half]
The PUFFiT 2 model is more like an on demand portable vaporizer. Not in the way that it heats up in seconds but rather it heats up for one draw and then it turns off. You can just power it back on and wait for it to heat up again for another draw.
It's not meant for long session type scenarios but rather getting in a quick couple draws just like you were inhaling from your medical inhaler. The unit will vibrate intermittently while heating up and do a short double burst when full heated. You can then pull it out of your pocket, take your draw, and put it away.
The PUFFFiT 2 might not be for everyone but it does work pretty well in certain situations. I really like the design, ease of use and the fact that if could probably pass for an actual medical inhaler if needed. Read my full Puffit 2 vaporizer review below.[/one_half][one_half_last]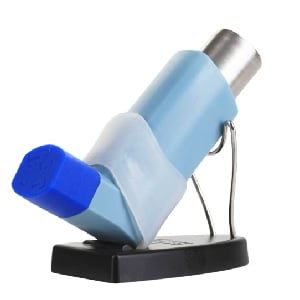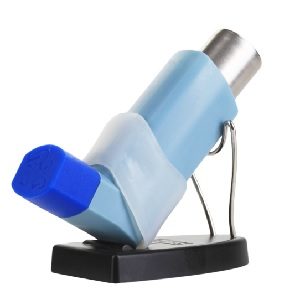 [/one_half_last]
Puffit 2 Size and Portablity
This is definitely the category where the PUFFiT 2 shines. As you can see from the pictures, this device is pretty similar to a real medical inhaler. It's extremely light in the hands and very easy to conceal in any type of pocket.
The PUFFiT 2 is much smaller than the previous PUFFiT X model and one of the smallest on the market.
Heating and Temperature Options
The PUFFiT 2 uses four different heat settings ranging from 320F – 415F (170C – 220C).
Temp 1: 320F / 170C
Temp 2: 350F / 185C
Temp 3: 375F / 195C
Temp 4: 415F / 220C
It's extremely easy to change the temp settings and I've found temp four to work the best for me. I'm a pretty seasoned vape wizard at this point so you might like to try out temp three first and then work your way up to temp four.
I haven't had the chance to try it out with wax/concentrates yet but I'll be sure to update this review when I do.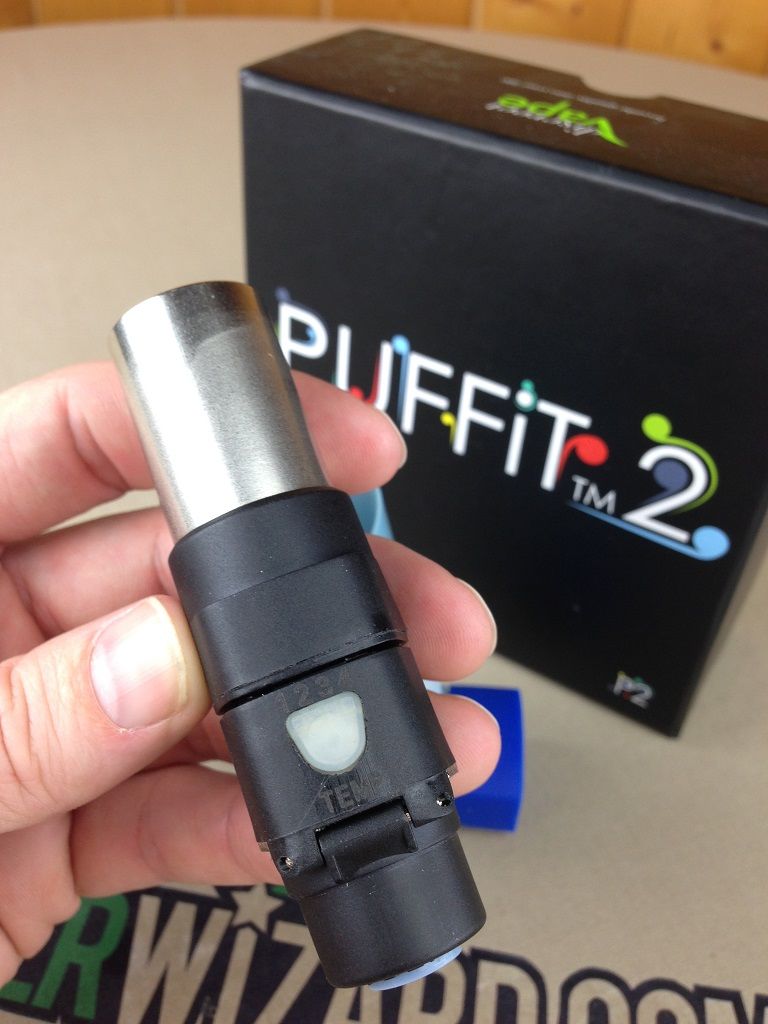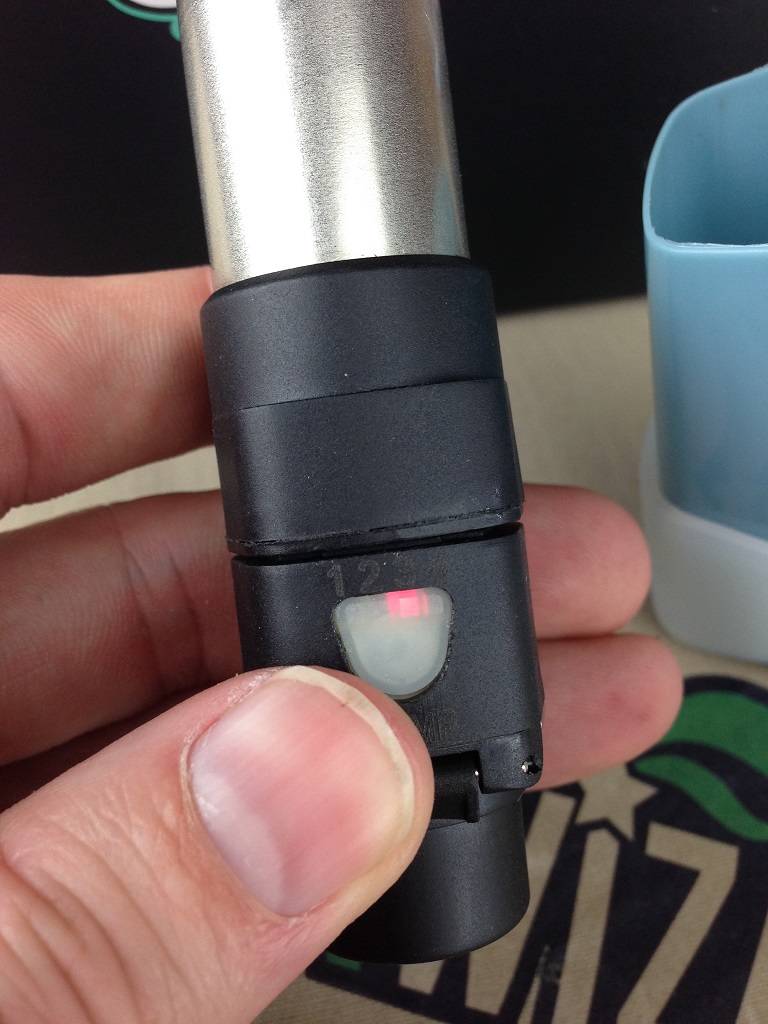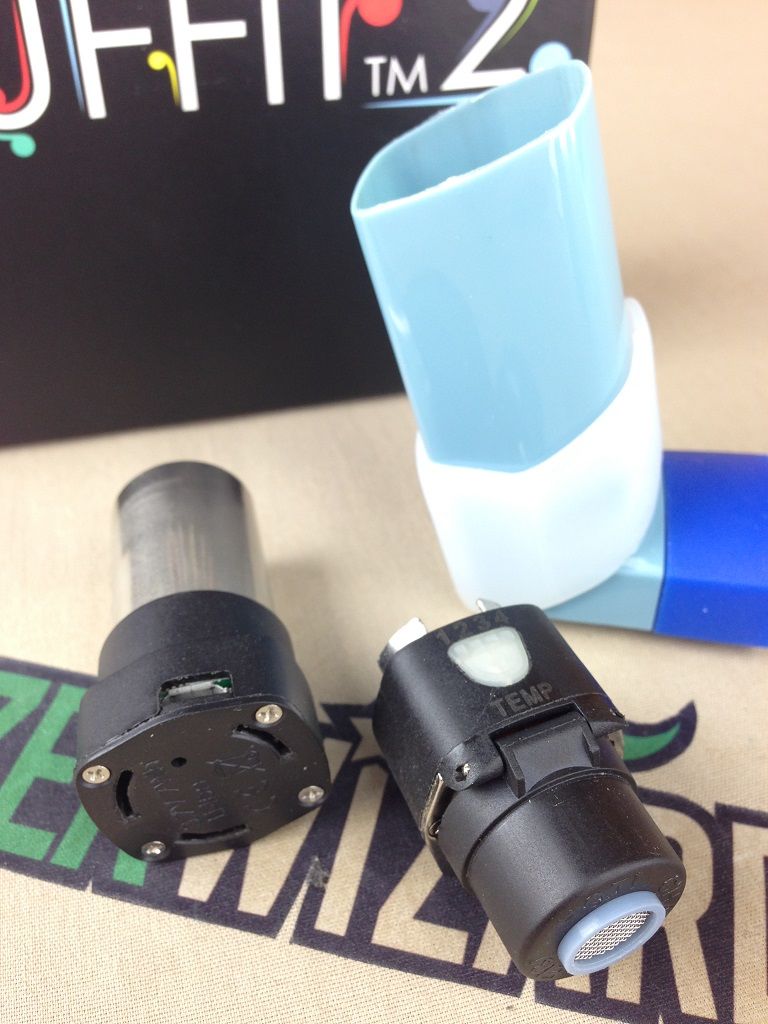 Puffit 2 Chamber
The PUFFiT 2 chamber will hold around .2 grams. I used my MFLB Finishing grinder to get the best results and if you really packed it down (I haven t tested this), you could probably get around .25 grams. So it's a decent size chamber for the size of the unit.
The good thing about the size of the chamber is the way the device functions. It's made to basically take 1-2 draws and put away. Using this method, you could probably get away with packing one bowl for the entire work shift or whatever, and have 5-7 solid hits to get you through the day.
Like I mentioned earlier, these sessions aren't going to be producing vapor quality like the Firefly or perform well in group situations like the Pax 2, but this is the perfect vape for 1-2 people that don't have very high tolerances. One chamber would definitely medicate two people if you were to session it.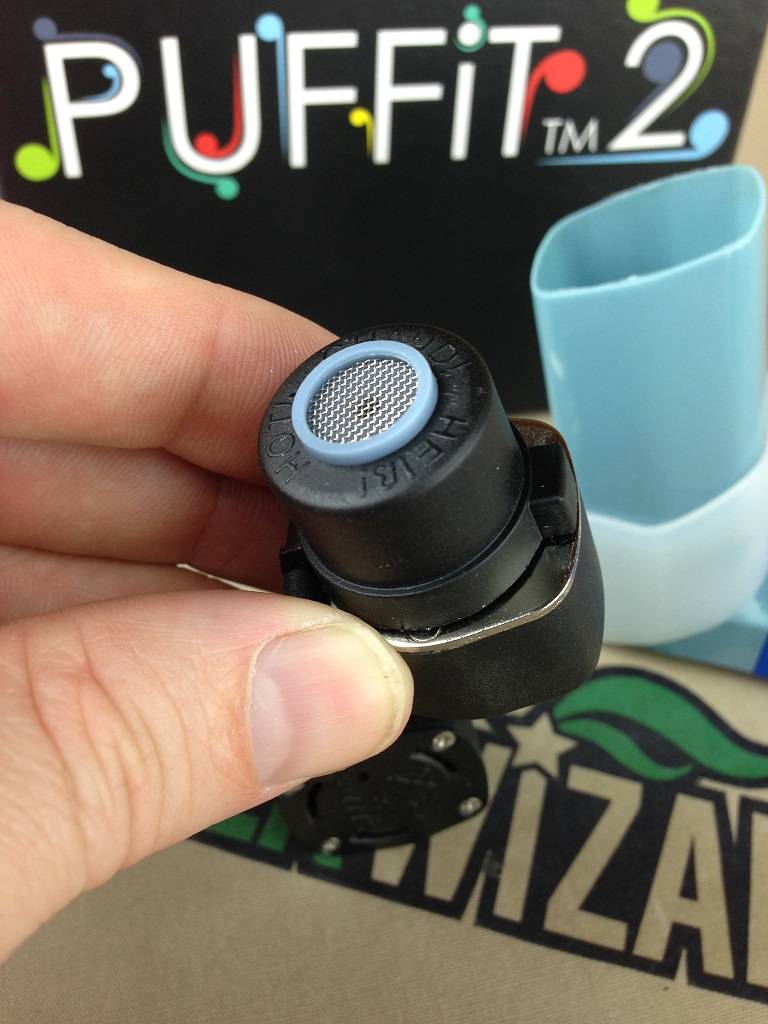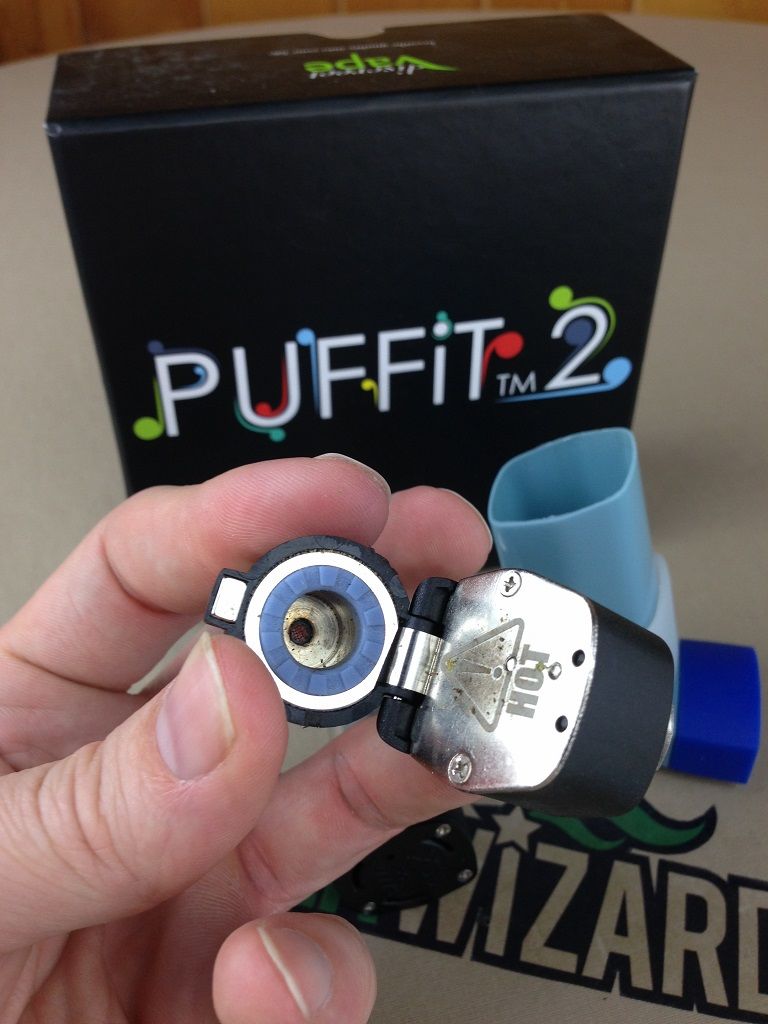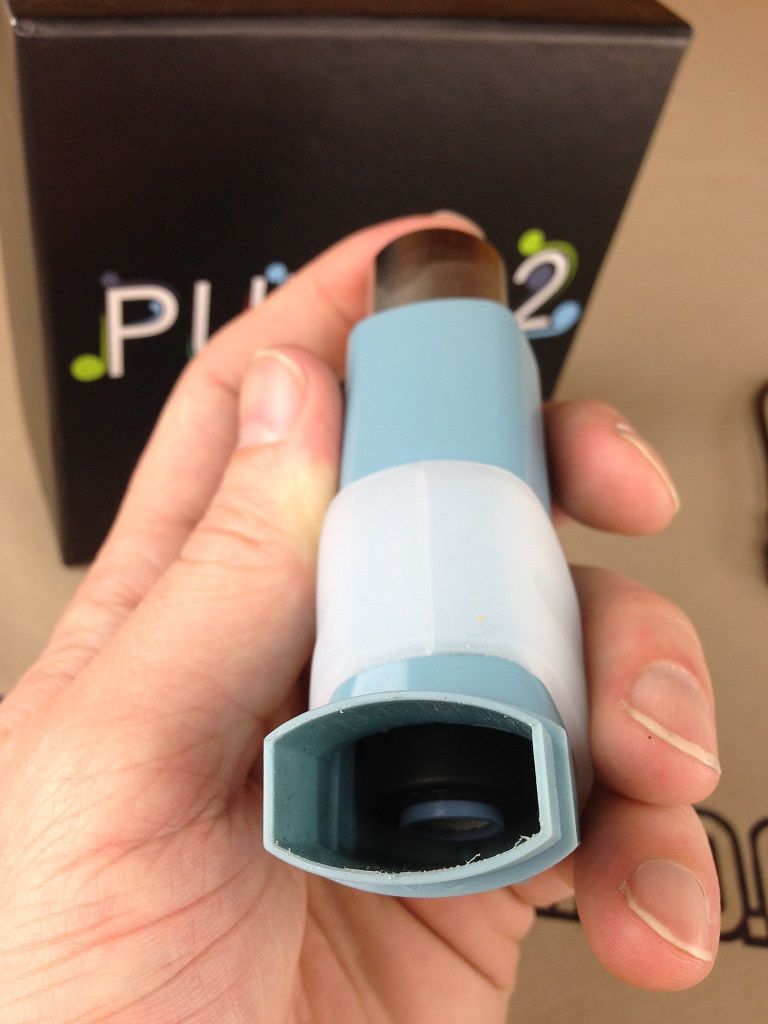 Battery and Charging System
The PUFFiT 2 uses a USB charging system and the battery attaches directly to the chamber/bowl. It's the top part of the unit as it's sticking out and actually really small for the amount of battery life it puts out.
After a small amount of testing, I was able to get 3-4 full chambers before the battery died which equals about 25-35 puffs or so. I will continue to do some more testing but it's definitely not bad by any means especially for the size. I'm currently doing some more testing to figure out the average charge time from dead but so far it's around 70 minutes.
PUFFIT 2 Accessories
The PUFFiT 2 comes with everything you need to clean it and a little sleeve to put around the outside of the unit in case it gets a little warm.
It will also come with a concentrate insert for waxes/solids but I was told that it isn't the best and I haven't the chance to try it out yet.
I most likely won't try it because they are coming out with a completely new module to attach as an accessory to the PUFFiT 2. So I will definitely be giving that a try when they release it.
If you plan on using the PUFFiT 2 out on the go for long periods of time then I recommend picking up an extra battery module. They run $30 but will make sure that you don't run out of juice half way through the concert/festival.
You can also pick up an Anker Battery Pack and charge it via USB on the go. That's the best part about USB charging and replaceable batteries, it gives you options!
Puffit 2 Warranty
The PUFFiT 2 comes with a one (1) year manufacturer warranty which covers defects in materials and craftsmanship.
*Important – DiscreetVape says that the "warranty is not transferable and DOES NOT APPLY to third party resellers such as eBay, Amazon, Rakuten, etc…", so make sure and get it through an authorized retailer which I have listed at the bottom of the page.
More Portable Vaporizer Options
QuickDraw 300 ($100) – The QD300 is the exact same unit as the V2 Pro Series 3 only you don't have to deal with V2 customer service or back order issues. The unit is coming directly from VapeWorld who has a very good customer support team that will make sure your product is delivered on time and in a timely fashion.
The QD300 is about the size of a Dime in diameter and a little taller than a pen in height. The chamber is pretty small (.1 grams) so this would be best for 1-2 people at most. Heats up in about 20-35 seconds just like the PUFFiT 2 only this is more of a session vape meant to use the entire bowl at once. This is a lot easier to do because of the small chamber but plan on taking 6-8 draws before putting it away or you're wasting some herbs for sure.
Grasshopper ($200) – The Grasshopper is a little more money than both options on this page but it's worth every penny (also comes with a lifetime warranty). The Grasshopper mimics the look of a pen and definitely can pull it off which you can see in the review pictures.
The Grasshopper is the closest vape to actual on-demand heat that you can get. It heats up in 3-5 seconds and you are ready to begin your draws immediately. It uses one of the biggest heats in a portable vaporizer all in the size of a pen. I can take HUGE rips from the Grasshopper and it will just keep producing dense, thick vapor without dropping large amounts of temps like other vapes.
Cleaning is minimal and the herbs are always consistently vaped. Definitely recommend adding the Grasshopper to your collection. Comes with five temp settings on a rotary dial which allow to select any temp within those settings so it's basically the full spectrum.
Puffit 2 Vaporizer Review Summary
The Puffit2 is one of the best portable vaporizers that you can pick up for under $100. The only other vaporizer I would recommend in this price range and novelty niche would be the QuickDraw 300 and although it is pretty slim/inconspicuous… it's still not a medical inhaler.
[one_half]
I recommend picking up the Puffit 2 from one of my preferred stores vapeworld or vapornation to ensure that you get a valid warranty with your purchase. They also have fast discrete shipping and usually come with a free gift.
I was always skeptical of units that try to pull off the "novelty" vape idea but the PUFFiT2 definitely has my approval. If you need to hide what it is you're doing, the PUFFiT 2 will be a perfect vape for you.
The vibrations are very subtle and do a great job of notifying you when the bowl is ready.
I really like the simplistic features and once again, you can't beat a good vaporizer for $99.[/one_half][one_half_last]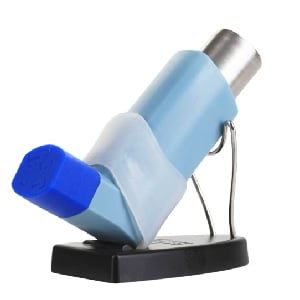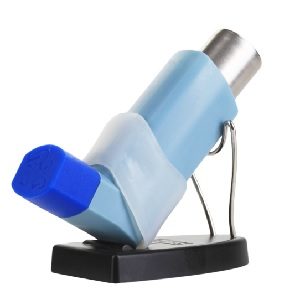 [/one_half_last]
Thanks for checking out my Puffit 2 vaporizer review and let me know if you have any questions by leaving a comment below or hit me up on my contact page.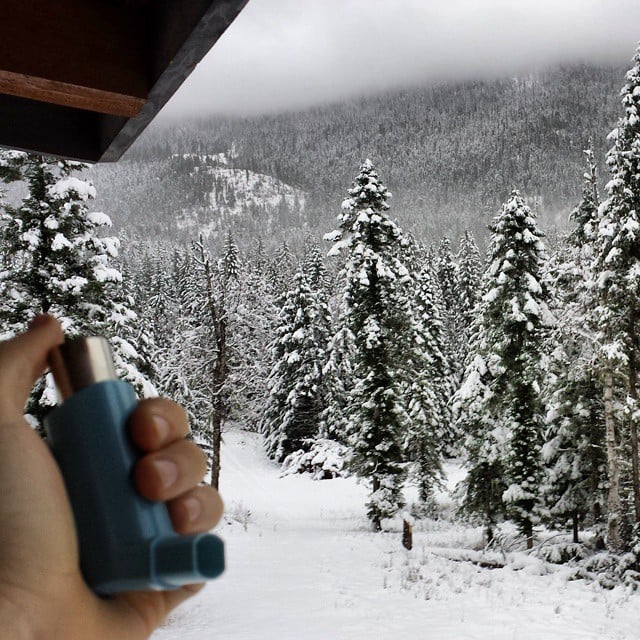 Love to #PUFFiT in the Morning!