The Ghost MV1 is a portable convection vaporizer made by Ghost Vaporizers. The Ghost comes with a full temp spectrum, great battery life, and produces some of the best flavors that you can currently get out of a dry herb vaporizer. The MV1 is also one of the best portable vaporizers for heavier users because of vapor production and long battery life. While I'm a big fan of the flavor and the vapor production, there are some downsides to this vaporizer.
[one_half]First would be the overall size and weight of the device. It's one of the heaviest vaporizers I have tested which makes it a bit more difficult to take out on the go. You will likely want a backpack, fanny pack, or a decent sized purse to fit it in. Next, the device takes roughly eight hours to fully charge from a dead battery unless you pick up the fast-charging cradle. Lastly, the crucibles are difficult to work with, from loading to cleaning due to all the size of the pieces and how hot they can get after use.
With that said, I have thoroughly enjoyed getting to know this device, and over time, I have developed techniques that make this device much easier to use.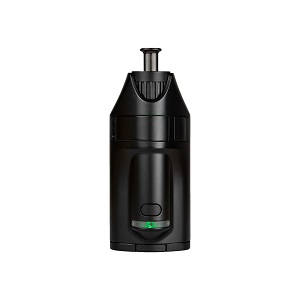 The MV1 has also come a long way since the initial release of this device. When it first came out, I was not a fan, but they have made some key improvements that make the device easier to use and more user-friendly. I will talk about those tips and upgrades later on in this Ghost MV1 vaporizer review.
UPDATE: GHOST is officially out of business. Some distributors are still selling the Ghost MV1. The bad news is that you won't be getting parts once the stores run out. So if you decide to pull the trigger on this one I would pick up an extra battery, charger, crucible dispenser, and extra crucibles.
I would also consider checking out my best vaporizer list and if you wanted to stick with a portable, I recommend checking out my article on the best portable vaporizers for dry herb.
MV1 Review Continued…
Before we jump into the review, we should talk about the price of the unit and accessories. I think the crucible dispenser is an absolute MUST for this vaporizer and I highly recommend picking up the external charger with an extra battery. With all that, you're looking at a device that costs roughly $395 when you get the MV1 Power Bundle + the Crucible Dispenser. I would not buy this device without the power bundle package because if you come back to buy the faster charger and extra battery at a later date, they are $60 a piece instead of $70 for both. Having the extra battery and charging cradle allows you to use the device while a battery is on the charger and the $30 crucible dispenser allows you to use the device more often without having to clean and repack crucibles. The device still works without any of these accessories but waiting eight hours for a vaporizer to charge via USB ruins a day full of vaping for me.
You can check out the Ghost MV1 directly from Ghost Vaporizers here and read on below to get the full MV1 Vaporizer review.
Mv1 Size, Portability, and Build Quality
---
Size and Portability – This is one of the categories that I tend to grade the harshest because I'm always using my vaporizers out on the go. I'm camping, biking, hiking, skiing, paddleboarding…etc. You get the idea. I want something that can easily fit in my pocket and won't weigh me down.
The Ghost MV1 weighs roughly 345 grams. By comparison, the Mighty, another big vaporizer, weighs roughly 230 grams. That's about the weight difference of a bar of soap which might not seem like much but the Mighty is slender whereas the Ghost is a bulky design.
The MV1 is the perfect vaporizer to use around the house, especially for taking quick but potent rips during short breaks playing video games. I also really enjoy taking it over to a buddies house for some sessions.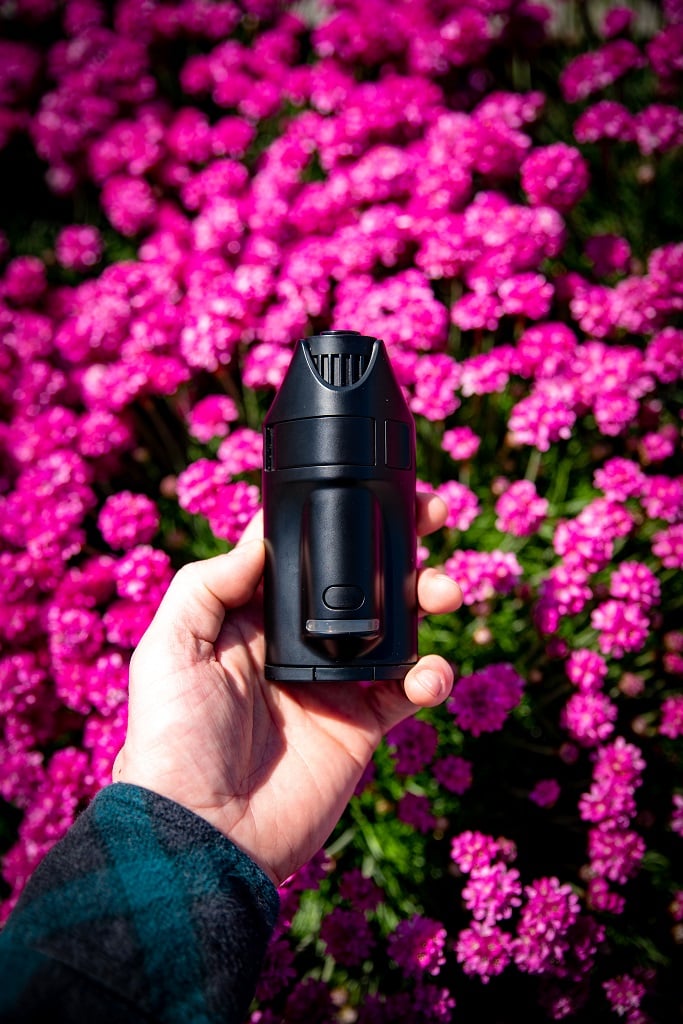 Build Quality – The overall build quality is top-notch. The design of this vaporizer is one of the things I like most about it. I always enjoy getting a new vaporizer that looks nothing like the rest of the market. It's exciting to see a company come in a design something completely different from anything else.
While the device itself seems pretty strong and durable, the crucibles and method of loading can be pretty tricky sometimes.
App Info – While you can change between pre-set temps on the device without it, the App is easy to use, easy to change temps and allows you to pick two custom temp settings.
What's Included with the Ghost Mv1 + Accessories:
---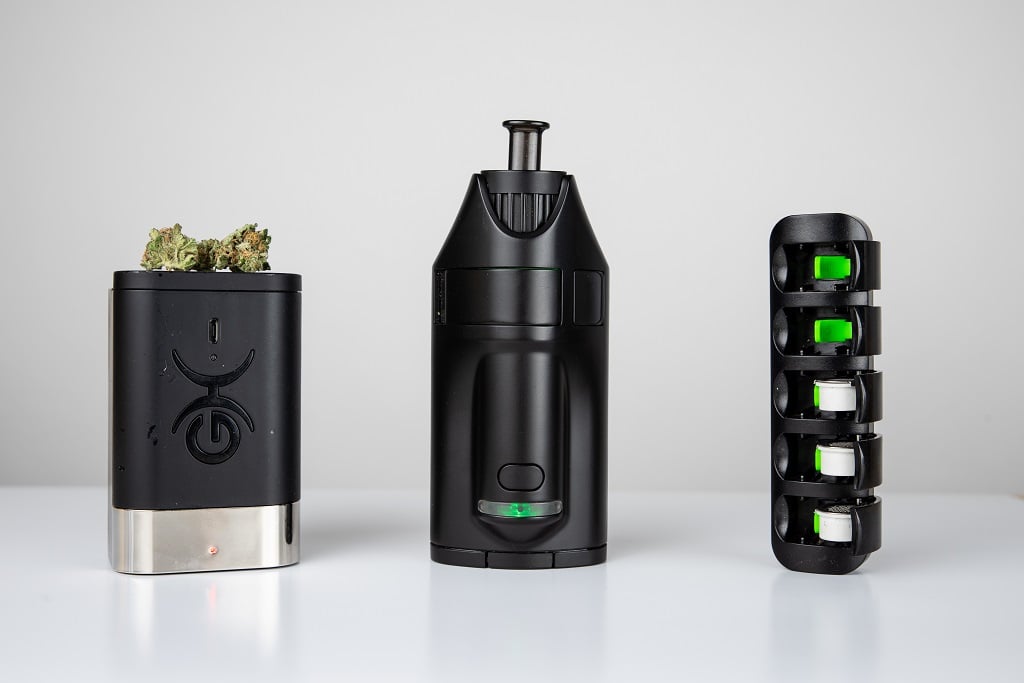 Included in the Box – In the box, you get the MV1, a USB charging cable, one spare crucible with lid (2 total), one concentrate pad, three picks for stirring, three ISO wipes, and three cleaning buds (aka q-tips). Like I mentioned above, I highly recommend picking up the MV1 power bundle. The power bundle will come with a spare battery and the external charging cradle for an extra $70. If you were to buy the charging cradle and battery separately after the fact, they run $60 a piece. So you're saving $50 by picking them up together with the device.
Extra Accessories – Other than picking up the external charging cradle and the extra battery, I highly recommend picking up the crucible dispenser as well. The dispenser was an absolute game changer for us. The crucibles tend to get pretty dirty quickly. Now they aren't hard to clean at all. Just throw them in some ISO and let them sit but you don't want to be doing this all the time. So the crucible dispenser will give you five extra crucibles. Having the extra crucibles cuts down on the amount of cleaning tremendously and allows you to use the device much longer. The crucible dispenser also allows you to preload bowls to take with you on the go which is much easier than emptying a bowl and repacking on the go.
MV1 Heating, Vapor Path, and Temp Options
---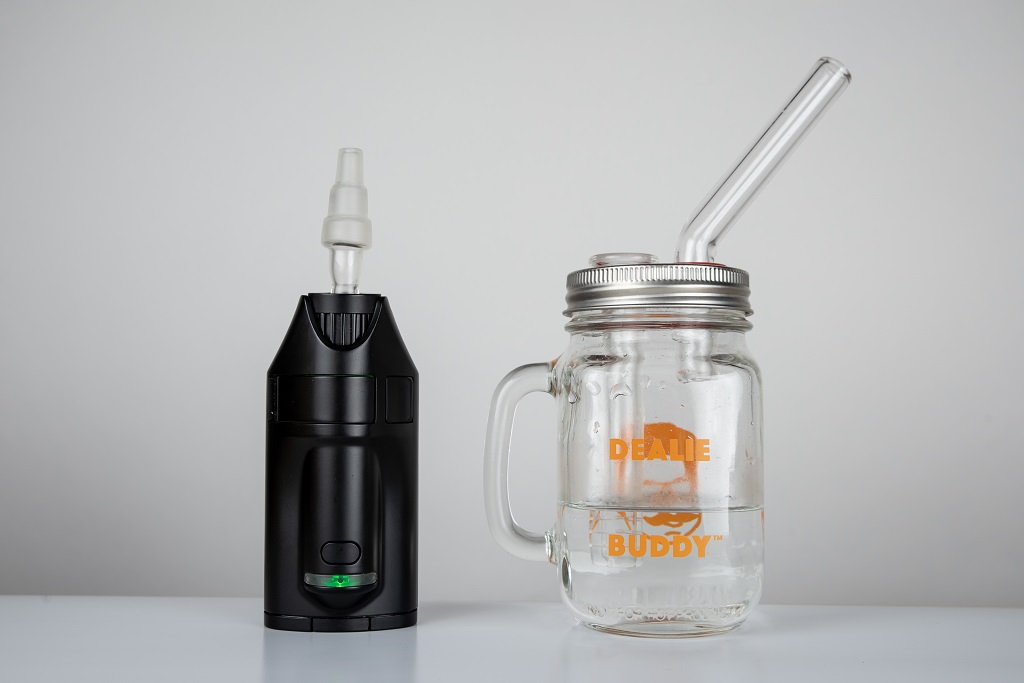 Heating – The MV1 heats up in about 10-12 seconds, which is one of the fastest heating portable vaporizers on the market. I think the only vaporizers that heat up faster are the Grasshopper and the Firefly 2+. The session timer is set for 15 seconds so you can get in a full hit in under 30 seconds, which is awesome if you're trying to get medicated quickly.
Vapor Path – The Ghost MV1 features an isolated air path free of any contact with electronics. All parts are medical-grade, and the Ghost produces some of the best vapor quality you can currently get out of a portable vaporizer. The 100% pure convection heating allows you to take a rip here and there without wasting herbs in between draws which are perfect for micro-dosing.
Temp Options – The temp range on the Ghost MV1 vaporizer runs from 284F to 428F. You get three preset temps with the first one starting at 338F, the second is 365F, and the third is 392F. You get two customizable temps which can be set to any temp within the range, and it also offers a concentrate setting.
Chamber Info and Draw Resistance (Ghost MV1)
---
Chamber Info (Bowl Size) – A full packed MV1 bowl will hold about .1 to .15 grams depending on packing techniques, and I've had the best results with a fully packed bowl. The good thing about this is you don't have to vape the entire bowl in one session. You can hit it once, stir it, and then come back to it later. This technique, paired with the crucible dispenser, basically gives you a massive amount of rips without having to load while on out the go. You can have up to six crucibles loaded and ready to go and swap them out when you're ready for a session. Overall I would say this is a very efficient vaporizer, I get a strong effect from the size load.
Draw Resistance – The MV1 is one of the freest flowing vaporizers that you'll ever use. I'm talking barely any draw resistance from this device which makes it perfect for anyone and especially those that don't want to be pulling super hard on a vaporizer.
Ghost Mv1 Battery Information
---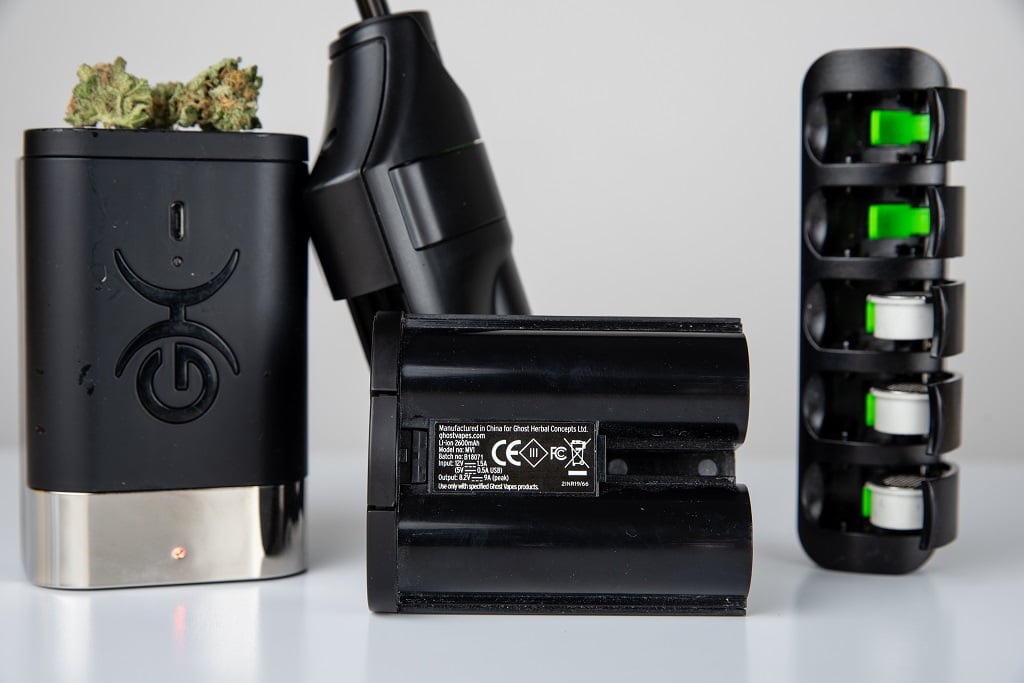 Battery Specs – The MV1 vape uses a proprietary battery system with two 18650 batteries.
Battery Life – I've been averaging around 6-8 crucibles on a fully charged battery and I get anywhere from 4-8 draws per crucible. So there's potential for 60 draws on a fully charged battery but it all depends on temp settings, loading techniques, and how strong/weak your draw is. You can crush a bowl in a couple of hits on max temp and long rips, or you can start at low temps and take small microdoses. It all depends on your preference and your experience with this vaporizer.
Charging Times – This is one of my least favorite categories with the Ghost MV1. The Ghost takes anywhere from 6-8 hours to charge from a dead/low battery via USB fully. If you don't pick up the "Power Bundle" kit, you might be limited on when you will be using the device. I also don't like that they charge $60 for the charging cradle and $60 for a battery. That's the price of a few decent introductory vaporizers these days. This is why I highly recommend buying the Power Bundle kit right off the bat, which saves you $50 and will allow you to use the device more regularly daily.
Ghost Vaporizer Cleaning and Maintenance
---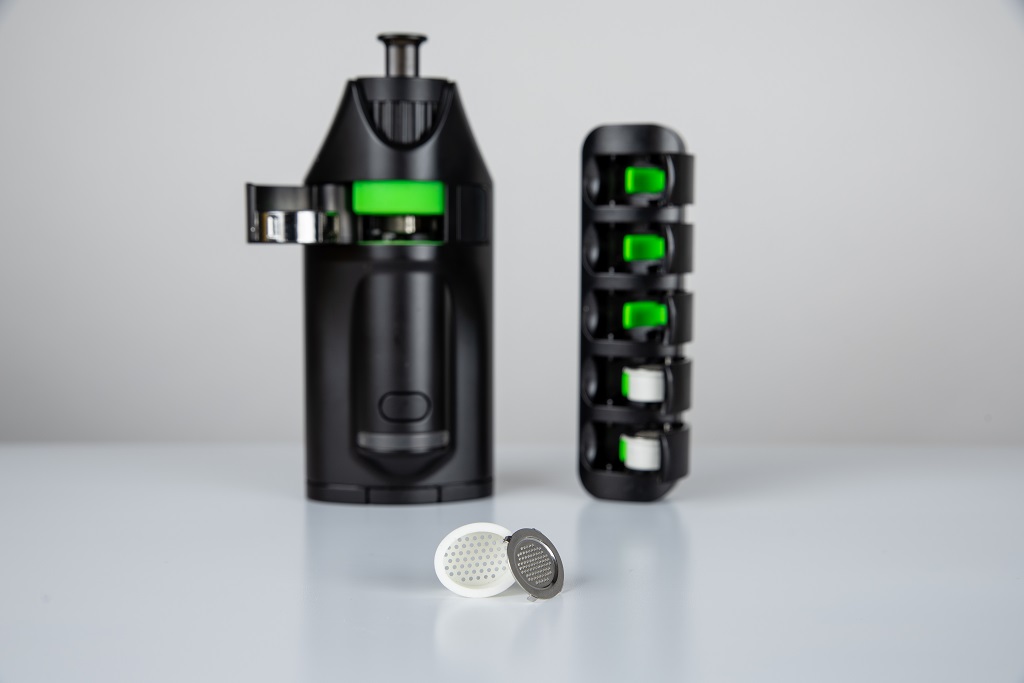 Cleaning and maintenance with the Ghost MV1 are also one of my least favorite categories. The Ghost MV1 uses a lot of different pieces to make it all come together. The Crucibles are super easy to clean, but the disassembly and cleaning of the mouthpiece portion is a time-consuming process.
On the flip side, I've been able to run at least 20 crucibles through the device before I need to disassemble the mouthpiece components for cleaning. It helps to heat the device and draw from it before taking everything apart.
Comparisons (Ghost MV1 vs Firefly 2 Plus)
---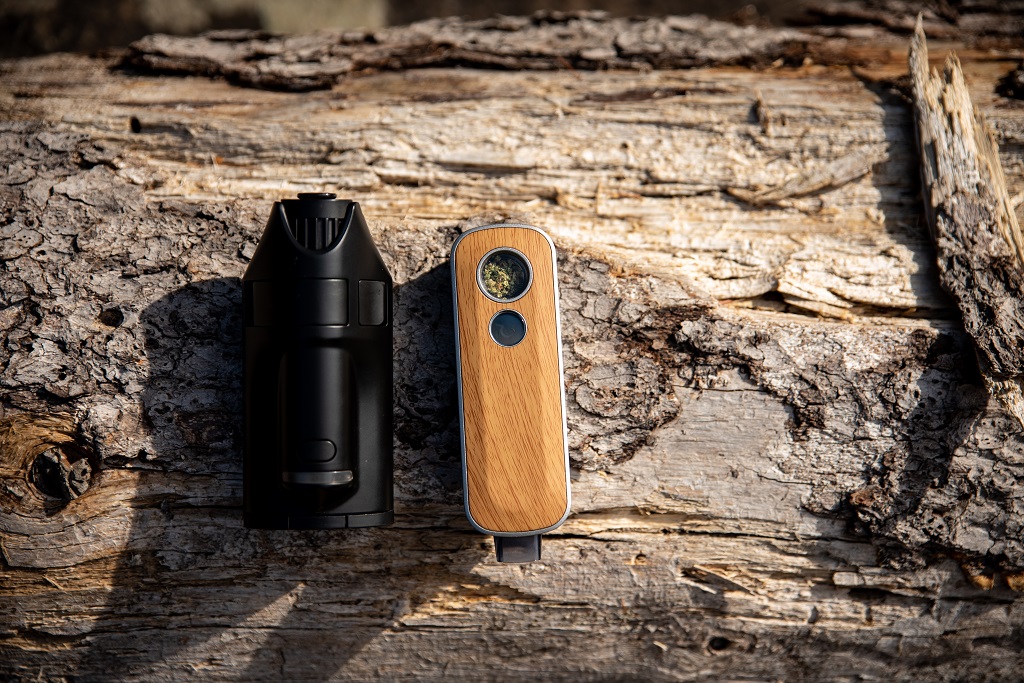 Firefly 2+ – These two are direct competitors and both competing for the best flavor out of a portable dry herb vaporizer. As some of you know or don't know, there are two of us that run vaporizerwizard.com. We both individually test every single vaporizer, compare notes, and come together on a final review with thoughts before we release it.
One of us enjoys the flavor and vapor quality from the Firefly 2+ while the other prefers the vapor quality and heavier vapor production from the Ghost MV1.
One of us would rather use the Firefly 2+ because of the cumbersome process of using the MV1 crucibles while the other prefers to use the Ghost and crucible dispenser to swap bowls on the fly. The ghost is a bit more expensive, especially when you add in the accessories so if the Ghost is outside your price range you should definitely consider the Firefly 2+
Ghost MV1 Vaporizer Overview
---
Overall I think you can tell that I'm not completely sold on the Ghost MV1 vaporizer at its price.
UPDATE: Ghost Vaporizers are officially out of business. Check out my updated list for the best cannabis vaporizers.
However, if you're looking for some of the best-tasting, free-flowing vapor out of a dry herb vaporizer, and the price point isn't an issue, by all means, you will love this vaporizer. However, you should consider getting the entire kit to make the vaporizer more worth it.
I do wish that the accessories weren't so expensive and I wish that it had a better charging system. No one wants to wait eight-hours for their vaporizer to charge. That's a day worth of use.
They've come a long way from the initial version of this vaporizer. Upgrading the door latch, the mouthpiece, the firmware, and a few other things, but if you are concerned with maximizing value, there are better options. This is not the vaporizer for the average user or the person buying their first vaporizer, this is for someone willing to pay extra for some of the most free-flowing and best vapor quality offered from a portable vaporizer, you will not be disappointed. Just be prepared for a bit of a learning curve and take the time to learn how to use it.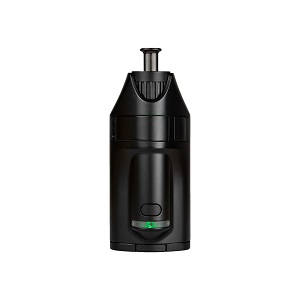 Thanks for taking the time to read my Ghost MV1 vaporizer review. I would love to hear your thoughts on this vaporizer. Feel free to hit me up in the comments below or shoot me an email via the contact page.