One of the biggest issues with using a medical grade silicone whip for vaporization is that they are obnoxious to get clean. Sure you can sterilize the whips by using small amounts of ISO, boiling in water, throwing them in the dishwasher, using PBW, etc… BUT there is no way you are getting that nasty yellowish stain completely out.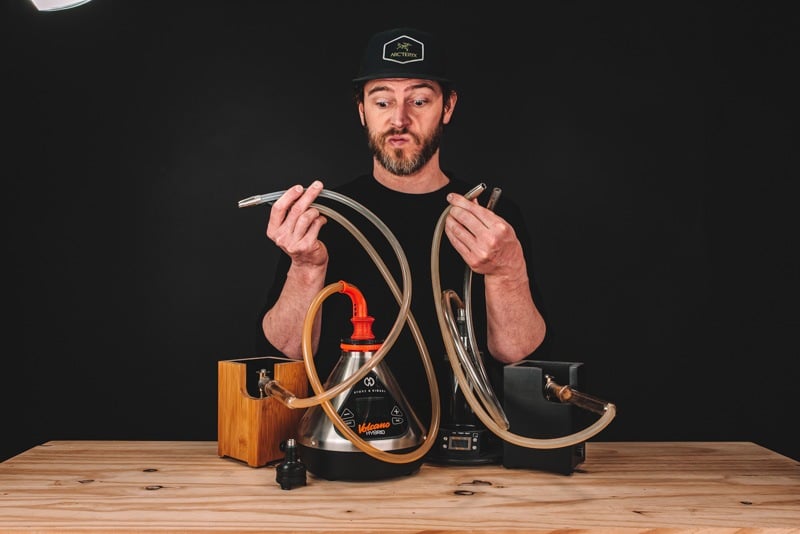 I had this entire "how to clean your vaporizer whip" article planned out for deep cleaning your whips and getting them back to new but the honest truth is it can't be done.
The best solution for your dirty vaporizer whips is to just simply replace them. You can pick up a direct replacement from the manufacturer or distributor you bought it from OR you can pick up medical grade silicone tubing in BULK and cut your own length.
Of the methods I tried, boiling the vaporizer whips seemed to be the best solution for cleaning and removing the yellowish stain that forms on the inside of the whip and while this works for the most part, it's only good for a couple of cleans and it's time to replace the whip.
So now that you know the truth, I'll go ahead and break down the different cleaning methods I tried for vaporizers that use medical grade silicone whips (I.E. Volcano Hybrid). I'll also recommend a couple of places to pick up original manufacturer replacement whips and options to buy medical grade silicone in bulk.
Vaporizer Whip Cleaning Methods
I'll list the three methods I used below and explain the results of each. My preferred method for cleaning is the boiling water approach but again, none of these methods are 100%. Please leave a comment below with any cleaning methods that you use or what has worked for you.
PBW Soak
The first method I tried was a PBW soak and it was recommended to me by Troy over at 420vapezone.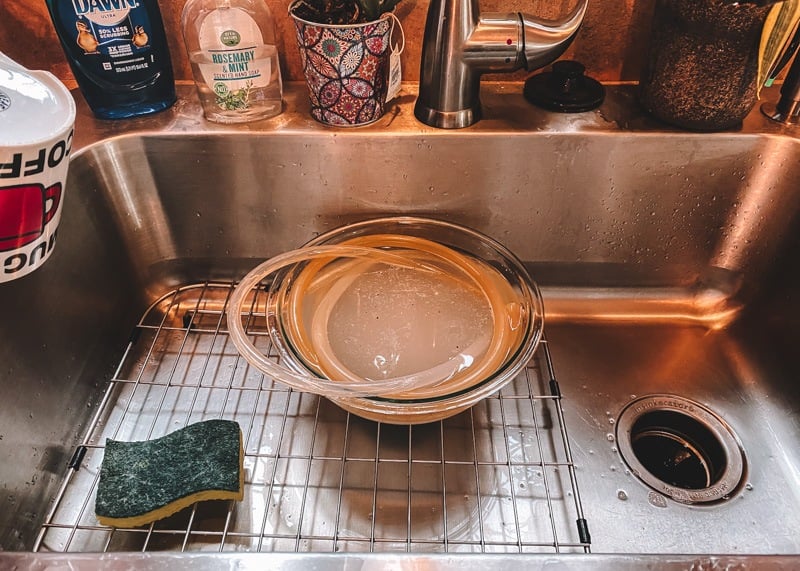 Directions: The directions recommend 2-4 ounces of PBW per gallon of water so I used about half a cup of PBW for a quart of warm room temp water.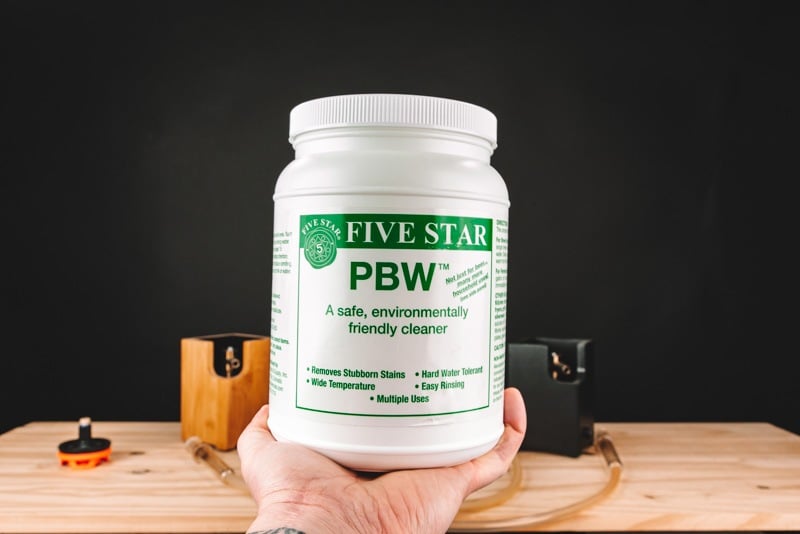 I then placed all the dirty whips into the PWB and let it sit overnight.
Tips for working with PBW:
Wear gloves, it's safe to use with hands but it will dry them out. If you don't have gloves, that's fine, just wash your hands thoroughly after.
After sitting overnight, I removed the whips and rinsed them off really well.
Results: I noticed that the whips were extremely clean but it didn't remove ANY of the yellowing stains on the inside. This method also took the most effort because of the proper mixing, the time sitting in the bowl, and cleaning up. While I feel like the PBW did a good job of cleaning the whips, it's just a lot to go through for just average results.
ISOPROPYL Alcohol
The second method I tried and the method I've been using for years is rinsing everything out with ISO.
Directions: Plug one end of the whip and poor some iso into the whip. You can also add a small amount of large salt granules to help break down some of the materials on the inside. Plug the other end and swish around the ISO/Salt mixture on the inside.
Tips: Try to use ISO 91% or higher for best results. DO NOT SOAK YOUR WHIP IN ISOPROPYL ALCOHOL.
Results: While I've been using the method for the longest, it's by far the worst. It leaves the exterior and interior of the whip extremely sticky. I've also read conflicting reports that ISO can break down the whip leaving it prone to drying out, cracks, and even absorbing some of the materials into the whip. Use this method if you are in a pinch and only use a small amount of ISO and rinse the whip thoroughly after use.
Boiling Vaporizer Whips
The last method I tried is boiling the whips in water, and this was by far the best method. It took less than 10 minutes, nothing to order or cleaning products were needed, and it removed a good amount of the yellowing stain.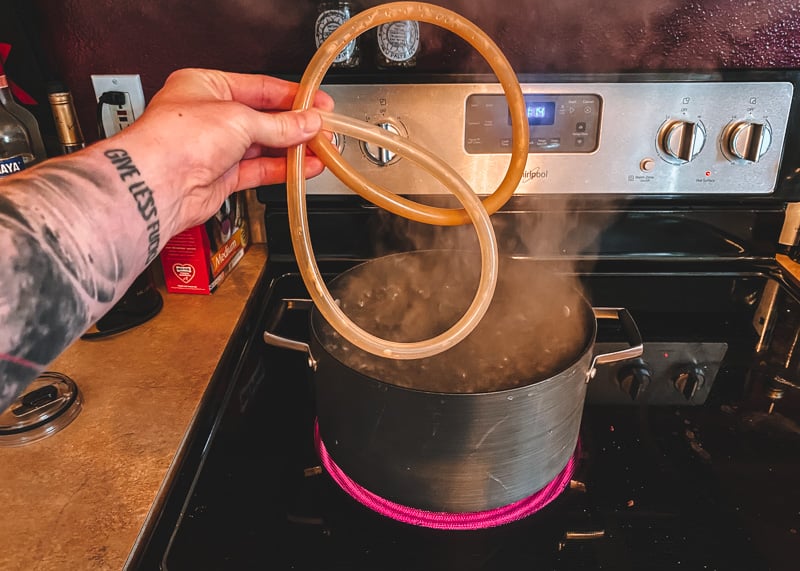 Directions: Using a large pot, bring the water to a boil and then turn off the heat. Place your whips inside the pot and let them sit for a few minutes. Grab some tongs, mix around the whips a bit and then pull them out. CAUTION: THEY WILL BE HOT. Let them sit for 30 seconds, and then rinse them out completely.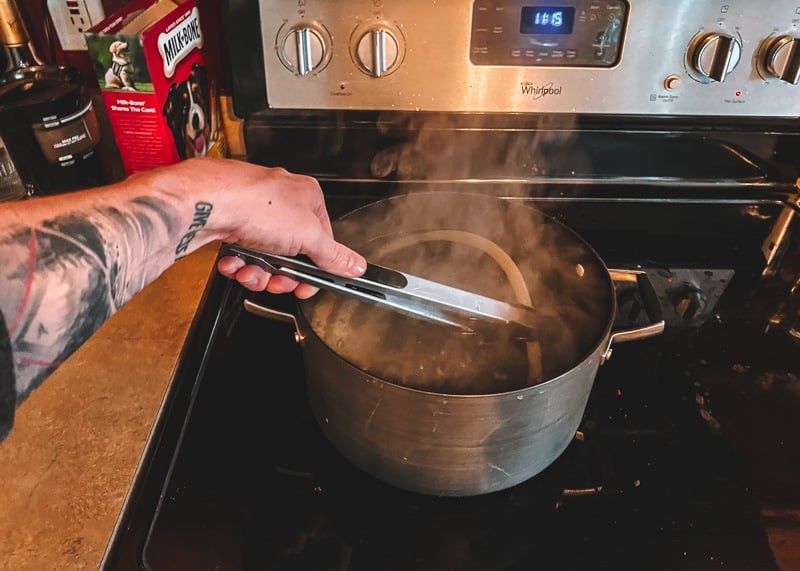 Tips: You can use a small amount of dish soap to help cut the materials on the inside of the whip, but I didn't, and it still worked out just fine.
Results: This is my recommended method for cleaning your vaporizer whips. It's easy to do, it doesn't require purchasing any extra cleaning supplies, and it took me less than 10 minutes. Again, nothing works entirely, but the boiling method was by far the easiest and most effective.
Replacing Vaporizer Whip Options
When you are buying replacement whips, you can buy them individually, or you can purchase a larger roll of tubing and cut multiple whips from the roll. Personally, my preferred method is to purchase the bulk whip, then clean them 2 or 3 times before I toss it and cut myself a new one.
So, for the most part, there are only a few vaporizers that offer a whip-type system. Below I'll list options for the Volcano, Ditanium, Extreme Q, and SSV/DBV desktop vaporizers. However, you can use a whip with any vaporizer, portable or desktop.
For example, I recommend the Xmax starry water pipe adapter with whip for the Storz and Bickel Crafty+ and Mighty vaporizers. It connects directly to the mouthpiece and uses a 14mm female connection for an easy whip/glass addition to your Mighty and Crafty plus vaporizers.
Direct Replacement Whips (OEM / Manufacturer)
Buy Replacement Whips in BULK
Thanks for taking the time to check out my guide on cleaning vaporizer whips. I wish there were an easier way to go about cleaning medical-grade silicone, but unfortunately, it seems like the best course of action is just to replace them.
I would love to hear how you clean your vaporizer whips (silicone tubing) down in the comments below and please hit me up with any questions. I'm sure people would like to see some other solutions if there are any. Happy cleaning, and have a great day!