It's officially 10 days until Christmas and if you're anything like me, you haven't bought a single Christmas gift for anyone yet. So here's a quick list of 15-20 holiday gift ideas under $100 for someone in your life who enjoys vaporizers, cannabis, or anything related to the two.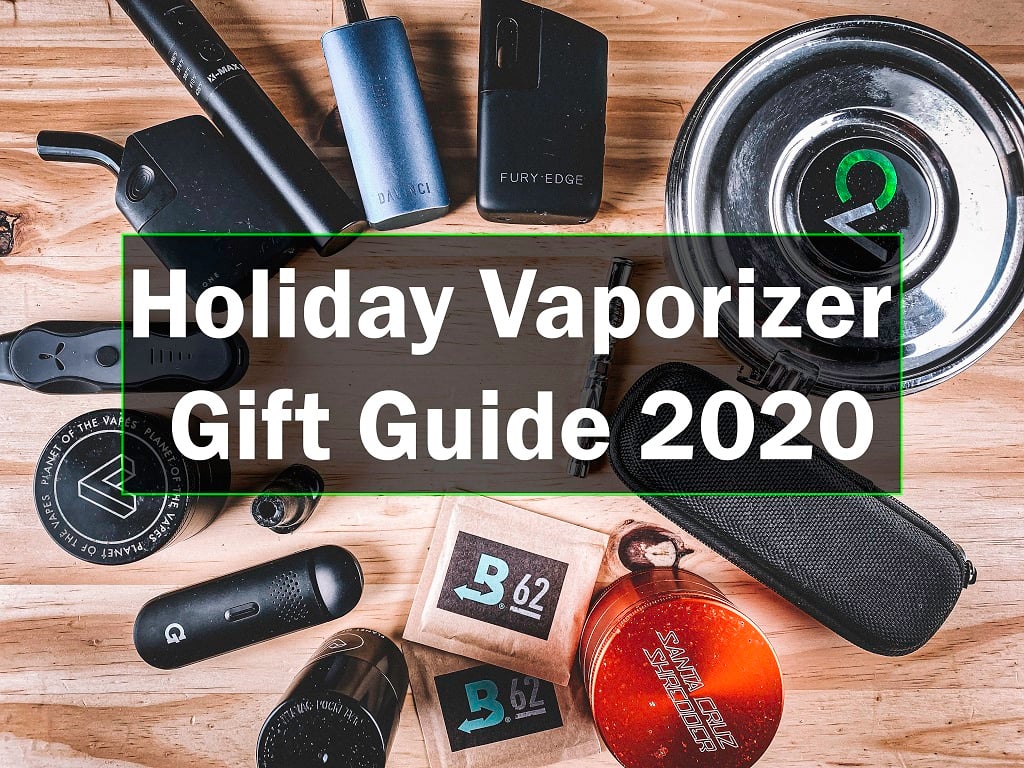 All of the links on this vaporizer gift guide are affiliate links so I do make a small commission from your purchases. Those sales help us continue to buy more vaporizers and kick out more reviews for your viewing/reading pleasure. 
Updates to the Best Portable Page:
I also wanted to let you know that I've updated a few things on my best portable vaporizer page including:
Sub $100 Vaporizer Stocking Stuffers:
There are also a couple of vaporizers in the sub $100 price range that I think could make good stocking stuffers or great vaporizers for first-timers if you are trying to convince a friend or family member to make the switch to vaporizing. 
The first is the Boundless CF and it retails for $80. The CF Vaporizer features 5 preset temps and produces some of the best vapor quality for the price. It's also easy to load and easy to use which is great for someone new to vaporizers.  
The absolute best cheapest dry herb vaporizer I recommend is the XMAX V2 Pro and you can pick it up for $59 with code XM. This vaporizer features 5 preset temps as well but comes with a replaceable battery system. The XMAX is just not as free-flowing and the vapor quality isn't as good as the CF. 
The next two I will recommend are the GPEN Dash dry herb vaporizer for $49, and if you want to give butane vaporizers a shot, I recommend the Dynavap Vapcap M for $75.
The GPEN Dash is the smallest, lightest, cheapest dry herb vaporizer that I actually like. I prefer the XMAX V2 Pro over the Dash because of more temp options and a replaceable battery system, but if you need to save some money it's even cheaper at $49. 
The Vapcap M uses a butane torch to heat the end "cap" of the vaporizer. The cap is designed to click when it gets to a certain temp so you know you're ready to take a draw. The cap will then click again when it's cooled down and ready for the next draw. I really like the Vapcap M for its lack of batteries and they are extremely portable other than the fact that you have to carry around a butane torch. 
I think that's about it for vaporizers in this price range (that I've tested and like). Hit me up below with any questions, comments, or suggestions. 
Without further ado here are my Christmas gift ideas for the vaporizer connoisseur.
Vaporizer Holiday Gift Guide 2020
---
Herb Grinders
Vape Storage and Organization
Herb Storage
Charging Options
Weed Organization
Vape Gift Cards
Glass
Water Pipe Adapters
Thank you for taking the time to check out my blog and let me know if you have any questions about anything on this page. 
Also, keep in mind that shipping is extremely delayed this year so while you still have 10 days, there is a chance that you might not get this package before Christmas. Plan on it not being there and if it shows up on time then it'll be a great surprise!