Hey guys I just got in the Titanium version of the Grasshopper portable vaporizer and this will be a quick unboxing with a few initial thoughts. I also took some pictures of the TI and Stainless Steel (SS) versions side by side so you can get a good semi-good look at the quality of the two materials.
Update – 4/15/17: The Grasshopper is now shipping on demand! Check out my Grasshopper review here. You can also click here to check out my top picks for best portable vaporizers. Most of the information below is out of date so be sure to check out my grasshopper review for the most up to date information. As always, if you have any questions just shoot me an email or leave a comment for me.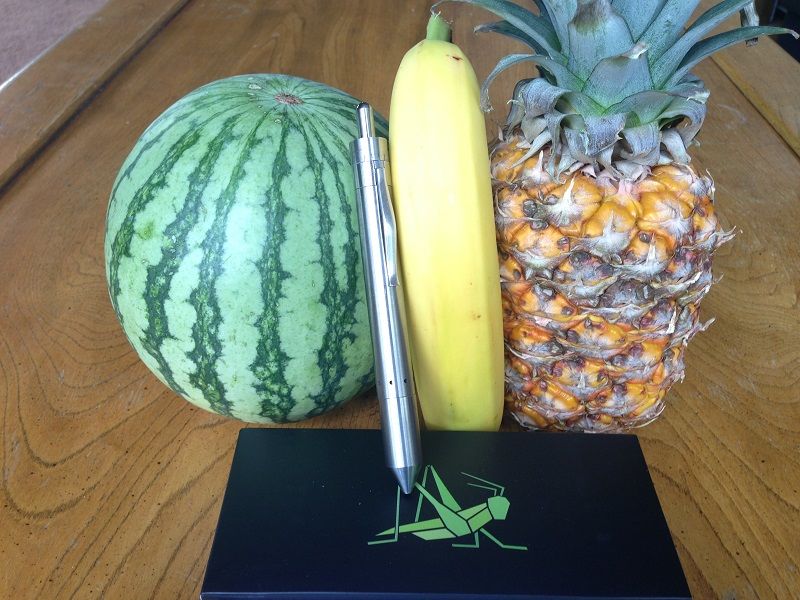 Important Note: This model is a .9 version and not quite a production model. I have some questions that I have emailed Trevor and I'm waiting for a response so hang in there and I will be able to answer all of your questions in time. For now, just leave your questions below in the comments section.
Here's what I know about the v.9 improvements:
-Better thermal properties, runs cooler longer.
-New screen, Is user removable with a tool but is very durable and probably dose not need to be. You can scratch on it and it will not get damaged. Very strong.
-Improved Dial action. Smooth rotation.
-Labeled batteries
-New charging ring, more robust for a better connection.
-New Charging Cable, Twice as thick for better durability.
-Production charger housing. With molded logo and smooth finish.
-New Manual.
Here's what I was told will be changing for Production improvements:
-Minor software tweaks
-Production charger
I'm not sure what "production charger" means just yet. That is a question I have in to Trevor.
I also have a Grasshopper Review that you can check out to get the full specs.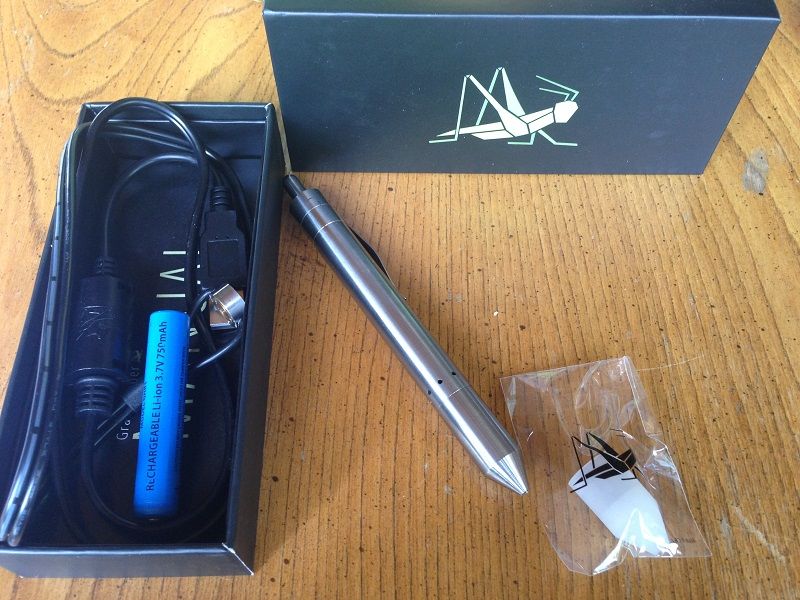 The new mouthpiece guard was included with this unit and I'm happy to report that it works very well. It have quite a bit of room at the tip of the mouthpiece to make sure your lips won't come into contact with the mouthpiece.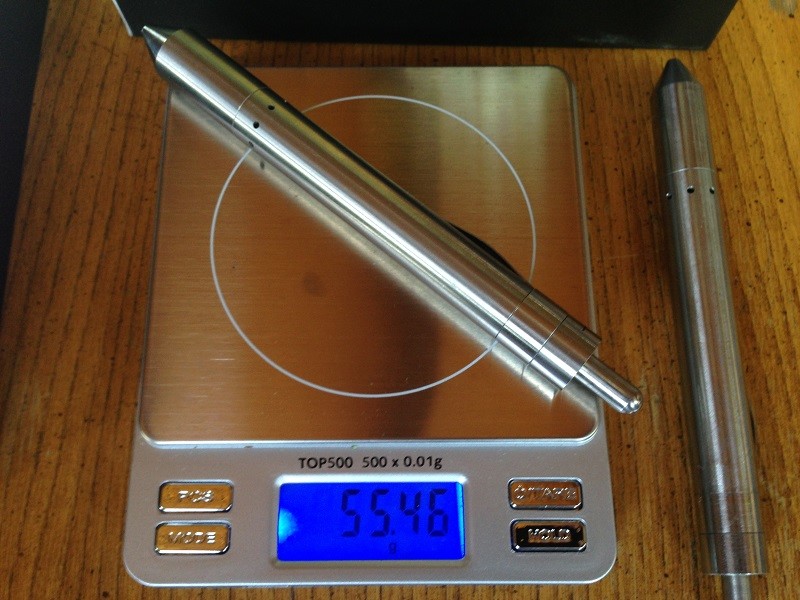 First thing I noticed was the weight difference. The Grasshopper TI version is over 11 grams lighter than the SS model. In case you can't read the numbers, the Grasshopper Titanium model weighed in at 55.46 grams.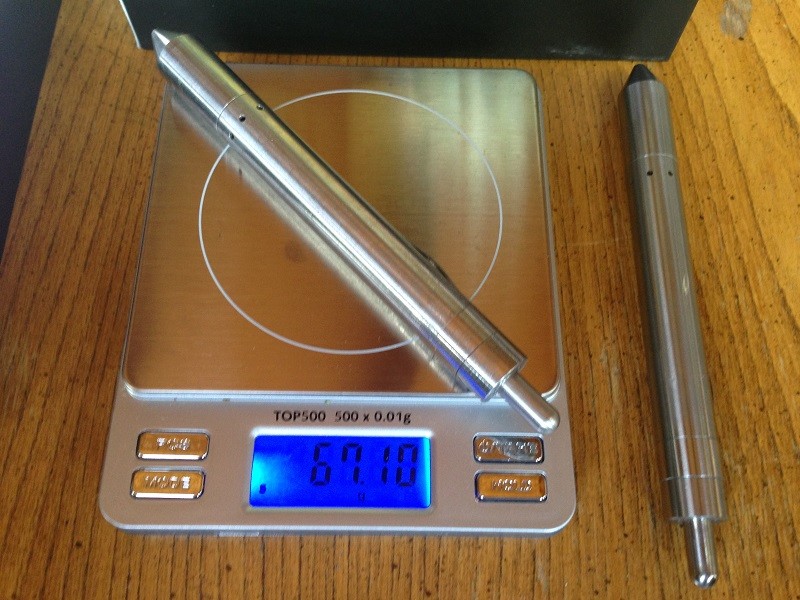 And the Stainless Steel Grasshopper weighed in at 67.10 grams. Both units were weighed with batteries and the chambers were empty. Screens were included as well.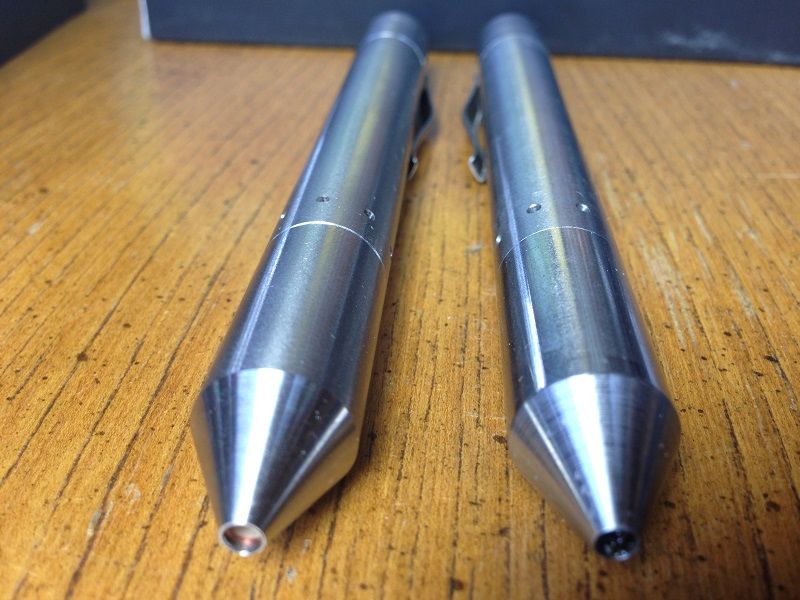 The next thing I noticed about the TI model (Above left) is that it's not a as shiny with kind of a dull fade to it. It's much cleaner looking as I can already see plenty of imperfections in my SS model especially in the light (above right).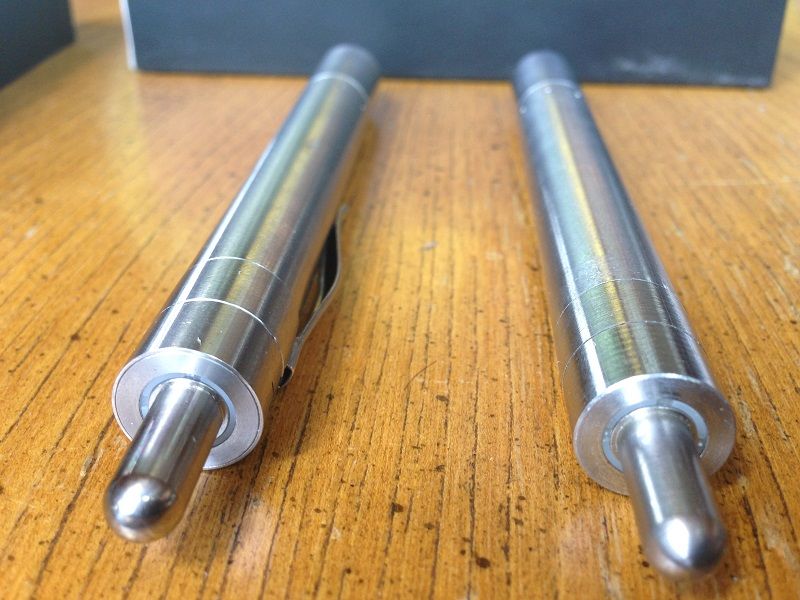 The TI model (above left) is supposed to cut down on the scratches and blemishes so I'll have to test that out over time. It was kind of hard to show the quality of the outer shell with my iPhone camera. One of these days I'll upgrade. The TI model will still get scratches as you can see a tiny one on the left.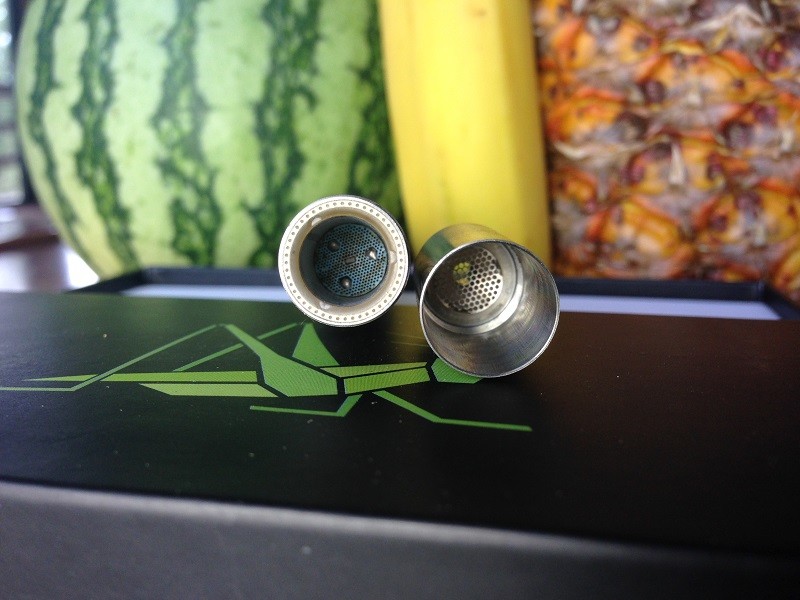 This TI model also came with the upgraded screen and upgraded chamber walls as well.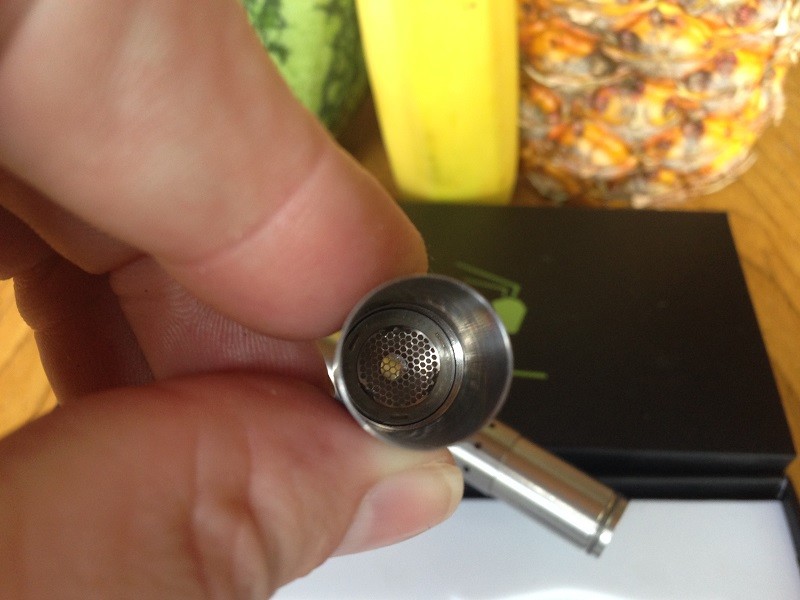 The new screen seems like a HUGE improvement over the first unit I received. So far it seems very sturdy and very well designed. I am very pleased with how clean the screen is after a few uses. I'll be testing this screen out A LOT over the next couple days to see what kind of cleaning we can expect. But for now, I'm very impressed with this upgraded screen.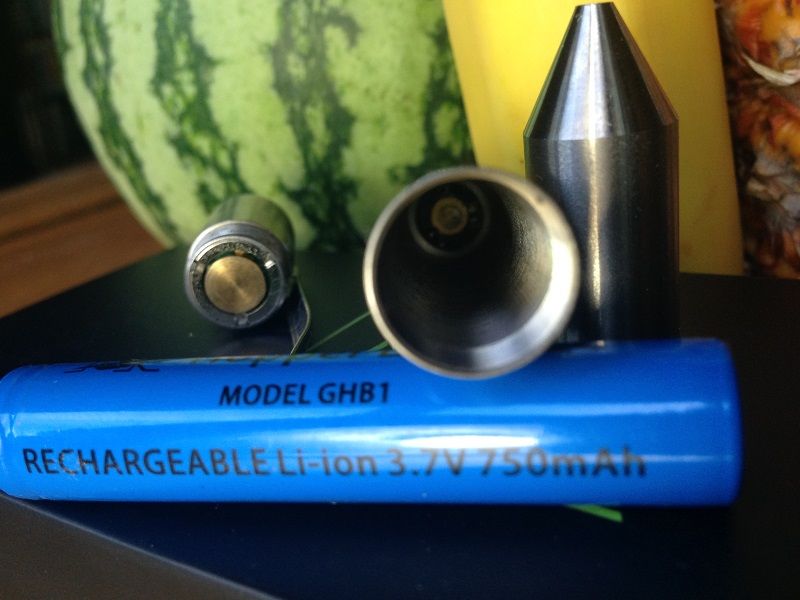 The batteries and the battery compartment all seem to be the same other then the fact that they added the "Hopper Labs" and the battery information. The last batteries I had were just blue.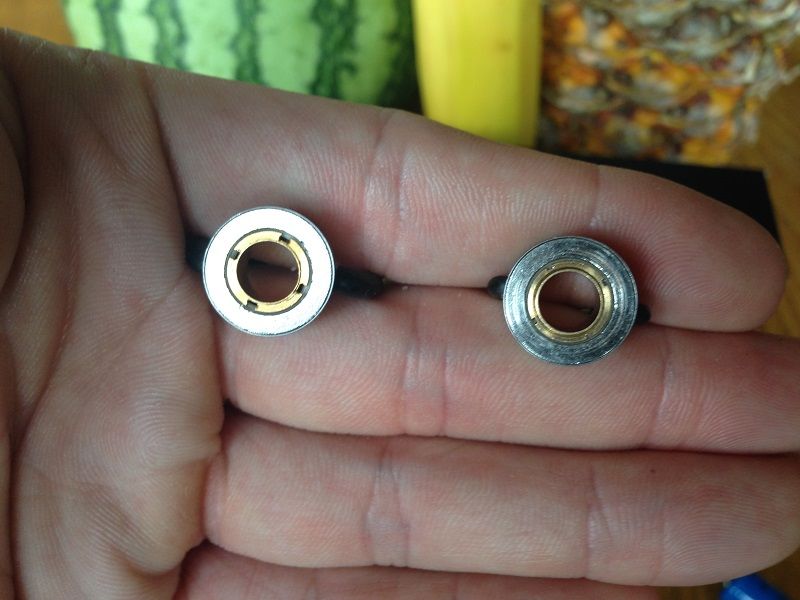 The charger connections seemed to have changed a little bit. The TI model is on the left and the SS model is on the right. This is another question that I have in to Trevor and waiting to hear back about.
The charging brick was beefed up a little bit and they added the Grasshopper logo. They also made the cable itself much thicker on the new unit. (Sorry for shitty zoom)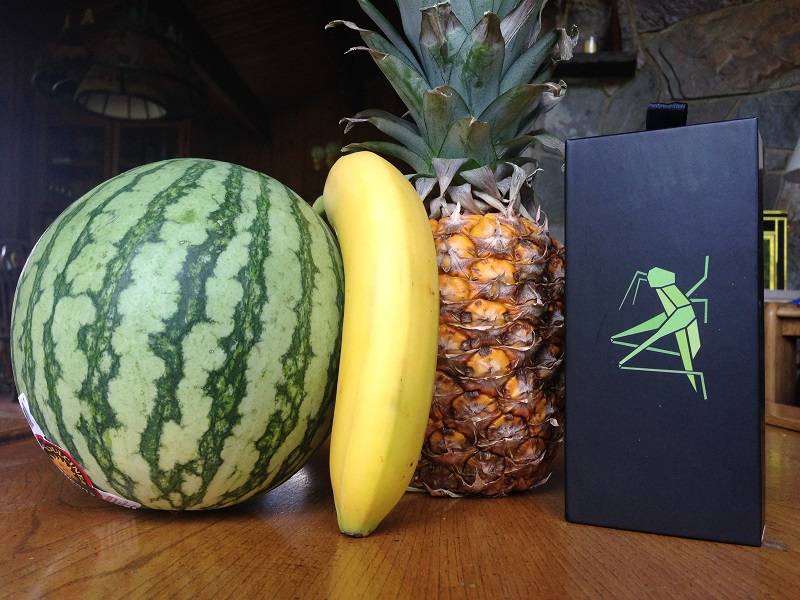 And lastly, pictures with the box. #fuckcombustion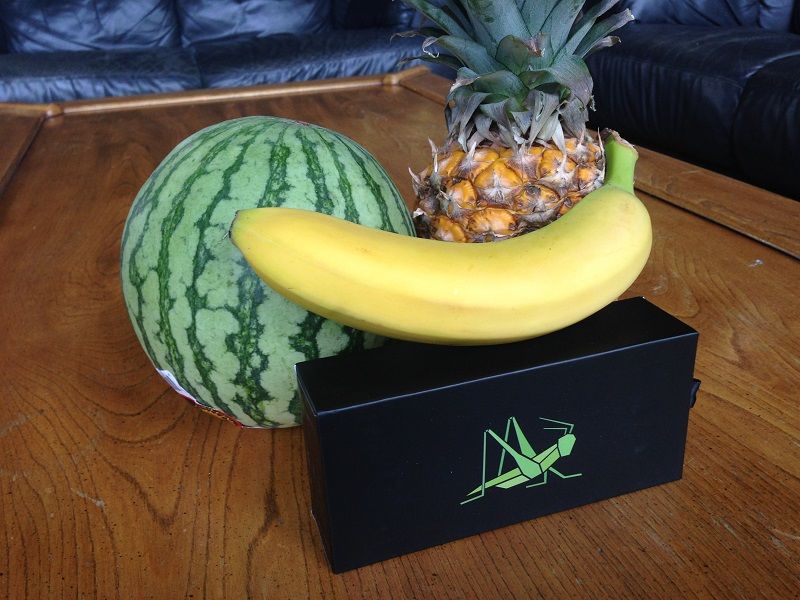 Thanks for checking out my site and leave any questions you have below in the comments section. I will do my best to answer all of them quickly.