Hello everyone and happy 420! My name is Buzz Danklin and I would like to welcome you to vaporizerwizard.com! I have put together a huge list of all the best 420 vaporizer sales in 2017 and I will update this page daily to show all the best dry herb, oil, and e-liquid vaporizer deals.
Update 4/13/19 : My 2019 420 vaporizer deals list is live! Let me know if you have any questions!
If you have a comment or question about a particular vaporizer, please feel free to leave a comment below or hit me up on my Contact page and I will get back to you asap so that you can get in on the sale prices.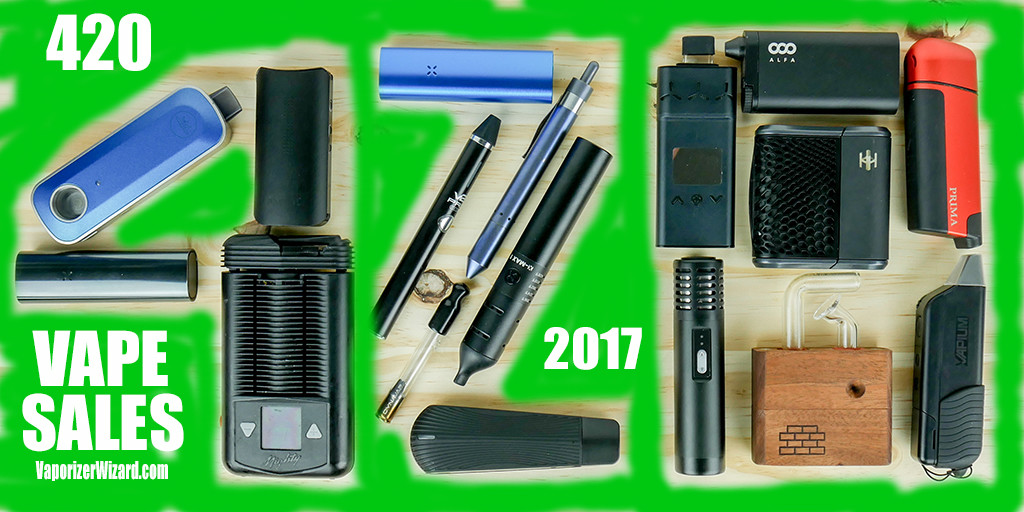 Update: 420 has once again come and gone but turn that frown upside down my friend! This just means that we are one year closer to an entire month of celebrations on 4/20 (April 2020!) The next big vaporizer sales are black friday and cyber monday. Be sure to check back then for a complete list of sales. In the mean time, check out some of my guides below and have a great day!
If you are looking for a new vaporizer and don't quite know which one to go with, I recommend checking out a couple of my articles to get you heading in the right drection:
Thanks for checking out my list of 420 vape sales for 2017.
420 Vaporizer Sales 2017:
Directions: Remember the code, click the code, enter the code, save dat money.
---
Storz and Bickel Price Drop:
The Crafty, Mighty, and Plenty from Storz and Bickel all just had price drops this week. The Crafty went from $339 to $279, the Mighty went from $399 to $349, and the Plenty went from $299 to $249. If you were considering one of those vapes good thing you waited until the price drop!
VapeWorld Sales:
Hopper Labs:
Firefly Vapor:
PuffitUP:
Sticky Brick Labs:
Haze Vaporizers:
VapeXhale:
Dynavap:
My Dynavap "M" is on the way! It should be here in a day or two. I'll update this article with my thoughts.
Planet of the Vapes:
VaporNation:
Vivant:
Kandy Pens:
VapoShop:
Flowerpot Desktop Vaporizer – Double Decker #420