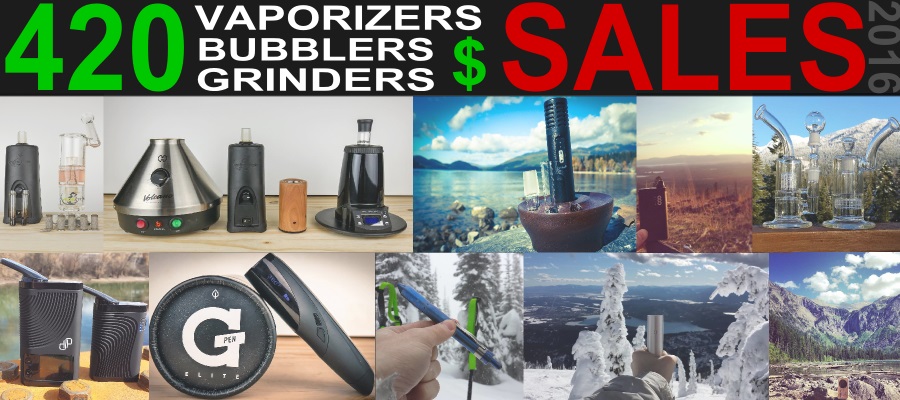 You have made it to my 2016 420 vaporizer sales article! I will be updating this vaporizer sales/deals page all day every day for the next 5 days surrounding the most wonderful day of the year, April 20th, 2016.
Update 4/13/19: The new 420 Vaporizer Sales article for 2019 is up!
If you have any questions about a particular vaporizer or specific sale feel free to leave a comment below or hit me up on my contact page and I will get back to you as soon as possible to not delay your buying window.
If you don't really know what kind of vaporizer you want, I recommend reading my article for the best dry herb portable vaporizer and check out all of my portable vaporizer reviews for more options.
If you have any sales that you think should be added to the site feel free to leave a comment below and try to verify it as soon as possible.
Thanks again for checking out my site and happy 420! #420 #vaporizerwizard #420sales
Here are the 420 vape sales for 2016 (still updating):
I don't know of any sales on the Pax 2 yet, but PaxVapor is running #PAXfreshlybaked event. Details below:
We're giving out four hundred and twenty FREE #PAXfreshlybaked pizzas in 5 locations next Wednesday! Grab your buds and stop by our Pizza Party:
1) 4th and Congress in #Austin, TX
2) Civic Center in #Denver, CO
3) South Beach on 5th St in #Miami, FL
4) Washington Square Park in #NYC, NY
5) MYSTERY LOCATION
Firefly 2 is currently on Pre-Order for $329 and while I would like to see a discount on the product, I don't really think they will run any sales because that would be completely unfair to all the people who have already pre-ordered the new unit. The Firefly 2 is expected to ship end of May 2016.
420 Secret Stash Packs comes with surprise accessories
$139.99 – Grenco Science Pack
$149.99 – Magic Flight Pack
$239.99 – QuickDraw 500 Pack
$249.99 – Dr. Dabber Pack
$279.99 – PAX 2 Pack
420 Supercharged Accessories Bundle FREE with any Starter Kit. ($100 Value)

Supercharged Kit Includes:

Herb Basket 4 Pack
Green VapeXHeat Shield
Dab Tool
VapeXNail 5 Pack
Silicontainer 5 Pack

Daily Deals through Wednesday, April 20th, 2016
20% OFF a LOT of good stuff. Code will be announced on 4/20 12:00AM EST. The Code is is "420%OFF"
420SALE25 – 25% OFF Sitewide
SPRING – 10% OFF Sitewide (20-25% on 4/20)
420sale16 – 20% OFF Sitewide
420 – £10 OFF orders over £50
4202016 – 15% OFF Everything!
10% OFF Vapes
20% OFF Accessories
**Goes Live on 4/20**
freedom420 – 20% OFF Sitewide
30percent – 30% OFF Select Items
W9TECH – 10% Sitewide (I think)
20%OFF420 – 20% OFF Sitewide
30%OFF710 – 30% OFF orders over $710
20% OFF – Incredibowl Products
Many more sales as well
420SALE – The Hammer Pro for $77 ($42 OFF)
50% OFF Everything with code "420"
DynaVap:
SourceVapes:
Iolite Vaporizer:
HydraVaporTech:
AutralianVaporizers:
VapoShop: